Buying Guide
The Best Cookware Sets for Busy Kitchens
Pots and pans may look similar, but there are differences to consider when you're shopping. To find the best cookware set for your kitchen, consider your budget and which pots you'll use most often. A lifetime or limited time warranty can help offset any upfront cost, and buying a set gives you a variety of matching pieces and lids for almost every cooking task.
Pots and pans are made from different materials. Most cookware sets are made with layers of metal and a heat-conducting material such as aluminum or copper. Pots and pans with multiple layers or thick bottoms typically offer better heat distribution and last longer than thinner cookware sets or pieces without cladding on the sides.
The exterior of most cookware is made from stainless steel, aluminum or anodized aluminum. Anodized aluminum is aluminum that has been electrochemically processed to make it more durable and less likely to corrode.
The best cookware set for your needs should have comfortable, easy-to-grip handles. A pot or pan should feel balanced in your hand and the handle should stay cool to the touch. Metal and silicone handles stand up well to high temperatures.
Some of the best cookware sets also offer extra features. These include interior measurement marks in pots and pans or lids that stack or hang together neatly.
Many of the best pots and pans are also dishwasher safe and need little care or maintenance. Non-stick coatings surfaces help keep foods from sticking.
Glass lids let you keep an eye on what you're cooking. They're usually dishwasher safe, but even thick glass lids can break or crack if they're dropped. Check the manufacturer's instructions to be sure the glass lids will stay cool enough to touch when you're cooking. Lids made out of certain other materials, such as stainless steel, may get hot, so again, check the box or label on your set.
Price doesn't always equate to value when you're shopping for quality cookware. Look for the set that feels right for your cooking tasks and wallet.
Best Ceramic Cookware Sets
Most ceramic cookware has a smooth, nearly non-stick surface, but it's usually easier to clean if you coat the interior before cooking with butter, oil or a non-stick cooking spray. Thanks to their glossy appearance, most ceramic pieces are also fine for using as serving dishes.
Check the manufacturer's instructions before you scrub ceramic cookware. You may be able to use a very mild, non-abrasive cleaner with a nylon scrubber to remove stuck-on foods. Don't use metal utensils, which can leave marks or scratches, and remove foods from the cookware before cutting into them. Use wood, plastic, nylon or silicone utensils to avoid damage.
Ceramic cookware is versatile. Most sets can be used to store food in the refrigerator or in the freezer if the pieces are made from tempered glass and labeled freezer-safe. Ceramic cooking pieces can also be used in a microwave, toaster oven, broiler or convection oven, but not all ceramic cookware can go from one temperature extreme to another. Read the manufacturer's directions to see if your set can go from the freezer, for example, to the oven, or if it should be allowed to warm up gradually to avoid breaking.
Ceramic pots and pans can be heavy and may break if dropped. Look for a set in various styles, designs and colors to match your decor, and verify whether the set you want is dishwasher safe when you shop.
Best Porcelain Enamel Cookware Sets
Porcelain enamel cookware sets are beautiful and useful. The pieces are made of porcelain enamel, a kind of glass, which is bonded to a metal like steel, stainless steel, iron or aluminum. The exteriors are usually coated with enamel, while the interiors typically have non-stick linings. The result is cookware that is lightweight, but also durable and strong.
Porcelain enamel cookware is available in many colors and designs, and its hard, glossy finish resists scratching and fading. It can chip or break if it's dropped, however, so the best porcelain enamel cookware usually has a thick enamel coating.
Porcelain enamel cookware sets are non-reactive and non-porous and can be used with metal or plastic cooking utensils. Do not use them over high heat for a long period of time or allow them to boil dry, which can damage them.
Porcelain enamel is easy to clean while it's slightly warm, before foods have a chance to harden. Soak pieces with burned-on food for about an hour to make cleaning them easier, or use a wooden scraper to loosen it. Use a sponge or nylon scrubber and warm, soapy water. Don't use strong abrasive cleaners or steel wool pads.
Best Dishwasher-Safe Cookware Set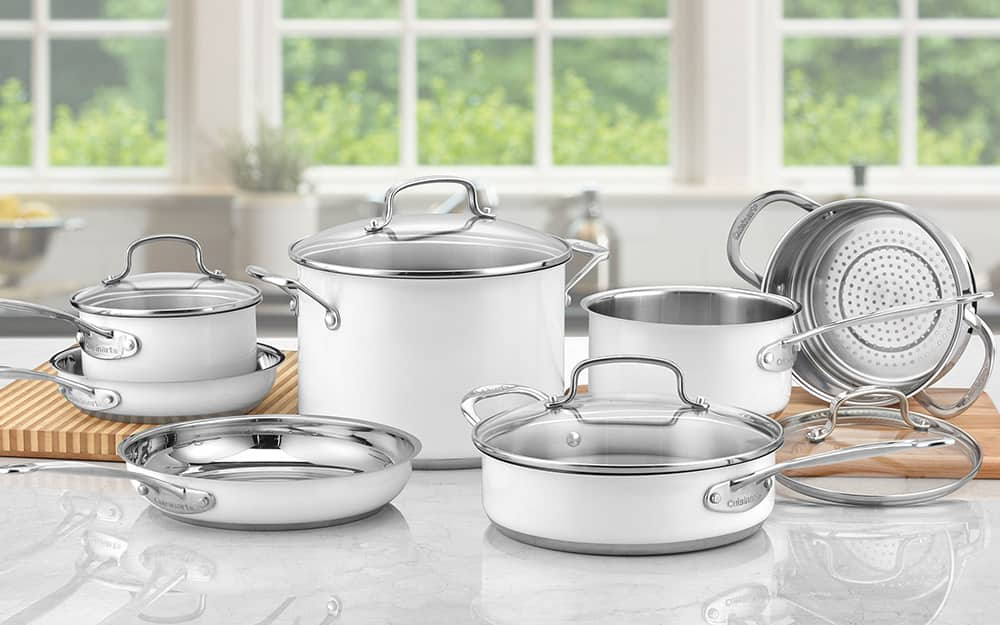 Dishwasher-safe cookware sets save you cleanup time, and they can use less hot water than sets that have to be handwashed. Dishwasher safe pieces are usually made of stainless steel or ceramics. Some stainless steel pots and pans with copper bottoms are also dishwasher safe.
Although some non-stick cookware is dishwasher safe, high water temperatures, strong dishwashing detergents and multiple trips through the dishwasher can often cause non-stick coating to flake or otherwise deteriorate.
Do not put non-enameled cast iron or anodized aluminum in the dishwasher. Some titanium cookware can be cleaned in the dishwasher, but check the manufacturer's directions to be sure.
Best Stainless Steel Cookware Sets
Stainless steel pots and pans with a core or cladding of copper or aluminum heat up fast, distribute heat evenly and retain heat well. In general, the thicker the core or cladding, the better the heating properties.
Stainless steel cookware forms nice, crusty bits on some foods that stick to the pans. You can scrape the bits out with a plastic or nylon spatula after cooking and use them to make a tasty sauce or gravy.
Stainless steel pots and pans aren't usually as durable as cast iron, but they are non-reactive to foods. They're harder to clean than nonstick pieces, although using some oil in the pan when you cook will help reduce sticking. You can also let them cool and then soak them in warm, soapy water to make cleanup easier.
Many cooks value stainless steels pots and pans for their mirror-like finish, and they are a durable, affordable choice. Keep them shiny by using only non-abrasive cleaners and pads.
Best Non-Stick Cookware Sets
Non-stick cookware sets are popular. They're easy to clean and easy to use. You can usually skip coating them with oil or butter, so they can help cut down on calories. Some non-stick sets are labeled safe for oven use.
Before you buy, check to see if your set requires hand washing to maintain its coating or if it's dishwasher safe. Don't use metal utensils or stack other pots and pans on top of them to avoid scratching the non-stick coatings.
Non-stick cookware sets are available with stainless steel, copper, aluminum or other kinds of exterior finishes, and some are induction-capable.
Best Induction Cookware Sets
Induction cookware sets are designed to use on induction cooktops. The cooktops are heated by an electromagnetic field that lies underneath the glass, then heat is transferred to the magnetic cookware.
Induction technology eliminates the step of heating a burner to heat a pan. Some cooks like induction cooktops because they cook fast and respond quickly when the temperature is lowered.
Not all cookware can be used on induction cooktops. Look for pots and pans with flat bottoms, securely attached handles and well-fitting lids. Cookware for induction surfaces should be made of a magnetic-based material like cast-iron or labeled for induction use. To test your cookware for induction use, put a magnet underneath it. If the magnet sticks firmly, the cookware will probably work. However, a magnet may stick to the base of a stainless steel pot or pan, but that doesn't mean the cookware core is magnetic. Look for a cookware set marked induction-ready instead.
Best Copper Cookware Sets
Copper cookware is often more of an initial investment than sets made of other materials, but cooks prize smooth or hammered coppper finishes for their beauty. Like cast iron, unlined copper cookware can react with acidic foods like citrus fruits or tomatoes, and some people say that it gives foods a metallic taste. Copper pots and pans with stainless steel, tin or other surface coatings are usually non-reactive.
Professional cooks and chefs often use the best copper cookware in their kitchens because copper conducts heat uniformly. It also loses heat quickly, but that's an advantage if you need to remove a pan from the stovetop and quickly cool a sauce or gravy that's about to scorch.
To make your copper cookware last as long as possible, wash it by hand and dry it immediately after using it. Copper is not dishwasher safe. Keep it polished using a product designed for copper.
Do not use copper pans on a ceramic stove top.
Best Titanium Cookware Sets
Titanium cookware sets are some of the best cookware sets for durability. They resist corrosion and oxidation, and many of these pieces are lightweight and strong, which makes them ideal for taking on a camping or backpacking trip.
Some of the best titanium pots and pans also resist denting, scratching and warping, and unless they have rubber-coated handles, can be used in the oven. Titanium-reinforced cookware usually has an aluminum base and a titanium-coated surface.
So-called pure titanium may distribute heat unevenly, so some pieces are combined with ceramic, aluminum or another materials for better heat conduction. This may make them heavier.
Although it's at the higher end of the cookware price range, titanium keeps it good looks and lasts for years. To clean titanium sets, wipe pieces with a damp cloth, rinse them and dry them immediately. Check the manufacturer's instructions to see if your set is dishwasher safe.
Cast iron is a good heat conductor and can be used over campfires as well as in an ovens or on stovetops. However, it can react with citric and acidic foods like tomato sauces. Some cast iron pots and pans are coated with enamel, which prevents food reactions, but the coatings may add a little weight.
After it's properly seasoned, cast iron cookware develops a nearly non-stick surface that is easy to clean. Just wipe the pieces out with a cloth or lint-free paper towel, rinse them and dry them thoroughly. Cast iron cookware that stays damp can rust. Some cooks prefer to clean their cast iron with a non-abrasive brush and a very small amount of mild dish soap. Cast iron can also be scrubbed with salt. For best results, re-season after every washing by coating the interior with a little oil and warming the pan in the oven.
Cast iron retains heat well. It's good for cooking in the oven or on the stove top, but don't use these pots and pans on ceramic glass cooktops. Iron can leach from cast iron pots and pans into your food, which some cooks consider a healthy benefit.
You can find many durable cast iron cooking pieces for your kitchen, including grills, griddles, Dutch ovens, skillets, muffin pans and more.