A well-functioning sprinkler system is essential to maintain a lush, healthy lawn. Water pressure, frequency of watering and watering times all play important roles, but the most crucial component is ensuring even coverage.  
Sprinkler heads can be attached to water hoses or integrated with the underground irrigation system. The choice of sprinkler heads is key for consistent and uniform water coverage of landscaping. This guide explains the features of different types of sprinkler heads that can be installed for any home irrigation system. 
Sprinkler Head Features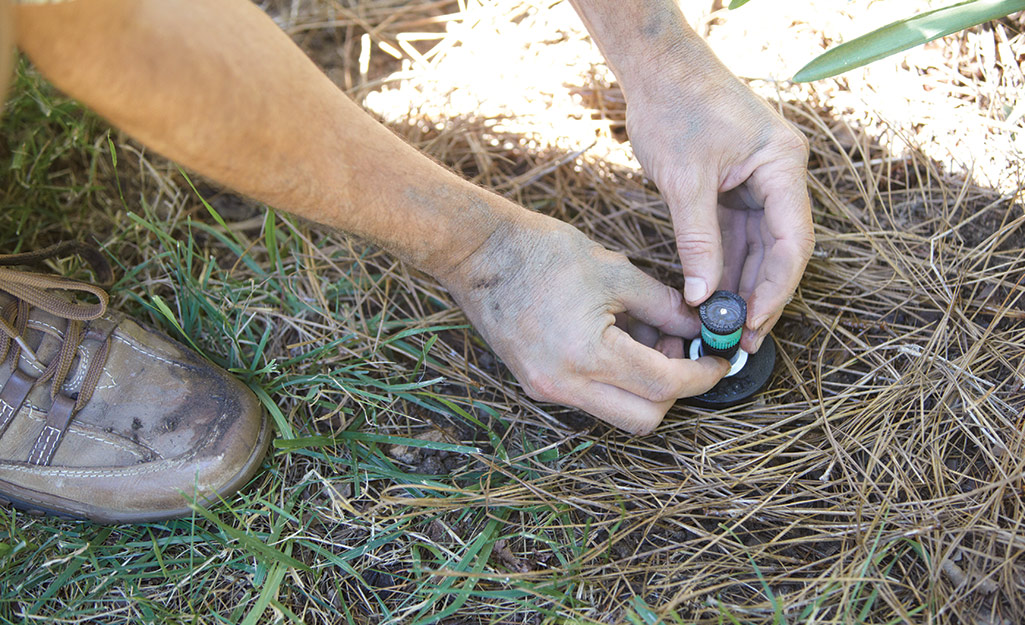 Sprinkler heads are designed with various water delivery features.
Spray pattern: The spray pattern is the area that a sprinkler can cover. A full-circle sprinkler head distributes water in a circle, with the sprinkler head in the center. A 0.50-circle sprinkler head distributes water in a half-circle shape, while a 0.25 circle and 0.75 circle spray water in a quarter-circle or three-quarter circle shape, respectively. Different types of sprinkler heads feature adjustable spray patterns so you can personalize the water distribution pattern to fit your yard's needs. 
Special patterns: When you need to irrigate small ground cover areas, narrow beds and compacted, slow-absorbing soils, utilize micro spray heads that provide patterns and flow rates suited for these purposes.  
Spring retraction: Commonly known as pop-up sprinkler heads, these sprinklers retract to an underground position automatically as soon as the cycle of watering is completed, rather than relying on gravity to do the work.  
Wiper seal: This feature prevents leaks and helps ensure proper retraction for pop-up sprinkler heads.  
Drip irrigation: The best lawn sprinkler heads for areas of your yard that conventional sprinkler heads can't quite get to or may prove too powerful for, such as hanging shrubs or delicate gardens. Drip irrigation systems provide slow, steady water in hard-to-reach places without damaging plants and flowers.  
Here some other factors to consider when choosing a sprinkler head for your home's irrigation system. 
Sprinkler heads commonly operate at a residential water pressure of 30 to 50 pounds per square inch (PSI). Sprayers and rotary heads work best the water pressure is less than 40 PSI. 
A rotary sprinkler head is most effective on lawns greater than 30 square feet. 
Most sprinkler heads are made of plastic and a few are manufactured with brass nozzles. These sprinkler heads are as durable as older brass and zinc models. 
Fixed Spray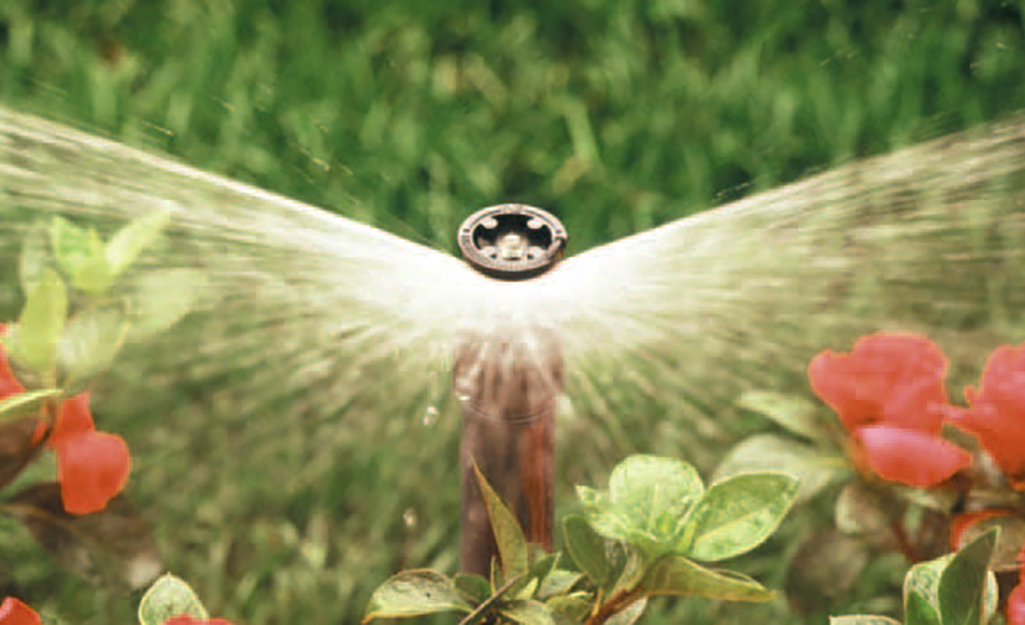 Fixed sprinkler heads are designed to produce a tight, constant fan of water in a fixed pattern. The nozzles installed on these types of sprinkler heads determine the pattern and radius of the water dispersal. Fixed sprinkler heads are commonly used on small lawns, shrubs and ground cover. 
Flood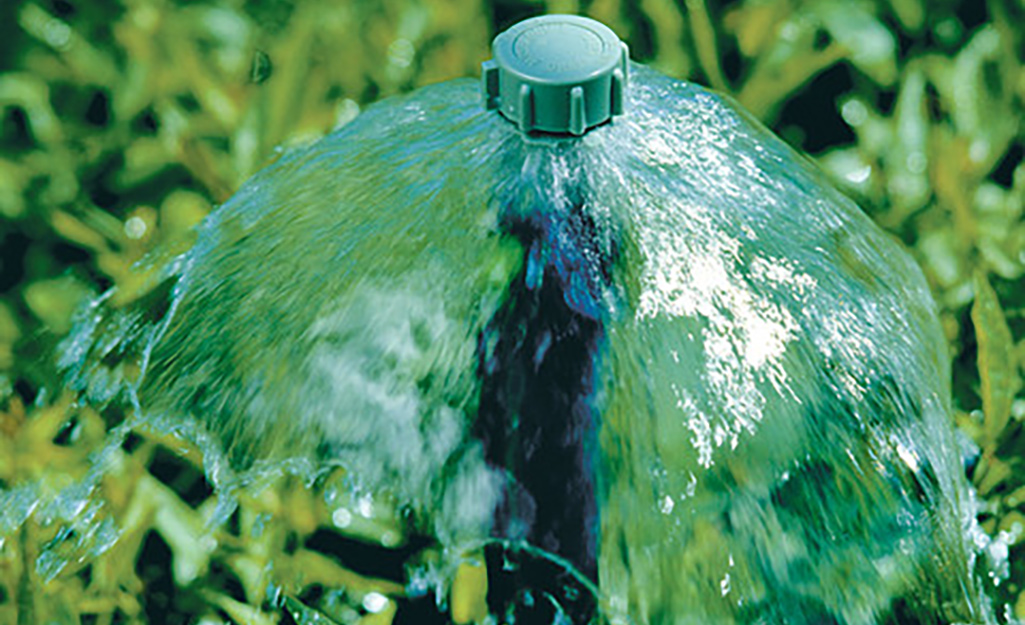 Flood or bubbler sprinkler heads are built to flood the surface area rather than spray it. These are the best lawn sprinkler heads for tree wells, planters and shrubs. Flood sprinkler heads produce a flow of water that soaks soil to reach the root zone, dispersing water in a small area of 5 feet wide or less. The sprinkler heads can release water at a fixed rate, or the flow of water can be adjusted at rates from 1/4 gallons per minute to 2 gallons per minute.   
Gear Driven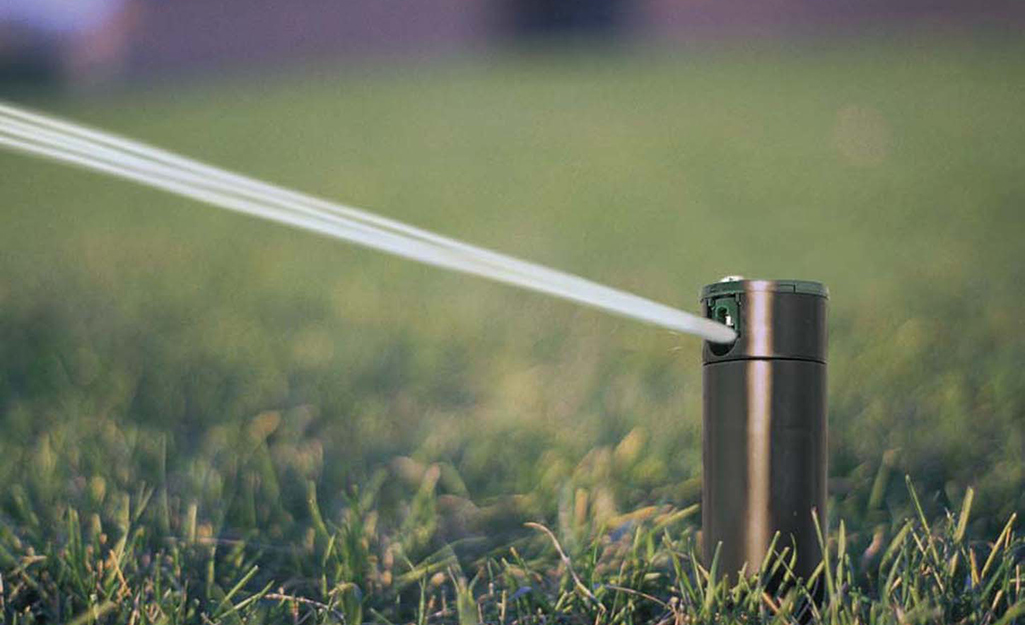 Gear driven rotary sprinkler heads move at a uniform speed to distribute water evenly over the lawn. The best lawn sprinkler heads for large and medium lawns and side lawns, gear-driven sprinkler heads often feature adjustable patterns. 
Multiple Stream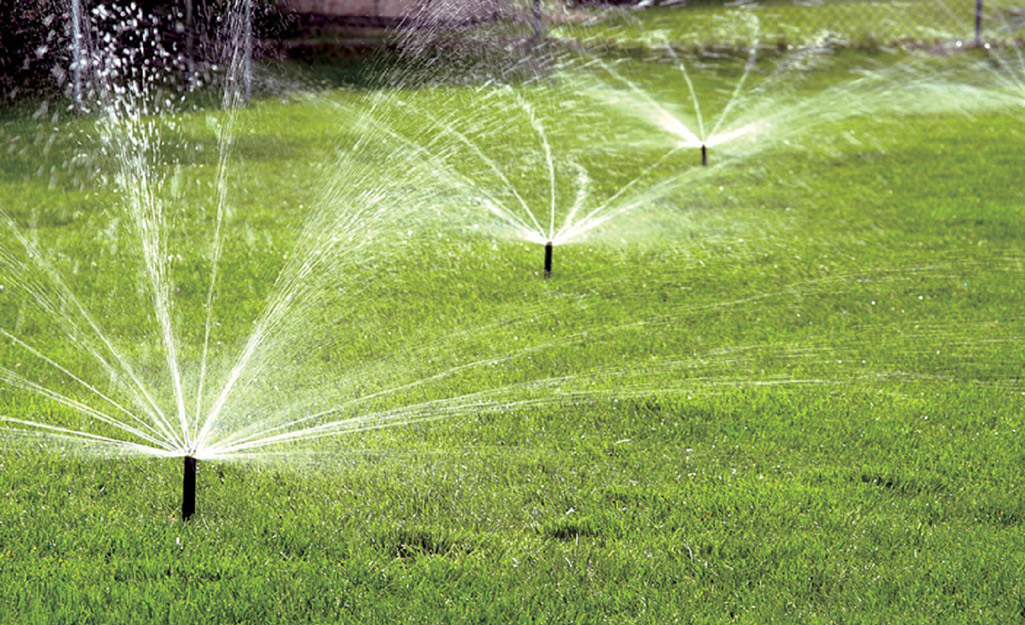 A multiple stream sprinkler head is designed to produce thin streams of water, making it more water efficient than fixed-spray sprinkler heads. This sprinkler head type applies water at a slower rate and is useful on medium lawns, ground cover and slopes and uneven ground.  
Pop-Up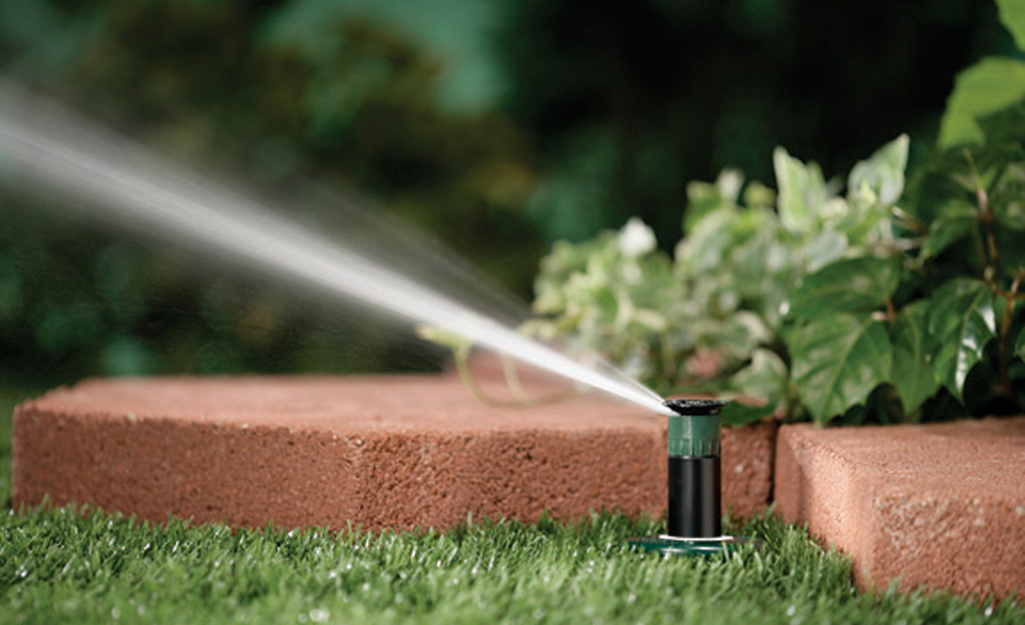 As the name suggests, these types of sprinkler heads pop up above ground when activated and disappear below ground when not in use. They provide even water distribution and low spray angle for lawns of all sizes and gardens. Most pop-up sprinkler head types are interchangeable as long as the threading of the heads match up. 
Rotary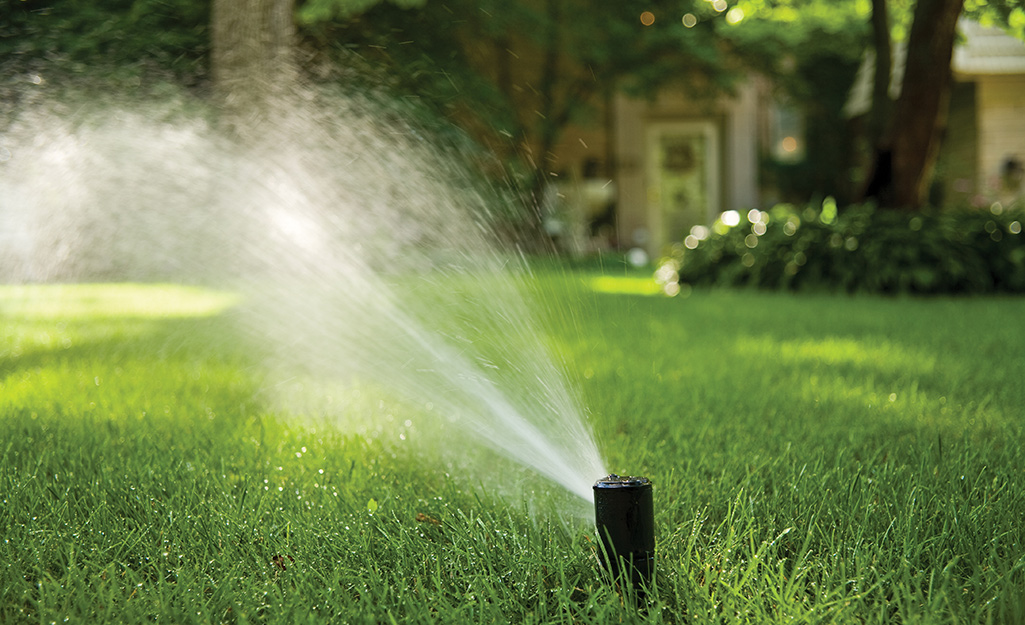 Rotary sprinkler heads deliver a single rotating stream of water or multiple streams over lawn and turf surfaces. A common model is the impact rotary sprinkler that moves back and forth firing bursts of water. Rotary sprinklers operate at a higher pressure rate and cover a larger radius and deliver water more slowly than spray designs.  
Shrub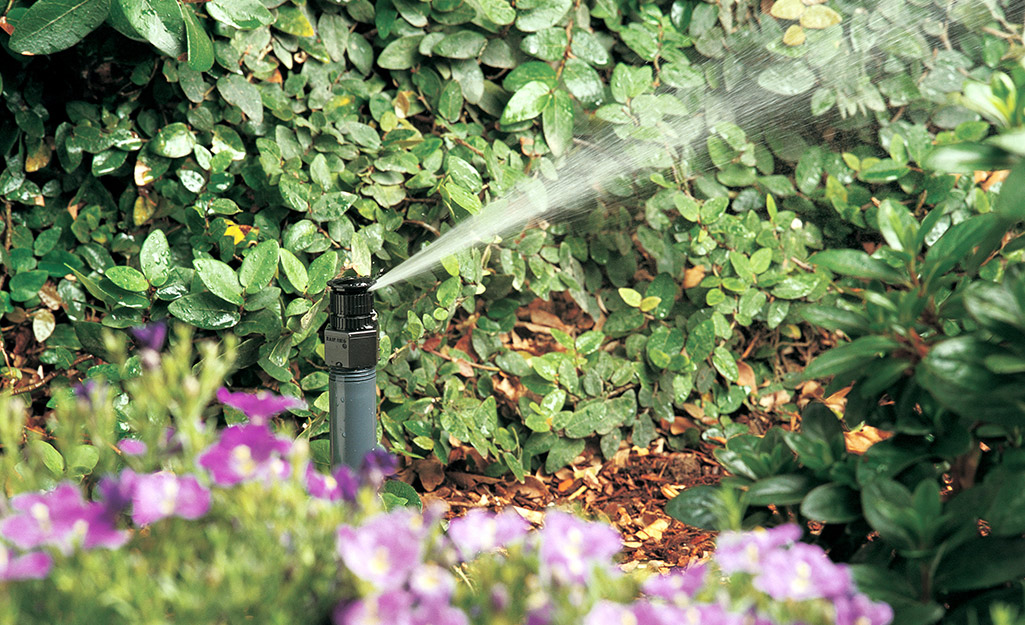 These types of sprinkler heads are mounted above foilage on a riser or vertical pipe, rather than buried under the lawn. Shrub sprinklers are used to irrigate ground cover, planters and dense gardens. The vertical pipe or riser can pose a hazard to pedestrians, so shrub sprinklers must be installed away from walkways, driveways, lawn edges and areas where people walk or children play. 
Installation Considerations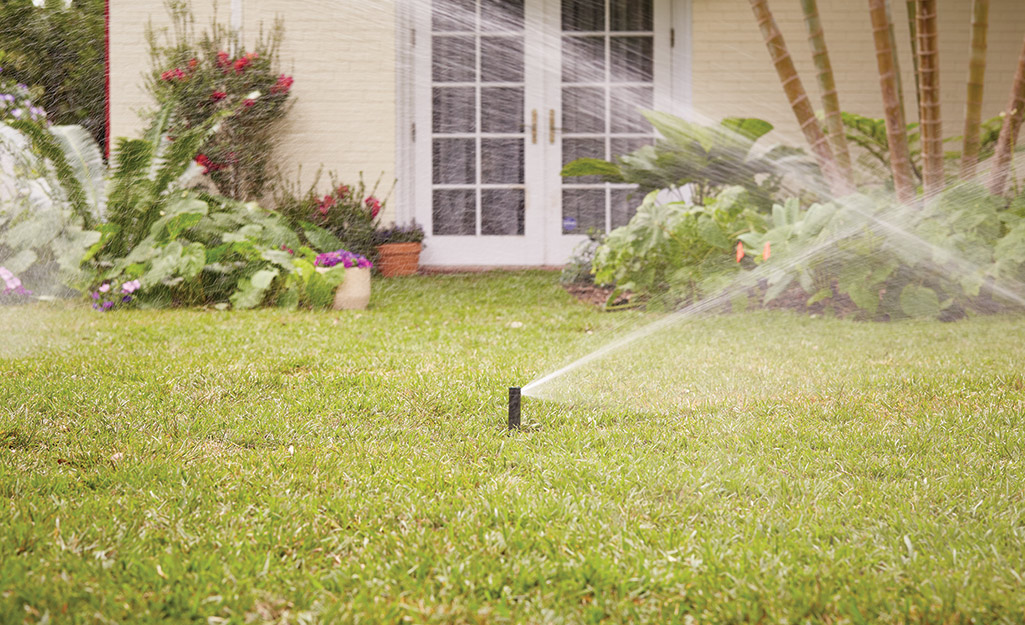 Generally, sprinklers are laid out in a triangular or square pattern to ensure overlap, or head-to-head coverage. The amount of water that the yard receives from a sprinkler stream lessens the farther it goes out, so overlapping the streams is necessary to provide even coverage for all parts of the lawn.    
It's easier to adjust the installed types of sprinkler heads to reduce spray distance than it is to dig them out and reinstall them if spray falls short, so err on the side of caution and keep them close. Different types of sprinkler heads have different flow rates, so install only one kind in a given zone. 
Avoid installing sprinklers that spray trees directly, as water streams may damage bark.  
Adjust patterns to avoid sidewalks, driveways and other areas you don't want to water.  
Square patterns are best for clearly defined yards.  
Triangle patterns are ideal for irregularly shaped yards. 
Tip: When choosing your sprinkler heads, identify oddly shaped areas and borders as well as sections that may need less water than others (for example, shrubs and trees require less water than grass and flowers).    
Regular irrigation ensures that your lawn and landscaping are well watered and thriving. Need help identifying the best lawn sprinkler heads for your property? Download The Home Depot Mobile App and find products fast with image search. Snap a picture of an item you like and we'll show you similar products. 
Explore More on homedepot.com