Squash is a versatile and healthy fruit. Yes, botanically squash is a fruit, but it is typically eaten as a vegetable. Related to ornamental gourds, squash comes in a variety of colors, shapes and flavors. Squash can be used in soups, pies, breads and side dishes. This ultimate squash guide will show you the common varieties of squash and how to use them. 
What is Squash?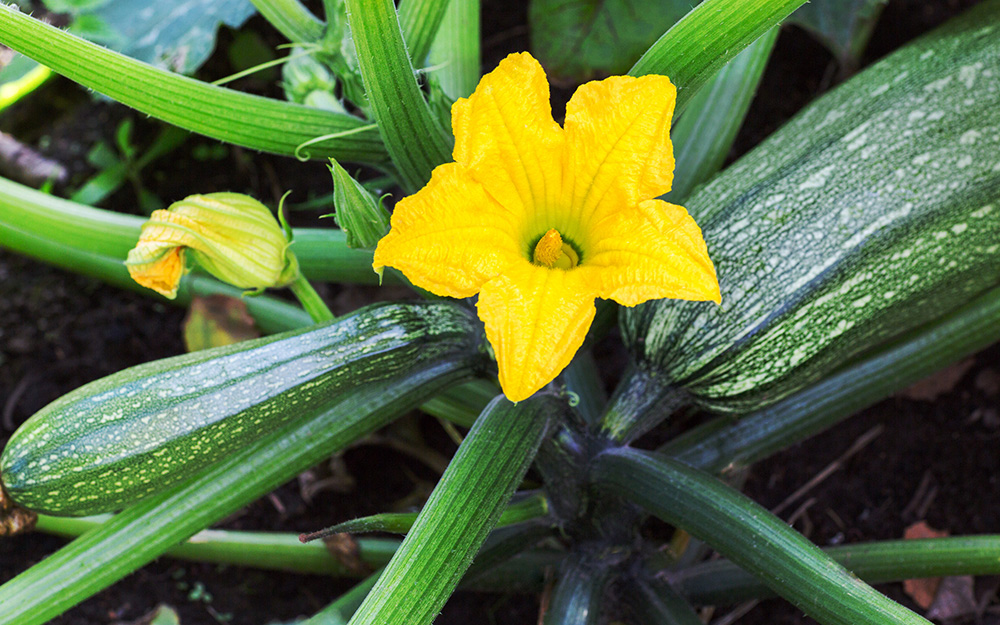 All squash is part of the Cucurbita genus of herbaceous vines in the gourd family. The fruit of squash is usually served as a cooked vegetable. The seeds, leaves, vines and blossoms may also be cooked and eaten. There are two main types of squash: summer and winter. 
Summer squash is a tender, warm-season plant. It's harvested before the rind hardens and the fruit matures. It grows on bush-type plants that grow upright and is quick growing. Winter squash is harvested when the fruit is fully mature, and the rind is hard. They are slow growing and are harvested in the late summer through the fall.
Common Types of Squash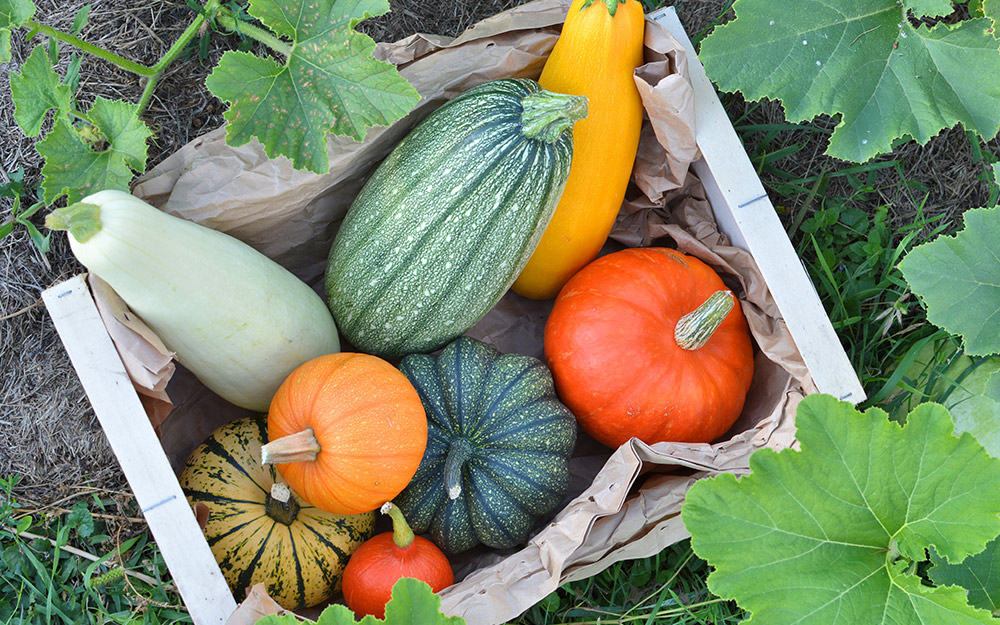 All squash are planted in the late spring or early summer. The timeframe in which you harvest the fruit determines if they are summer or winter squash. Winter squash is harvested in the fall, not in the winter. Winter squash is named so because it can be stored all winter due to its hard shell. 
Squash is chock full of vitamins and minerals such as Vitamin A, Thiamin, Niacin, Vitamin K, B6, Beta Carotene and Folate. It is low in calories and is a very good source of dietary fiber and protein. In addition to all of its health benefits, squash is extremely versatile. It can be used to make soups, pies, breads and side dishes. 
Summer Squash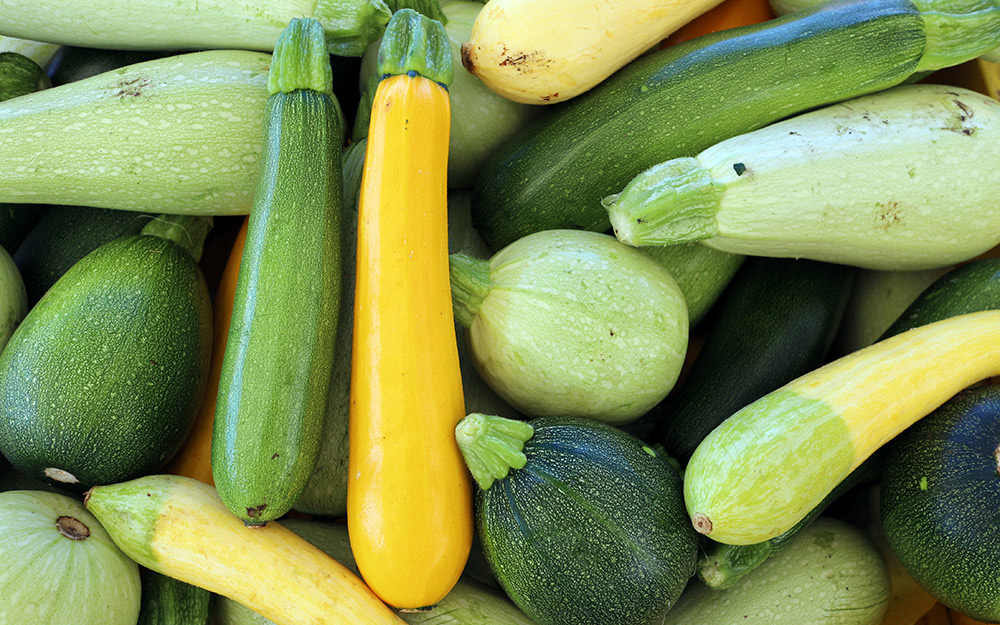 Unlike winter squash, these varieties of squash have soft, thin edible skin with varying density of flesh. They can all be eaten raw or cooked. Their flavor is mild and ranges from sweet to nutty. The difference in flavor among the varieties is subtle and most can be used interchangeably in dishes. 
Zucchini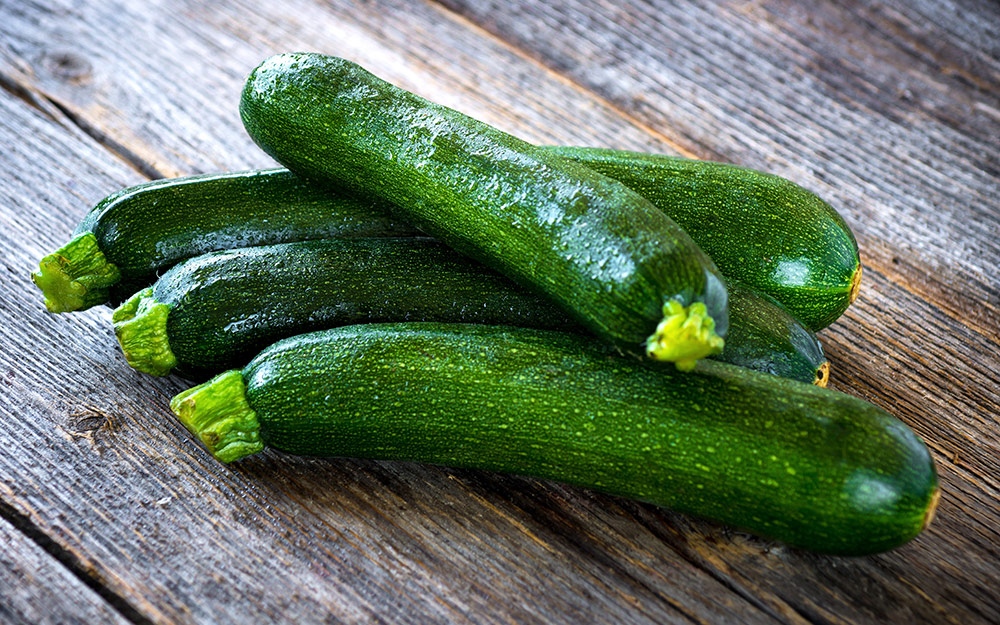 This summer squash variety is the most popular of all summer squash. It is ideal for both savory and sweet preparations. Zucchini are multifunctional; you can fry them, sauté them, turn them into "pasta ribbons" or even eat them raw. There are several varieties of zucchini. A popular heirloom variety, Costata Romanesco, is renowned for its flavor and texture. For a quick, no fuss side dish, sauté sliced zucchini in olive oil with fresh garlic, salt and pepper. Other delicious ways to cook zucchini include parmesan chips, fritters, shaved-squash salad and quick bread. 
Yellow Squash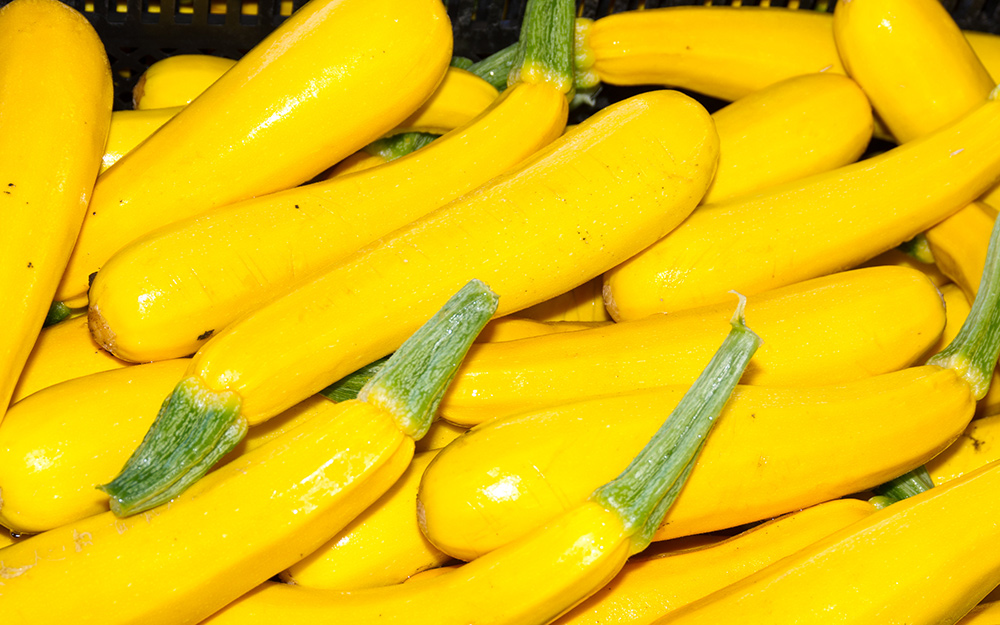 Yellow squash comes in two varieties: straight neck and crook neck. Both varieties have fatter bottoms and taper towards the neck. They have smooth to slightly bumpy, thin skin and creamy white tender flesh with larger seeds. Yellow squash is used in both sweet and savory dishes. Use yellow squash as you would use zucchini. They are lovely grilled with olive oil and sprinkled with parmesan cheese. The next time you get a bumper crop of these prolific growers, make a southern favorite – yellow squash casserole.
Pattypan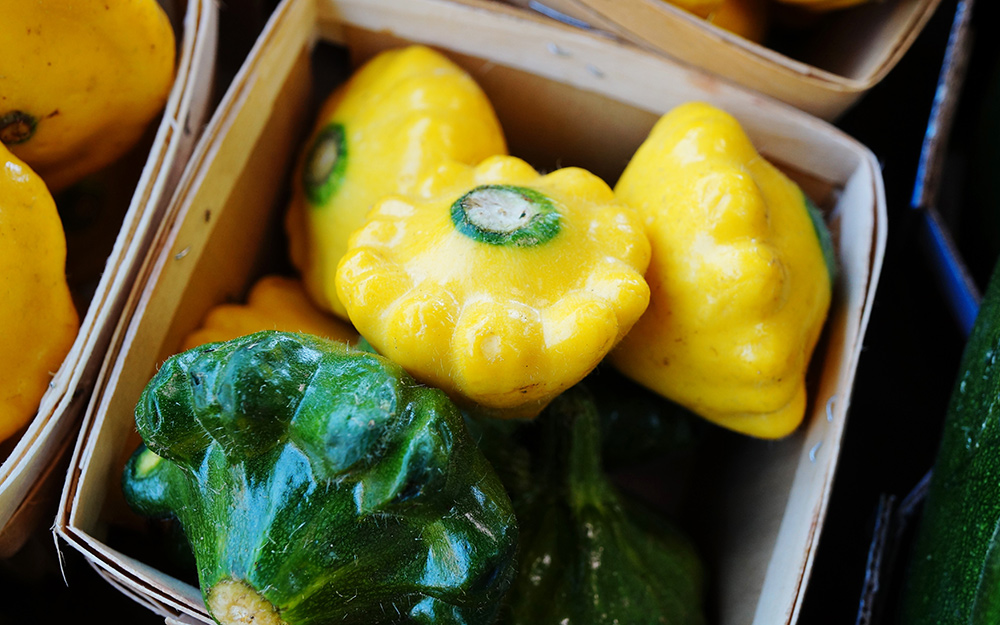 This little squash resembles a mini flying saucer. Pattypan squash is small, round and flat. They can be yellow, white or green. This squash is versatile and makes for some delicious summer recipes. It can be grilled, fried or oven-roasted. Pattypans impart a slight buttery flavor and tend to be meatier than zucchini and yellow squash. They're slightly denser and have a little more crunch than other summer squash. Try roasting them with shallots and herbs with a good bit of olive oil for an easy side dish. Slice them for a quick sauté, or stuff the larger ones with a tasty filling.
Cousa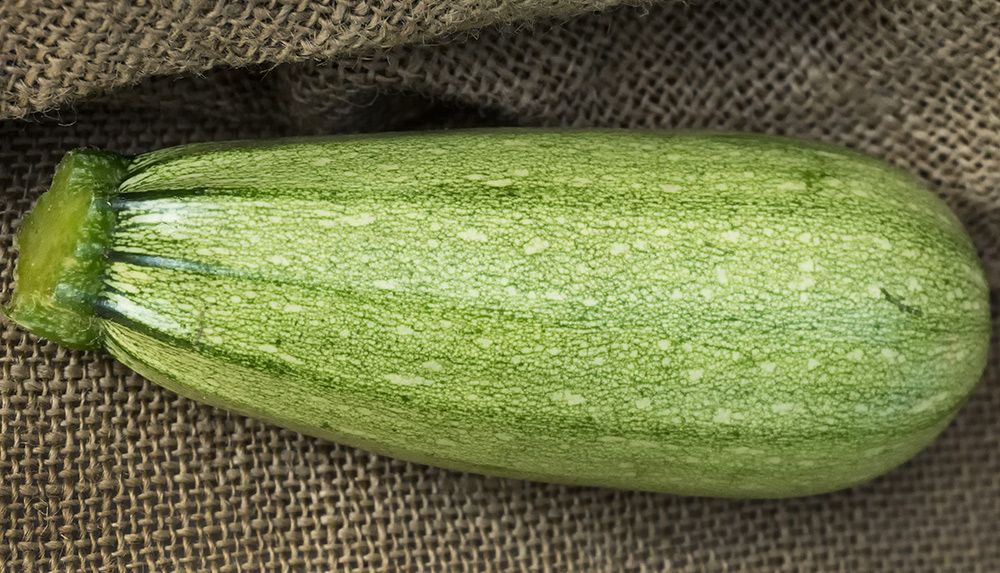 Cousa squash is shorter and stockier than zucchini with a mix of pale and medium green striations. It has a thin skin with a light texture and tastes more like a yellow squash than a zucchini. It's great for stuffing, stir fries and pickling.
Tromboncino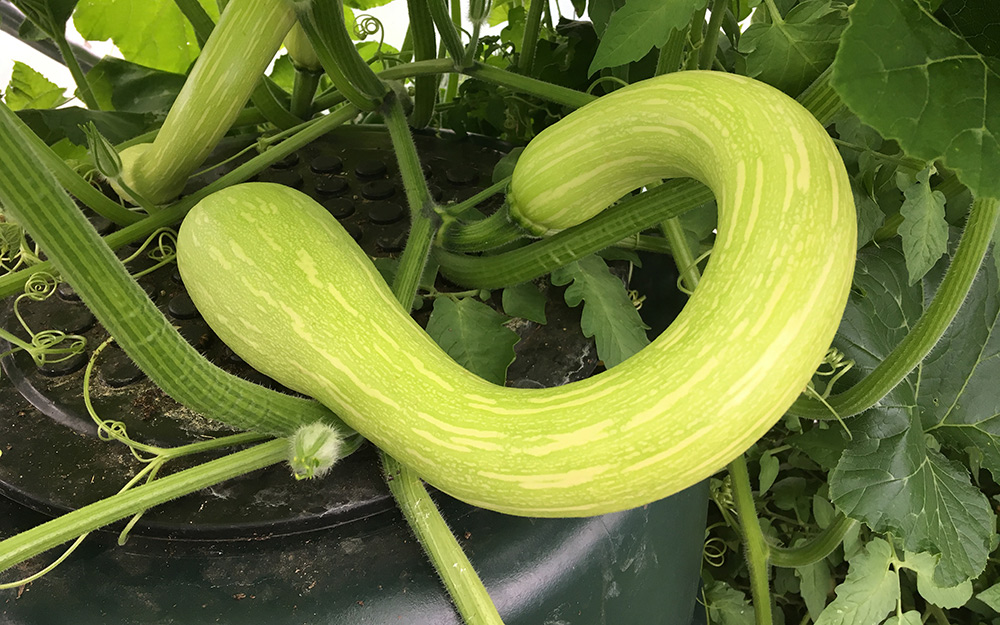 Tromboncino is one of the few winter squash varieties that is harvested as a summer squash. Although it can be left to harden as any other winter squash, it actually has more flavor when eaten in the summer. It has a sweeter flavor than zucchini and the long neck is seed-free. Use in place of zucchini in recipes. 
Zephyr

This squash is a hybrid of yellow crookneck, Delicata and yellow acorn squash. It inherits the best qualities from its parents: firm flesh, a long, cylindrical pale-yellow body and a distinct bottom portion that can vary in hue from pale to deep green. Use Zephyr as you would use other summer squash.
Winter Squash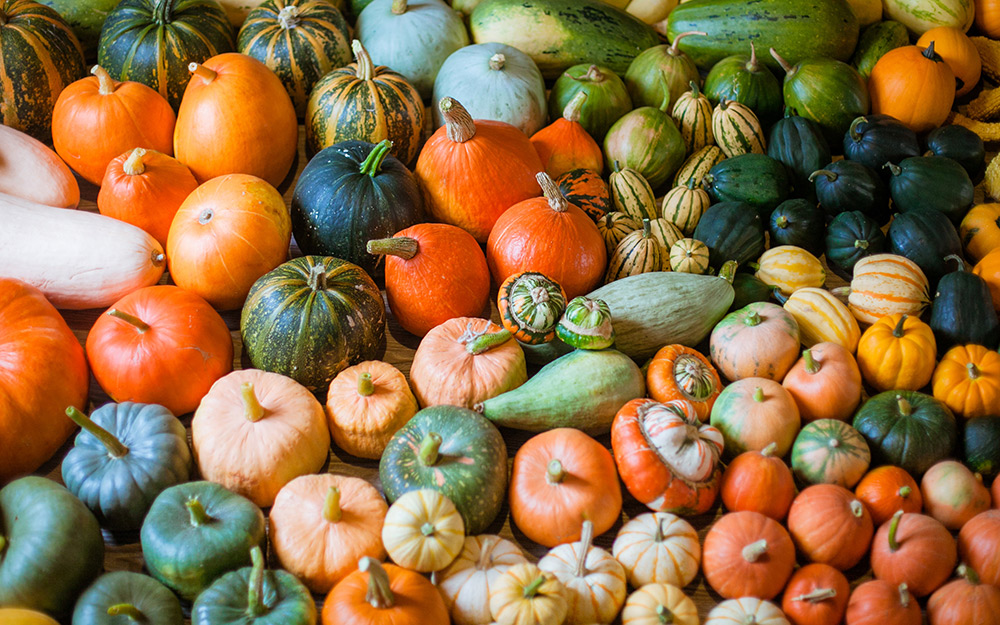 Pumpkins and gourds may be the most popular of all winter squash. However, there are other versatile, vividly colored and flavorful varieties to liven up cold-weather meals. Winter squash are sweeter, denser and firmer in texture than summer squash. They take well to a variety of seasonings and are often used in soups, casseroles and desserts.
Acorn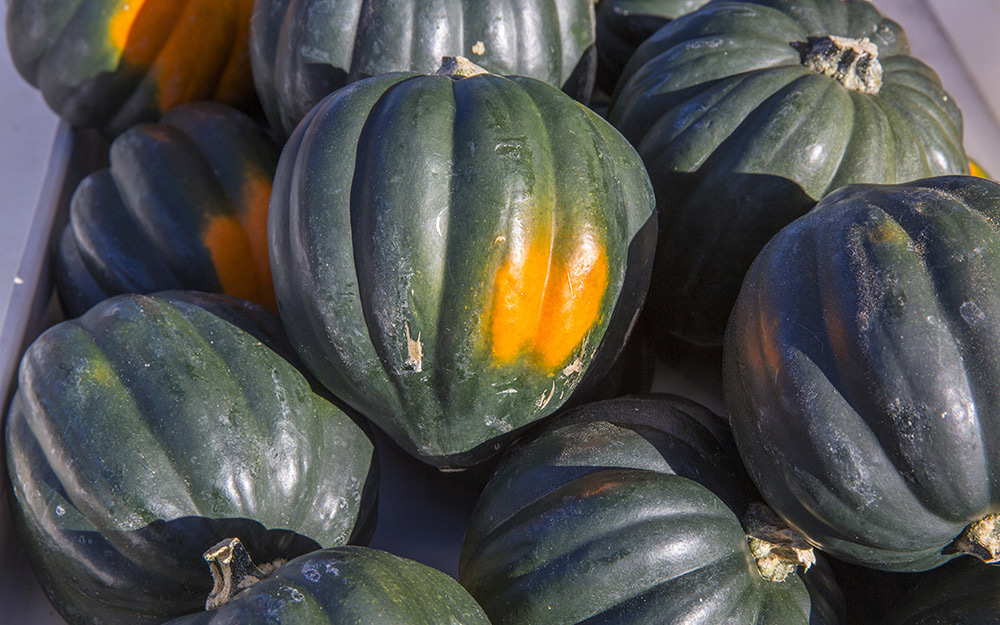 Named after the acorn for its similar shape, this squash features a mild, slightly sweet flavor that's perfect for roasting. The acorn squash is dark green with a firm, yellow flesh and makes a great vessel for stuffing.
Buttercup
Sometimes confused with Kabocha squash, Buttercup is a compact squash with paler green striations. Fresh, uncooked Buttercup smells like a clean, fragrant cucumber. Once cooked, its orange flesh becomes dense, a tad dry and has a mild flavor. The squash works best roasted or mashed with a drizzle of maple syrup and butter.
Butternut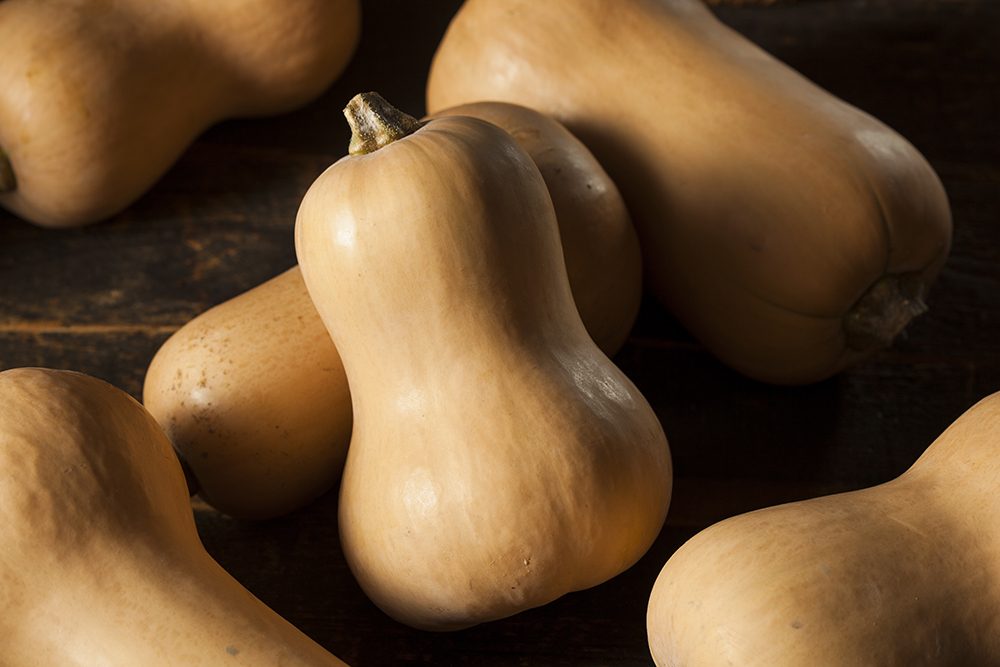 This popular winter squash variety features a rich, orange flesh and a delicate sweetness. It's one variety that's found year-round in almost any grocery store. It's perfect for butternut squash soups, risotto, gnocchi and ravioli.
Delicata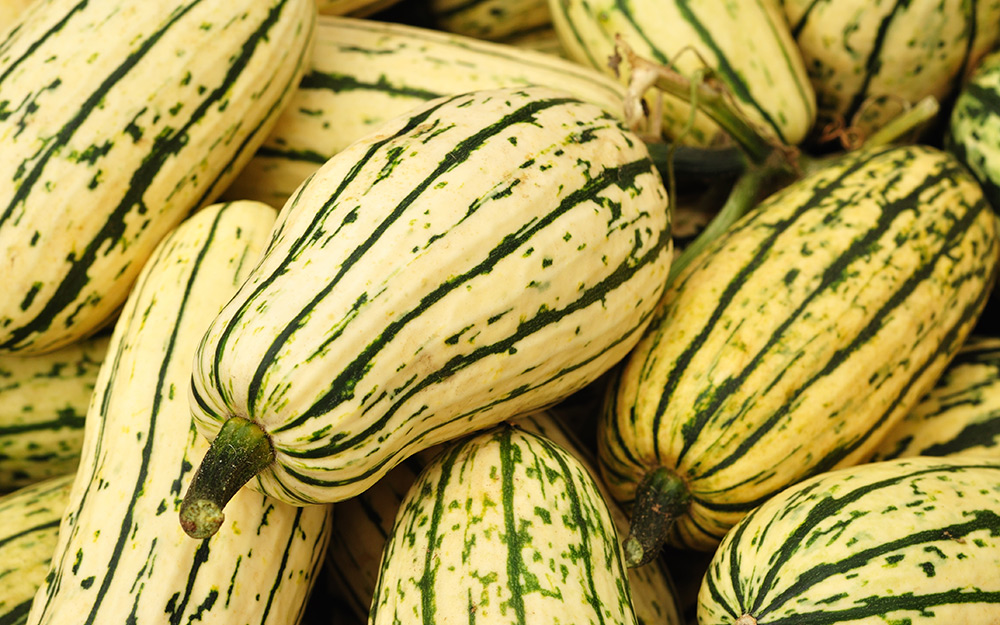 The Delicata squash is long, slender with thin, edible skin–similar to summer squash. Its flesh has a creamy texture similar to sweet potato, but with an earthy flavor. Delicata is wonderful baked, sautéed, steamed or stuffed.
Sweet Dumpling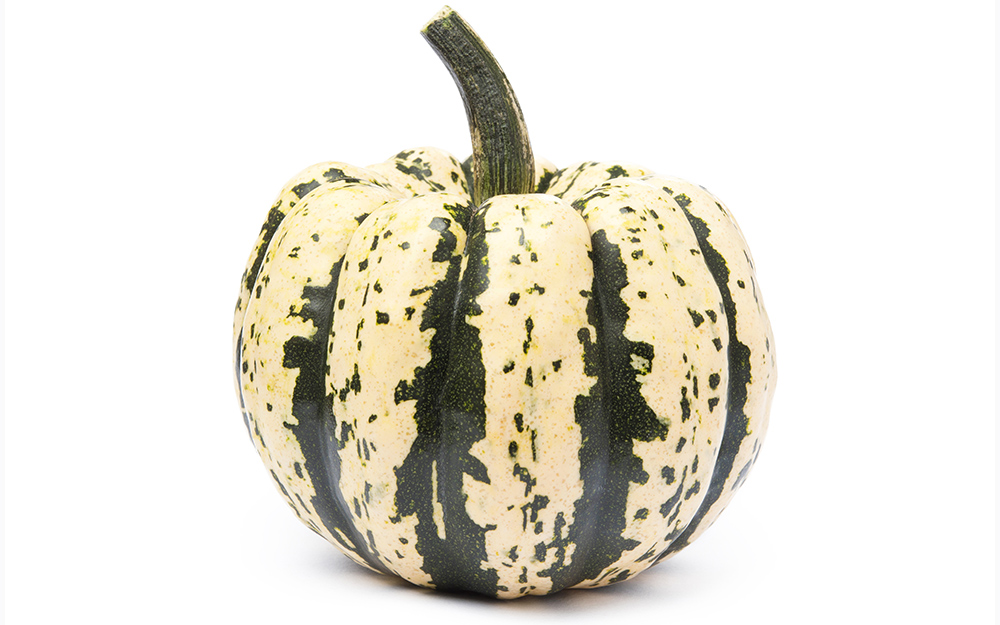 Similar in taste to a sweet potato, Sweet Dumpling is delicious when baked, roasted, mashed or used in soups. It's the perfect size to be hollowed out and used as soup bowls or stuffed. 
Blue Hubbard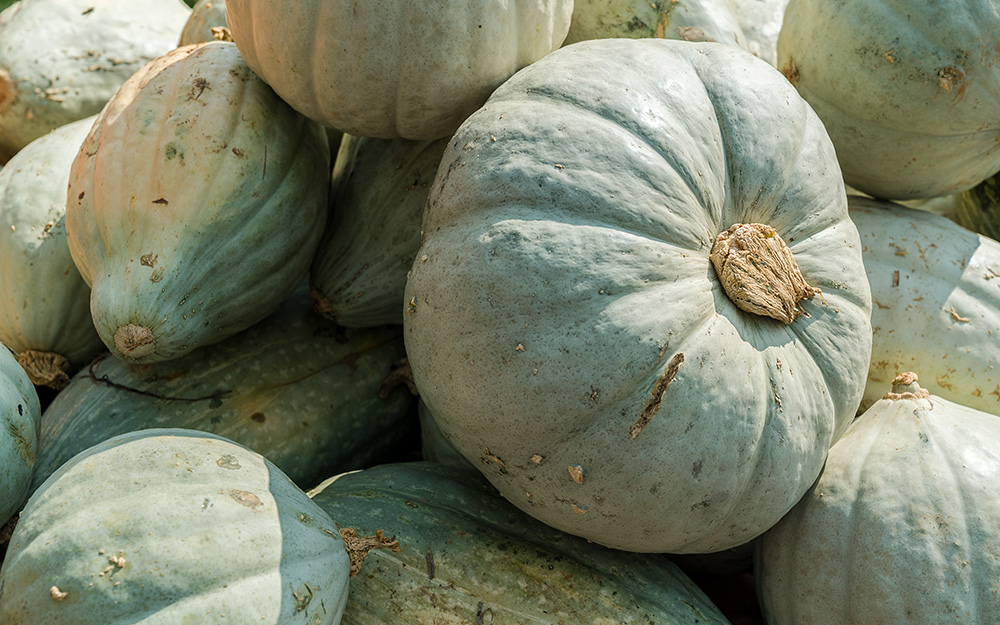 Known for its lumpy, bumpy texture and unusual grey-blue skin, Hubbard is one of the thickest-skinned squash varieties. Because of its thick skin, it has a long shelf life. Hubbard squash are high in moisture and possess a rich, sweet yellow flesh. They make an excellent substitute for pumpkin in sweet dishes. For a simple side dish, serve them mashed with a bit of brown sugar and cinnamon. 
Kabocha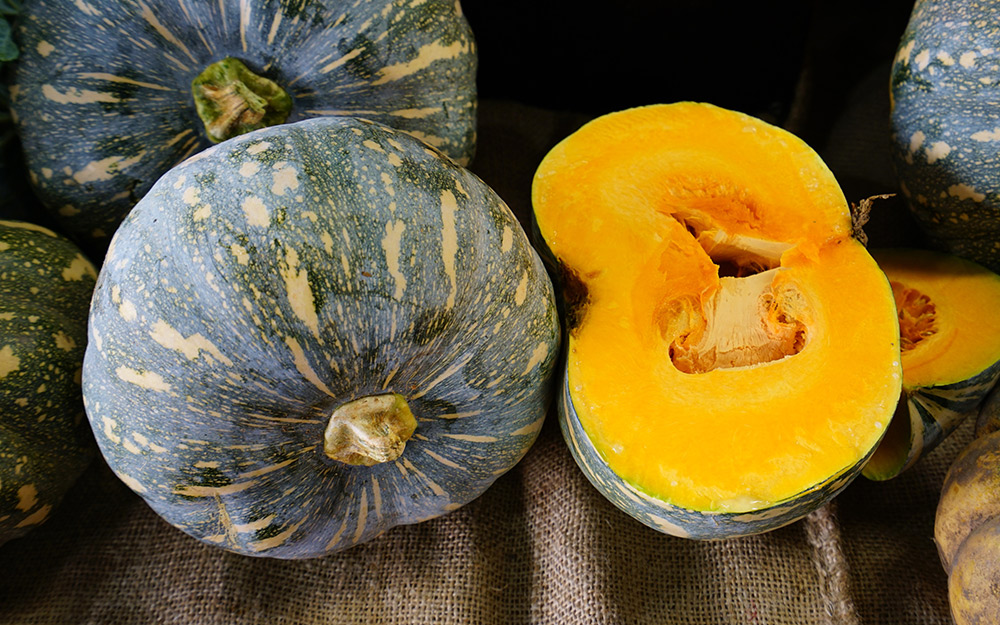 Kabocha is the Japanese word for "squash". This squat, green squash features a nutty, earthy flavor with just a touch of sweetness similar to chestnuts. It has a moist, fluffy texture and pairs well with ginger. Use this squash in soups, mashed and in pies and cakes. There is also a Red Kabocha variety that has a richer flavor and texture.
Sugar Pumpkin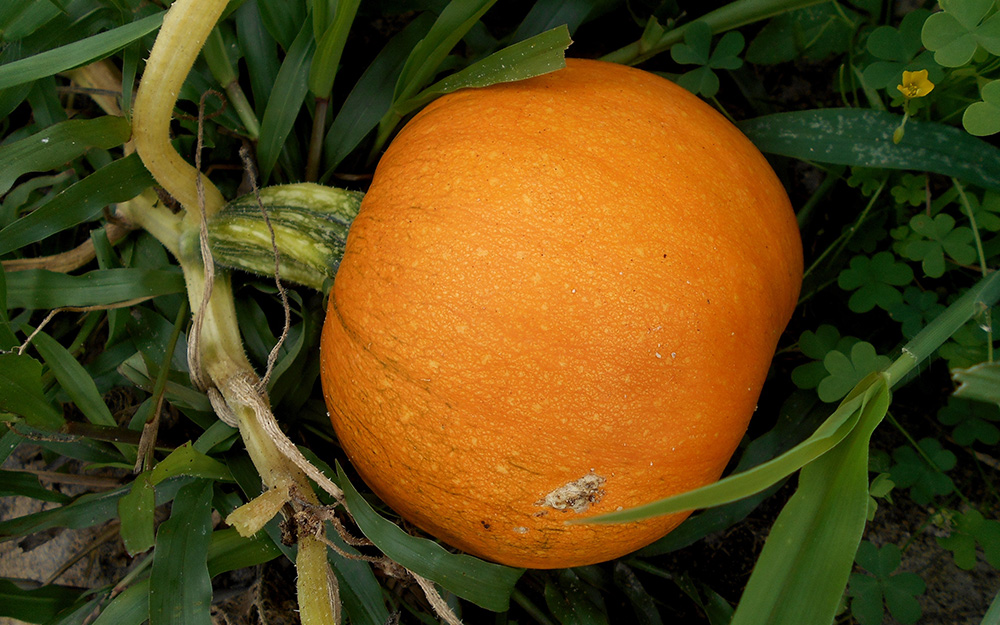 Not all pumpkins are cultivated for eating. The large varieties used for Jack-o-Lanterns are more shell and lack any sufficient flesh for cooking. However, sugar pumpkins are prized for their classic rich pumpkin flavor and their thick, flesh-packed walls. To make homemade pumpkin puree, cut them in half, lightly toss with vegetable oil and cook them on a baking sheet until the flesh is soft. Scoop out the flesh and puree in a food processor. Use the pumpkin puree in any of your favorite pumpkin theme recipes. 
Red Kuri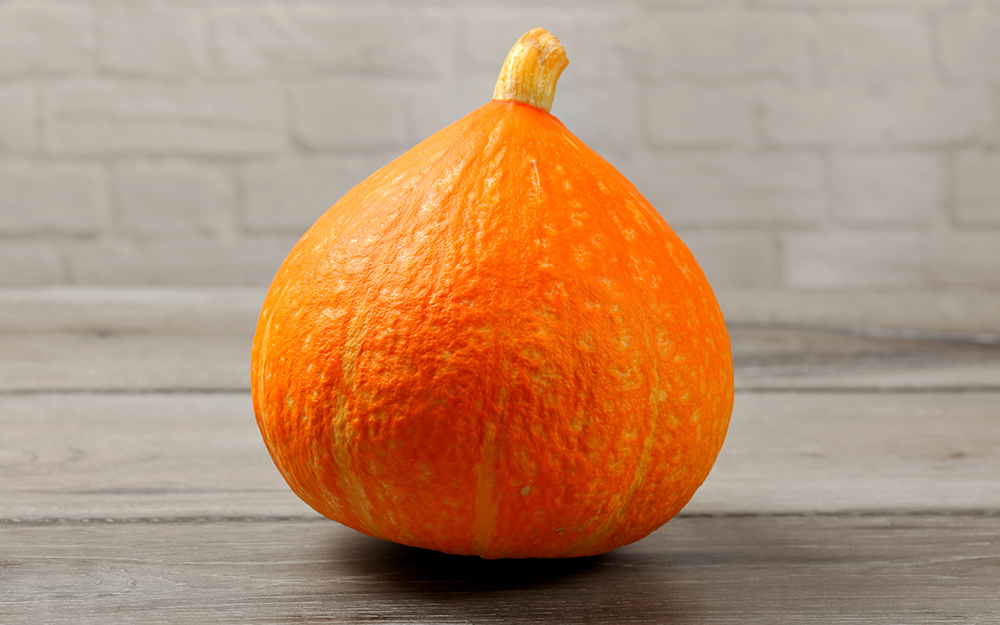 This popular Japanese squash variety is known for its creamy and sweet golden yellow flesh and deep orange skin. Red Kuri features a gentle chestnut flavor. It's great in soups or tossed with olive oil and roasted.
Spaghetti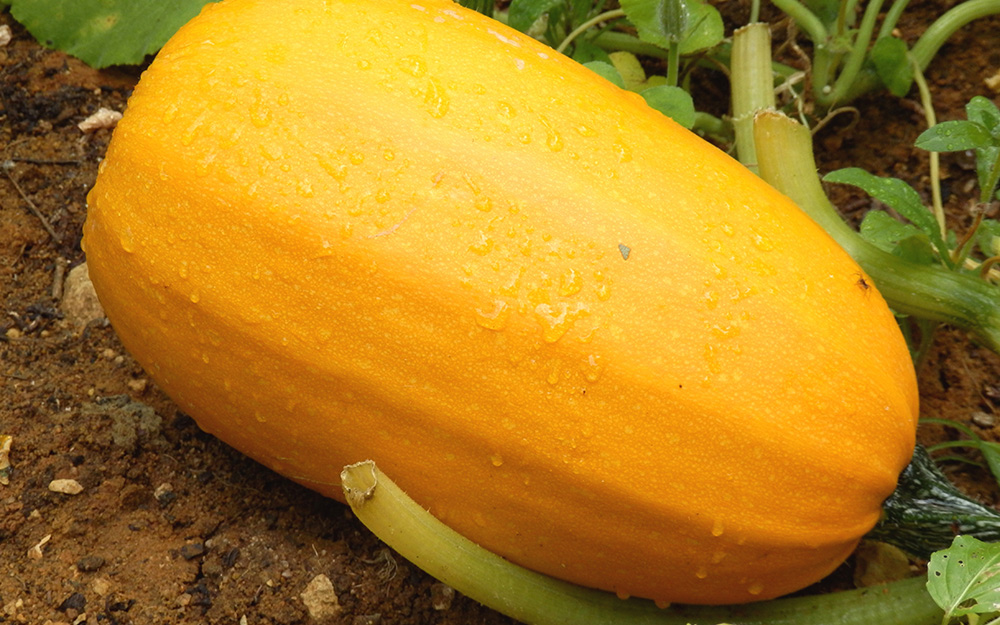 Anyone who is trying to cut carbs knows that spaghetti squash is an excellent pasta substitute. Once baked, the fruit comes away from the skin in strands that look like spaghetti. The ribbon-y strands are ideal for absorbing a cheese or a sauce. 
Carnival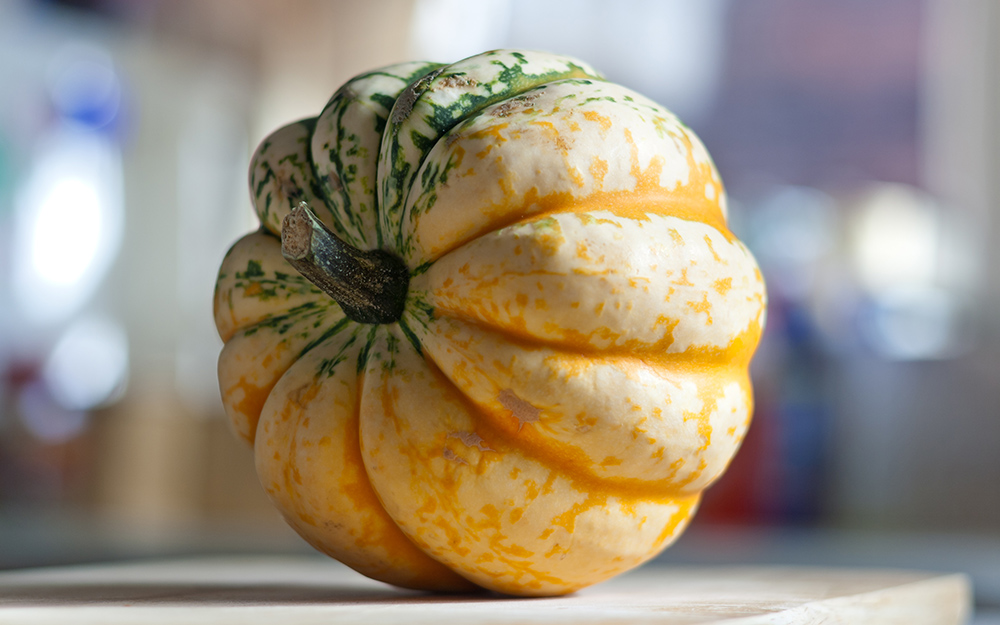 This squash is a cross between an acorn and sweet dumpling squash. It's the perfect combination of sweet and mild flavor. Use the carnival squash in soups or spiced and baked as a side dish.
Banana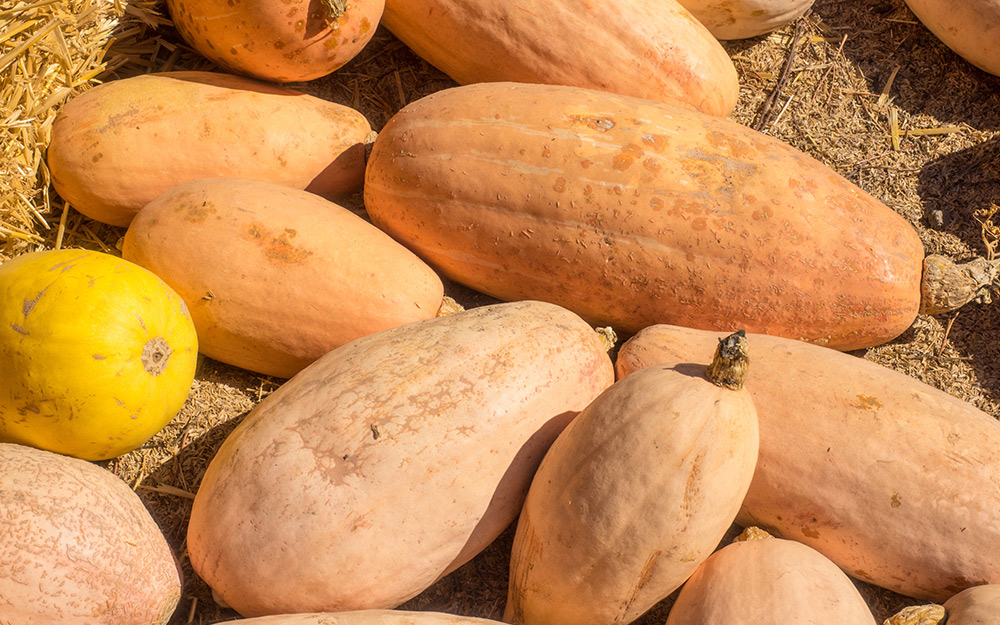 It may resemble the tropical fruit in shape and color, but that's where its similarities end. Banana squash has bright orange, dense flesh. It is an excellent substitute for butternut.
Both summer and winter squash are a fun and delicious way to add variety to your meals. Use this squash guide to help you identify and find inspired ways to use them in your recipes.
Explore More on homedepot.com