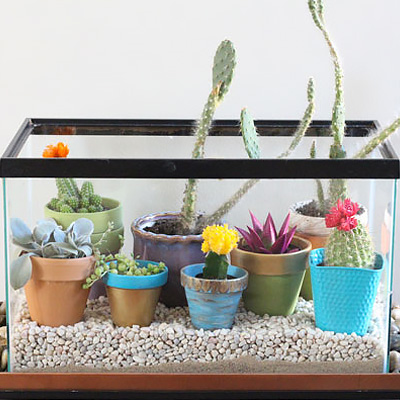 Dream of spring and create a DIY terrarium home for colorful cacti and succulents in a thrift store fish tank. This bohemian chic terrarium takes less than an hour to put together and is the perfect way to create an indoor garden. 
1
Place Fish Tank on a Plant Stand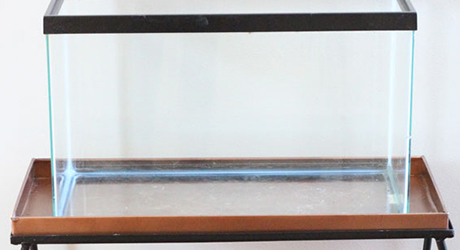 Fit your fish tank on top of a plant stand. The elevated plant stand allows the terrarium to sit high up by a sunny window.
The plant stand we used for this project came in a box of three and we used the largest one. The other two can be used for other houseplants or as decorative tables.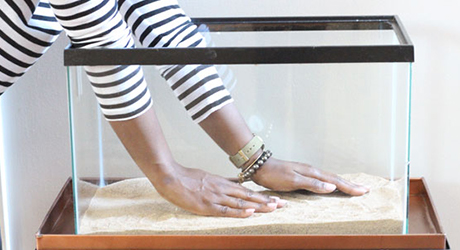 Pour four bags of sand into the terrarium. We used desert sand by Mosser-Lee. Once you have filled it to the desired level, gently pat down the sand to level out.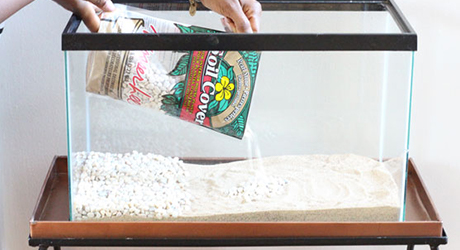 Take four bags of decorative pebbles and empty them over the sand. Gently level the pebbles when done. We used the pearl stone pebbles because the neutral color works well with the colorful flowerpots and cacti used in this DIY project.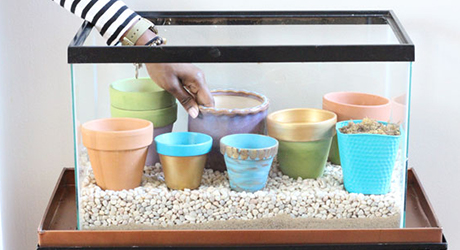 Arrange your flowerpots before dropping in the plants. We used flowerpots of varying sizes and colors, including several painted terra cotta pots.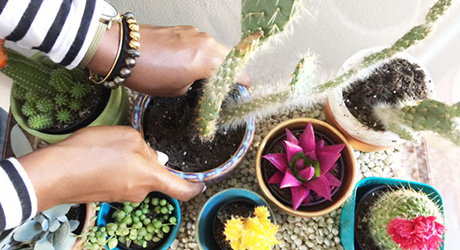 Drop in and arrange your colorful cacti and succulents in the flowerpots, being careful of spines on the cacti. Add extra potting soil in the pots if needed. Outside the terrarium, you could pour in some river stones for additional decoration on the plant stand.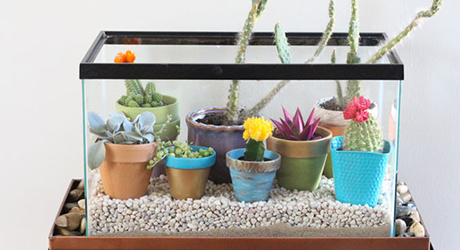 When your fish tank terrarium sits in front of a sunny window, the glass helps to conduct heat and keep the environment extra warm. Water your plants occasionally, especially the succulents. 
For other ideas with terrariums, see these gift ideas.
Explore More on homedepot.com