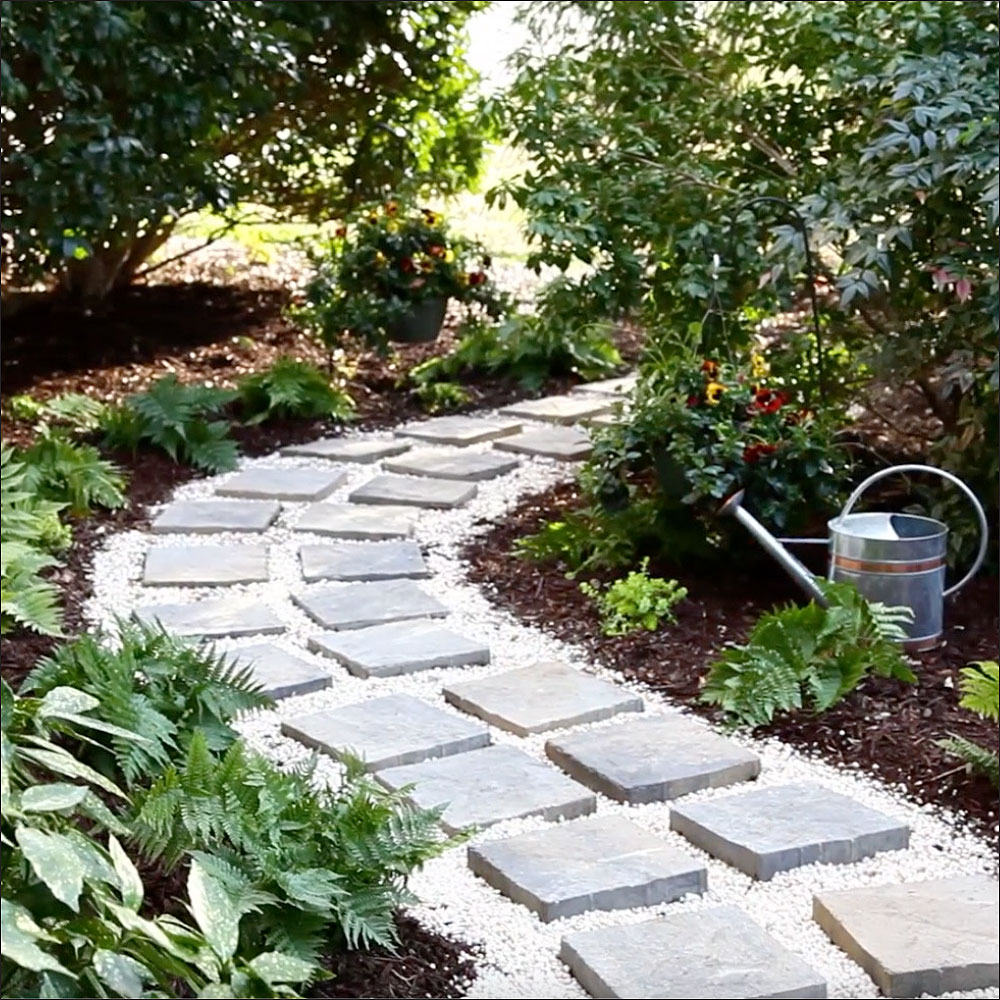 A paver path or paver walkway is an easy way to spruce up any outdoor space and make it more functional and comfortable at the same time. When it comes to your design, there are a range of ways to build a paver pathway. Popular styles include pea gravel as a base with stone pavers mixed in. Other styles utilize decomposed granite, special interlocking pavers or a variety of other stepping stones.
Whatever style you prefer, building a paver pathway is a DIY project that is well within reach. Use this guide to learn how to build it, step by step.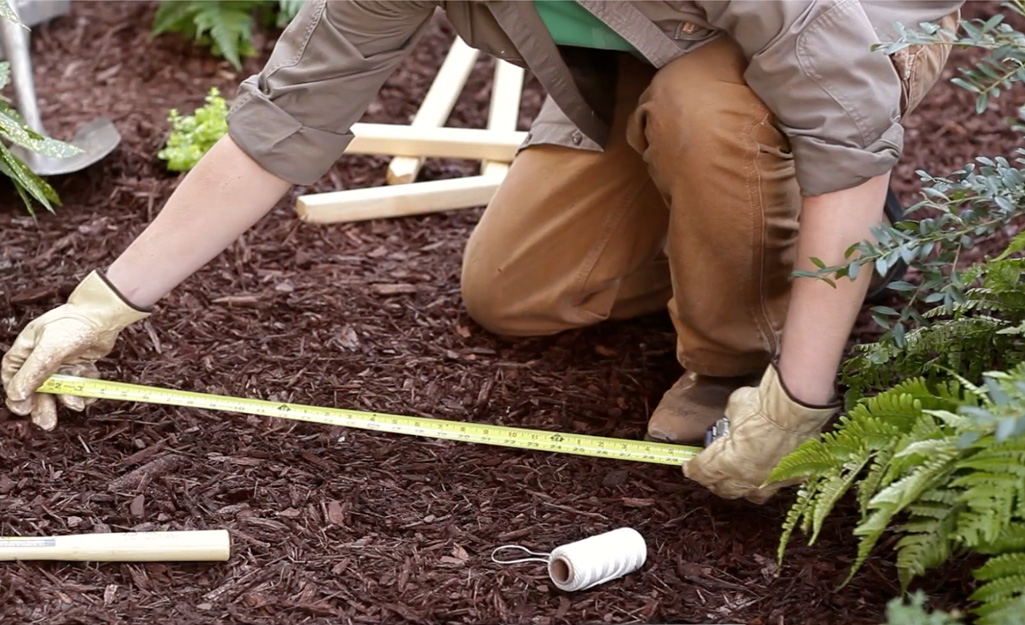 The instructions in this guide are for laying out a path that is 20 feet long and 3 feet wide. However, these instructions can easily be scaled up or down depending on the size of the space you're working with.
Start by finding the square footage of your space. To do this, simply multiply the length by the width. In our example build, multiply 20 feet long by 3 feet wide, giving a total area of 60 square feet.
To cover that space, you'll need a total of twenty-eight 12-inch by 12-inch paver stones. The pavers are installed in pairs of two, leaving a 6-inch gap between each pair.
Between the pavers and the walkway edge is a gap of 3 inches on one side and 6 inches on the other, which is alternated for a staggered effect.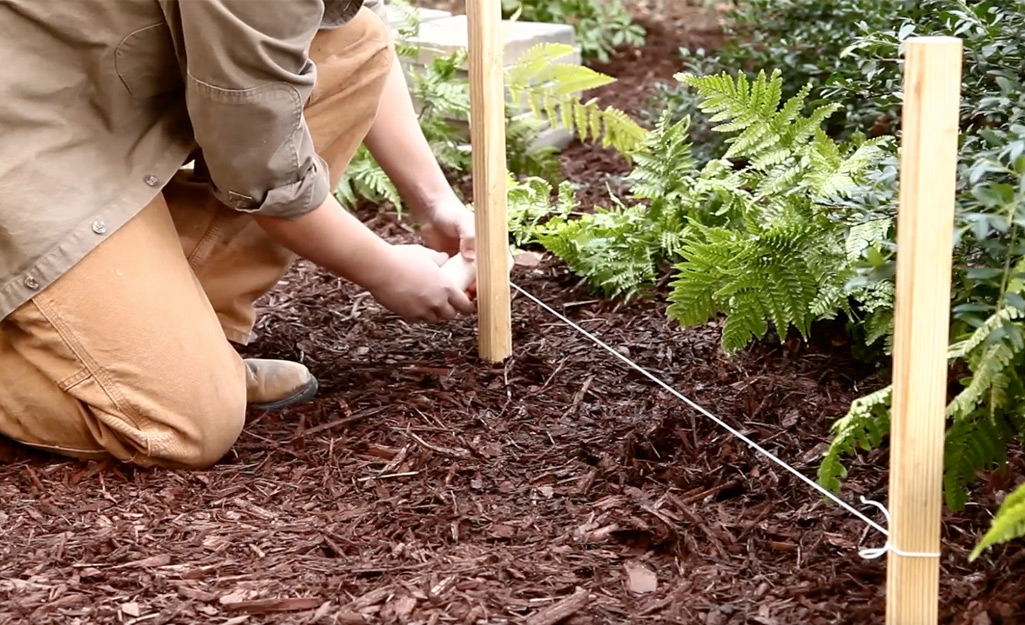 Before laying the pavers, prepare the space for your paver stones. 
Start by plotting out a path and clearing away any grass to a depth of around 4 inches to 6 inches. 
Use stakes and string to mark out the course and finished elevation of your path. 
Use a shovel or tiller to clear the area, checking your work when you're done.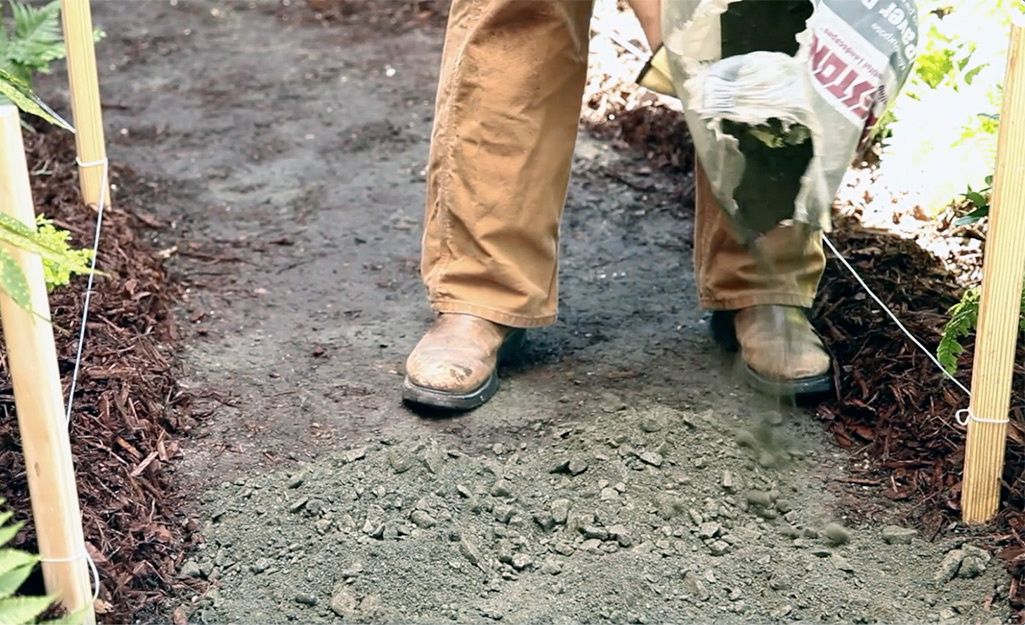 After prepping the area where the patio pavers will go, fill in this space with paver base. 
Fill in the path with paver base at a depth of 4 inches. About 40 bags of paver base were required to cover the 60 square feet in the example job. 
With the paver base in place, use a tamper to level out and settle the base. For larger areas, you may want to consider a powered tamper.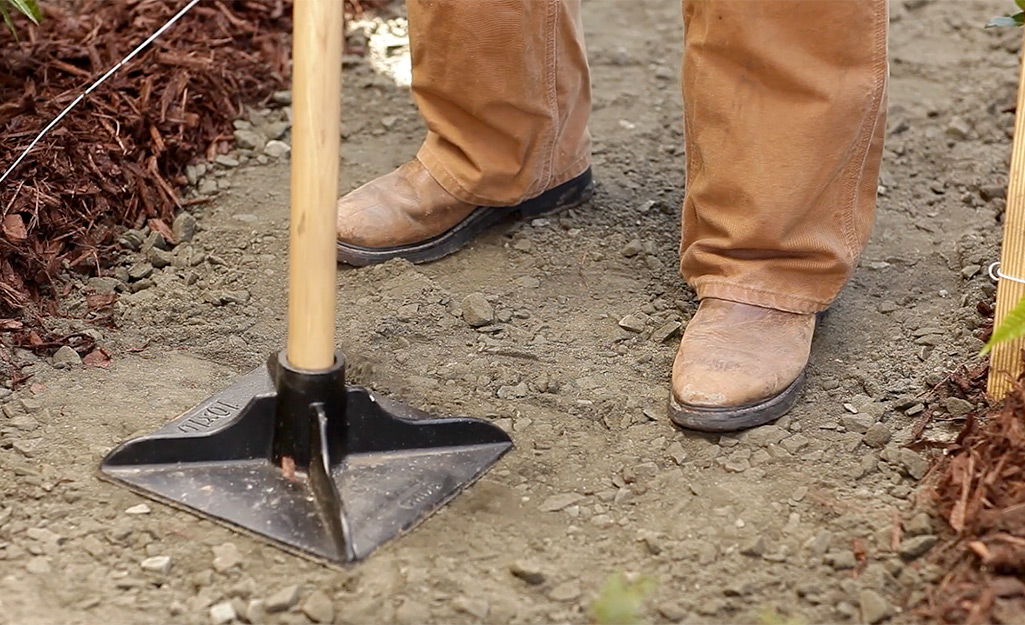 Paver base in place, it's time to apply leveling sand. You can use polymeric sand for some paver path installations. Depending on the pavers you choose, it may be a better option that creates a tighter fit when you're finished. However, it isn't always the right sand base for paving stones with larger paver joints. If you're not sure what type of sand is right for your job, talk to a The Home Depot Associate to get advice on what type of leveling sand will work best for your project.
Apply a layer of leveling sand to a depth of about 1 inch. Twelve bags of leveling sand were needed for the example path. 
Tamp the leveling sand down to secure it in place.
5
Measure and Lay Out Stones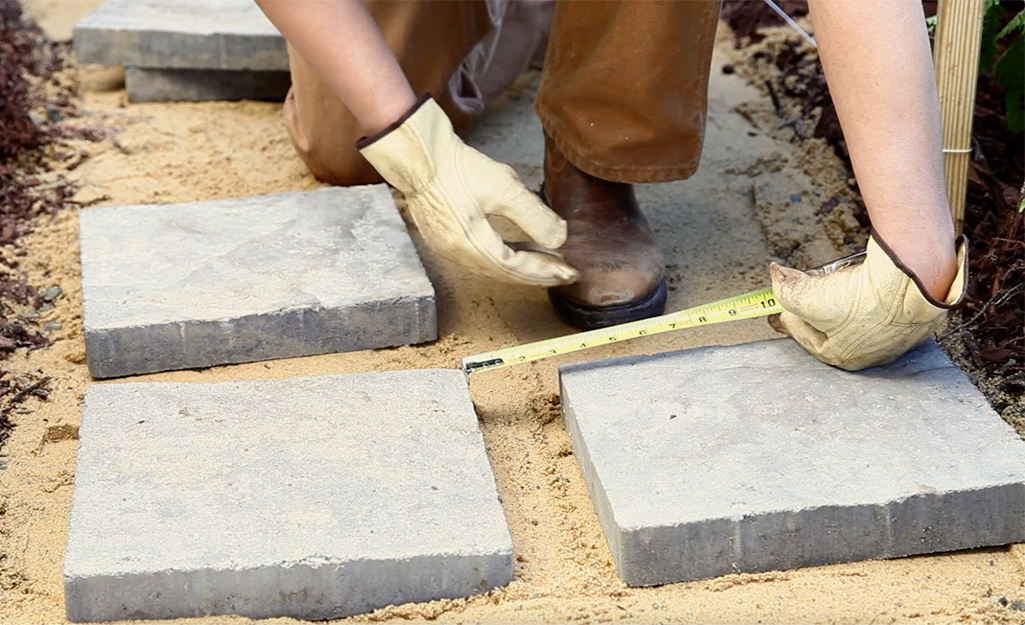 With your leveling sand in place, it's time to think about your paver stone design and layout. 
Sketch the pattern for your stones. Even a basic layout sketch can be helpful for DIY projects. 
Begin laying out your paver stones using measuring tape. Be patient and double-check your distances as you go along.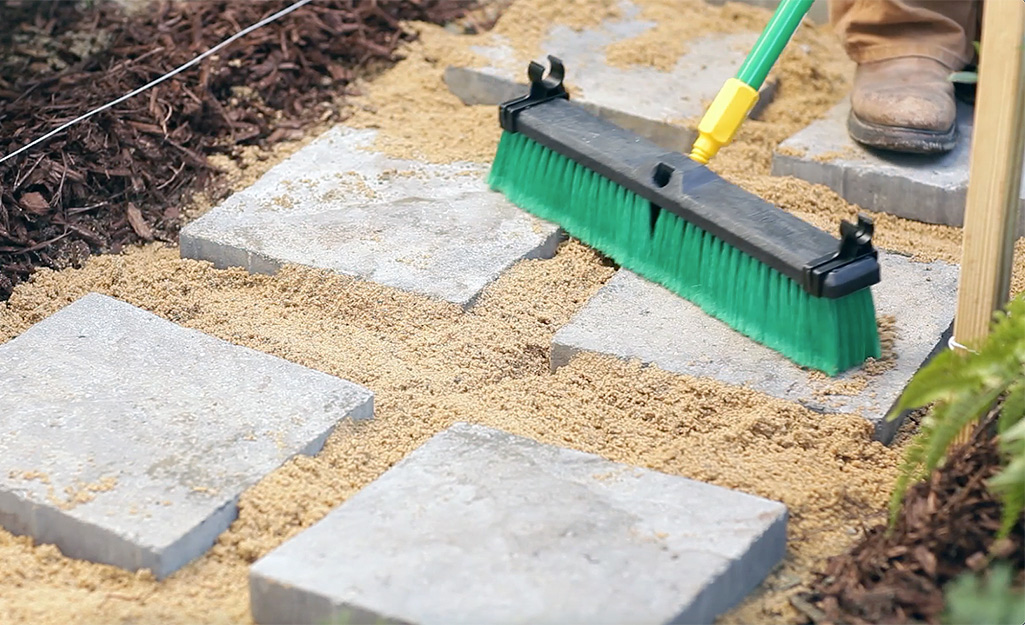 With the pavers in place, you're almost done creating the perfect pathway. The next step is to add sand to the pavers. 
Take any remaining sand and spread it across the pavers evenly. A little goes a long way here, so avoid using excess sand. 
Use a push broom to sweep it in between the pavers. Aim to spread the sand evenly between your pavers.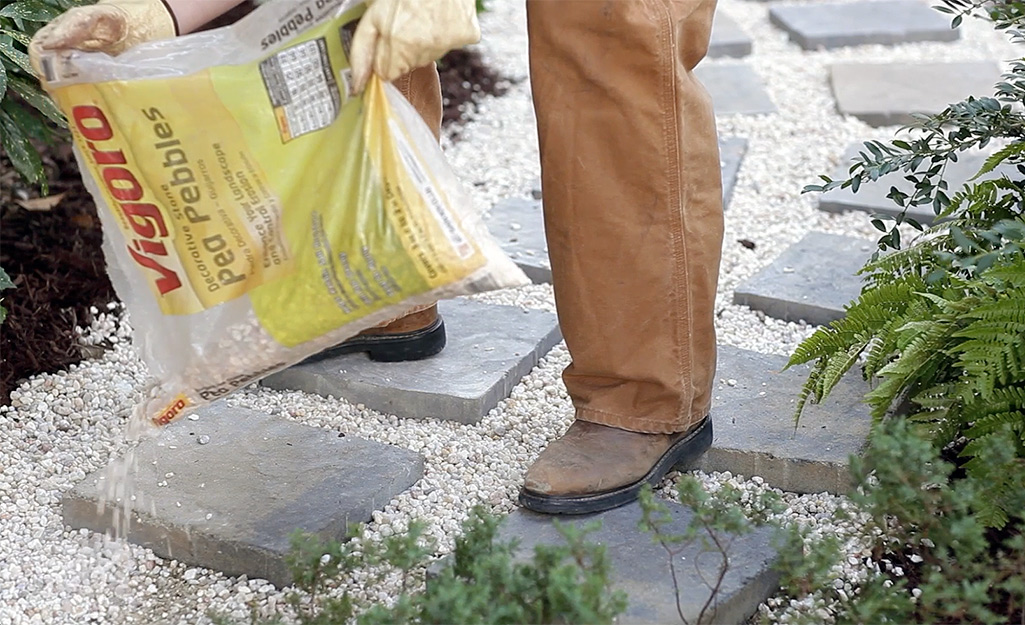 After the sand is added to the pavers, it's time to fill the spaces. You can fill the space between the pavers with a material of your choice with the goal of making your outdoor decor shine.
Pea pebbles are a popular choice, and in many backyards, they create an interesting contrast depending on the color of your pavers. Mulches help paths blend in with surrounding plant beds and vegetation.
Using additional bags of sand between pavers is also an option, though it typically works best with pavers that have closer spacing. Paved gravel can also work well in more modern setups.
From gorgeous wildflower garden areas to paths that lead to dining areas, gazebos and patios, pavers are simple to work with even if you don't do a ton of DIY upgrades around your home. Creating your ideal pathway, whether you prefer the look of brick pavers or a classic stone walkway, is a job you can do yourself with the help of our easy-to-use guide. The striking look of a paver path is sure to make your landscaping stand out, as well as provide a walkway through your yard that keeps the rest of the grass from enduring foot traffic.
Ready to start your paver path project? Shop online to order everything you need. The Home Depot delivers online orders when and where you need them.