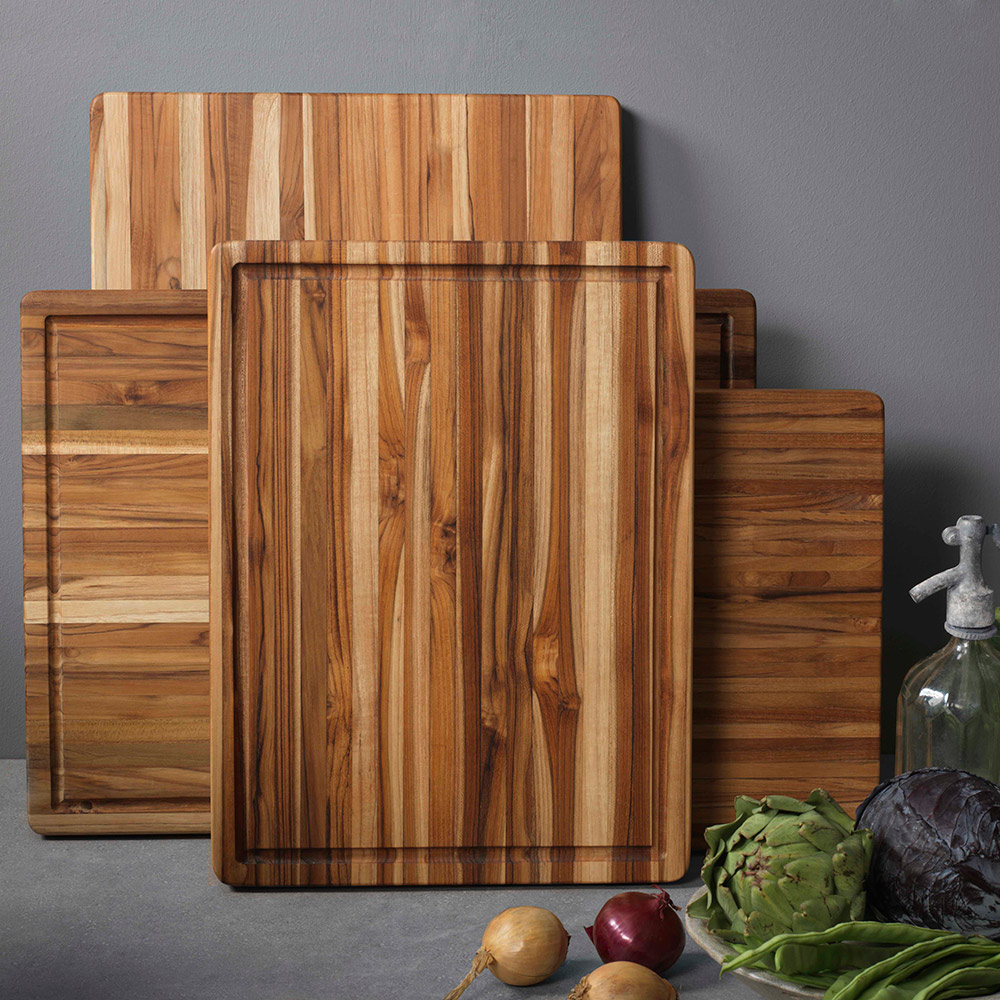 Chopping vegetables on a warped, cracked or dirty cutting board isn't a good way to begin dinner prep. When you can learn how to clean a cutting board properly, you help extend its useful life and keep odors, germs and stains at bay.
This guide will teach you how to clean a wood cutting board and how to care for a wooden cutting board to keep this essential kitchen tool looking – and smelling – good for years to come. In case you don't have the traditional wood type, it also has tips on how to clean a plastic cutting board and how to clean a bamboo cutting board.
1
No Wood in the Dishwasher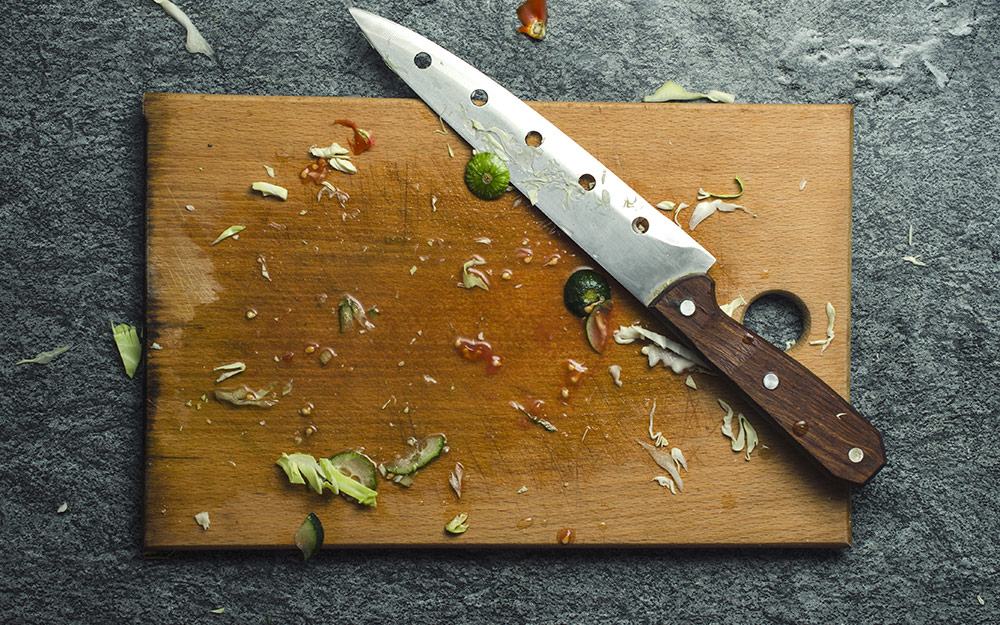 The primary rule for how to clean a wood cutting board is this: Never put it in the dishwasher.
Many, if not most, of your kitchen utensils can be tossed into the dishwasher with your plates, glasses and flatware. Not so with your beautiful piece of hardwood. The high temperature, prolonged contact with water and harsh soap will split, crack, warp and otherwise ruin the surface.
Note: This also is the best tip for how to clean a bamboo cutting board. Only plastic boards should be cleaned in the dishwasher.
2
Cleaning with Soap and Water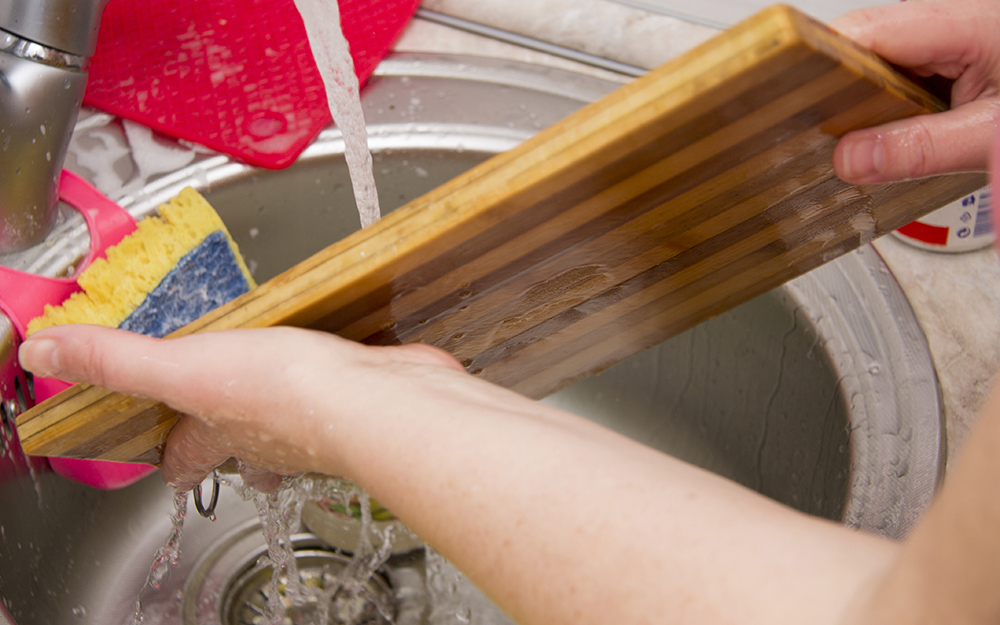 The best method for how to clean a wood cutting board uses simple dish soap and water immediately after you have finished chopping.
First, scrape any remnants into the trash. Then, use hot water from the tap, a dose of mild liquid dish soap and a soft sponge to scrub the surface of the board. Give extra attention to any grooves from knife marks that can trap particles.
Rinse the board well with clean water and promptly wipe excess from the surface using a clean towel. Prop the board on its edge and allow to air dry completely before storing.
3
Disinfecting Cutting Boards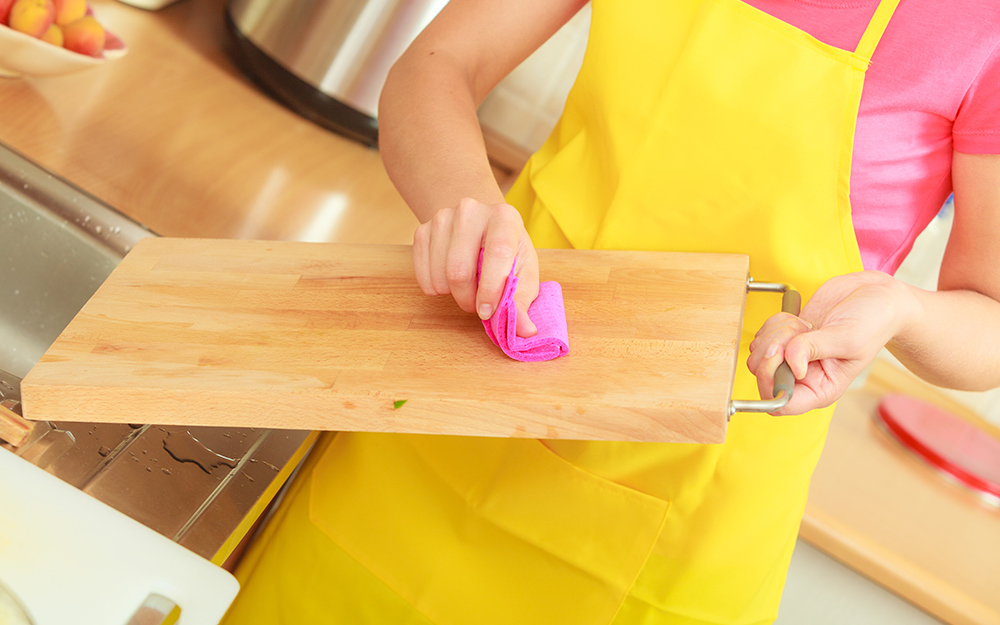 After contact with raw meat or chicken, your board may require care beyond the soap and water method of how to clean a cutting board.
To disinfect and deodorize a board after cleaning with soap and water, use distilled white vinegar or a mixture of two tablespoons of chlorine bleach in a gallon of water. 
To apply, dunk a clean cloth or sponge in either the vinegar or diluted bleach and use it to scrub the board thoroughly. Then rinse and dry the board.
You can also use hydrogen peroxide to kill germs on the board. Pour it onto the surface and allow to stand for several minutes. When the fizzing subsides, rinse and wipe with a clean sponge.
Tip: With proper conditioning (see Step #5), a moisture barrier on the surface of the board helps prevent bacteria from penetrating the wood.
4
Cleaning Cutting Board Stains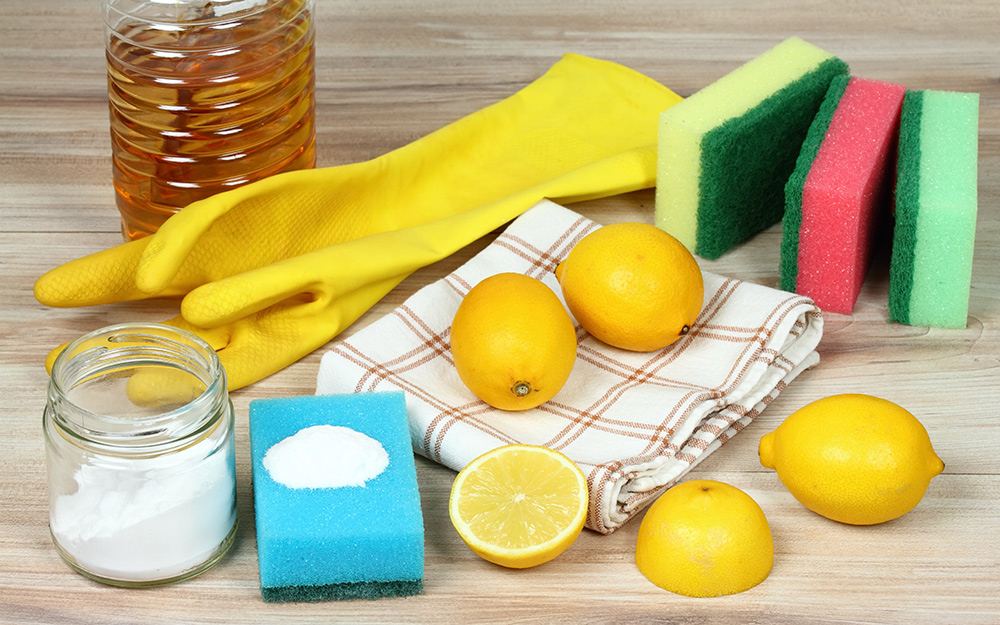 There are plenty of variables in learning how to clean a cutting board to remove stains. The food that caused the stain and how long the stain has existed on the board will impact the level of success.
Tip: To reduce the potential of staining, always clean your board immediately after use.
Liberally sprinkle baking soda or coarse salt onto the stained surface. Scrub the stain using a sponge or nylon brush moistened with hot water.
For more cleaning power, use a halved lemon to scrub the abrasive baking soda or salt. The acidic lemon juice acts as a cleaner and will also help deodorize the board.
After scrubbing with the lemon half, rinse and wipe the board to remove the residue and dry before storing.
5
Conditioning Wood Cutting Boards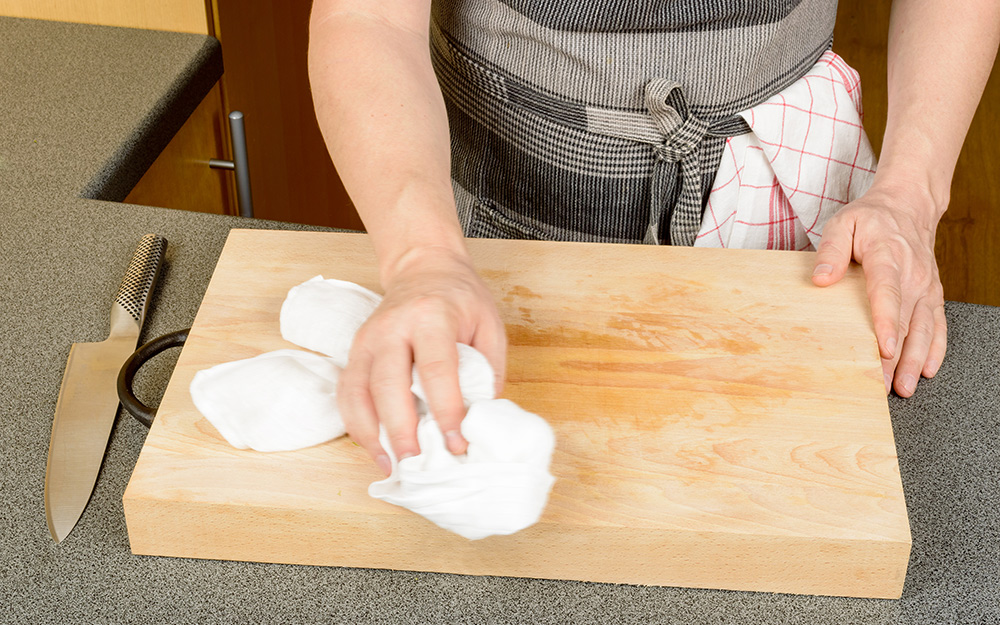 Good equipment requires good maintenance, so it's just as important to know how to care for a wooden cutting board as it is to know how to clean a cutting board.
A monthly conditioning treatment of mineral oil and beeswax creates a moisture barrier to seal the cutting board and protect it from bacteria. Regular and frequent conditioning also keeps the board looking good.
When your cutting board is clean and dry, apply an even coat of mineral oil onto all surfaces using a lint-free cloth or paper towel. Allow the oil to penetrate the wood fibers overnight, then wipe away excess or apply more oil to dry spots.
For additional protection, an even coating of beeswax conditioner will help keep your cutting board sanitary.
Tip: Use only food-safe mineral oil for conditioning and avoid natural oils such as olive or vegetable oil because they can turn rancid quickly.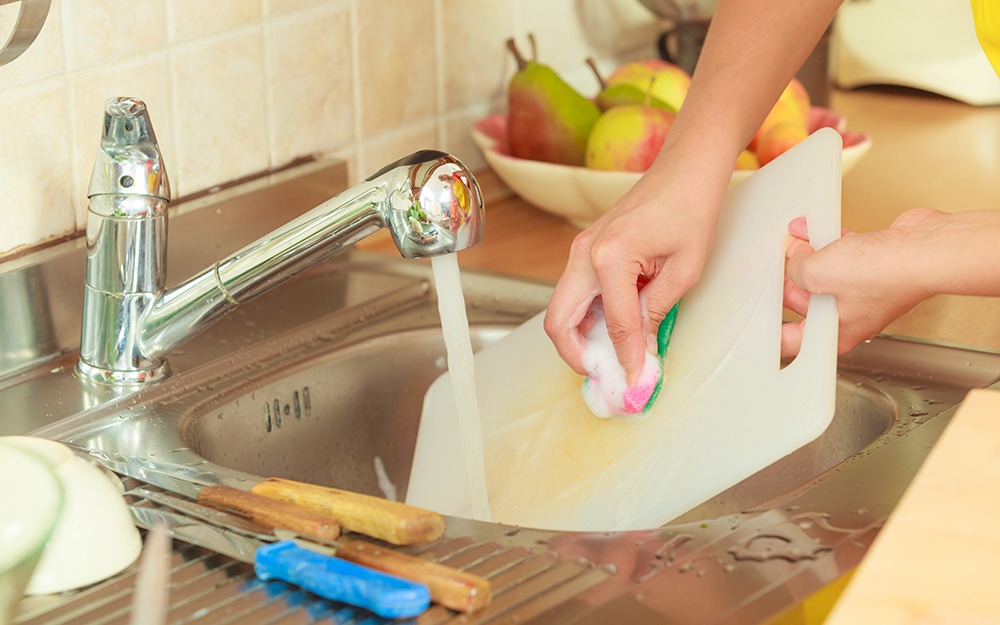 Plastic varieties lack the aesthetics that wooden cutting boards have but they do offer simplified maintenance. Here's how to clean a plastic cutting board: Put it in the dishwasher.
If a dishwasher is not available, use the methods of how to clean a bamboo cutting board or wooden cutting board. Routine cleaning with dish soap as well as the techniques for disinfecting, deodorizing and stain removal will achieve good results.
Explore More on homedepot.com