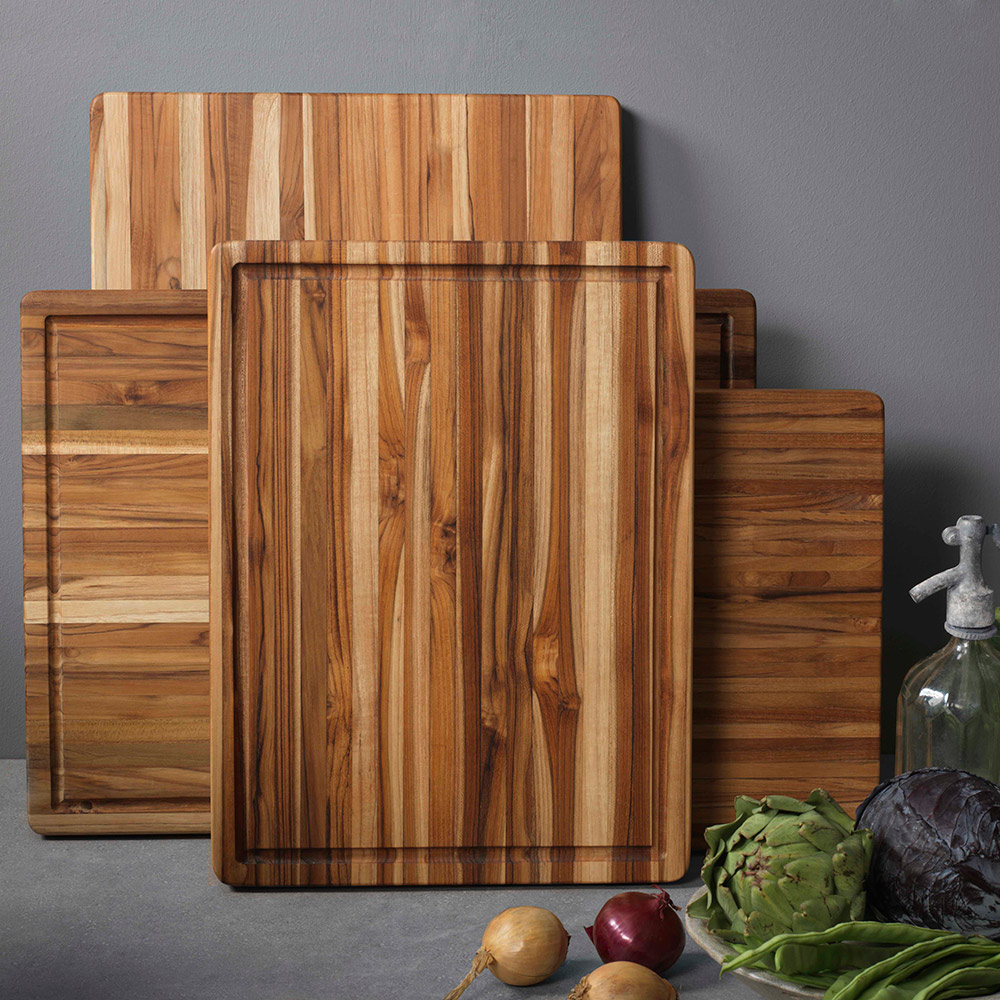 Chopping meat or vegetables on a warped, cracked or dirty cutting board isn't a good way to begin dinner prep. Knowing how to clean a cutting board properly can help keep odors, germs and stains at bay. You can keep this kitchen essential looking and smelling good for years to come.
This guide will show you how to clean a cutting board, whether it's wood or plastic. You'll also find tips for removing stains and caring for wooden cutting boards. 
1
Cleaning a Wood Cutting Board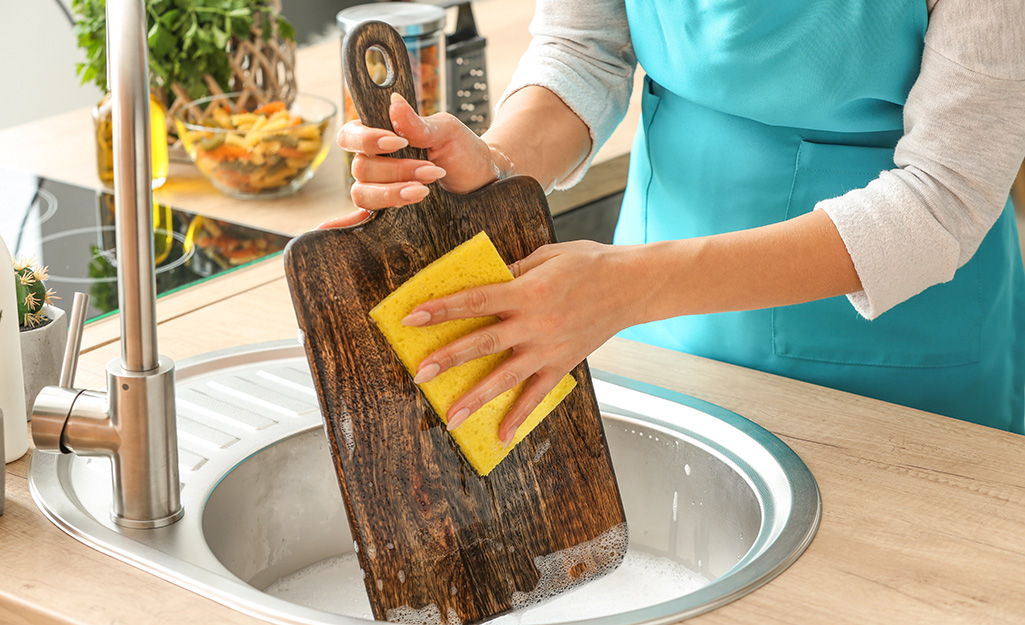 The first thing to know about how to clean a wood cutting board is that it should never go in the dishwasher. The high temperature, prolonged contact with water and harsh soap will split, crack, warp and otherwise ruin the surface. Instead of putting it in the dishwasher, you should use soap and water to clean a cutting board by hand. 
When you're done chopping, scrape any food remnants into the trash.
Next, use hot water from the tap, a dash of mild liquid dish soap and a soft sponge to scrub the surface of the board. Give extra attention to any grooves from knife marks that can trap particles.
Rinse the board well with clean water and promptly wipe excess from the surface using a clean towel. 
Prop the board on its edge and allow to air dry completely before storing.
Note: This method also works best for cleaning bamboo cutting boards. Only plastic boards should be cleaned in the dishwasher.
2
Cleaning Plastic Cutting Boards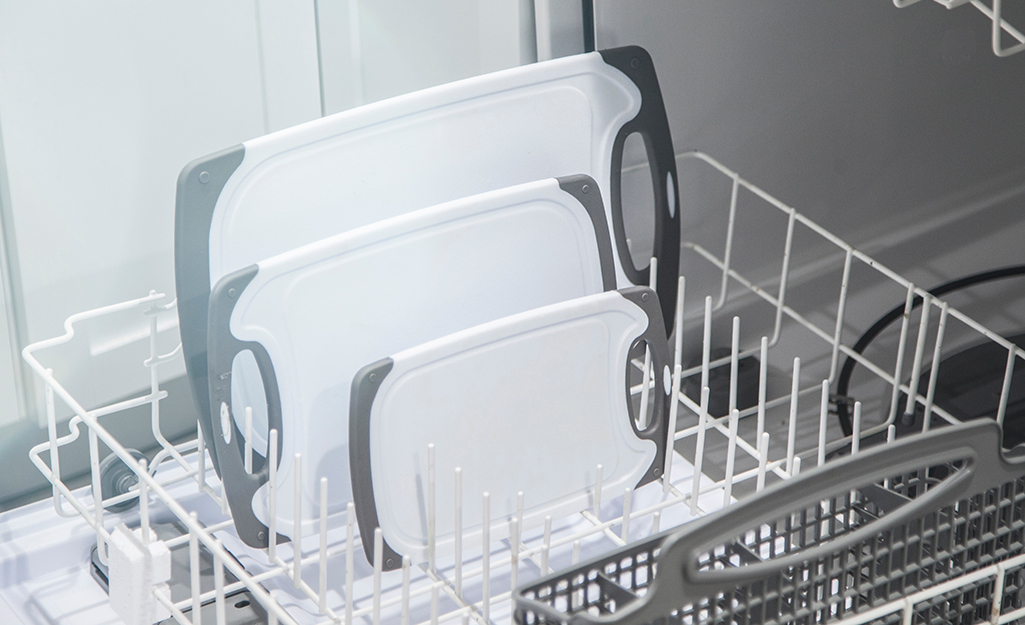 When you need cleanup to be quick, use a plastic cutting board for meal prep. Unlike wood boards, plastic cutting boards can go in the dishwasher.
If your dishwasher is full or you don't have one, a plastic cutting board can be washed by hand in the same way as a wooden one. Use hot water, soap and a sponge. Allow the plastic cutting board to get totally dry before you put in back in a cabinet or drawer.
3
Disinfecting Cutting Boards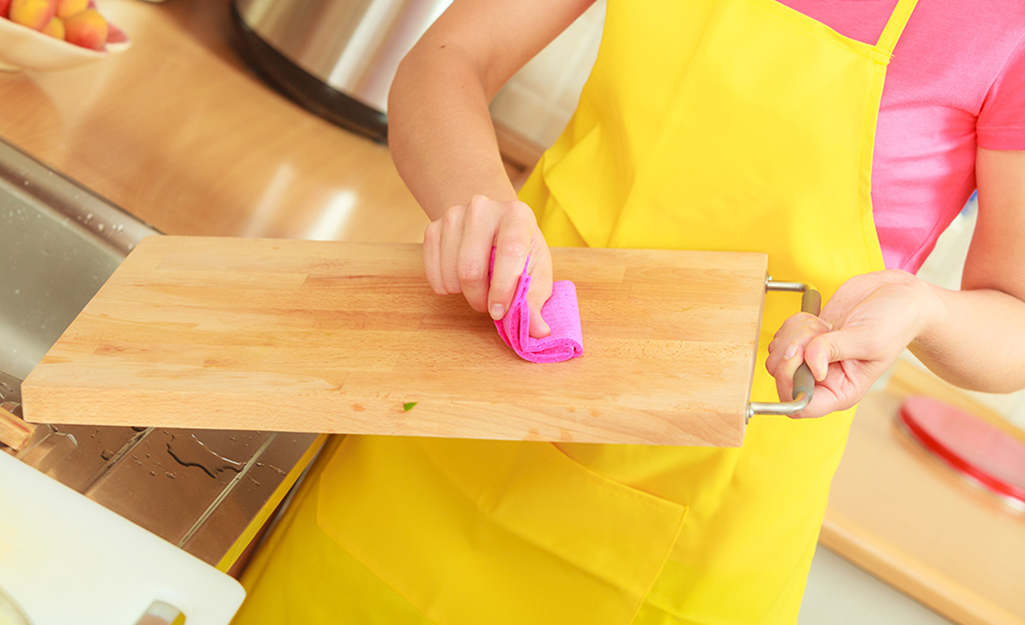 After contact with raw meat or chicken, your board may need more than just soap and water. These methods can be used on wood cutting boards and plastic cutting boards. 
To disinfect and deodorize a board after cleaning with soap and water, use distilled white vinegar or a mixture of two tablespoons of chlorine bleach in a gallon of water. 
To apply, dunk a clean cloth or sponge in either the vinegar or diluted bleach and use it to scrub the board thoroughly. 
Rinse and dry the board.
Using hydrogen peroxide is another way to kill germs on the board. Pour a little hydrogen peroxide onto the surface. The hydrogen peroxide will make a fizzing sound. 
Allow the hydrogen peroxide to  stand on the cutting for several minutes. When the fizzing subsides, rinse and wipe the board with a clean sponge.
Tip: With proper conditioning, a moisture barrier on the surface of a wooden cutting board helps prevent bacteria from penetrating the wood.
4
Removing Stains from Cutting Boards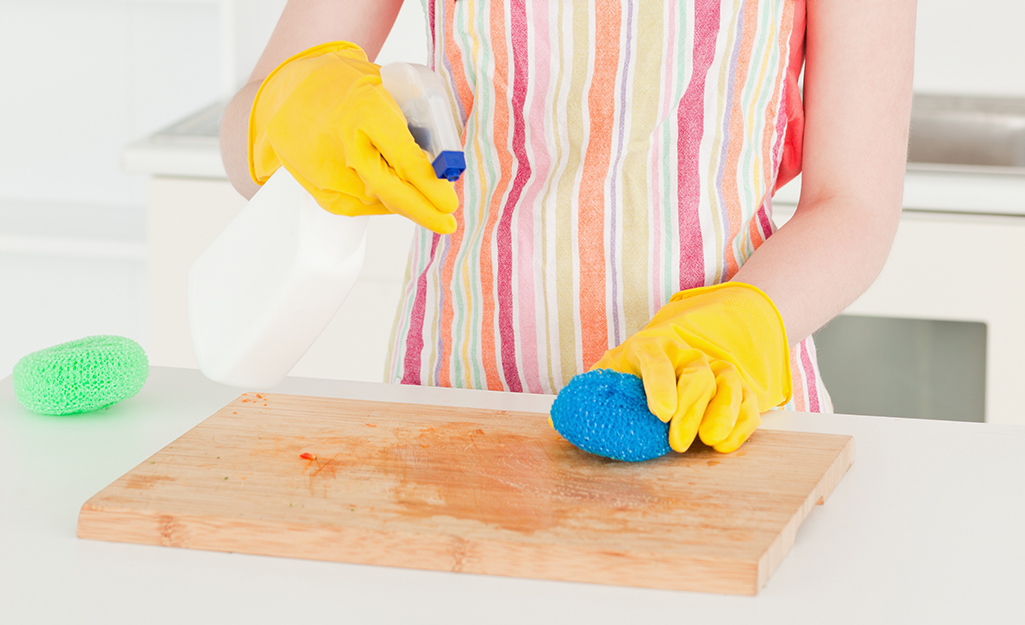 There are many ways a cutting board can get stained as you're preparing food. Cleaning the board right after you use it can cut down on the potential for stains.  
Still, as you figure out how to clean a cutting board, you'll become familiar with several ways to get rid of stains. Your stain removal success will depend on the cause of the stain and how long it's been on the board. 
Liberally sprinkle baking soda or coarse salt onto the stained surface. Scrub the stain using a sponge or nylon brush moistened with hot water.
For more cleaning power, use a lemon half to scrub the abrasive baking soda or salt. The acidic lemon juice acts as a cleaner and will also help deodorize the board.
After scrubbing with the lemon half, rinse and wipe the board to remove the residue. Dry the board before putting it away.
5
Caring for Wood Cutting Boards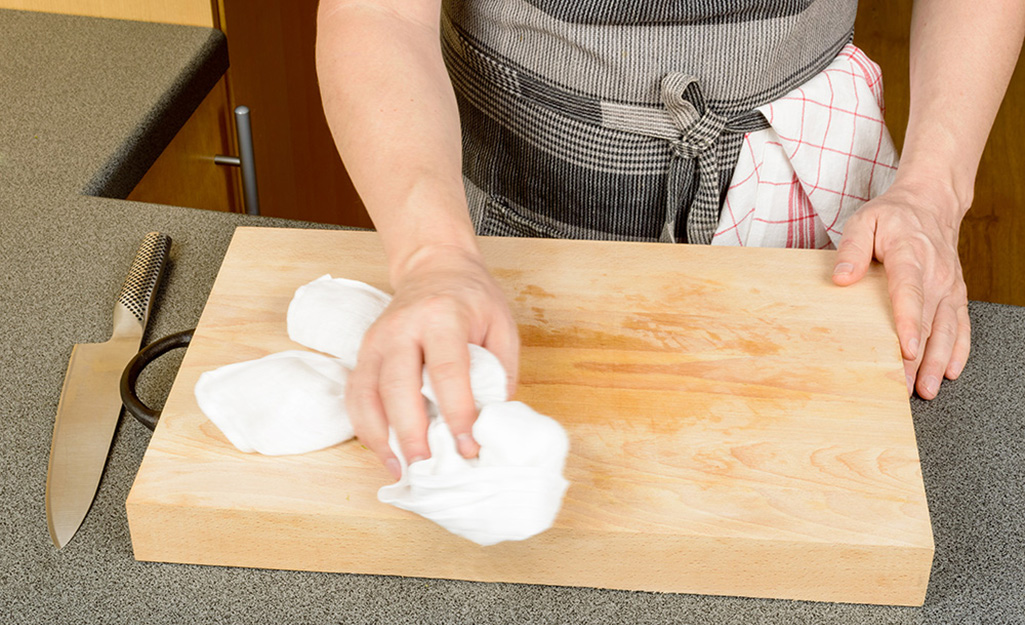 Good equipment requires good maintenance. It's just as important to know how to care for a wooden cutting board as it is to know how to clean a cutting board.
A monthly conditioning treatment of food-grade mineral oil and beeswax creates a moisture barrier to seal a wood cutting board and protect it from bacteria. Regular and frequent conditioning also keeps the board looking good.
When your cutting board is clean and dry, apply an even coat of food-grade mineral oil onto all surfaces using a lint-free cloth or paper towel. 
Allow the oil to penetrate the wood fibers overnight, then wipe away excess or apply more oil to dry spots.
For additional protection, an even coating of beeswax conditioner will help keep your cutting board sanitary.
Tip: Use only food-safe mineral oil for conditioning. Avoid natural oils such as olive or vegetable oil because they can turn rancid quickly.
Learning how to clean a cutting board can help prevent food poisoning and other food-borne illness. Wooden boards must always be cleaned by hand. Plastic boards can go in the dishwasher or be washed in the sink. When you need to clean up in a hurry, use a plastic cutting board. 
Be ready to clean wooden cutting boards and plastic cutting boards by having the supplies on hand. The Home Depot delivers online orders when and where you need them.
Explore More on homedepot.com