Microfiber is a real decor standout. The polyester-based material is made of extremely thin fibers which can be manufactured to mimic the look and feel of other materials like suede or even leather. Microfiber is affordable, versatile and durable. However, microfiber is not miraculous; while it repels water easily, the fabric is not immune to stains, and most microfiber can't be cleaned with soap and water. So, when it's time to start cleaning microfiber couch cushions, turn to this handy guide to learn how to make your microfiber couch look new again.
1
Use the Right Tools and Materials for Cleaning Microfiber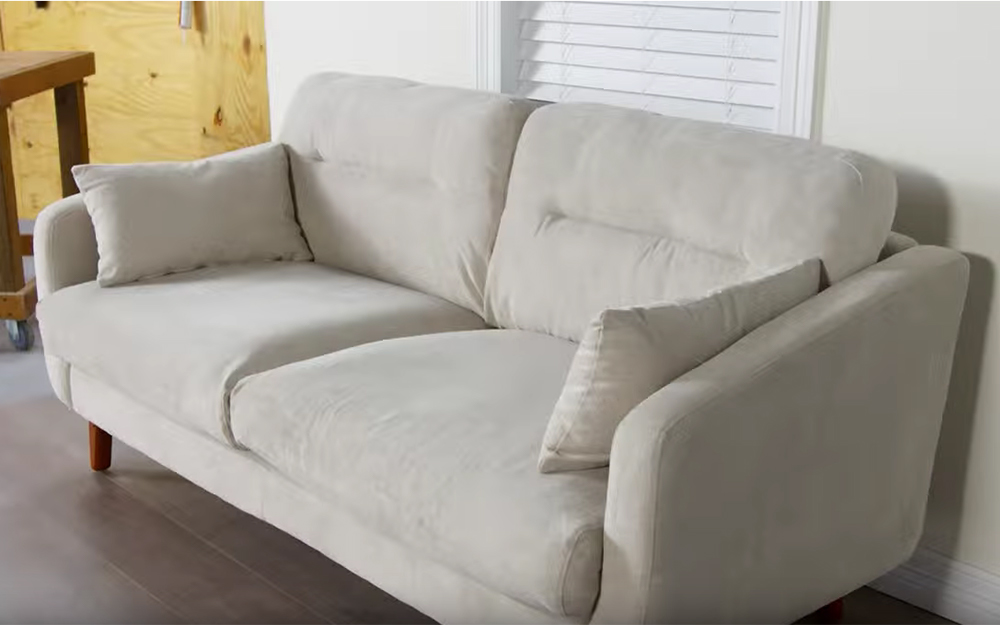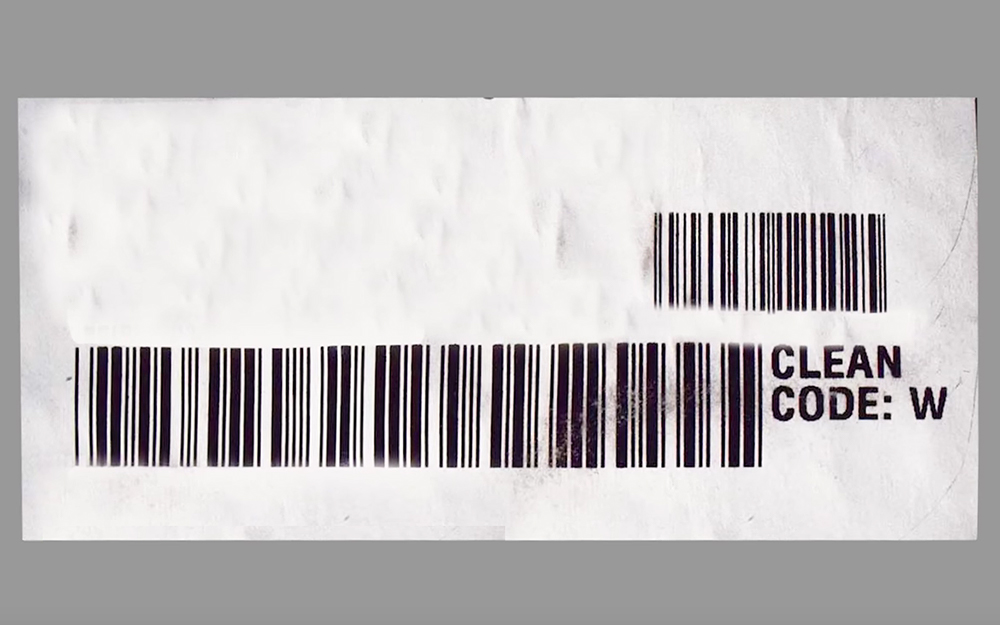 Microfiber actually varies in its care requirements, so before you clean, always check the furniture care tag. Each tag is required to carry a code that indicates how the fabric must be cleaned.
"W" indicates that a water-based cleaner has to be used on the fabric.
"S" requires solvent-based cleaners only.
"S-W" means either water-based or solvent-based cleaner is fine for use. 
"X" means neither type of cleaner can be used - only dry cleaning methods such as brushing or vacuuming can be applied.
If there is no care tag on the piece of furniture, in most cases, it is fine to assume a solvent-based cleaner will be safe. 
Never clean large swatches of fabric without first testing the cleaner on a small, inconspicuous area. Spray the intended cleaning solution on a 1-inch square on the lower back or bottom of the furniture. First, blot lightly to see if any color transfers. Let the patch dry completely to see if it causes fading. If the fabric color remains unchanged, you're all set.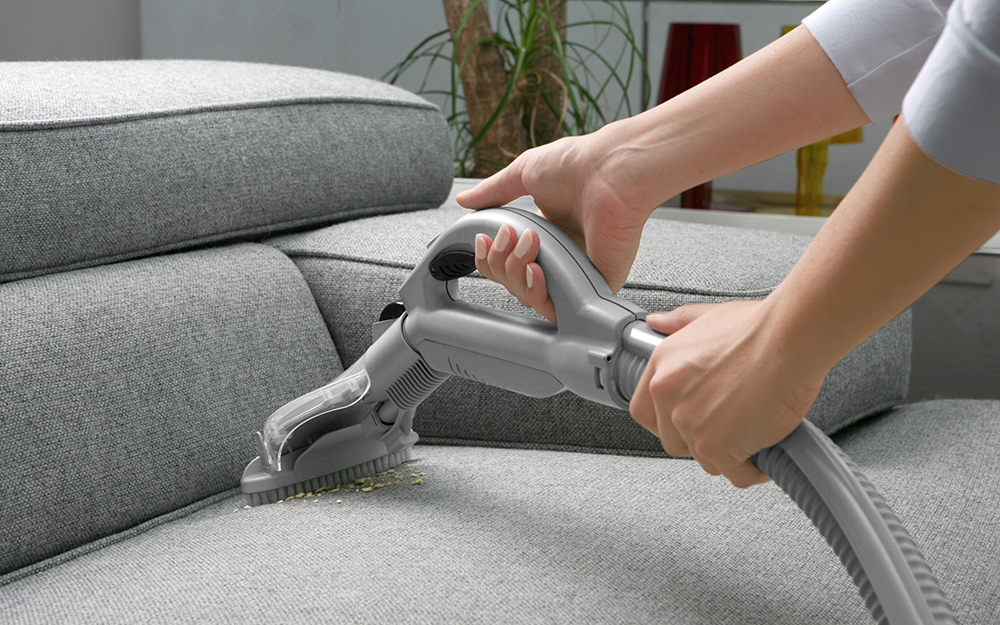 Prior to any damp cleaning method, microfiber should have a dry cleaning method applied to lift away surface dirt. 
Vacuum or dry brush the entire sofa surface thoroughly before applying any cleaning solutions.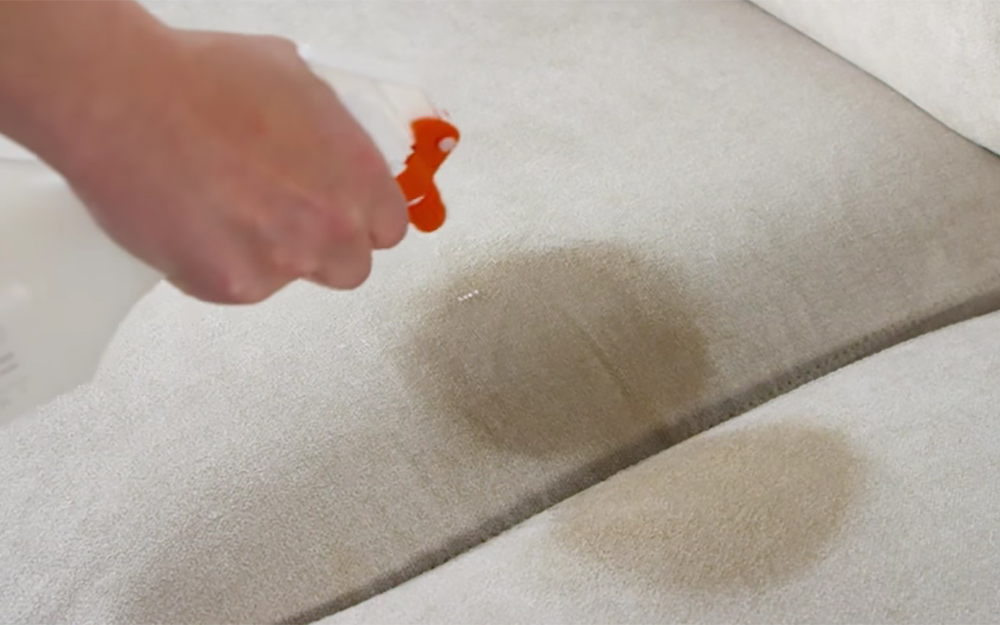 Always clean by working in small sections so the fabric does not become saturated at any point.
Fill a spray bottle with rubbing alcohol, and liberally spray an area to be cleaned. 
Blot the area with a white cloth until any stains have lifted. 
Repeat until the entire surface has been treated.
For a water-safe couch, make a solution of a quart of warm water with a tablespoon of dish soap and stir it up vigorously to make suds. 
Dip a sponge or cloth into only the suds; do not wet the sponge. 
Rub in a circular motion, then blot with a clean dry cloth. 
Refresh suds as needed to clean entire surface.
Allow sofa to dry completely. 
Use a soft-bristle brush and rub it over the fabric in circular motions to refresh the texture of the microfiber.
Now that you've learned to clean your microfiber couch, check out some of our other guides and learn how to clean a coffee maker, your washing machine and even how to tackle a big household cleaning project in small steps.
Explore More on homedepot.com