Granite is a smart selection for your kitchen countertops. It's resistant to high temperatures and stains. It does require more upfront investment, but the beauty and durability of granite are well worth it. The secret to enjoying this naturally tough surface for years depends on proper care. Learning how to clean granite countertops properly will keep your investment looking great. Some cleaners may work fine on other kitchen surfaces but can damage granite. Use this guide to learn tools and techniques that will clean and disinfect granite countertops safely.
1
Gather Tools and Materials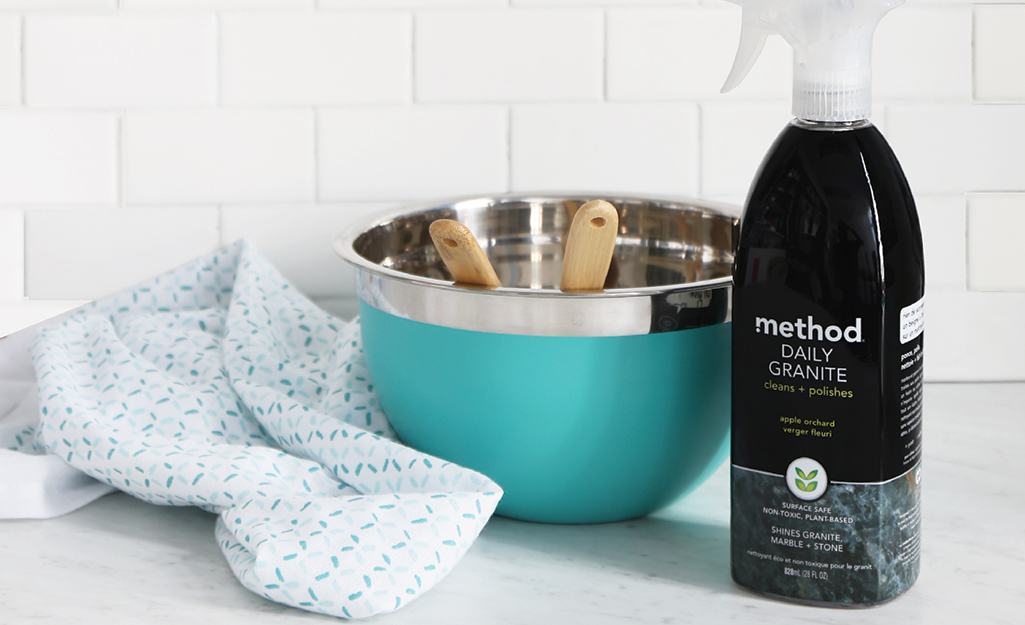 Glass cleaners, bleach, ammonia and acids such as lemon or vinegar can strip the countertop sealant. This will leave granite more receptive to stains. The best way to clean granite counters is to choose a countertop cleaner formulated for granite. Or you can make your own cleaner from mild dish soap. You'll need a soft cleaning cloth and a spray bottle. If you want to know how to get the stains out of granite or disinfect it, keep 12% hydrogen peroxide and rubbing alcohol on hand.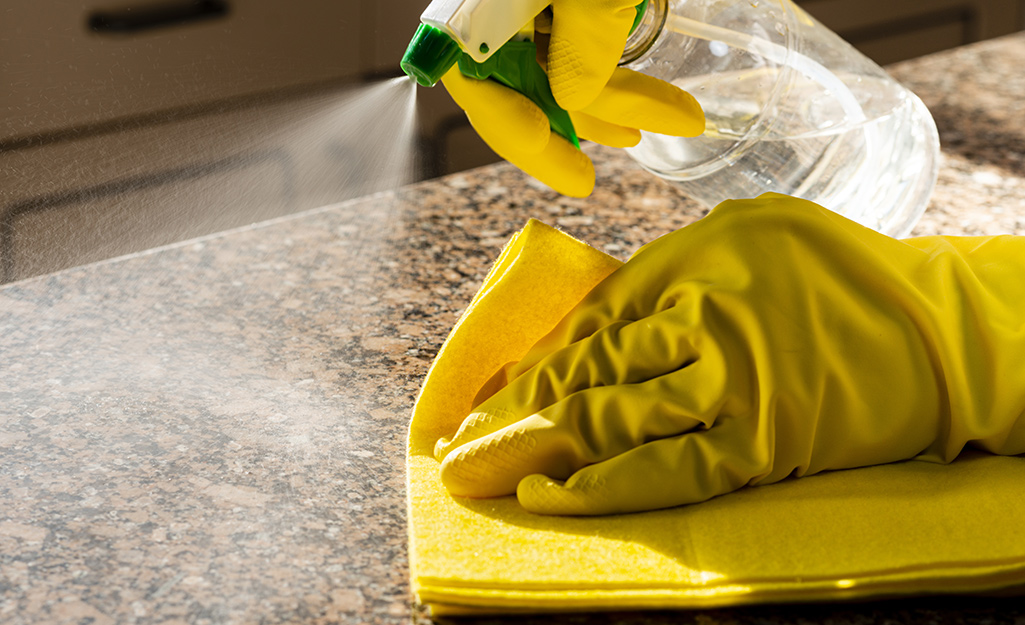 Knowing how to clean granite countertops starts with choosing a method. Below are two methods for cleaning granite. Put on kitchen gloves if you'd like.
Clean your natural stone countertop with a mild kitchen cleaner. 
Make a solution of warm water and mild dish soap. Do not add more than a half tablespoon of soap.
Dip a soft cloth into the solution and wring it out until just damp. 
Wipe the countertop in small circular motions with light to medium pressure.
If you encounter bits of dried-on food, apply more pressure. Or dampen the cloth and press down on the spot to loosen the debris. Wipe up.
Use a granite cleaner made specifically for the stone. Choose one that is listed for daily cleaning. Follow the package directions. 
Apply with a soft cloth. Never use an abrasive scrubber.
Spray the solution over the granite surface. Wait 5 minutes. Rinse the surface thoroughly.
Buff dry with a microfiber towel.
Tip: To disinfect the surface after cleaning granite, make a solution of half water and half isopropyl alcohol in a spray bottle. Spray lightly and wipe dry.
3
How to Get Stains Out of Granite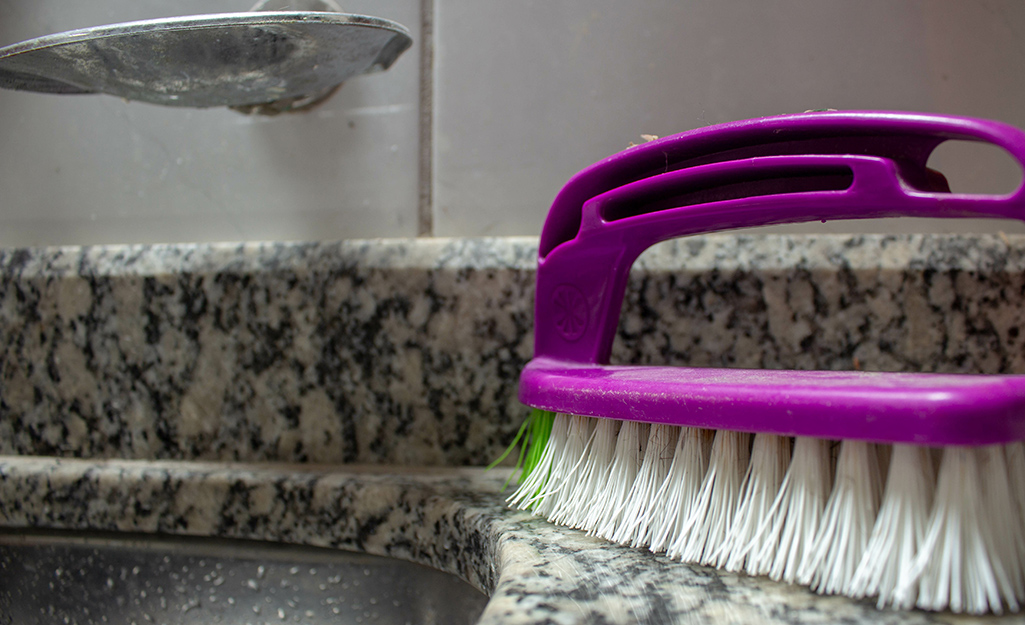 Granite countertops can get stained like any other countertop. Kitchens are full of stain-causing ingredients, from coffee and tea spills to milk or oil splashes. If you know what stained the granite countertop and it's a light stain, you can usually remove it yourself. 
Here's how to get stains out of granite:
Water spots can be lightly dry buffed with a very fine steel wool (0000 grit).
Oil-based stains such as milk can come clean with a gentle liquid household cleaner and soft cloth.
Organic stains like juice can be removed with 12% hydrogen peroxide.
Tip: Deep-set stains or stains from unknown sources are best left to a professional. You may also need to reseal the treated area of the countertop after the stain is removed.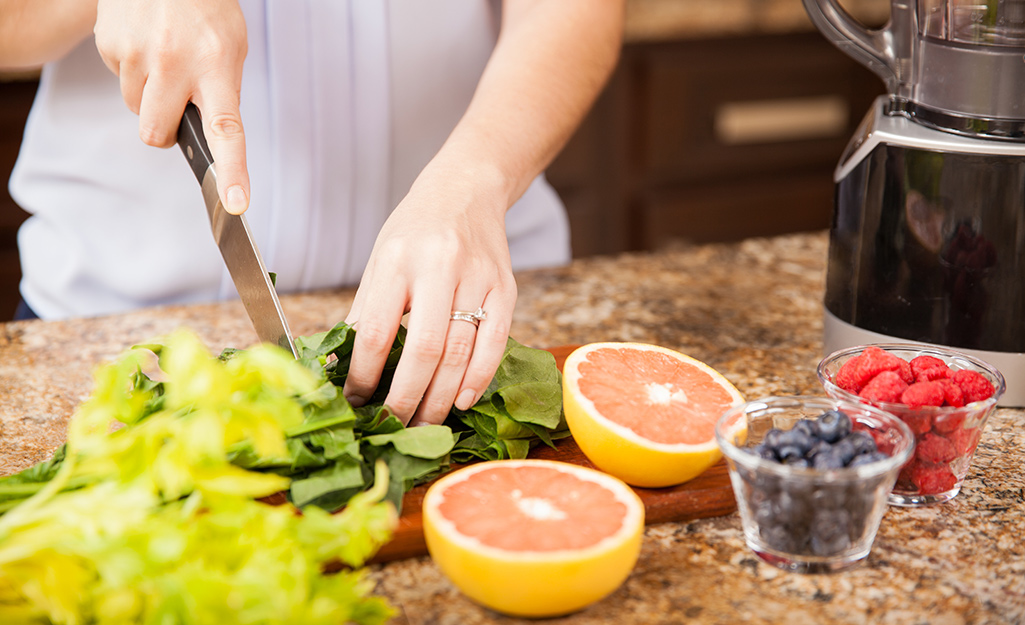 When it comes to how to get stains out of granite, prevention is truly worth a pound of cure. Keep stains off your granite countertops with a few simple precautions.
Clean up spills as soon as they happen, especially acidic liquids like tomato sauce or fruit juice.
Blot up spills, rather than wipe them. This will keep them from spreading over the surface. 
Don't store items that stain such as cooking oils or cosmetics on granite countertops.
Use coasters under glasses to keep condensation from collecting.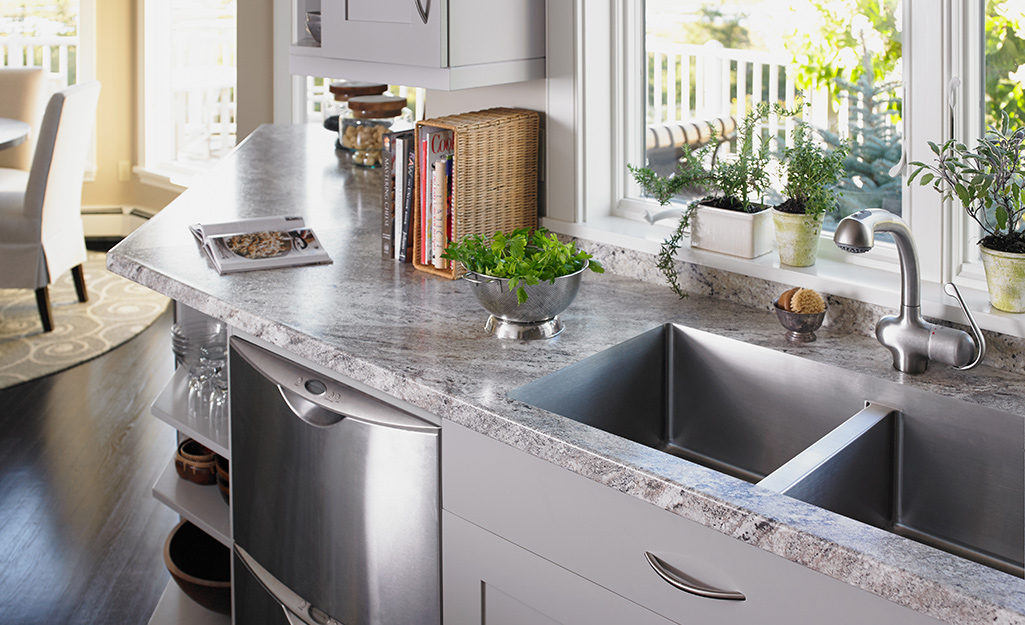 Granite stone is naturally stain-resistant but can also be porous. If a few drops of water disappear from the countertop in five minutes or less, consider resealing. This will protect your countertop from stains. Many experts recommend sealing your granite countertops once a year. If you're cleaning granite countertops frequently, consider using a granite sealer every six months or so. You may also need to reseal a treated area of the countertop after removing a stain. Here's general instructions on sealing granite:
After cleaning granite countertops, gently wipe them down with alcohol or acetone. 
Use a sealer made especially for granite. 
Apply the sealer and let it set according to the manufacturer's directions. 
Wipe down with a clean, dry cloth.
When it comes to the best way to clean granite counters, the choice is yours. You can opt for a basic household cleaner or use a product formulated for granite. Learning how to clean granite countertops won't take much time or effort. When you're ready for new kitchen countertops, get the job done with one of our professional countertop installers.
Explore More on homedepot.com