Presented by Kevin O'Gara of Thou Swell.
Build this versatile piece and design a customized kitchen baking station that could make an easy, stylish addition to any kitchen. 
1
Gather Tools & Materials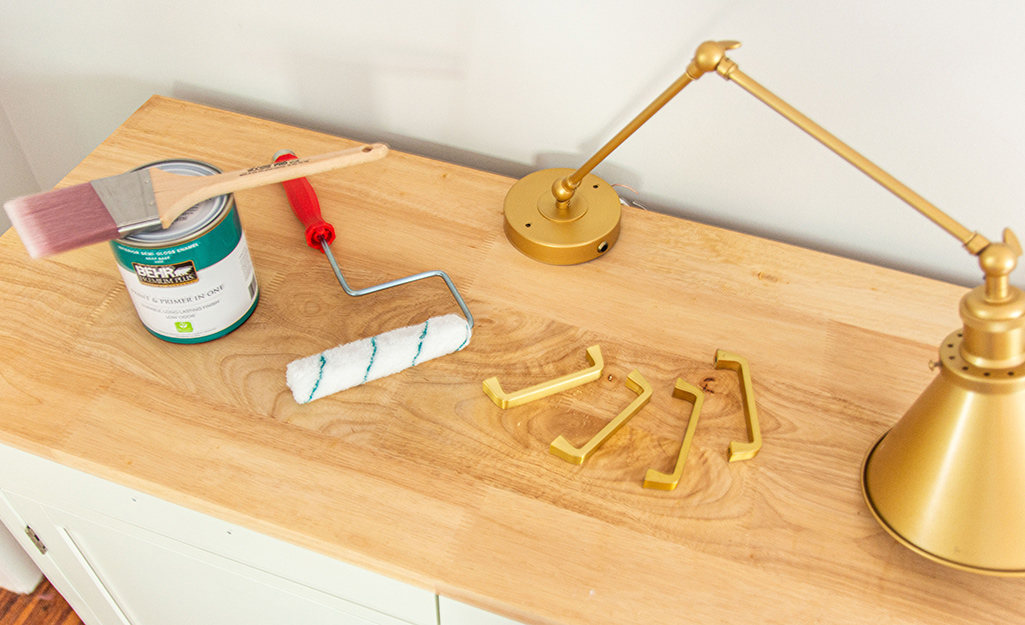 This project can be easily personalized and is a great way to test out a fun cabinet color in your space.
Materials: 
Kitchen cart
Four 96 mm brass cabinet pulls
Semi-gloss paint (Behr Perennial Green pictured)
Floating shelves
Articulating wall sconce
Tools: 
Paintbrush
Small roller
Power drill
Level
2
Assembling the Kitchen Cart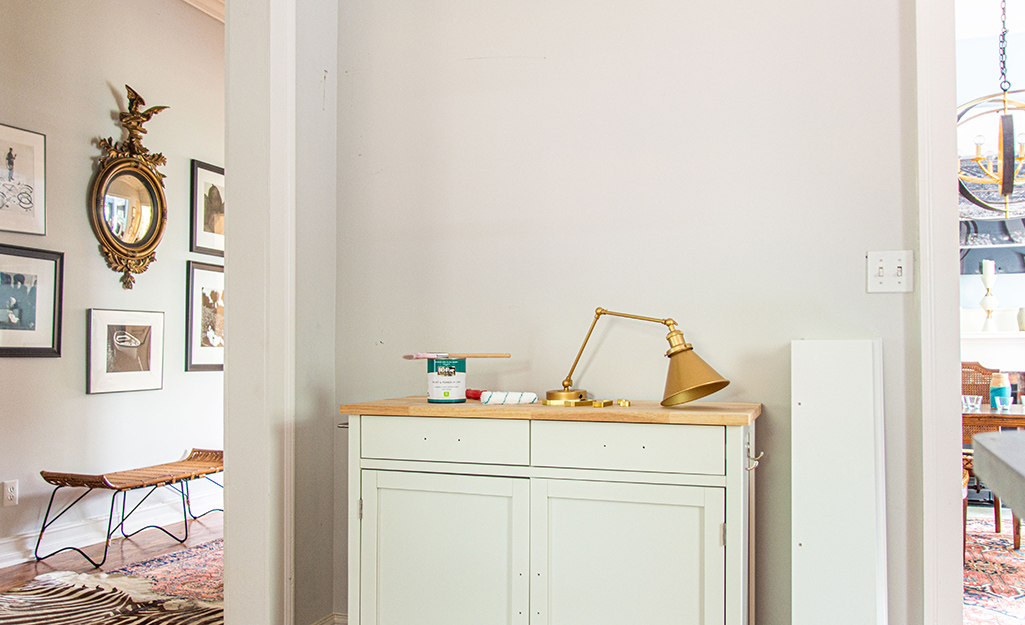 Follow these easy instructions to assemble your kitchen cart. This one has a versatile butcher block top and large cabinets that provide lots of storage while hiding the clutter inside. 
Paint the cabinet panels before you put the cart together if you'd like (this is perfect if you're spray painting). In this example, the cart was assembled, then painted.
Skip installing the hardware – this is something to personalize later on.
3
Painting & Personalizing the Cart
Use both a small roller and a paint brush to cover the cart. Brush carefully with the color to get all the edges (but using some painter's tape will make it even easier).
Choose a semi-gloss finish to give it a sheen that wipes down easily. This green is cheerful and makes a great pairing for gold accents.
Swap the hardware for brass handles. Use 96mm pulls to upgrade the piece and tie in the sconce light's finish.
4
Add Floating Shelves for More Storage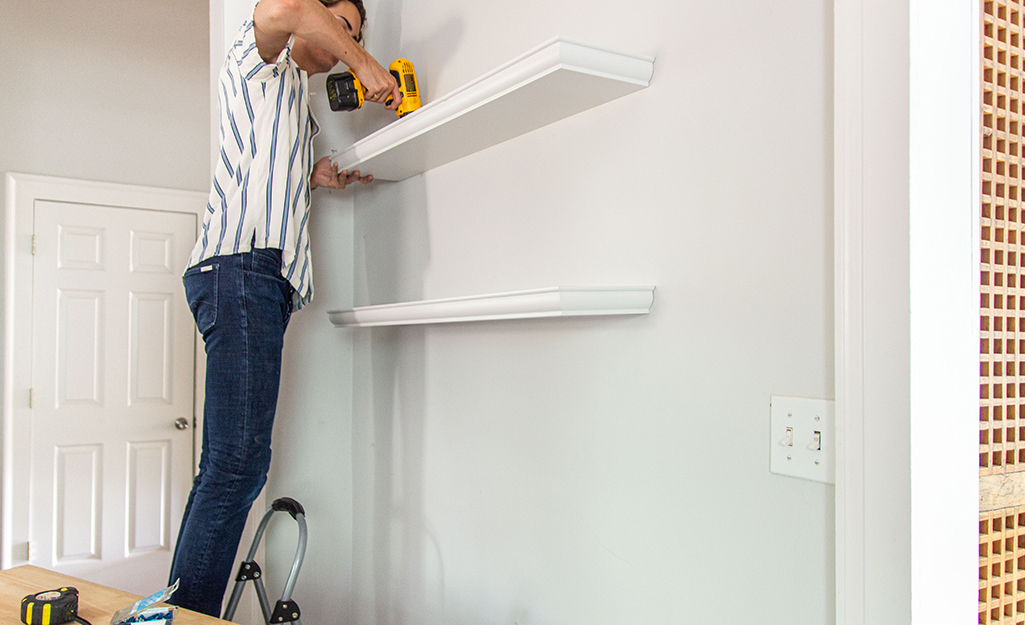 To take full advantage of blank walls in your kitchen, floating shelves make a great addition for tools or utensils that are used most often, or for favorite cookbooks and pantry staples. 
Find shelves the same width as the cart to anchor the piece on the wall and provide surfaces for a mix of cooking essentials, ceramics and go-to cookbooks. The shelves are easy to install with handy paper guides for drilling in the wall anchors, and come in several styles to match your kitchen.
5
Install a Sconce for Task Lighting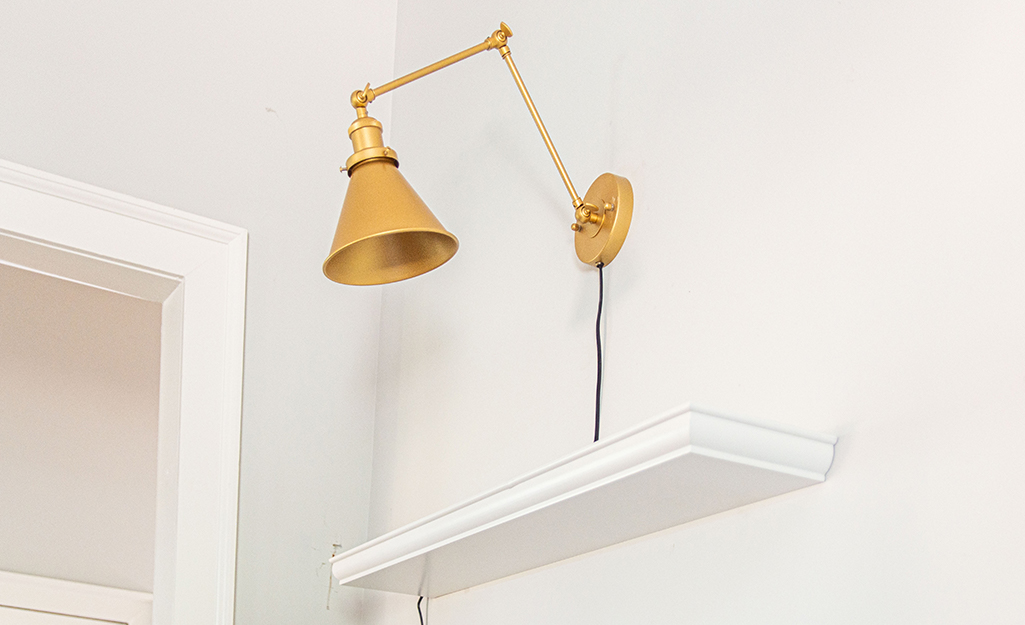 Add an articulating sconce above the shelves to illuminate the countertop of the cart and make it a bright workspace.
Pair the sconce light's finish with the hardware.
A plug-in option allows for easy installation on any wall.
Put a small nail in the wall to keep the cord running straight down to the top shelf before running it down the left side for easy access to the switch.
6
Personalize and Enjoy Your New Kitchen Station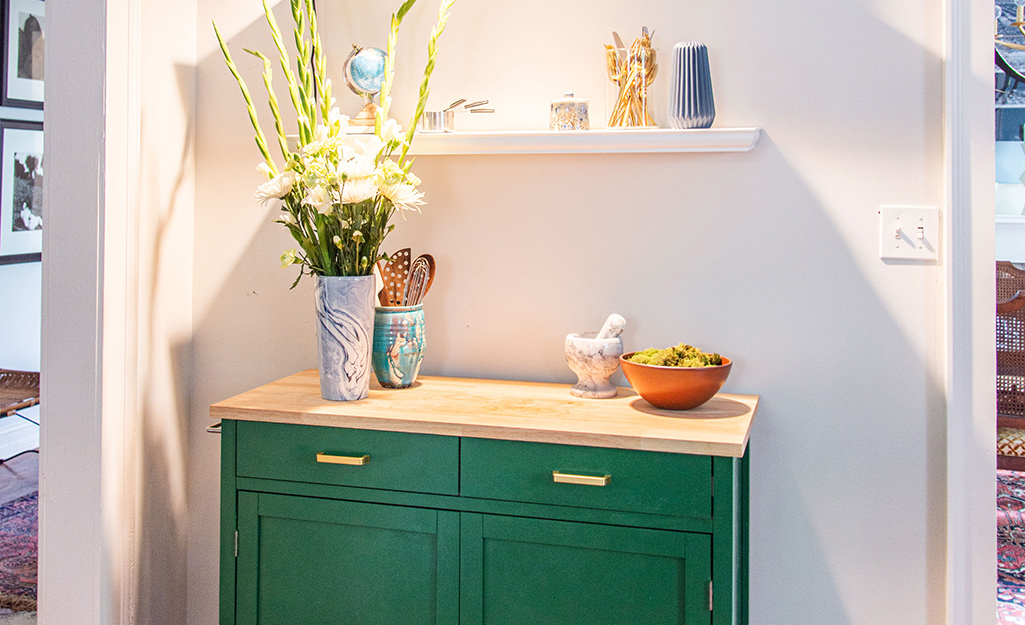 Whether you're an avid baker or looking for a creative kitchen island solution, personalizing a kitchen cart can be a great option for your space. If you keep it against the wall, you can even take the concept further with a peel-and-stick tile backsplash to give it an even more customized look. 
With paint, hardware and task lighting, it's easy to make a stylish statement in your kitchen without renovating. Enjoy your custom kitchen baking station!
There's been a renaissance of home cooking recently, and whether you're learning to bake homemade bread on the weekends or trying new weeknight dinner recipes, countertop and cabinet space can quickly become precious real estate in the kitchen! The functionality of a kitchen cart as a mobile island, island addition or extra workspace, will be a welcome addition to your kitchen space.
Ready to start your project? The Home Depot delivers online orders where and when you need them.
Explore More on homedepot.com