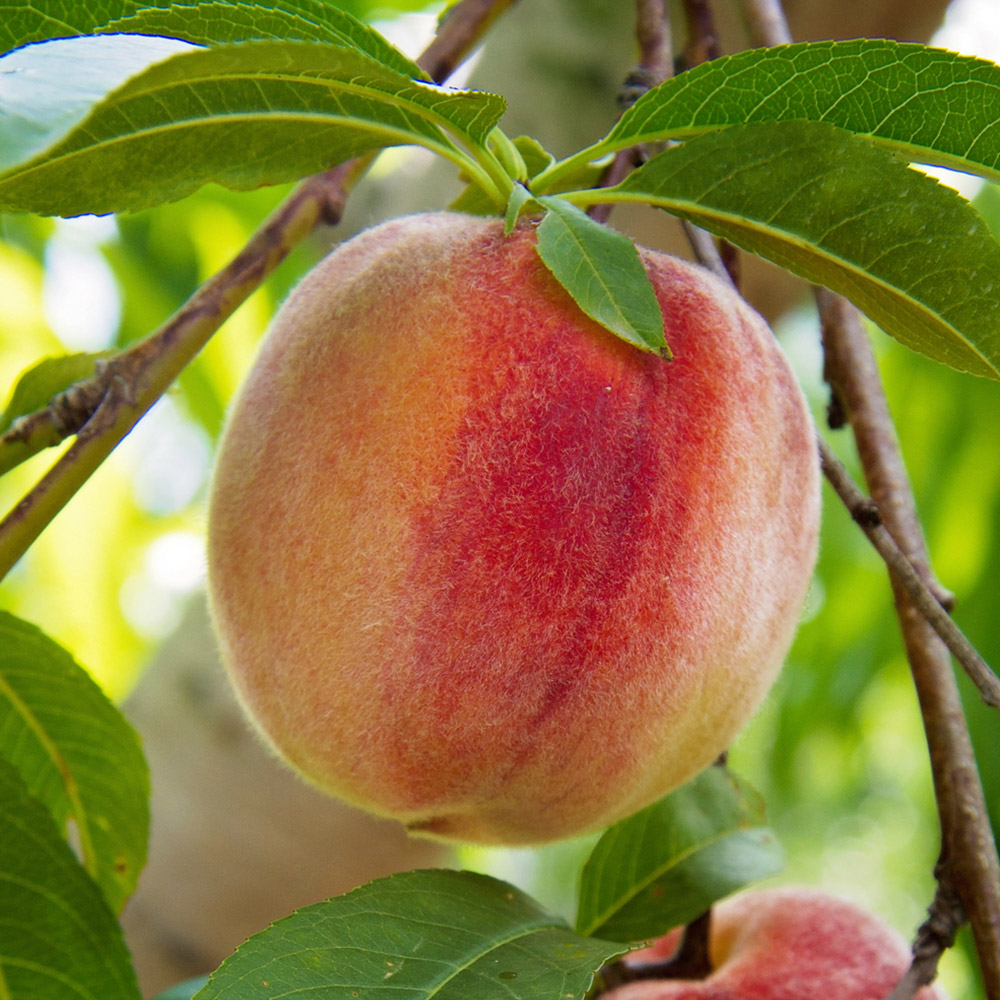 As with the avocado for a kitchen gardener, you can grow peaches from the seeds inside of a peach pit. It's easy to begin peach plants from the seeds when you add in growing time and patience plus some trial and error. Successful peach seed germination requires a careful chilling process and some seasonal timing. 
This guide will explain how to grow peaches from their pits and seeds.
1
Start the Peach Seed Germination Process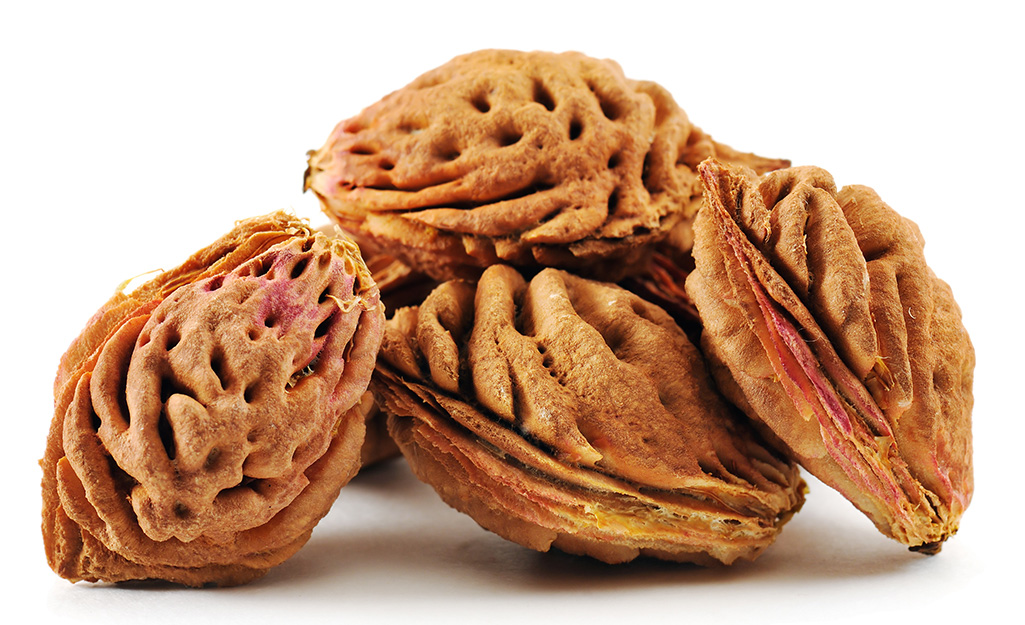 Kicking off the germination or sprouting process in the peach seed requires a cold treatment first. This first, seed-chilling step and its phase of growth is also known as "stratification." 
Remove the pit (or hull) from the peach fruit and clean the surrounding fruit and flesh by hand or with a soft scrubber.
Let the peach pit dry out completely overnight. It's important to let it dry out before a peach pit or seed goes into the cold-storage step in order to keep mold from growing.
Put the dry pit into a plastic bag, leaving a partial opeining for an air hole somewhere on the bag, and store it in a refrigerator until the colder months of December or January. 
TIP: Apples or bananas cannot be stored in a refrigerator with peach pits. Apples and bananas give off the gas ethylene as they ripen, and ethylene prevents a peach seed from germinating. 
A refrigerator's temperature is ideal for creating cooling or stratification in the peach seed, but the pits can also be left in a cooler (not freezing) place away from sun and light. 
In December or January, take the bag with the pit(s) out of refrigerator storage, remove the pit and let it soak in water for a few hours. 
The put the pit and some moistened garden soil into the plastic bag so that the pit is fully surrounded by the soil. Then return the plastic bag with pit and soil in it to a refrigerator for about 1 to 2-months. 
2
Prep the Peach Seeds for Planting in Spring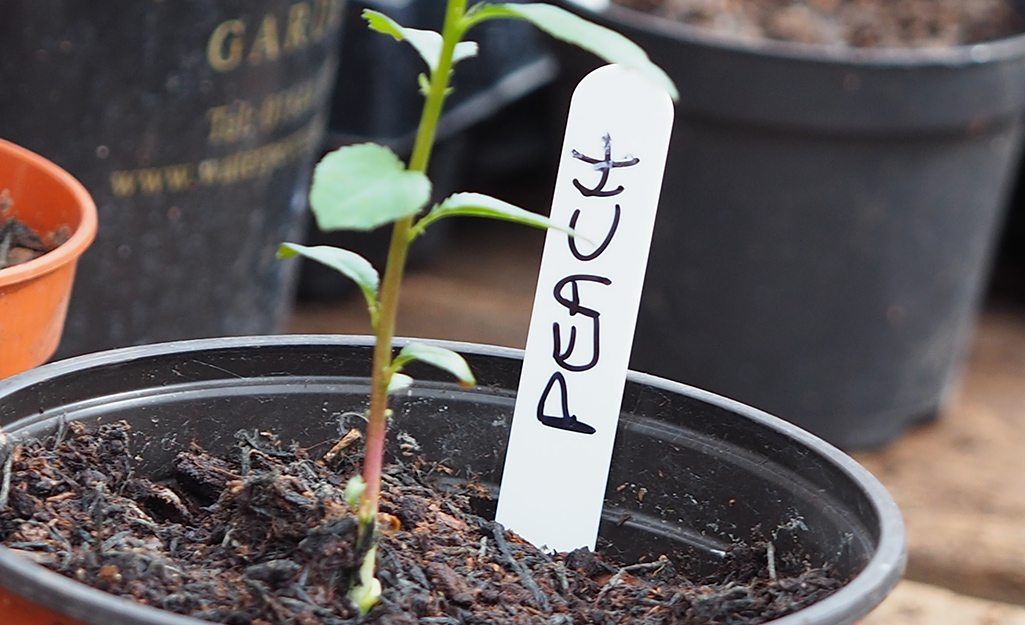 As spring begins and the danger of outdoor freezing fades, check your peach seeds stored in the refrigerator to see if any roots have begun to sprout. You can't plant the peach seed into soil until after it has sprouted a root system that can support further growth. 
Be aware that every peach seed you put into stratification over the winter months may not ever sprout roots. Some peach varieties, especially ones grown commercially for the earliest possible harvesting, do not do well for home-sprouting from seed. Trial and error experimenting with any peach seed's growth process is to be expected. 
After stratification, check the seed inside of its protective pit or hull to see if roots are growing by using small garden clippers or scissors to carefully clip away the pit or hull.
TIP: You can also remove a peach seed from the pit or hull before starting the stratification process. Doing so takes practice using garden clippers on the pit. If a peach seed contained inside the pit is nicked by clippers or scissors before beginning the cold process, it will not germinate or sprout roots. 
Plant your germinated peach seeds into containers of gardening soil as you would any other plant when the seed has sprouted roots of at least 1/2-inch or longer. 
As they grow larger and stronger over the course of a few growing seasons in containers, they will be ready to plant outdoors as a tree, bush or a decorative, climbing growth in a pattern up a wall.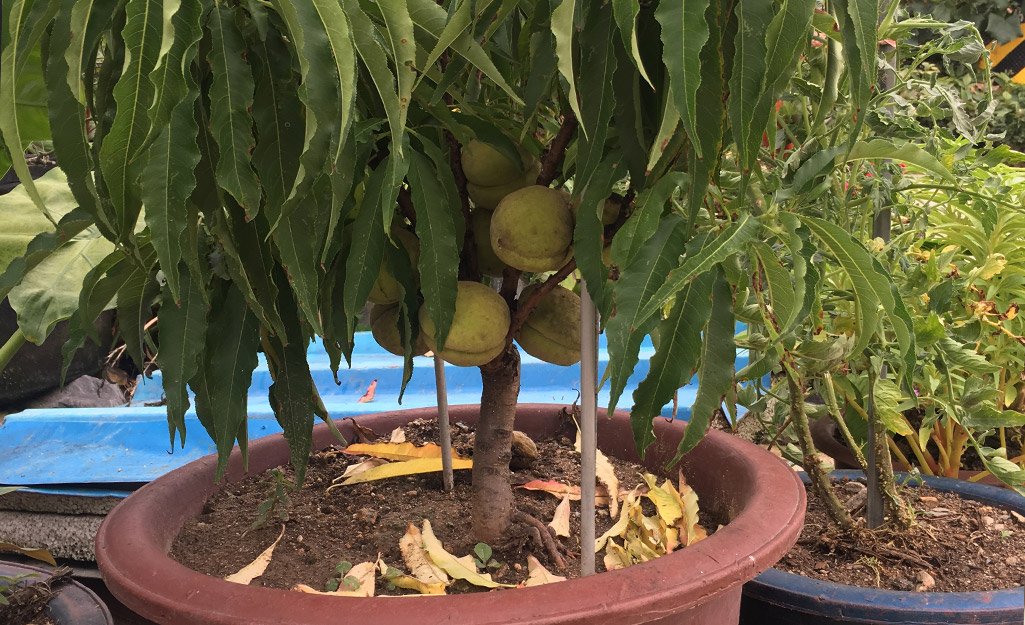 A peach plant that becomes a tree typically begins to grow and bear peach fruit after about six seasons of growth. 
As it matures and establishes itself, a peach tree can be trained to grow up along a wall or fence. 
Once grown into full bushes or trees, and as they grow bigger each year, they require careful management and pruning, full sunlight, proper soil conditions and a good ground drainage system. 
Peach trees can bear the peach fruit from its flowers for up to 12-years.
Expect a healthy peach tree to grow about 1 to 2-feet per year, depending on the variety of peach grown and the pruning techniques applied to the branches. 
Peach trees are not native plants for North America, so they are prone to a variety of diseases and pestilence, and they are susceptible to extreme weather conditions. Those are manageable and will require careful, ongoing maintenance to keep the peach tree in full health and fruit-bearing productivity. 
You can may be able to purchase matured peach trees for immediate planting outdoors (in the right season) from your local Garden Center.
The majestic blooming peach tree features signature pink flowers in springtime that mature to a harvest of delicious peaches in the summer. Getting to the peach-harvest phase might take some sweet time, but the rewards are bountiful when you carefully cultivate your peach crop from that one small seed.
Explore More on homedepot.com