Packing up a home and moving to a new place can be time-consuming, but it can be easier with good planning, enough moving boxes and the right helpers. Understanding how to pack a moving truck properly will also eliminate a lot of stress and get your belongings to your new place in good condition. Use this step-by-step guide to learn how to load a moving truck to minimize damage with these space-saving moving truck tips. 
1
Choose the Right Size Truck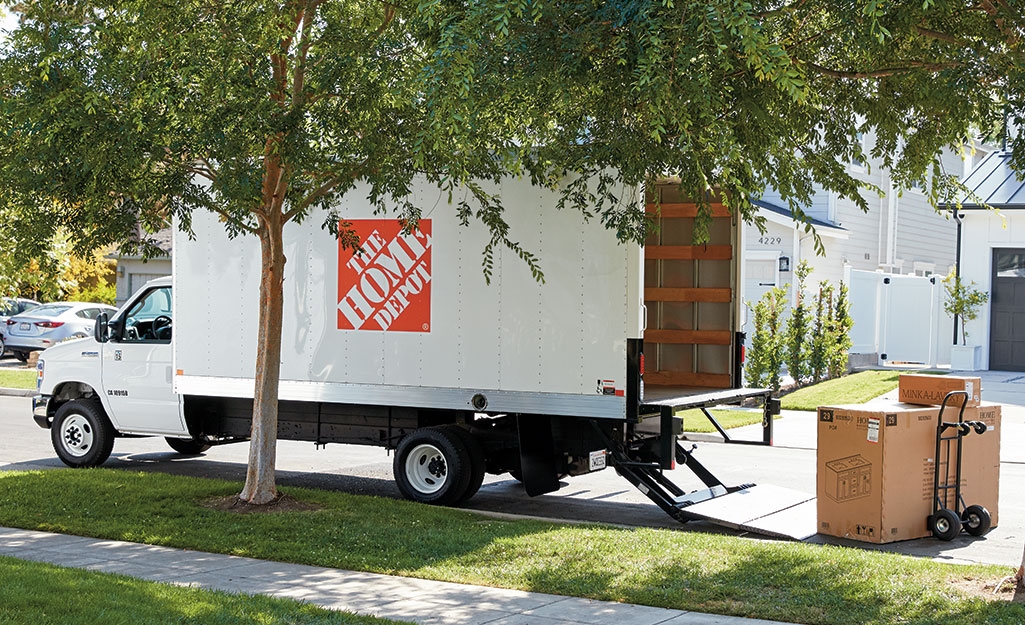 When it comes to your moving truck rental, having a feature such as a loading ramp is great, but selecting the correct size is essential. Moving trucks and vans come in a variety of sizes. 
The wrong size truck can significantly increase your labor, mileage and gas charges. A smaller truck may be less expensive to rent, but any savings will disappear if you have to load and unload it more than once to complete your move. 
The most economical way to move is to make one trip. To determine the size of truck you need, consider the size of your current home and the amount of belongings you have. A good rule of thumb is to allocate about 200 cubic feet of truck or van space for each room you're moving.
For example, if you're moving a three or four bedroom home, on average a 26-foot truck should work, but for a small studio apartment, you may be able to fit everything into an 8-foot pickup truck rental if you know how to pack a moving truck and use the space as efficiently as possible.
Tip: Driving a 26-foot truck can be harder than driving a passenger car. Remember to pay extra attention to your mirrors and allow more braking time due to the truck's weight.
2
Moving Truck Packing Tips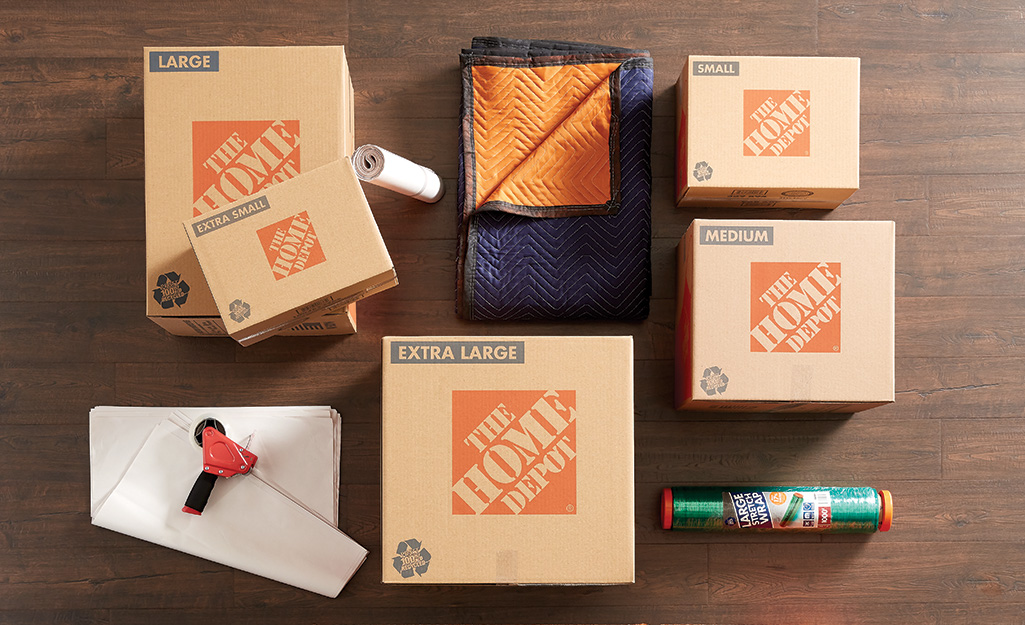 Everyone agrees the best way to pack a moving truck is to do so in a way that eliminates damage to your belongings. Gather all your supplies such as moving blankets, boxes, plastic wrap and packing tape and follow these tips: 
Loading a moving truck is more efficient when items are as small and as compact as possible. Distribute weight evenly as you go.
Disassemble large, bulky furniture such as headboards and bed frames. Remove the legs from dressers, dining tables and bookcases.
An overlooked aspect of how you pack a moving truck is preventing damage from items shifting around in transit. Things you can't put in a box should be wrapped in protective materials and packing tape.
Buy mattress bags for mattresses and wrap upholstered furniture in plastic wrap to keep them dirt-free during transit.
Gently roll up area rugs face down to prevent the backing from cracking. Wrap in plastic wrap.
If possible, use original boxes to pack any small kitchen appliances, audio equipment or TVs.
Purchase specialty mirror moving boxes for pictures and decor. They are made to handle the weight and are sturdy enough to resist crushing.
Loosely group packed belongings based on size as you pack. This will make things easier and more efficient when you start loading your moving truck. If possible, keep the contents of a room together.
3
How to Load a Moving Truck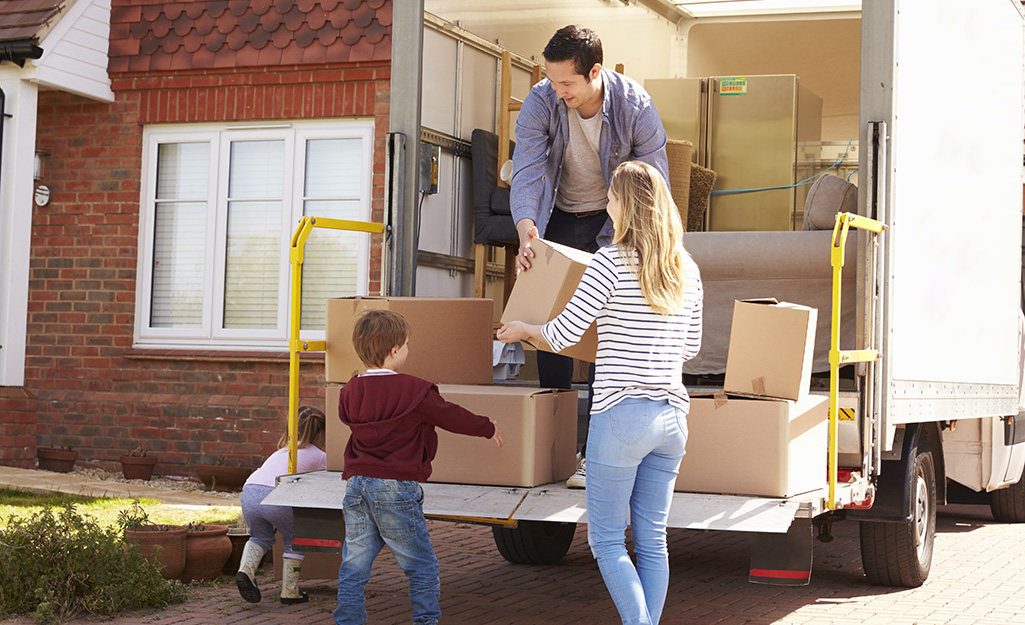 Once you've boxed your belongings, it's time to get your dolly and load the truck. Follow the steps below on how to load furniture into a moving truck and how to load boxes into the moving truck:
Get enough help and allow enough time to complete your move in one trip. Working together, two people can load a 2-bedroom apartment in about three hours, but three people can load twice as much in approximately the same amount of time.
Mentally divide the inside of your moving truck into sections. The back section near the driver is for heavier items, the middle section is for medium-size items and boxes and the area near the door is for small boxes and lightweight items.
Load your heaviest items first. Whether you're a DIY or professional mover, this usually means furniture goes in before boxes, unless you have large, heavy boxed items such as a TV or a floor mirror. Place dressers, chairs, appliances, couches and other large items against the back wall. Make sure they remain upright.
Place boxes into the truck second. Stack lighter ones on top of heavier ones to avoid crushing their contents. Place rolled rugs upright and vertical between boxes and furniture to save space.
Knowing how to tie down furniture in a moving truck is important. Secure items with moving straps or rope to keep items in place.
Fill the third section of the truck with lightweight boxes and fragile items such as dishes, artwork and mirrors.
The last items to load are the boxes and suitcases you've packed with the things you'll need your first night or first few days in your new home.
Tip: If you want to know how to pack a truck for a long distance moving, follow all the suggestions in steps 1, 2 and 3. However, do not pack any food, liquids or items you'll need right away, such as an overnight bag, in the truck. It's better to bring those with you in your car.
Choosing the right size truck and packing it correctly will save time and prevent damage to your furniture and other belongings. From a moving calculator to figure out moving supplies to moving and lifting equipment rentals, we're here with everything you need to make moving day easier. 
Explore More on homedepot.com