Project Guide
Make a Fairy Garden from Broken Flowerpots
Time Required:

2-4 hours

Difficulty:

Beginner
---
Don't throw away your broken flowerpots. Instead, reuse them to create a beautiful blooming fairy garden. Just add flowers, ground covers such as sedum succulents, small bushes and fairies for this unusual container.
This project uses a broken terra cotta flowerpot with a clean break and several broken saucer pieces. It incorporates three other unbroken flowerpots.
Note: If you prefer to break your own flowerpot for this project, put on gloves, a dust mask and protective eyewear and check out the following two options from Home Depot expert Maureen Follen.
The first option uses a hammer. Stuff the flowerpot with newspaper and lay it on its side. Gently tap and break the front rim portion where you can guide the cracks. Now tap around the cracks so it breaks the flowerpot. This is an easy way to create your broken flowerpot, but be warned that the flowerpot could break in unwanted places.
The second option uses an angle grinder or a multi-functional oscillating tool to cut through the front half of the flowerpot. These tools provide more precise cuts. The oscillating tool can also sand down any rough edges left behind.
Clean Your Flowerpot Pieces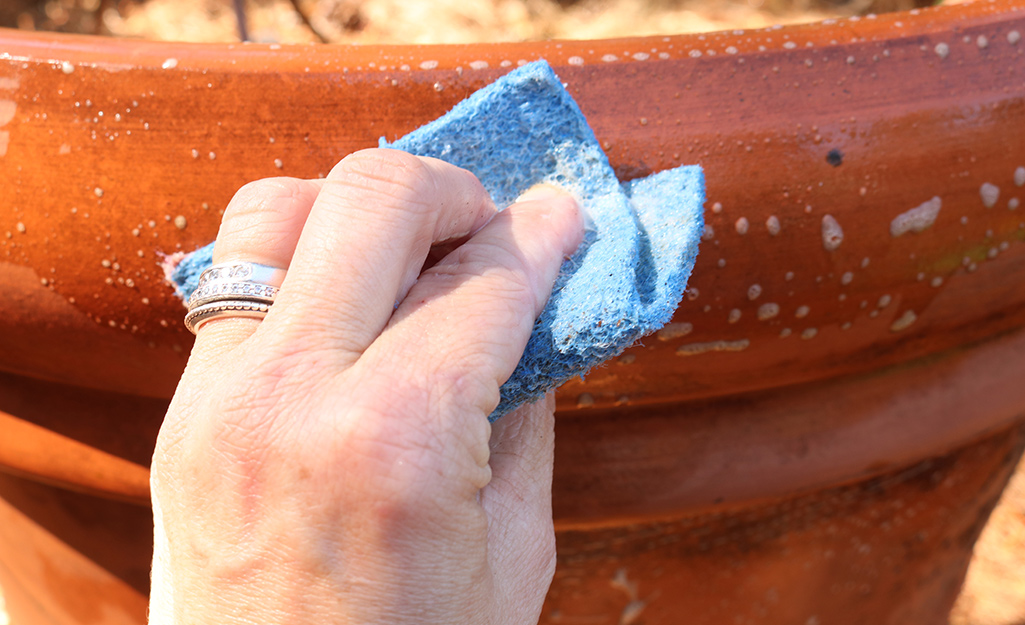 Scrub the surface of your broken flowerpot inside and out using soap and water and a scrub brush or scouring pad to remove moss and dirt.
If needed, sand down any sharp edges of your flowerpot and let dry.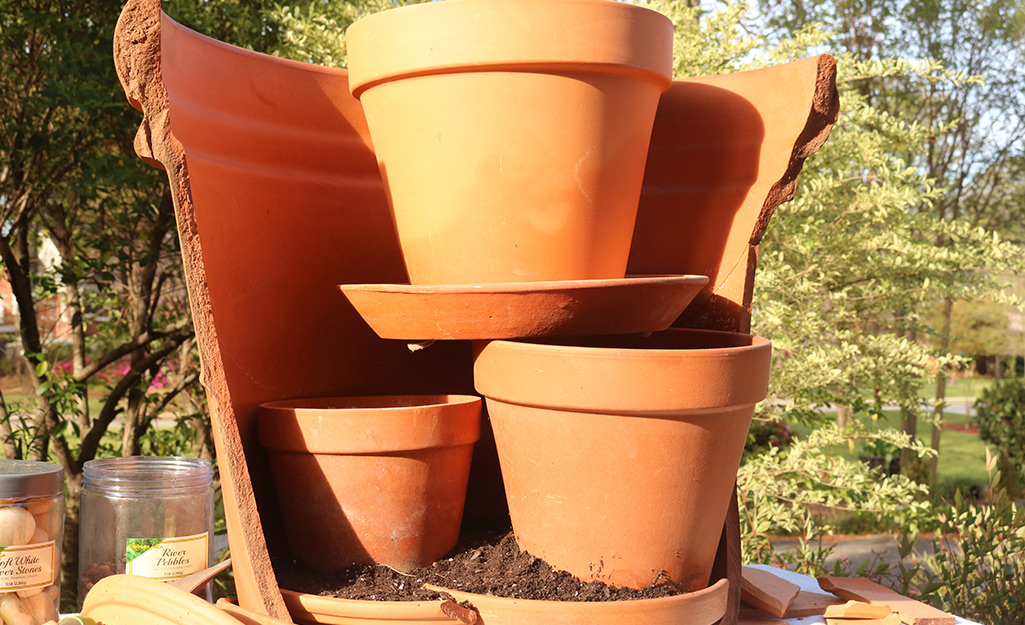 Experiment with the pots and broken pot pieces like a puzzle to create multiple layers for your fairy garden.
Don't worry if some pots are shorter than others. You can always prop up the inner flowerpots with broken pieces.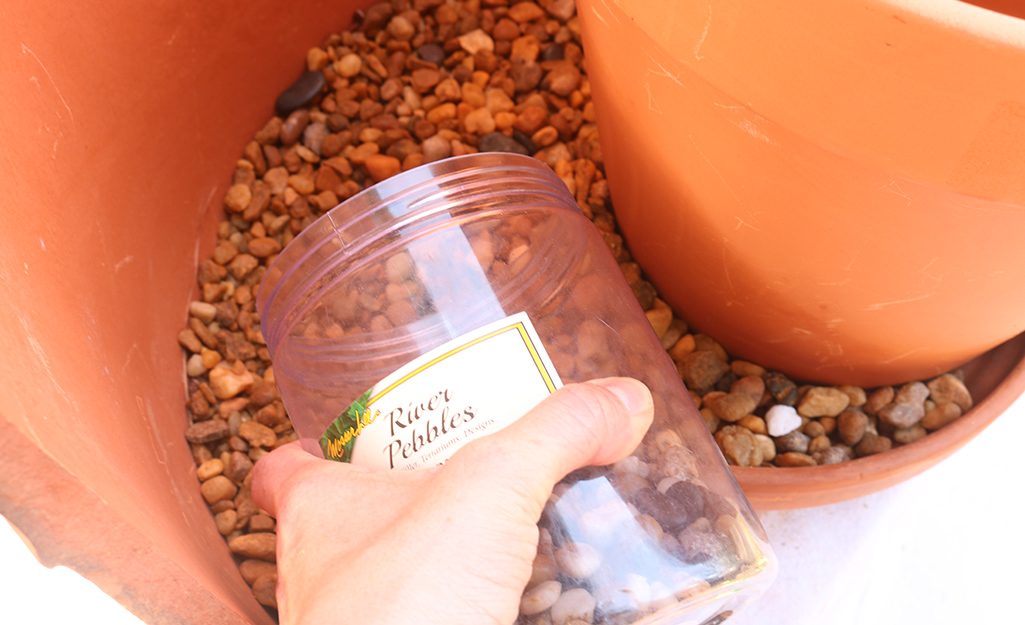 Place your main broken flowerpot on a planter caddy. To start creating the layers, consider using a broken plant saucer inside the larger broken flowerpot to hold your design in place at the bottom. We combined two broken pieces on the bottom, making sure to keep the drainage hole open.
Pour a small layer of river pebbles into the saucer to help weigh them down on the bottom. Use larger stones or broken pot pieces near the drainage hole so water can escape. Add dirt on top of the pebbles.
Experiment as you go along to find the best fit.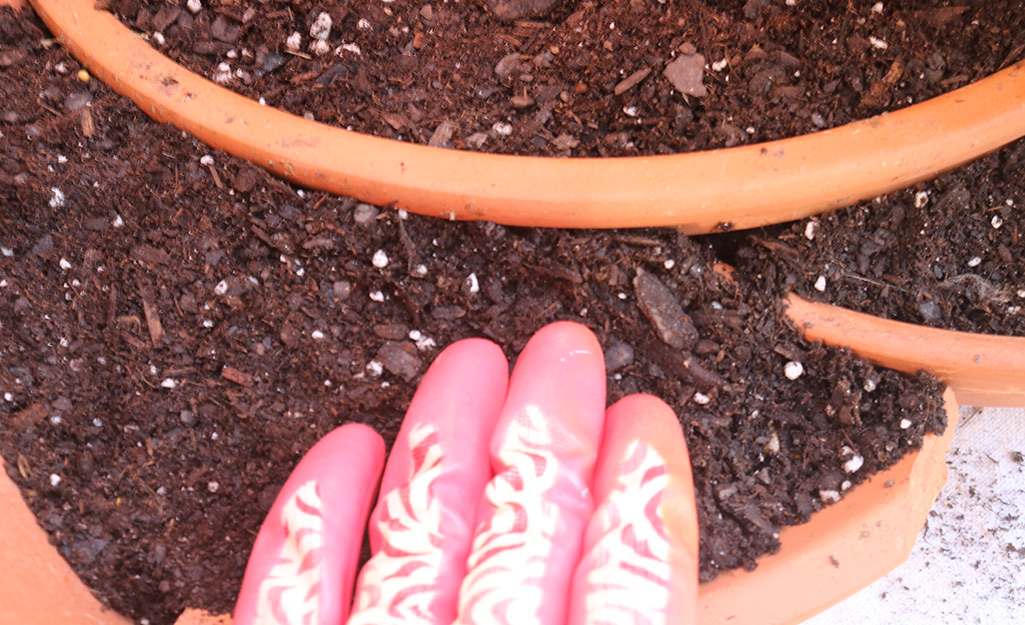 Slip on your gardening gloves and, using your soil scoop or hand trowel, add potting soil into the bottom layer of pots and also in the flowerpots on top.
Fill in with additional potting soil around the pot and pat it down.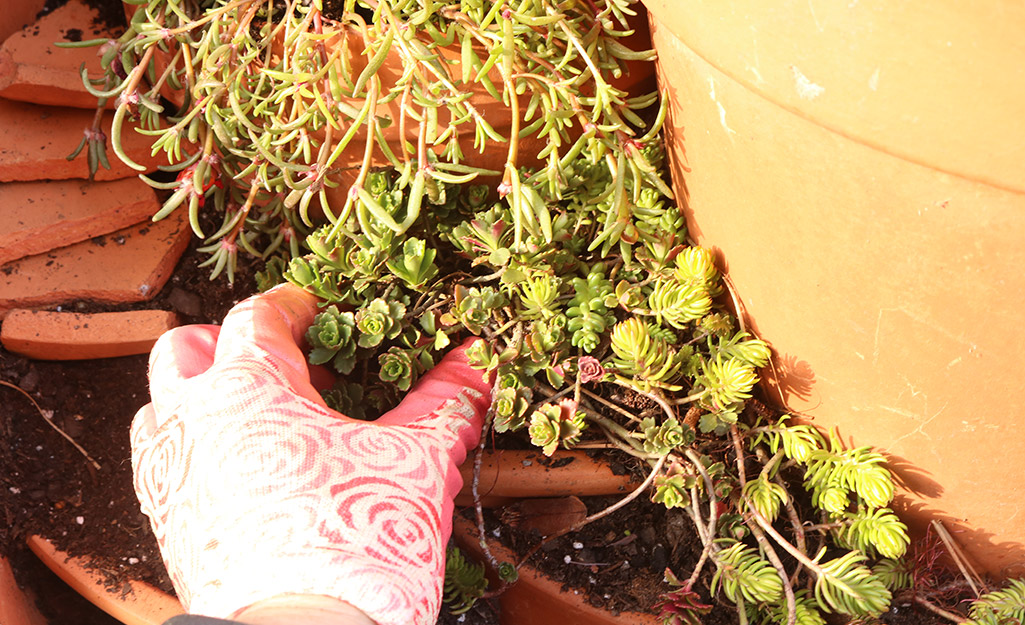 Start to plant flowers and small bushes in places where they will fit. On the bottom layer, we planted hardy ground covers sedum (we used a small portion of a sedum tile available at select The Home Depot stores) and portulaca in the small flowerpot.
To plant the English daisies, we created another flowerpot out of broken pieces.
In the larger flowerpots, break apart the roots of the small bushes and plant them inside. We used low-growing blue rug juniper and false cypress 'Lemon Thread.'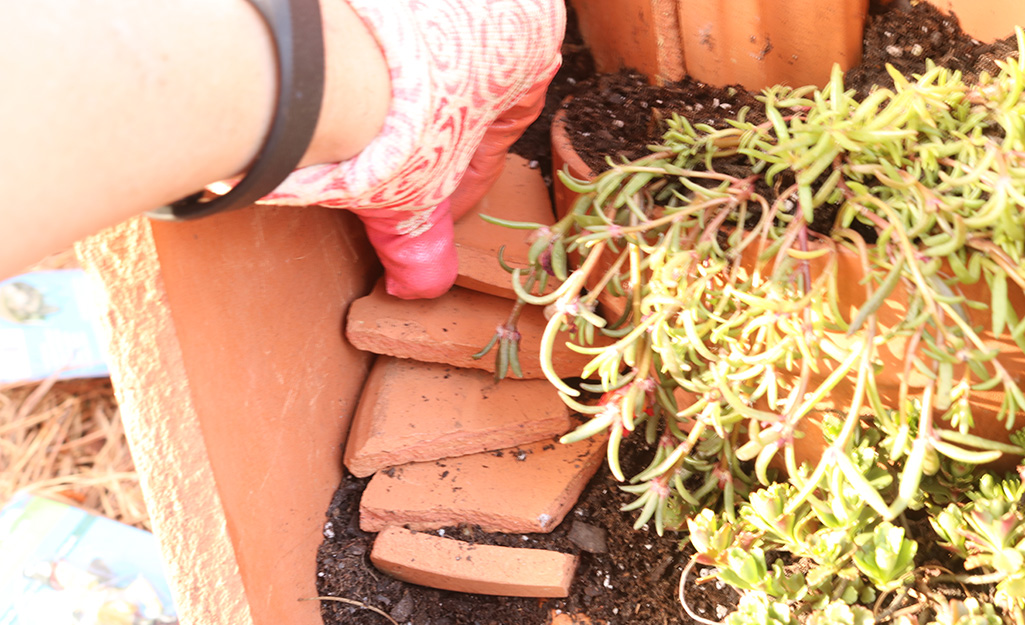 Take some small broken flowerpot pieces and fit the pieces to build your fairy garden steps.
If needed, break bigger pieces into smaller ones. Place the pieces inside a rag and tap lightly with the hammer to break the flowerpot pieces into smaller ones.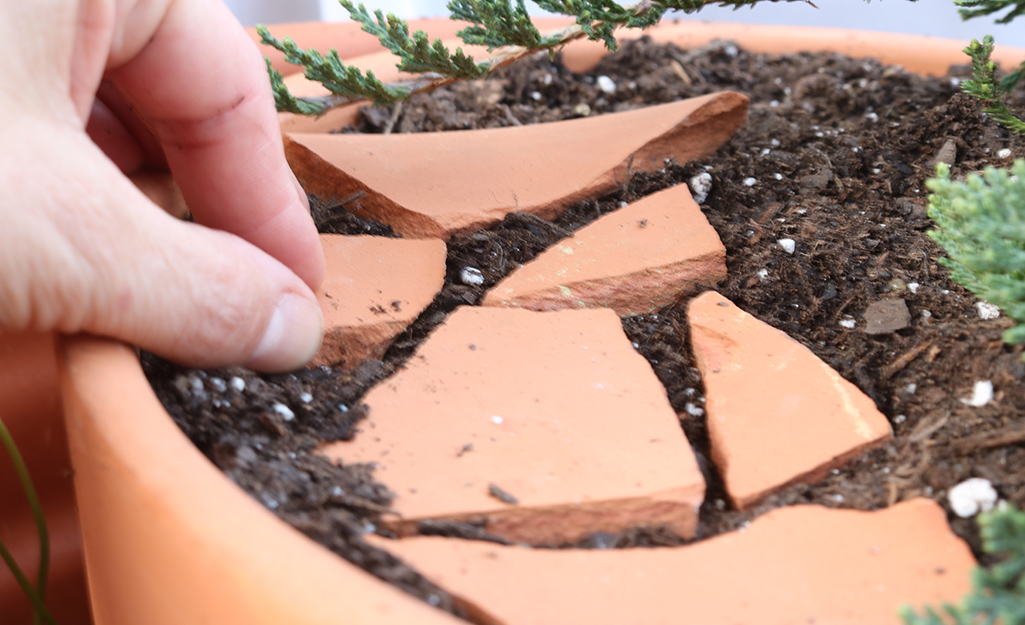 To finish up your fairy garden landscape, add moss, a patio and other stepping stones.
Gently break apart the sheet moss and soak it in water for about five minutes. Next, tuck the moss underneath plants around the fairy garden.
Now use small broken flowerpot pieces to create a patio. Add river stones to create additional garden paths in the fairy garden.
Add Fairies and Accessories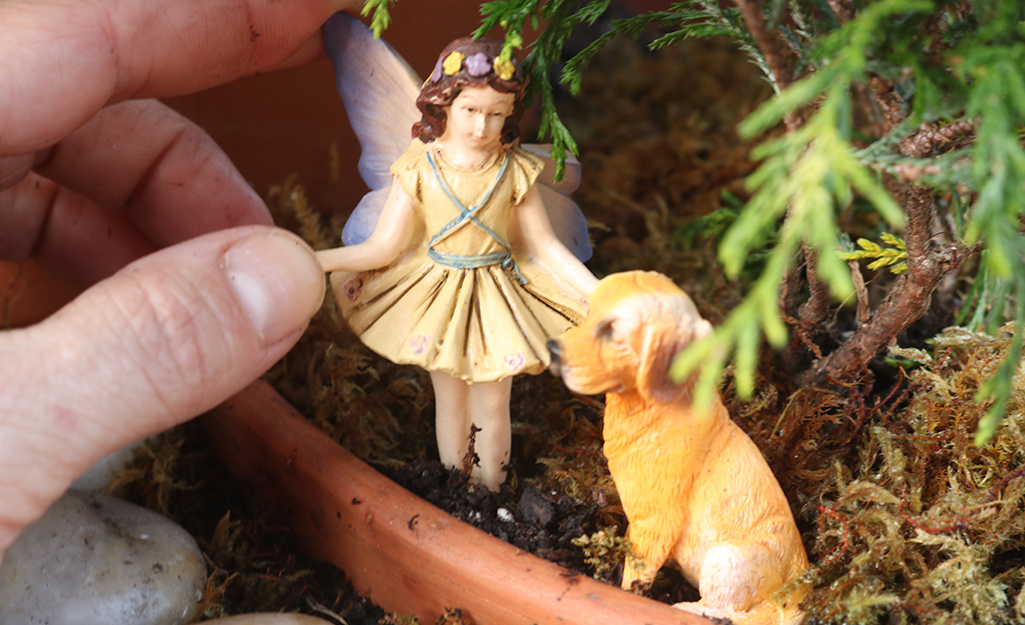 Decorate the garden and have fun adding fairies and animals and the accessories, such as secret entry doors, fences, swings and more.
Set Your DIY Fairy Garden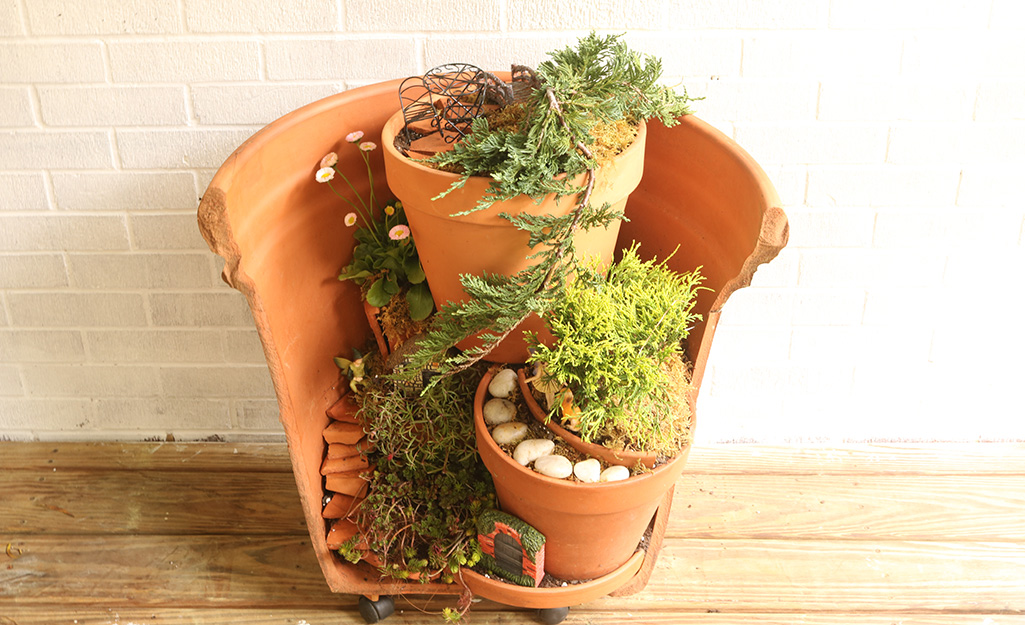 Wheel your broken pot fairy garden to your favorite spot on the porch, patio, balcony or right in the garden. Over time, you can add to your fairy garden by changing out annuals and adding to your decor.