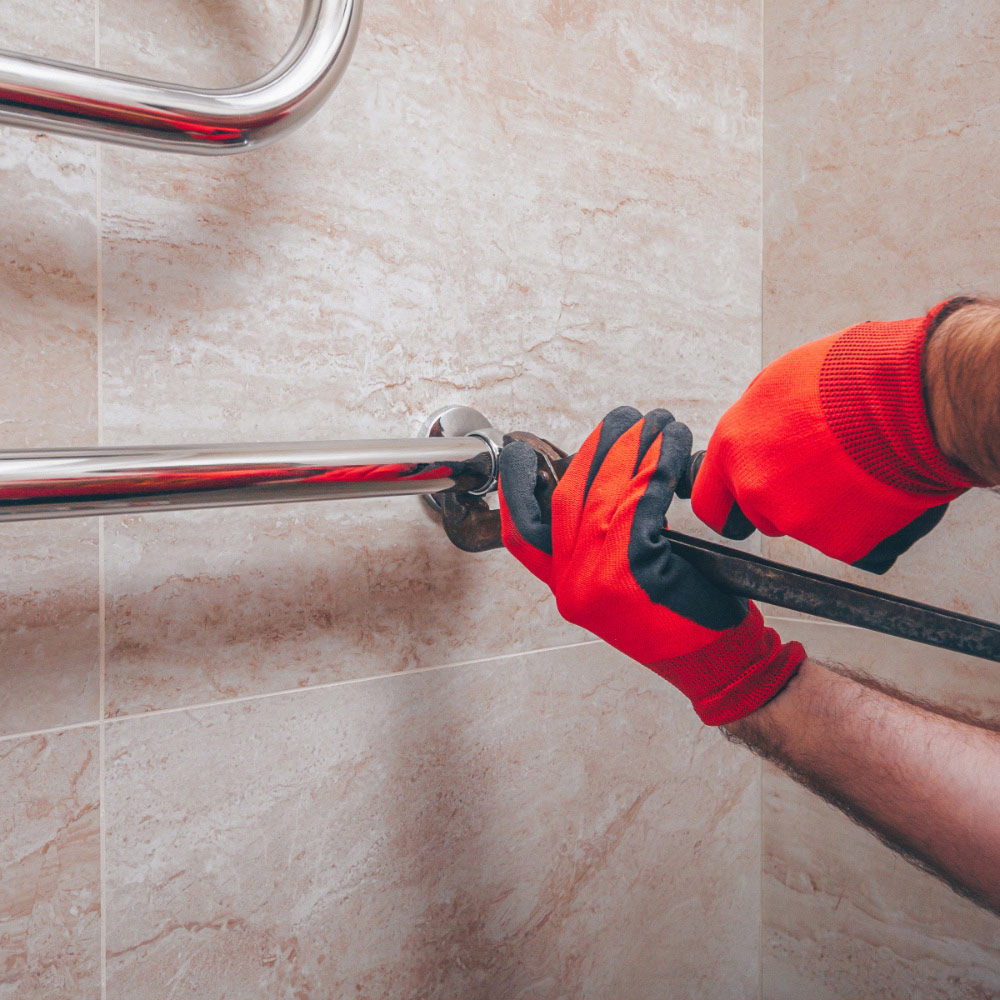 Bathrooms need to be accessible to everyone. It's good for business, and it's the law. The standards that apply to your property depend on the bathrooms' intended use and its construction or remodel date.
ADA Bathroom Dimensions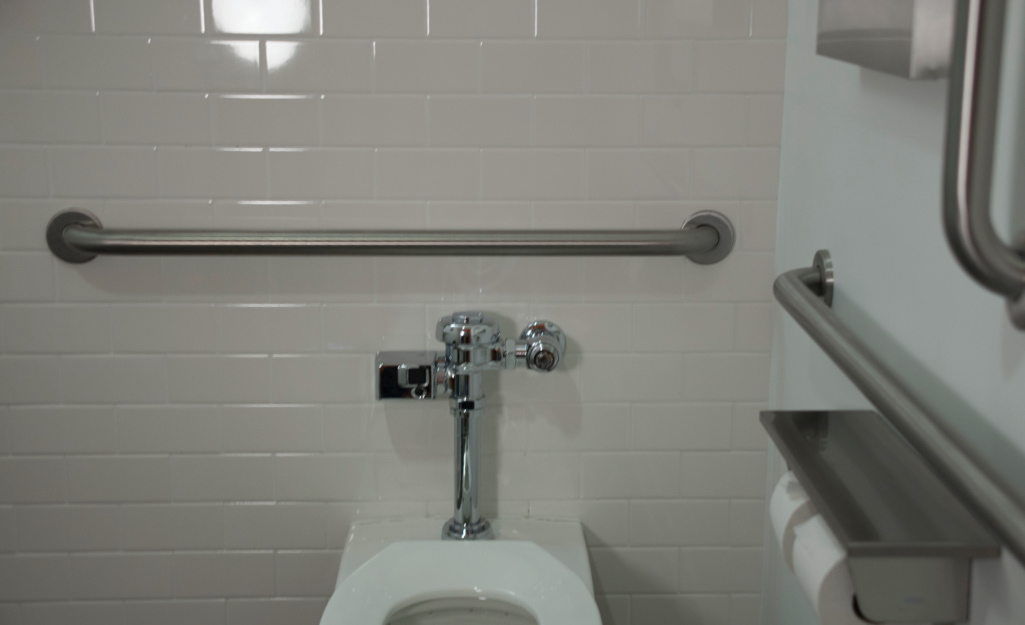 In general, minimum accessible bathroom size is 60 inches wide by 56 inches deep plus clearance space for fixtures. Adding more fixtures or door swings will demand more space and a larger bathroom.
ADA standards do not specify an exact room size. Standards require turning space, clearances and wheelchair space for accessibility. The layout of individual fixtures like sinks, dispensers and door swings alongside clearance determine room size. This allows ADA-compliant bathrooms to be arranged as necessary to ensure accessibility.
Turning & Wheelchair Space
Minimum turning space is either a 60 inches diameter circular or a 60 inches T-shaped area. Minimum wheelchair space is 30 inches wide by 48 inches deep. These are minimums. Building more space always ensures better accessibility.
It is best practice to locate fixtures outside of turning spaces but not required. Door swings and fixtures can overlap turning spaces, as long as there is clearance and minimum wheelchair space remains open.
Overlaps are acceptable in circular turning spaces. In T-shaped spaces, overlaps can only exist in one segment of the T. The two remaining segments must remain unobstructed to ensure maneuverability.
Bathroom Fixtures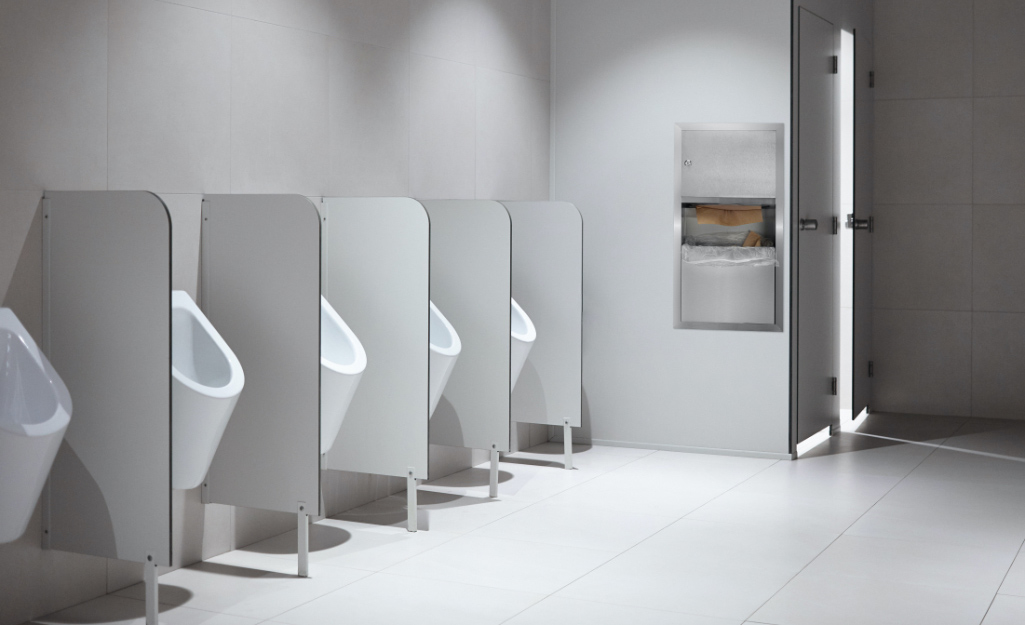 There are specific ADA requirements written for bathroom fixtures.
Toilets
Compliant toilets must be positioned 16 inches to 18 inches from their side walls or partitions and 17 inches to 19 inches from the floor. These measurements are from the toilet center line and seat height respectively. Flush controls must be on the open sides and comply with operational accessibility standards, being operable with one hand by applying no more than 5 pounds of force.
There are exceptions for residential bathrooms.
Urinals
Compliant urinals can be either wall hung or stall type. Wall-hung urinals must be at least 13 1/2 inches deep with a rim height of 17 inches, maximum. For both urinal types, clear floor space 30 inches wide and 48 inches deep is required. Stall partitions cannot interfere with this space. If they do, additional floor space width of 36 inches is required.
Sinks
The ADA height requirement for sinks is no more than 34 inches from the floor with 27 inches for knee clearance. Sinks, or lavatories, also require minimum clearance area of 30 inches wide by 48 inches deep. This rectangular space reserves adequate room for wheelchair approach and maneuverability.
As with all fixtures, sinks cannot overlap toilet clearance areas, but their clearance areas can overlap. Centering sinks above clear floor space is recommended. In addition to clearances, exposed pipes under compliant sinks should be well insulated to protect against scalding.
Doors
Turning and wheelchair space is necessary and should be as close to the entryway as possible. Bathroom doors can open into or out of the room as long as minimum maneuvering clearance is available.
Door swings can overlap fixture clearances as long as wheelchair space remains, but fixtures cannot overlap door clearances. Because of this, bathrooms with doors that open inwards will be larger than rooms with doors that open outwards.
Grab Bars
Horizontal grab bars must be mounted beside and behind toilets. They can be segmented if needed, as long as they are securely mounted and meet specifications. Rear grab bars must be 36 inches long minimum. Side grab bars must be 42 inches long minimum. All grab bars must:
Be mounted 33 – 36 inches from the floor
Remain secure and not rotate in their mount
Have 1 1/2 inches of clearance from the mounted wall
Be no more than 12 inches from an adjacent wall
Have 12 inches of clearance space above the bar
Be able to withstand 250 pounds of vertical or horizontal force
Be free of sharp, abrasive or projecting object
Folding or swinging grab bars are not required by ADA standards, but they are allowed. If provided, these types of grab bars must not restrict the use of required grab bars.
Vertical grab bars are also not required by ADA standards. They are, however, required by the International Building Code. If used, these must be at least 18 inches tall and can overlap the ADA's 12 inches horizontal grab bar clearance requirement.
Toilet Paper Dispensers
Toilet paper dispensers need to be next to the toilet and easily reached, between 15 inches minimum and 48 inches maximum from the floor. They can be installed next to, above or below but cannot be behind grab bars. An additional 12 inches is required if the dispenser is installed above the grab bar.
ADA standards also require toilet paper dispensers to provide continual operation and flow of toilet tissue. Models that restrict or control toilet tissue dispensing are not permitted.
Other Fixtures
Trash receptacles, shelves and other dispensers in ADA-compliant bathrooms must meet accessibility standards. In general, this means at least one fixture (like coat hooks and shelves) must be accessible when offered. Accessible range is generally 40 – 48 inches from the floor.
Pro Tip: Install recessed toilet paper dispensers. They offer more accessibility for unobstructed maneuvering and more efficient use of space.
Multi-User Bathrooms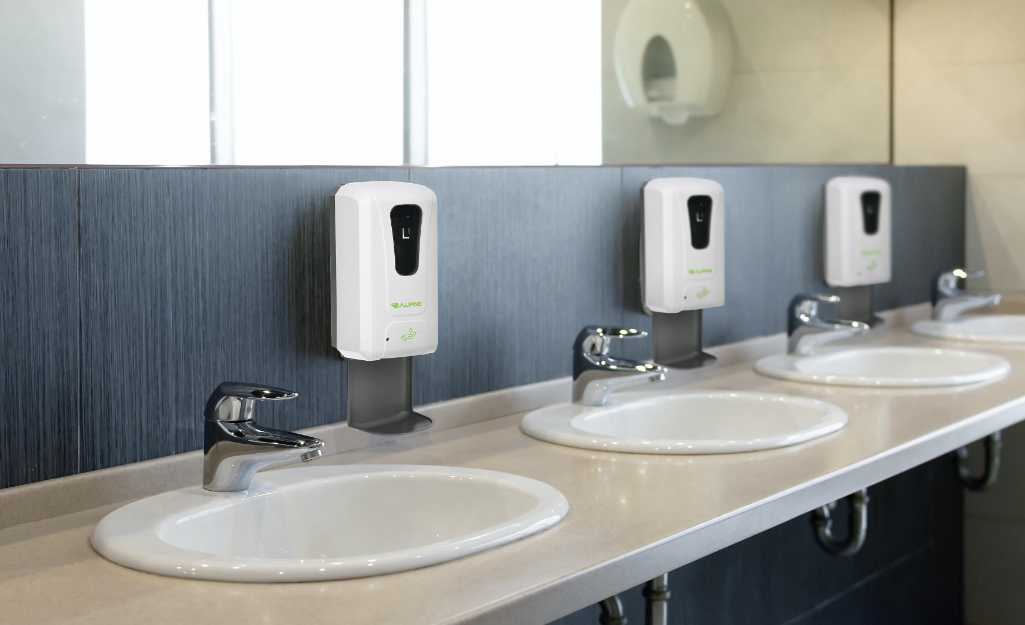 Bathrooms for multiple users must comply with ADA requirements for turn space, toilets, sinks and other fixtures. These bathrooms must also feature at least one accessible fixture if more than one exists. For example, a large multi-user bathroom must have:
One wheelchair-accessible stall
One compliant urinal (when more than one urinal exists)
One compliant sink and mirror outside of a stall
One ambulatory accessible stall where six or more exist, or where a total of six or more toilets and urinals exist
Wheelchair Accessible Stalls
Accessible stalls must comply with all ADA standards, including toilet, grab bar and fixture requirements. In addition, accessible stalls must include toe clearance 9 inches high and 6 inches out from partition. If partitions are floor mounted, additional clear floor space 59 inches deep is also required.
Ambulatory Accessible Stalls
These walk-in accessible stalls accommodate individuals using walkers or other non-wheelchair devices. They are a minimum of 35 inches to 37 inches wide and 60 inches deep. They must also feature grab bars on both sides of the stall so users can grasp both bars simultaneously. These grab bars must be no more than 12 inches off of the back wall, at least 42 inches long and extend at least 54 inches to the stall entrance.
Stall Doors
Doors on compliant stalls must meet all requirements for doors. They must be 32 inches wide minimum, feature compliant hardware, have handles on both sides, take no more than 5 pounds of force to open and be self-closing. Stall doors also need to be offset from the toilet to allow for turning space.
Pro Tip: Install hardware that is as easy to use as possible. Handles and latches that can be operated with one hand are the most accessible.
Portable Toilets
At least 5% of portable toilets provided, including temporary events but excluding exempt construction sites, must be accessible. These compliant toilets must be clearly labeled with the ISA symbol and meet all ADA bathroom requirements. Entrances to these toilets must also be accessible and comply with necessary standards. 
Children's Bathrooms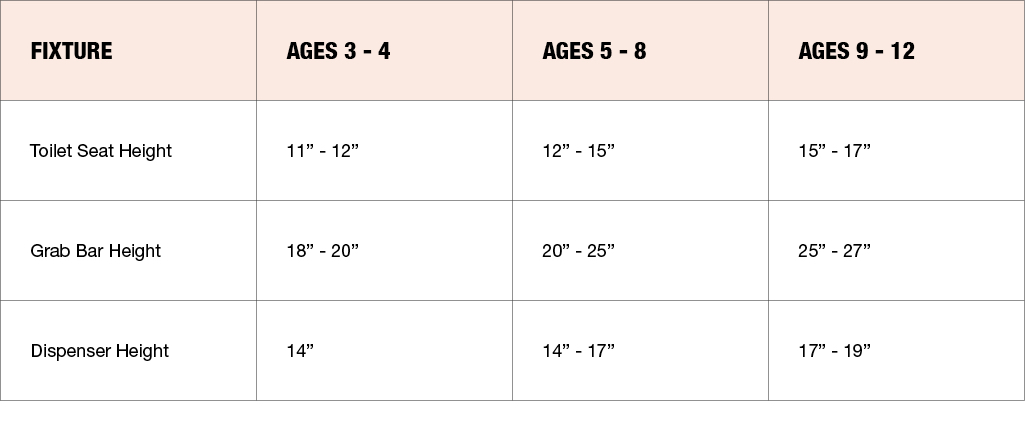 ADA standards allow for child-size dimensions as needed. These sizes are directed to children 12 years old or younger and offered as optional exceptions to the adult-size requirements. Use your best judgement when building these types of bathrooms. When a bathroom follows these standards, all elements and fixtures in that bathroom must adhere to the same standard.
More Tools. More Products. More Perks.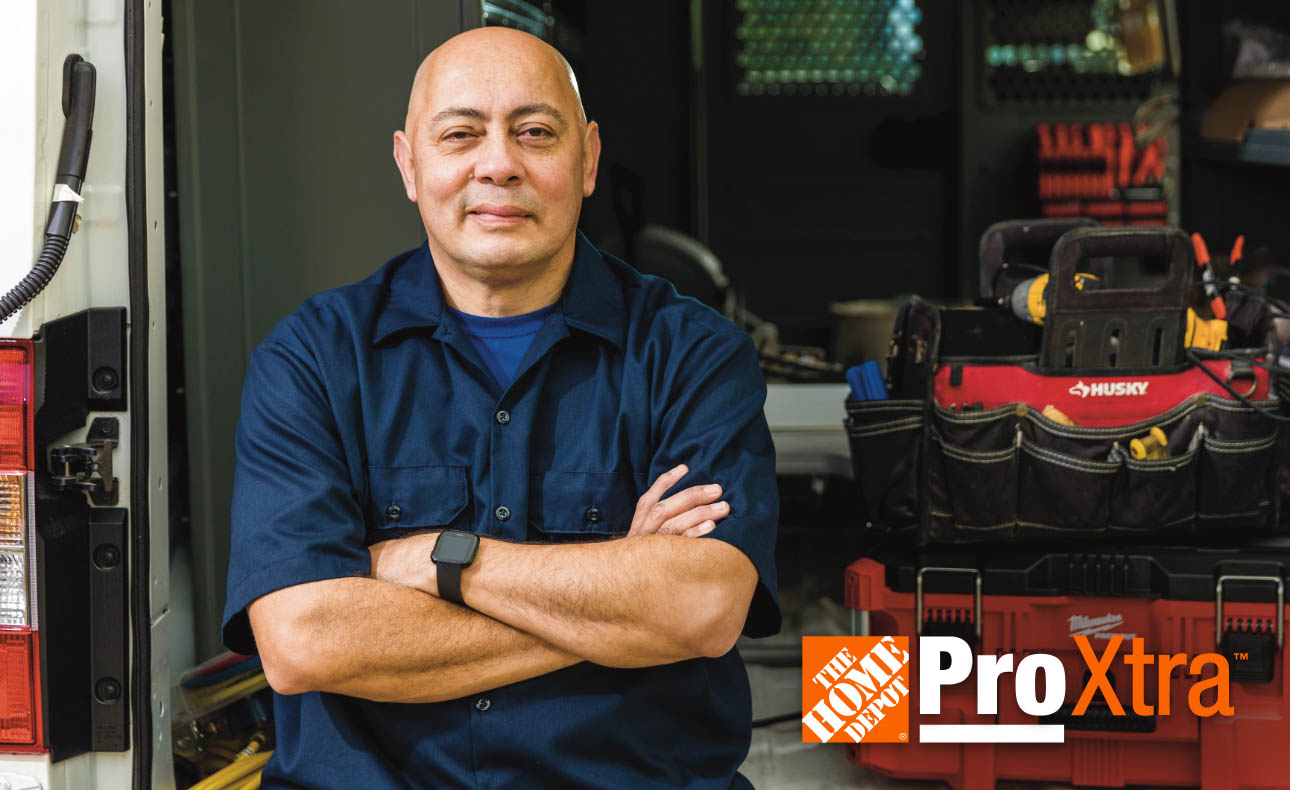 Be more competitive and boost your bottom line with Pro Xtra, The Home Depot's loyalty program built for Pros. Sign up today to access the enhanced Pro Online Experience, built with the online business tools and time-saving features Pros need. 

Authorize employee in-store purchases quickly and securely via text. When Pro Xtra members enroll in Text2Confirm, you have total visibility to a details list of everything your employee is buying.
Requirements for accessible bathrooms are governed by Title II and Title III of The Americans With Disabilities Act of 1990. These refinements to federal laws were published on 9/15/2010 as the 2010 ADA Standards for Accessible Design.
Visit ADA.gov to learn more about the ADA regulations. If you have a specific question, call the toll-free ADA Information Line at 800-514-0301.
The information provided here does not, and is not intended to, constitute legal advice; instead, all content is for informational purposes only. This page does not create an attorney-client relationship between the reader and The Home Depot Pro. You should consult your attorney to obtain advice with respect to any particular legal issue or problem.
Explore More on homedepot.com