Garage floors need to be tough. They must support automobiles and frequently toolboxes and other heavy-duty household items, as well as withstand leaks and spills from oil and other chemicals. Nevertheless, garage flooring options can be stylish as well as durable. These garage flooring ideas include coatings and coverings that can ensure that the floor will look better while lasting longer. 
Tip: Thoroughly clean a garage's concrete floor and repair cracks and imperfections before installing flooring, especially when applying a coating like paint or stain. 
Garage Floor Paint and Stain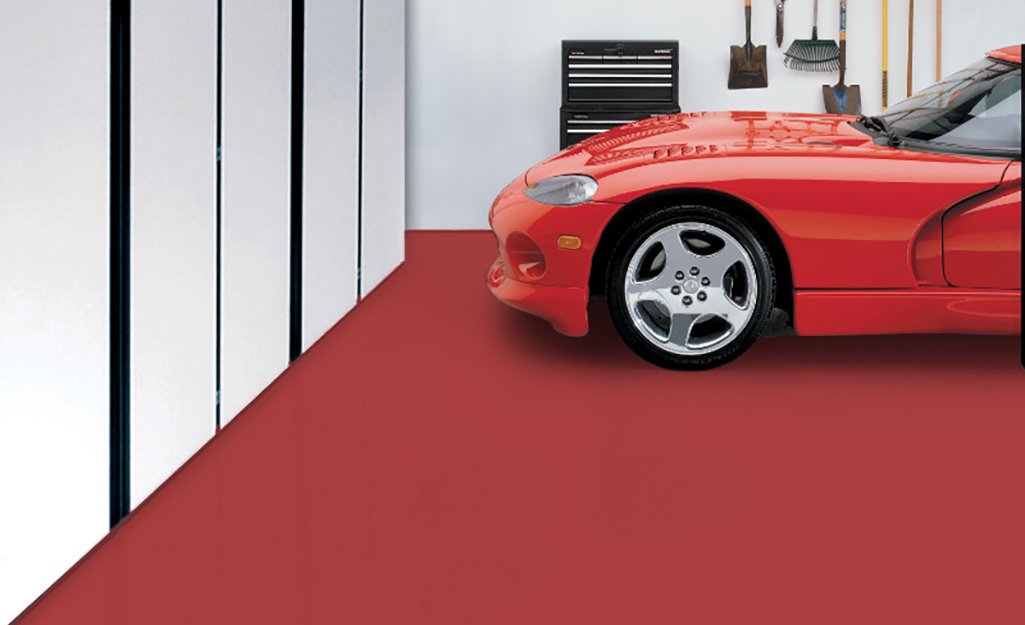 When deciding on the best flooring for garages, consider the seasons in your area. If you live in a place with a severe winter, for example, your garage floor might be affected by melted snow. Road salt can damage painted floors. 
Also, think about how you use your garage. Paint and carpet can both be stained easily, so those wouldn't be good garage flooring ideas if you work on cars or other machines.
Of the different ways to improve your floor's appearance, coatings such as garage floor paint are the least expensive and easiest to apply yourself. However, preparing the floor can be a time-consuming process.
Among best paint for garage floors is acrylic latex paint. This moisture-resistant paint is the most popular type of paint for garage floors. It is less expensive than other coatings. Black garage floor paint is among the color options, which also include gray, tan, blue, red and metallic tones like silver and copper.
Concrete stains can give a plain concrete floor the appearance of marbled stone. Stains can be easier to apply than paints but may require more frequent reapplication as well as a sealer or wax. 
Tip: When applying paint or another coating to a garage floor, check instructions to see if it requires a concrete primer coat for stronger bonding. 
Garage Floor Epoxy Coating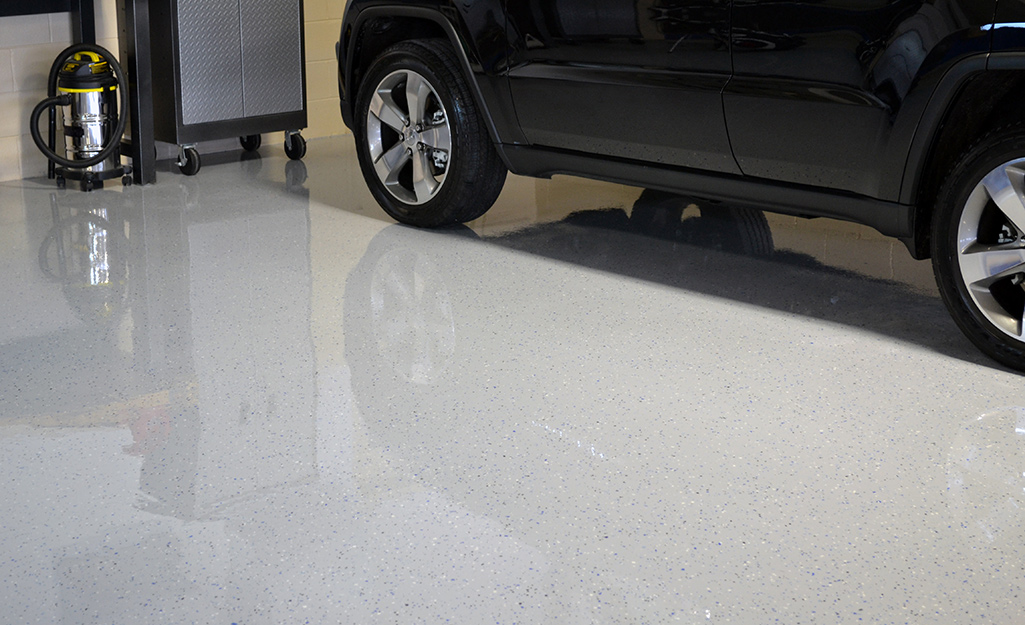 Epoxy paint for garage floors is a chemical-resistant paint-like coating with a glossy finish that lasts longer. This coating offers better protection from spills and hot tires than standard paint. It is not recommended for use on garage floors that hold moisture, which will undermine the bonding process. 
Epoxy paint is very durable, but takes a long time to dry. You might need to keep your car out of the garage for up to a week after applying an epoxy coating. 
Interlocking Floor Tiles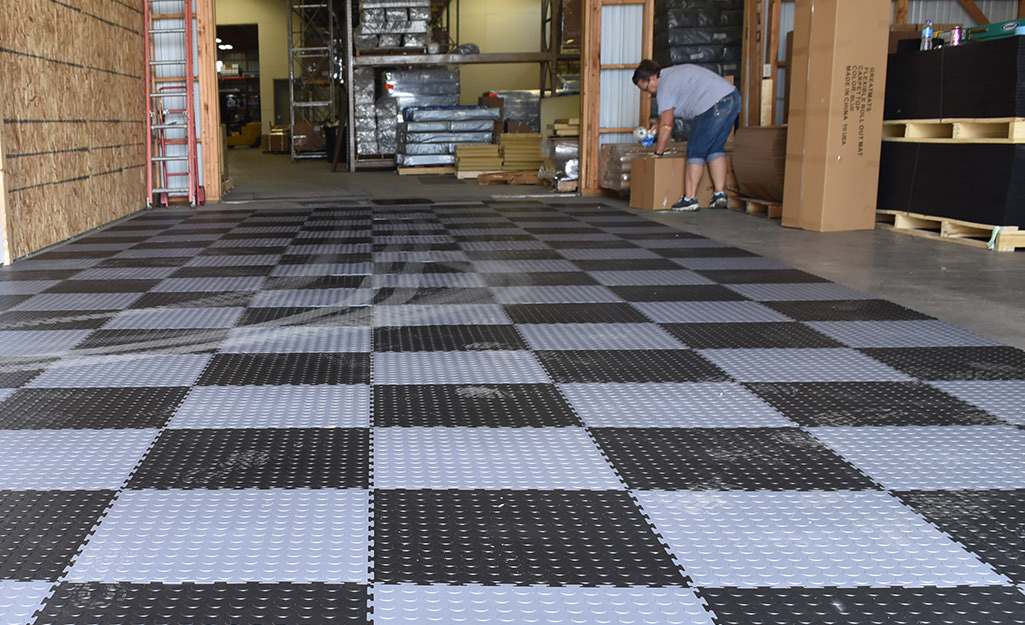 If your garage floor has seen better days, a covering might be better than a coating like paint or stain. When you paint or stain a floor, its flaws may be become more obvious. 
Coverings can be more costly than paint, but are typically the best flooring for garages that have had issues with humidity or flooding. If the concrete is often damp, it isn't suitable for paint, which won't stick correctly. Check concrete garage floors for moisture before you attempt to paint or stain them. 
Interlocking garage floor tiles can be both a stylish and durable garage flooring option.
Popular materials include polypropylene garage floor tiles and PVC garage floor tiles. Other options include rubber garage floor tiles, as well as steel. The tiles can be rigid or flexible depending on your needs.
Many garage floor tiles are designed to be easy to clean and to allow water to evaporate beneath them, avoiding moisture problems such as mildew.
The modular garage flooring design allows the tiles to be arranged in checkerboard configurations and other patterns.
Compared to other coverings, tiles are more cheaply and easily replaced in case of wear and tear. You can simply remove the damaged section of tile and replace it with a fresh one.
If car maintenance or other household projects have you standing in the garage for long periods, cushioned tiles may provide a comfortable choice.
Porcelain Tiles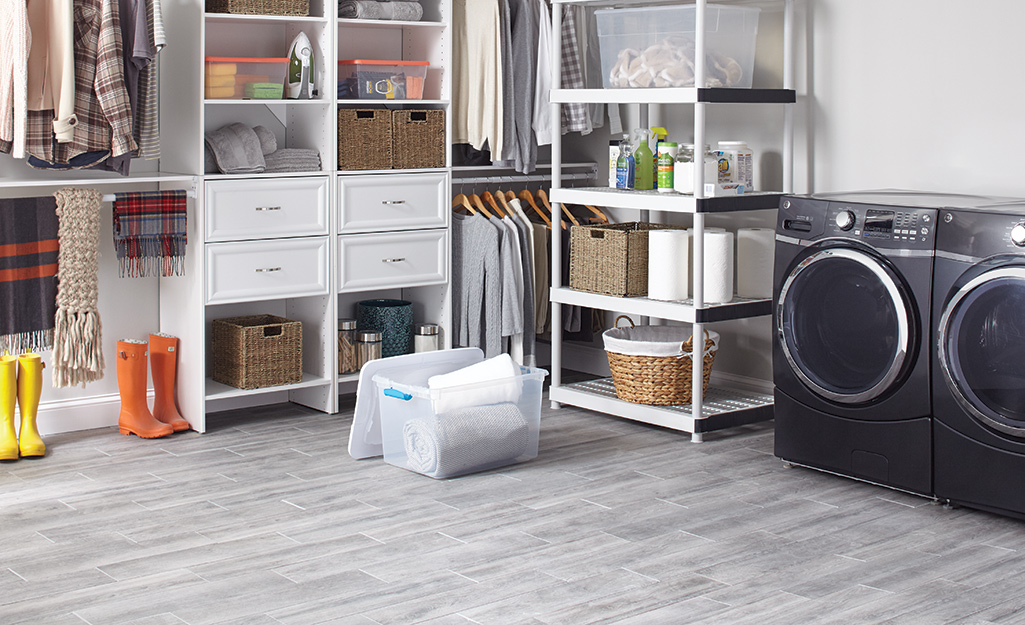 Often associated with kitchens and bathrooms, porcelain tiles are an often-overlooked option for garage floors, but can be highly effective. 
Porcelain tile resists many stains, chemicals and materials such as road salt. This flooring  can be cost effective, especially if you know how to lay tile and can install it yourself.
Drawbacks to porcelain are that it can be more slippery when wet than other floorings, and the grout can become dirty if not properly sealed.
Garage Flooring Mats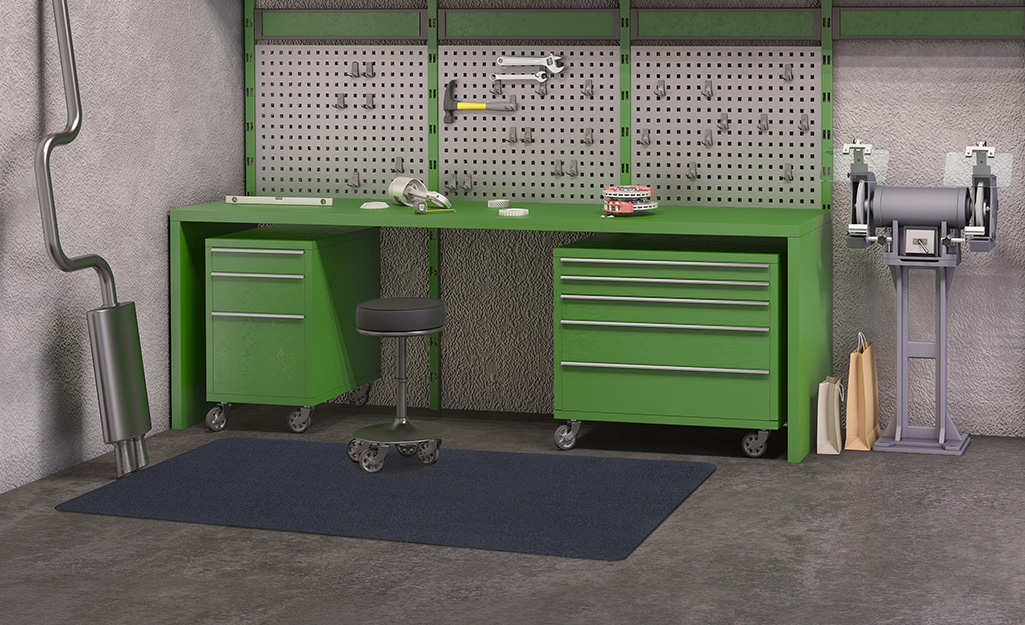 Made of vinyl and other materials, garage floor mats can be ordered in custom shapes and unrolled into place. Garage flooring rolls are easy to install. However, these floor mats run a risk of being gouged or cut by hard objects like gravel or kickstands. If you park bikes or motorcycles in your garage, floor mats may not be ideal.
Snow and rain can make vinyl mats very slick. They may not be the best flooring for garages located in areas that get a lot of rain or snow.
Garage Flooring Covering Colors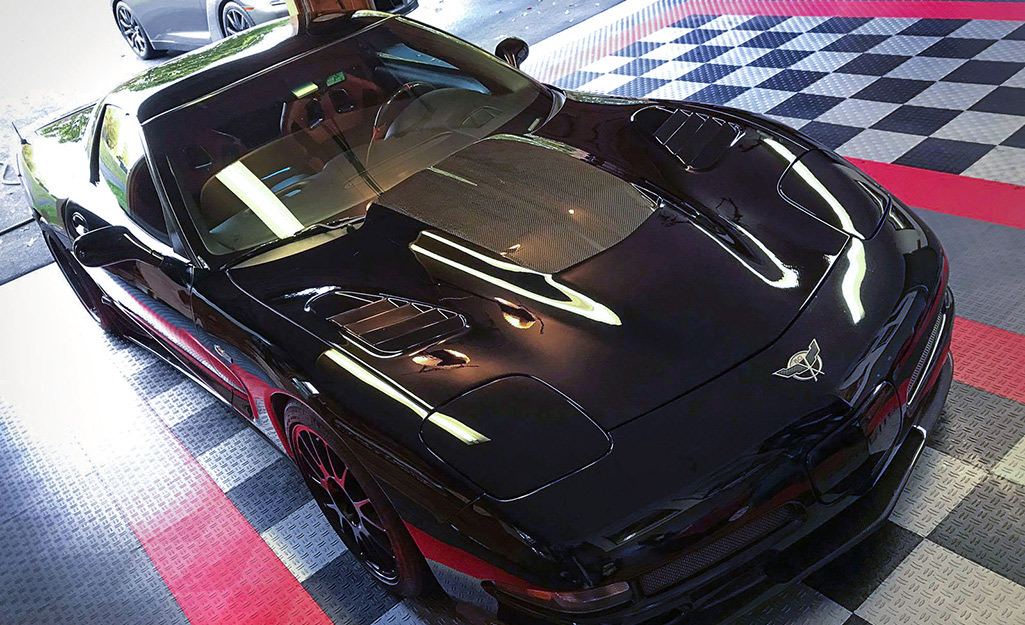 While many garage floor cover options come in shades of black and gray to help conceal tire marks and spills, some come in a variety of colors to give a garage a brighter, more vibrant look. 
Garage Flooring Covering Patterns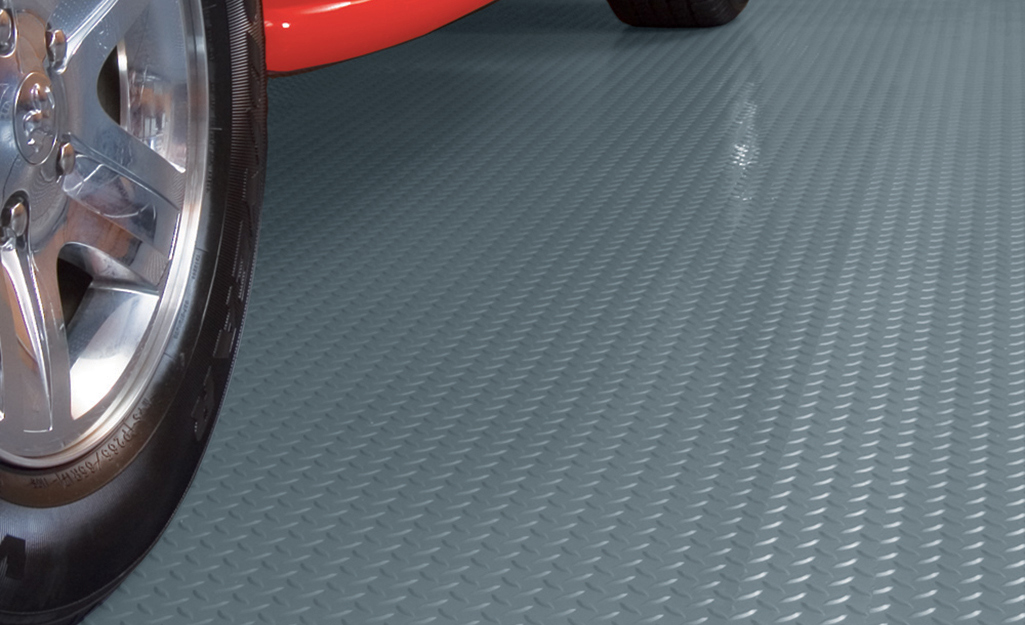 Garage floor coverings often have raised patterns that give them a stylish texture while making them more slip resistant. Surface patterns include diamond, ribbed and coin. 
Garage Floor Carpeting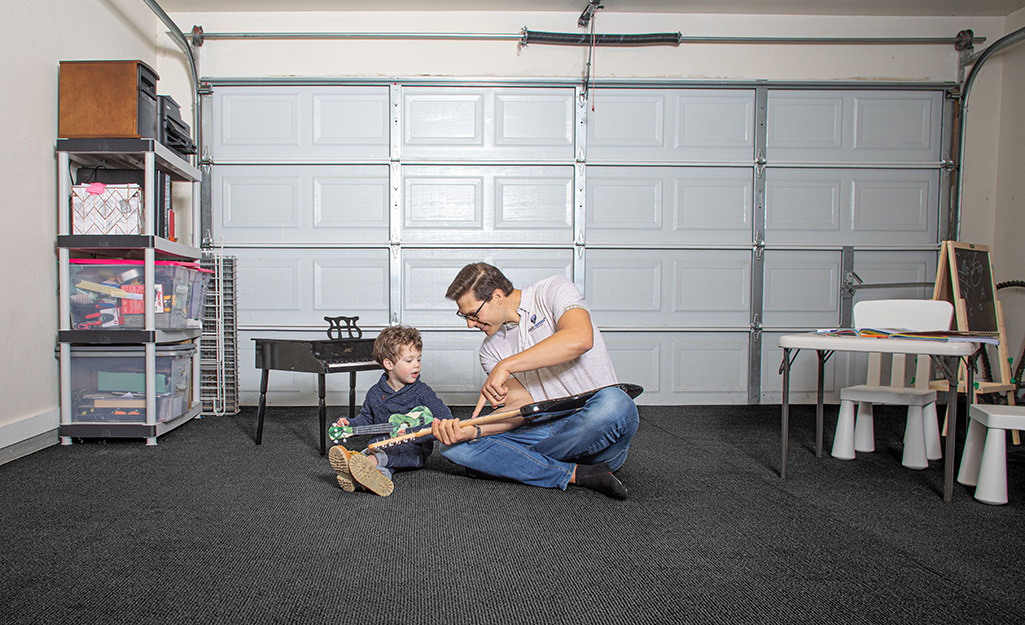 While standard forms of indoor carpeting are not suitable for garages, specialty carpetingmade for automotive or outdoor use provides an option. Garage carpeting made of Olefin synthetic fibers and polypropylene fibers can stand up to garage use, resisting stains, mold and mildew, as well as being fire resistant. Fabric garage floor mats offer an example of this.
Your garage floor doesn't have to be bare concrete. Instead, you can choose from a range of garage flooring options that offer visual appeal and durability. The best flooring for garages can protect the room while contributing to the resale value of the house. When considering garage flooring ideas, consider which floor type will best match the way you use the space.
If you plan on painting your garage or updating the floor just once, consider The Home Depot's tool rental to get your project done. Use the tools once, then bring them back. There's no maintenance required and you won't need find a place to store anything in your revamped garage.
Explore More on homedepot.com