Ideas & Inspiration
How to Grow Sprouted Seeds and Microgreens
For a perfect indoor gardening project in winter, try growing crisp sprouts or super-nutritious microgreens from seeds.
What's the difference between sprouts and microgreens? No soil is needed to grow sprouts, which are eaten whole. Beans, peas and alfalfa seeds are top candidates for sprouting.
Microgreens sprout in a thin layer of soil and only the fresh tops are eaten. The method works great with a long list of garden seeds including broccoli, cabbage, sunflowers and herbs like cilantro and dill.
Use only labelled organic and untreated seed for microgreens and for sprouting. Do not use seeds treated with fungicides and pesticides.
Tip: Whether growing sprouts or microgreens, never eat sprouted tomatoes, peppers, eggplants or other closely related crops as they can be toxic.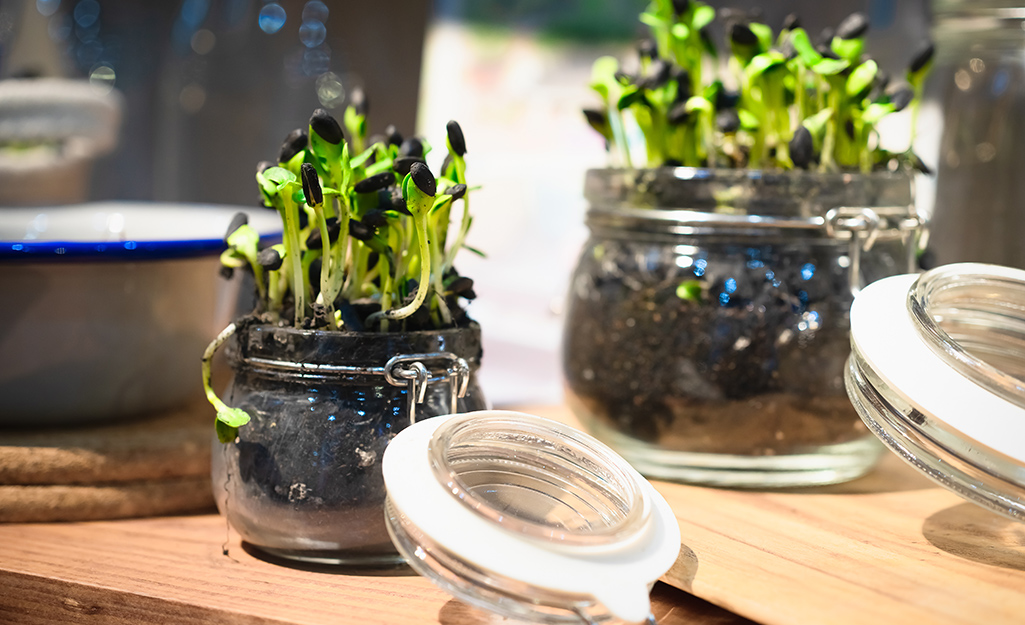 Rinse seeds well in several changes of clean water. Discard any debris that floats to the top. Place seeds for sprouting in a clean glass jar. Beans, peas, onions and radishes work well.
Cover seeds with lukewarm water and let sit overnight.
Pour out water and rinse seeds until water runs clear. Drain.
Place seeds back in jar.
Replace the lid with a clean, breathable cloth over the mouth of the jar, and secure it with a rubber band or screw-on jar ring.
Set the jar on its side.
Continue to rinse and drain sprouts three to four times a day.
Sprouts should be ready to eat in about four days.
Safety Note: Always cook raw sprouts before consuming.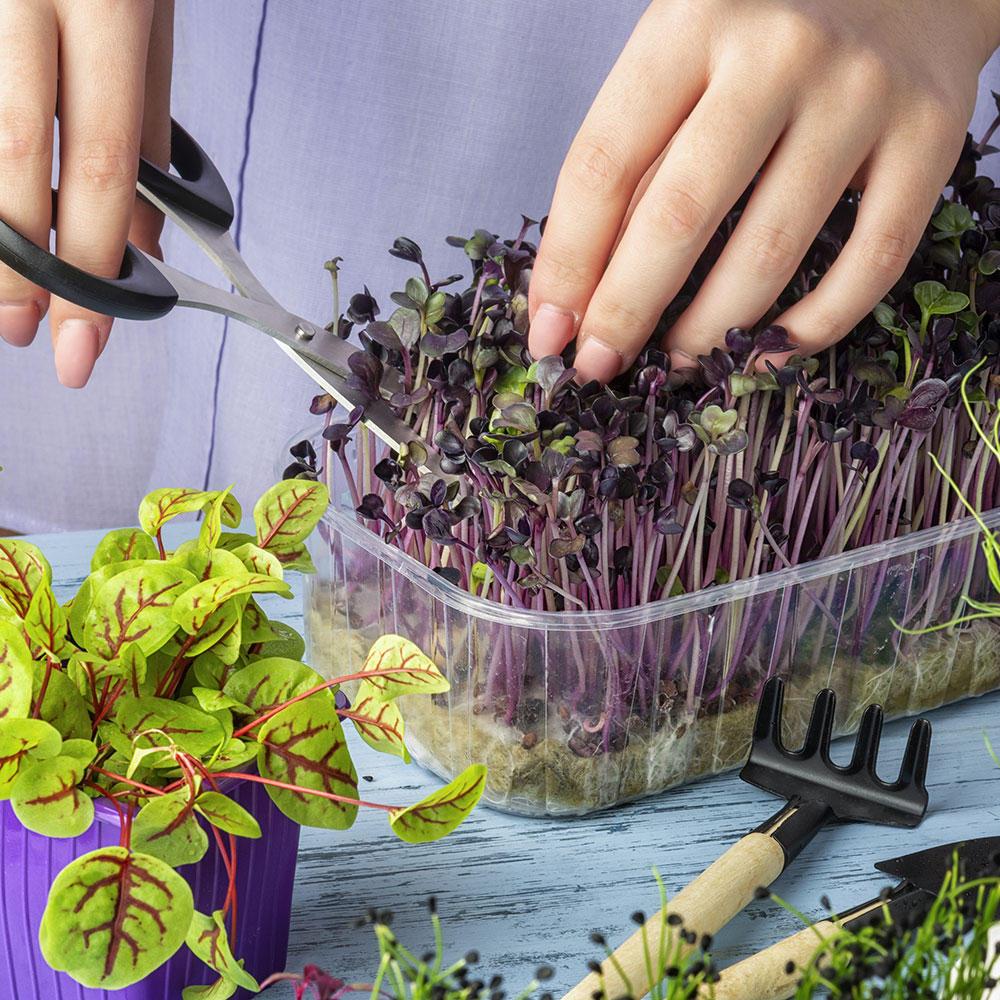 Microgreens may be small but they pack a nutritious and tasty punch. Gram for gram, microgreens contain about five times more vitamins than if grown to mature vegetables.
What is a microgreen? Simply put, any vegetable plant harvested when it's young. The best time to harvest is when they've developed their first set of true leaves, about 10 days to two weeks after planting. Then, clip off just above soil level.
Here are a few popular varieties to grow as microgreens:
1. Radishes. One of the quickest growing microgreens, radishes can be harvested within 10 to 12 days of sowing. Sango, Red Arrow, Japanese Daikon and Triton are popular varieties for their bright leaf and stem colors.
2. Peas. Delicate, sweet, pea-flavored shoots add nutrients to salads, sandwiches, soups and more. Soak seeds in clean, cool water for 8 to 10 hours before planting. Harvest within 10 to 12 days. A cooking tip is to let the pea microgreens grow a little longer, a little taller, and harvest them as "pea shoots" and flash cook in a stir-fry.
3. Swiss chard. Part of the beet family, the greens look similar to beet greens but have less of a bite. Grown in a rainbow of colors, the best variety is by far Rainbow. Grow only in soil, however, as Swiss chard doesn't like to be grown hydroponically. Harvest within 12 to 14 days.
4. Mustards. Mustard microgreens taste as strong as their adult counterparts. Choose green varieties or create a colorful plate with varieties such as Osaka Purple and Red Giant. Harvest within 14 to 16 days.
5. Beet greens. Beet greens, with their crisp bite and spinach-like flavor, are a delight to grow. Bull's Blood and Detroit Dark Red are popular varieties. Soak seeds in clean, cool water for 8 to 10 hours before planting. Harvest within 18 days.
Steps to Growing Microgreens:
Select seed-starting trays, plastic takeout dishes, disposable pie plates or clear salad boxes.
Punch a few drainage holes in the bottom. Set on a cookie sheet, plastic tray or container to prevent spillage.
Add an inch of potting soil and sprinkle with seeds. Lightly cover seeds with potting soil, press gently and water lightly. Don't drown your freshly set seeds.
Place in a sunny windowsill or under grow lights, and keep moist.
Harvest microgreens by cutting the tops with scissors when they are 2 inches or longer. Rinse sprout tops in a strainer. Eat right away, or store in a plastic bag in the refrigerator for up to 5 days.
Microgreens can be harvested for up to three weeks.
Try these edible seeds for sprouts or microgreens:
Arugula
Beans
Broccoli
Cabbage
Carrot
Celery
Cilantro
Collards
Cress
Dill
Fennel
Garlic chives
Kale
Leek
Lettuce
Mustard
Onion
Parsley
Peas
Radish
Spinach
Sunflower
Turnips
Watercress
Looking for seeds, soil and containers? Try online ordering from The Home Depot and get it delivered.