Ideas & Inspiration
How to Make the Most of Your Yard's Site and Light
Experienced gardeners will tell you that the key to a green thumb is putting the right plant in the right place. It's not rocket science, in fact, plant growers will let you know the conditions plants need to thrive. In the Garden Center, look for plants grouped by light needs: full sun annuals in one area, shade-loving perennials in another. Read the plant tag in each container to learn about soil and light needs for your plants.
Let's pull back the curtain and help you get the most out of your garden this year when you plant for your yard's site and light. Big or small, every yard is different, with its own microclimates. Get to know your site and light for a successful gardening year.
First, let's define sun and shade terms: "Full sun" is six or more hours of sunlight a day. "Partial sun" is four to six hours of sunlight, and "partial shade" is two to four hours of sunlight. "Full shade" means no direct sun or less than two hours of sunlight a day. Full shade can be found on the north side of a house or under a deep tree canopy.
For the complete picture of your garden's light, observe throughout the day and across the seasons. Keep in mind that morning sun is cooler than afternoon sun; most shade-tolerant plants prefer their sunlight in the morning as direct afternoon sun may be too harsh.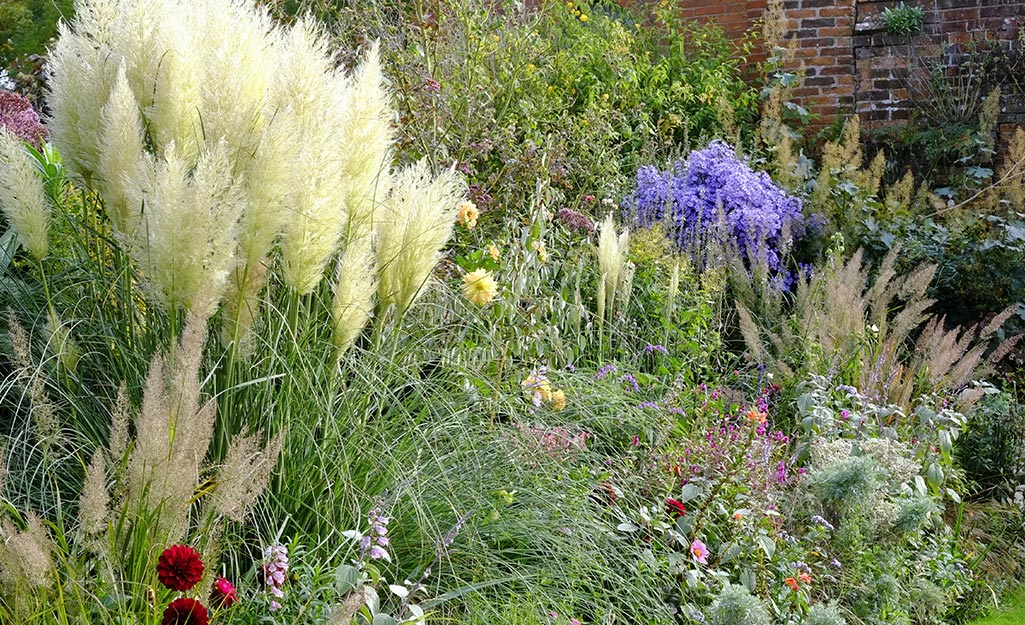 A gardener blessed with a sunny site will find many options to fill it: colorful annuals, durable perennials and sturdy shrubs. Ornamental grasses soak up the sun and anchor flower beds alongside shrubs. Many provide three-season interest, like Muhly grass with blooms in late summer. Fill in with easy-care Knockout roses or Oso Easy roses from Proven Winners. They're drought-tolerant and do not require deadheading.
Full Sun Annuals:
African daisy (osteospermum), begonia, calibrachoa, geranium, marigold, petunia, pansy, poppy, sweet pea, stock and sunflower.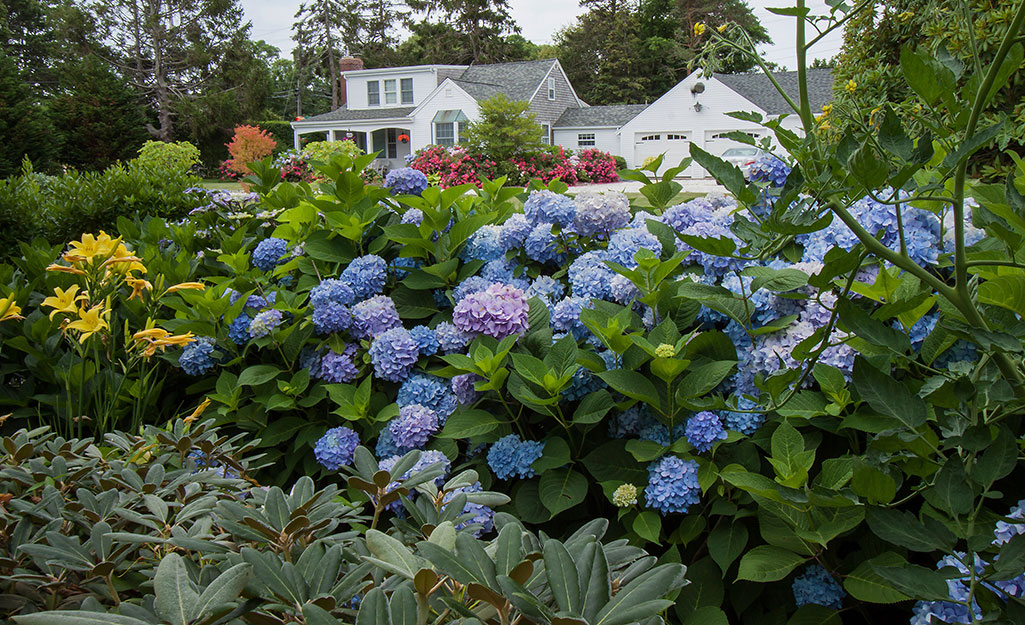 Many plants thrive in sun, but tempered with a late afternoon break from a structure or tree. This is the part sun garden, with four to six hours of sunlight each day. French hydrangeas, camellias, azaleas and gardenias (and more) appreciate the respite from afternoon heat, especially in the hottest days of summer.
Sun-loving Perennials (for most garden zones):
Asiatic lily, bee balm (monarda), Black-eyed Susan (rudbeckia), blanket flower (gaillardia), coreopsis, coneflower (echinacea), daylily (Hemerocallis), delphinium, pinks (dianthus) and sedum (like Autumn Fire or Autumn Joy).
And remember the bulbs, rhizomes and tubers category with alliums, dahlia, daffodil, gladiolus, iris and tulip for your sunny garden.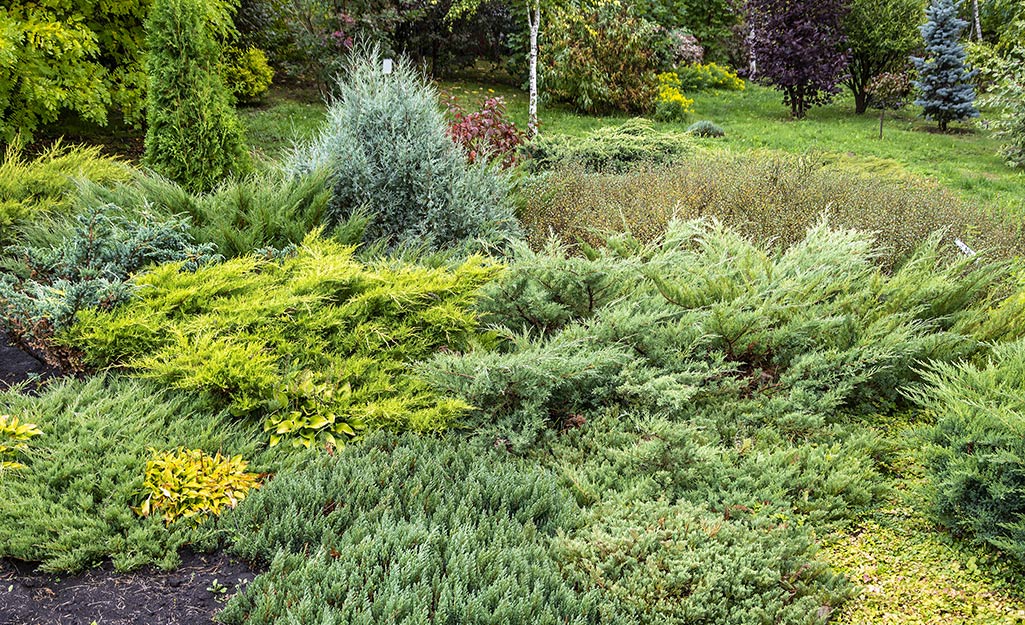 Embrace a sunny, dry site with a collection of evergreens like arborvitae, cryptomeria and juniper. The colors and textures are consistently interesting through the year, and once established, are low maintenance.
Grasses like pennisetum and carex, and herbs like rosemary and lavender, work well in sunny and dry locations, too.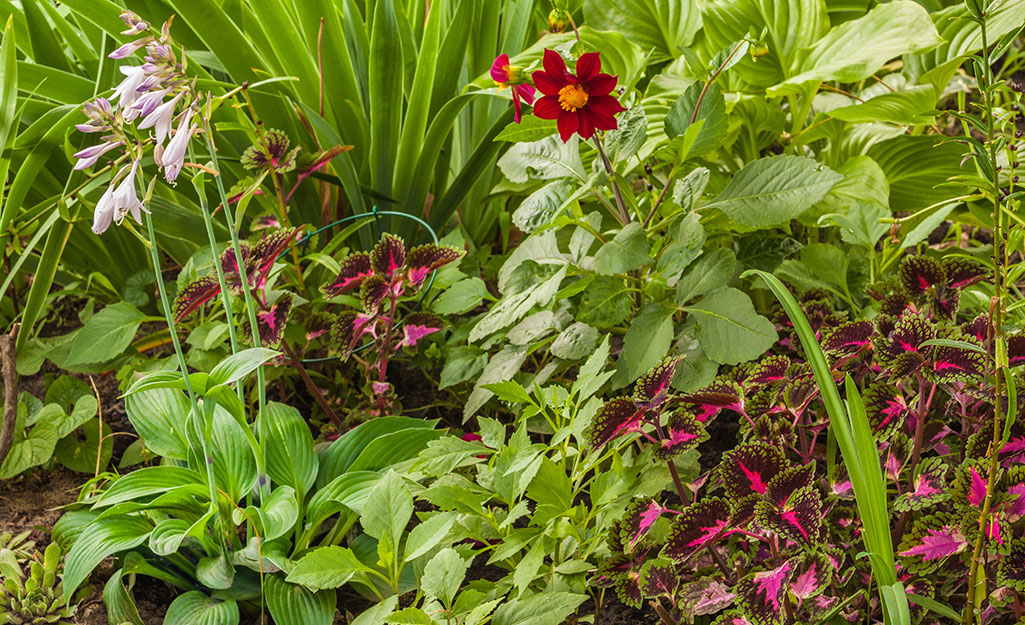 Part shade is a site with two to four hours of sunlight. This is ideal for shade-loving plants like hosta and coleus.
Perennial hosta are all about foliage, with leaves ranging in colors from chartreuse to green and deep teal. There are stripes and textures, some even with a puckered seersucker effect. All this, and a bonus of blooms in late summer. The flower stalks are not the star of the show, but they will add architectural height and in some cases, fragrance.
Coleus is another easy annual favorite for the shade garden. Brightly colored foliage in shades of lime and burgundy and peach are the reason to plant coleus. That, and the flower stalks that emerge in late summer bring in pollinators. Coleus pairs well with shade-loving flowers like impatiens.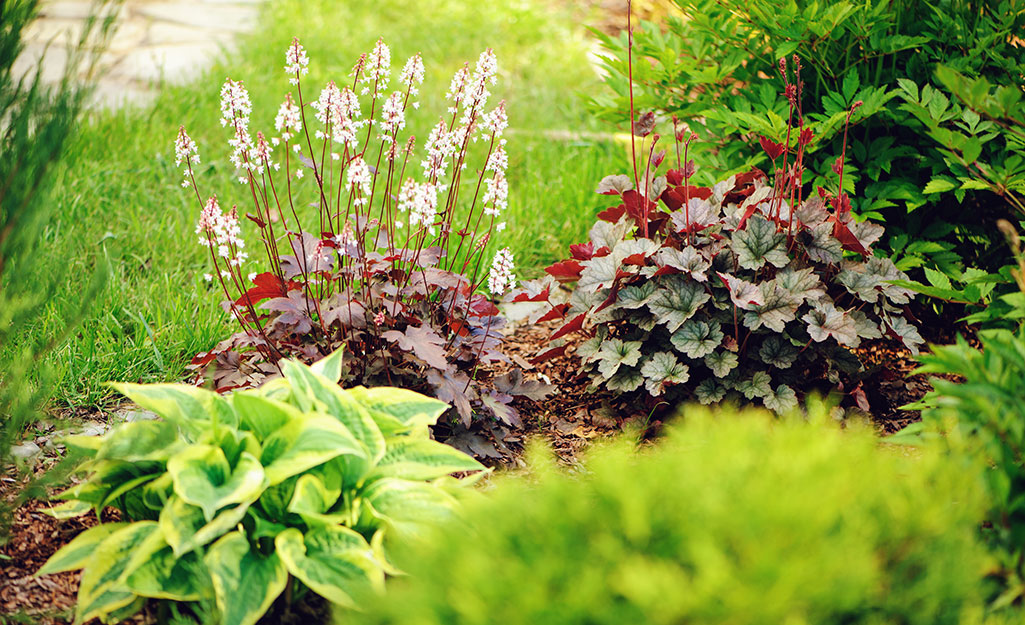 Heuchera, commonly called coral bells, is a frequent friend of hosta. The newer coral bells are showstoppers, with colorful, textured foliage. In my zone 7b gardening experience, heuchera doesn't always thrive in the same conditions as hosta. It tends to dry up when the temps soar into the high 90s (degrees Fahrenheit). Coral bells like shady and dry, similar to the conditions with the perennial ferns in my shade garden. Put them on the edge of your shady area for more flowers. The lesson: pay attention to the microclimate in your yard and be prepared to move plants around to get the right place.
Plants for your shady garden: astilbe, bleeding hearts, caladiums, cyclamen, ferns, hosta, flowering tobacco (nicotiana), hellebores and tiarella (foamflower). Shrubs like azalea, camellia and rhododendron.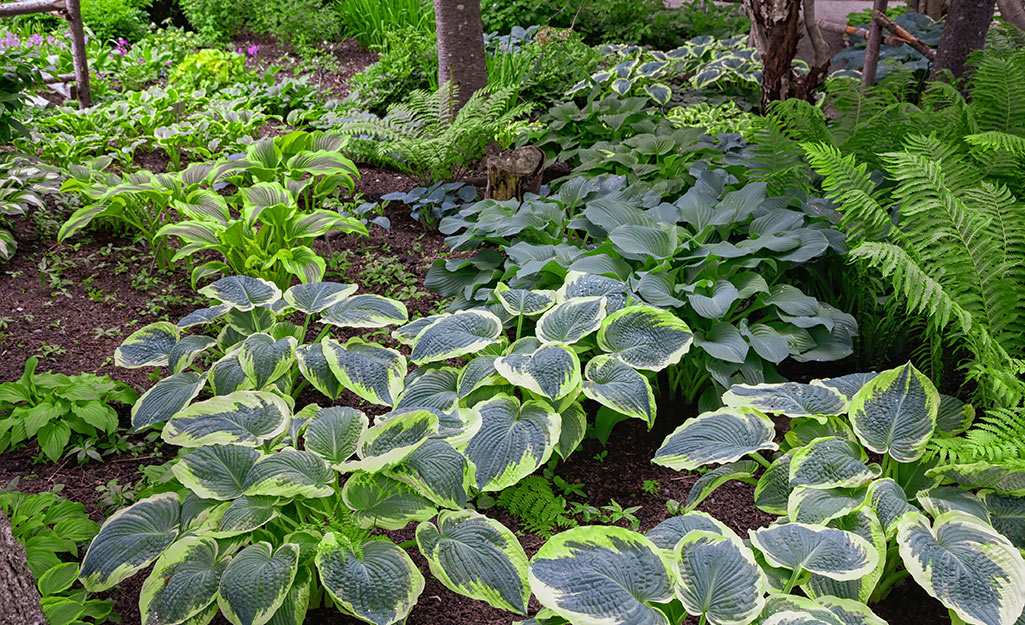 A deep shade garden gets no more than two hours of sunlight a day. This is where foliage will light up your garden. Try hosta and ferns for color, texture and dimension in a shade garden.
Tip: Too much shade? If the site is under a tree canopy, it may be time to limb up or prune your trees. Look for areas where sunlight could help your plants thrive. Pruning large trees and removing trees can be dangerous and should be done only by individuals who are trained to work safely in trees.
Certified arborists, the professionals known as tree doctors, are trained in tree care and must pass examinations and continue their education to maintain certification.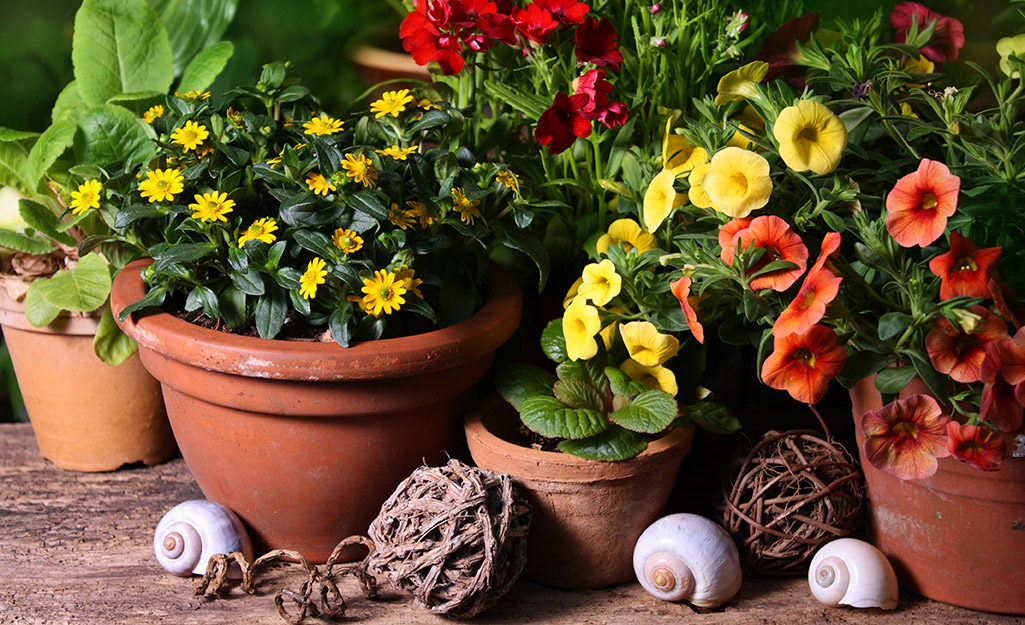 The sunny and shade story is relevant even for container gardens. The advantage with planters is that you can usually move the containers around to get the best light. Remember in containers to combine plants that have the same light requirements in the same container. For example, shade loving hostas and sun-loving marigolds are probably not the best container-mates.
Whether you need the right planters, plants or garden soil, The Home Depot delivers online orders when and where you need them.