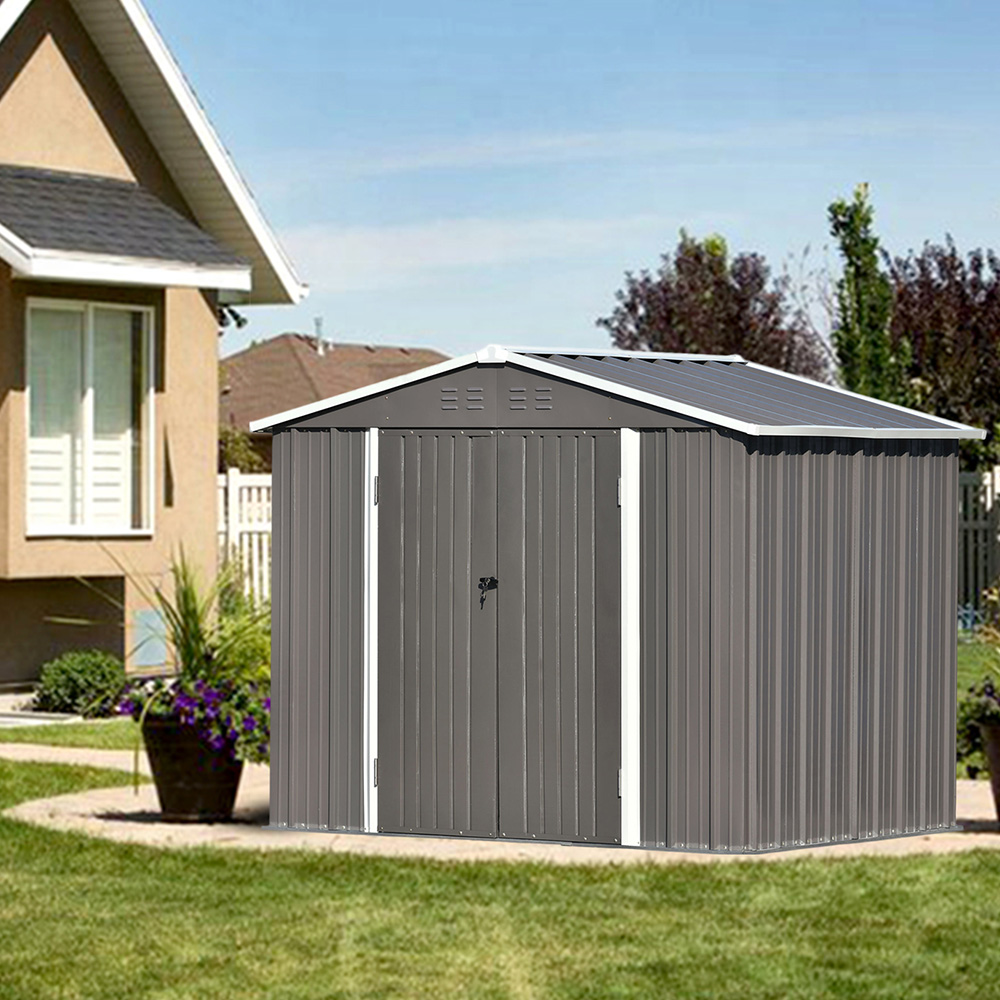 A shed is a good place to have in your yard for storing the items you use in your garden. Over time the broken flowerpots, rusty tools and other clutter compete for space in your shed with the rakes and shovels you need to tend to your garden. Reclaim your shedspace by cleaning it inside and out, then start thinking about organization solutions. 
Read this guide for shed storage ideas for your garden tasks.  
Add a Fresh Coat of Paint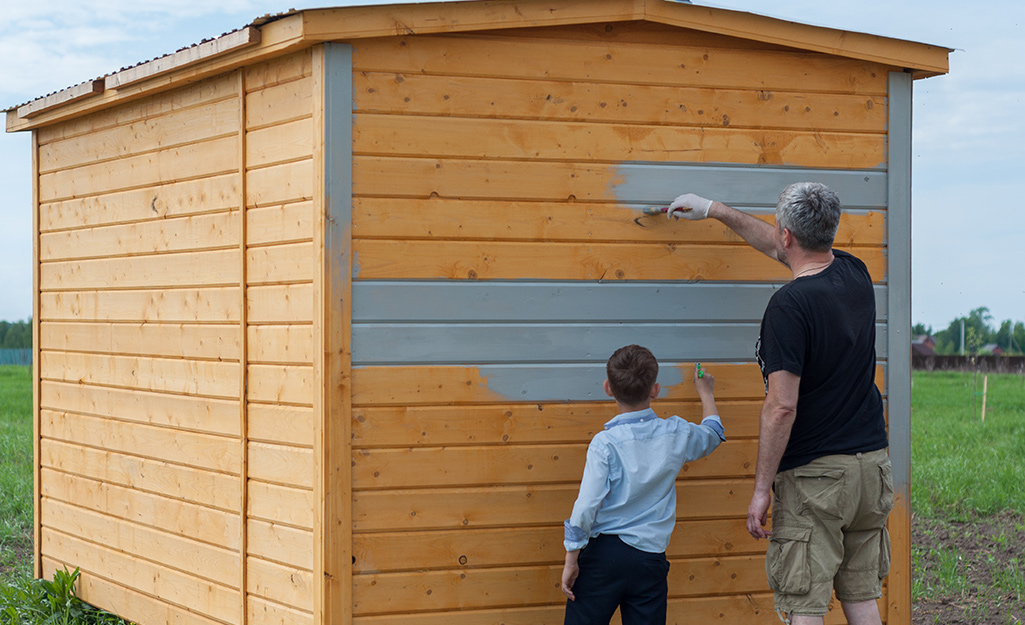 Clean the Shed Out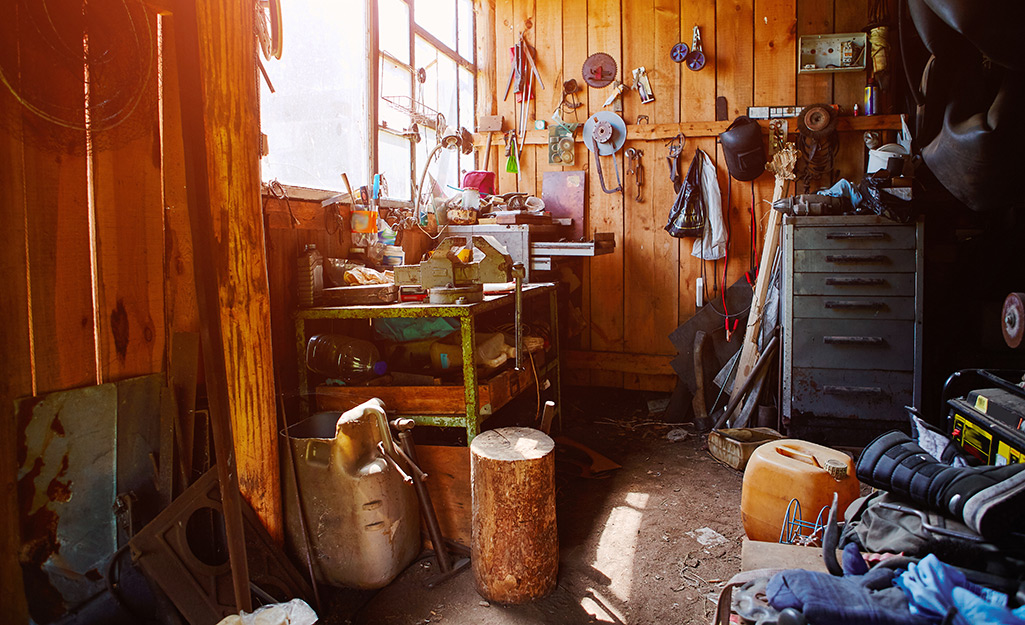 Tools and other items you no longer use for gardening can accumulate in your shed as years go by. Clear out everything to create room in your shed for storage of your gardening supplies. 
Get rid of the rusty tools, assorted flowerpots, buckets and anything else that takes up space.
Remove old bags of soil.
Dispose of fertilizer and chemicals past their prime according to local regulations.
Wipe down and sweep out your shed.
Put It on a Shelf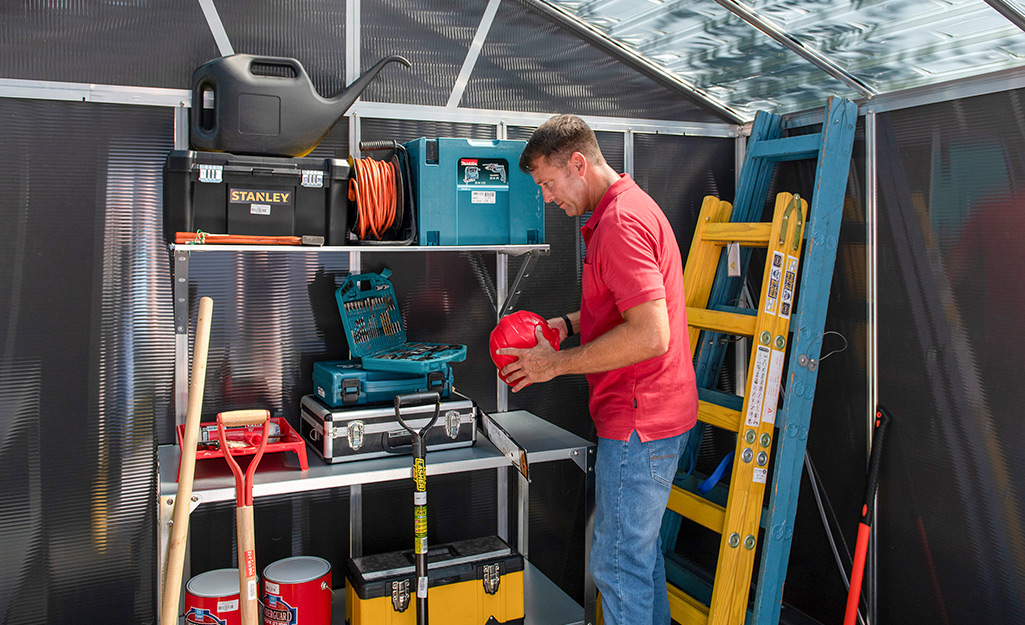 Keep gardening items off the floor by adding shelves to your shed. Use them to store items like extra flowerpots, lawn seed, watering cans or birdseed. Freestanding shelves of plastic or metal can be put up in minutes. Another option is to mount brackets and wood shelving on the shed studs.  
Create a Place for Your Tools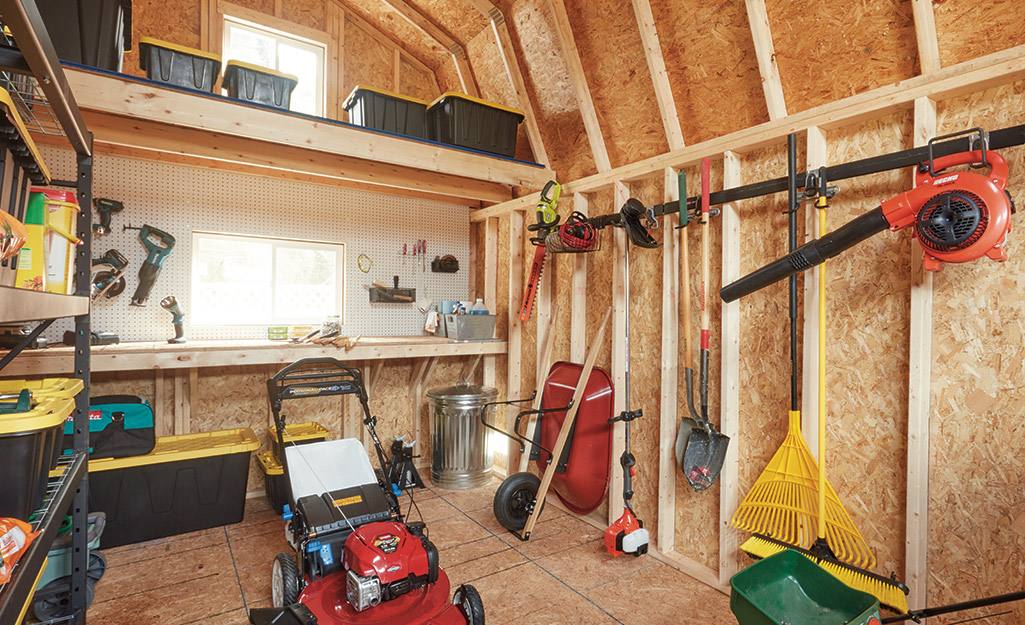 You want you gardening tools stored in places where they are easily accessible. Install a pegboardto hang your hand tools. Add wall hooks to hang shovels, rakes and other long-handled tools. Once your tools are organized, you'll always know where to find them. 
Add Bins for Storage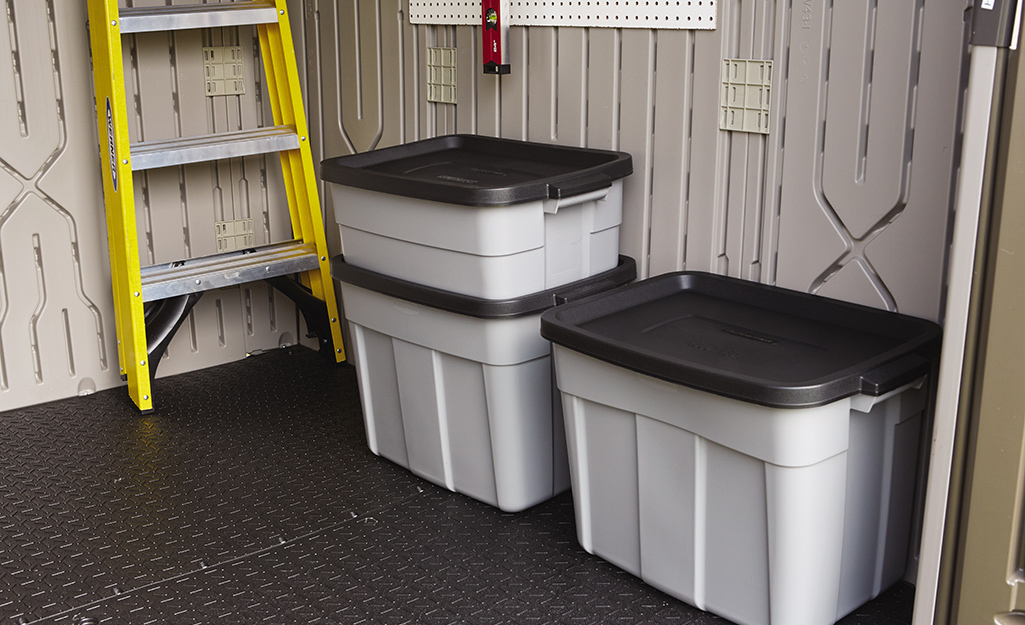 Add a few storage bins and totes of different sizes to keep items stored securely within reach. Another option is a vintage cement drawer planterto keep seeds organized, hold garden twine or sleeves of small peat pots. 
Keep Gardening Gloves at Hand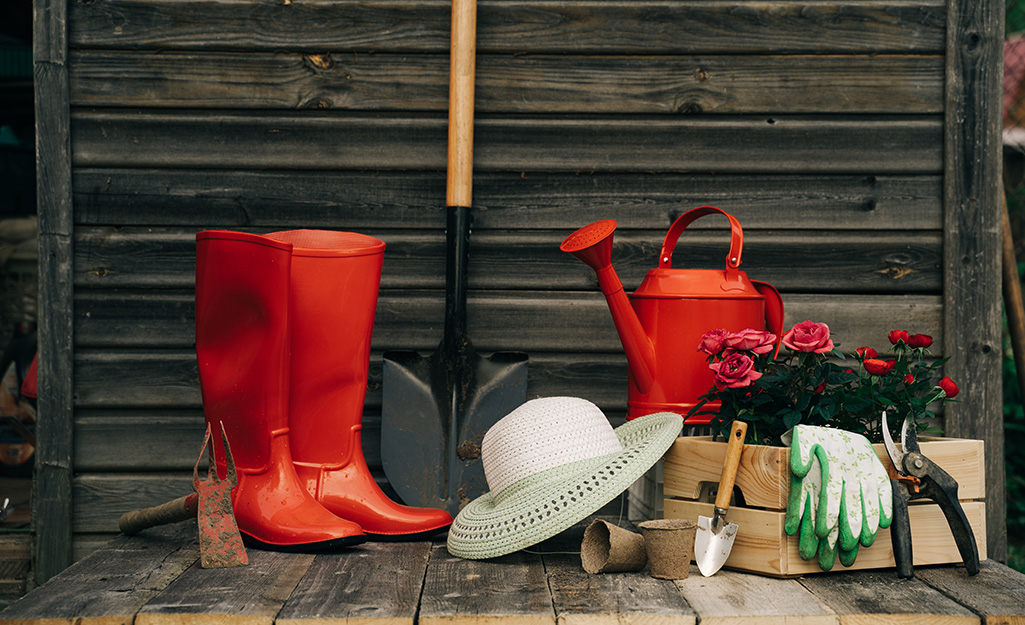 Gardening gloves are easy to misplace. Find an easy grab-and-go location for all your gardening gloves, such as a hanging basket. If you keep several pairs ofgardening gloves lying around for helping hands (little or big) in your outdoor space, their own designated place will help keep them organized. 
Create Potting Soil Storage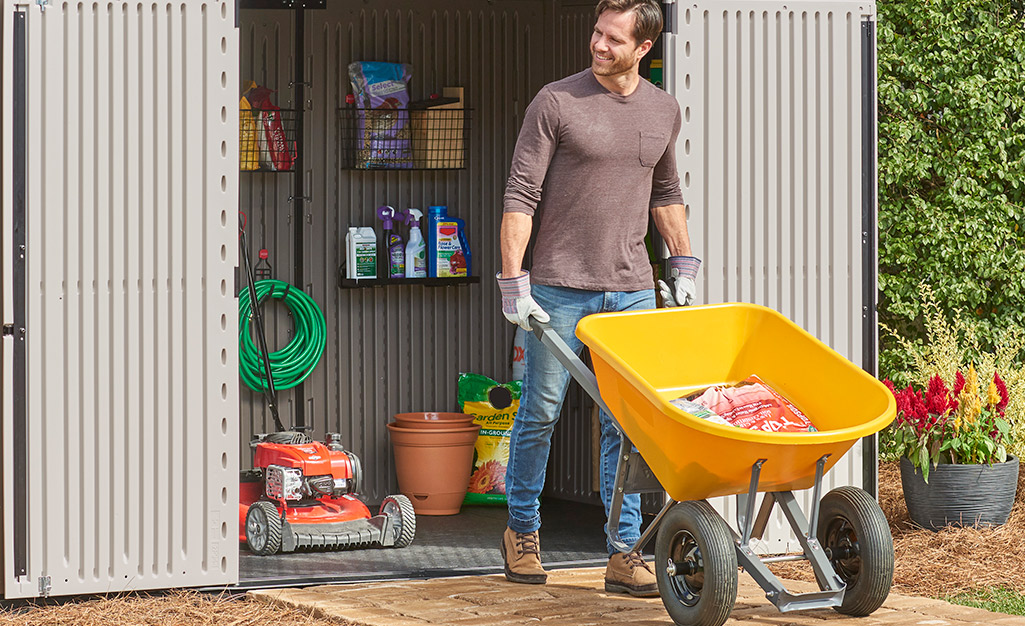 Here's an option to stash away your bags of garden soil and potting mix. Use a garbage can or a rubber storage bin to keep the soil contained in case anything spills. For decorative moss and soil covers, try using a smallwooden crate. 
Reel the Hose In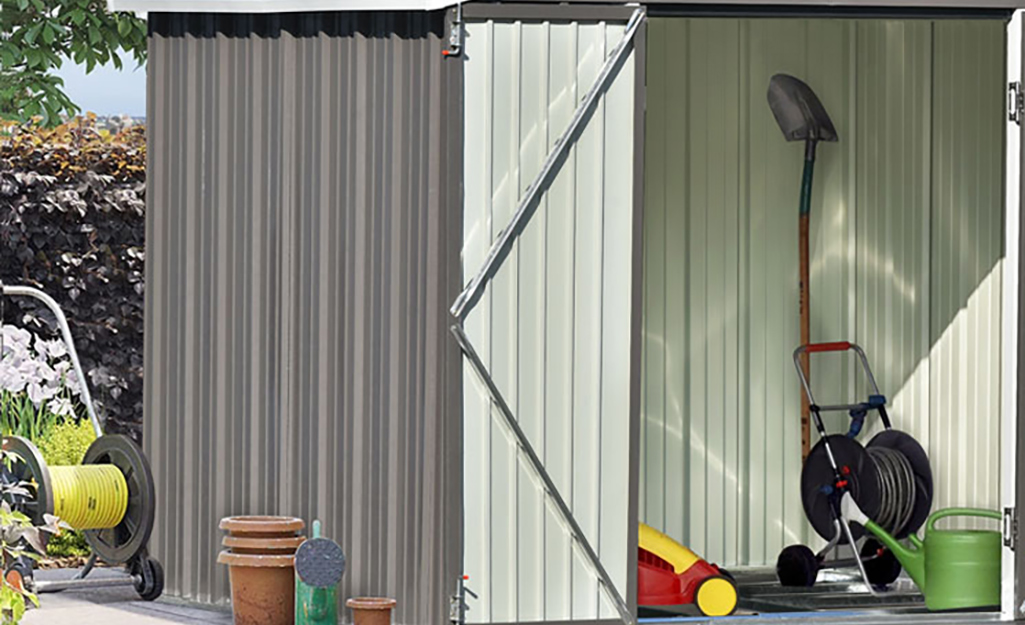 Store the gardening hose in your shed to prevent leaks and cracks from developing. Store it in a location that's up and out of the way. An easy option is a  hose reel or hose storage box. It will make watering so much easier. 
Invest in a Potting Bench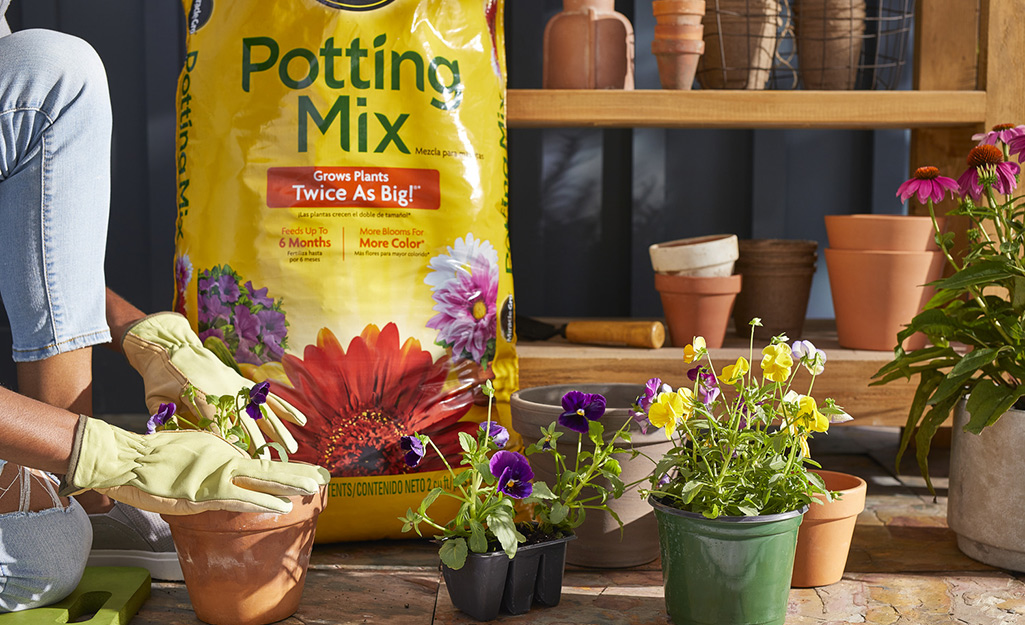 A potting bench is as much a place for extra storage as it is for repotting a plant and transplanting seedlings. Use the potting bench to stock gardening soil, fertilizers, containers of pesticides and assorted tools.
Create a Place for Plant Tags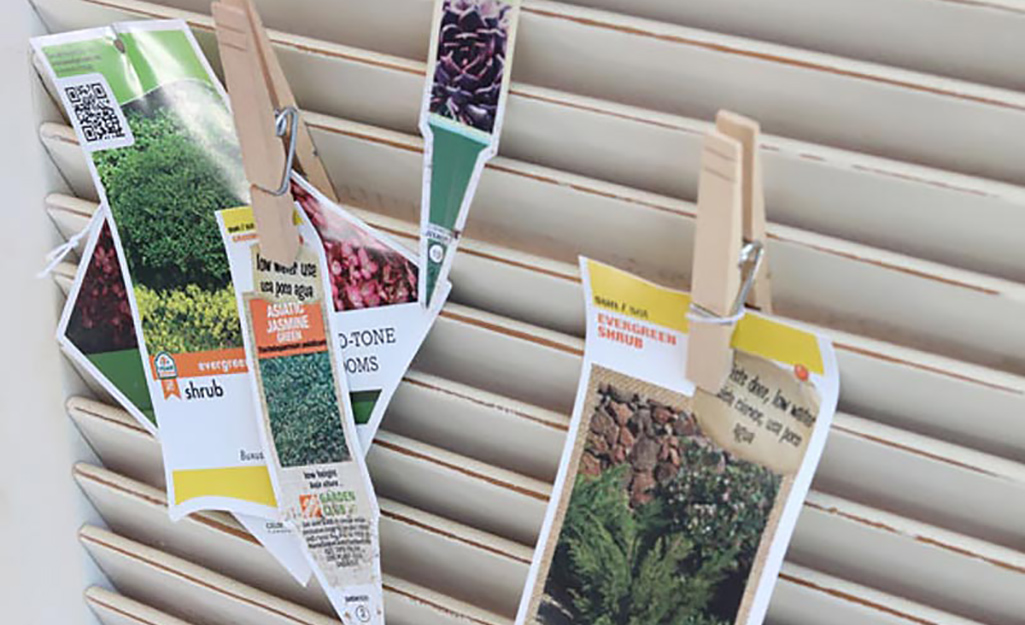 Most plant tags contain specific information on how to care from your flowers, plants and shrubs. Instead of sticking plant tags in a box where you're likely to forget about them, pin them up on an old shutter, memo or bulletin board so you can reference them when needed. 
Get Hooked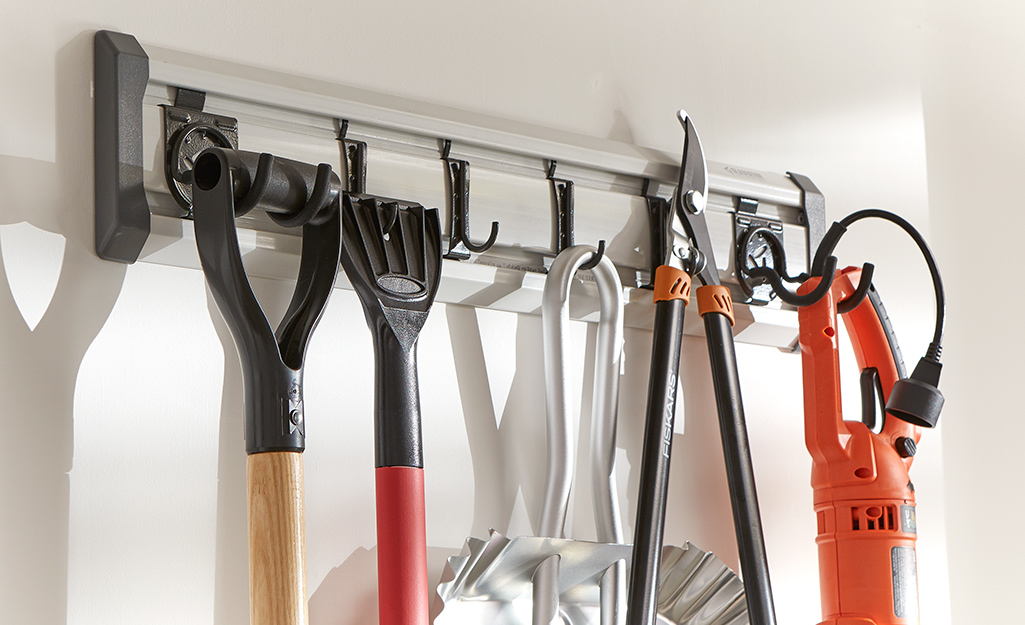 Use storage hooks or S-hooks to hang up miscellaneous items, such as your favorite gardening shirts, garden totes, work aprons or wreaths when not in use. Once everything gets a place, you'll be ready for the gardening season. 
Try these shed storage ideas for your garden tasks. A thoroughly cleaned-out shed is the first step, then add shelves, storage bins and hooks for organization. Whether you need the right planters, seeds or potting soil, download The Home Depot Mobile App to search for and buy the gardening items you want. We'll deliver online orders when and where you need them. 
Explore More on homedepot.com