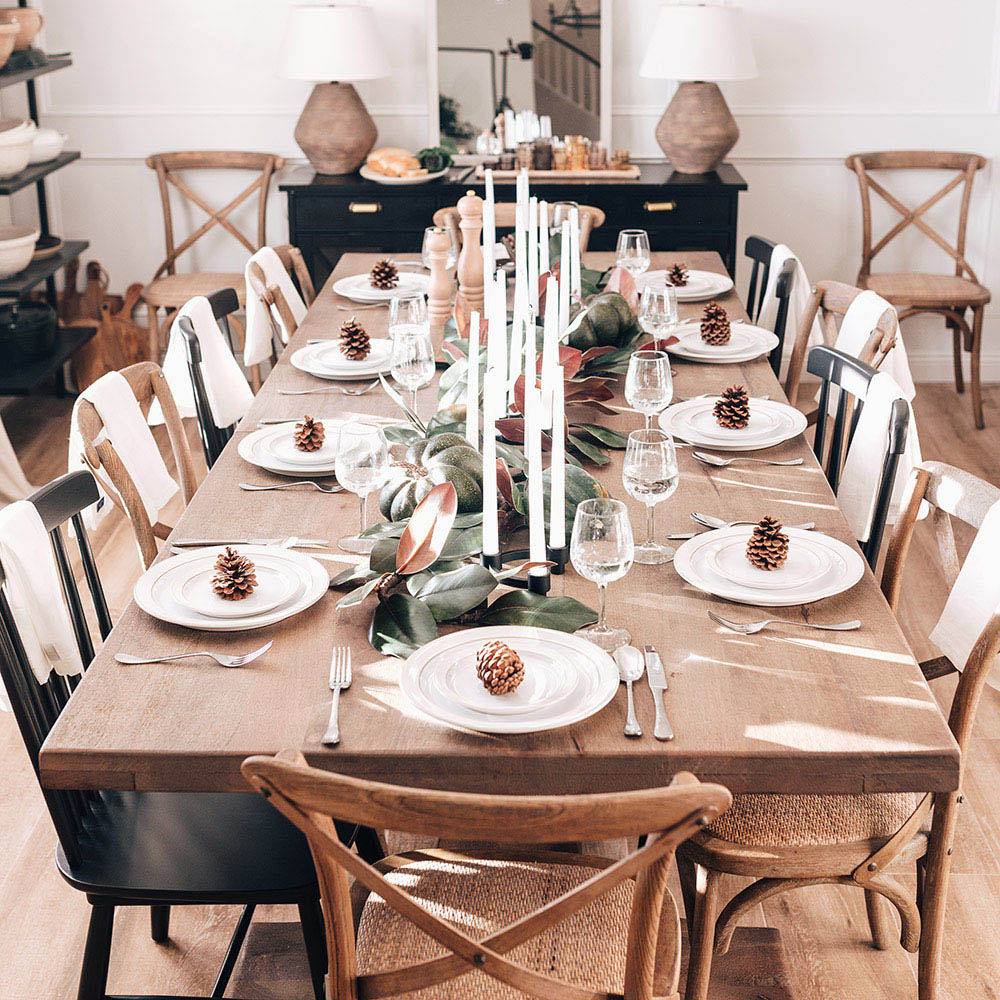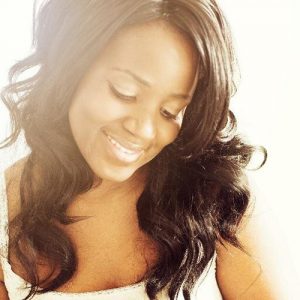 A Note From The Home Depot
Everyone knows prepping for the holidays can be a lot of fun. Destiny Alfonso of Just Destiny Mag was able to take advantage of a few Home Depot products by showing how to create a wonderful and entertaining Friendsgiving.
I'm so happy to be back on The Home Depot blog with you guys today sharing all about Friendsgiving!
If you aren't sure what friendsgiving is, I will explain it to you real quick. It's basically Thanksgiving with your friends. That's it! If we take things a step further, it's Thanksgiving with the people you don't normally get to do Thanksgiving with, but you still LOVE!
Today I'm taking you on a tour of my dining room all dressed up for Friendsgiving. What I love most about Friendsgiving is there are really no rules. You can go super informal (we come in our sweats and comfy clothes the day after Thanksgiving) or you can make it an event!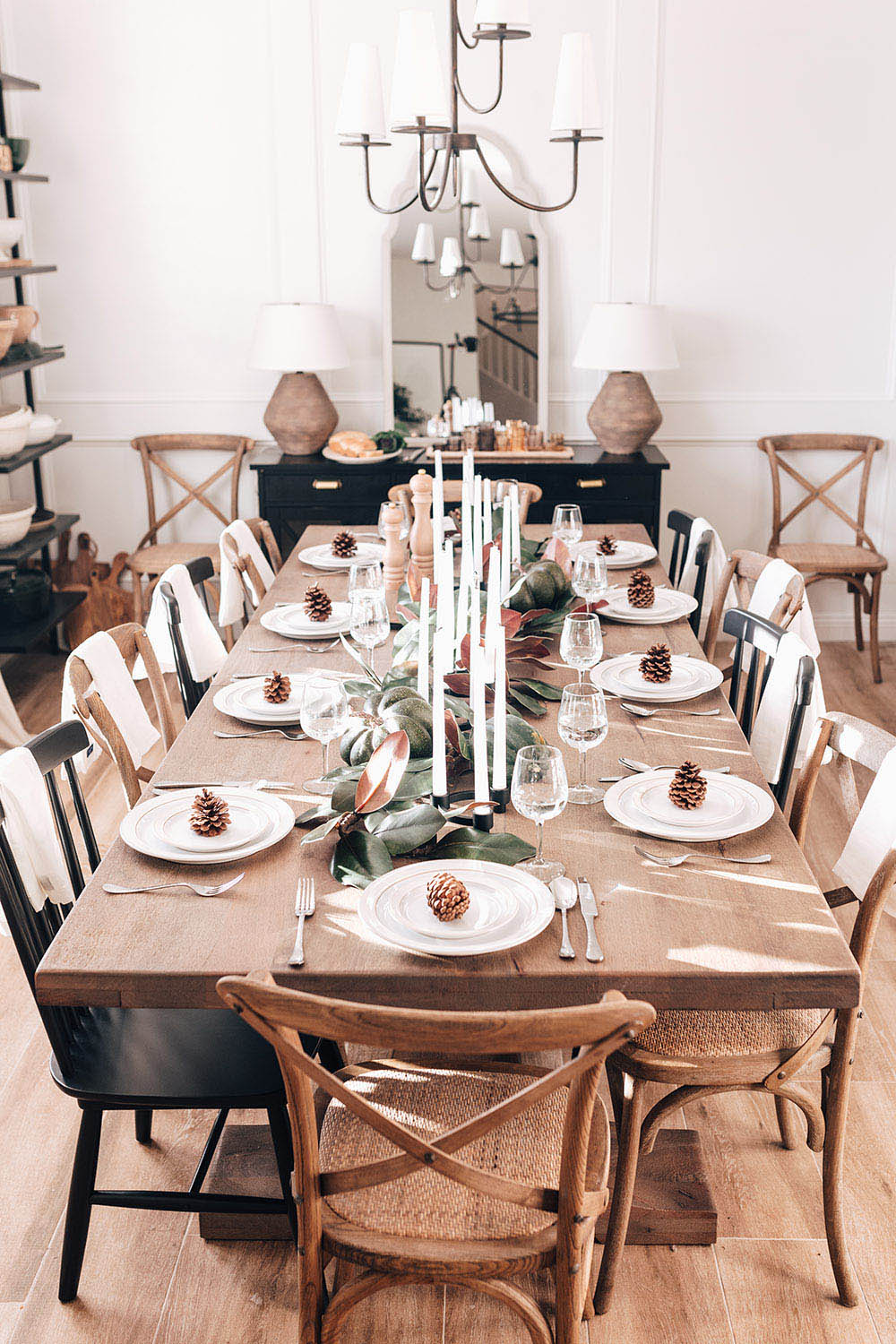 The Home Depot has everything you need for your friendsgiving! I mean everything. We're talking table, chairs, pots, pans, candles and dinnerware! Need new silverware? They got that! Napkins? Check. What about a new appliance to save some time in the kitchen? Yep. They got that too! It's absolute heaven to have everything you could possibly need all in one place! My entire dining room is decked out with all my Home Depot favorites just in time for Friendsgiving. Check out what's in my dining room and head to homedepot.com to stock up too.
I love to have options when it comes to just about anything, and I especially keep this in mind while decorating. This Aldridge extendable table lets me entertain 6-10 people just like that! The everyday table seats six and is the perfect size for our family of five. But when it comes to entertaining, the more the merrier. We can pull up a few extra chairs and seat all of our guests comfortably.
White is my favorite when it comes to entertaining. Why? Because you can add anything to it and it looks timeless.
This place setting is made up of Denby Canvas dishes paired with, hammered silverware and a linen napkin draped on the back of the seat invites guests to a night of good food and conversation!
12
Center Piece With a View
I like to keep the centerpiece low and the candles lit when it comes to the middle of the table. You can duplicate this look by using the magnolia garland and modular candle holders all available on homedepot.com.
You can line up these candle holders any way you want. They are stackable so you can make one long display or you can use them individually. Then weave the garland in and out of the candle holders while manipulating the wired garland so it lays flat and rises in other areas. This give it a more natural look. I love using the two-tone magnolia leaves during the fall! It gives a beautiful color.
Then, I added some store bought pumpkins and squash for a rustic feel to the table.
We have a small area off to the side where a small cabinet can transform into a fully stocked bar! This is perfect because when we aren't entertaining we can hide it away. The Jamison Black Bar Cabinet swivels making it easy to maneuver across the floor or even from room to room.
Check out JustDestinyMag.com to see even more behind the scenes of Friendsgiving! I'm prepping my potatoes and apples in the kitchen using the most beautiful and functional tools all from The Home Depot!
This post was created in partnership with The Home Depot. The author may have received compensation for this article and associated images or video, potentially in the form of products and/or services. All expressed opinions and experiences are the author's own words.
Explore More on homedepot.com