A vanity is a freestanding "dressing table" that contains a sink, counter space and storage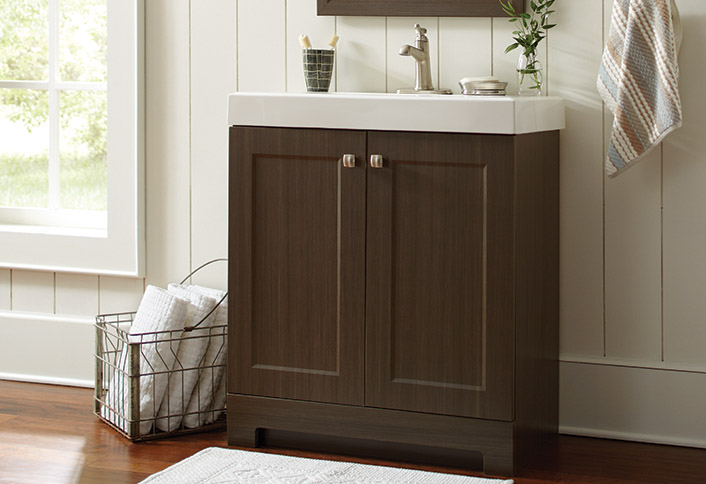 Choosing the perfect vanity will largely depend on the size of your bathroom, how high you want it to be, what material best fits your style and what you primarily use your bathroom for.
Vanity Styles
Traditional. Features classic lines and decorative trim work. Usually includes furniture-style cabinets, ornate molding and subdued color schemes.

Contemporary (Euro-Asian). Highlighted by smooth cabinetry, sleek faucets and symmetrical arrangements. Colors are generally monochromatic with a mix of smooth textures and sleek materials. Characterized by unique curves and angles.

Casual. Features natural, relaxed and uncomplicated style that is intentionally more functional than decorative by design.

Eclectic. Assorted blend of styles, textures and colors and mixes a variety of looks.

Materials
Solid Wood. Oak is the most popular wood used, but maple and cherry are also very popular. Can be stained or dyed to achieve the perfect finish and tone.

Veneer. Less expensive than solid wood. Able to feature the same pattern across all adjacent doors.

Laminates. Synthetic finish that is rugged and easy to care for.

Finishes
Cast Polymers. Features wide variety of colors and cultured marble, onyx and granite designs. Easy to clean and resists stains and mildew. Scratches and chips may be difficult to repair.

Ceramic Tile. Features wide variety of colors and patterns. Durable, easy to clean and moisture-resistant. Grout needs to be sealed periodically and may stain.

Solid-Surface Materials. Features wide variety of colors and patterns. Made of composite resins and is highly-durable. Water-resistant and stains, scratches and burns can be sanded out. Accommodates integrated sink. Requires a firm, sturdy base and should be professionally installed.

Natural Stone. Features slabs or tiles of granite, marble or other natural stone. Highly-durable and easy to clean. Resistant to water, stains and scratches. Should be sealed and polished regularly.

Engineered Stone or Quartz Composite. Available in a variety of colors and finishes. Resists stains, mildew and bacteria. More durable than natural stone.

Laminate. Economical option and available in multiple patterns, colors and textures. Low maintenance and cleans easily. Resistant to water and stains. Can be scratched and chipped, but cannot be repaired if damaged.

Cabinets & Storage
Frameless Vanities. Also known as Euro Vanities. Features a sleek and simple contemporary look. There is no frame and the doors are hung directly on the side of the cabinet.

Framed Vanities. Has a more traditional appearance. Features recessed end panels and a rigid box-like frame. Doors hang on the front of the box, and the unit can be installed without having to butt up against a wall on either side.

Furniture-Style Vanities. Features intricate carvings, distinctive hardware and rich finishes. Usually offers ample storage and multiple drawers.

Drawers. Tilt-down drawers puts all of your bathroom supplies within easy reach.

Bathroom Vanity Sinks
Self-Rimming Sinks. Also known as surface-mount sinks. Rests on the top of the counter after the sink is inserted into a hole cut in the countertop. Easiest sink to install.

Under-Mount Sinks. Attached to the underside of the countertop. Suitable for solid-surface or natural stone countertops.

Integral Sinks. Formed from the same materials as the countertop to create a clean, custom look and one unit with no visible joints.

Vessel Sinks. Also known as deck-mounted sinks. Sink basin sits on top of the countertop. Faucets and spot are typically wall-mounted.

Console Sinks. Table-like fixture supported by ornamental legs or brackets that resemble a small vanity table.

Safety
Be sure to take into consideration the best location for installing plumbing and electricity. Follow generally accepted guidelines from your local building department for clearance within the bathroom.