There are many insect control options available to help you control pest populations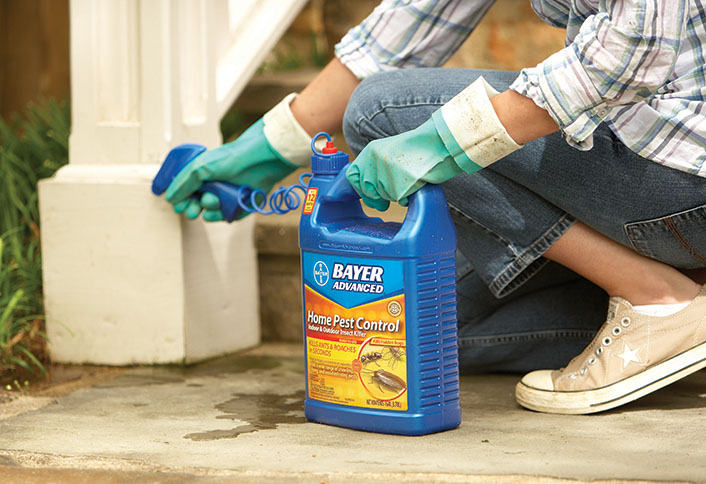 When looking at different pest control options, consider whether bugs are inside or outside of the home, what situations contact and systemic insecticides are appropriate for, the different forms of pesticides available, and how to minimize infestation before it starts.
Types
Contact Insecticides


Used to kill insects by direct application. Generally comes in spray, granular or powder form.


Usually absorbed through insects' exoskeletons
Reapply after heavy rains
Use bait traps inside house to minimize chemical exposure
Apply in the early morning or evening when insects feed

Apply dust to wet leaves to help it stick better


Systemic Insecticides


Absorbed directly into outdoor plants through the roots to eliminate insects as they feed on the plants.


Lasts longer than chemicals

Less likely to wash off during rainstorms

Do not use on vegetable or other edible plants

Particularly effective against bugs with piercing mouths, such as aphids and whiteflies

Apply to plants that have extensive and established root systems


Forms


Use the chart below to compare common insecticide types:


Form
Benefits and Uses
Points to Consider

Aerosols

Used for small areas indoors or out

Easy to store

Have a long shelf life

Relatively more expensive than other
forms


Baits and Traps

Ideal for cabinets, pantries
and under sinks

May be poison free

Use in conjunction with sprays and powders for best protection

Foggers

Used inside the home
Penetrate cracks and crevices where pests nest

Usually require you to vacate premises during use

Granules

Easy to apply
Ideal for large areas
Kill soil-dwelling insects
Offer quick results

Ideal for large areas


Require a spreader to ensure uniform distribution

Liquid Concentrates

Offer quick results
Ideal for large areas

Require mixing and measuring
Require a sprayer

Powders

Ideal for indoor use under
sinks dishwashers and stoves

Waterproof
Provide long-lasting protection


Ready-to-Spray Concentrates

Offer quick results
Ideal for large areas

Premixed
Feature an attached hose-end sprayer for convenience


Ready-to-Use Sprays

Best for smaller areas
Offer quick results

Premixed
Feature an attached hose-end sprayer for convenience
Prevention
There are a number of ways to prevent infestation:


Clean up weeds, leaves and dead plants
Caulk and seal openings around your home
Treat foundations around your house
Store flour and dried foods in air-tight containers

Repair rotted wood

Features
Organic Pesticides. Gets rid of pests without harming humans and animals
Milky Spore. Powder that deters Japanese beetles
Candles. Outdoor citronella candles deter pests