Prepare to build your fence by learning all about fencing and gate material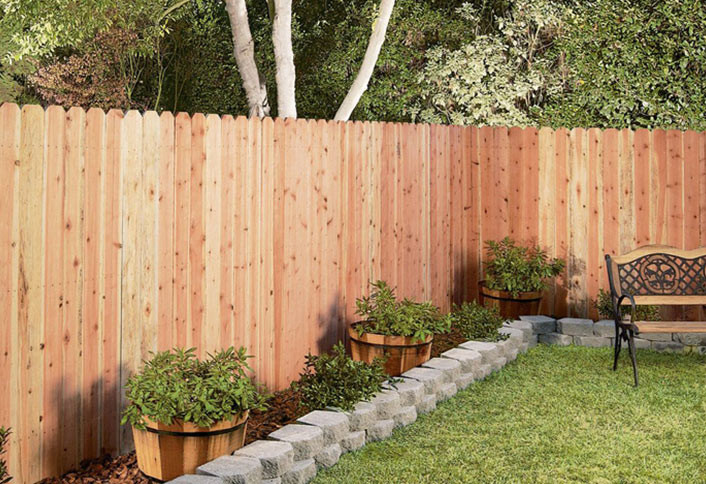 A fence can the perfect security and privacy barrier that allows you the to freely enjoy your home and outdoor living spaces. This guide provides an in-depth look at the common types of fencing, gates and fencing materials available as well as helpful tips to you can use to choose the right fence for your yard.

Things (important) to consider before building your fence:

• Consider why you want a fence and then find a few existing fences that meet your needs.
• Think carefully about the design of your fence, and how it will appear from your side of it as well as your neighbor's. One that is beautiful from your yard but unattractive from the neighbor's deck is probably a poor choice.
• The location, dimensions, local climate and the time and money you're investing are also important factors to when choosing your fencing type and materials.
1
Wood Fence and Gate Materials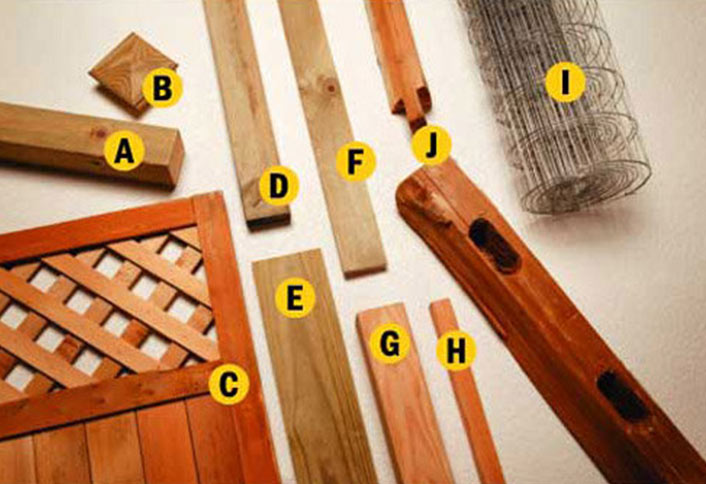 You can build almost any kind of fence with wood. You can then paint it, stain it or simply admire the grain. Wood fences are also available in many attractive options, including cedar, redwood and pressure-treated wood.

Basic materials for constructing a wood fencing include:

(A)Pressure-treated 4×4s for posts; stamped to indicate that they are suitable for ground burial.
(B)Post caps protect the tops of posts from exposure to water.
(C)Prefab fencing panels go up quickly and come in a variety of styles.
(D)Pressure-treated 2×4 rails let you construct a frame for the fencing from scratch. If you are building the fence from scratch, pressure-treated timber rated "above ground" is made for everything except posts. Stain rather than paint for a more lasting finish.
(E)1×6s fence boards apply to fencing styles such as the alternate board, louver or basket weave.
(F)1×4s can be used make your own pickets for fencing.
G)Cedar fencing offers reliable resistance against decay
(H)Redwood fence boards resist rot naturally and are virtually maintenance-free.
(I)Wire fencing s yet another durable option. Build a rustic fence without the old-time work, using
(J)Precut mortised posts and rails can create a rustic look or you can nail rails to a 6-inch post.

2
Vinyl Fence and Gate Materials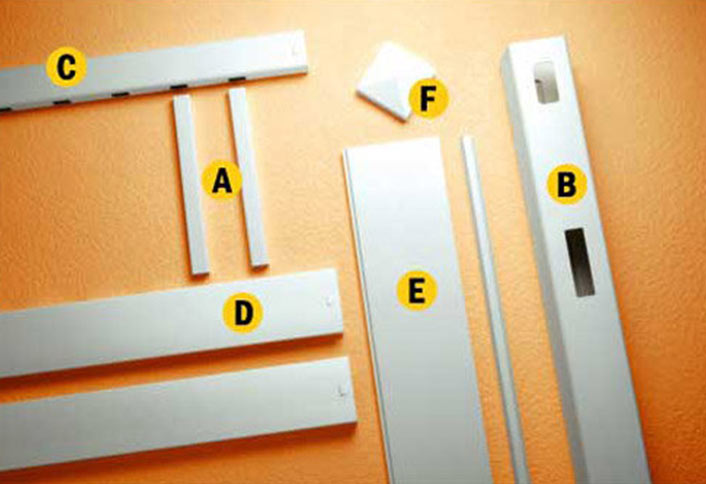 Vinyl fencing comes almost exclusively in white, but it is a white that stays maintenance-free for years. Vinyl also come with ready-to-assemble, including parts and material:

(A)Balustrades
(B)Posts
(C)Top rails
(D)Bottom rails
(E)Fence boards
(F)Post caps

Many local home improvement centers offer pre-assembled fence panels of both wood and vinyl, which speed installation time.
3
Post Hole Filler Materials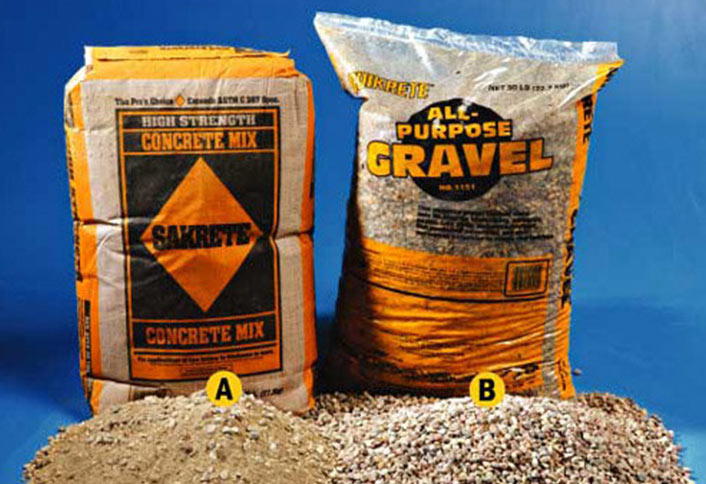 If you're building a fence from scratch, properly securing the post will ensure your fence will remain standing. Materials commonly used for filling postholes include:

(A)Concrete is typically used for end, corner and gatepost holes to anchor the posts in the ground. Ready-mix concrete is a good option, or for larger projects, you may want to hire a concrete vendor with a pump truck.
(B)Gravel underneath the other posts to help drain away water.
4
Chain Link Fence Materials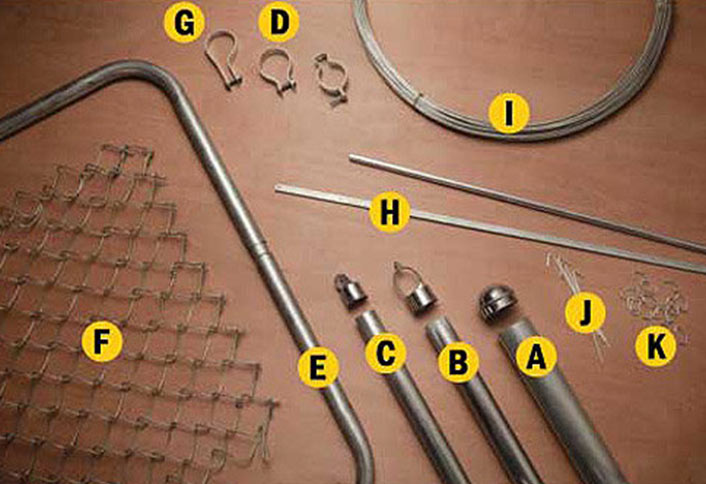 Chain link fencing is easy to put up, despite the rather large number of parts listed below. For the basic frame, you will need:

(A) 2-1/2–inch diameter end posts and caps
(B) 1-5/8–inch diameter line posts and caps
(C) 1-3/8-inch diameter rails and caps
(D)Brace bands attach rail caps to posts. assemble a gate with
(E) Top, bottom and side rails for gate assembly or buy all in a kit.
(F)Chain link fencing
(G)Tension bands
(H)Tension bars
(I)Tension wires
(J)Tie wires
(K)Hog rings
5
Hardware for Fences and Gates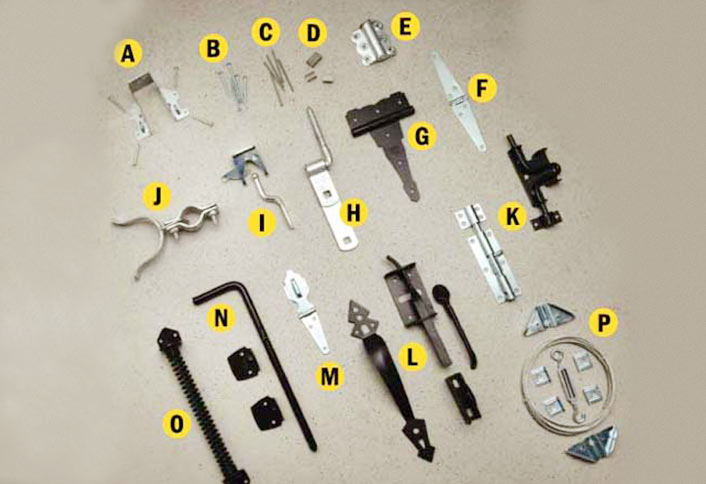 Choose your fasteners and hardware suited to the type of fence and gate you are building. with

(A)Hangers and galvanized hanger nails fit rails edge up between posts
(B)Deck screws fasten fence boards to posts
(C)Galvanized nails, also to fasten rails to post. and rails with
(D)Staples used to attach wire fencing to wood posts
(E)Self-closing butt hinges (for gate hanging)
(F)Strap hinges (for gate hanging)
(G)T hinges (for gate hanging)
(H)Lag-and-strap hinges (for gate hanging)
(I)Strike latches fasten the door shut. Other types of latches include:
(J)Drop latch (fasten gate doors shut)
(K)Slide-bolt latch (fasten gate doors shut)
(L)Thumb latch (fasten gate doors shut)
(M)Hasp latch (fasten gate doors shut)
(N)Barrel bolt (fasten double gate doors shut)
(O)Spring closure (swings a gate shut automatically) turnbuckle-style
(P)Anti-sag kit (corrects a sagging gate)