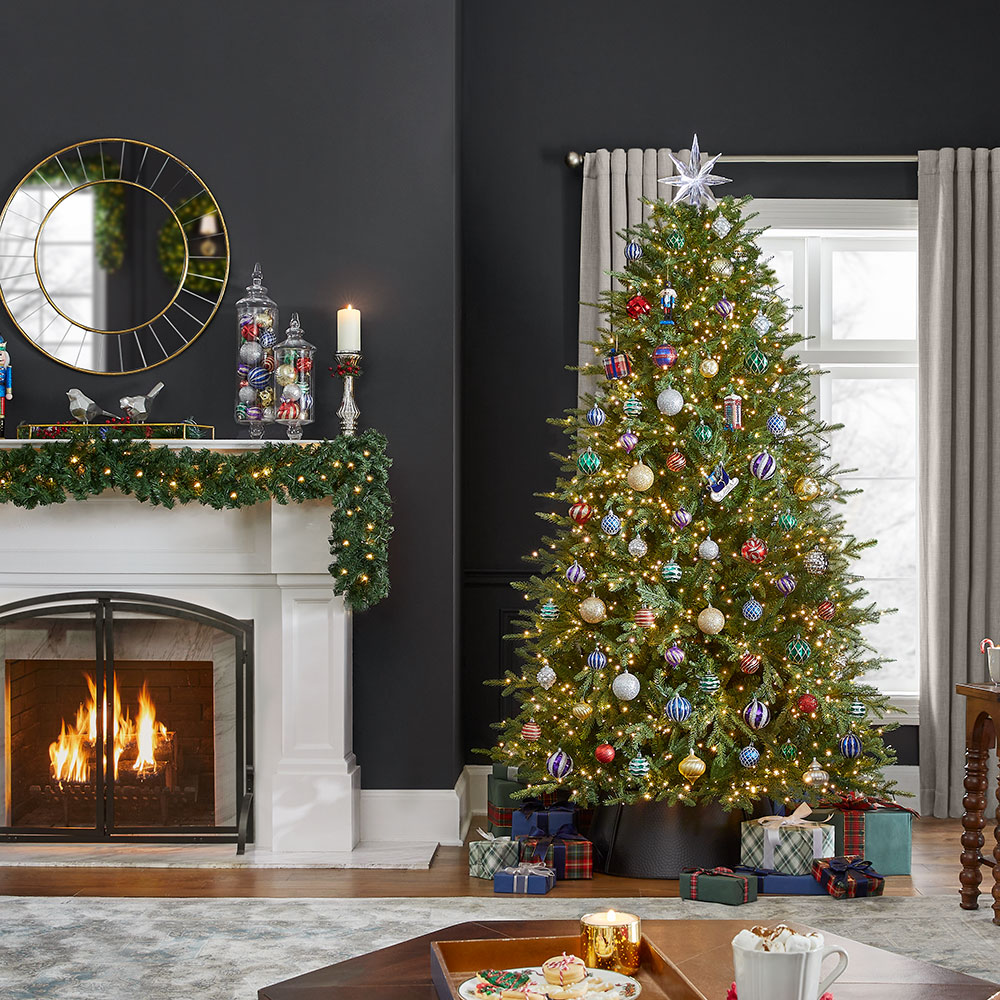 Artificial Christmas trees are a great choice when you want to avoid the maintenance and cleanup involved with a live tree. The best artificial Christmas trees bring a festive spirit to your space and last for many years. 
Realistic artificial Christmas trees are available in virtually every size and shape. These types of artificial trees mimic the look and feel of natural, live trees. If you'd rather not purchase separate lights, some of the best pre-lit Christmas trees for your home and budget are available in all shapes and sizes. 
Read on for how to choose the best artificial Christmas trees for your holiday decorations. 
Christmas Tree Height Options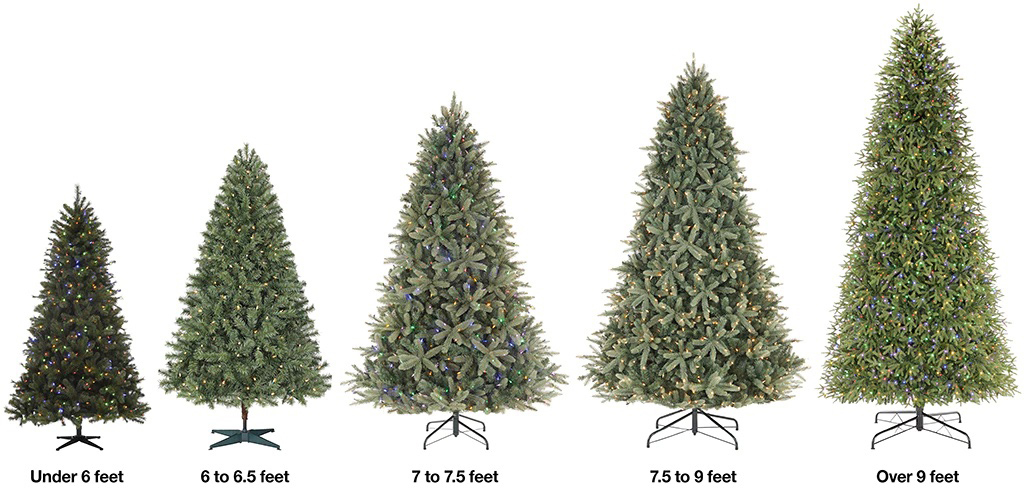 The ceiling height of an average home is from 8 to 9 feet. Choose a tree whose top falls at least 6 inches below your ceiling. Don't forget to factor in the height of any topper and the stand to the total height of your tree. When choosing the right height for different types of artificial Christmas trees, keep proportion in mind. You want the tree to be a focal point, but not to overwhelm the room. However, if your ceiling is over 10 feet or has a cathedral or vaulted ceilings, a taller, more dramatic-looking tree will be ideal.
Under 6 feet: Perfect for tabletops, small spaces, entryways or kids' bedrooms.
6 to 6 1/2 feet: Good for the average home with lower ceilings.
7 to 7 1/2 feet: A favorite height for most homes.
9 feet: Works well in homes with higher-than-average ceilings.
12 feet or more: Ideal for a great room or a two-story foyer with high ceilings.
Christmas Tree Width Options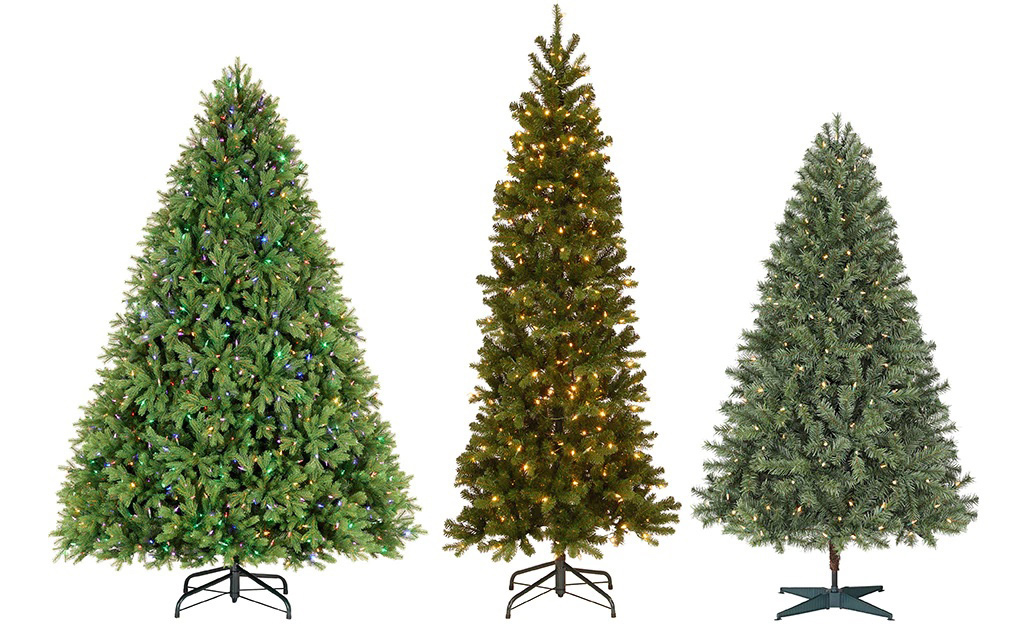 Make sure you measure the width of your room for the best fit. Even if you've got enough height to display your tree and topper, the wrong width will make placement and decorating inconvenient. Here are some common widths:
Fullor regular: Most full trees are 7 to 7 1/2-feet tall and 56 to 64 inches wide.
Medium: Most tall trees come in a medium width.
Slim: Includes pencil trees; great for small or narrow spaces.
In addition to the diameter, there are other things to consider when finding the best artificial Christmas tree for you such as the tip count and light count.
Tip: Measure the diameter of the tree at its widest point for the base width.
Artificial Christmas Tree Shapes & Types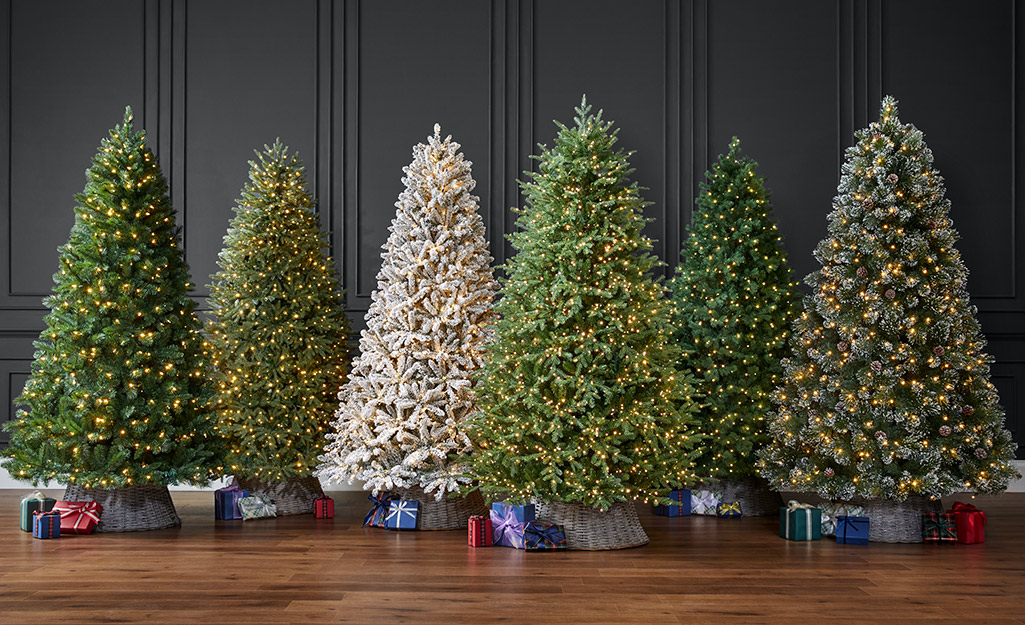 Trees are available in many shapes. Many trees are wide and triangular, while others are slender and sparse. The shape you choose depends on what looks best to you. The following types of trees come in the nearly every shape:
Classic trees have a classic Christmas tree look.
Decorated trees come fully decorated and ready to display on Christmas.
Technology trees use technology to either set the lights on a timer, have lights pulse, twinkle and flicker and more.
Quick-set trees usually come pre-lit and are very easy to assemble. You can set one up using a couple steps and a few pieces.
Potted trees are artificial Christmas trees that come in a decorative planter and are ready to display.
Artificial Christmas Tree Light Options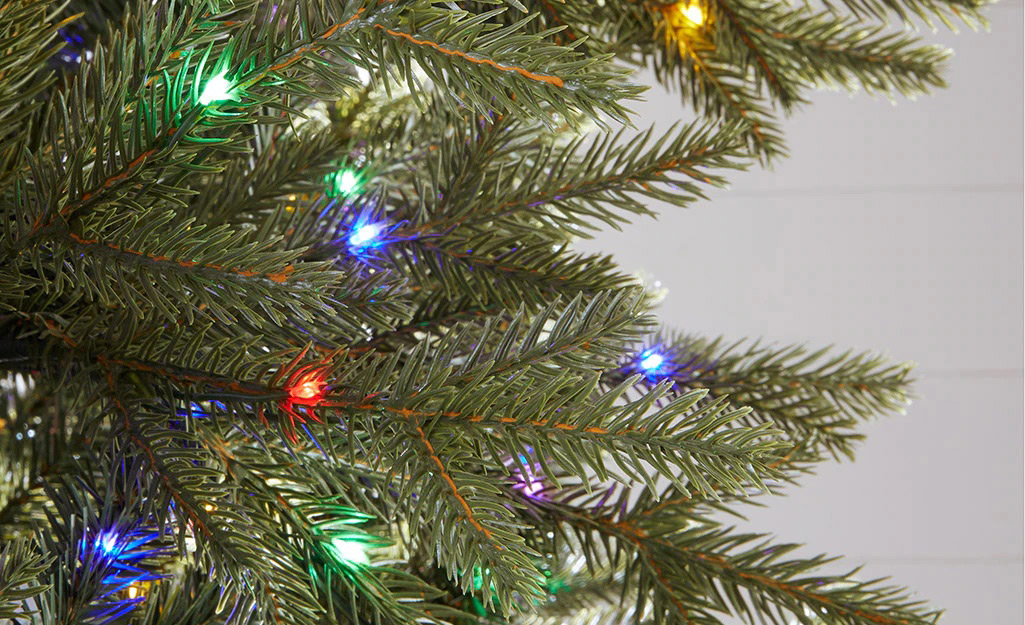 Pre-lit Christmas trees remove the need for traditional string lights. This helps avoid tangled cords near your electrical outlet and simplifies the decorating process. Some of the best Christmas trees are pre-lit, easy to plug in and turn on or off. Many feature LED lights that emit a soft glow. Others include a tree stand and come with extra lights in case any bulbs stop working. 
Artificial Tree Materials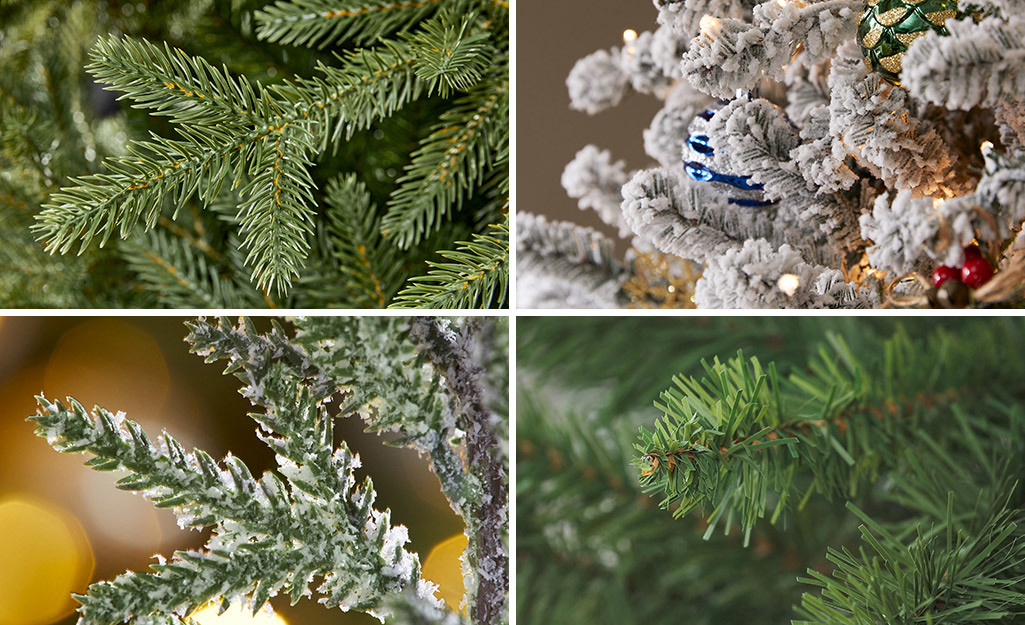 PE and PVC are the two most common types of materials used for creating traditional and realistic artificial Christmas trees.
Traditional trees feature soft, bristle-like tips made from durable PVC for a timeless look. They are designed to resemble evergreen trees but are not very realistic.
Realistic trees have branches that are made from durable PVC on the inside areas close to the truck of the tree. The outside tips are made from a high-quality molded PE plastic designed to resemble a real evergreen needle.
Most realistic trees also have durable PVC branches on the inside areas close to the truck of the tree. High-quality molded PE plastic forms the outside tips designed to mimic lifelike-look evergreen branches.
Tip: The higher the tip count, the fuller and more traditional the tree will look. When choosing a tree online, zoom in closely to examine the detail and quality of the branches.
Artificial Christmas Tree Features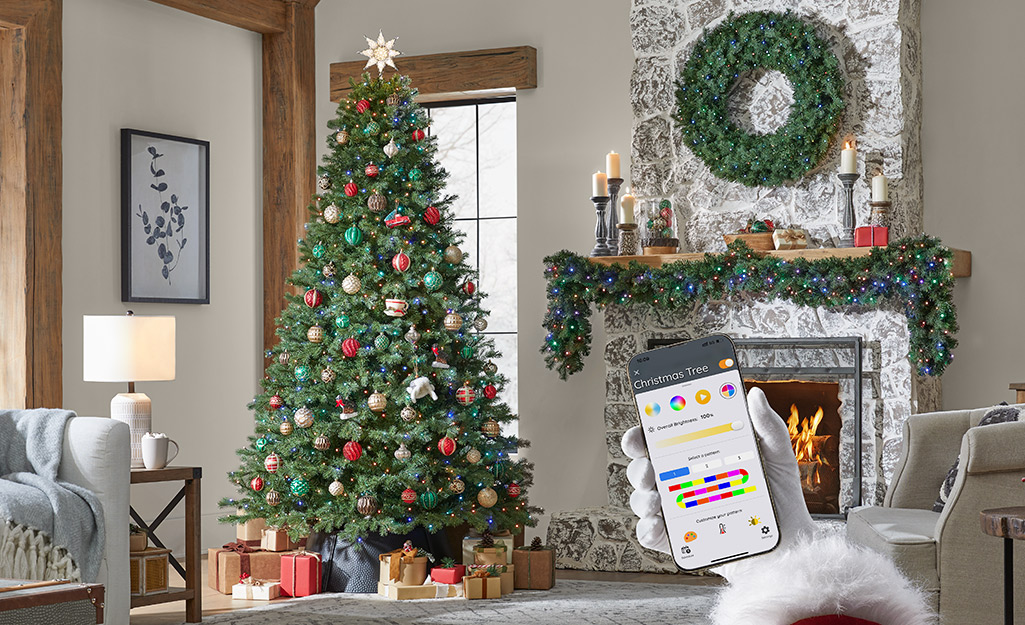 The best artificial Christmas trees for some are made with time-saving features like memory wire that allows the tree branches to retain their shape. You can also find trees with a quick connect lighting technology where all the lights work with one plug. Many trees offer adapters called tree top connectors that allow you to attach and light decor. Others can be controlled wirelessly through the Hubspace app on your smart device. 
Artificial Christmas Tree Accessories & Storage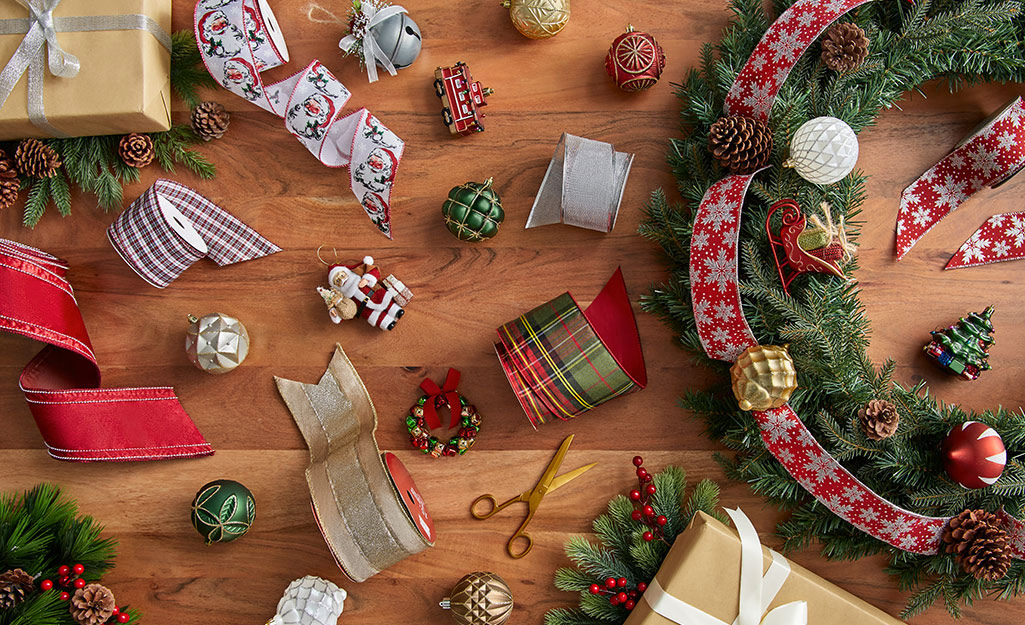 Like all holiday trees, the most realistic Christmas trees are the ones all decked out in holiday sparkle. With faux trees, you won't have to worry about the tree drying out or losing needles. This means you can add as many ornaments and keepsakes as you wish. Ribbon and other embellishments can really bring your tree to life. There's no need to water your tree, so go for luxe or embellished tree skirts. If you have a tinsel tree, consider adding a classic spinning color wheel.
As you consider all the options you can choose from for your perfect tree this season, there are a number of popular types of artificial trees that can check off the features you want to build your holiday around.
Balsam Fir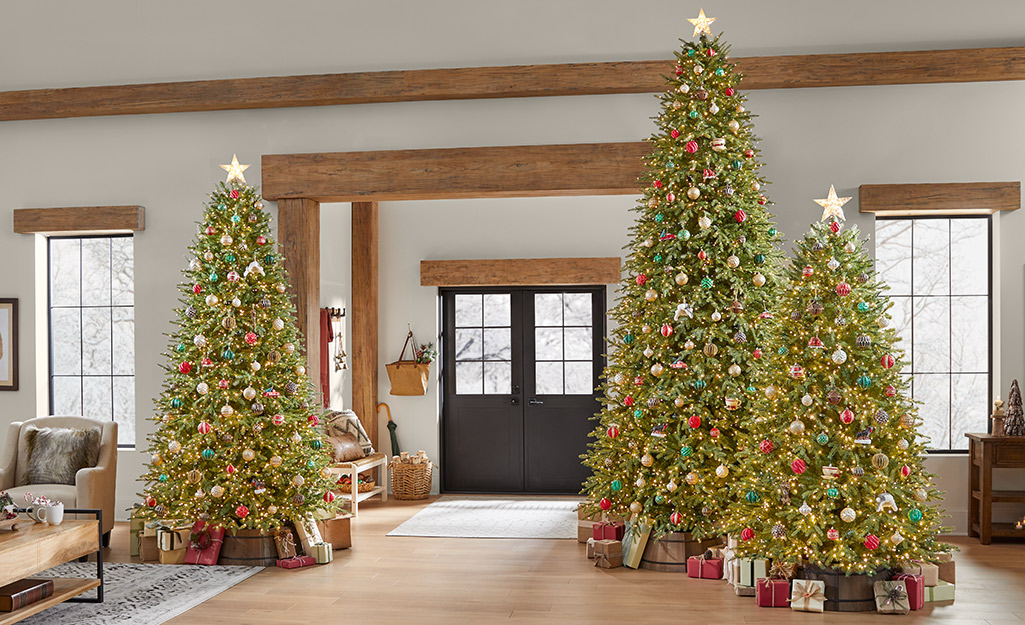 An artificial balsam fir is a great choice for a sparsely decorated tree. Its appearance is bushy and full. This mimics popular live trees in the South and West such as Douglas fir, Balsam fir, Frasier fir, Noble fir, Grand fir and Nordmann fir.
Norway Spruce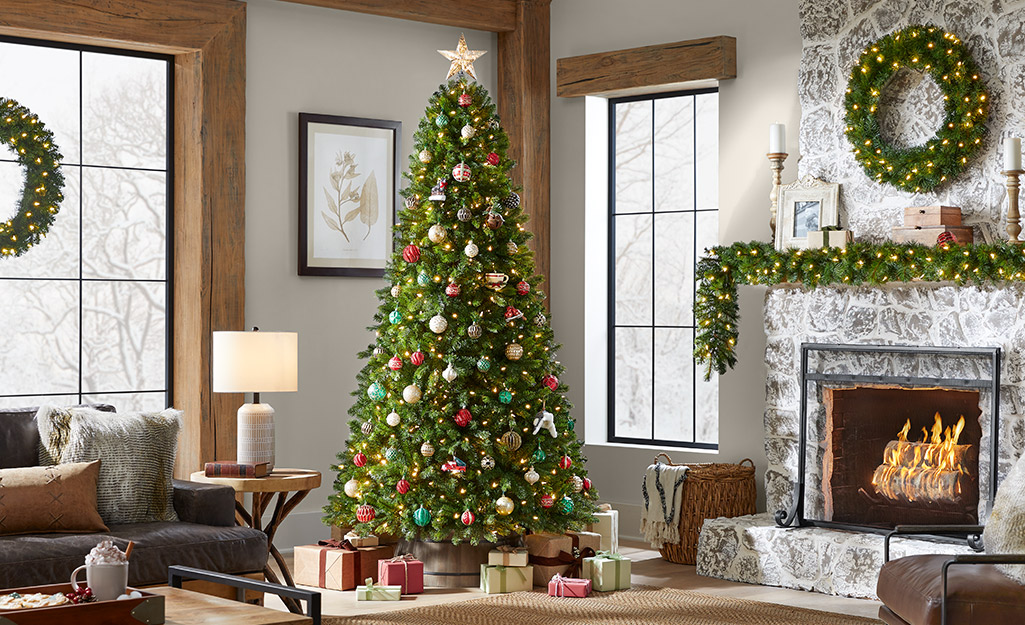 An artificial Norway spruce shows off a more traditional shape and style. This is the perfect setting if you have a lot of ornaments. This mimics popular Midwest and East Coast live trees.
Long Needle Pine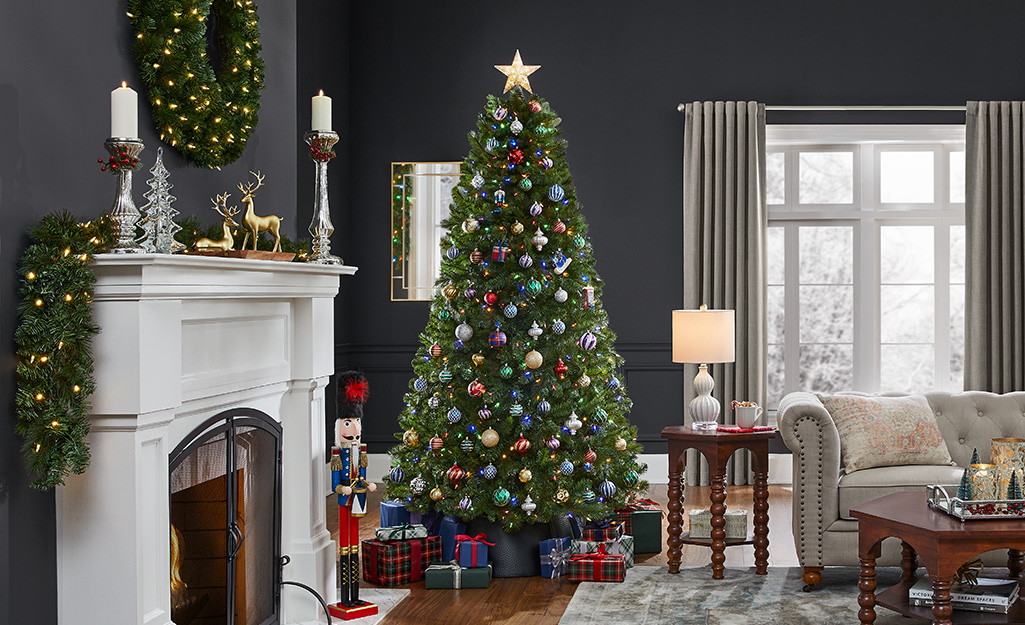 An artificial long needle pine is an excellent dupe for a live tree variety that is among the most popular in the South. These trees feature classic needle construction and provide lots of room for your favorite ornaments.
Flocked Trees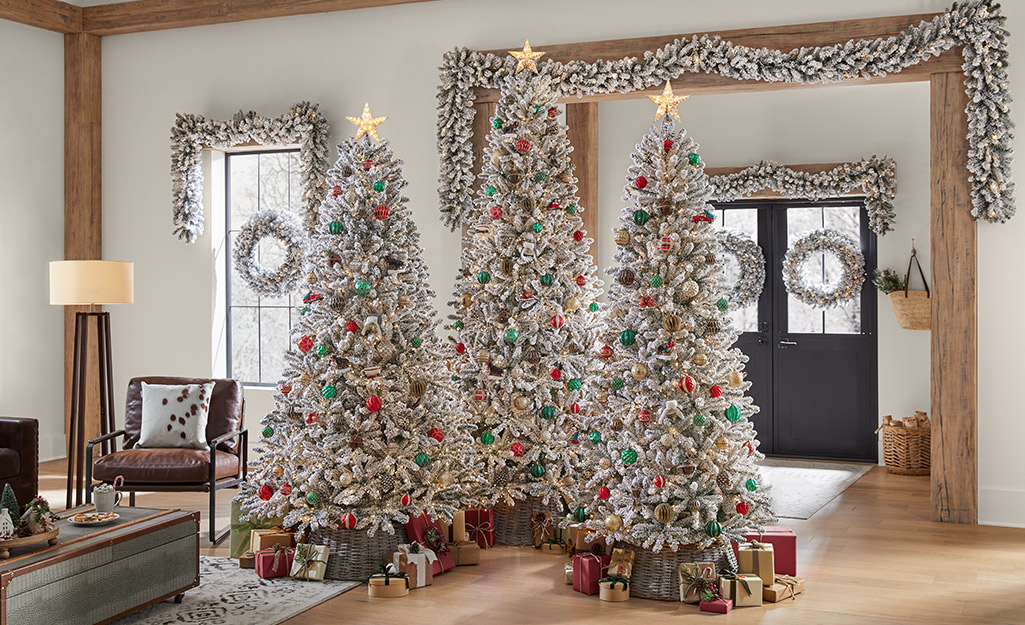 Flocked trees offer a decorating shortcut to creating a winter wonderland indoors. Available as pre-lit or unlit, the branches of these trees are treated to create a snow-dusted look.
Potted Tree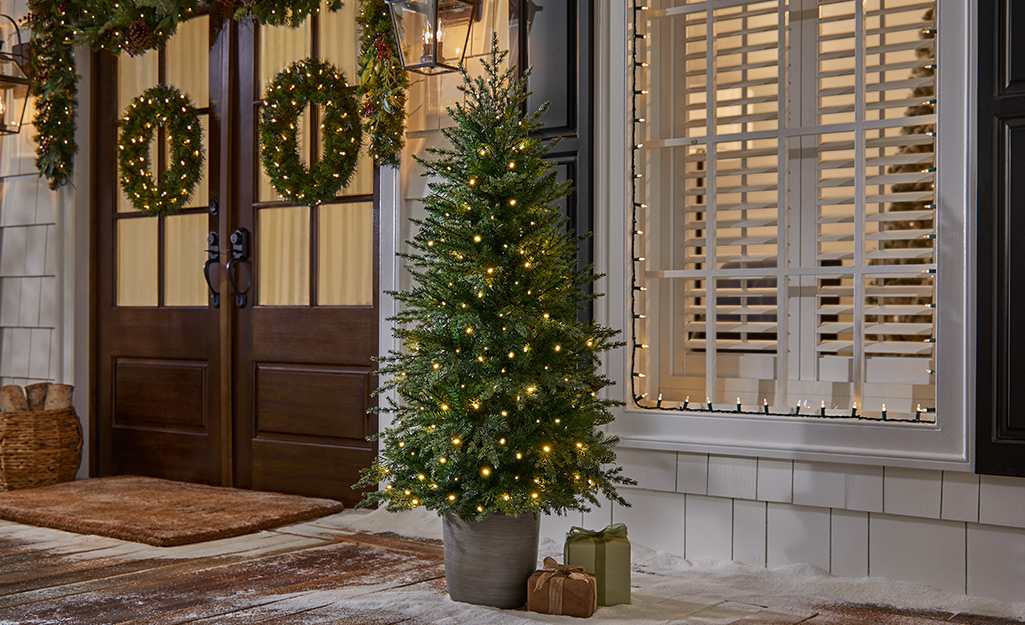 An artificial potted tree is suitable for indoor or covered outdoor use. These trees are available in tabletop heights and up. Styles includes flocked or plain branches and with or without pre-lighting.
Artificial Trees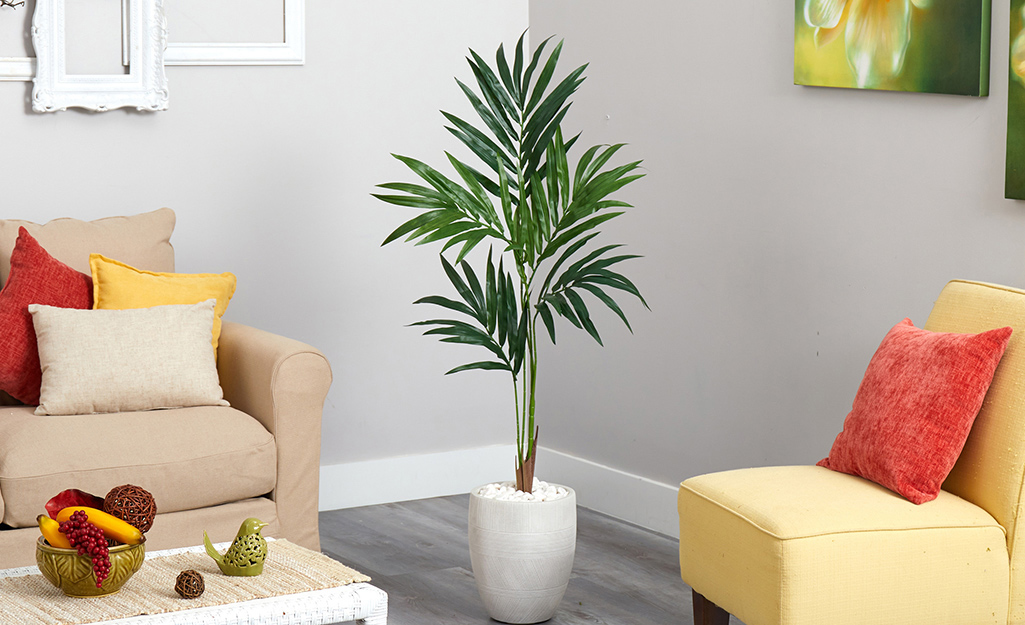 Give the holidays a whimsical touch by decorating non-traditional artificial trees such as Palm, Boxwood, Crepe Myrtle or Citrus.
No matter your home size, you're sure to find the best artificial Christmas trees for you. And the good thing is, these trees stay beautiful season after season. You can choose between pre-lit or unlit, full or slim and tall or short. Whether it's one of the realistic artificial Christmas trees or something more fantastical, it's sure to light up your holidays. 
Ready to get your favorite artificial Christmas tree? Snap a picture with The Home Depot Mobile App of an item you like, and we'll show you similar products.
Explore More on homedepot.com