Project Guide
How To Hang Christmas Lights
Time Required:

2-4 hours

Difficulty:

Intermediate
---
When it's time to deck the halls, the quickest way to share the holiday cheer is by hanging Christmas lights. This guide will teach you how to hang Christmas lights and help you determine how many you may need to decorate your home. You'll also learn how to pick the type of light that's best for you and the best ways to install Christmas lights to get the job done safely and efficiently.
SHOP OUTDOOR CHRISTMAS LIGHTS NOW
Types of Christmas Lights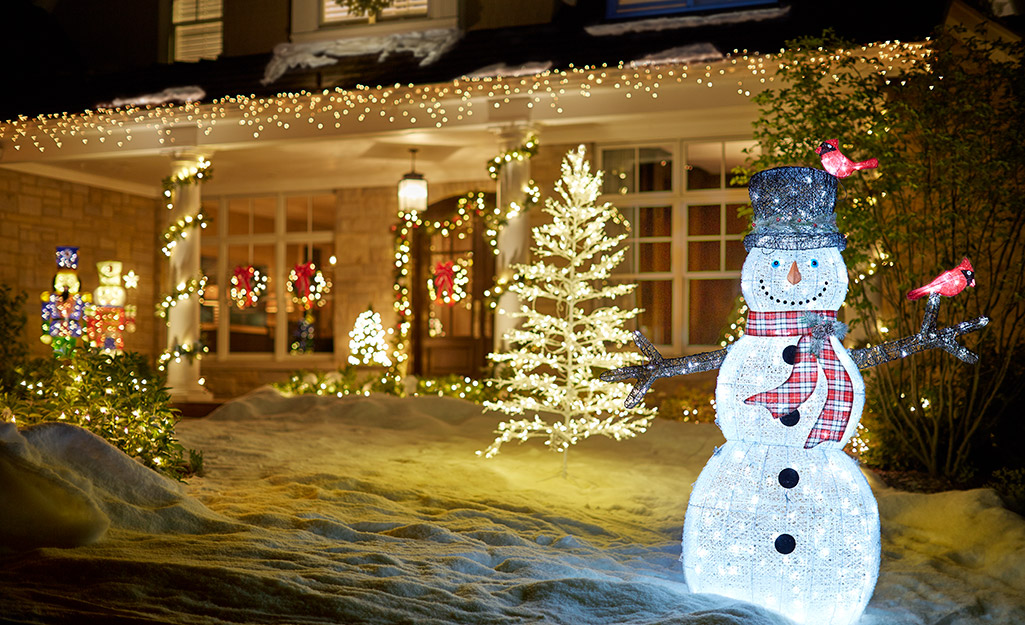 Not all Christmas lights are the same. Here's how to choose the right size and shape for your holiday decorating needs.
Christmas string lights: The most commonly used light. Its bulb shape resembles a candle with a pointed tip. They are generally 1/4-inch in diameter and 5/8-inch tall.
Icicle lights: String lights that mimic the appearance of icicles hanging on overhangs, peaks and windows.
LED Christmas lights: Uses light-emitting diodes, rather than filament to produce light. LED lights are more efficient, durable, and longer-lasting than fluorescent incandescent lights.
Battery operated Christmas lights: Provides more freedom for your Christmas decorating. Uses an attached battery back to power the lights.
C9 Christmas lights: Largest of the strawberry-shaped lights. Measure 1-1/4-inches in diameter and 2-1/2-inches tall.
C7 Christmas lights: Mid-size strawberry-shaped lights, but with a more rounded, bulbous look. Measures 1-inch in diameter and 1-1/2 inches tall.
C6 Christmas lights: Smallest of the strawberry-shaped lights. Measures 3/4-inch in diameter and 1-1/8-inches tall.
Twinkling Christmas lights: String lights flash on and off. Typically, 20% of the bulbs twinkle or flash randomly and 80% of the bulbs stay on.
Prepare to Install Christmas Lights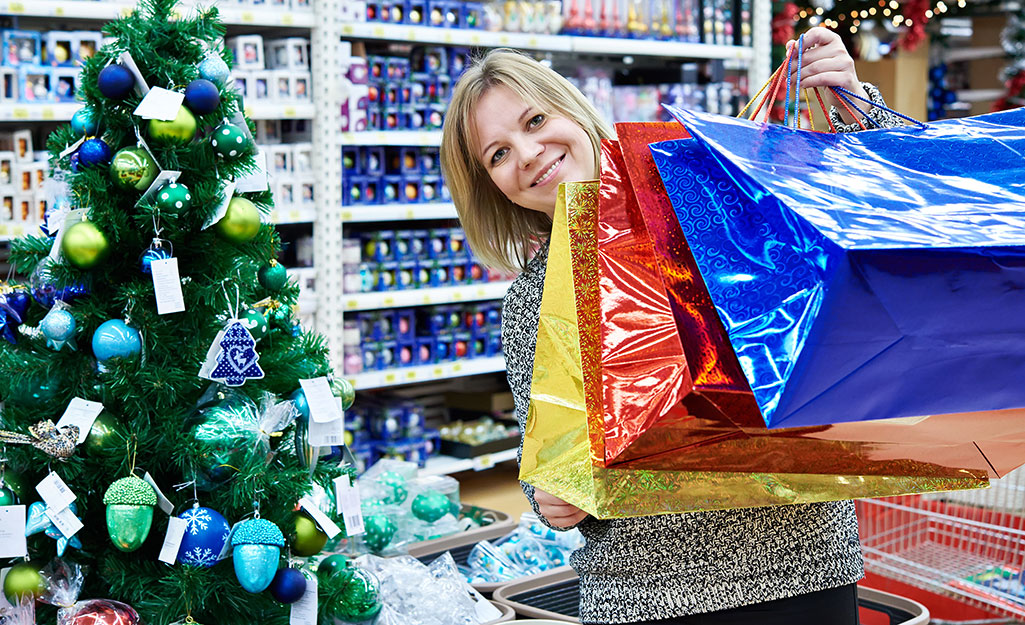 Starting with a clear decorating plan will ensure that the entire project flows smoothly.
Map out a plan for lights: Pick a focal point to highlight, such as the front door or some other architectural feature like columns or eaves. Place your brightest lights or a higher concentration of lights on the areas you want to pull the most focus and build out your plan from there.
Consider light placements: String lights along some of the most commonly decorated areas such as along walkways or driveways, over landscape plants like hedges or trees, outlining the roofline or windows and door frames or wrapping railings or posts.
Choose the type of lights: Make sure the lights are rated for outdoor use. Incandescent bulbs offer a traditional warm glow, and there are now energy-efficient LED bulbs available in a choice of warm or cool glow. LED bulbs can provide significant energy and cost savings over the course of the entire holiday season.
Choose the right light clips that fit your application: Adhesive clips are best for columns or railings, and universal clips are best for rooflines.
Determine how many lights you need: Measure all the straight lines of the house and add them together. Don't forget to measure the distance to your power source!
Pay attention to the connection limits light strands: Don't connect more strands together than the directions recommend as this is a fire hazard.
How to Hang Lights Outdoors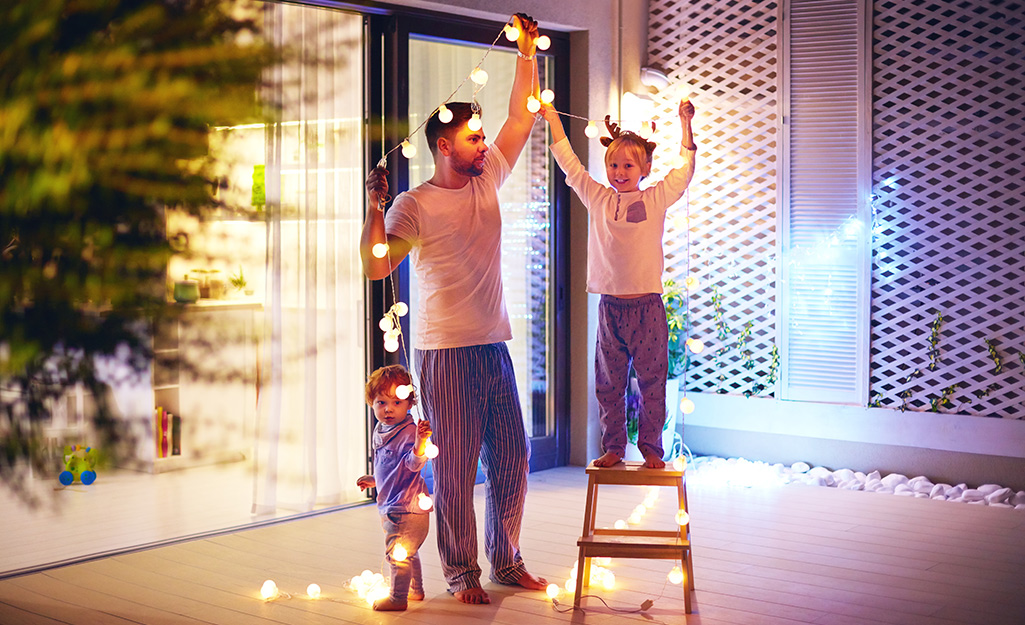 Show off your holiday spirit by decking out your home with Christmas lights. Follow these steps to get the job done.
Test the lights. Be sure to test all the lights before installation. Replace any blown bulbs, be sure the light patterns work and, if you are using smart lights, connect them to your device to ensure that the controllers are operational.
Plug the first strand into an extension cord to double-check that your lights can reach a power source.
Attach lights to clips and start hanging.
Slide rooftop lights in place, inserting the clips in the gutter or between the roof and shingles. Remember that universal clips work with both C7 and C9 bulbs.
Use adhesive clips for windows, railings or columns.
Peel the backing and adhere clips at an even distance.
Attach lights into the clips.
Install a smart plug to control the timing of your lights from an app on your smartphone.
How to Hang Christmas Lights on a Roof Peak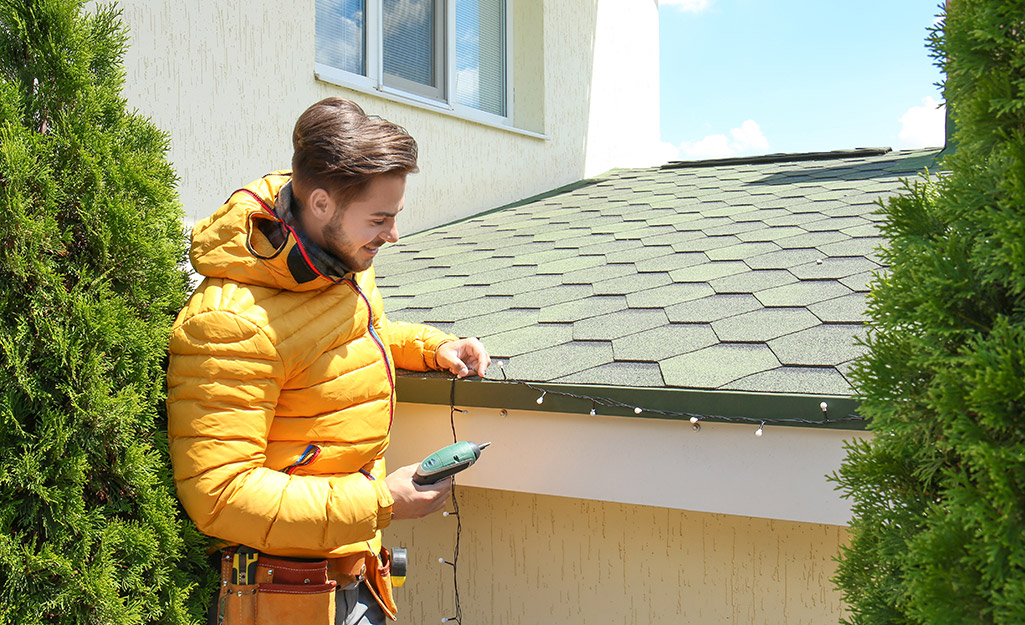 Hanging Christmas lights on a roof peak may be a challenge. Here's how to hang Christmas lights on a roof peak safely:
Do not attempt to install Christmas lights on your roof when it's rainy or snowy.
Place an extension ladder securely against the side of your house and on level, firm ground. Have a partner hold the ladder to help keep it in place when you climb.
Keep your hands free while you're climbing your ladder. Use a tool belt or bag to hold all your supplies while you climb.
Try using plastic clips instead of nails or staples. Plastic clips are the easiest way for hanging Christmas lights on the roof. You can also use a staple gun to hold them in place, but that also will make it more time consuming to remove after Christmas.
How to Hang Icicle Lights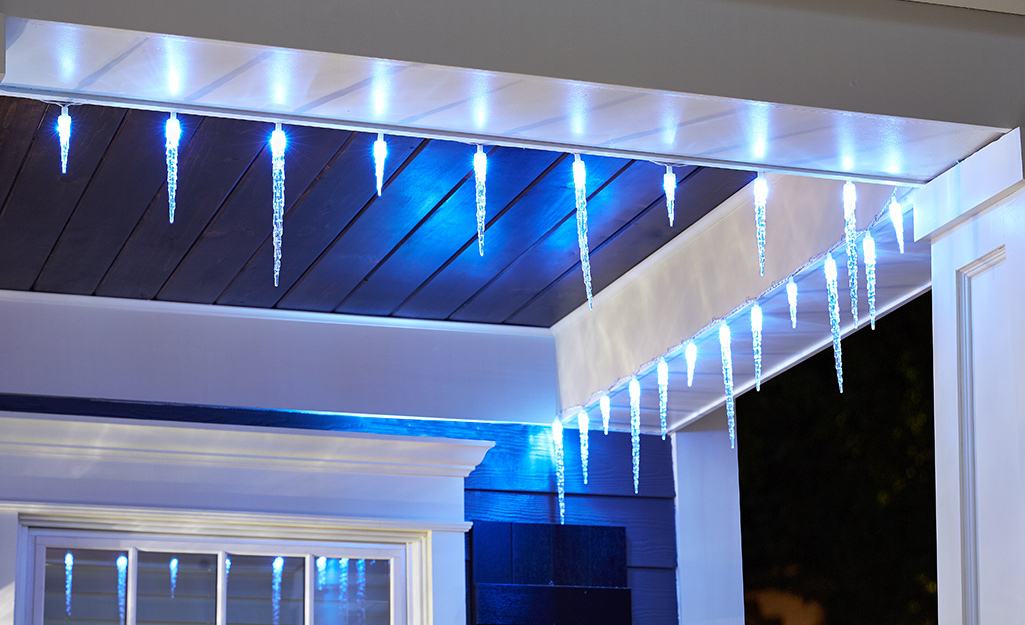 Icicle lights will transform your home into a magical winter wonderland. Here's how to hand icicle lights on your home:
Untangle and lay out the lights.
Use light clip to hang the lights along the gutter or shingles.
Hang the lights pointing down.
More Christmas Lights Hanging Tips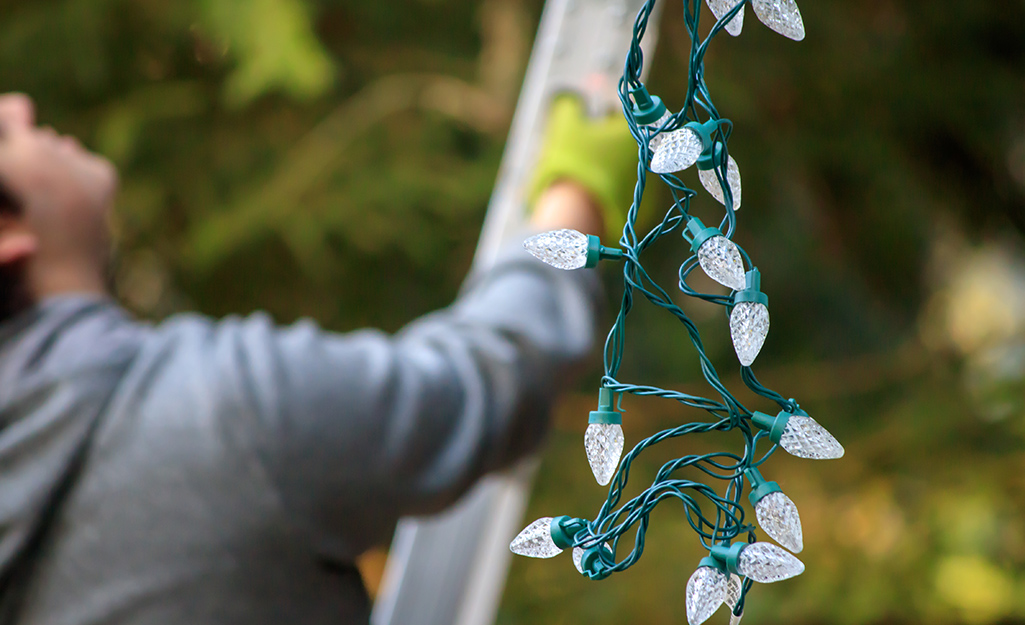 Here are a few FAQ for hanging Christmas lights:
How to hang Christmas lights outside without nails?
The easiest method is to use plastic hooks and clips. They are inexpensive, easy to install and remove, and holds all types of Christmas lights with ease.
How to put Christmas lights on a tree?
The best way to hang holiday lights on a tree is to make sure you enough light strands. The general rule of thumb is 100 lights for every foot. Then, start at the bottom of the tree and string your lights around and through the tree in a random fashion for a natural look.
How to string Christmas tree lights?
Most of the time, a single light strand won't be long enough for your needs. Holiday lights are designed to be connected to you can make them as long as you need. Simply attached the male end of one the light strands to the female end.
Learning how to hang outdoor Christmas lights is just the beginning. Ready to get your whole home into the holiday spirit? Check out these guides for more information on holiday decor, from selecting the best types of Christmas lights for your style to creating amazing scenes by decorating with Christmas lights, as well as tips and tricks for decorating your Christmas tree.