Adding a new deck is a great way for homeowners to improve their outdoor space. Whether you plan to build a solid wood, ground-level patio or a composite multi-level masterpiece, the first step is choosing the right type of decking. There's a wide range of decking materials that can help you create a beautiful, durable structure.  
This guide gives you the pros and cons of every deck material, from solid wood to composite. Learn more about choosing quality natural lumber, pressure treated wood, composite materials or synthetic varieties. 
Tip: Call The Home Depot in your area to ask one of our lumber experts for advice on which types of decking lumber work best in your region. 
Wood Decking vs. Composite Decking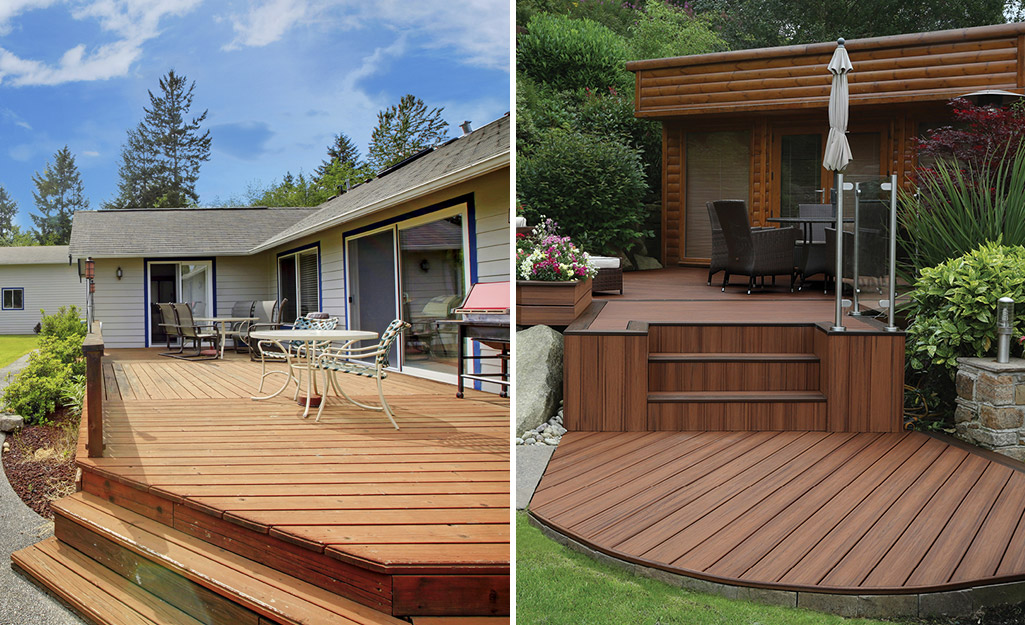 Before deciding on a specific decking material, first decide whether you want natural wood decking boards or composite decking boards. 
Natural wood decking uses pressure treated or untreated wood lumber. Pressure treated boards go through a process that enhances the wood's natural ability to resist pests, mold, mildew and temperature and humidity changes.
Composite decking boards are made from a blend of recycled wood fibers and recycled plastics.
Below we compare the costs, durability and appearances of wood and composite decking. If neither option sounds right for you, there's also synthetic PVC decking, which we discuss later in the guide.  
Cost: 
Because there are so many varieties of wood species to choose from, natural wood decking has a wide range of prices. Pressure treated wood is usually the least expensive option of all the decking materials, but other types of wood can be more costly, especially for large decks.
Composite decking is usually more expensive per square foot than common types of wood because it's manufactured and long-lasting. Over the long-term, however, composite decking can be the less expensive option, since you won't need to sand, stain or treat it again in the future.
Durability: 
With proper maintenance, both wood and composite decking materials can last a long time and offer many years of outdoor living. Natural woods need the most upkeep, though, and their needs vary between wood species. Wood decks will need regular staining, sanding and sealing treatments to keep them beautiful and sturdy.
Composite decks require very little maintenance. They only need to be rinsed down and cleaned periodically. Sometimes high-traffic areas of a composite deck can wear over time, but this can happen on wood decks as well.
Appearance: 
Whether you like the look of natural wood or composite decking depends on personal preference. Wood tends to be a popular choice for decking because of its natural and authentic appearance. It can also be stained or painted any color to match your home. Composite decking is designed to resemble real wood, but it can't be stained, so it's available only in select colors. It can also appear duller than well-maintained natural wood.
Because many people prefer the look of natural wood decks, composite decks often don't increase a home's resale value like wood decks do. 
Cedar Decking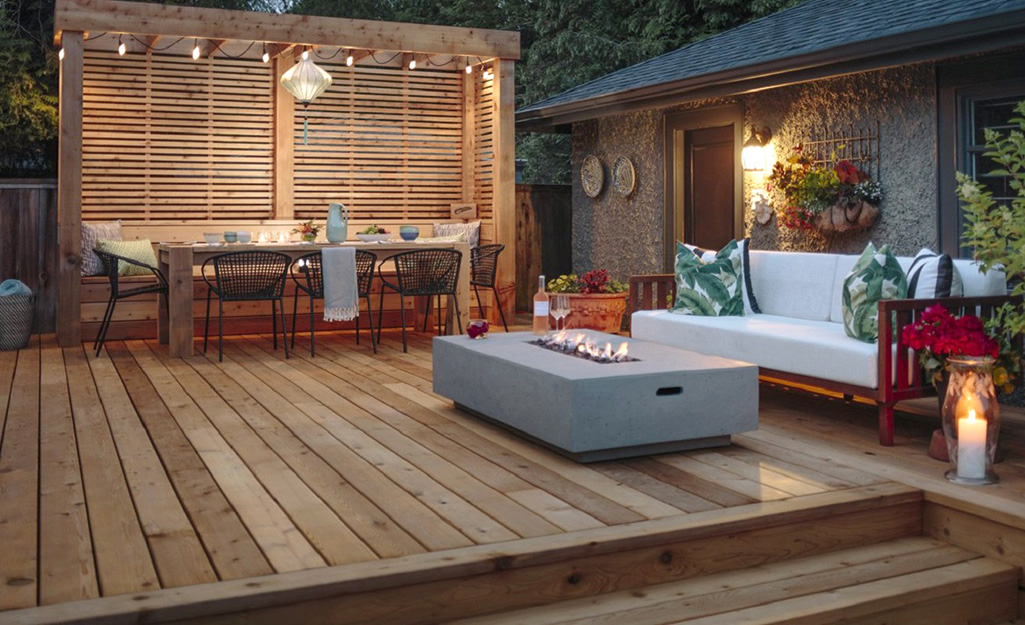 If you prefer a natural look, cedar is one of the best decking materials on the market. Cedar is a soft yet very durable wood. It adjusts to moisture in the air around it, making it less likely to warp or crack during colder temperatures.  
Cedar decking pros:
Resists moisture, rot and insects
Easy to seal or stain surfaces
Weathers to an attractive silvery gray if left untreated
Typically available and used in the Pacific Northwest
Cedar decking cons:
Can be dented by heavy furniture and outdoor grills
Easily scratched by pets and kids
Tip: The Home Depot sources responsibly and does not purchase any decking products from old-growth forests and rainforests. See our Wood Purchasing Policy for more information. 
Redwood Decking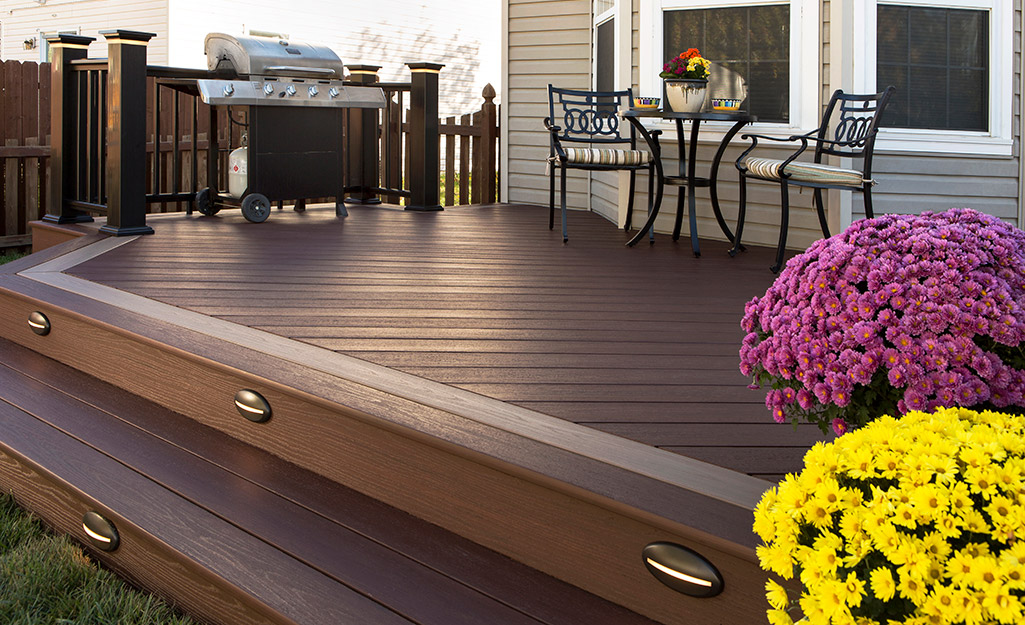 Redwood is a tight-grained wood that's red to dark red in color. It weathers to a yellowish-gray or gray color. Some redwoods will turn black over time when exposed to water, so consider applying a sealant.  
Redwood decking pros:
Rarely warps or splits, so it holds its shape
Resists insects, mildew and rot
Easily absorbs and retains all types of finishes
Typically available and used in the Pacific Southwest
Redwood decking cons:
May require more maintenance in high-moisture areas
Can be costly for large deck spaces
Tip: When building a wood deck or other outdoor space, use corrosion-resistant metal screws, fasteners and joist hangers that can stand up to the elements. 
Pressure Treated Decking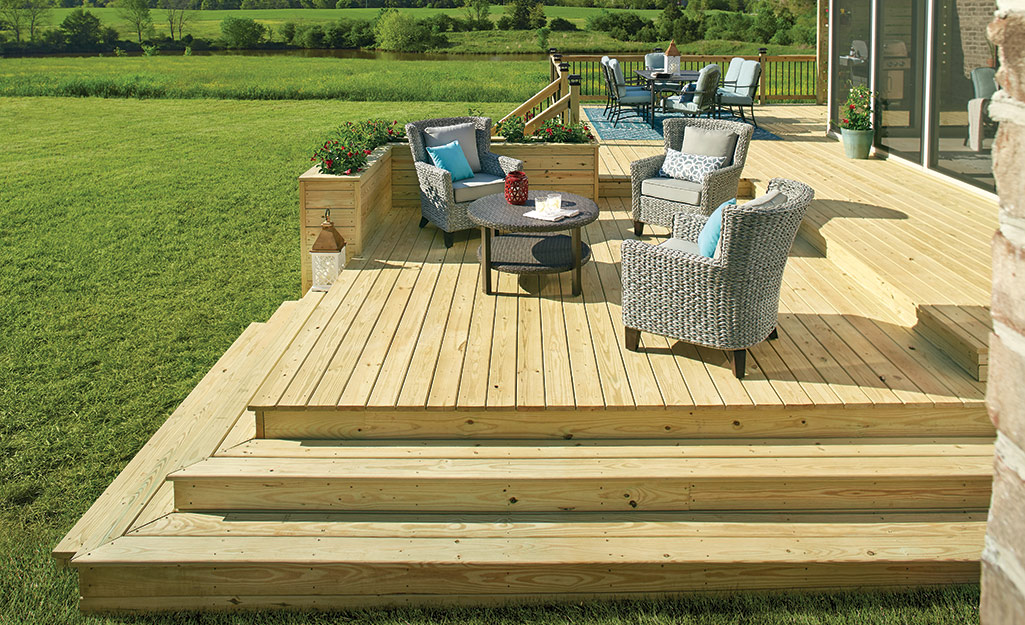 Pressure treated lumber can give you many years of use and enjoyment of your deck. Often made from southern pine, a wood variety known for its load-bearing strength and durability, pressure treated materials can be the best wood for decking in high-traffic spaces. It's also one of the most popular, least expensive woods per square foot, which is one reason it's used to make pressure treated lumber.  
Pressure treated decking pros:
Pale in color, easy to stain
Pattern accentuates landscape designs
Resists rot and termites when treated for outdoor use
Common throughout Northern, Southern, Midwestern and Western U.S.
Pressure treated decking cons:
Can develop a greenish tint when exposed to the elements without regular sealant application
Can dent, split and splinter over time
Tip: Not sure about using pressure treated lumber for your whole deck due to weather conditions? Consider using it primarily for framing and choose other woods for deck boards and rails. 
Composite Wood Decking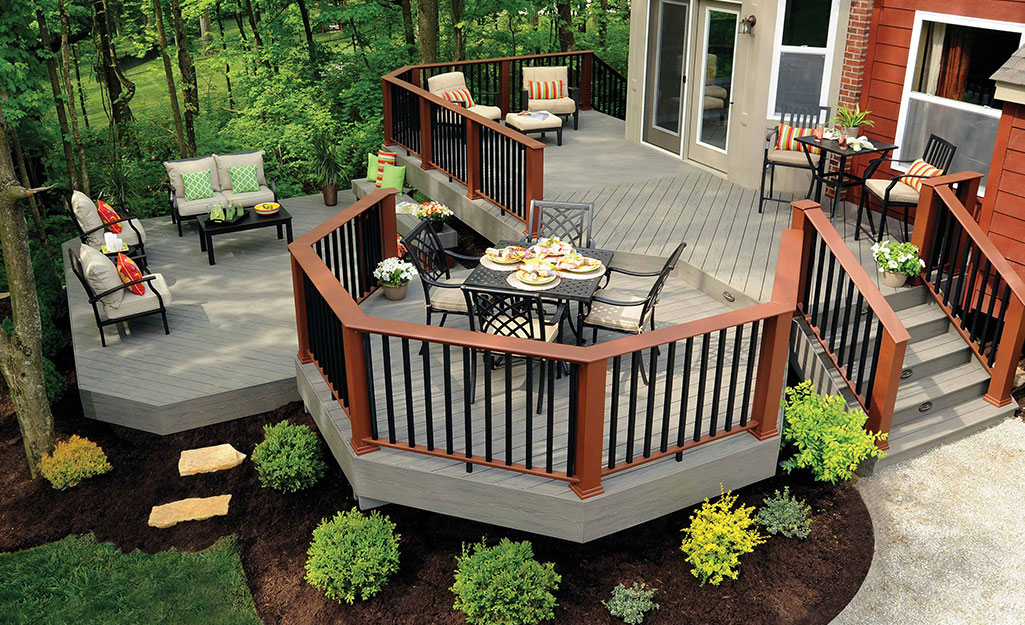 Composite decking looks a lot like natural wood and comes in a wide variety of colors. It is made of recycled wood fibers and plastics. Choose from our in-stock or custom composite decking boards, which both come with extended warranties against cracking, splitting, fading and more.  
Composite decking pros:
Never needs painting, staining or refinishing
Easier and less expensive to maintain
Won't split, warp, crack or splinter
Can last 25 years or longer
Comes with an extended warranty from The Home Depot
Composite decking cons:
May not have the natural beauty of cedar or redwood
Costs more with little return-on-investment compared to natural wood
Tip: Composite decking can't be stained, but it can be painted if you want to change or refresh its color in the future. 
Plastic Decking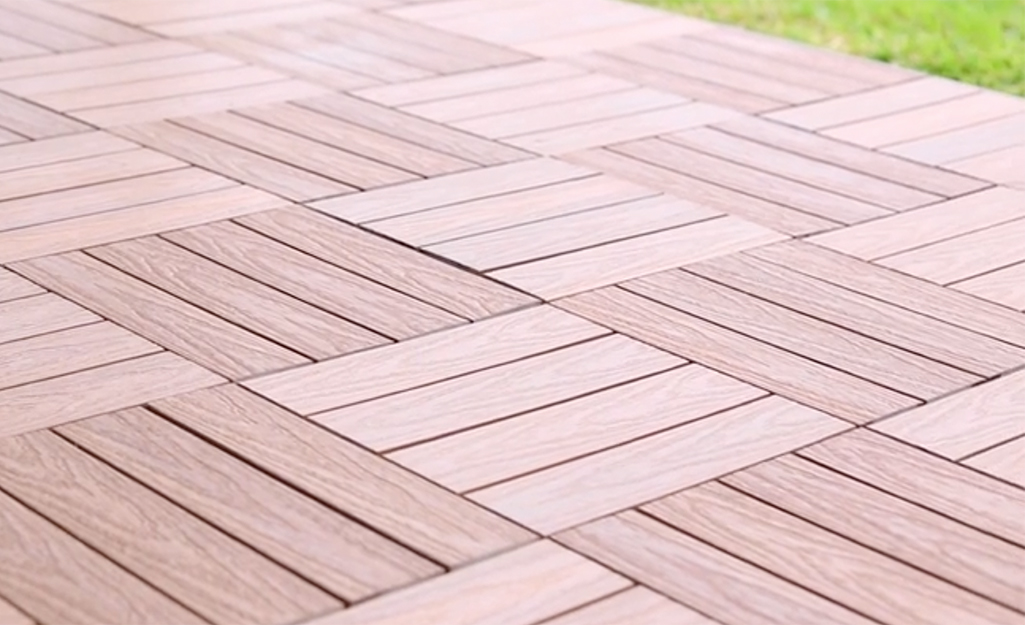 Unlike wood, plastic decking requires little maintenance and can keep a uniform look for many years. Nearly all plastic decking is a type of composite decking. Plastic composite decking combines wood fibers with a durable plastic film. 
Plastic decking pros:
Incredibly strong and resilient in high-traffic spaces
Retains its color over time
Can last 20 years or longer, depending on the product you pick
Plastic decking cons:
Can have an unnatural appearance
Color is permanent and can't be altered
PVC Decking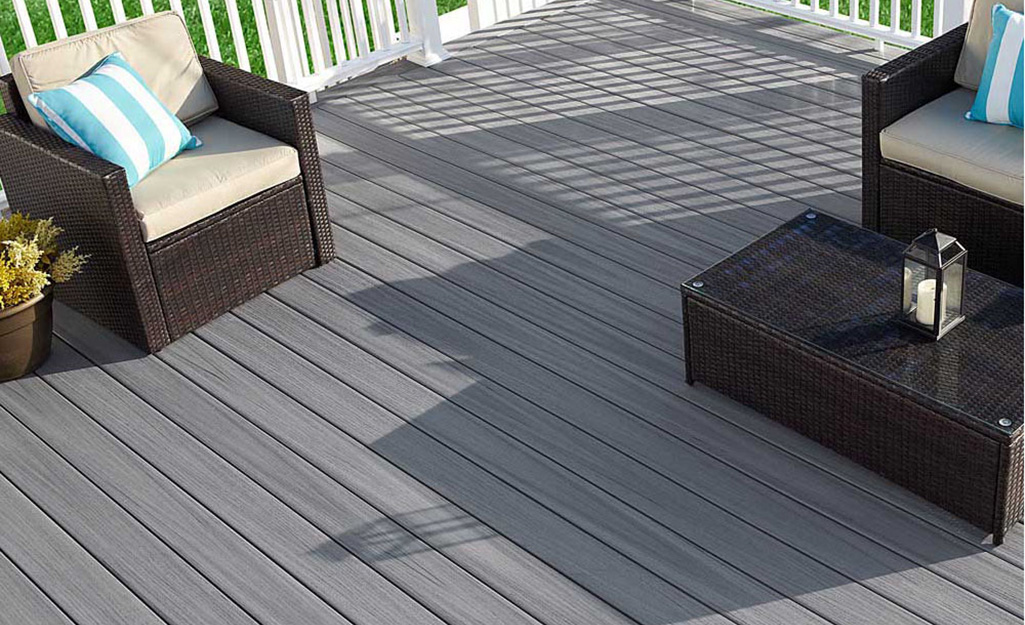 Also called vinyl decking, PVC decking boards are a popular synthetic choice for busy spaces where pets and kids spend time. Unlike composite decking, vinyl decking is entirely synthetic and doesn't include any wood material. 
PVC decking pros:
Extremely durable and designed to withstand heavy traffic
Can last 20 to 30 years
Usually recyclable
Made to repel and resist insects and pests
Available in many different styles
PVC decking cons:
Can be relatively expensive for a whole deck system
Typically looks like plastic and doesn't mimic natural wood as well as composite decking
Harder to install than other types of decking materials
Can get uncomfortably hot in warm climates
The best decking materials for your yard will be durable and fit both your budget and style. Create a new outdoor living space to enjoy year-round or refinish your current deck with new wood, composite or synthetic decking. If you choose to resurface your deck, know exactly how much material you'll need with our deck resurfacing project calculator.  
Once you've found the best wood for decking, don't worry about transportation. The Home Depot truck rental can help. From pickups and vans to moving trucks, we've got you covered. 
Explore More on homedepot.com