Estimating the amount of material you need to build a deck is part art, part science. The process of calculating deck materials starts with a detailed drawing of the deck, which you'll need to supply to your local building department when applying for a permit. The drawing will specify the size, type and quantity of deck piers or footings you'll need. It will also indicate the size and length of any posts and beams necessary. 
Ledger and deck frame size, joist spacing, decking type, railing, railing post size and quantity will be indicated on the drawings as well. Any stairs will be drawn, which will indicate the width and approximate length. With the drawing as a reference, follow the steps below to estimate what and how much you will need to build your deck. 
Whether you're building a wood deck or a composite deck, the process is the same. Wood decks tend to be less expensive than composite decks, but require more maintenance.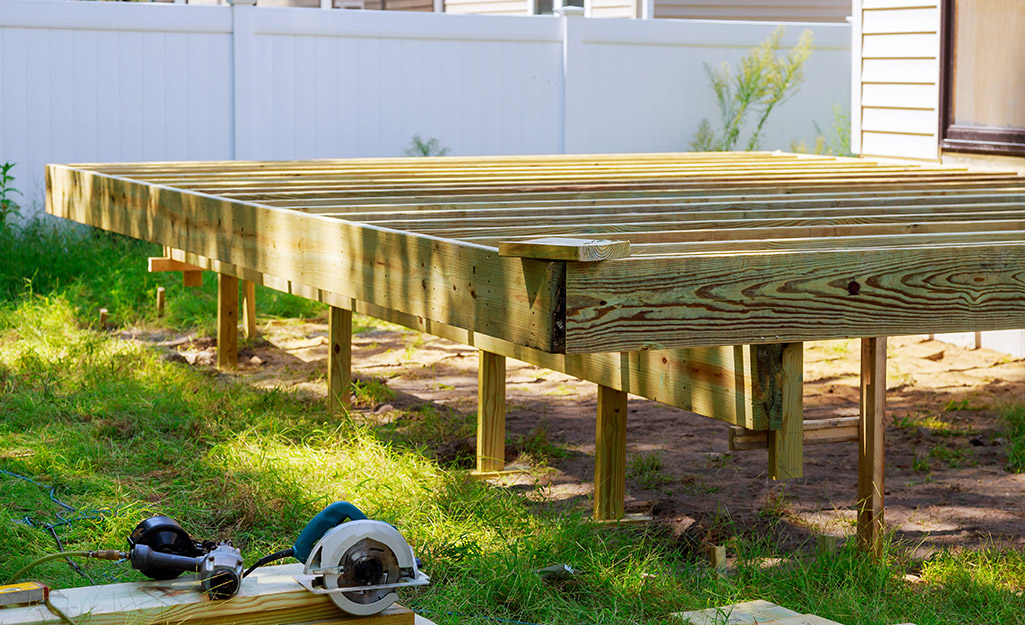 Estimating how much lumber you need starts with looking at the basic elements of the deck: the foundation, the frame and the stairs. When trying to calculate decking, these elements comprise the structure of the deck and are made of concrete and framing lumber. Framing lumber is typically available in lengths at 2-feet intervals, starting at 8 feet; length options will depend on your location. 
If you cut several lengths from a board, allow for the saw's kerf, the empty space cut out by the blade when estimating. Saw kerf size can be safely estimated at 1/8-inch per cut. 
The foundation is the deck support which is made of concrete piers or footings. 
Piers/footings: In most instances, decks require support from concrete piers that are set into the ground. Piers transfer the deck's weight into the soil. Depending upon soil conditions in your area, footings may also be required beneath the piers to spread the deck's weight out. These specifications will be detailed in your deck drawings and guided by local building codes. 
There are many deck pier/footing options to choose from which include pre-cast EZ-Tubes. The most common and cost-effective approach is to pour concrete into a reinforced cardboard tube, also called a builder's tube, set into the ground. Your drawings/local building codes will specify how many piers you need, what size they'll need to be, and how deep into the soil they will need to go. The drawings will also specify whether or not you will need to reinforce the piers with rebar. 
The frame is the floor system of the deck comprising a ledger, rim joists, joists, beams and posts. 
Ledger: Framing member that attaches to the house. Your drawings will specify the size and length of this. You'll need one ledger. If your ledger is longer than 16 feet, you'll need to make it out of more than one board. One ledger board, plus an extra one to be cut for blocking between joists.
Rim joists (also called the "band" joist): Perimeter banding of the floor system that attaches to either side of the ledger and is composed of the same lumber and size as the joists. Rim joists tie the floor system together. Depending upon your deck's design, you may need several rim joists: one for each side of the ledger, and one or two for the run that is parallel to the ledger. Your drawings will specify the number and size of rim joists based on the deck design. Three to four rim joists per drawings.
Joists: Main framing elements of the floor system that run off the ledger inside the rim joists. Your drawings will specify the number and size of joists based on the deck design. 6-feet long joists can be cut out of 12-feet long lumber, and 8-feet long joists can be cut out of 16-feet long pieces. 
Beam: Supporting member that carries the joists in concert with the ledger. Beams are typically made of the same size and type of lumber as the joists, nailed together in a sandwich. Your drawings will specify the size and length of beam needed. The beam will require two or more pieces of lumber, depending upon the length specified. Buy lumber in lengths as close to the beam length as possible, rounded up. 
Posts: Made of 4 x 4 or 6 x 6, these connect to the piers/footings and support the beam. Your deck drawings will specify the size, length and number of posts necessary. Consider cutting each post out of a length that allows you to get multiple items out of a single piece. 
Stringer: Framing member that supports the riser and treads. Stringers are typically made from 2 x 12 lumber and spaced 12 inches to 16 inches on-center (but no more than 18 inches), depending on local code and the tread material you use. Deck stairs are typically a minimum of 36 inches wide, which means you'll need three, four or five for a set at this width, depending upon the spacing you choose. Spacing is dictated by local code and tread material you use and should be specified on the drawings. Add a 2 x 6 to this calculation to run across the lower section of the stringers, tying them together. 
2
Determining How Much Concrete is Needed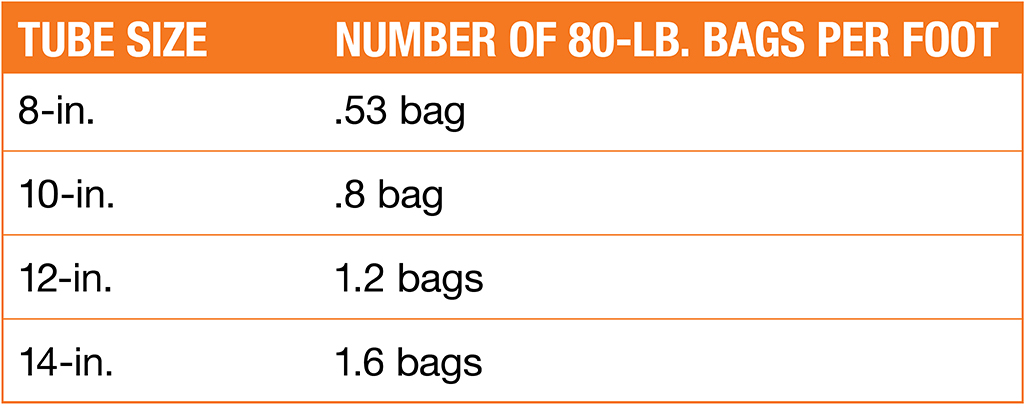 Determining how much concrete you need per cardboard tube will depend upon the tube size, and how deep it needs to be set into the ground. 
Use the table above to determine how many 80-pound bags you'll need. 
An example of this: 
Size of tubes: 10 inches.
Number of tubes: 4.
Average depth per tube: 4 feet.
3
Hardware and Building Materials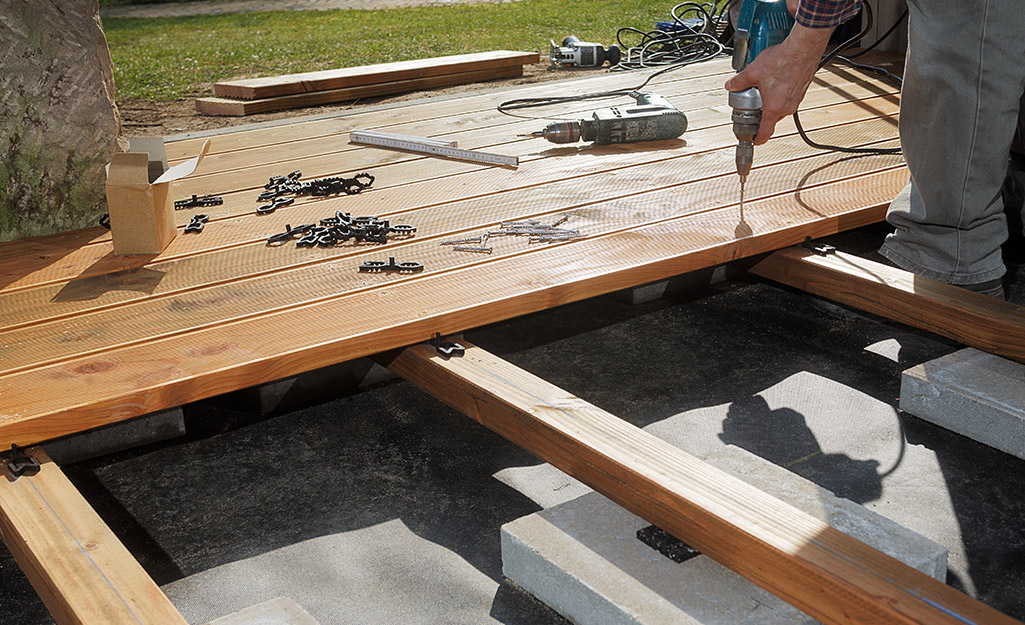 When learning how to calculate decking, you'll need to keep in mind hardware and other building materials as well. Here are the basics you will need for this project:
Post bases: Posts need to be secured to the concrete piers/footings using a post base sized for your 4 x 4 or 6 x 6 post. You'll need one for each post and an anchor bolt for each as well. So if you have four 6 x 6 posts, you'll need four post bases and four anchor bolts. 
Post cap: You'll also need a post cap for a beam connection sized for your 4 x 4 or 6 x 6 to connect the top of the post to the beam. You'll need one per post. So if you have four 6 x 6 posts, you'll need four post caps. 
Structural fasteners for the ledger: There are several options for fastening the ledger to the house. Code-approved fasteners include hot-dipped galvanized 1/2-inch through bolts (hex-head bolts with washers; you can't use carriage bolts by code) as well as 1/2-inch lag screws long enough to reach from ledger board equipped with washers. The most popular choice is to use structural screws designed specifically for connecting the ledger to the house. Manufacturers often provide a table that specifies how many structural screws you'll need with spacing per the spans and loads. Cross-reference the ledger size and joist span/ spacing indicated on your drawings with the ledger-ready screw manufacturer's specifications to determine how many you will need. 
Joist hangers: These attach to the ledger and the rim joist via specially-sized nails or screws. You'll need two joist hangers per joist and the respective fasteners for them. The joist hangers are sized specifically for joist width and depth (2 x 10, for example). 
Nails for the frame: Use 10D or 16D galvanized common nails for nailing joists to the rim joist or rim joist to the ledger. Galvanized joist hangers will make up the code-approved connections. How many nails you'll need will depend on the size of your deck. A 5-pound box is a good place to start. 
Stair stringer hardware: There are several methods for attaching stair stringers to your deck. The most common way is to use an adjustable stringer connector. You'll need one of these for each stringer. 
Joist flashing tape: Self-adhering flashing tape placed on top of the joists and beam help prolong the life of the deck. Using the deck drawing, add up the lineal feet of the framing as well as the beam. Rolls are available in 50-foot and 75-foot lengths.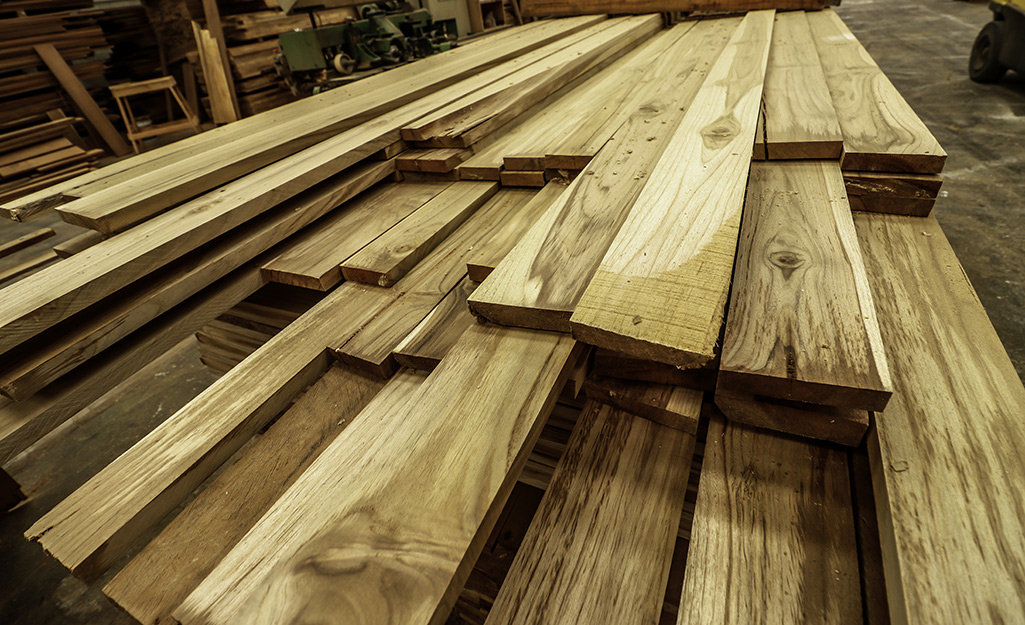 Decking material makes up the deck flooring and is available in a variety of styles, lengths and widths. Whether you're building a wood deck or composite deck, you'll need to know the width of the decking boards. 
As an example, 5/4 x 6 pressure treated decking measures 5 1/2 inches wide. Keep in mind, that you want to maintain an overhang around the deck, 1 1/2 inches on each end is common. So, if your deck measures 12 feet long, you'll need to cut your decking out of 14 feet because you'll want boards that are 12-feet x 3-inches. For this reason, it's smart to frame your deck with decking lengths in mind.  
To determine the deck estimates you'll need for a deck where you can get full-length boards across (12-feet or 16-feet, for example) you'll need to convert the deck's width into inches. The deck's width is the same as the length of the joists plus the ledger and end rim joist(s). This will be indicated on your drawings. For example, a deck that is 12 feet wide is 144 inches. Now, divide the deck's width in inches by the decking board's width. For example, 144 inches divided by 5 1/2 inches equals 26.2-inches. Add 10 percent for waste. So you'll want 29 deck boards at 12-feet long. 
If your deck is wide enough that it will require joints, you'll need to convert the decking board into a square foot measurement. 
To get the square footage of a single deck board, first convert the width from inches to feet. For example, 5 1/2-inch wide board divided by 12 equals .46 feet. 
Now, calculate the square footage of one board by multiplying .46 by the board's length. For example: 12 feet multiplied by .46 equals 5.52 square feet per 12-foot board. 
Now, divide the square footage of the deck by the square footage of the board: 
12 feet x 12-feet = 144 square feet 
144/5.52 = 26
26 = 10% = 29 boards
You can apply this formula to any length deck board, depending upon the size of your deck.
If installing composite decking, use this deck material calculator to determine how much composite decking you will need. 
Deck board fasteners: You can attach your deck to the framing using conventional deck screws or hidden deck fasteners. When installing wood decking using conventional deck screws, reference the deck drawing and account for two screws per joist on each board. Add up the number of fasteners per board and multiply that number by the number of rows of decking per the deck drawing. For example, a 12-foot x 12-foot deck of 5/4 x 6 pressure treated wood decking on 16 inches on center spacing of joists will require: 
A 12-foot long deck with joists 16 inches on center will require 10 joists.
10 x 2 (number of fasteners per joist) = 20 fasteners per row of decking
20 fasteners x 26 (number of rows of decking) = 520 fasteners. Add 10 percent to be safe.
Hidden fastener manufacturers often provide coverage areas directly on the box. For example, one box covers 50 square feet at 16-inch on-center. You'll need to factor in the square footage of the deck stairs as well. 
Divide the total square footage of the deck by the coverage stated on the fastener box. 
144 square feet with joists 16-inch on center: 144 / 50 = 2.88- inches, which is 3 boxes. 
Any trim pieces: If adding a perimeter trim around the rim joists, sometimes referred to fascia, add the lineal feet up of that area. Try to use full-length boards. Do the same for calculating any skirt boards down the stairs. 
Stair treads: Stair treads are typically comprised of two rows of decking cut to the appropriate width. Multiply the number of stairs by two to determine how many pieces you'll need. Next, find a board length that divides evenly by the stair width. For example: 6 stair treads x 2 = 12 pieces. Stair width = 3 feet. A 12-foot board will yield 4 at 3 feet. 12 pieces divided by 4 = 3 12-foot boards. 
Stair risers: If you plan on adding risers to your stairs, follow the same method above.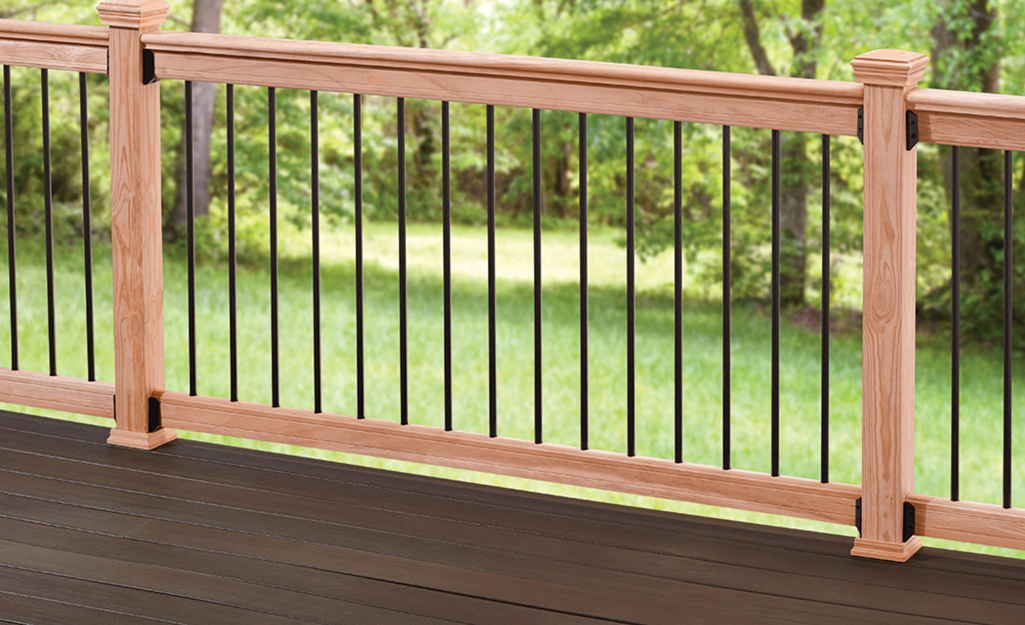 Rail post and hardware: Your drawings will specify how many and what size your deck posts will need to be around the perimeter of the deck as well as down the stairs. Add up the number of posts and note the lengths. Deck railing typically has to be a minimum of 36 inches taller than the deck flooring, and posts must be secured to the framing below with special hardware. Keep in mind that deck posts cannot be notched by code. 
You'll need approximately one 8-foot 4 x 4 for every two deck posts.
You'll need one deck post connector and through bolt for each post. Consult your plans and local building code for code-approved hardware and connection methods. 
Railings: There are many railing options available in a variety of styles. Railing kits are sold in complete sections, including top and bottom rails and balusters. 
If building your railing out of wood, consult your deck plans to determine how many and what size lumber you'll need for the top and bottom rails, as well as how many balusters you'll need. 
Learning how to estimate deck materials is all about planning ahead. Check our deck materials calculator for a more accurate desk estimate according to the dimension of your deck. Ready to start your project? Use our tool rental service or let a professional help you with our installaiton services.
Explore More on homedepot.com