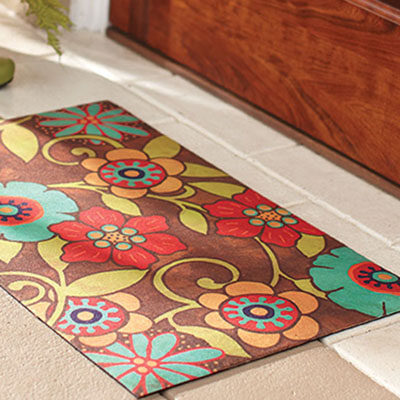 Doormats, or a welcome mat, can help keep your floors clean as they help remove dirt and debris from shoes before it enters your home. They also absorb wetness to help minimize chances of slips and falls on wet days.
This buying guide highlights the different types of doormat materials available, care and placement considerations.
Doormat Materials
Choose a doormat with certain features in mind, like surface, frequency of use and how it will fit into your space.
Placement
Doormats may be needed at more than one entrance to your home, including the doorway leading in from your garage.
Make sure there is enough clearance for the door so it can open and close freely over the mat.
Some mats weather better than others, so plan to replace them periodically.
Darker colors tend to hold their appearance longer than light-colored mats.
Doormats should be at least 80 percent as wide as the doorway.
When placed in sunny areas, doormats will fade quicker than those in shady areas.
Care
A little TLC will extend the life of your doormat and ensure better performance.
Shake out mats periodically to help remove dirt, dust and dried mud.
Dishwashing liquid soap or upholstery shampoo can help remove stains.
Make sure mats are completely dry before placing back in the doorway.
Vacuuming will help control grime stuck deep within mat fibers.
Features
Nonslip backing: When people are moving their feet to scuff the mud and grime off their shoes, a nonslip rubber backing will help keep the mat in place.
Boot scraper: A couple well-placed boot scrapers on either side of your doormat will help minimize the amount of mud tracked into your home.
Decorative shoe basket: An easy way to prevent mud and dirt from entering your home is with a shoe basket where guests can temporarily store their shoes.
Explore More on homedepot.com