Plant pots can house all sorts of plants, from vegetables to shrubs to flowers. The type of plants you choose, their drainage needs and where you want to put them will help you determine the best flower pots for your yard. Choose from hanging baskets, barrel planters, vertical garden planters and more.
Use this guide to learn about different types of flower pots and how to care for them. 
Planter Considerations and Types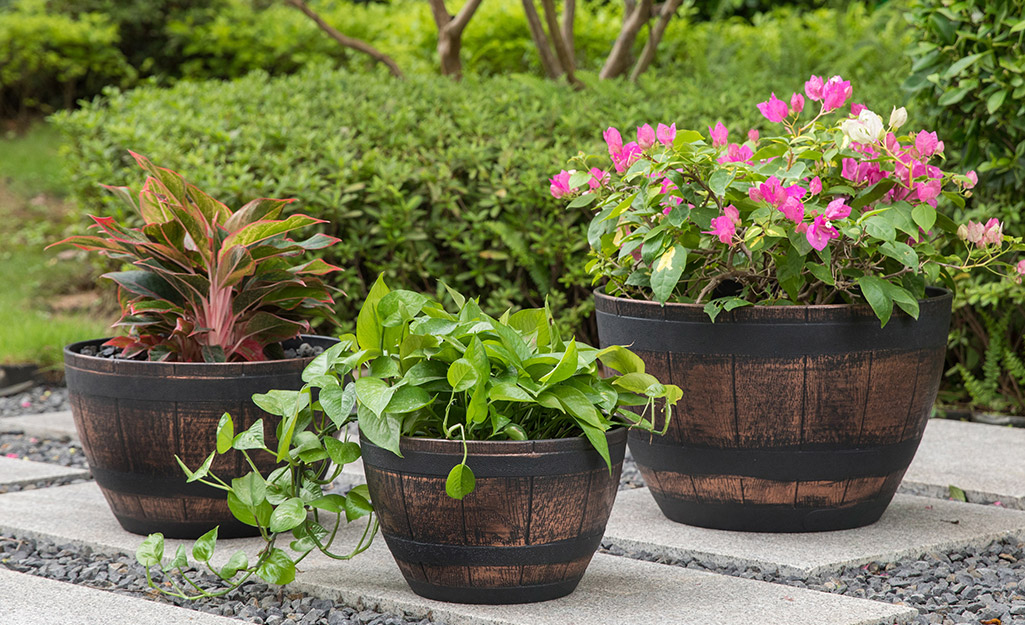 Consider the size and weight of your plant, its watering needs and how big it will grow before selecting a planter. The best plant pots will usually be two or three inches bigger in diameter than plants already growing in pots under 10 inches in diameter. If your plants are in pots over 10 inches in diameter, the best plant pots for them will usually be one or two inches bigger in diameter.
Check that the planter has drainage holes or is made from a material you can drill into. In most cases, you can improve drainage simply by poking or drilling holes in the bottom of the planter. If you're using a separate saucer, choose one slightly larger than the bottom of the pot to catch excess water. 
Clay pots or terra cotta containers are more porous than other types of flower pots. They let air and moisture move in and out, which is important for the health of your plant. They're usually heavier than wood or plastic planters, so they're less likely to tip over if your plant is top-heavy. 
The best flower pots for your needs may be containers that can withstand harsh weather conditions. If you plan to leave them outside year-round, frost-resistant containers are required for colder climates.  
Ceramic pots come in many styles and sizes with a variety of beautiful glazes. They can make a decorative statement in your yard or garden. Bring them inside if you live where it's cold. Ceramic can crack with temperature changes.
Composite pots are made out of fiberglass, fiberstone or other mixed materials. They are often lightweight and come in many sizes and ornamental styles.
Read your plant's tag or label to see how much light it needs. For full sun, a pot made from a nonporous material will help reduce the amount of moisture that evaporates from the soil. Dark-colored pots will absorb more light and heat than light-colored ones, something to remember if your plant likes to stay on the cool side. 
Follow the watering recommendations for your plants. If you can't water as often as needed, a self-watering pot may be the best flower pot for your needs. If you prefer, use a drip irrigation kit to water your pots and planters. 
Care and Maintenance of Flower Pots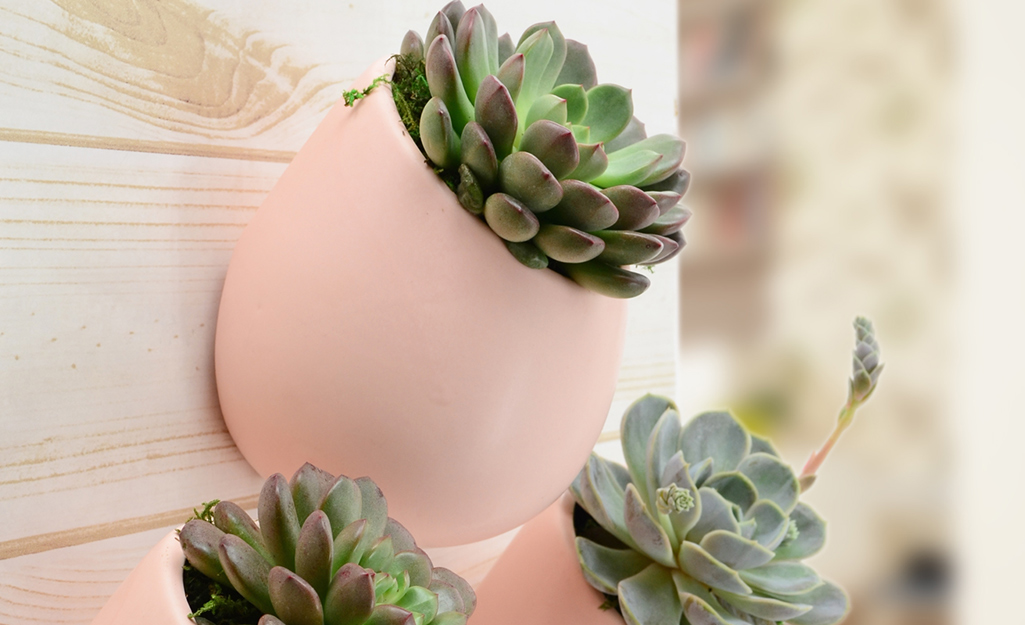 Caring for your planters helps them last longer and keeps your plants looking attractive.
Minerals and salts from hard water and fertilizers can build up and form a white, powdery residue on clay pots. Remove it with a stiff brush and wash the pots with warm water and a little dish soap and vinegar. Rinse thoroughly and allow to air dry.
Wash, rinse and dry other dirty pots in the same way, but do not use a stiff brush on surfaces that can be scratched.
Purchase potting soil made especially for containers.
Garden soil can contain diseases and usually doesn't drain well, so use fresh potting soil every year to provide good aeration. Use a fresh potting soil with fertilizer to give your plants the nutrients they need. Make sure the fertilizer is labeled for the type of plants you're growing.
Remember that potted plants need more fertilizer and water than plants grown in the ground. You'll probably need to water more often during hot weather.
Soil in pots freezes more quickly than the ground, so move tender plants inside before frost hits your area. 
Bring terra cotta and ceramic planters inside to prevent breaking or cracking during harsh weather.
Comparing Planter Types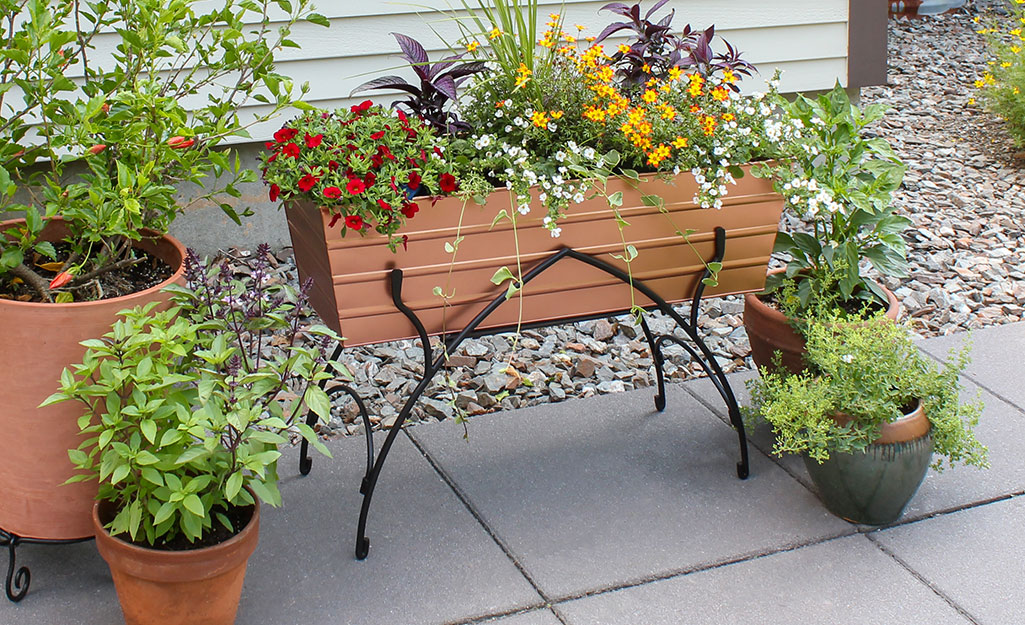 Ceramic planters:
Ceramic pots are attractive and available in a variety of colors and designs.
They retain water better than clay.
Ceramic is breakable and heavy. It may crack if left outside in the cold.
It's usually more expensive than other materials.
Ceramic containers may have poor drainage and come without a saucer.
Metal planters:
Metal plants are affordable and often acquire character as they age. 
Metal, especially tin, is usually lighter in weight than other pot materials. 
Metal dents easily.
It may overheat in warm weather, damaging roots.
Unless used with a liner, metal pots rust easily.
Metal planters may have poor drainage and come without a saucer.
Plastic planters:
Plastic pots are available in a variety of styles.
They are lightweight, long-lasting and resist breaking. 
Plastic can be manufactured to resemble other materials, such as wood or stone.
Plastic pots do not usually weather well.
They can look artificial.
Top-heavy plants may fall over if the plastic pot is lightweight.
Plastic pots may have poor drainage.
Clay planters:
Clay pots are available as unglazed clay (terra cotta).
They're often attractive and easy to mix and match.
They offer good drainage and let air reach plant roots.
They're reasonably priced and readily available.
Clay pots can be breakable and may freeze or crack in cold weather.
Clay planters are usually heavy. 
Wood planters:
Wood planters acquires character with age and are aesthetically pleasing.
Wood is affordable. 
Wood pots offer good drainage and natural wood retains moisture.
These pots can be heavy.
They can be affected by excess moisture although a liner will help avoid splitting and rotting. 
Stained wood pots kept outdoors fade over time.
Composite planters:
Composite pots are attractive and available in many colors and designs.
They retain water better than clay pots.
Composite planters are strong and glazes resist scratching.
They are frost-resistant. 
Be aware, they are breakable and may be heavy. 
Composite may be expensive. 
Composite planters may have poor drainage if they lack holes. 
More Types of Flower Pots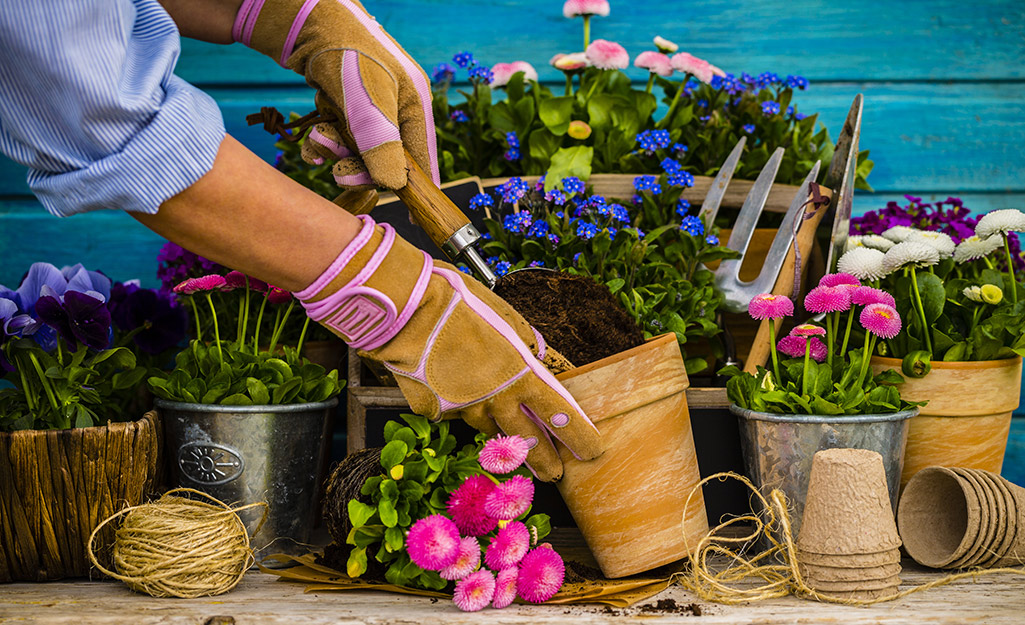 Many planters come with optional accessories such as saucers to protect the surface under the plant and catch excess water after watering. Porous saucers, like those made with clay, will not completely protect the surface beneath them, so you may want to consider plastic or ceramic saucers.
Cache planters do not have drainage holes. They are great for drop-in plants already in pots.   
Metal, copper and tin planters are attractive and provide a unique accent to outdoor areas, although these materials may not weather well.
Half-whiskey barrels are large, wooden planters for large plants or  large container gardens. They also make attractive additions to a yard or deck. 
Hanging baskets often come pre-planted and have a hook for hanging, but you can also buy a hanging basket and plant it yourself. These baskets can be heavy when filled with soil and water so make sure you have sturdy hardware in place before you hang them. They're often used on porches, decks and patios or, if they're filled with sun-loving plants, around swimming pools.
Low bowls are growing in popularity and have a wide opening for easy planting. They're great for succulents or other plants with shallow root systems and can also be used for decorating or centerpieces. 
Orchid pots are ideal for plants that need plenty of air around their roots. These planters have extra holes that allow the orchids to "breathe".
Pocket planters are ideal for small spaces. This kind of flower pot has multiple openings for planting small plants, such as strawberries, herbs or succulents.
Self-watering planters have a reservoir for water and a mechanism, such as a wick, to provide the plant with a sustained water supply. Self-watering planters tend to be a bit more expensive than standard planters, but they reduce the frequency of watering. They are also helpful when growing plants in locations that are difficult to access.
Window boxes come in plastic or wood and are available in a variety of lengths. They provide an attractive accent to your home, displaying seasonal foliage, flowers and more.
Hanging planters made of wire with moss liners are available pre-planted, with plants growing through the moss for a nice, full look. They are not waterproof, so use them outdoors only where water drainage is not an issue.
The best flower pots for your yard will give your plants room to grow and let excess water drain away from their roots. If you live where the climate can be harsh, you may need weather-resistant outdoor pots. Many sizes and types of flower pots are available, so you can find containers to match your style and provide a happy home for your favorite flowers, ornamental grasses, veggies and herbs.
If you're looking for a product or other item, The Home Depot Mobile App can help.


Explore More on homedepot.com