Lawn edging makes it is easy to create solid boundaries between your lawn and garden or driveway. The basic functionality of all edging is the same, but some materials provide definition along with an attractive design element. Get the information you need to choose the best landscape edging for your yard. Use this guide and learn about the most popular types of lawn borders.
Using Landscape Edging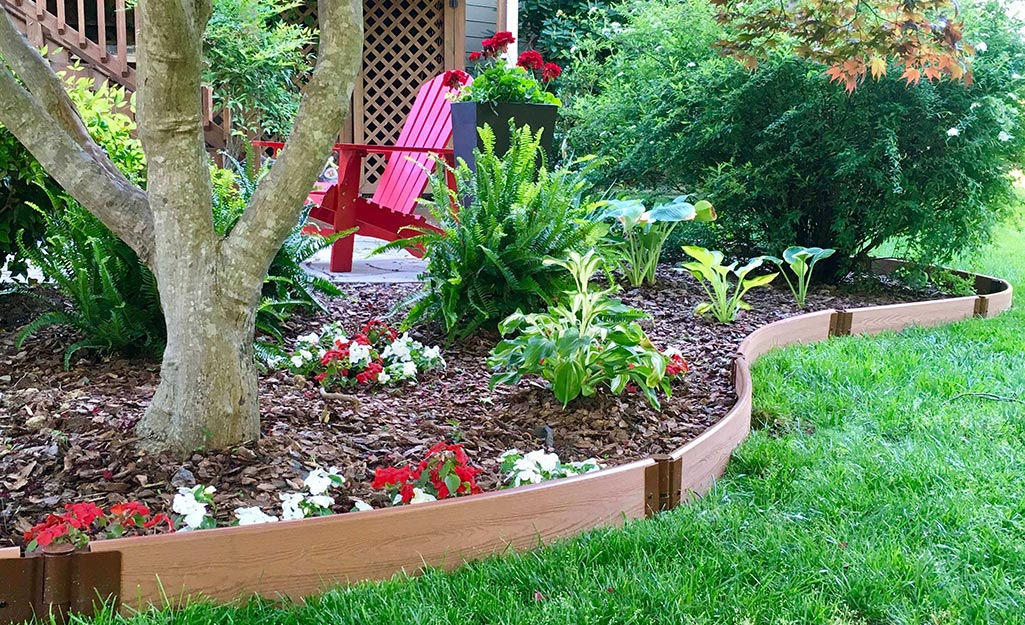 The best lawn edging can transform your yard. You can use it to create defined areas for mulch, flower beds, plants and shrubs. Lawn edging can:
Neatly accent, separate and define your lawn and garden landscaping.
Help prevent the unwanted spread of grass.
Easily create a raised layer of mulch, rocks or soil.
Provide a distinct path for your lawn mower to follow.
Increase curb appeal with an easy and affordable project.
Tip: When calculating how much landscape edging you need for your project, add 10 percent to your linear measurement to allow for cutting and waste.
Brick Edging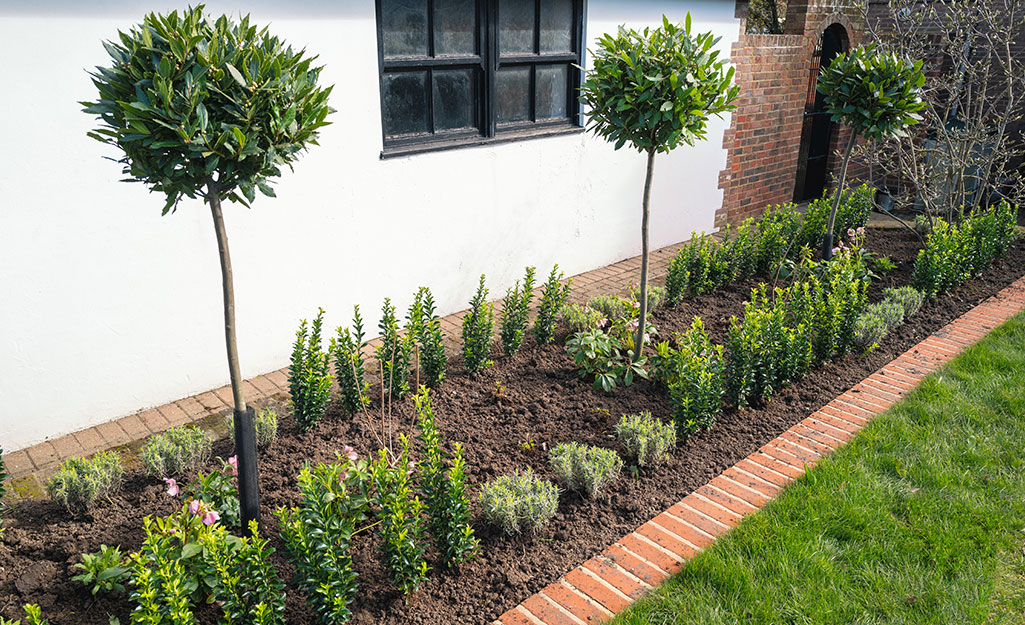 Many popular landscape edging ideas use brick. Brick edging can provide a sophisticated dividing line between your lawn and flower beds. Clay edgers provide a wide range of colors and sizes that can be matched in dimension and color. Select multiple shades, shapes and sizes to make an eye-appealing pattern. Some types of brick edging have a scalloped edge. For horizontal edging, lay the bricks flat in a trench or set them upright edge-to-edge for border that is more distinct.
Brick edging is typically sold by the pallet. Linear coverage varies depending on the size of the edger and whether it is installed on its long or short side.
Concrete Edging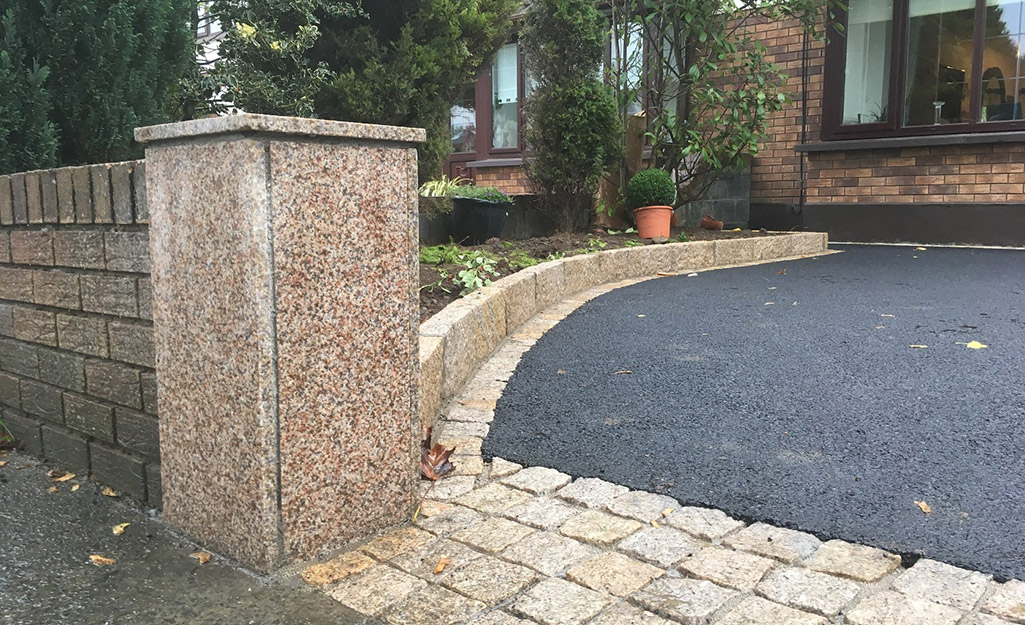 Concrete edging can have the look and feel of clay brick or give the texture of weathered cut stone. It is simple to install and will enhance your lawn while simplifying mowing and trimming chores. Some types of concrete edging blocks allow you to create gap-free curves with a ball-and-socket design.
Tip: Color in concrete products may vary slightly from pallet to pallet, so it's best to purchase all of the pieces you need at one time.
Edging Stones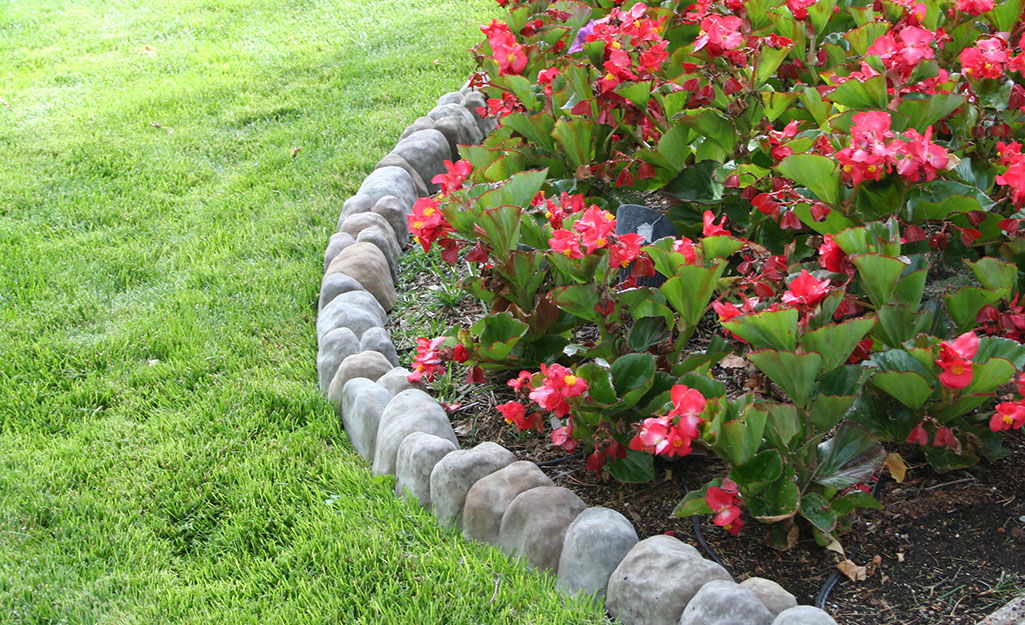 Natural or fabricated stones can provide beautiful decorative lawn edging. Some types can be constructed from concrete for durability. One of the easiest landscape edging choices, stones can be installed in straight lines or curves. Edging stones made of hand-cut natural granite have a tumbled appearance and give an authentic, old-world cobblestone look. Blend tan granite with gray, blush or black granite cobblestones to make your own custom outdoor space.
Landscape Tree Ring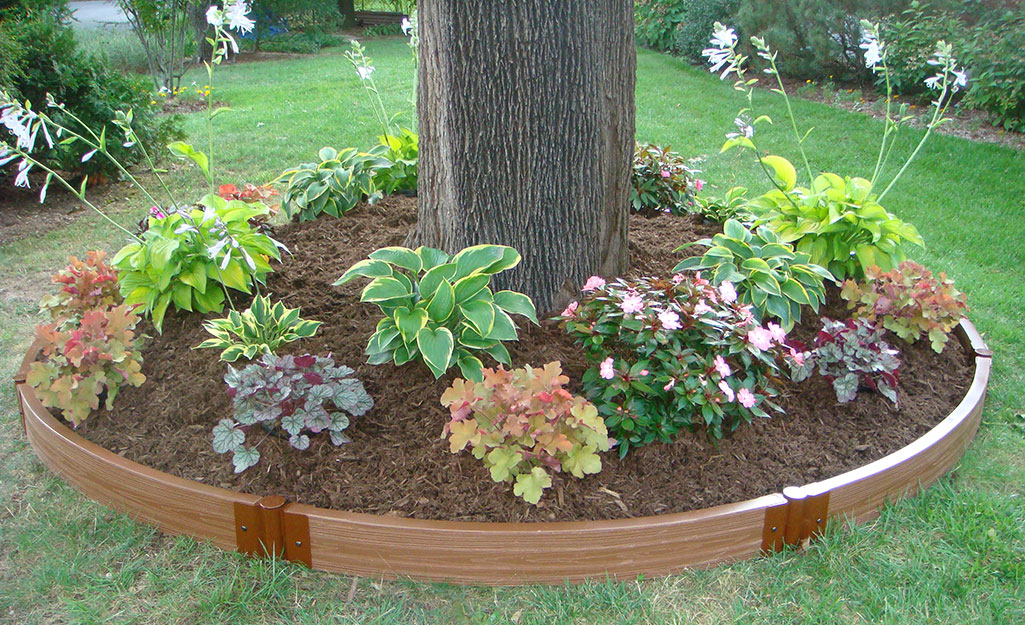 A landscape tree ring can make any tree look significant and add visual interest to your landscape that sets it apart from the rest of its surroundings. Build your own from scratch or make construction simple with a tree ring kit. Either way, it will create a visual barrier that protects the tree's root system and produces a great outdoor design element.
Metal Edging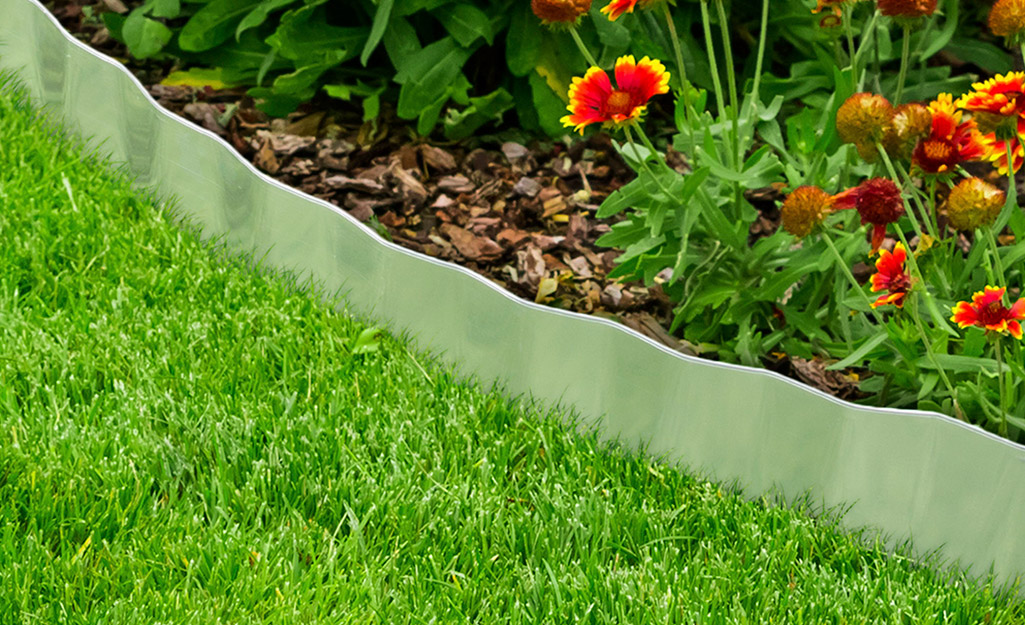 The durable construction of metal edging helps you easily maintain your manicured garden, flowerbed and lawn. Some stiff types of metal edging are available in manageable lengths that interlock with other pieces, allowing to scale your project as needed. Other types are available in rolls and have a flexible design. This helps you install contours and curves for various landscape designs.
Plastic Edging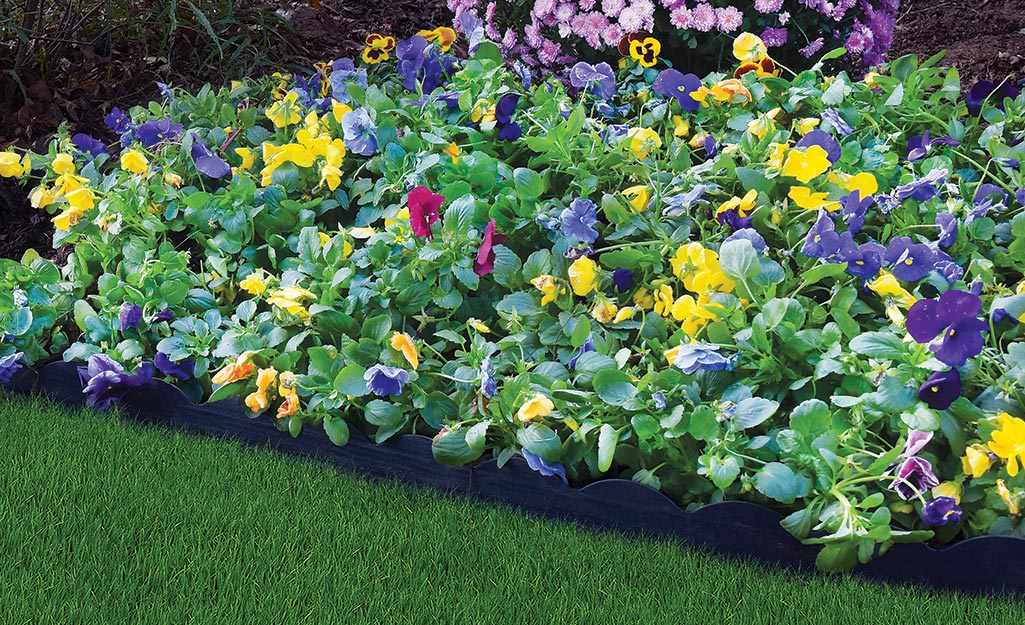 No-dig plastic edging is a popular option that is easy to install. Spikes are used for a secure hold without digging. Some heavy-duty, contractor-grade edging requires a narrow trench along the installation location. Both types have a flexible design that allows you to create straight sections or custom shapes with ease. Rolls are available in multiple lengths and can be cut as needed. Additional lengths are joined using connectors. 
Tip: A popular go-to for professional landscapers, plastic is one of the most budget-friendly landscape edging options.
Rubber Edging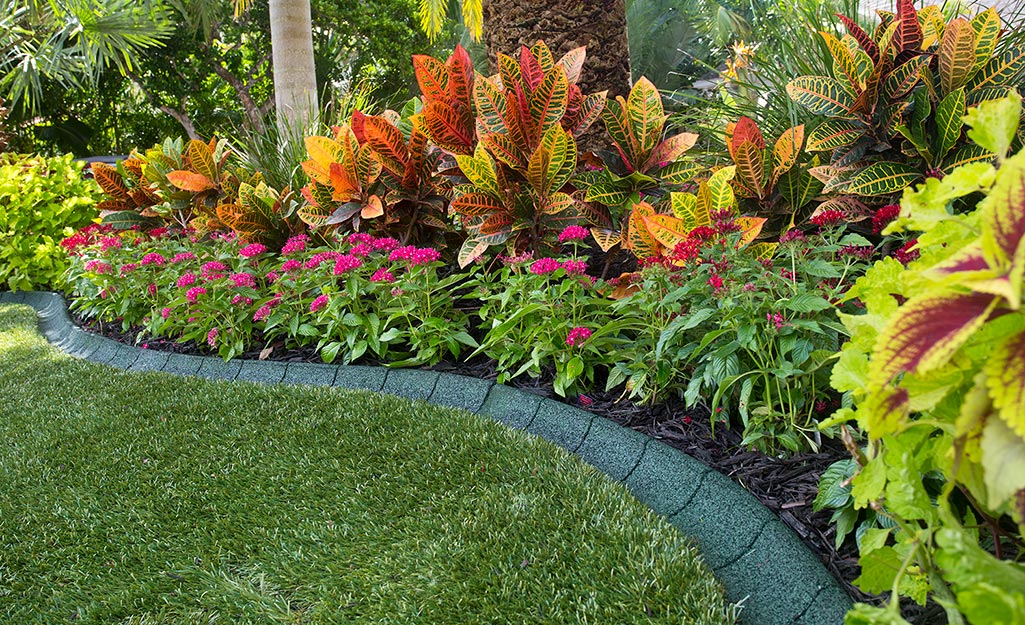 Looking for one of the best landscape edging ideas for durability and sustainability? Rubber edging is a great way to use recycled materials in landscaping designs. Rubber edging works well next to driveways, sidewalks, planting beds or around trees. Some types have flat construction that is designed to prevent weeds and unwanted growth.  
Rubber is often considered the best lawn edging for underneath fences and around flower beds. Other styles feature a scalloped edge to create a decorative border around your landscaping.
Wood Edging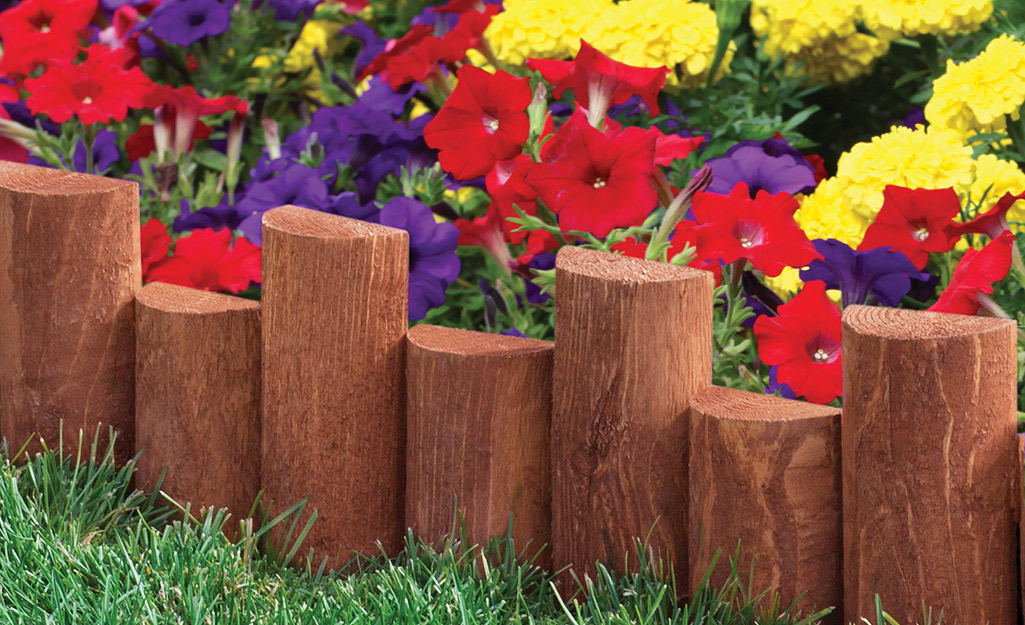 Wood edging can enhance your landscape and keep the soil and mulch inside your garden bed. Flexible backing and sturdy spikes allow easy installation in a straight line, circle or curve. The staggered height of a half-log design gives a natural-looking border. Simple landscape timber is another option that is pressure-treated to protect against termites, fungi and rot. It accepts paint or stain and can create beautiful results for many landscape projects.
Shop online when looking for the best landscape edging for your yard. The Home Depot delivers online orders when and where you need them. If you plan on edging your yard but need some extra help, consider renting a lawn edger or sod cutter with our lawn and garden rental. Use it once, then bring it back - no maintenance required.
Explore More on homedepot.com