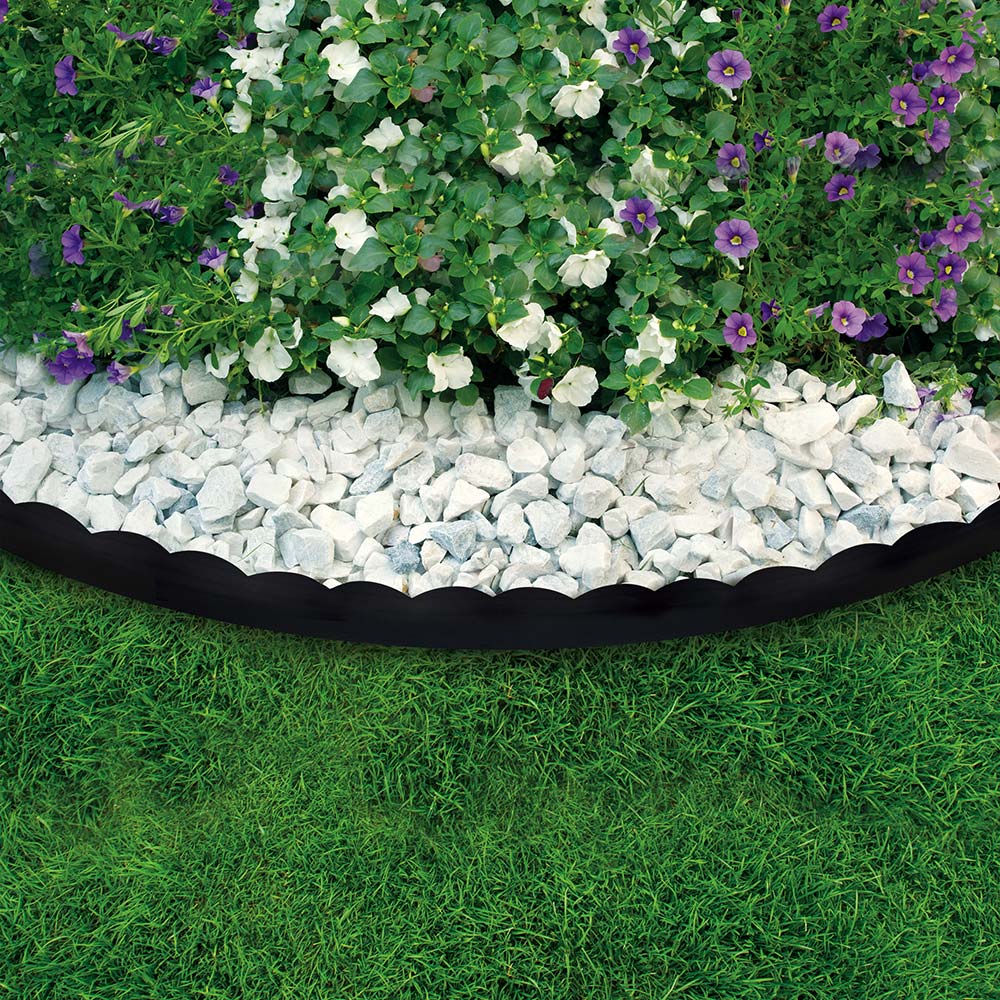 Landscape edging helps define your outdoor spaces and keeps plants, grasses and flowers growing in a flower bed from running wild throughout your yard. Plus, the right garden edging idea for your outdoor spaces can elevate your home's curb appeal. 
When considering landscape borders, look for options that fit the style of your outdoor spaces and your budget. This guide will help you learn to organize landscaping borders.
No-Dig Edging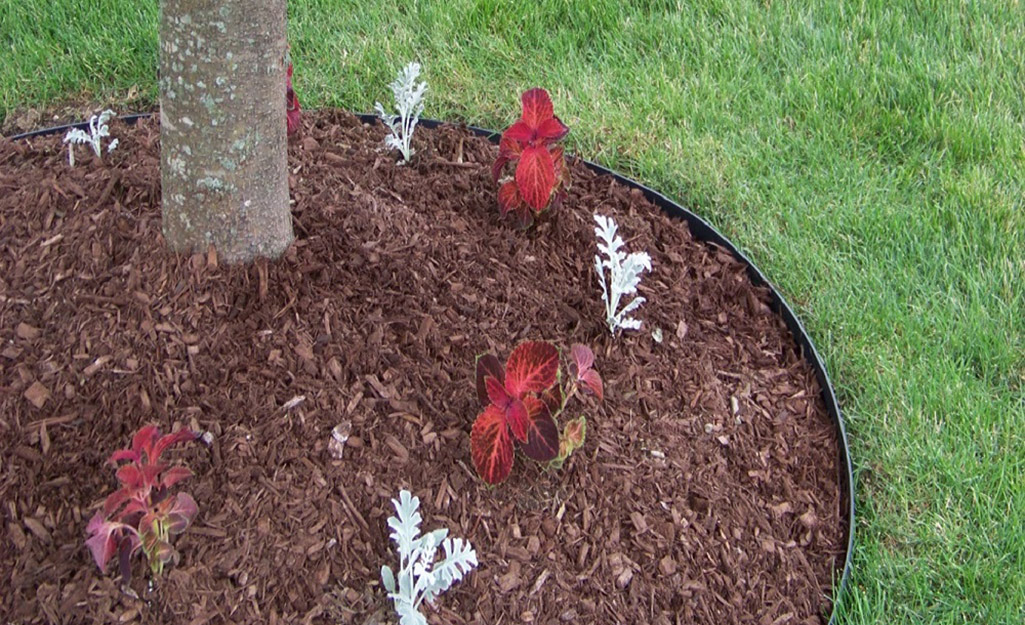 No-dig edging is a big winner among DIYers who want an easy way to update their outdoor spaces. This type of edging doesn't require any special garden tools. Also, it's simple for beginners to install.
All you need to utilize no-dig edging in your outdoor spaces are basic edging materials  and a hammer. The limited tool list makes this classic landscape edging design a great choice if you have limited time or a small budget for your garden update.
Materials in No-Dig Edging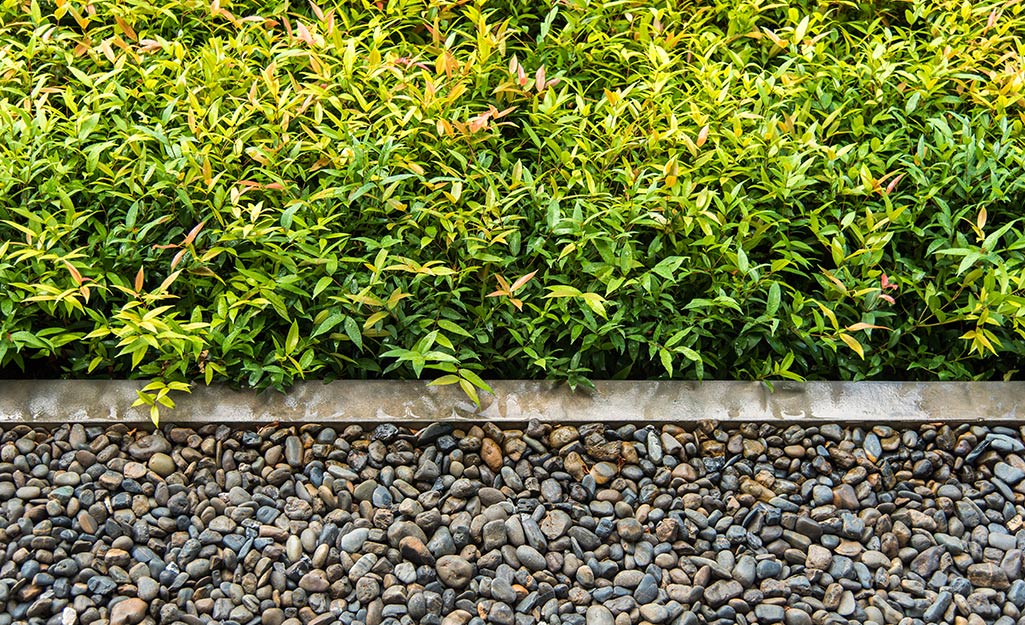 When you opt for no-dig edging for your property, you'll have a variety of different edging materials you can choose from. The options range from budget friendly plastic lawn edging to more costly stone edging.
Natural stone edging is a popular choice if you prefer a timeless look and don't mind spending a little more on raw materials that will last for many years to come. Faux stone can provide a similar look without the cost of natural stone. 
When working with no-dig edging, just hammer the sections into the soil and snap them together to create custom lengths that work for your yard and garden. Most people can tackle this edging in a day, even without much experience.
Flexible Strip Edging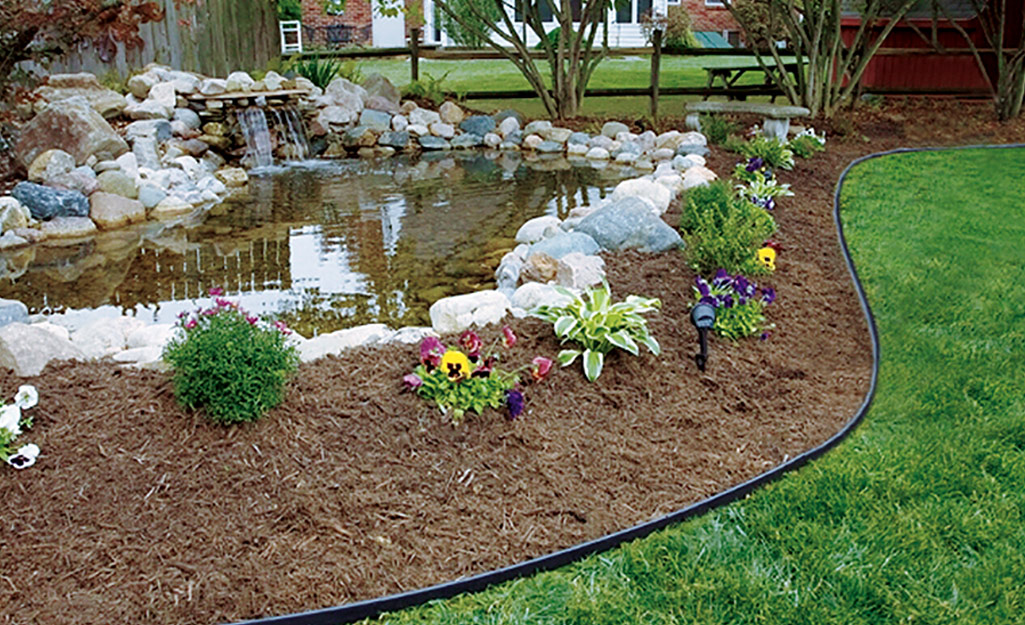 Flexible strip edging makes creating circular designs and well-defined garden border shapes a breeze. If you have a uniquely shaped space, flexible strip edging can help you come up with a landscape border idea that really fits your vision for your backyard, garden or pathway areas.
Flexible strip edging typically comes in lengths of up to about 60 feet. Because it's longer, you may not need to create connecting points, which can be one of the more difficult aspects of lawn edging and landscape edging.
Flexible Strip Edging Materials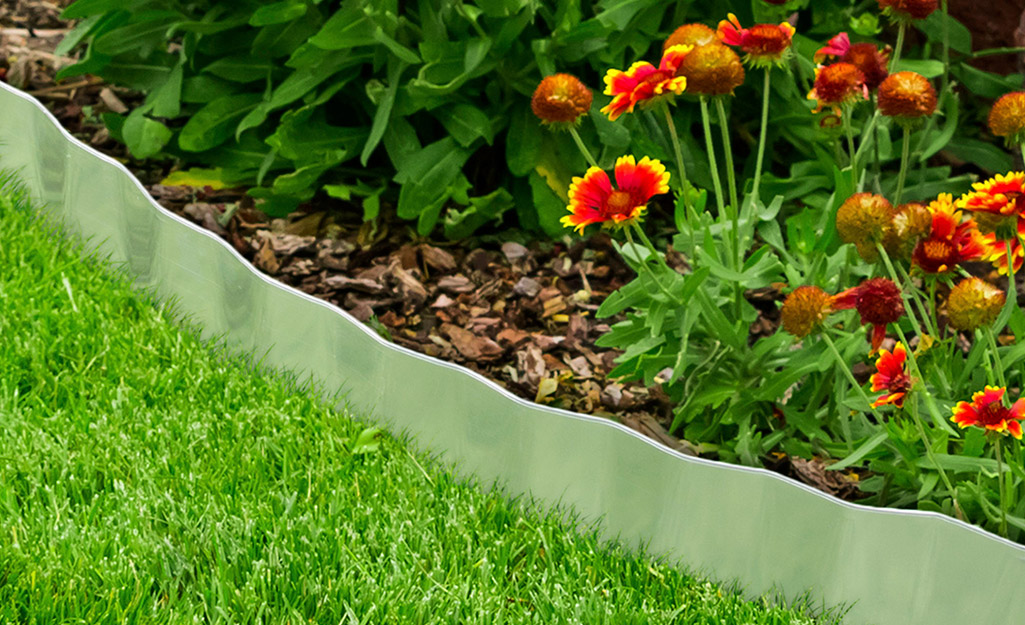 Flexible strip edging comes in a variety of different materials. In many yards and garden areas, you might see plastic edging or rubber edging. These materials are cost-effective and easy to work with. 
Metal edging is an option that can be a little more durable. However, it's important to note than metal landscaping edging typically costs a little more up-front. It may not be ideal for quick projects with a limited budget.
Plastic and rubber edging material is also considerably easier to install if you're new to this type of work. That's because it's more flexible and easier to shape into place than metal edging, which is a little more rigid.
Mulching an Edge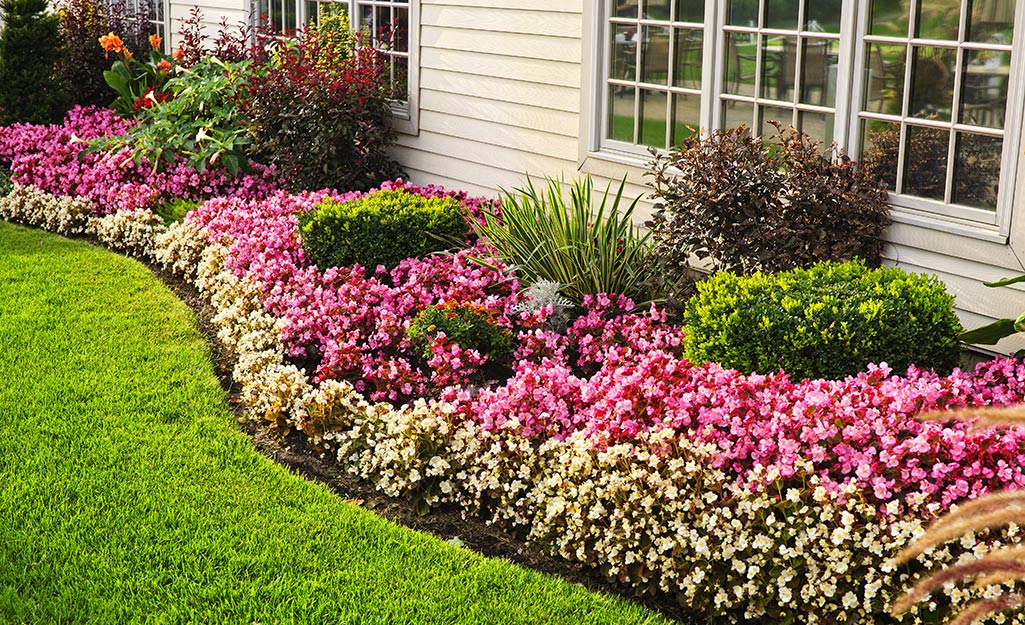 If you want a natural-looking landscape border, wood mulch is a great choice. It's cost effective for large areas and helps protect plant roots to encourage growth. Plus, mulch can cut down on weed growth to simplify yard care.
With mulch, you'll use a landscaping edger to dig a narrow trench around the outside of the bed and just inside of the grass line. Then, trim the edge and tidy it up with a flat spade.  Finish up by applying two to three inches of mulch inside the trench area.
Colored Mulch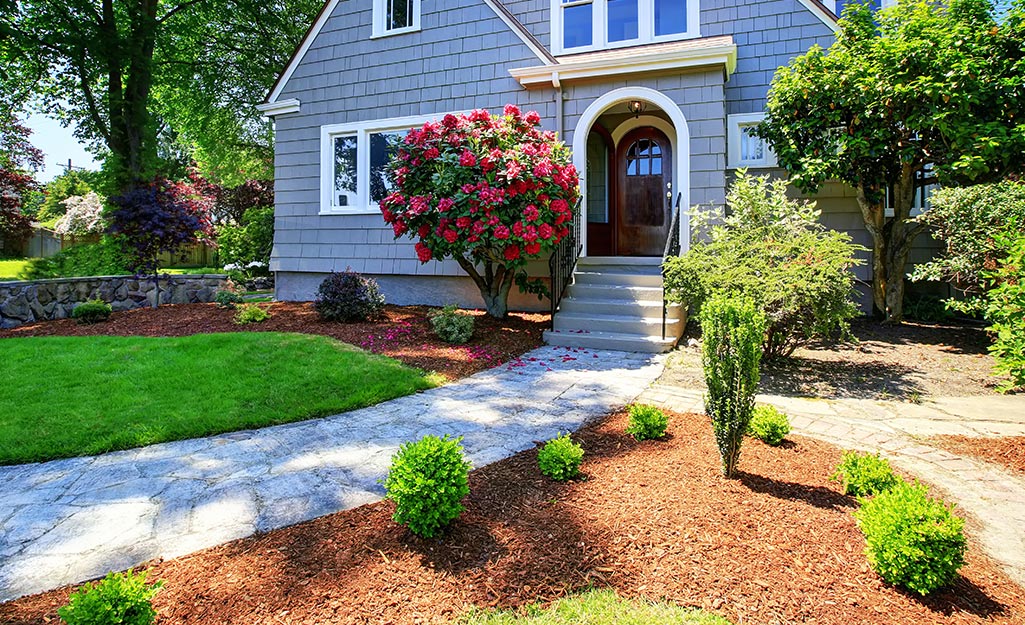 When choosing mulch, take your time to find the color that works best for your outdoor areas. To find the right color mulch, buy small amounts in different shades and see how they look in your backyard or garden.
Wood Edging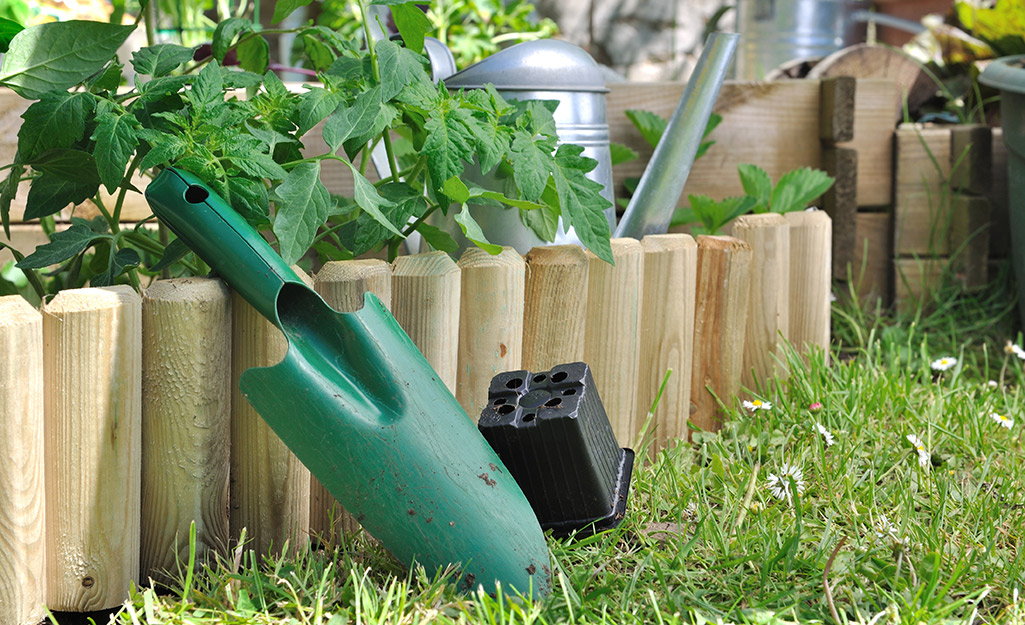 Wood edging material is a great choice for outdoor spaces because it's natural and rugged. Wood edging typically comes pre-cut, making it relatively easy to work with, as well. There are a number of wood edging styles and colors available. You can match your wood edging to your home. 
There are a few species to consider. Common options include cedar, cypress and redwood. When positioned next to soil in a planting bed, these woods resist rot naturally.
For large landscape edging projects, pressure-treated wood is often a better choice. A wide variety of pressure-treated landscape border materials that look very similar to natural wood are available.
Masonry Edging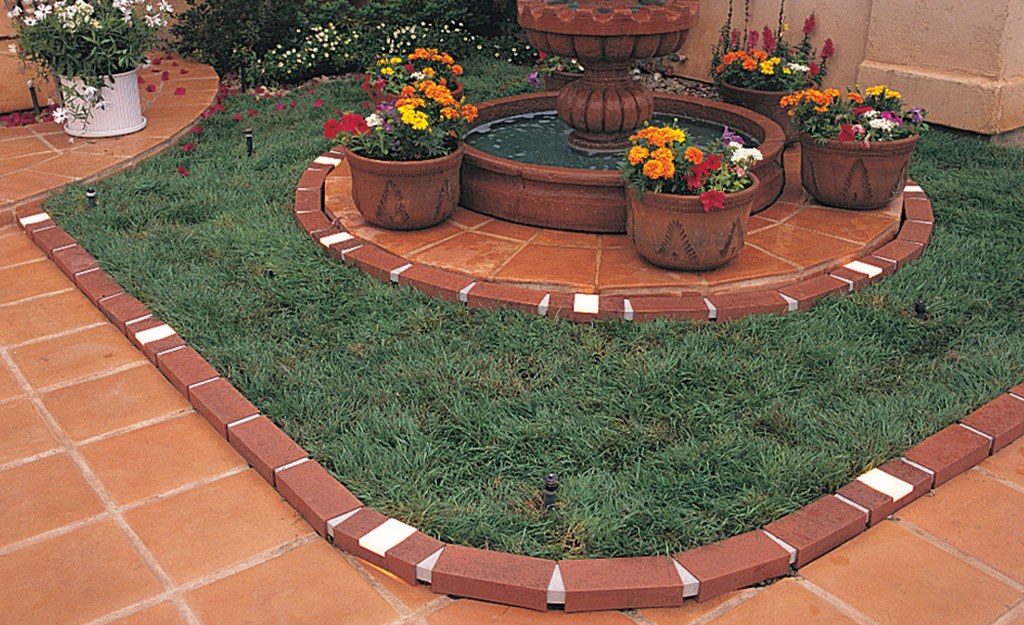 Masonry edging materials like concrete and brick pavers are perfect for wide borders. These materials also raise your garden bed slightly, which can help retain mulch and create a healthy environment for plants.
Brick pavers and concrete edging can be somewhat costly, but they do offer a variety of benefits. First, both brick pavers and concrete edging are fairly easy to work with since they can't be shaped or molded to fit your space. When you use them, you'll put them in place as is and adapt your landscaping around them.
Masonry edging materials also last a very long time in your garden since they're ultra-durable. With a little bit of care, a concrete or brick paver edge can last a lifetime.
Decorative Edging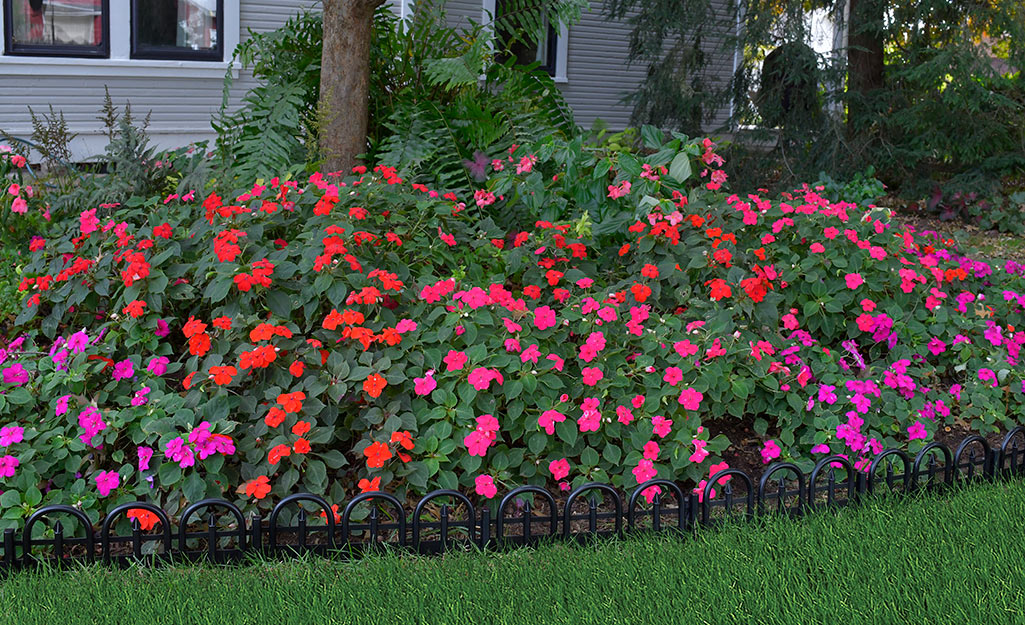 Decorative edging can give your space a personal touch that can be a little more fun. Feel free to get creative and use unexpected materials.
One example of decorative edging is a whimsical miniature fence that surrounds garden beds or landscaping areas. While they add flair to yards, these borders may also help keep grass clippings and debris from getting into your beds.
Light Up Your Yard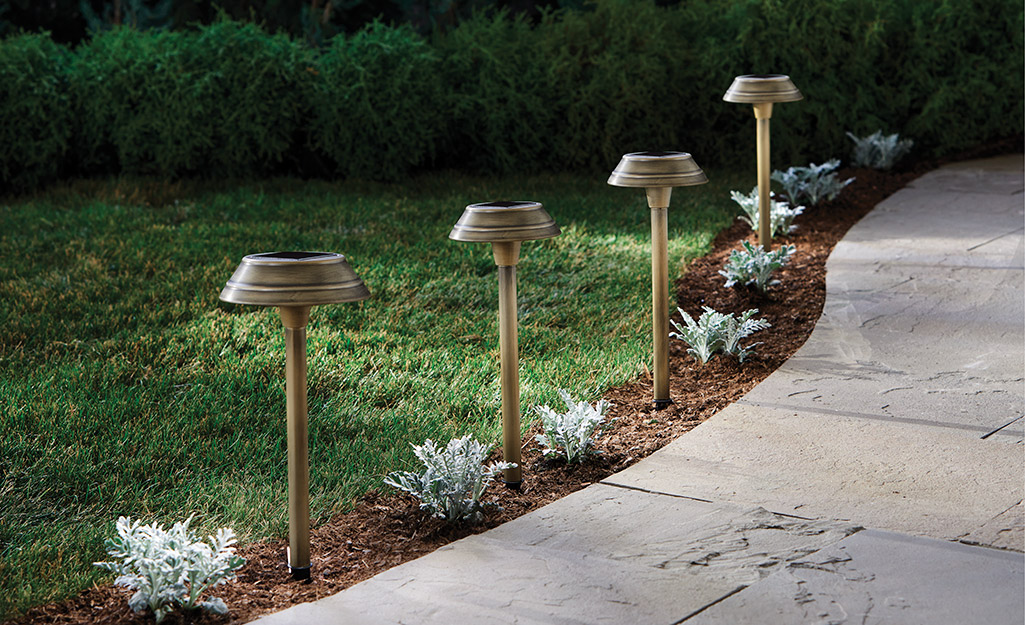 Your edging project is the perfect chance to rethink your landscaping lights . When planning borders around walkways and pathways, think about whether you have enough light in those areas. Also, check the condition of your existing fixtures. Upgrading or replacing the lights can boost the beauty of your yard and allow you to enjoy it more fully at night.
Tip: Solar landscape lighting is typically easy to install. Since they're powered by the sun, these lights can reduce the ongoing cost of brightening up your yard.
Landscaping edging comes in lots of styles, giving you options for your outdoor spaces. Choose landscape borders that fit in well with your style and are easy to maintain. Easy-install, low-maintenance options make the process of getting your backyard, front yard or walkways in shape simpler and faster.
Ready to start your landscape edging project? The Home Depot delivers online orders when and where you need them. 
Explore More on homedepot.com