Motorized blinds and shades are a popular choice for out-of-reach windows. They also work for raising and lowering numerous shades in unison. Motorized blinds are sleek, easy-to-use and add an upscale touch to your home. You can customize them with the power source and method of using them, too.
This guide teaches you about different types of motorized blinds, as well as how they're powered and controlled. Additionally, it answers questions such as, "How do motorized blinds work?" and "What are motorized blinds?" You'll learn how to choose the best motorized blinds for your home.
Advantages of Motorized Blinds and Shades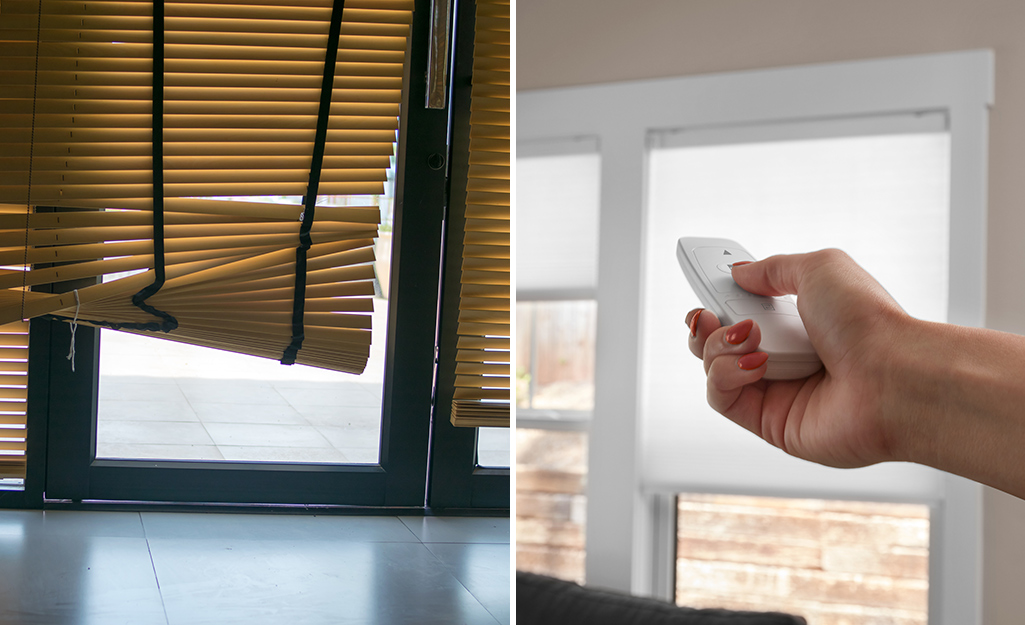 Although motorized blinds work in any home, they do have advantages over regular blinds. They're available in almost any kind of shade or blind, vertical and horizontal.
Motorized blinds are convenient for those with limited mobility. You don't have to adjust them by hand.
They're great for large windows. Opening regular blinds or pulling up shades on huge windows can be challenging otherwise.
These shades and blinds work perfectly for out-of-reach windows in a kitchen, office or tall living room. Just touch a button to adjust the blinds.
Motorized smart blinds can be controlled right from your phone. Smart home integration is possible, too.
Another major benefit is that motorized blinds and shades give you light control and privacy without the human error aspect. By using motorized blinds or shades, you'll deal with unevenly raised blinds or stuck shades less often. 
Raising blinds by hand is frequently frustrating. The result is an unsightly bunch of blinds on one side of the window.
A shade might prove tricky to open manually, requiring several tries. In the end, it may just roll up all the way at the top, completely out of reach.
Motorized shades go up only as far as you need them.
Top-down bottom-up shades are a snap to control with a motor.
Motorized blinds won't leave you with uneven slats that have fanned out diagonally.
Blinds of all kinds help prevent heat loss, limit harmful UV rays and provide privacy. However, electric blinds and shades fit any home where a bit of window treatment charm is appreciated. 
Types of Motorized Blinds: Motorized Lift vs. Motorized Tilt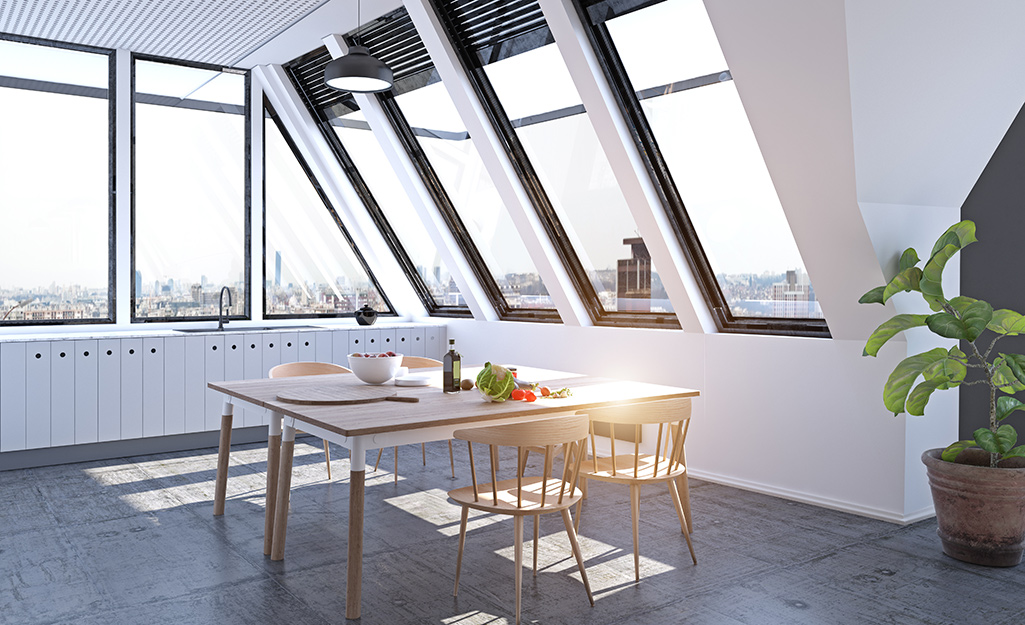 Motorized window treatments typically come in two varieties: motorized lift or motorized tilt. The concept is similar, but it depends on whether you're looking for motorized blinds or motorized shades. 
Tilt is for blinds and lift is for shades. Blinds tilt open to different angles to allow in light, although you can raise them completely, too. The motorized tilt controls how much light they'll let in. Shades only go up and down, so the motor is for the lifting mechanism. 
Motorized tilt is used on slatted blinds like wood or aluminum. Adding a motor to the equation means an even easier use of any type of blinds. Venetian blinds, wooden blinds and aluminum blinds all work with motorized tilt. 
It also comes down to the features you'd like in your window coverings. Consider ease of cleaning and who else lives in your household.
Motorized roller shades are easy to control and simple to wipe clean, as they're one long piece of fabric.
For those with small children or pets, motorized cordless cellular shades are ideal. You can let in sun at the flip of a switch and not worry about cord entanglements.
Motorized vertical blinds are an elegant touch to an upstairs bedroom. Push a button and start your day with sunlight.
Power Sources for Motorized Blinds and Shades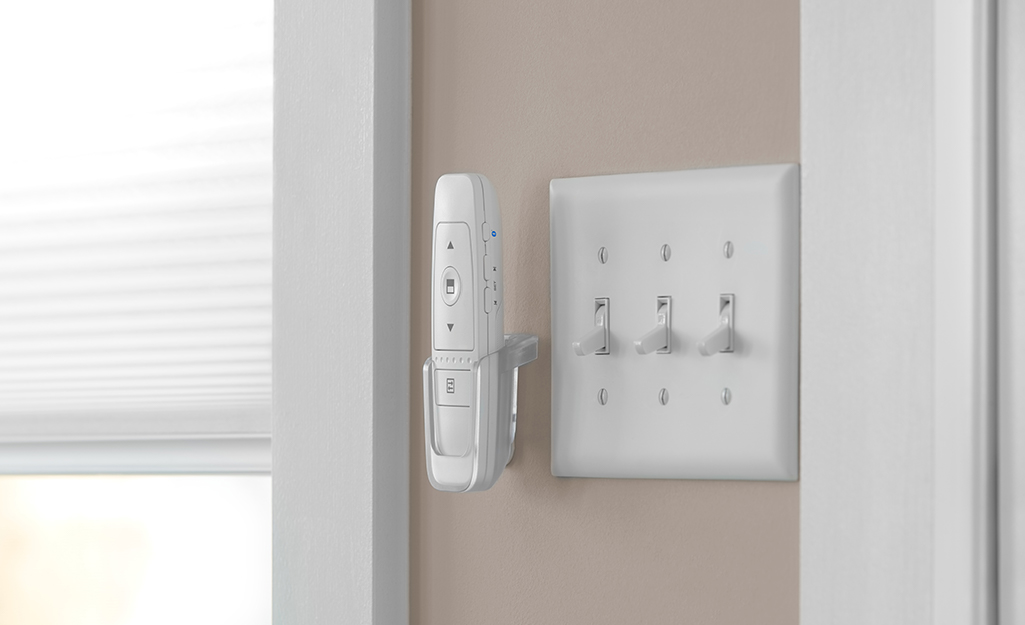 Once you pick your blinds or shades, choose how to make them move. How do motorized blinds work? It depends on the power source. The three main power source options for shades and blinds are solar powered, battery powered and electric. You can also hardwire the blinds to use electricity, but that's less common.
Solar Powered: The sun powers these motorized window treatments. 
Most eco-friendly choice.
May be the best motorized shades or blinds option for a sunny space.
Ideal for windows that are routinely in direct sunlight.
Best on a window facing south or west for full sun.
Sunlight energy stored in a solar battery.
No additional batteries or cords needed.
Conversion kits available for current blinds.
Offers a sleek design.
Not great for shaded rooms, cloudy climates or on awning-covered windows.
Battery Powered: Batteries provide power to the blinds or shades.
Battery tube easily hides along a window frame or behind a window treatment.
Lets the window and room design shine.
No wires or cords to hide.
Small power source works best for smaller windows.
Lithium ion batteries work longer than regular batteries.
Blinds may stall as batteries drain, so recharge as needed.
Regular batteries not recommended.
Plug-In or Electric: These motorized blinds plug into the wall with a DC power adapter. 
No special installation required.
Only needs a nearby outlet.
Steady power source is more reliable than battery powered blinds.
Visible wire running from blinds may interrupt design flow.
Control Options for Motorized Blinds and Shades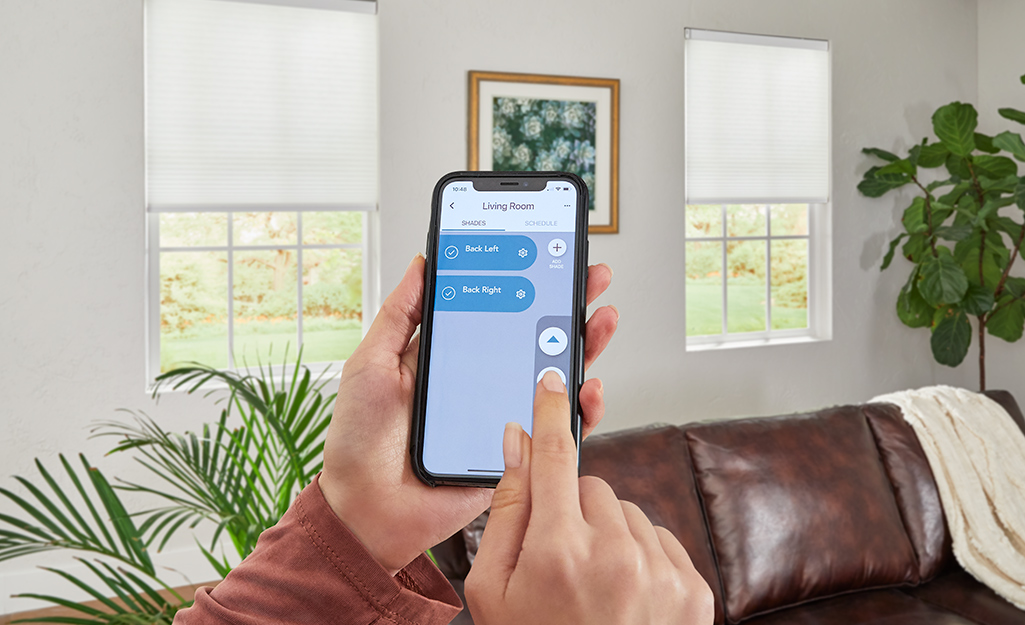 Another customization for motorized window treatments is how to control them. There are three basic options: remote, wall switch and programmable timer. Using a smart phone app with smart blinds combines several of these elements.
A remote lets you control the blinds from anywhere in the room. Depending on the manufacturer, you can get channels ranging from 1-16. The single channel and five-channel options are most common.
Single Channel: Go with this option for an individual window or a small group of windows. A single channel works well for a home office or bedroom.
Five Channel: The five-channel remote is for rooms with multiple windows. It also functions across more than one room. Move blinds or shades in programmed groups or individually.
A wall switch works like a light switch but for motorized blinds. It's a great choice for larger rooms like a living room or media room. It tends to have fewer channels than a remote control, but 15-channel wall switches are available for some models.
Single Channel: A single channel switch operates one blind or multiple blinds in unison.
Five Channel: For more control over multiple windows, choose a five-channel wall switch. You can move up to five shades or blinds individually. Choose various heights or control different groups of shades in multiple rooms.
A programmable timer opens and closes your blinds or shades at a set time each day. It's similar to a timer you'd use on a lamp.
No remotes or wall installation required.
Set your shades to open to morning sun or close with intense afternoon rays.
A timer is perfect for when you're out of town, but don't want your neighbors to know.
Smart blinds are motorized blinds that use an app to integrate into your smart home. Some work with voice-controlled assistants as well. Simply choose a compatible smart home app and customize the blinds or smart shades to fit your needs. 
Use a mobile app to control multiple window coverings from anywhere.
Sync your blinds with other smart products on your smart home hub.
For example, you might sync your blinds with the thermostat so the blinds will close if your home gets too toasty. Alternatively, you could program your blinds to open and close at scheduled times. A mobile app is a convenient way to control your window coverings whether you're in the house or not.  
Tips for Motorized Blinds and Shades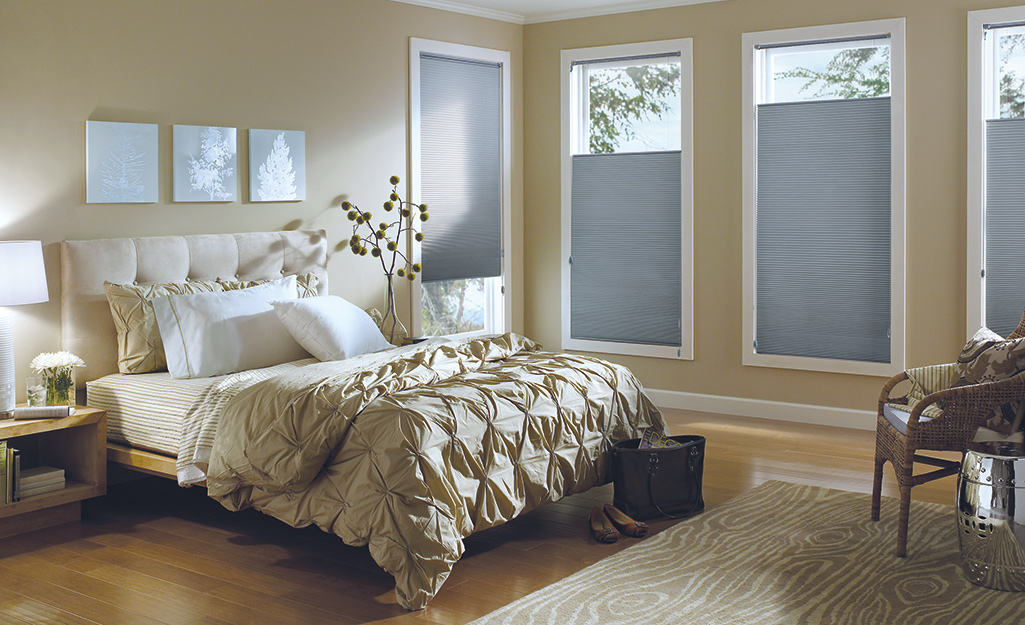 Motorized shades and blinds are more than a splurge these days. They illuminate your home in a simple way. They also give you flexibility to control previously unreachable windows. Brighten moods and rooms by choosing the best motorized blinds for your space.
You may even be able to convert your existing blinds into smart blinds. This could save you from buying new custom motorized blinds. Motorization kits, or automation kits, let you add a motor to your current blinds or shades. Once installed, you control these motorized window coverings from an app on your phone.
When you're ready to upgrade window treatments, we're here to help. Get motorized shades, blinds or other home decor sent right to your door. We deliver online orders when and where you need them.
Explore More on homedepot.com