Patio doors can dramatically change the atmosphere of a room. They let in more light, improve air circulation and establish an inviting path to outdoor decks and patios. Patio doors provide an attractive architectural accent and can increase the value of your home through enhanced appearance, long-lasting warranties and energy savings.
This guide will walk you through the different types of patio doors. Read on to make sure you're finding the best patio doors and installation materials to match your needs.
Patio Door Types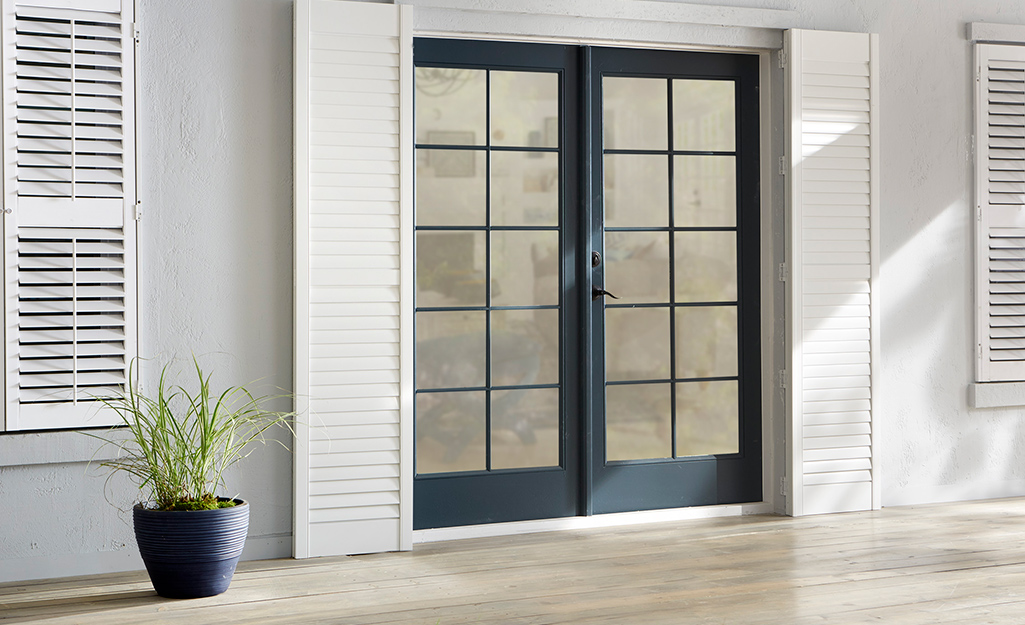 There are three primary patio door styles: French, sliding and folding. Choose which type works best for you based on the space available and the amount of ventilation desired.
French Doors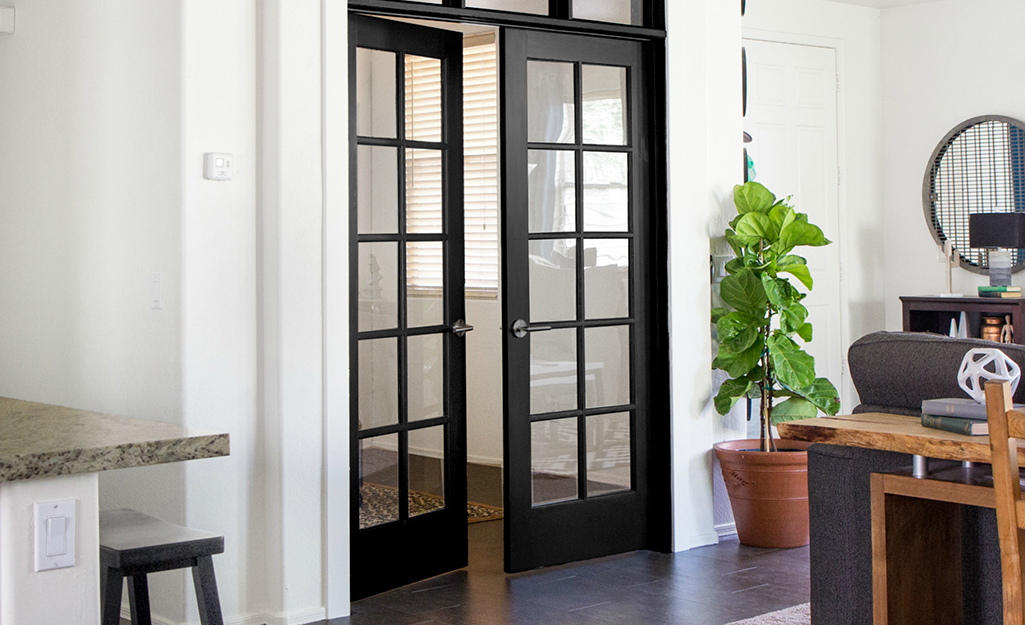 Hinged doors, also known as French patio doors, are characterized by their classic elegant lines and typically consist of one or more panels. The panels are usually made of glass and constructed so that at least one of the panels can swing in or out.
Hinged doors offer decorative options like grilles of simple to complex patterns and arched tops.
They are ideal in areas where there are high winds, because the harder the wind blows against them, the tighter the seal they make when pressed against the jamb.
They can consist of one or two doors that both open, or one of the doors can be fixed in place, providing added flexibility for the amount of ventilation and light you prefer.
When ordering a hinged patio door, you'll need to know the "handedness" of the door. An easy way to do this is to simply open the door, then stand in the doorframe with your back along the hinges. If the hand by the doorknob is your right, it's a right-handed door. If it's by your left, you have a left-handed door.
When planning for a new patio door, the same concept applies. Also, keep in mind that exterior doors usually swing out of the room.
Sliding Doors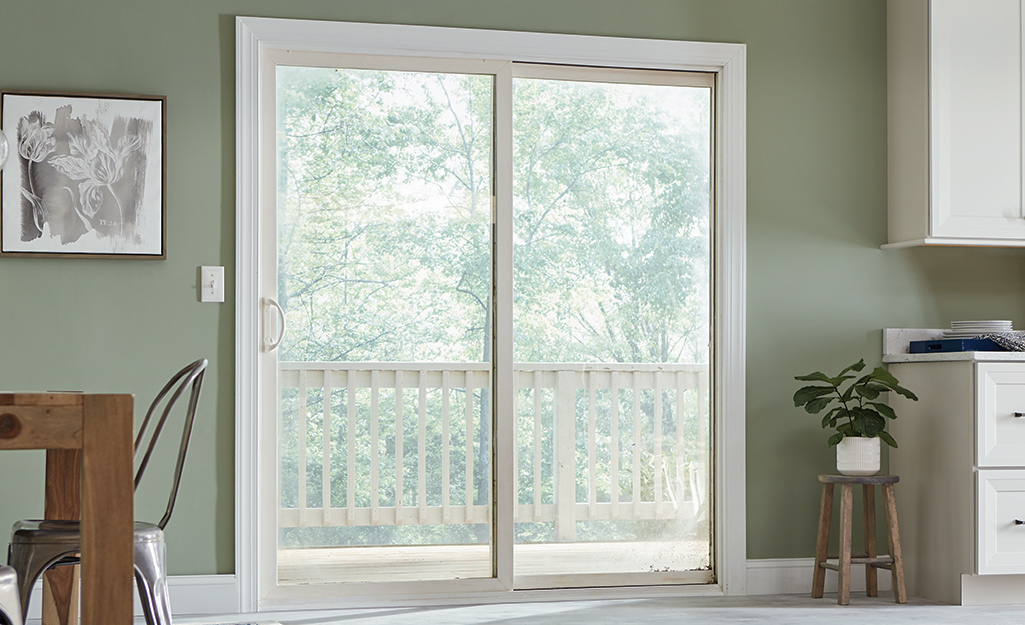 Gliding or sliding patio doors require less space and offer straight, simple lines that lend a room a contemporary look. They maximize the area available for access and light and facilitate the movement of large volumes of air through a room, since they don't require space for the door to swing in or out. There are many different types of sliding doors to choose from, making it easy to find the best sliding doors for your home.
Folding Doors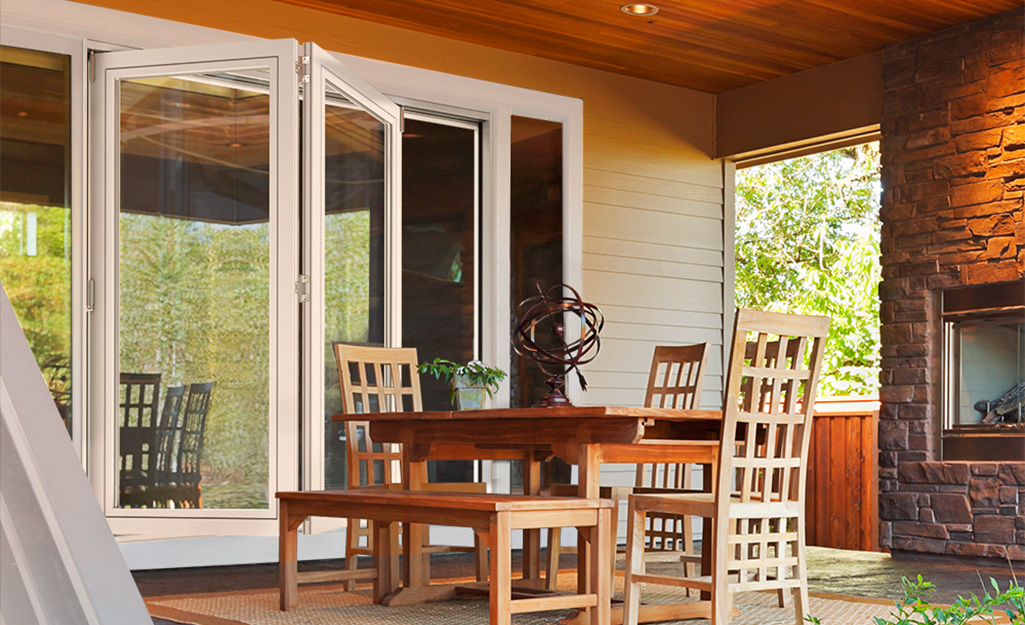 Achieve an incredible transition between your indoor and outdoor space. These folding patio doors feature a sliding track that allows them to fold back out of the way, creating the ultimate pathway between a living area and a patio space.
Patio Door Materials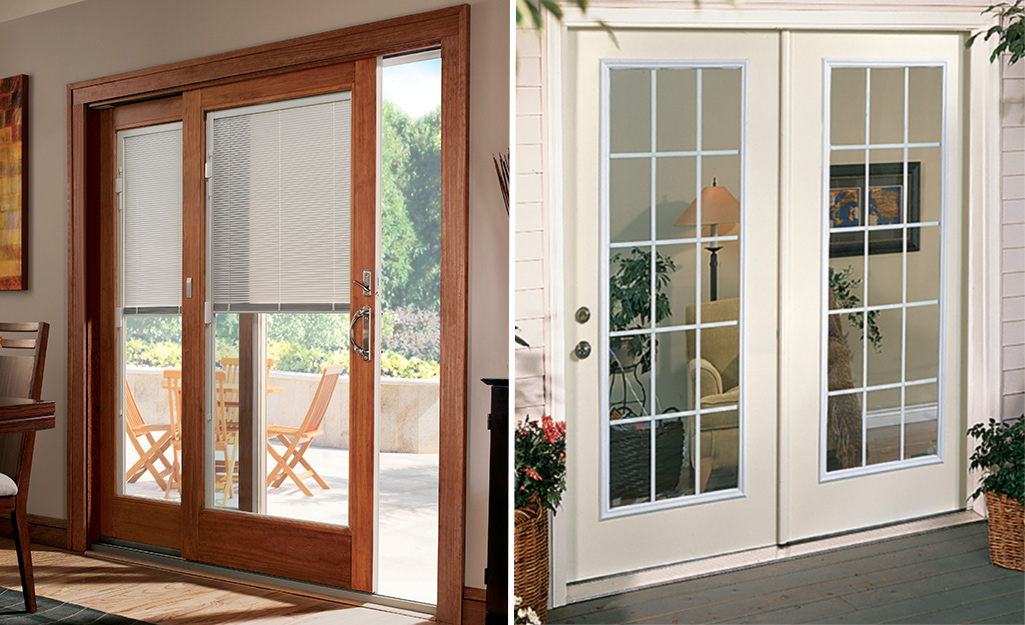 You have a choice of doors made from a variety of materials. These include wood, aluminum, vinyl, steel and fiberglass. Each one offers a combination of unique benefits. 
Wood doors were once the preference for hinged patio doors. Aluminum or steel construction was common for gliding doors. Today's doors offer the benefits of both materials. Patio doors can have the elegance of wood on the interior side and the weather-resistant strength of vinyl, aluminum or steel on the exterior side.
Wood:
Variety of options, including pine
Allows for decorative glass options
Offers architectural appeal
Easily customizable
Energy efficient
Low upkeep
Allows for decorative glass options
Long-lasting
Aluminum:
Resists rust and mildew
Ideal for moderate climates
Durable against the elements
Allows for decorative glass options
Offers strength and durability
Resists rotting, warping and shrinkage
Insulation bonds to surface
Ideal for added security
Available in wood grain finishes
Resists dents, warping and peeling
Very low maintenance
Available in a variety of textures
Can be painted or stained
Patio Door Designs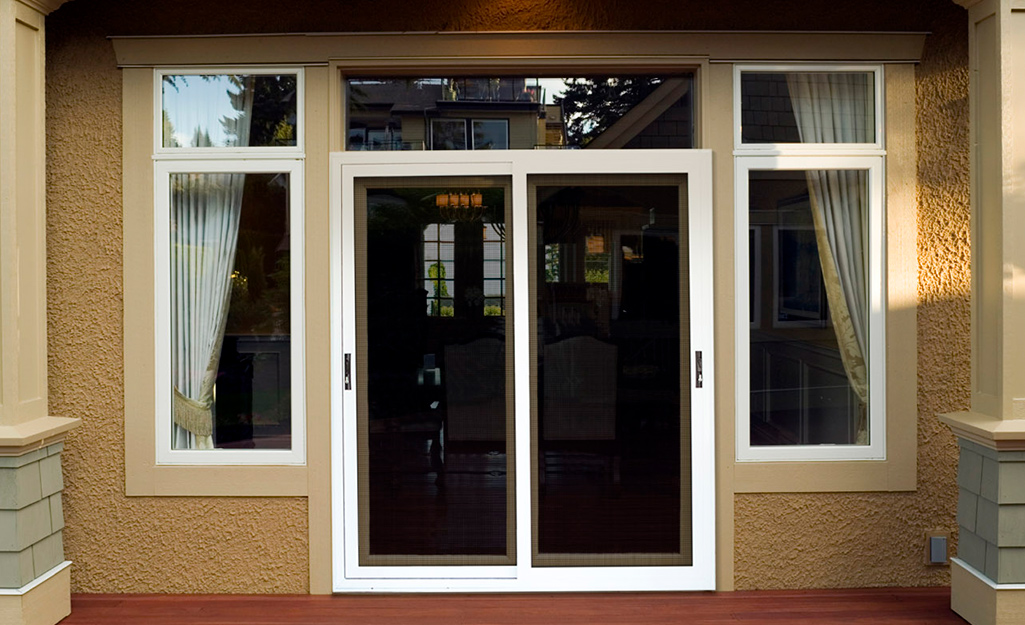 When picking out your patio doors, consider options such as weather stripping, security and decorative hardware.
Frame and Fit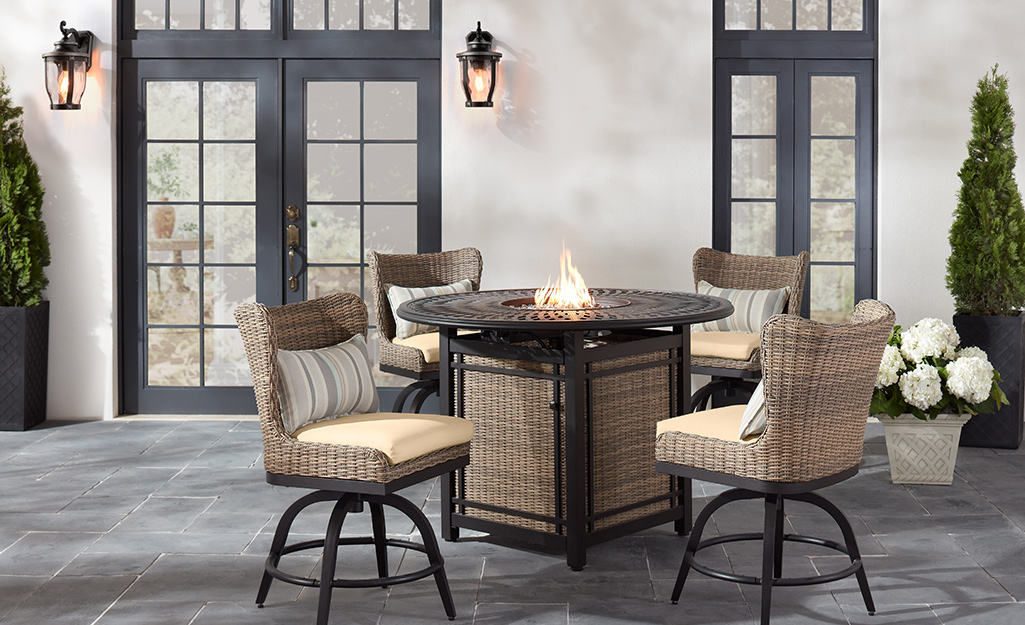 The materials your door is made of can affect heat loss. Although most patio doors have large sections of glass, and glass is a poor insulator, the type of frame around the glass can help reduce heat loss.
The most efficient doors are made of metal, fiberglass or wood cladding.
Correct fit can also have a positive effect on energy savings.
Be sure the door seals tightly to all areas of the jamb. If not, check for bends in the door and replace it, if necessary.
Patio doors can range in size according to type. If you're replacing an existing patio door, make sure to take careful measurements before shopping for your new door. Some of the most common patio door sizes are:
72 inches x 80 inches
60 inches x 80 inches
72 inches x 96 inches
96 inches x 81 inches
Weather Stripping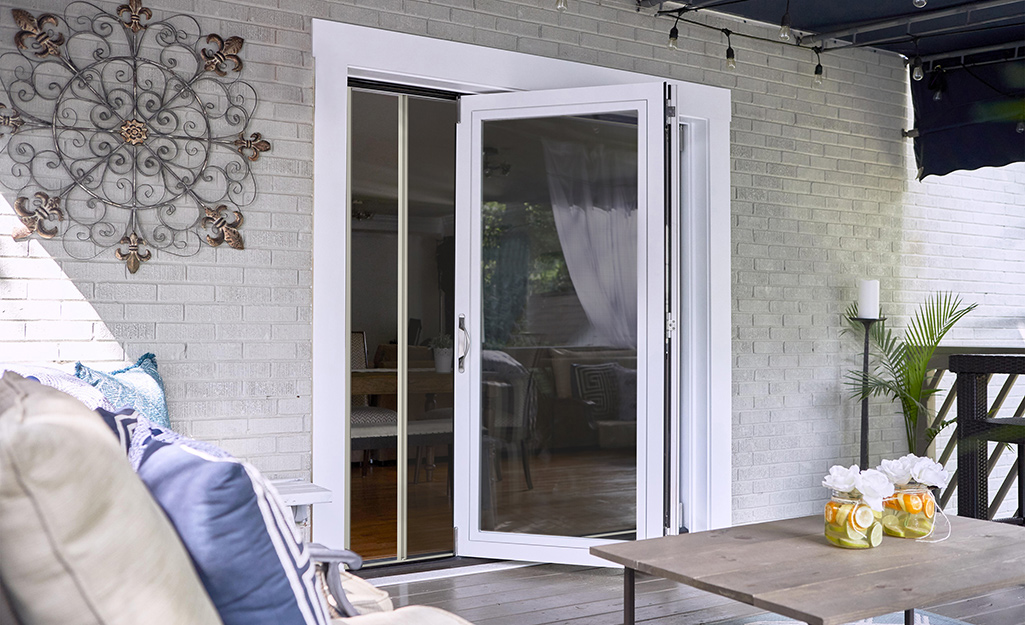 Air leakage can account for as much as 30 percent to 40 percent of a home's energy loss. Weather stripping seals gaps around doors and reduces the escape of heat and air conditioning from a home.
A variety of weather-stripping materials are available to seal gaps around doors, including sponge, foam, felt, vinyl and magnetic.
Damaged weather stripping can greatly increase energy loss around a door.
Check the weather stripping annually and replace it as necessary.
Security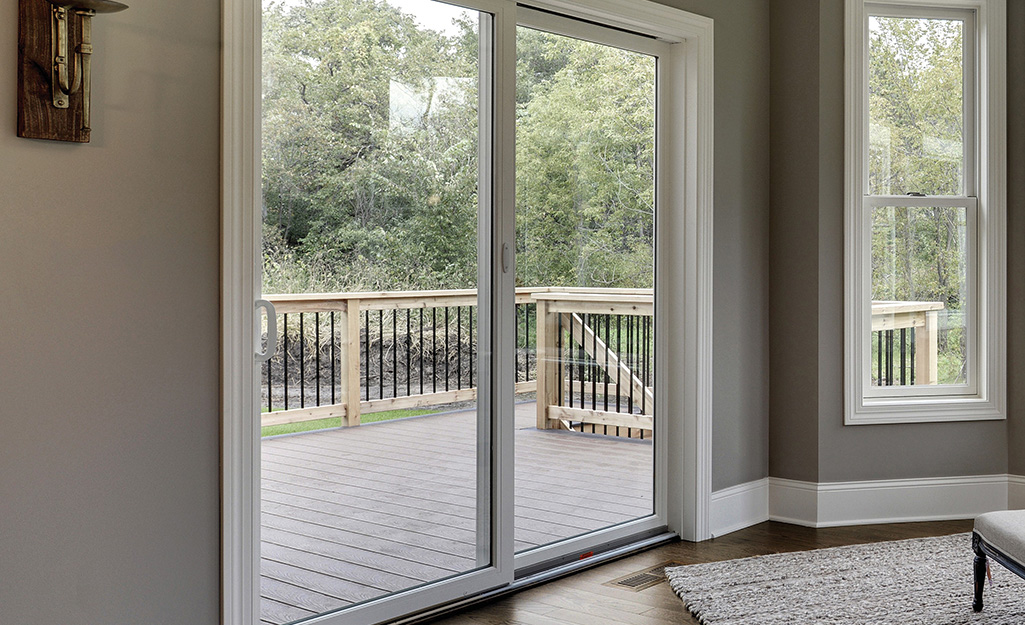 Because patio doors are typically on the back side of a home or a side with less exposure to the street, improved security should be considered by ensuring that hinged and gliding doors have dual locking hardware.
Gliding doors, which can be lifted off their tracks, can be further secured by installing bolts through the door or applying a security bar with a locking device.
For added security and privacy, choose from our wide selection of blinds. Whether you like vertical blinds, panel track blinds or blinds between the glass, The Home Depot has it all.
Patio Door Hardware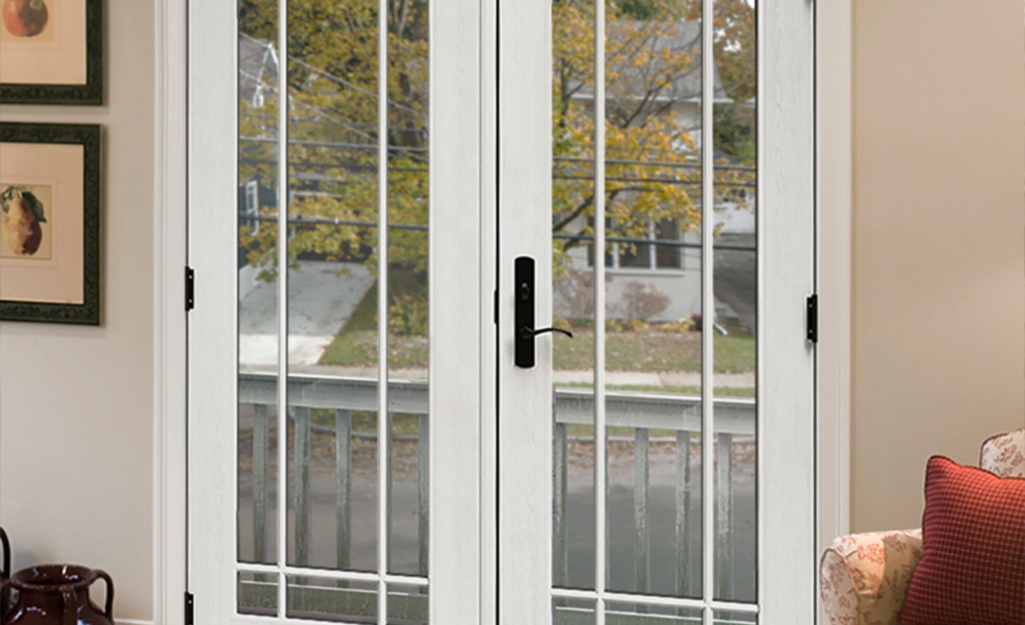 Hardware comes in a variety of finishes, including brass, chrome, bronze, nickel and white to match your decor. Consider coordinating your door hardware with the metallic finishes featured on your home lighting and the existing hardware throughout the space.
Need help identifying a tool or material? Find products fast with image search in 
The Home Depot Mobile App. Snap a picture of an item you like and we'll show you similar products. For free design, purchase and installation help with windows and doors, call us any time between 9 a.m. - 9 p.m. EST at 1-833-HDAPRON (432-7766). 
Explore More on homedepot.com