A beautiful, quality front door boosts your home's appearance and curb appeal The best exterior door will also help keep your property safe and secure. Choosing the right exterior doors is easy when you know what works best for your home and area. Read on to learn the difference between fiberglass versus wood doors, steel and iron options, plus review standard door sizes.
Pre-Hung Versus Slab Doors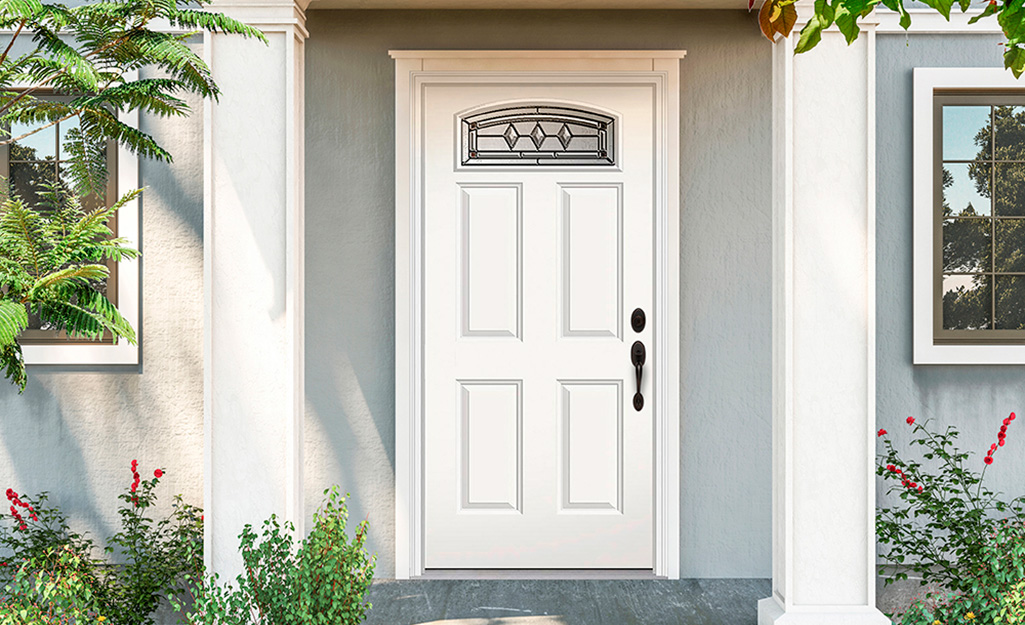 There are two common types of exterior doors. Pre-hung doors include both the door and the frame that supports the door. Slab doors include just the door alone. Pre-hung doors are often easier to install than slab doors. Accurate measurement is key to the right fit.
Tip: If your slab door is more than 25 years old, use a pre-hung door to ensure a sealed frame.
Pre-Hung Doors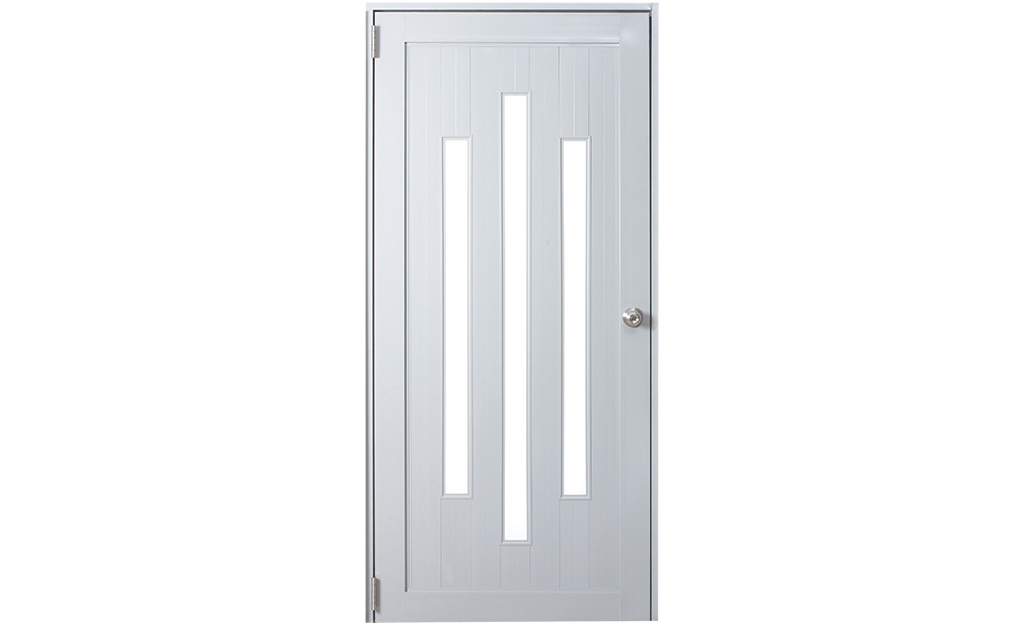 Pre-hung doors are known for their smooth, easy installation and precise fit. The existing door and framing must be removed before a pre-hung unit can be installed. A pre-hung door comes already attached to hinges and door framing. Its frame includes thresholds and weather-stripping.
A full unit includes a prepped door that's hinged and assembled to your specifications. Hardware (door knobs, handles and door locks) is sold separately.
Slab Doors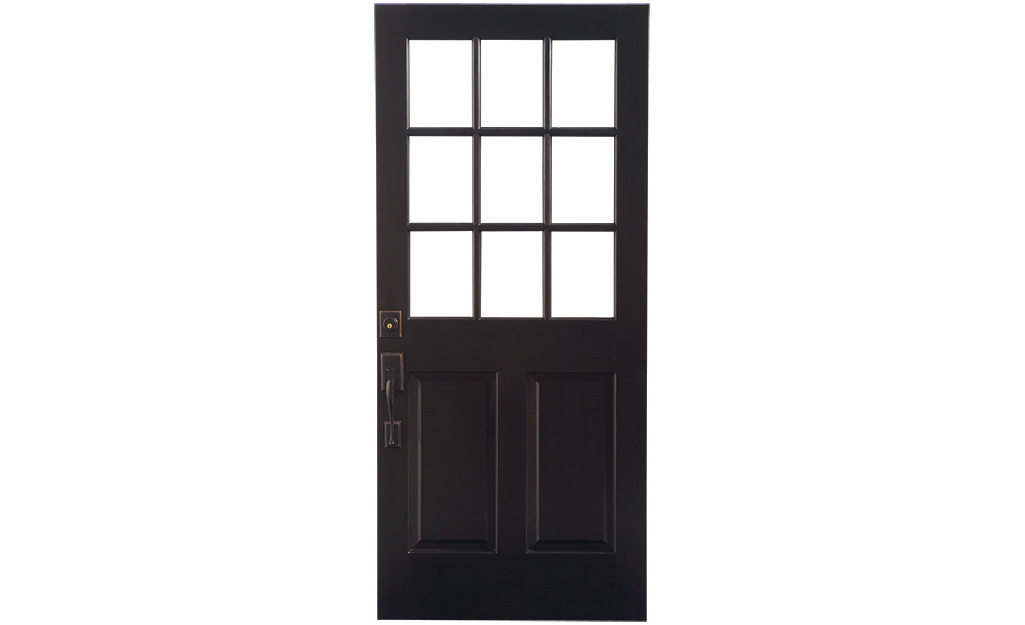 A slab door is only the door. There is no framing attached. A slab door simply replaces the old door on its hinges. This can be a simpler process but older homes may require a custom size.Hardware (door knobs, handles and door locks) is sold separately.
Wood, Steel and Fiberglass Exterior Doors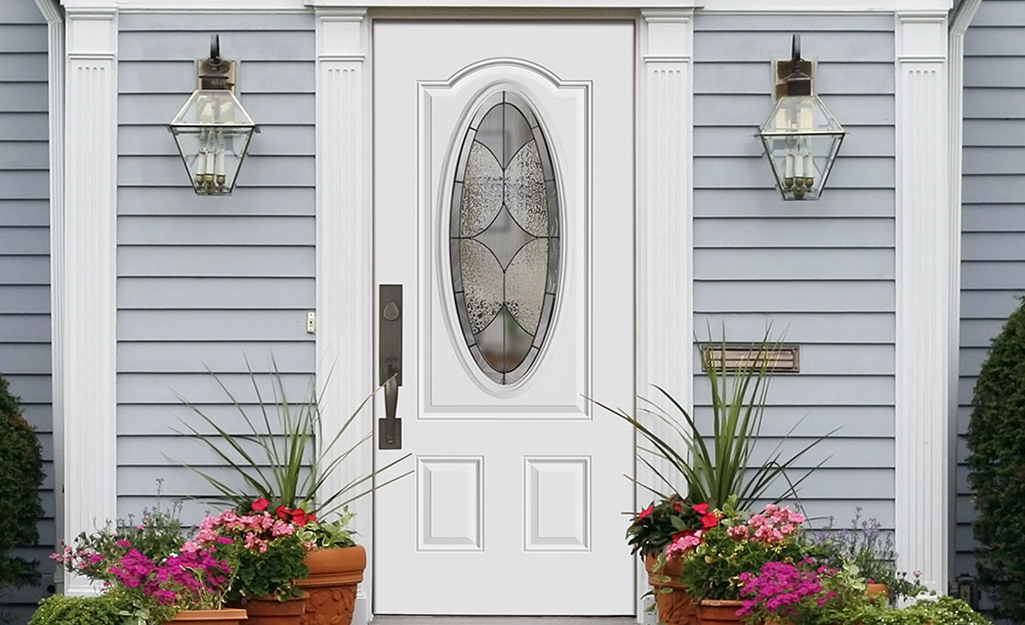 The most popular materials for an exterior door are wood, steel and fiberglass. Most homeowners don't mind the upfront investment for wood because of its traditional look and natural appeal. A metal or steel exterior door is the most budget-friendly of the three. Fiberglass comes in a variety of styles and is very durable. Choose the material for your exterior door based on energy efficiency, security concerns and the style of your home.
Tip: To maximize security, add door chains or install an all-metal security door over your entry door.
Wood Doors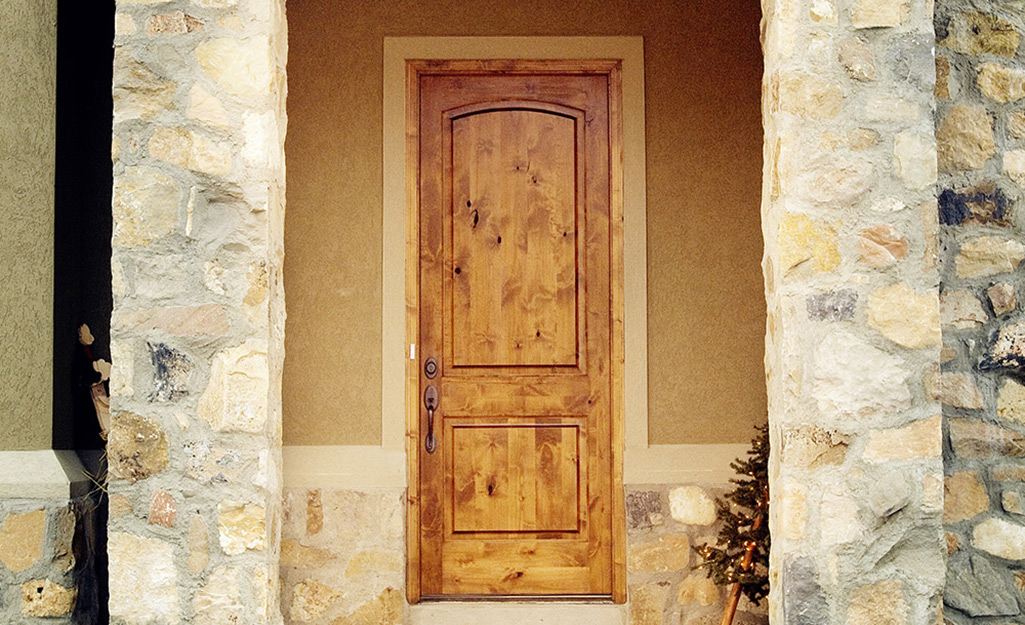 Wood doors are a beautiful option for traditional homes, especially those with entryways sheltered from the elements. Wood doors are available in a range of woods, including premium hardwood and pine. Most wood doors are made using frame and panel construction. A wood door is heavy and dent-resistant and can be designed with or without glass insets. They do require regular maintenance, including repainting to preserve the look.
Tip: Using a wood door with a storm door can void its warranty.
Fiberglass Doors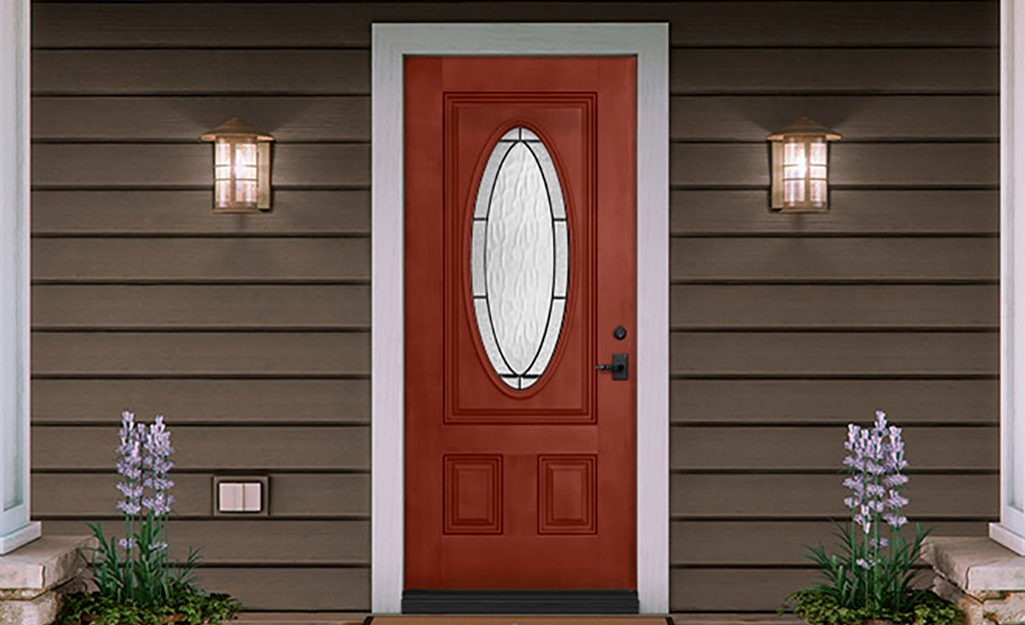 Fiberglass doors are a versatile option best suited for high-traffic entrances.
Wood grain texture molded into the door.
Durable and weather-resistant.
Energy efficient foam insulation and weather-stripping help block heat and cold.
Available in different wood grains as well as with a smooth surface.
Much more dent resistant than steel.
Can be stained or painted to match your home's exterior.
Steel Doors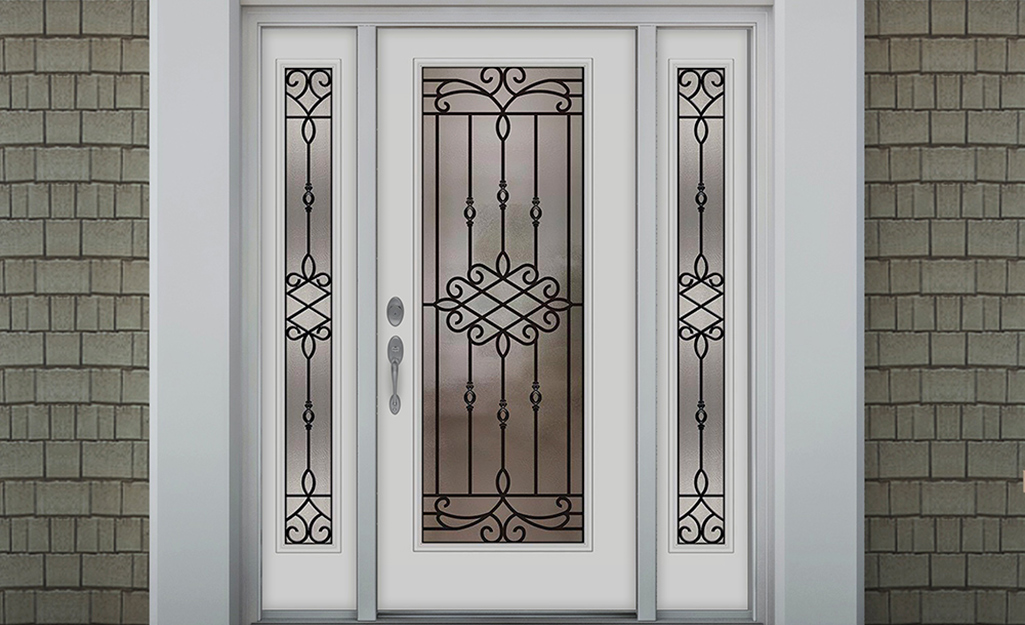 Steel doors are ideal for residences with heightened security concerns or severe weather.
Energy-efficient foam core insulation.
A coating that mimics the look of real wood.
Stronger than wood or fiberglass doors.
Fully weather-stripped, reducing chances of shrinking, swelling and warping.
Most budget-friendly.
Secure, durable, affordable, low-maintenance and weather-resistant.
Can be dented easily, so not a good choice for doors you use often.
Iron Doors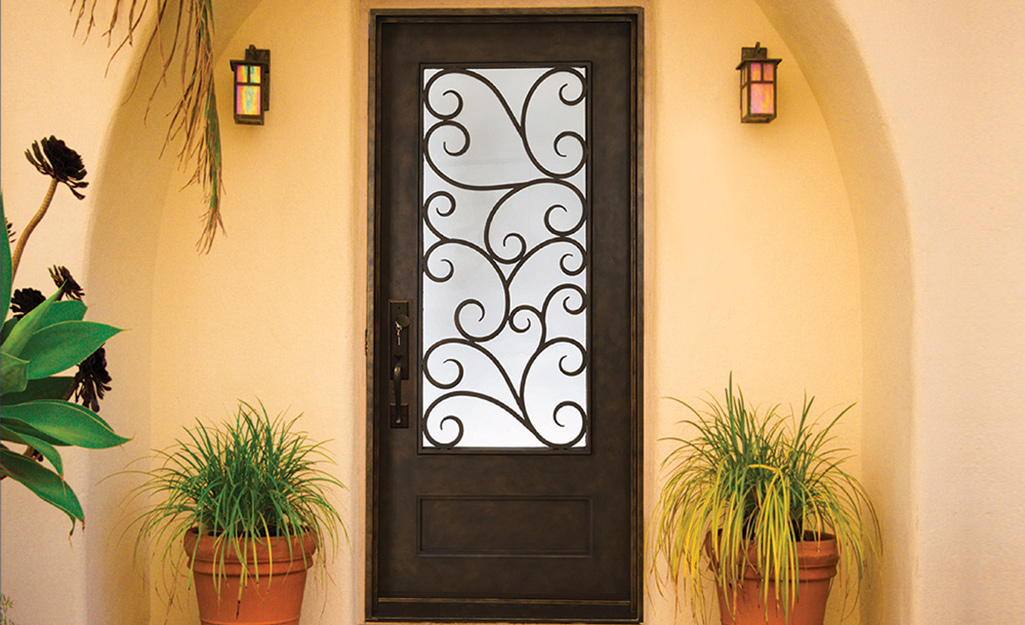 Iron doors are a striking combination of beauty and durability. Many are designed to let in more light than average doors while still providing high security.
Built to last, secure and durable.
Can be ornate or minimal in design.
Will not rot, warp or splinter.
More durable and secure than wood doors.
Exterior Door Measurements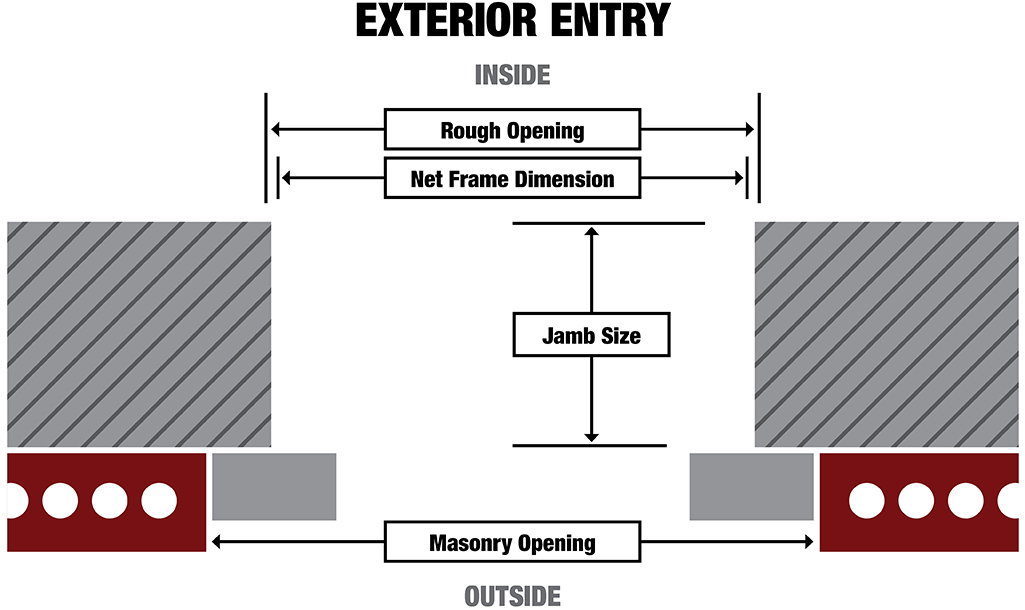 When measuring your door, first familiarize yourself with some basic door terminology. Most entry doors are the same industry-wide standard size. Sizes different from these can be special ordered.

Rough opening: The required dimensions to fit a pre-hung door (including frame and slab).
Jamb size: Should be the depth of the frame, not the width, covering the sheeting or siding and wall stud.
Net frame dimension: The full width of the frame.
Masonry opening: The space between the bricks on the front of your home as they surround the door (if applicable).
Standard Door Measurements and Special-Order Door Sizes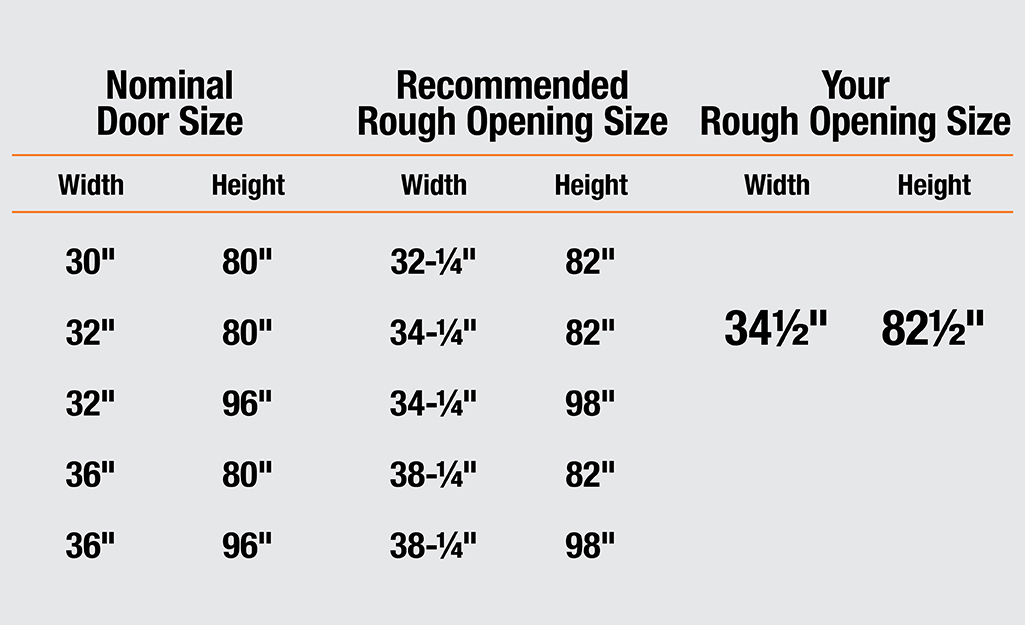 Standard entry door measurements:
Height: 80 inches (6 feet 8 inches) 
Thickness: 1 3/4 inches 
Width: 36 inches standard (30 and 32inches also available)
Door measurements available by special order:
7 and 8-foot tall doors
Double entry doors 
Custom-made doors (made to your specifications; extra charge applies). 
Glass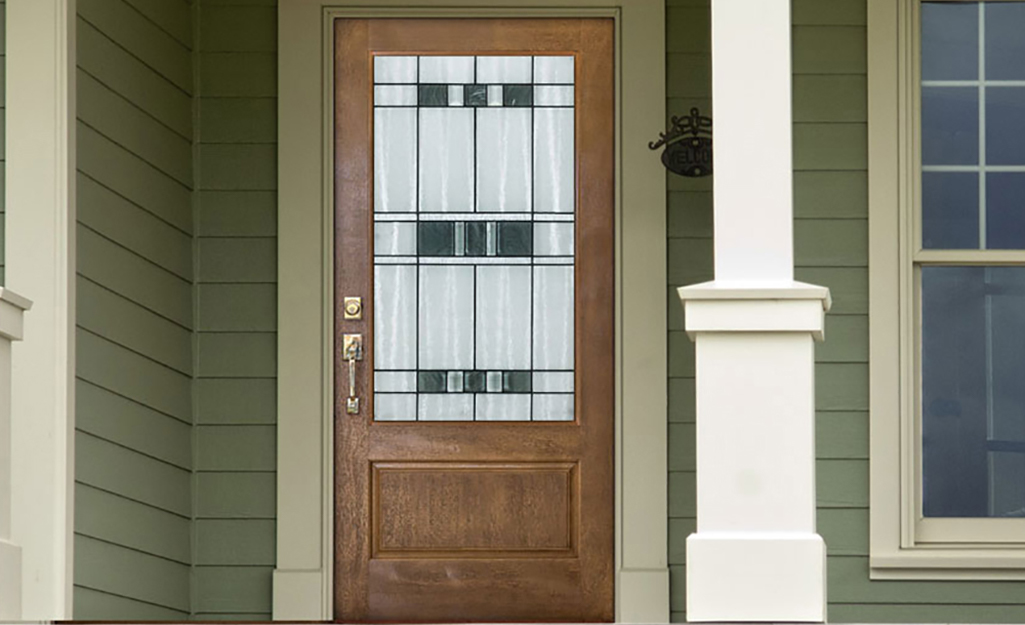 Options include tempered, impact-resistant glass, glass that limits UV rays and glass that helps muffle sound. Some glass has a low-emissivity (low-e) coating to help filter harmful UV rays. These rays can fade your upholstery or flooring
Decorative glass panels can be placed within a door to enhance its beauty, let in natural light and allow for a view.
Sidelights (windows on both sides of the door) or transoms (windows set over the door) create a custom look. 
Finishes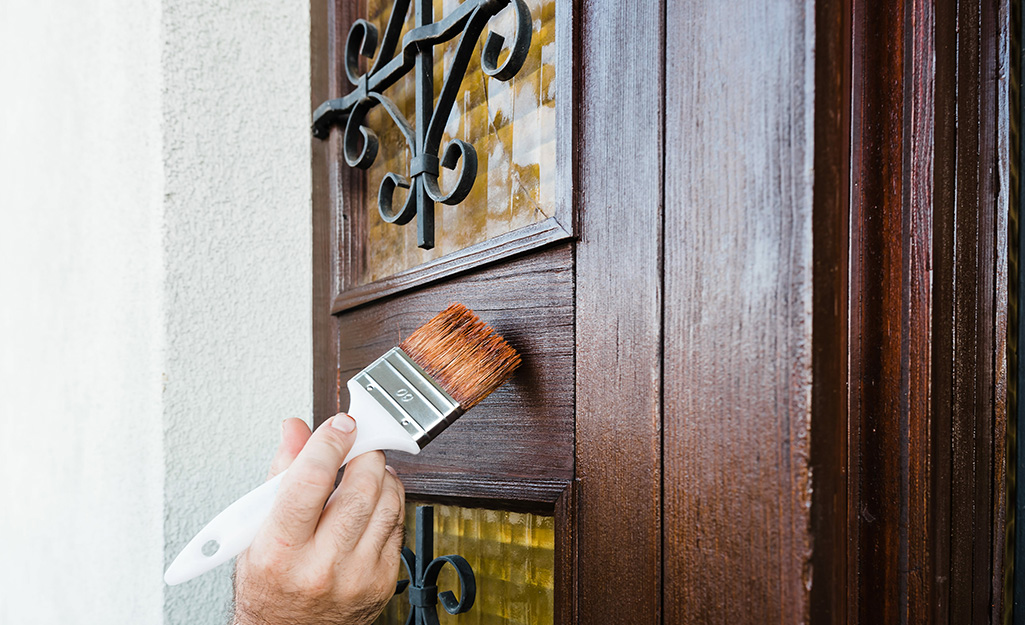 Doors are available unfinished, primed, painted, stained or varnished. Seal and finish all six sides of your door (top, bottom, front, back and sides) immediately after installation. Waiting to seal your door may void your product warranty.
Door Knobs, Handle Sets and Door Locks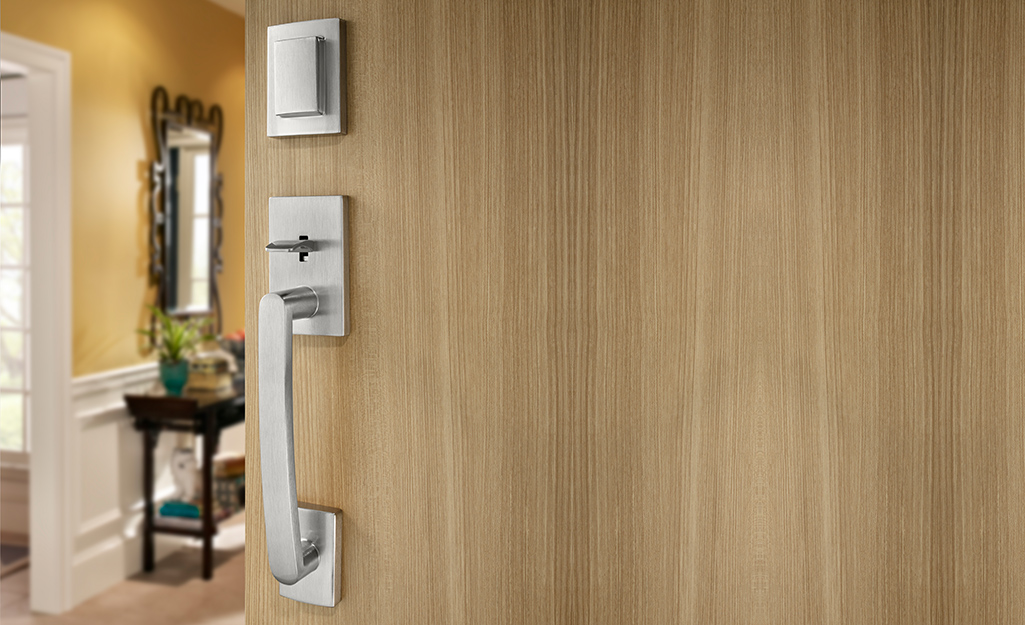 All exterior doors should have a deadbolt lock to increase security. A good deadbolt lock extends at least one inch beyond the edge of the door. For a coordinated look, choose the same finish for your doorknobs, hinges, threshold, handle set, mailbox and house numbers.
Storm, Screen, Security, Patio & Dutch Doors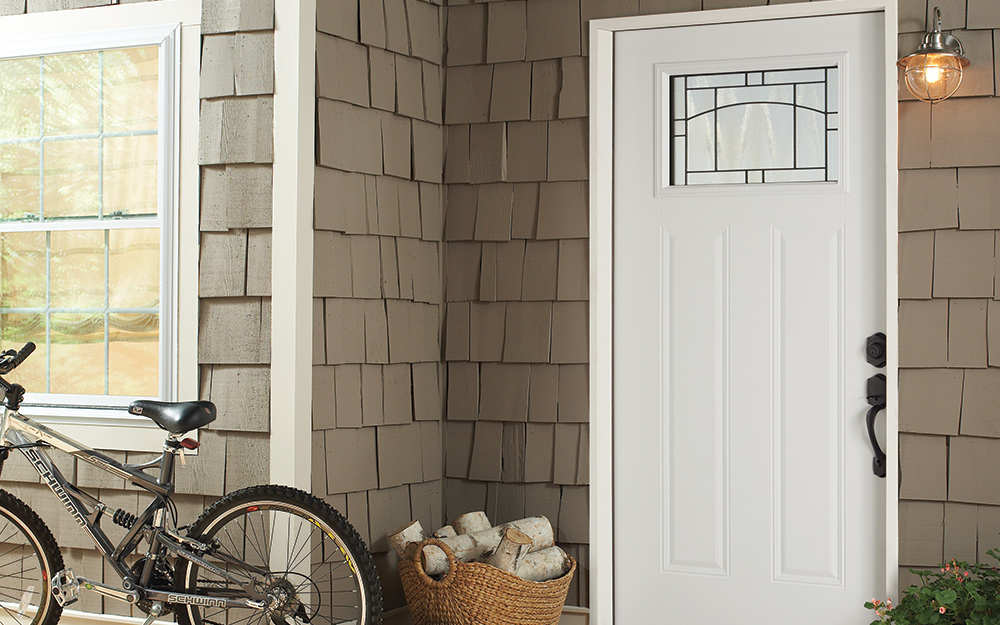 Storm doors, patio doors, security doors and screen doors are all designed to work with your entrance. There are many types and styles to choose from.  For example, folding patio stack on the left, right or on both sides and operate like an accordion. Each of these types of exterior doors comes in a variety of finishes to match your home. 
Storm Doors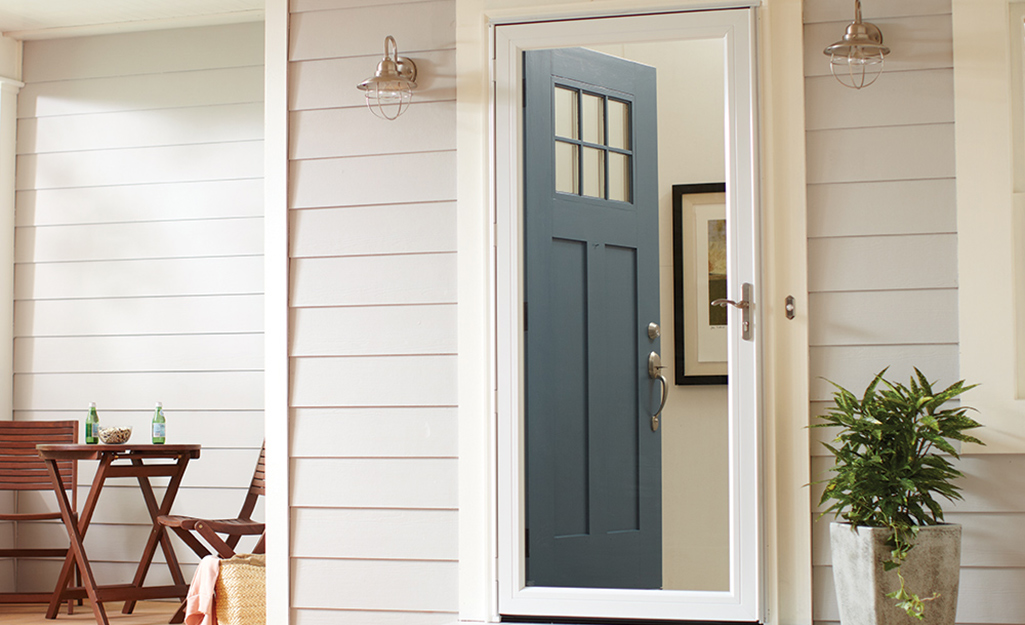 Storm doors fit over your exterior entry doors and provide a glass panel of protection to help prolong the life of your door's outer surface. They also help insulate your home and provide an extra measure of security. Storm doors are available as full-view models with a large pane of glass or with screens to provide ventilation in warm weather.
Screen Doors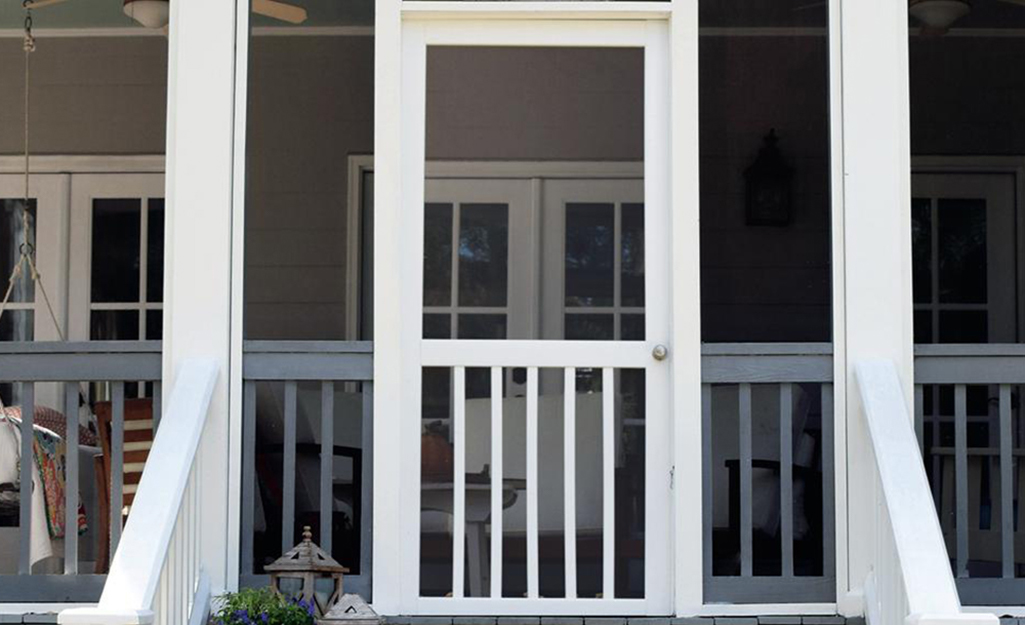 Screen doors offer screens for ventilation and weather-stripping to keep out wind, rain and dust.

They are available as gliding or hinged doors. On some models, auxiliary locks allow you to keep your patio door in a partially open position.
Security Doors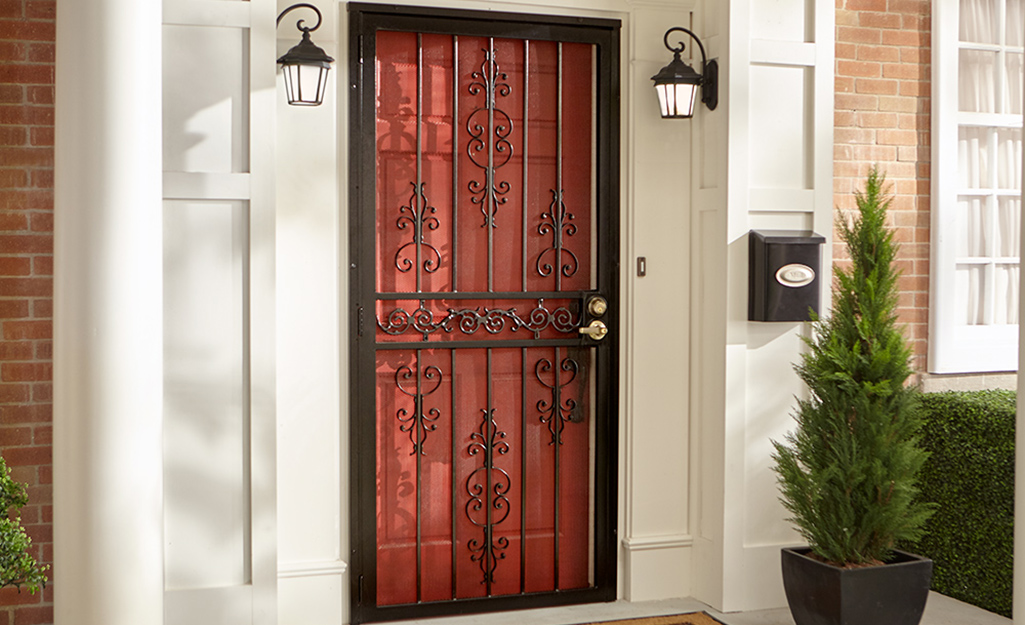 Security doors resist forced entry with welded steel construction and tamper-resistant features. They can have one-way, non-removable screws and welded steel butt hinges. Security doors also have corrosion-resistant, galvanized metal screens. They are available in varying degrees of strength and resistance to forced entry.
Patio Doors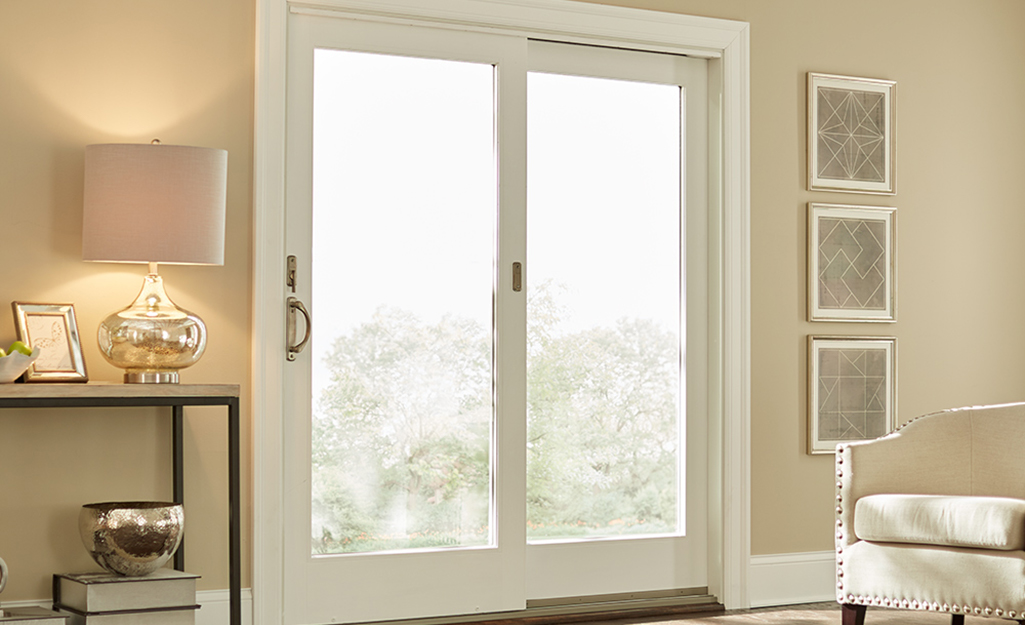 Patio doors are typically two side-by-side doors that open out onto your patio or porch. They are available as French doors or center-hinged doors that swing open to one side from center hinges or sliding or gliding doors.
Dutch Doors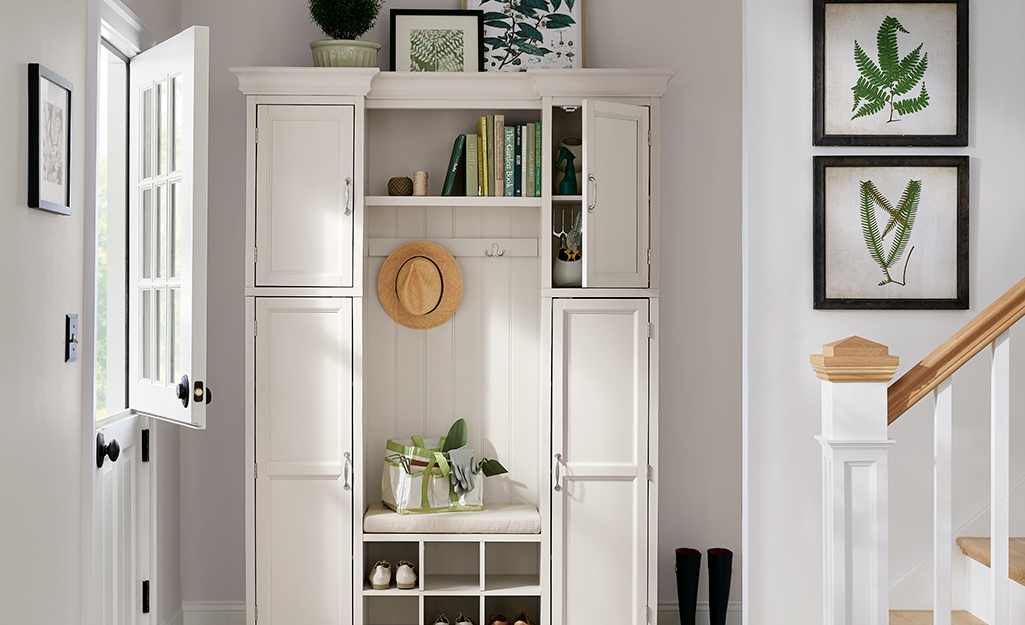 Dutch doors add unique character to the exterior of a home. They are horizontally divided doors that allow the top half to open while the bottom half remains closed. The split style allows in more light and fresh air than a standard door. They can be safer and more convenient when you are interacting with delivery personnel since pets and small children won't be able to get past the closed bottom door.
The best exterior door depends on the look and security you want for your home. Whether you're moving into a new home or replacing old doors, you'll find door sizes and styles to suit most any home. You can also order custom entry exterior doors in the size you need. Once you've chosen the best types of exterior doors for your home, you can install them yourself. Or you can use of our professional measurement and door installation services. For free design, purchase and installation help with windows and doors, call us anytime between 9 a.m. - 9 p.m. EST at 1-833-HDAPRON (432-7766).
Explore More on homedepot.com