Rain gardens help manage stormwater that runs off roofs, driveways and other surfaces. Instead of carrying pollutants into storm drains, streams and other bodies of water, the stormwater is funneled into the rain garden, a bowl-shaped area where plants absorb and filter it. 
Rain garden plants are more than environmentally useful. They're also beautiful and easy to grow. If possible, choose a spot for your rain garden you can see from inside your home. 
How to Choose Rain Garden Plants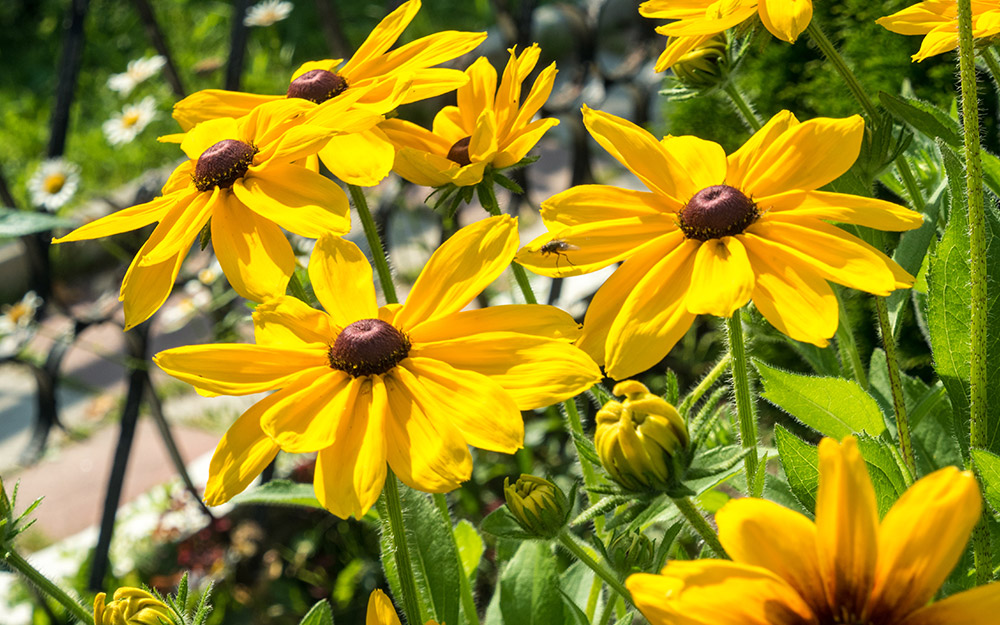 Once you've dug a basin, use a soil tester to see if your soil needs amendments. If it does, work them into the soil.
Your Home Depot Garden Center associate can help you choose the best rain garden plants for your yard. Try a mix of wildflowers, perennials, ornamental grasses, natives and other plants recommended for your USDA growing zone. They should be able to tolerate both wet conditions when rainwater fills the garden and dry conditions when rain is scarce. 
Not sure what gardening zone you're in? Use this guide to Find Your USDA Plant Hardiness Zone. 
If you want to grow your own rain garden plants from seeds, start them indoors and transplant them later. Seeds planted directly in the rain garden are likely to wash away before they have time to sprout. 
The Best Rain Garden Plants for Sun to Part Shade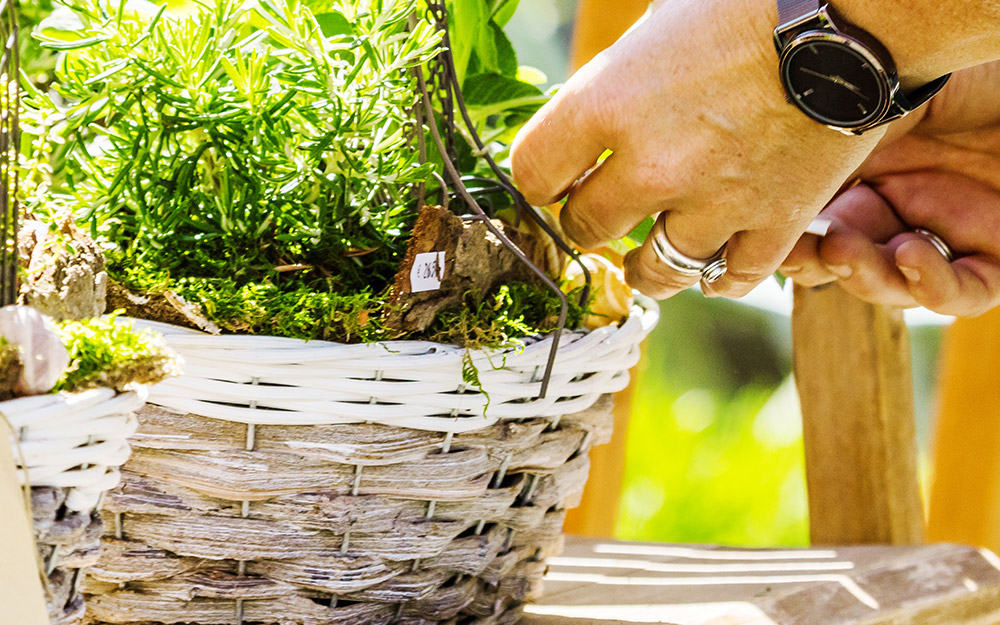 Read plant tags and labels to find plants for sun or partial shade and choose plants that need the growing conditions your yard offers. Rain gardens are not recommended for fully shaded areas. Sun or partly sunny sites are best, although some rain garden plants can thrive in partial shade. Wildflowers and native plants that have adapted to your region will need less fertilizer and care than non-natives. 
The tags on your plants should tell you how far apart to space them. Grow three to seven flowering or foliage plants of each variety for a good display of color, and use plants with different textures for interest. 
Consider staggering bloom times, so that some plants will come into bloom just as others are fading. Watch the sun before you plant and put taller plants where they won't shade shorter ones.
Butterfly Weed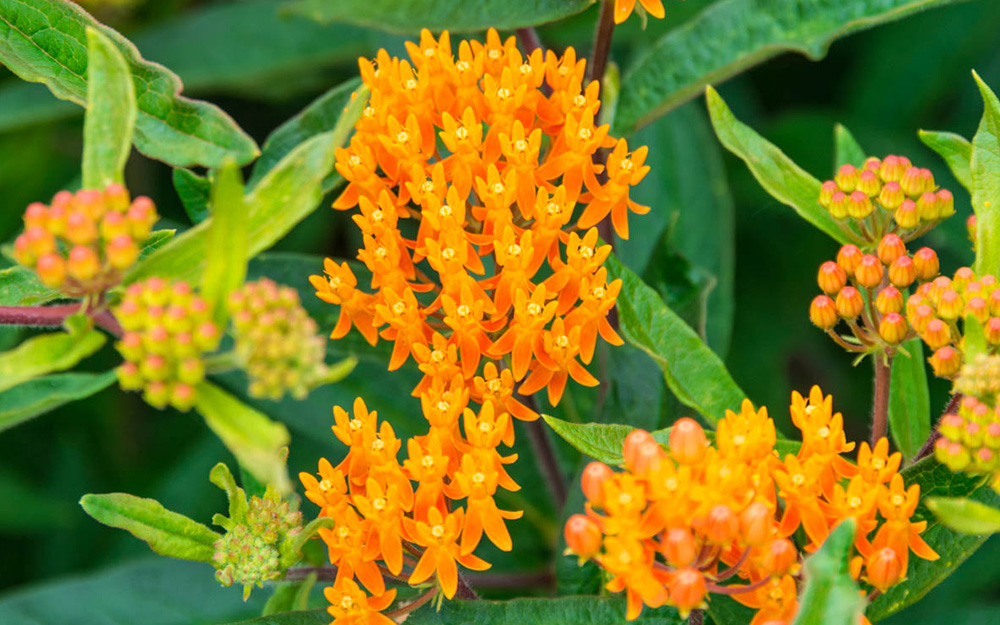 Butterfly weed is a good rain garden choice. These plants provide food for monarch butterflies in the larval stage, while their orange flowers lure adults butterflies with nectar. They reach two to three feet high and are recommended for USDA Gardening Zones 4 to 9. 
Bee Balm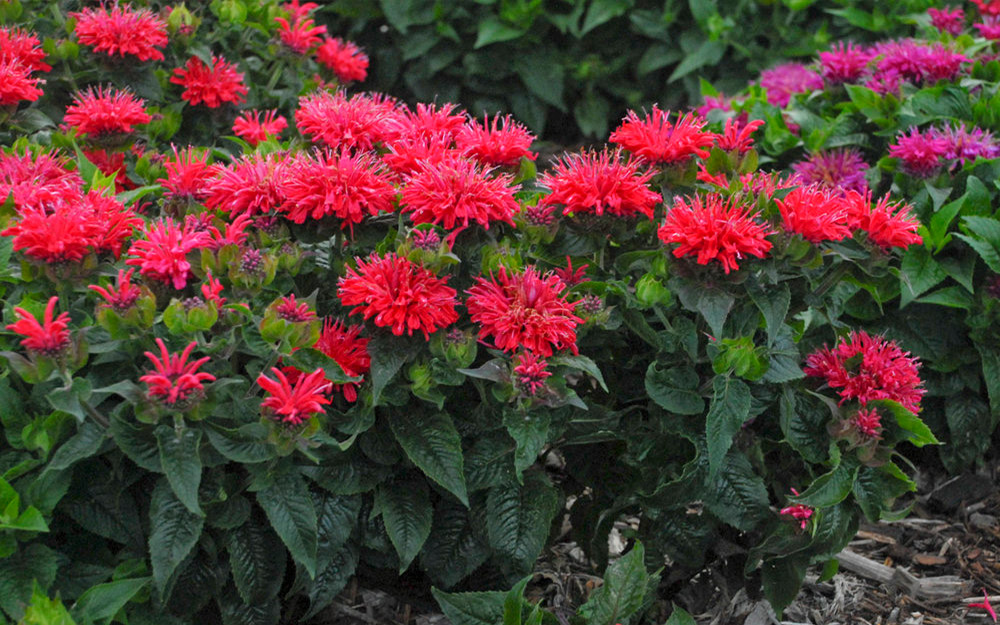 Bee balm, or monarda, attracts hummingbirds and butterflies with its pink, white or red flowers. These rain garden plants grow about three feet tall and wide and grow best in full sun. They're recommended for Zones 3 to 9.
Astilbes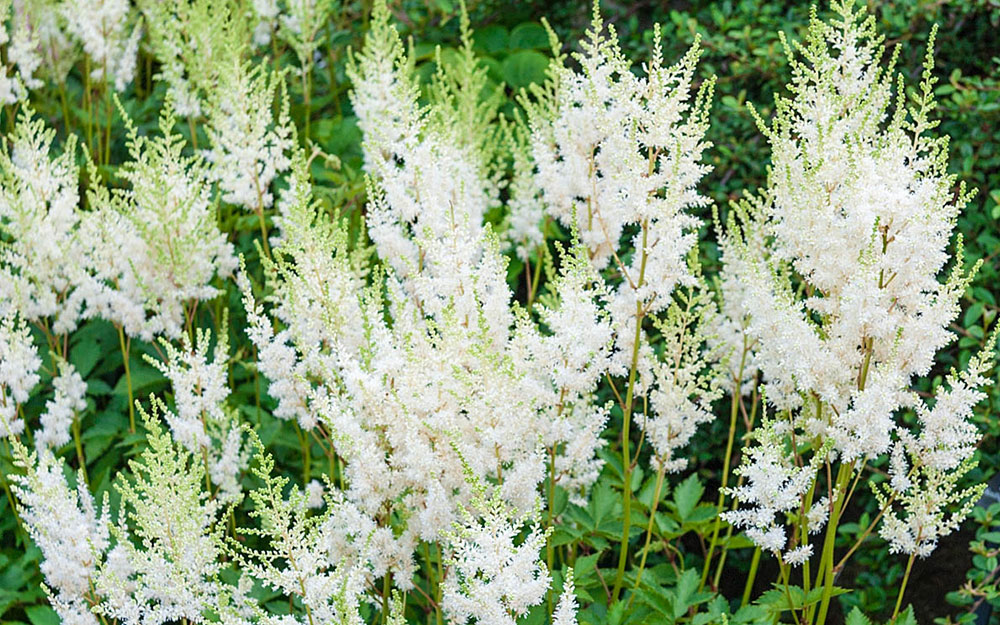 Long-lived astilbes are perennials that grow best if they're planted where they get some shade from the hot afternoon sun. Look for their flowers in white, red, purple and pink. The plants mature at one to three feet tall and thrive in Zones 3 to 8.
Daylilies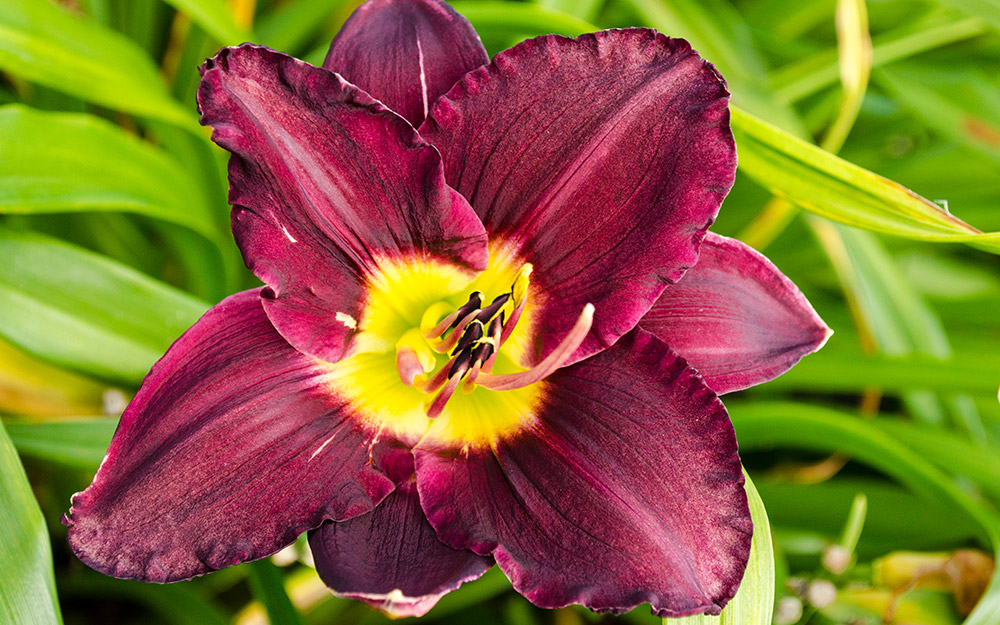 Perennial daylilies are available in tall or short, compact varieties and bloom in shades of yellow, red, pink, purple and white. In mild winter climates, some daylily foliage stays evergreen or semi-evergreen. Some will bloom continuously for as long as four weeks. Daylilies will grow in Zones 3 to 8, depending on the variety. 
Rhododendrons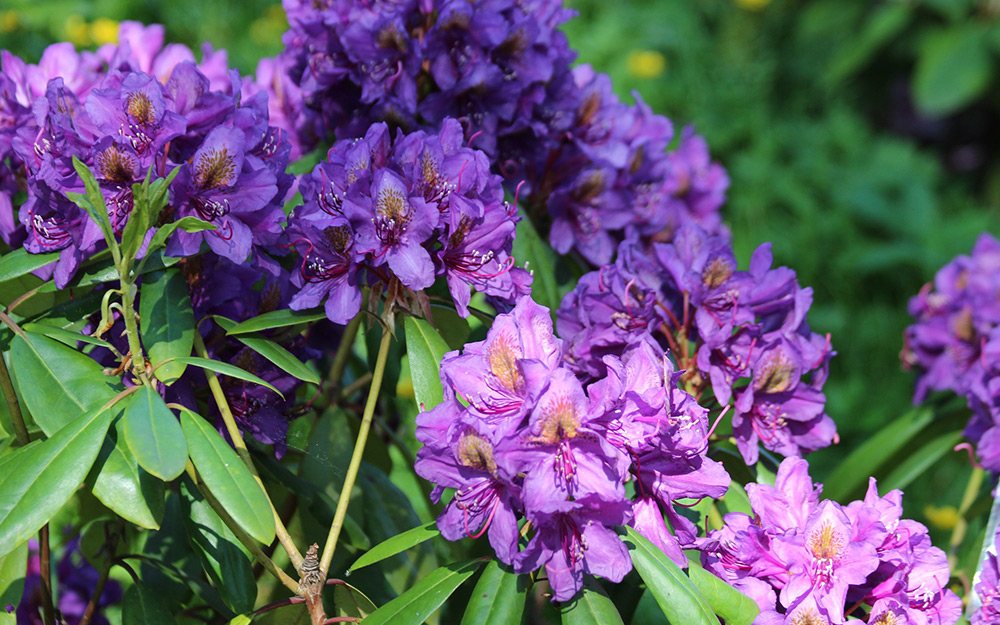 You can mix short, medium and tall plants in your rain garden, but don't let tall ones shade shorter plants that need sun. Rhododendrons are a good choice for partial sun and can tolerate the damp soil of a rain garden. They're best planted in Zones 4 to 8 although some are cold-hardy to Zone 3.
Dwarf Fothergilla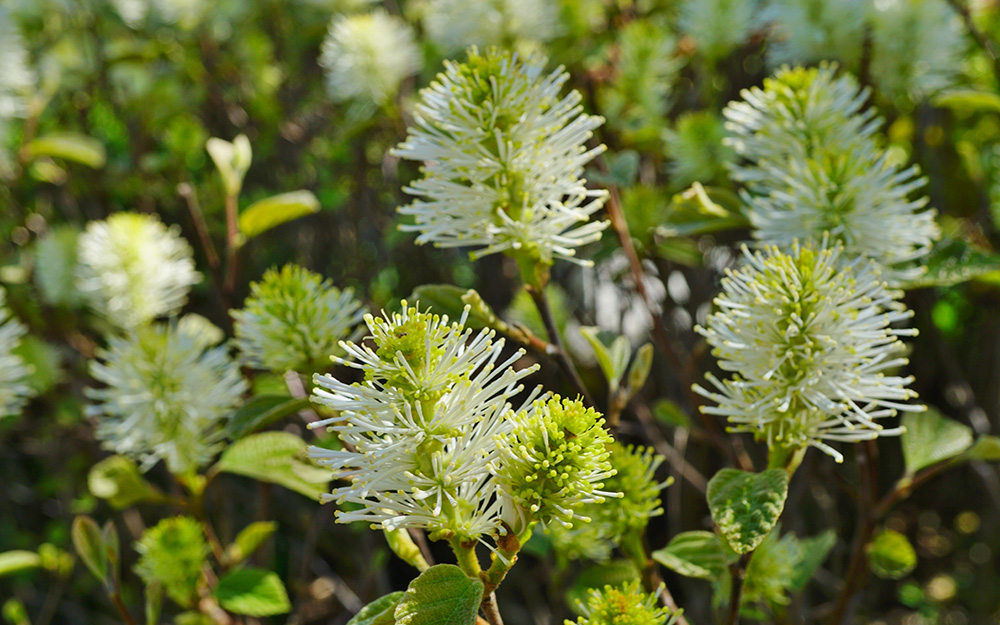 The botanical name for dwarf fotherfilla is Fothergilla gardenii, and like gardenias, the plant's white blooms have a sweet scent. They also appear before the foliage. Give the plants partial shade and room to grow as much as three feet tall and wide. They're recommended for Zones 5 to 9.
Switchgrass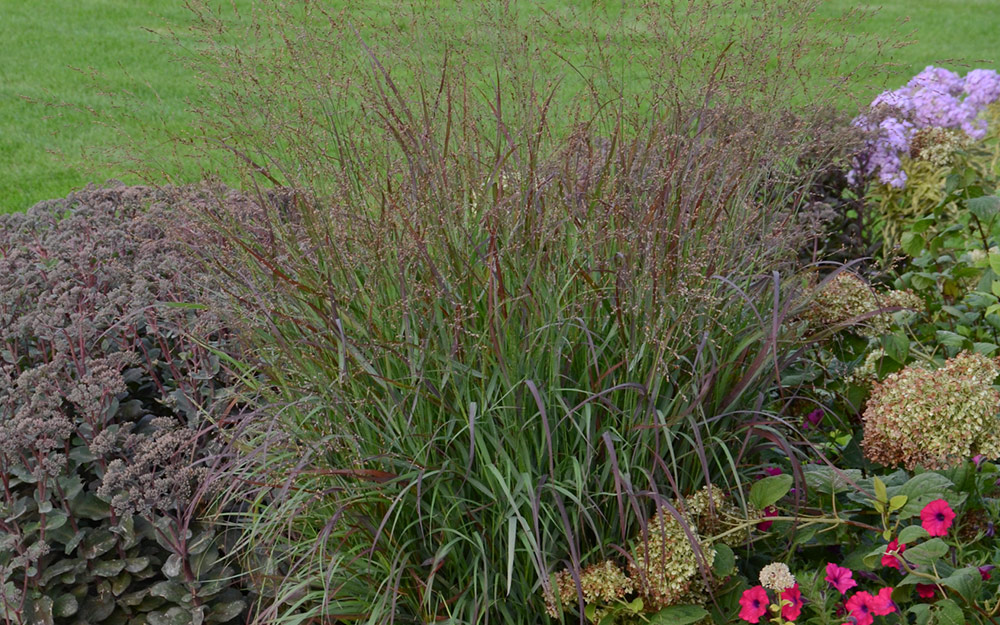 This handsome, ornamental grass grows about three feet tall. The foliage changes turns from green in the summer to yellow in autumn. By winter, switchgrass becomes buff-colored. Pinkish flower panicles open in mid-summer and last into the fall, luring birds to the garden with their seeds. Switchgrass is recommended for Zones 5 to 9.
More Rain Garden Plants for Sun and Partial Shade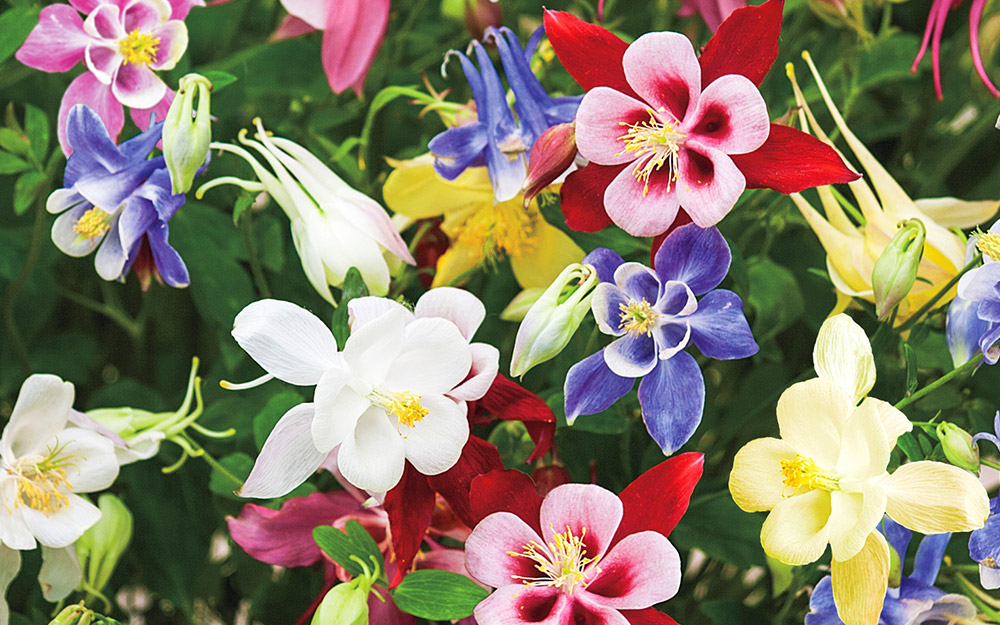 A few choices for a sunny rain garden include:
Columbines (Aquilegia canadensis), Zones 3 to 9
Joe Pye weed (Eupatorium maculatum),  Zones 2 to 9
Summersweet (Clethra alnifolia ), Zones 4 to 9
New England aster (Symphyotrichum novae-angliae), Zones 4 to 8
For rain garden plants that get partial shade, consider:
Dwarf winterberry (Ilex verticillata), Zones 3 to 9
Pink turtlehead (Chelone lyonii), Zones 3 to 8
Bellflower (Campanula americana), Zones 4 to 7
Cardinal Flower (Lobelia cardinalis), Zones 2 to 9
Lady fern (Athyrium filix), Zones 3 to 9
Sword fern (Polystichum munitum), Zones 3 to 8
How to Care for Rain Garden Plants
Add two inches of mulch once the plants are in the ground. This will help retain moisture around the roots and prevent weeds from popping up. It also gives an attractive, finished look to the rain garden.
Watch for weeds in the first year or two after planting your rain garden. Once the rain garden plants get established and begin to grow, more weeds will be crowded out, and you'll have less work to do. 
Replenish the mulch as needed and give the rain garden plants about an inch of water a week, if there's not enough rain. Again, once the plants are established, you won't need to water as often, and you don't need to water if stormwater runoff is already filling the garden.
Remove faded blooms from your plants to encourage reblooming. At the end of the growing season, let the blooms remain and form seed heads. Hungry birds will visit to gobble them up when the temperatures drop and other food sources become scarce.
Explore More on homedepot.com