Ideas & Inspiration
Find Your USDA Plant Hardiness Zone
Learn to grow the best plants for where you live when you use the USDA Plant Hardiness Zone map. This guide indicates minimum temperatures across the country so you can choose plants that will thrive in your area. This map contains zones ranging from 2 to 9 in the contiguous United States – the remaining zones of 1, 10 and 11 include Alaska and Hawaii – and is based on average annual minimum winter temperatures. In this Home Depot guide, we provide the basics of USDA Plant Hardiness Zones so you can successfully garden year-round.
The USDA Plant Hardiness Zones determine which plants can and will survive in which zones during winter. If you have a specific type of plant in mind to return in spring, refer to a plant's hardiness zone – oftentimes located on its plant tag – so you can figure out whether it will survive winter in your region. If you live in Georgia, for example, your state will fall in hardiness zones 7 or 8 during winter. If a plant cannot survive in these zones, and ultimately in these temperatures, the plant will fail to grow.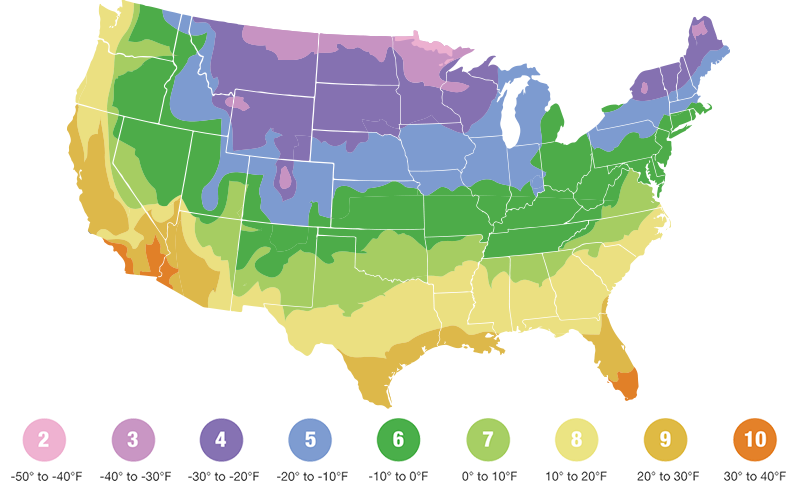 You can figure out your region's hardiness zones by referring to our helpful map. Areas in hardiness zone 3 require plants that will grow in temperatures ranging from -40 degrees Fahrenheit to -30 degrees Fahrenheit. Meanwhile, areas in hardiness zone 9 can foster many more plants due to the slightly warmer temperatures. Plants that can grow in zone 9 require temperatures between 20 degrees Fahrenheit and 30 degrees Fahrenheit.