To keep the plants in your landscape healthy and happy, provide good soil, the right amount of sunlight, plus the right amount of water when the plants need it. The goal is growth, and it's the gardener's job to keep that growth in check through regular pruning.
In addition to maintaining healthy plants in your landscape, regular pruning helps plants that may have damage or disease.
Pruners are the tools for trimming everything from tender annuals and perennials to woody shrubs and small, tough tree branches. Every gardener needs a few pairs of pruning shears in varying sizes for different tasks around your landscape. In this guide, you'll learn about the best pruners for your plants and how to choose the right type of pruner for the right gardening task.
Types of Pruning Tools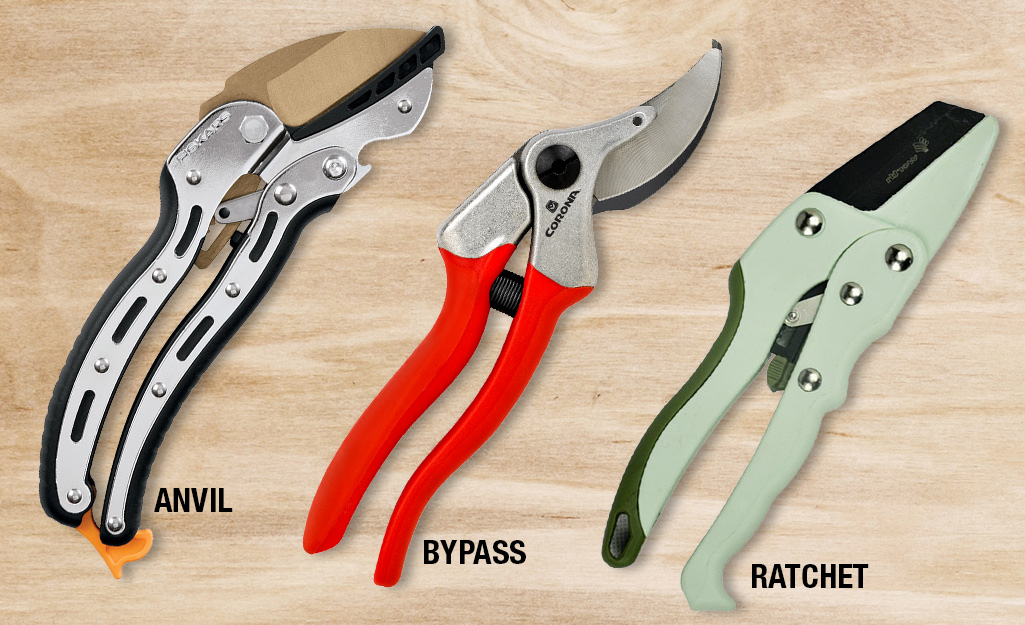 There's a wide range of tools to help with pruning tasks. If you have trees and shrubs on your property, loppers and pruning saws will help with maintenance. 
A comfortable pair of sharp hand pruners makes quick work of everyday gardening tasks like trimming back annuals and perennials. Additionally, a sharp pair of floral scissors or snips is the tool you need when you cut flowers and harvest vegetables from your garden.
Pruning can be delicate work, requiring tools that are sharp and accurate. Pruning can also be heavy work involving repetitive motions that require a lot of strength. Learn to select the best pruning tool for the job at hand.
There are three basic styles of all-purpose pruners:
Anvil Pruners. Feature a single straight blade that uses a splitting action to cut down on a stem or branch. This action can crush stems instead of giving a clean cut.
Ratchet Pruners. Similar to anvil pruners, but feature a mechanism that cuts in stages. Works well for people who have problems with wrist strain.
Bypass Pruners. Acts like scissors with two curved blades that make a nice, clean cut. Works well on green and growing stems.
A case can be made for any of these types of pruners, but if you're looking for a first pruner, start with a pair of bypass pruners. They're easy to use and they make clean cuts that help keep plants healthy.
More of the best pruners, for jobs big and small:
Pruning Snips. Sometimes called garden scissors or floral snips, these are useful for trimming on tender annual stems. You can use them to harvest tender vegetables and herbs. Carry a pair in your back pocket when you go into the garden looking to create a bouquet of cut flowers and herbs.
Loppers. These are like pruning shears, but with longer handles. Just like pruners, they come in bypass and anvil styles. Bypass loppers will give you more control of the action. Useful to trim difficult-to-reach branches. 
Pruning Saw. Not exactly a shear, but a pruning saw, especially a folding saw, should be in every gardener's tool kit. Use a pruning saw to handle branches that are too big to tackle with loppers. There are two styles: a bow type, and a blade type that also comes in a folding style. The bow saw can handle thicker stems, but can be awkward to store. A folding saw fits into a tool belt or back pocket.
Grass Shears. These look like heavy-duty scissors and are used to trim grass around trees, flower beds and shrubbery.
Power Shears. Operate using gas or electricity and make hedge trimming easier and quicker.
When and How to Prune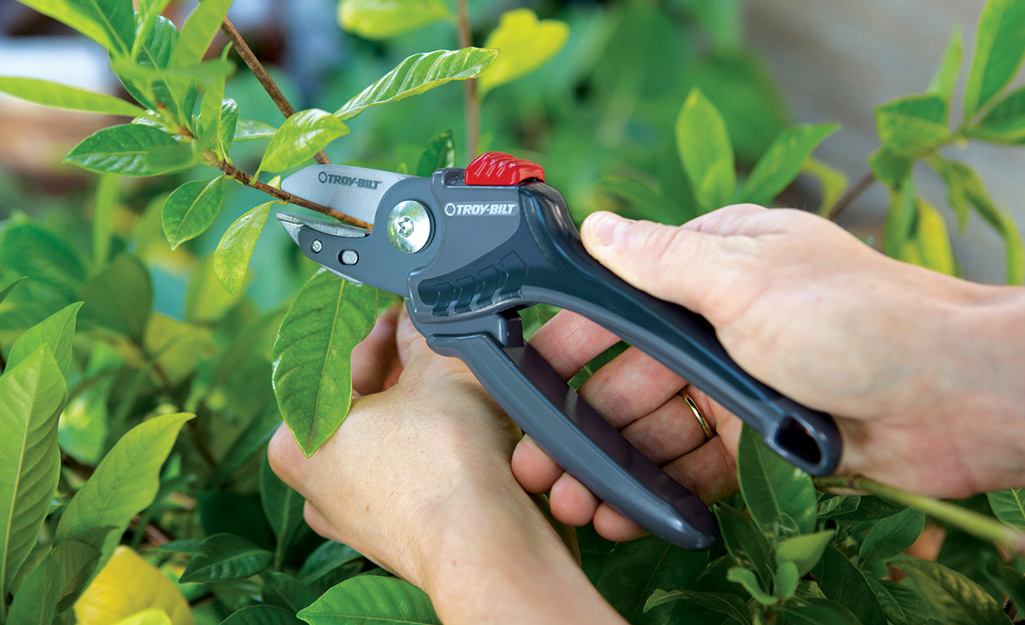 Get to know the plants in your landscape and learn the best time to prune them. Very often, this information is found on plant tags when you purchase plants. You can also find care information on the Garden Center product pages.
Flowering perennials and annuals can be pruned in season after they bloom. Pruning keeps the plants healthy and in many cases, is necessary for more flowering. 
Fall is traditionally considered a good time of year to prune shrubs and trees. For many shrubs and trees, late winter or early spring is an even better time. Remember that any time of year, no matter the season, when a tree is showing potential for damage to people or structures, it's time to call in professional arborists, the trained professionals who take care of trees.
Guidelines for pruning:
Prune shrubs that flower in the springtime after the blooms fade. For example, azaleas should be pruned after they bloom and before they set growth for the next year. 
Prune shrubs that flower in the summer before they bloom, in the spring.
Prune roses after the last frost in spring.
Tender, flowering annuals can be pruned mid-season to get the most out of your plants. For example, cut back begonias and coleus when they get leggy in mid-summer, and the plants will grow back bushy and full.
Perennials benefit from pruning after the flowers fade. Give them a trim with pruning snips, keep them watered and fertilized, and you may get a second flush of blooms in late summer and early fall. 
Pruning tips:
Cut diseased stems back to where the healthy wood starts.
Disinfect the blade between cuts with bleach and water or alcohol wipes to avoid spreading disease.
First cut off dead branches at the base when cutting shrubs or trees.
Cut just above the leaf bud on the outside of shrub branches.
Get rid of branches growing at narrow angles to main, vertical branches.
How to Maintain Pruning Tools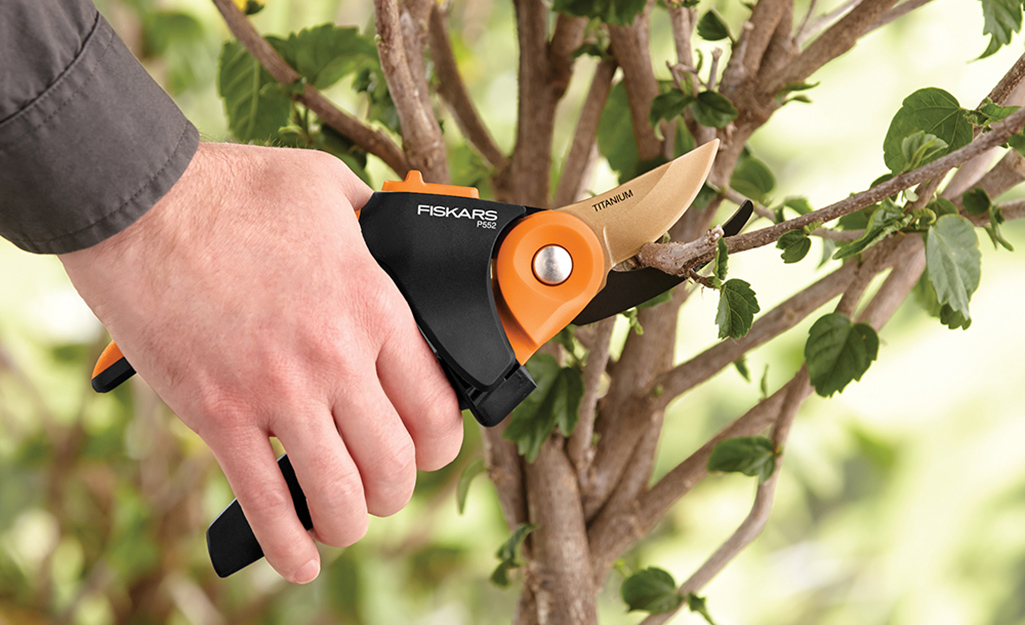 There are two important rules for maintaining pruning tools. Rule #1 is to always use the right tool for the job. Delicate pruning snips are not meant for pruning shrubs, just like you wouldn't use your everyday bypass pruners to take off tree branches. Rule #2 is to keep your tools clean. You can rinse them with water, scrubbing if necessary, then dry with a soft cloth. 
Regularly disinfecting your cutting tools is an extra step that will keep the plants in your garden healthy. To make it easier, when you're doing a lot of pruning in the garden, bring along alcohol wipes or a soft cloth and antiseptic spray, and wipe down the blades in between cuts. Wiping down blades between cuts prevents the spread of diseases that can harm your plants.
Store cleaned tools in a dry area like a tool shed or garage. Learn how to organize a tool shed.
Need help identifying a pruning tool? Find products fast with image search in The Home Depot mobile app. Snap a picture of an item you like and we'll show you similar products. 
Explore More on homedepot.com