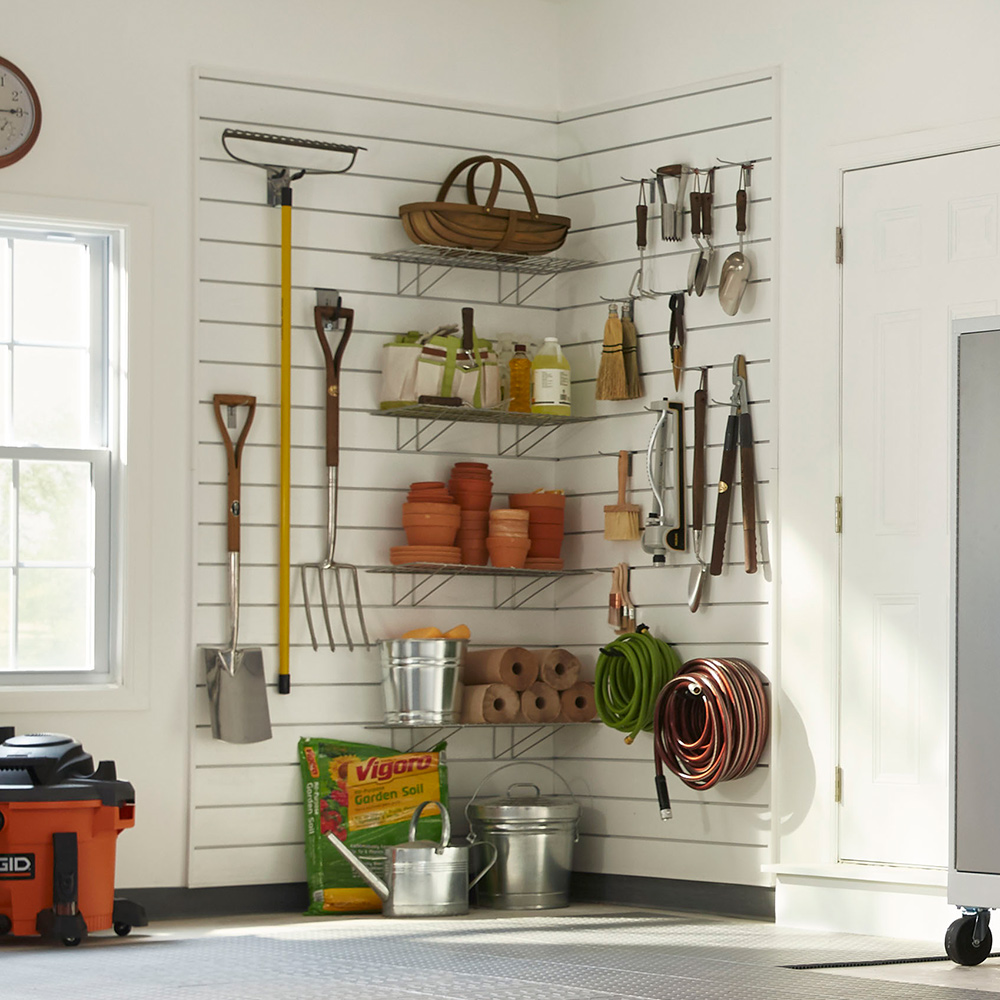 Gardening is a fun and family-friendly activity when your tools and supplies are ready and easy to find. Create a dedicated storage area that saves you from searching for tools or re-buying things you already have. We've put together seven ideas for garden tool storage and organization for you in this guide. Read on to learn more.
Start Small With a Potting Bench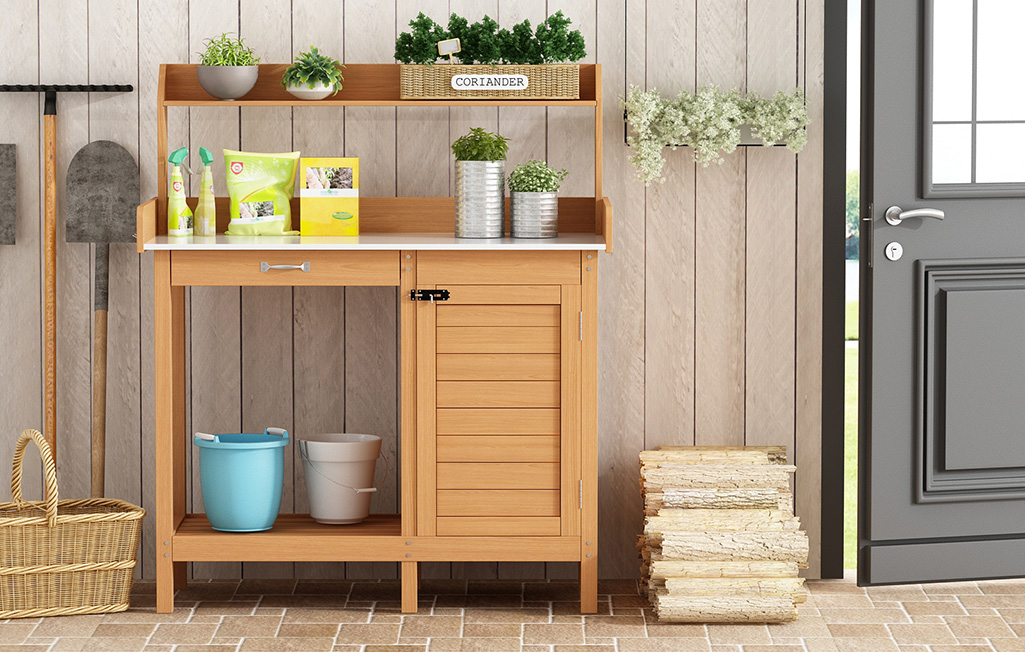 A potting bench offers ample storage plus a place to transplant your seedlings and small plants into bigger pots. It also gives you a place to mix specialized potting soils.
Some key features of a potting bench are:
A bottom shelf with slats or grates to allow dirt to fall through and moisture to dry out
An upper shelf that can hold your gardening beverage of choice, your phone and any tools you are using that day
Two drawers for tools and gloves
A main shelf for working
Hooks on the side or front
Wheels that allow to you roll the bench where you need it most
You can install more hooks and clamps on the back of your bench for bigger tools like your rake and spade.There is no right or wrong way to design or organize your bench, so long as it makes sense to you. 
Tip: Store it under an eave or in a protected area to prolong the life of your potting bench.
Get Big Storage in a Portable Shed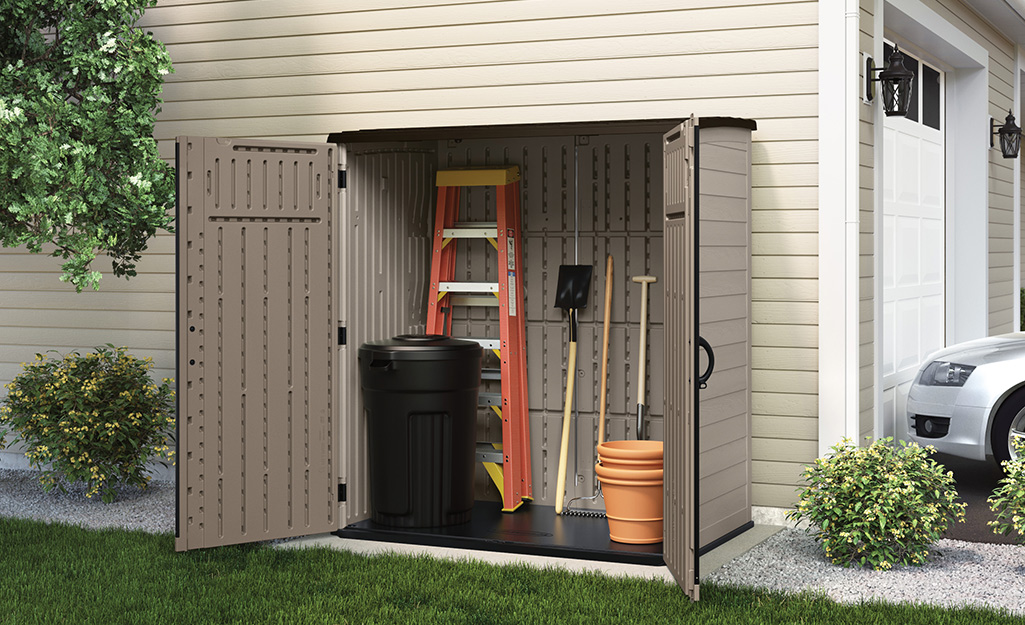 If you have the space, a small portable shed may be an option for organizing garden supplies. Our stores carry a selection of sheds that scale from wallet-friendly shell-style options to long-term units with shelves, floors and reinforced double-wall panels.
Here is a list of key features to look for in a garden shed:
Material and construction that can withstand the weather systems in your region
Ventilation that prevents mold and mildew accumulation and keeps your overwintering bulbs and plants from rotting
A locking door, if you live in an area where theft is common
A floor to keep everything well-contained. You can purchase a steel floor frame and plywood if the model you choose doesn't come with one.
Organize your shed with a small shelf for seed, pots and small tools. Add some hooks for bigger tools. Whenever possible, keep your garden supplies off the ground to prevent water damage.
Tip: Sheds can provide a cozy place for rats and mice to nest during bad weather. Leave one or two rodent traps in your shed and check them regularly to prevent an infestation. 
Try a Deck Box for Small Spaces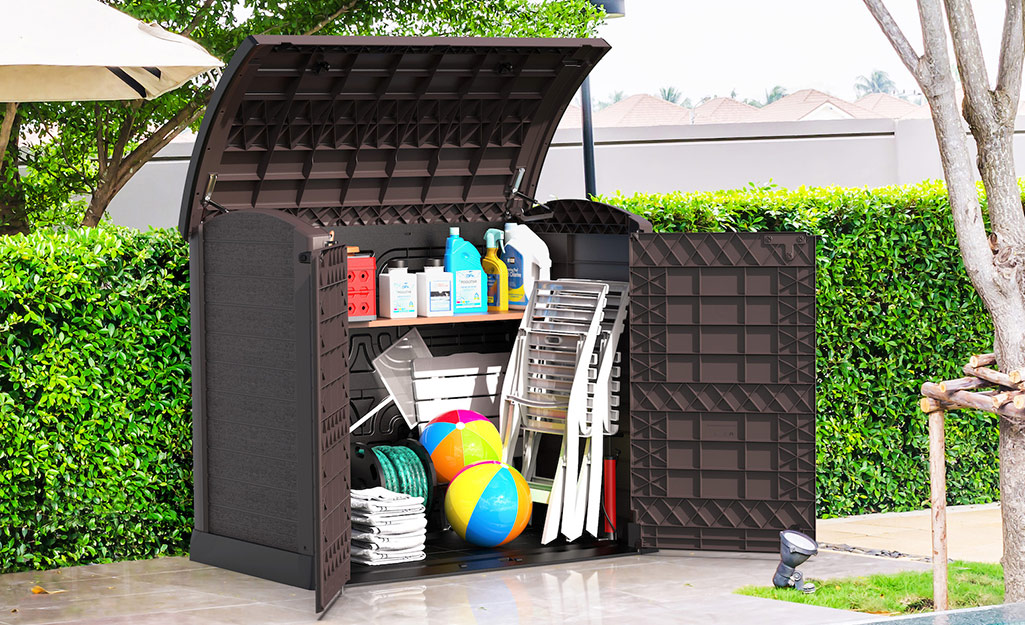 Another patio-friendly option is a deck box. It can hold outdoor pillows, small grills, garden hoses and garden tools in a compact space. 
Deck boxes keep everything within reach yet hidden, so your outdoor space can look tidy and well-organized. Toss a few outdoor throw pillows on top for additional seating.
Tip: Get a deck box with a loop for a combination or key lock to keep your items secure.
Find Places For Everything In a Garage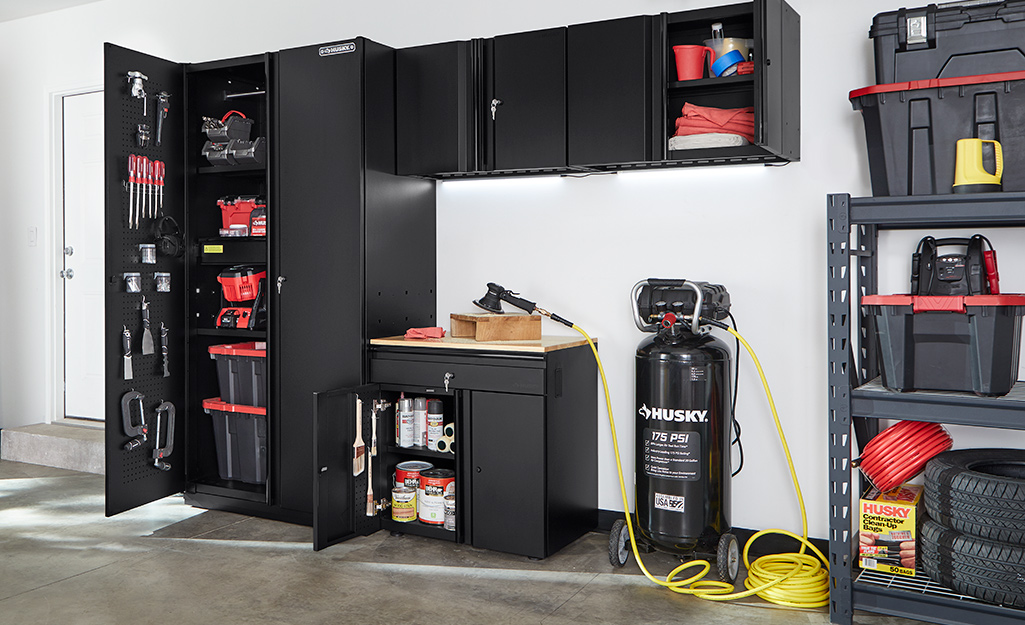 With more space comes more organization options. Garage shelving, storage hooks and rolling storage cabinets are great organization tools. Which ones you choose depends on how much you garden, the number of tools and supplies you have, and the space allotted in your garage. 
Here are a few tips for organizing your tools in a garage:
Cluster similar items together.
Keep your supplies off the ground.
Use vertical wall space. Install storage hooks and racks for rakes, hoses, spades, pitchforks, a telescopic pruner and other items.
Use a four-shelf rack to hold heavy items like soil and seed on the bottom, unused garden pots on the next shelf up, shallow bins for small hand tools on the third shelf, and light items like landscape fabric, bird netting and tarps on top.
Keep heavy items lower to the ground.
Keep sharp items below eye level, with the blades or tines facing down and toward the wall to avoid injury.
Use Totes and Storage Bins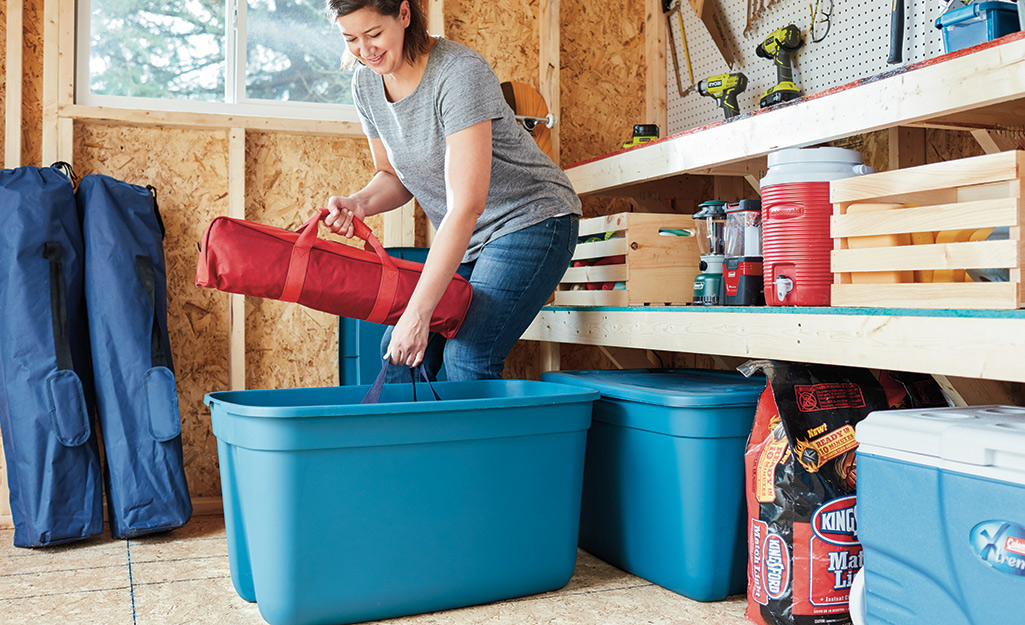 Storage bins and totes are multi-purpose storage options. They come in many stackable sizes and colors. Some have clear tops and bottoms, and others are clear with colored lids. 
Store similar items together and organize them on three or four-shelf racks. Apply labels to the front, top and side to make it easy to locate items. 
Heavy duty bins have loops for locks, so you can feel comfortable storing them outside year round.
Utilize a Permanent Shed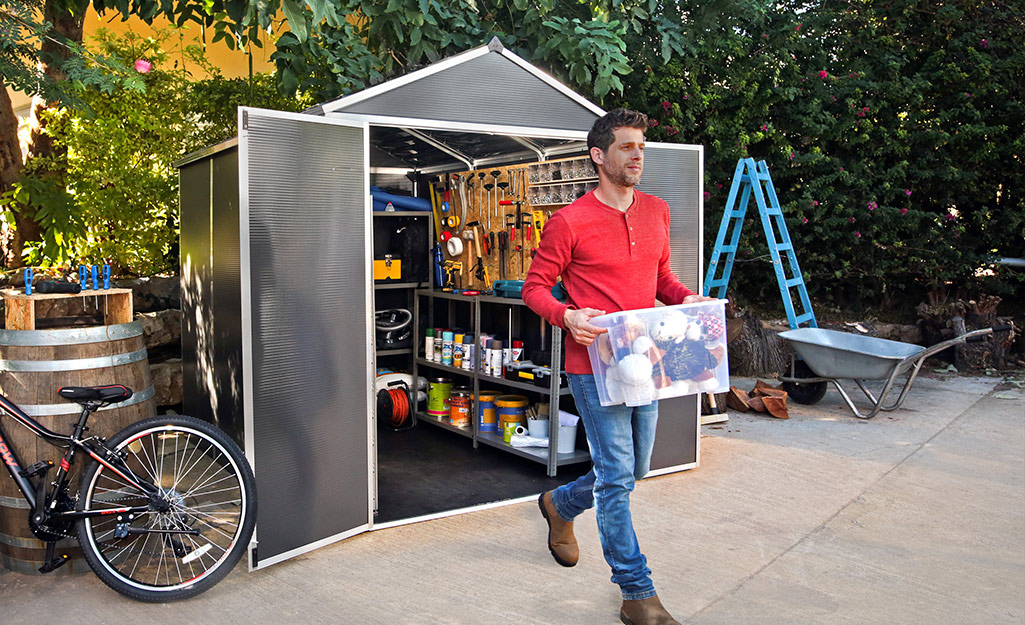 An existing shed is an optimal storage space for garden tools. Install a pegboard on the inside of the door for small tools. Use shelving for pots, soil and seed. Leave one wall bare so you can roll your potting bench in and out as needed. Totes can store your outdoor throw cushions. 
During the winter months, a shed can also house your patio furniture and other summer accessories.
If you don't own one yet, consider adding a permanent shed for garden tool storage. It has a higher-up front investment but provides long term use and can withstand more wear and tear than a portable shed.
Install a Pegboard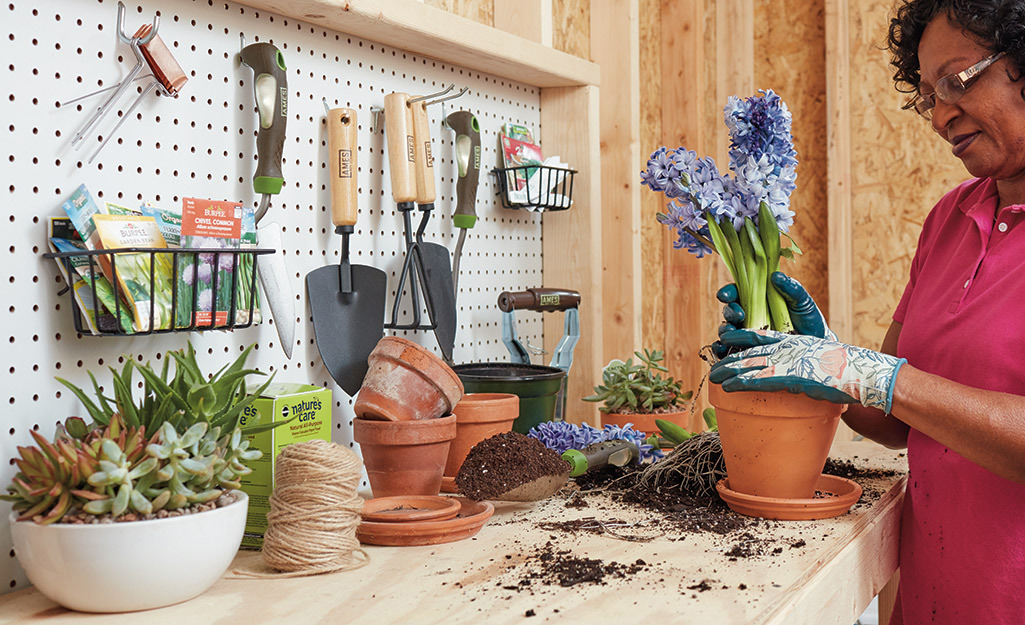 Pegboards are simple and easy-to-install organizational products. They come in small sheets that you can cut to any size. Hooks fit into the holes on a pegboard, so you can hang all your tools in easy view. Install one in your laundry room, back door mudroom, shed or garage. Make it small or big. 
You can write labels directly on the board with a permanent marker or outline the tools for a visual guide. There are even pegboard accessories to assist you in your organizing goals.
Enjoy care-free garden time this season. Have your tools and supplies where you need them, when you need them. This guide offers you seven ideas for garden tool storage and organization to help get you started. Visit our online store to find the solutions for your needs. The Home Depot delivers online orders when and where you need them.
Explore More on homedepot.com