Depending on your yard's size and terrain, a push mower could be your best option for lawn care. The right push mower can make keeping your yard easier and more efficient.  From the different types of push mower options to attachment options, this guide gives you everything you need to make the right choice. Read on to learn about power options, attachments and more. 
Choosing the Best Push Mower
You should match your lawn mower to the size of your yard. Push mowers, also called "walk-behind" mowers, are ideal for a yard that's less than half an acre. The question, what is the best push mower for you, can be answered by understanding a few of these considerations:
Consider the cut width of a push lawn mower, which determines how wide a swath of grass you can mow in a single pass. The greater the width of the cutting deck, the less time it'll take you to mow your lawn.
When searching for the best push mowers, test the handle level and comfort when possible.
Pay attention to voltage for cordless mowers and amps on a corded mower. The higher the number, the more powerful the mower.
Push mowers are the most budget-friendly mowing choice, but be sure to choose a mower that meets your needs.
Tip: Consider a riding lawn mower if you have a lawn larger than a half an acre.
Electric Mowers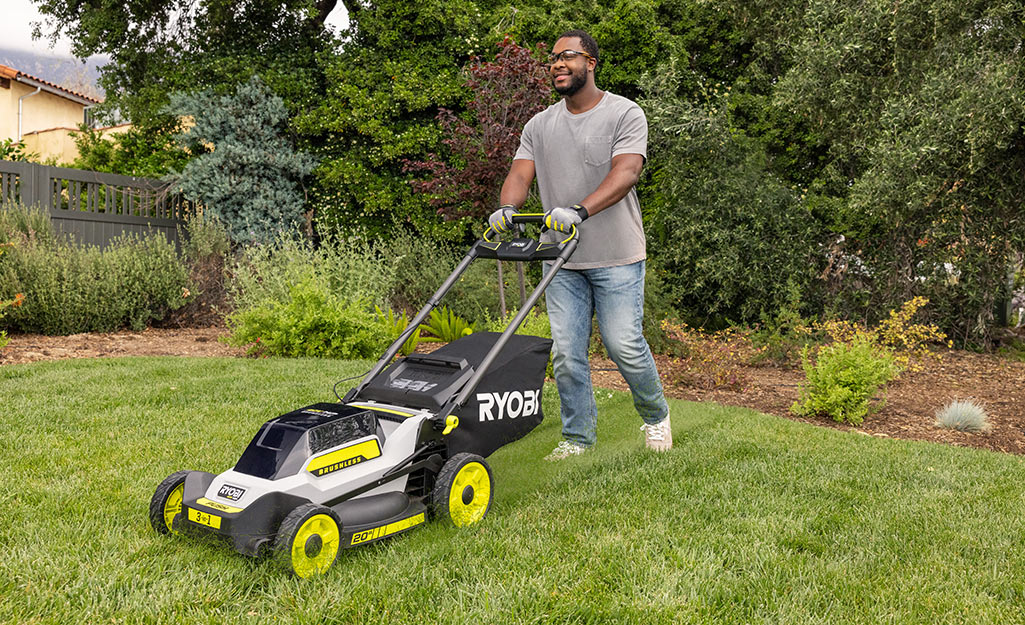 There are two types of electric mowers: corded mowers and battery powered or cordless mowers.
A cordless or battery push mower often includes such features as rear-wheel drive and a push button or switch to start.
A cordless mower with dual battery systems will extend the cutting time available to you. Charge times and voltage options vary.
Corded electric push mowers do not require recharging, so they run longer than cordless. Keep in mind that the length of the power cord can limit your mowing range and capabilities.
Electric mowers have easy start-ups, quieter operation and no emissions.
They are recommended for flat, small-to-medium size yards that are 1/3 acre or smaller.
Electric mowers typically have a narrower cutting swath.
Consider electric mower models that bag, mulch or discharge clippings.
Gas Mowers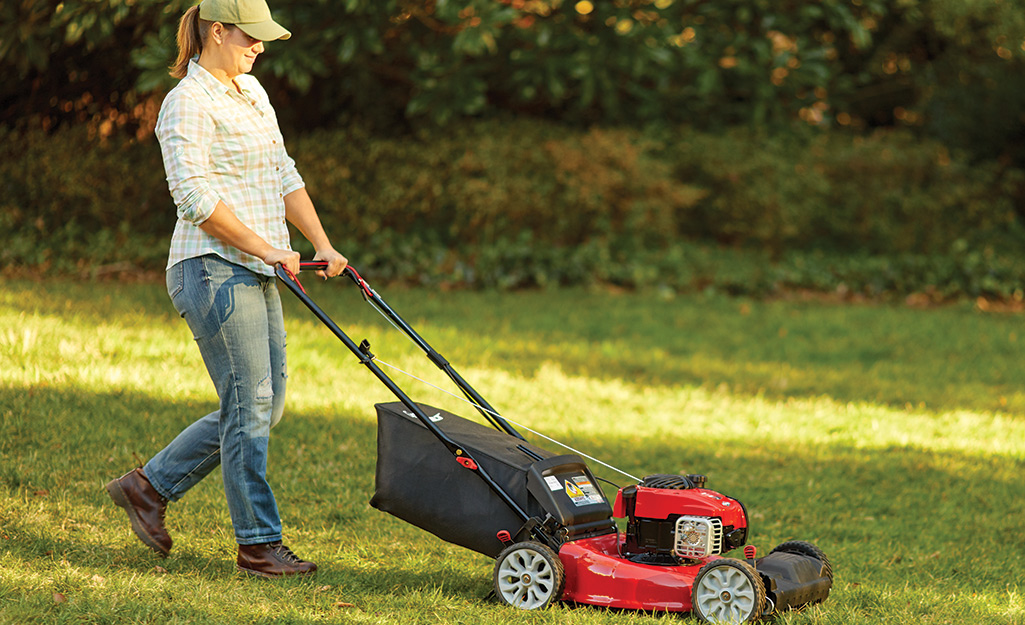 The best gas push mower for your needs will deliver more power and a wider cutting swath. Most are designed with enough tank capacity for mowing an entire lawn without need of refueling.
Many gas mowers use a pull-start, but increasingly, higher-end models will feature an electric starter.
A gas lawn mower is ideal for yards that are 1/2 an acre or smaller, with flat or uneven terrain.
Features can include mulching blades, also called 3-in-1 blades, that give you the options of mulching, discharging or bagging the grass clippings.
Tip: Even the best gas push mower requires periodic maintenance. Always follow the manufacturer's recommendation and use the right fuel for your gas mower.
Reel Mowers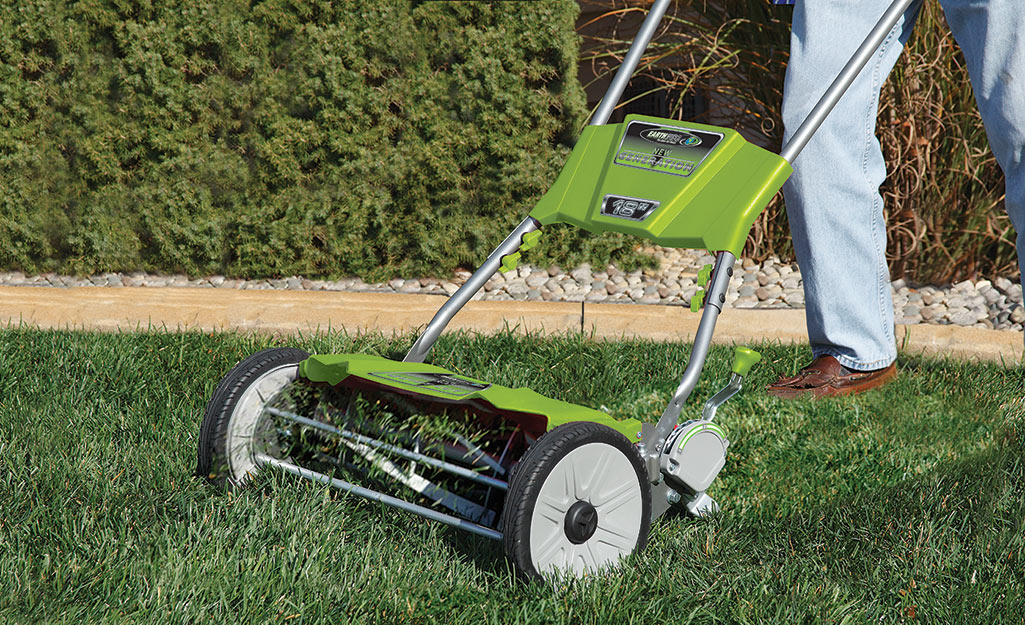 Reel mowers contain no motor, making them the simplest option, but one that requires more effort from the owner.
A reel mower is best for flat, small yards of less than 1/4 acre.
They require no fuel or electricity to run, making them the most environmentally friendly and most low maintenance.
They have an extremely quiet operation.
They are the most economical type of push mower, but have the most limited features.
Self-Propelled Mowers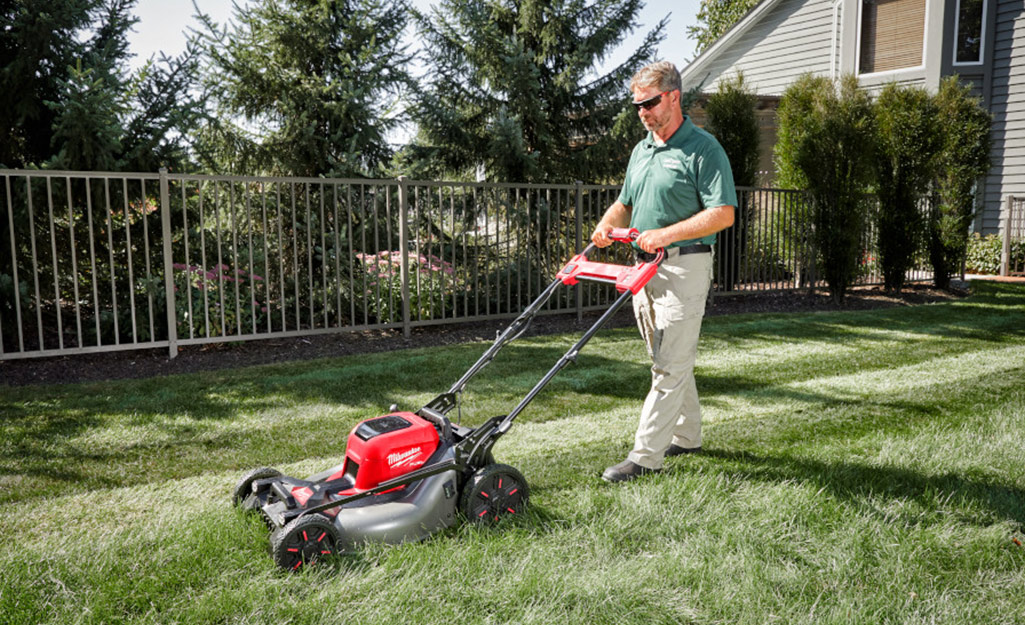 Self-propelled mowers are designed to move forward under their own power, requiring less effort from the operator.
They are designed to automatically move forward from 1 to 3.5 miles per hour.
Some mowers offer variable speeds that come in handy when working near trees and garden beds.
They are the best push mowers for mowing up hills and slopes.
Models with electric starters eliminate tedious pull start.
They are recommended for yards of more than 1/2 acres, especially those that are hilly or sloped.
Choose models with rear-wheel, all-wheel or front-wheel drive options, depending on your yard terrain.
Push Mower Engine Options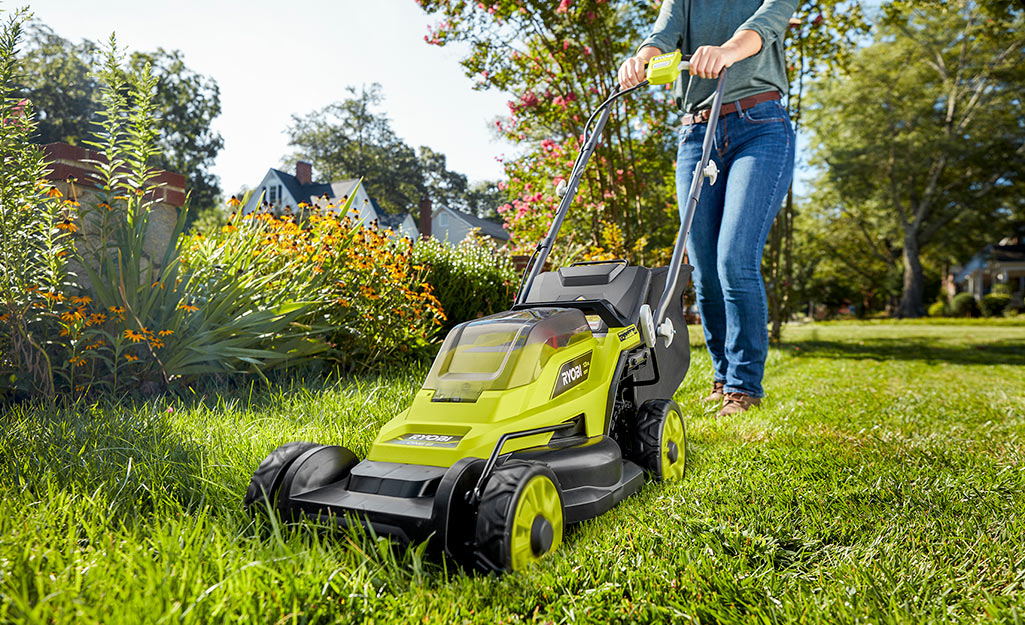 Determine the size mower engine you need based on your yard's size and terrain. If you have a large or hilly yard, the best push lawn mower will have a more powerful engine. 
If you have a flat, small lawn, look for a mower with a standard engine, which features a flat head and side valve with enough power to get the job done.
For larger lawns or lawns with uneven or hilly terrain, look for a model with an engine that features overhead valves (OHV). OHV engines are often the most powerful, easy to start and run more efficiently over the long haul.
Engine displacement refers to the cylinder size of your gas engine. A higher measurement means your mower can handle a heavier workload.
Engine torque measures how much force the mower blades use to spin. The higher the torque, the better for thick, tall grass.
Engines with overhead cams (OHC) are more powerful and tend to run smoother and more quietly.
For convenience, look for a mower with a blade brake clutch. This stops the blade from spinning but allows the engine to keep running, so you can empty the grass collection bag and leave the motor running.
Push Mower Grass Disposal Options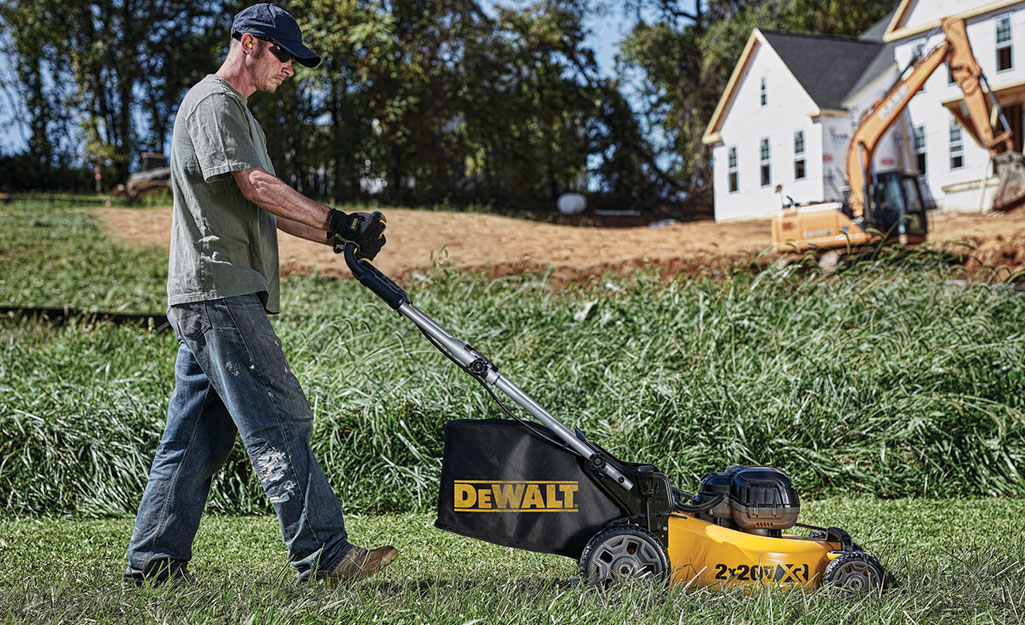 Push mowers have different options for the ejection or disposal of grass clippings.
Some models offer side discharge, for ejecting clippings to the side as you go.
Others automatically bag grass clippings from the rear or side of the mower. Some allow users to alternate between both types.
A mulching mower will chop the clippings into fine pieces, creating instant fertilizer for your lawn.
Consider the size of your lawn and mower to determine if you need such push mower accessories as a grass catcher.
Tip: Mulching grass clippings is convenient, but monitor your yard for signs of lawn thatch.
Push Mower Wheel Size Options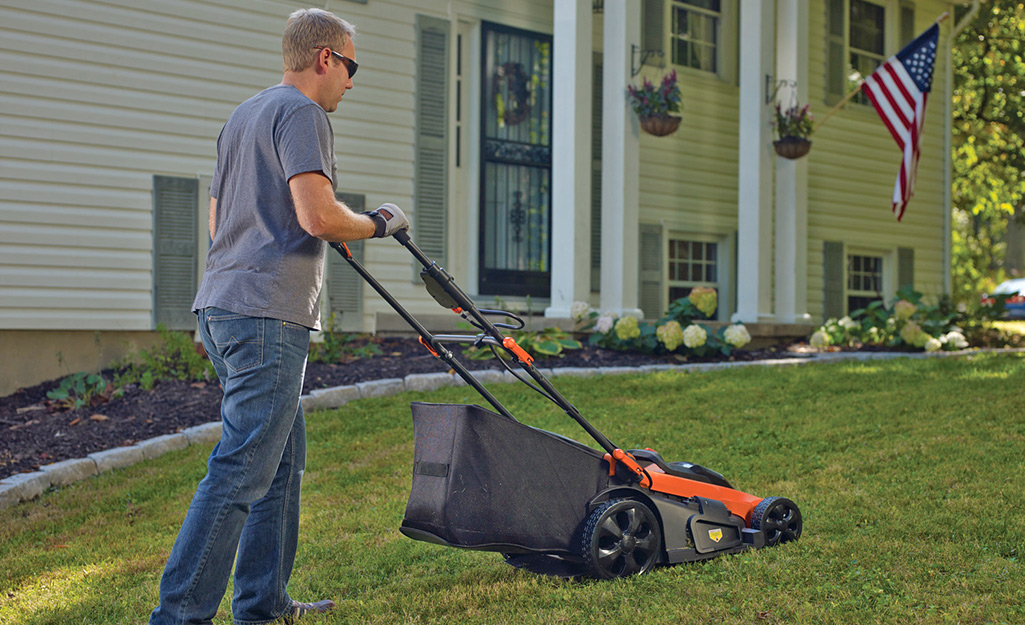 Many push mowers have equal front wheel and rear wheel size. However, high wheel mowers have larger rear wheels.
A high-wheel mower may have better performance rolling over rough or uneven terrain.
The best high-wheel push mower may also be more effective with steep hills.
A mower with standard wheel sizes may be more effective on flatter lawns that require frequent turns. Higher-wheel models can be heavier at the front, making them slightly harder to turn.
Once you determine your yard's size and terrain, picking the right push mower is easy. Whether you choose a gas, electric or cordless options will depend on how much power you need to make quick work of your lawn. If you have uneven terrain, consider getting a push mower with high wheels. Ready to get your new push mower? 
Use The Home Depot Mobile App to locate products and check inventory. We'll take you to the exact aisle and bay.
Or if transportation of your new push mower is a challenge, our truck rental services can help. From pickups and vans to moving trucks, we've got you covered.
Need help identifying lawn mowers? Find products fast with image search in The Home Depot Mobile App. Snap a picture of an item you like and we'll show you similar products.
Explore More on homedepot.com