Think of a self-propelled lawn mower as an upgrade to a standard walk-behind model. Self-propelled mowers still have the walk-behind design, yet are coupled with upgraded speed and other amenities. Choosing a self-propelled lawn mower can make your lawncare routine and mowing more convenient and time efficient.  
This guide covers the best self-propelled lawn mowers. It includes information about the different types, features and accessories. Learn about gas vs. electric self-propelled lawn mowers and find out how to determine the best mowers for your yard.
How Self-Propelled Lawn Mowers Work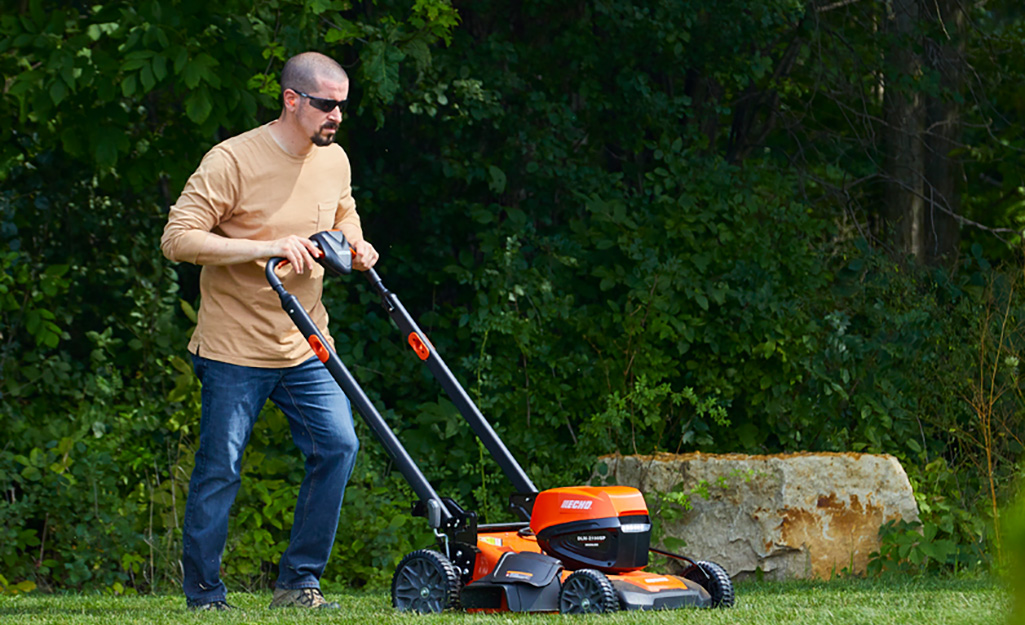 Depending on their power source and voltage, self-propelled lawn mowers can cut through thick grass or well-trimmed lawns.
A simple squeeze on the "bail," the handle or lever that operates the drive system, will get a self-propelled lawn mower moving from 1 to at least 3.5 miles per hour. This feature makes these mowers easy to use. They require much less effort than other walk-behind mowers, like push mowers. 
Self-propelled lawn mowers offer a single speed option and an option for variable speeds that reach high power. 
Self-propelled lawn mowers have front-wheel, rear-wheel and all-wheel drive options. 
Front-wheel drive is best for flat lawns because of the lift required to move across the lawn. 
Rear-wheel drive and all-wheel drive are the safest and most effective for mowing in a pattern on a sloped yard or lawn.  
Self-propelled gas or electric mowers have options for easy storage and height adjustment.
Safety Tip: Once you take your hand off the bail of the mower, it it will stop. The blades will stop spinning to avoid injury.
Gas Self-Propelled Lawn Mowers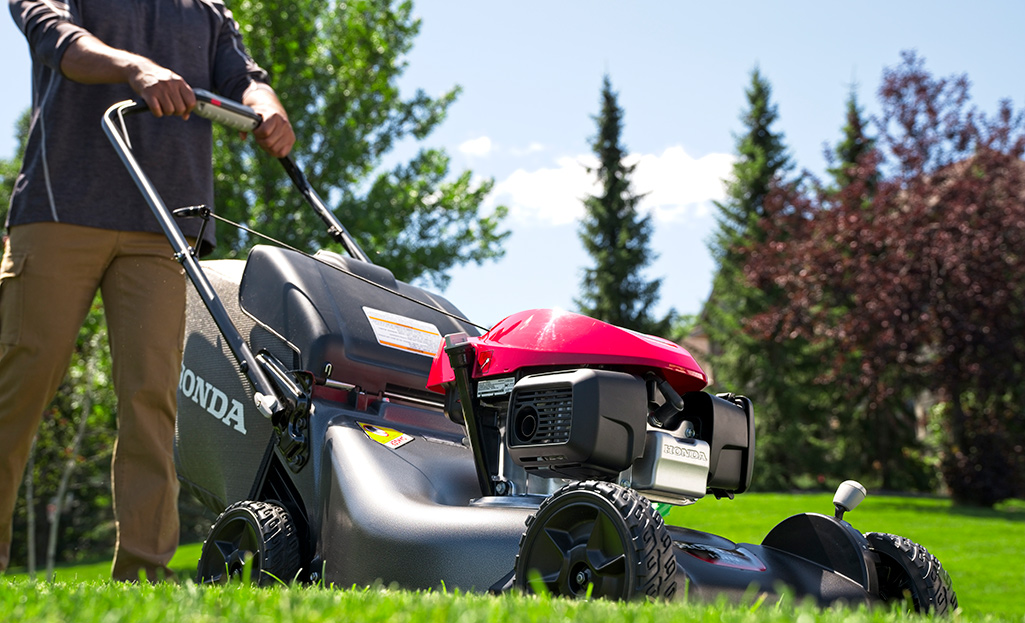 A gas-powered self-propelled mower usually comes with a push-to-start button. Many have a 3-in-1 feature that makes it easier to mulch, discharge and bag clippings during and after mowing. They are ideal for yards with thicker grass. In addition to gas, these types of self-propelled mowers need periodic maintenance and emission checks.
Electric Self-Propelled Lawn Mowers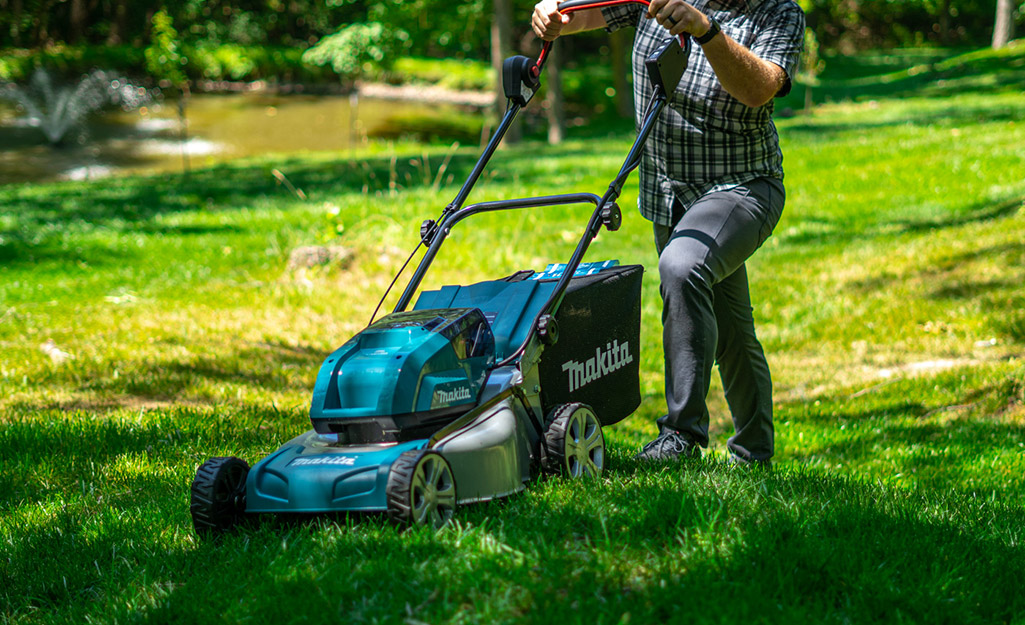 Electric self-propelled mowers have an electric starter switch and are battery-powered. Some models can operate for a long time between charges. 
An electric self-propelled lawn mower is a good choice for a larger yard or one that requires more time to cut. Electric mowers are relatively low maintenance. They're lightweight and quieter than gas-powered mowers.
Self-Propelled Lawn Mower Accessories and Features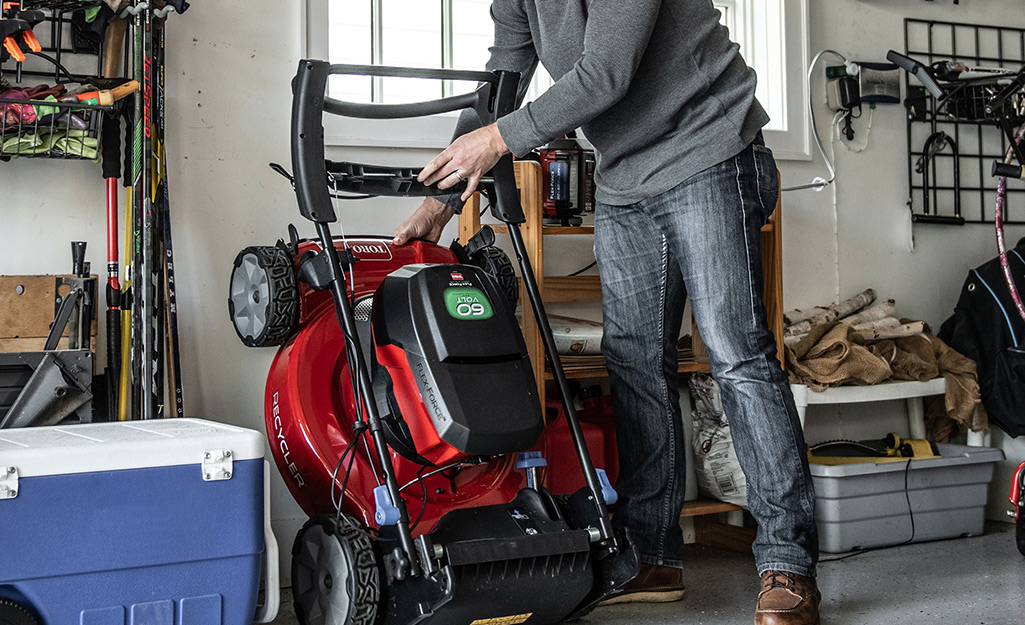 Features and options can improve the efficiency of self-propelled lawn mowers.
Bags on some mowers capture clippings from the rear or side. Other mowers have a side discharge that shoots out clippings as the grass gets cut.
A mulcher finely chops grass clippings as you mow, creating fertilizer for your lawn.
A self-propelled mower's blade brake stops the blade from spinning. It allows the engine to keep running in case you need to pause for any reason during mowing.
Power-Reverse delivers power to the front wheels for easy maneuvering in reverse. Select self-propelled mower brands offer this feature. A mower with a focus on rear wheels will not have a power-reverse option.
Automatic choke allows the mower engine to be cranked at any temperature. It helps adjusts the engine accordingly to regulate the mixture of fuel and air.
When it comes to lawn care, many options are available. You can choose from reel mowers, push mowers, self-propelled mowers and riding mowers. Self-propelled mowers are perfect for people who like to walk but also want more cutting power. Whether a gas vs. electric self-propelled mower is right for you depends on the size of your lawn and the kind of grass you have. 
Ready to select the best self-propelled mower for your yard? Use The Home Depot Mobile App to locate products and check inventory. We'll take you to the exact aisle and bay.
Need special yard tools? Consider using our lawn equipment rental service. Use once, then bring it back, no maintenance required.
Explore More on homedepot.com