The flat-screen TV has replaced the bulky rear projection set in most homes and whenever possible consumers are buying cabinets and stands to display them. Crafted from solid hardwoods, eye-catching glass and metal and other durable materials, this furniture is made for style and function and provides stability and support. Well-designed TV stands also minimize the clutter of wires and cables and create organized space for entertainment media.  
The best TV stands are popular alternatives to wall mounting with TV mounts. This guide introduces you to the most common styles, designs and popular features of TV stands and offers tips for choosing the best one to showcase your flat screen TV. 
Considerations Before Buying a TV Stand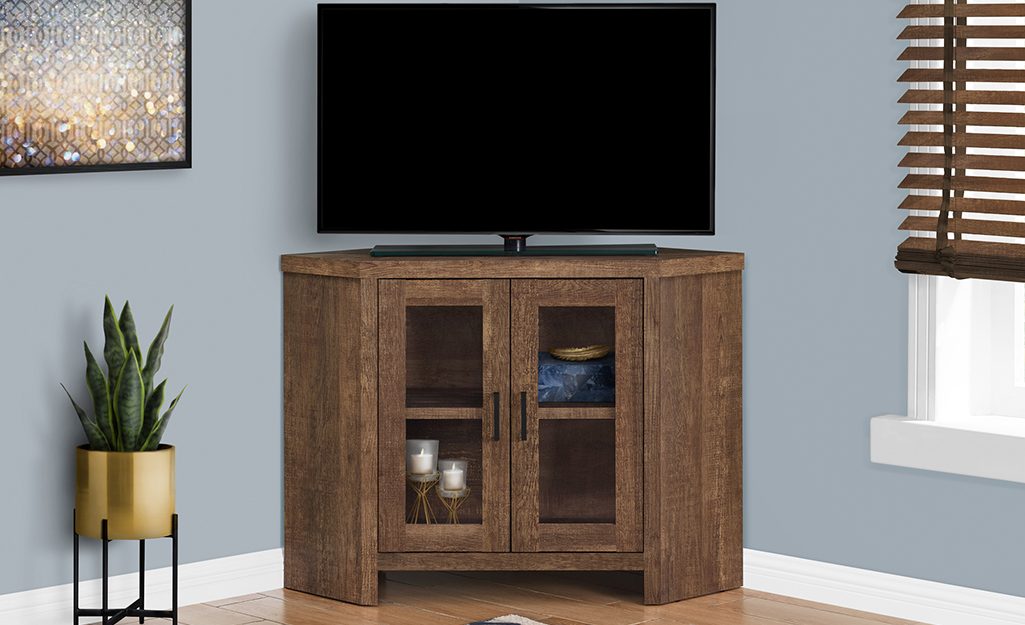 Floor space, room layout and even the number of people living in the house can factor into a decision whether to buy a TV stand. Here are a few things to consider: 
Space is typically at a premium in a studio or small apartment. The choice of a TV stand should be one that takes up a minimum amount of floor space.
Choose a TV stand that accommodates multiple entertainment devices and their media – Blu-Ray players, video game consoles and the controllers. Look for the types of TV stands that emphasize cord and cable management for the devices.
Consider carefully before buying a TV stand if it can sufficiently support the flat screen's weight. Flat-screen TVs are designed for even weight distribution, but there is always the risk of someone bumping into or toppling the flat screen from its stand.
TV Stand Materials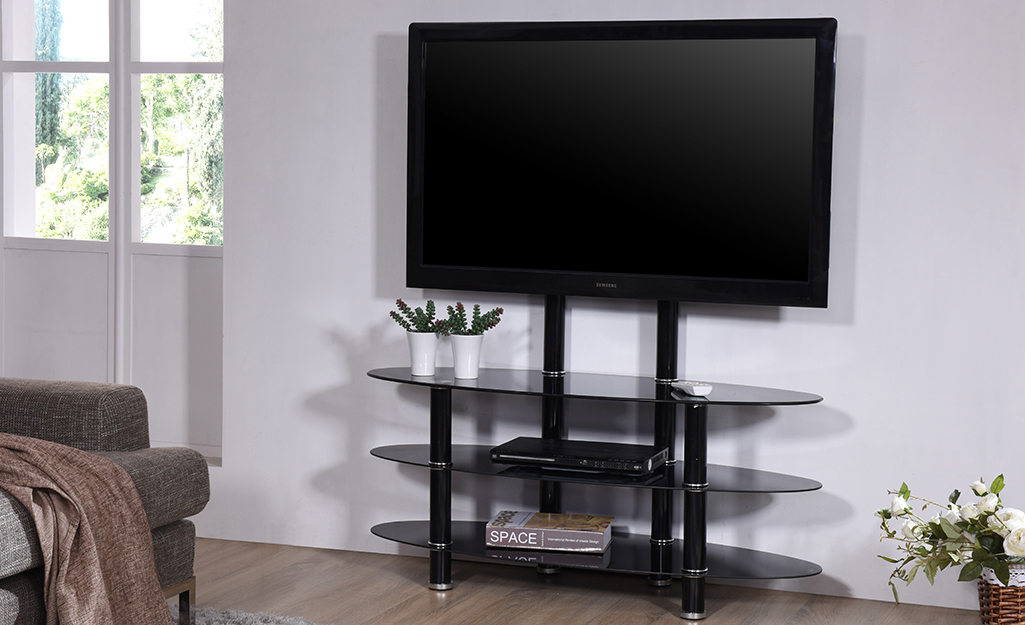 A variety of materials are used for the types of TV stands available on the market. 
Wood: The most common material for TV stands is traditionally used for living room furniture. A TV stand created of quality hardwood easily matches the decor of any family room. Look for well-crafted TV furniture that is sturdy and features rich tones and ornate touches.
Engineered wood: TV stands produced of engineered wood and composite wood are budget-friendly alternatives. A veneer finish is applied to the TV stands to create furniture that has the look and feel of real wood.
Particle board: Particle board and medium-density fiberboard (MDF) types of TV stands are low-cost alternative materials for TV stands. You get what you pay for with these materials. They are not as long lasting as TV stands made of wood but are durable and suitable for regular use.
Glass: Glass TV stands optimize the visual space and project the appearance of order and organization. Brushed metal support pieces complete the visual effect.
Metal: This TV stand material is lighter than wood and is a match for modern or industrial decor. Metal TV stand units often feature glass shelves or crafted patterns.
TV Weight and Size Considerations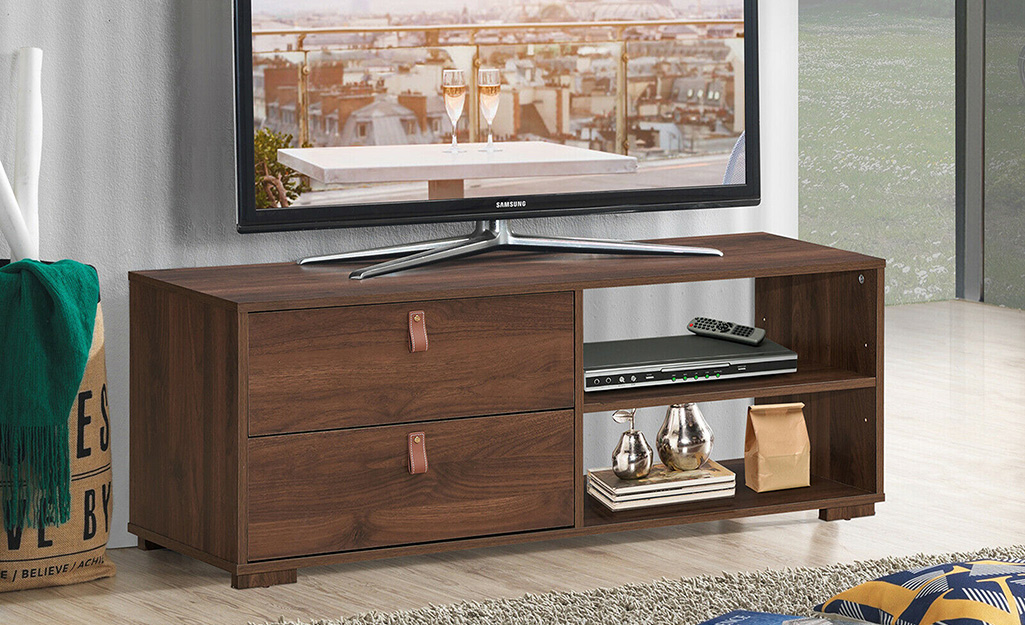 The best TV stands complement a room's layout. Choose a corner TV stand to make use of compact space. Select a TV stand table design that adds to the aesthetic of the living space.  
The choice of TV stand should be wider than the flat screen's display width. The edges of a 40- or 50-inch flat screen TV should not hang over the stand.  
TV Stand Features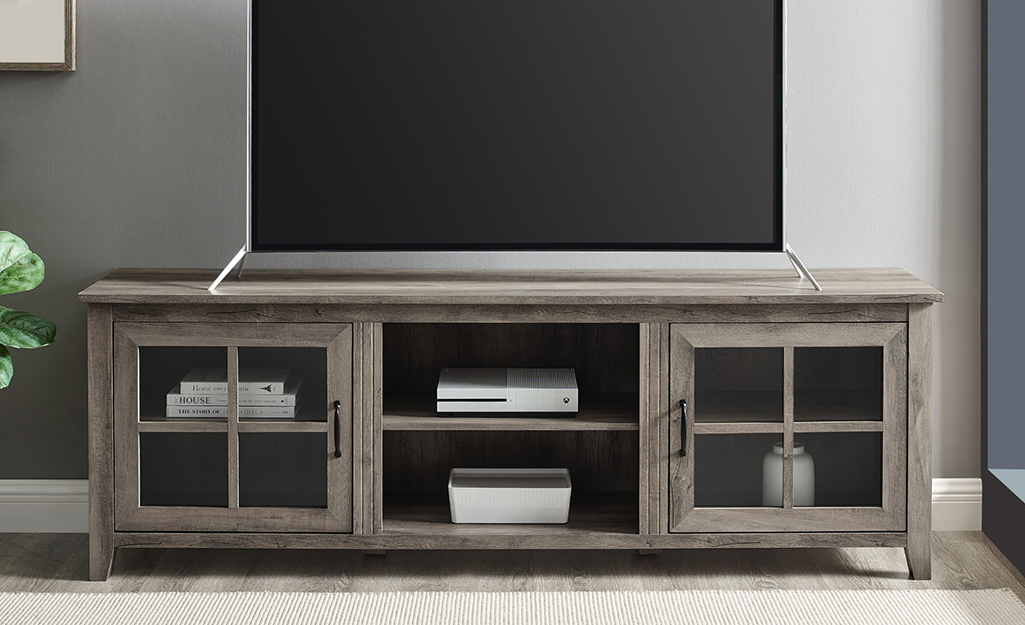 Look for features that make your choice of TV stands functional.  
Cable management: As mentioned earlier, the multiple media devices connected to the flat-screen TV create a tangle of cords and cables that is unsightly and potentially hazardous. Choose a TV stand that is equipped for cable management.
Storage space: Look for the best media consoles that have ample storage space. Consider TV stands with doors to conceal books, catalogs, games and DVDs out of sight.
Shelving: The most functional TV stands have shelves for multiple electronic devices and associated accessories such as remote controls.
Modern TV Stands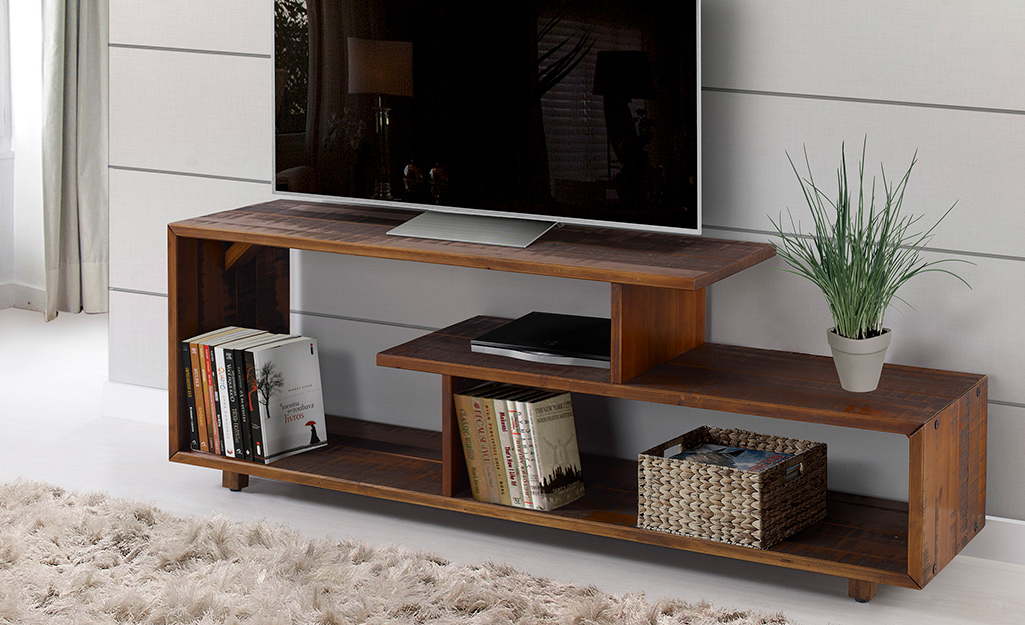 Modern TV stands are designed for the flat screen TV. Understated yet highly functional and featuring plenty of storage space, this progressive style can fit the decor of any home or apartment space.  
Minimalist TV Stands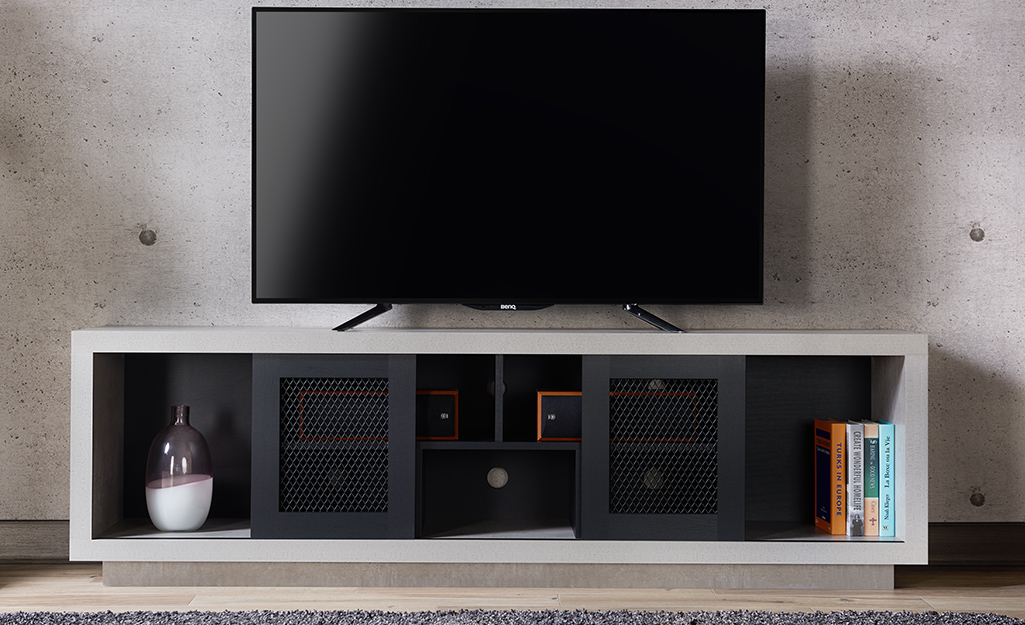 This TV stand style is suitable for small living spaces. The design profile puts an emphasis on open space. A common feature of minimalist furniture design is glass or wood shelves supported by a frame of metal or wood. The result is an airy, light appearance.  
Farmhouse TV Stands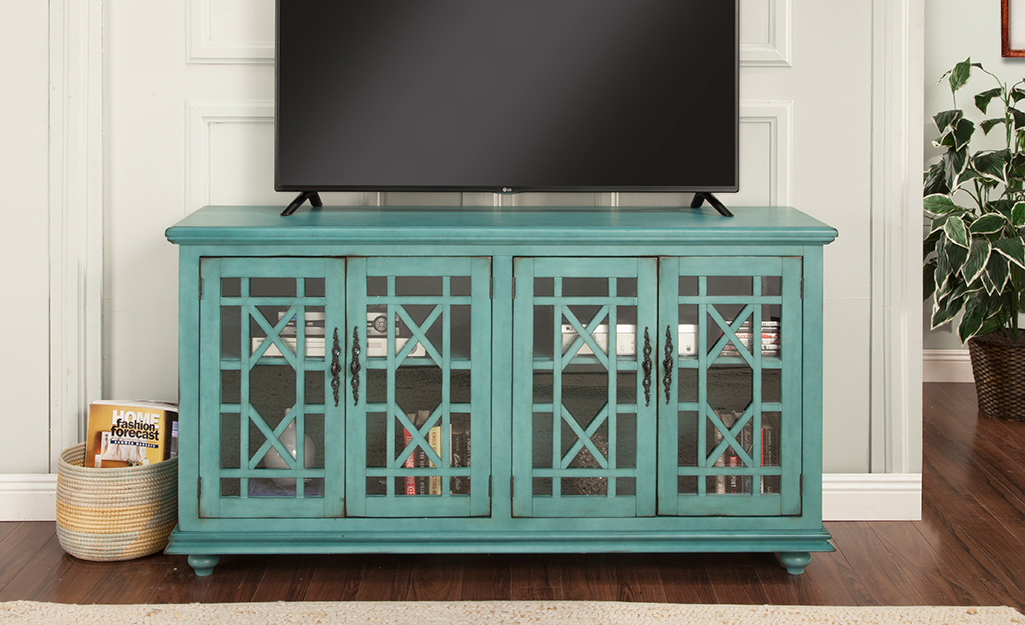 The farmhouse look is popular with consumers seeking furniture that evoke a country or cottage theme. The TV stand design makes use of reclaimed or untreated wood, composite wood and aged metal for a worn, rustic appearance. Raised trims that resemble barn doors complete the rural look.  
Traditional TV Stands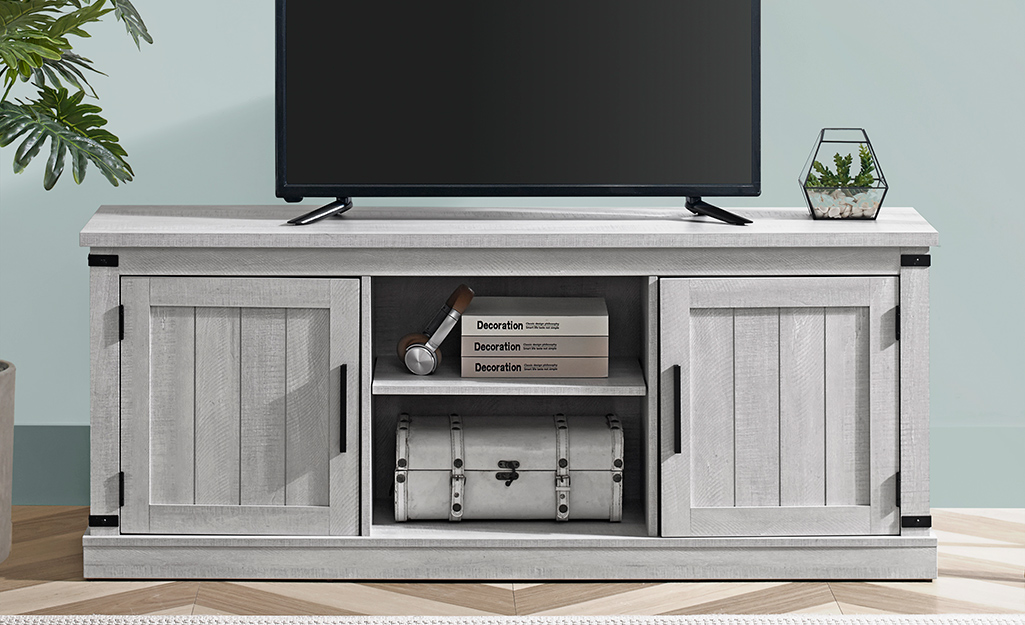 Crafted from quality wood for a classic appearance, traditional TV stands can be commonly found in family rooms and evoke images of the best TV consoles of old. The best TV stands in this style are built with cabinet doors concealing useful storage shelving.  
Industrial TV Stands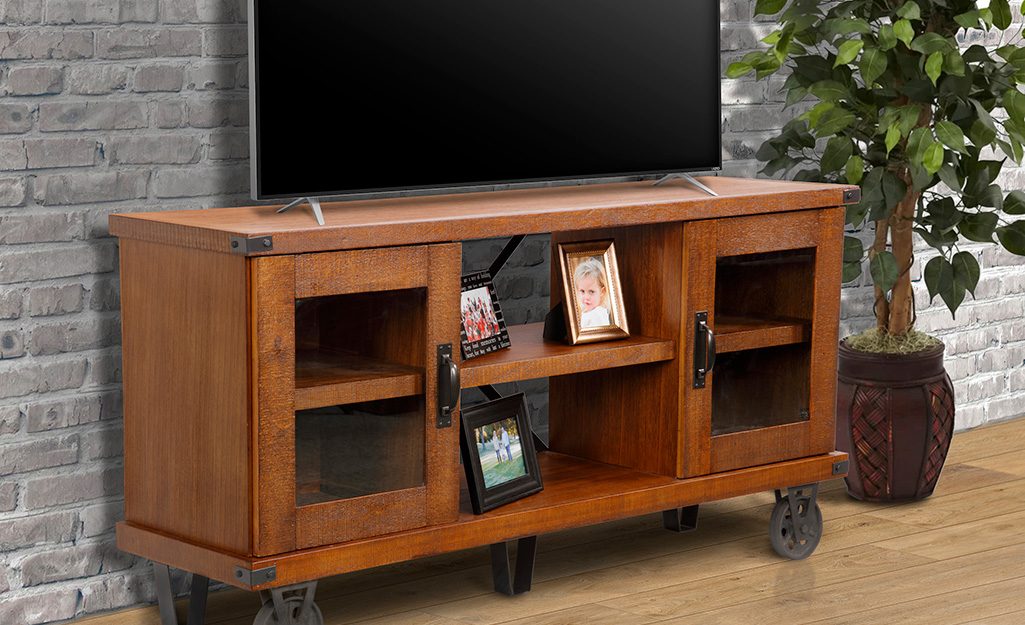 The industrial look blends well into studio and loft-style living spaces. This TV stand design employs the use of distressed or weathered wood and brushed metal in freestanding shelves and cabinet-style stands. The result is a TV stand that is functional and fashionable as interior design. 
Console TV Stands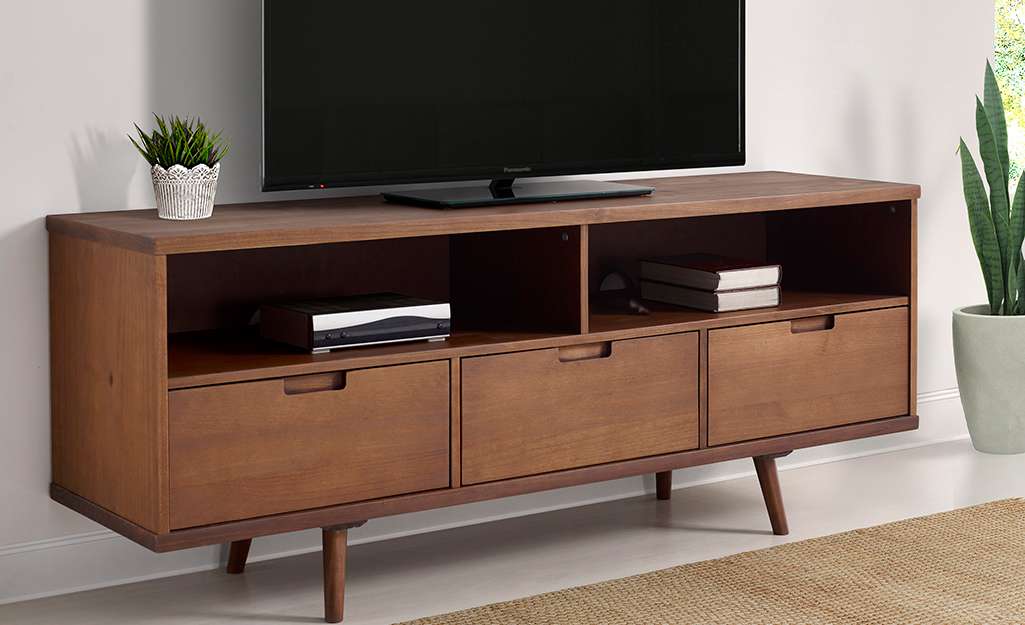 This sleek TV stand design accommodates the widest screens so edges do not hang over the side. Look for consoles that feature sufficient storage space and areas to conceal wiring from media devices. It is a popular choice for consumers that want a stable base for their flat-screen TV. 
There are many styles and designs of TV stands to choose from. The best TV stands enhance your room's decor, so look for one that matches your functional and decorative requirements. Download The Home Depot Mobile App to review the inventory and choose the best TV stand for your home that matches your needs.  
Explore More on homedepot.com