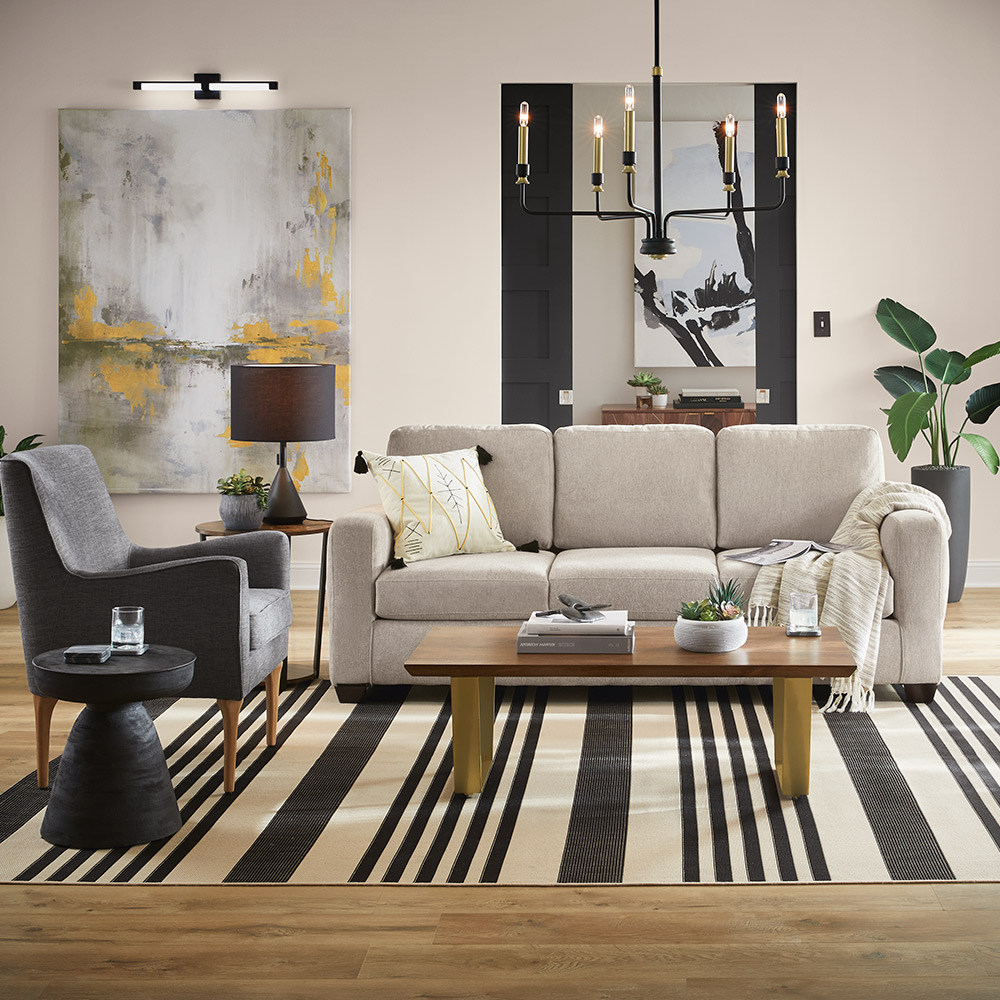 Good furniture is designed to incorporate elements that are both useful and stylish while being durable enough to withstand daily use over many years. Whether you're looking to update a room, furnish a new home or just add a touch of style to a space, this guide showcases the best furniture for your home and lifestyle.  
Living Room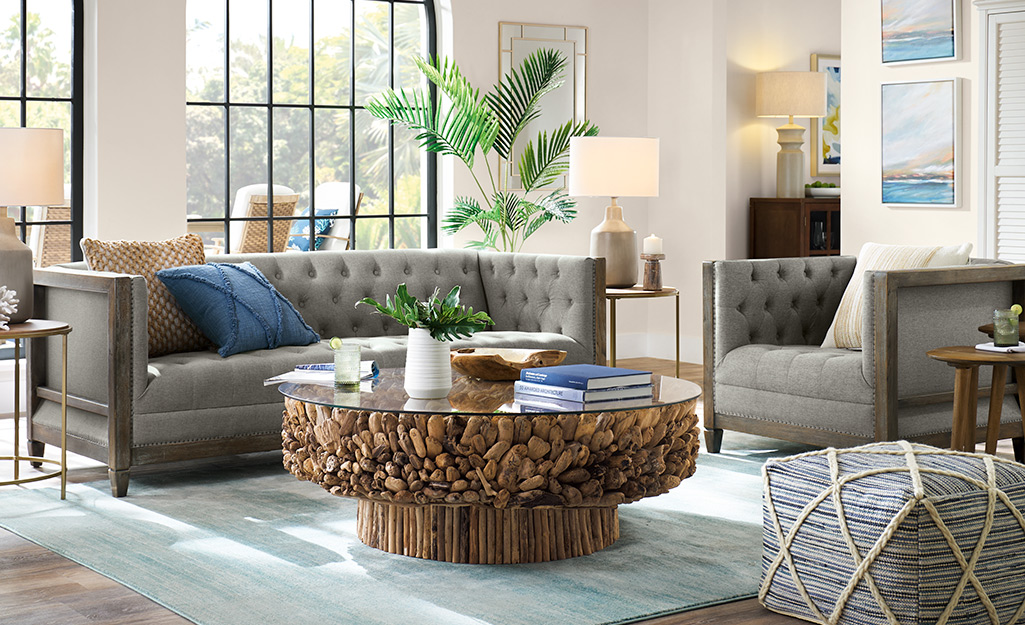 Begin furnishing the living room by deciding how much seating you need and coordinate the space with enough chairs, recliners and sofas. 
In case of smaller rooms, or to free up space, look for an L-shaped couch that will fit into a corner.
Sectional couches are designed for larger rooms, and some feature built-in cup holders or tables for added convenience.
Consider the style and material type of the furniture that you are looking for. Leather provides sophistication and durability. Chenille and velvet provide soft cushioning and elegance.
Ottomans add comfort and enhance the appearance of the room; some models add extra storage.
Reclining chairs provide an ultra-comfortable way to relax in front of the TV.
Choose a comfortable arm height that's neither too high nor too low.
Select couches and chairs with simple lines for a modern look and feel.
Special theater-style seating can turn a family room into a movie theater.
Coffee tables, end tables and nesting tables make a gathering feel more cozy. Choosing the best size—round, oval, square or rectangular—will help pull together your space. 
Dining Room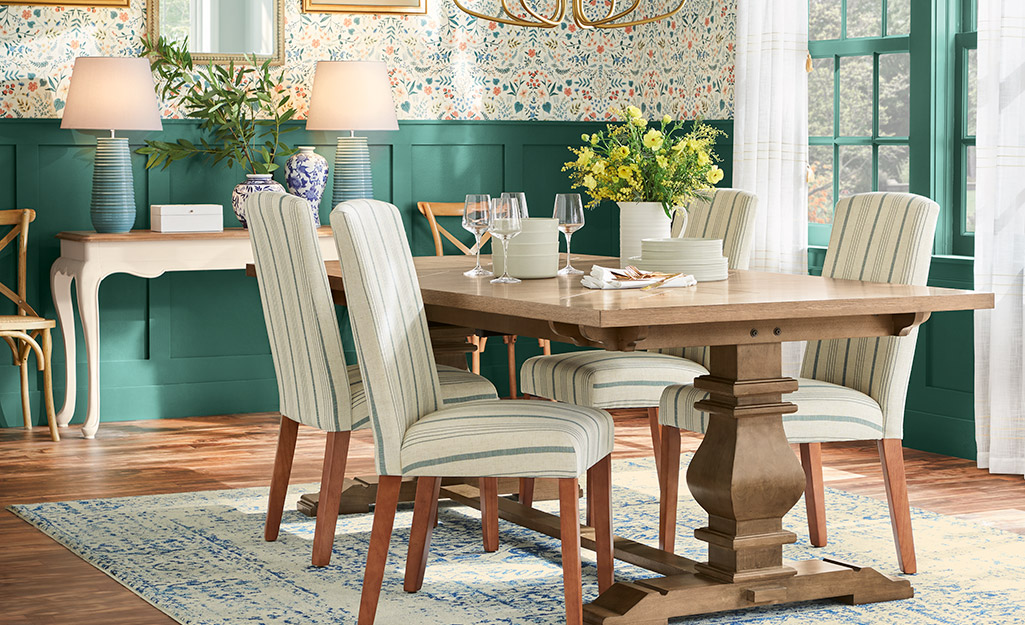 The size of your dining room determines the size of your dining furniture. It is important to have enough room to sit comfortably around the table without feeling crowded in the space. For best results, allow 24 to 30 inches of space for each person around the table. Also, make sure there is room for people to slide dining room chairs in and out. Some other tips for choosing dining room furniture include:
Round dining tables work better in smaller dining rooms and kitchen nooks as they maximize the amount of useable space. 
Rectangular tables are best for larger rooms and formal dining areas.
Dining chairs are available in a wide array of styles to suit your decor. Look for chairs that fit well when positioned with the back support of the chair resting up against the table. 
Tables that are too small make rooms seem large and less intimate.
Tables that are too large make dining rooms feel crowded.
Dining tables are typically available in 29 or 30-inch heights. 
A table with an extension leaf can grow to accommodate more guests.
Home Office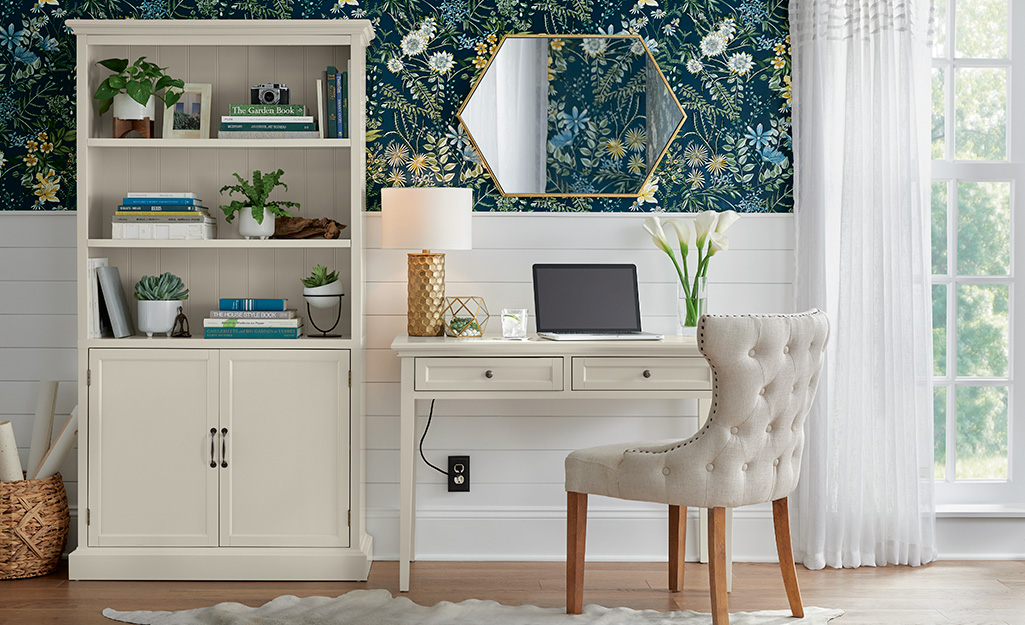 A comfortable office chair and a desk with plenty of storage space are the hallmarks of a useful home office. If you spend a lot of time on the computer emailing or working on spreadsheets, make sure you have a chair that provides enough support to keep you feeling comfortable over long periods of time.
Choose a chair that allows you to make multiple adjustments, especially if more than one person uses it.
Cloth and mesh materials provide ventilation to keep your chair cool, while leather and vinyl offers a stylish look that is easy to clean.
Ergonomic features eliminate unnecessary strain on your back, neck and shoulders.
Height, armrest and tilt adjustment allow customization for long-term, comfortable use.
Chairs with five-point bases provide stability, while casters provide improved mobility.
A good desk should provide plenty of space for your computer, speakers and keyboard.
If you use your desk for more than computer work, look for a larger surface with extra drawers. In small rooms, consider desks that provide vertical storage or include spaces for other accessories, such as a printer.
L-shaped desks can be placed in a corner for better use of space in small areas.
Bedroom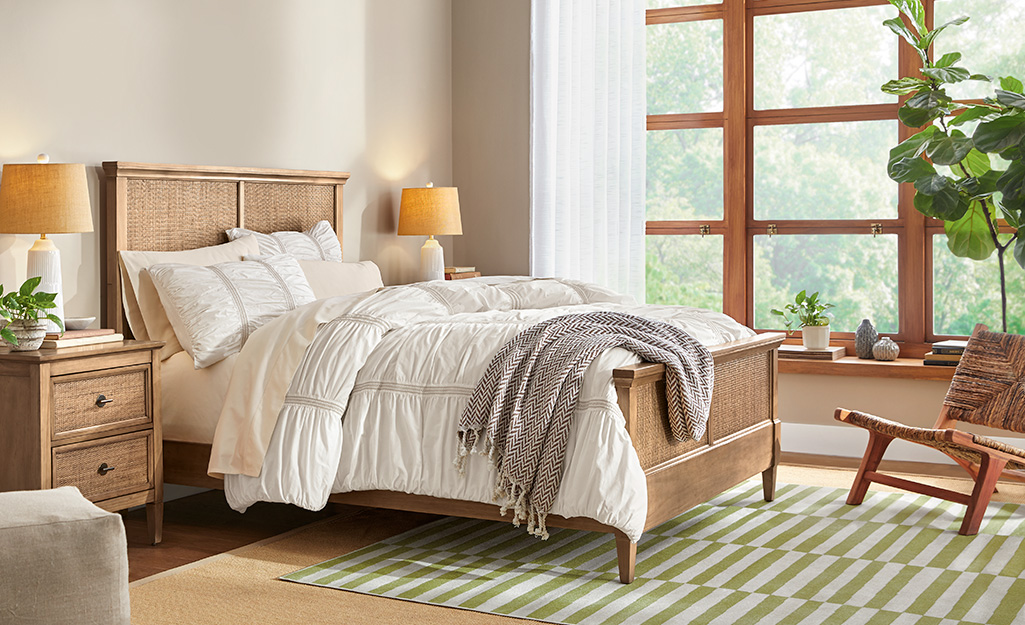 Dressers, chests of drawers and armoires provide storage while serving as an element of style. Choose a bedroom set that provides enough space while enhancing the room's appearance. Evaluate the size of your room and the amount of space you need to sleep to determine the bed size that fits the bedroom best.
Traditional mattresses and box springs come in twin, full, queen and king sizes.
Memory foam mattresses contour to your body for added comfort, while adjustable beds allow you to customize positions for your head and feet.
California king-size beds are slightly longer and narrower than conventional-size kings.
Airbeds, futons, bunk beds and loft beds provide space-saving sleep alternatives. 
Nightstands frame a bed while providing handy storage and surface space. 
Add mirrors to smaller rooms to create a sense of depth and openness.
How to Choose Furniture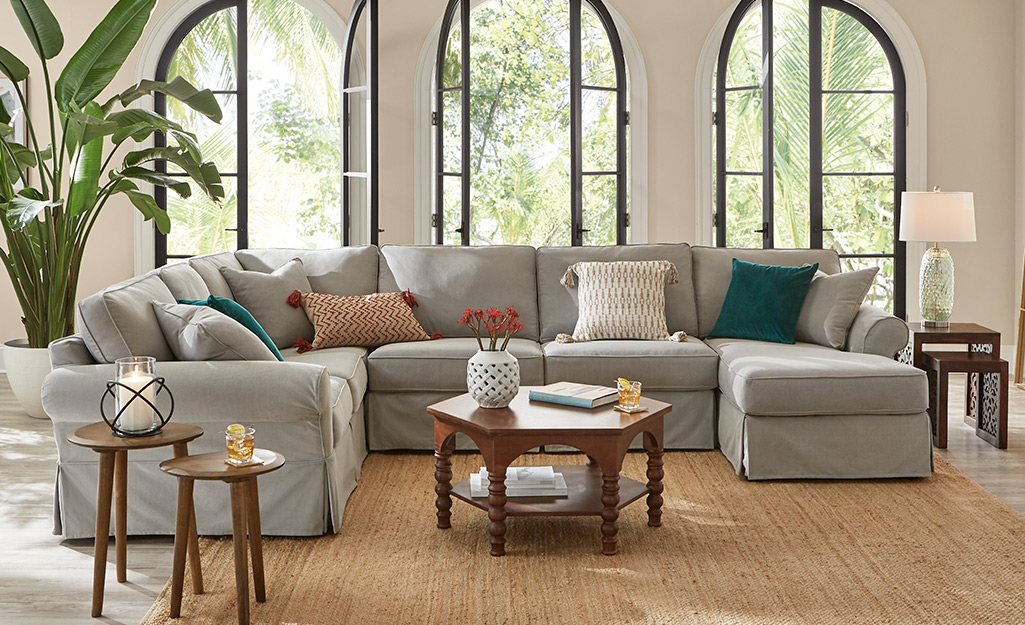 There's a lot to consider when picking out the best furniture for your home, budget and lifestyle. Features and finishes vary depending on your taste, home size and style. Here are a few things to keep in mind as you start your search.
Finishes: Many pieces of furniture have wood finishes that provide lasting beauty and traditional appeal. Choose between enamel, lacquer, oil, paint, stain, shellac and more finishes. 
Table Leaf: Tables with drop-in leaves allow the table to expand to accommodate guests. This is a great alternative when you need room to entertain large groups every now and then, but have a small space and need for a small table on a day-to-day basis.
Bunks and Loft Beds: For small bedrooms, consider using a loft bed to maximize available space. Loft beds are raised off the floor and have an open space beneath such as a top bunk bed with no bottom bunk below. The room beneath the bed provides space for items such as a computer desk, dresser or couch. A storage bed is also a great option for a small bedroom.
Theme Furniture: When furnishing your child's room, consider choosing furniture with a special theme that reflects his or her interests. With everything from race cars and fire trucks to cartoon and movie characters, you can find a bed, desk, table or other items that are bound to make your child feel more at home.
Pillows: Decorative pillows provide stylish accents for couches, love seats and chairs. They are available in a variety of sizes, materials and aesthetic styles. For sleeping, choose a bed pillow that matches the way you sleep. If you sleep on your back, select pillows of medium firmness. Use softer pillows if you sleep on your stomach. Firmer pillows provide greater support for side sleepers.
Corner Chairs: Just as there are L-shaped couches that fit into corners, there are V-shaped chairs for the same purpose. These chairs are designed to maximize space and allow you to face either direction when sitting.
When looking for the best furniture for your home, always keep in mind your lifestyle, budget and needs. This helpful list makes shopping for any room in your home easier. The Home Depot delivers online orders when and where you need them.
Explore More on homedepot.com