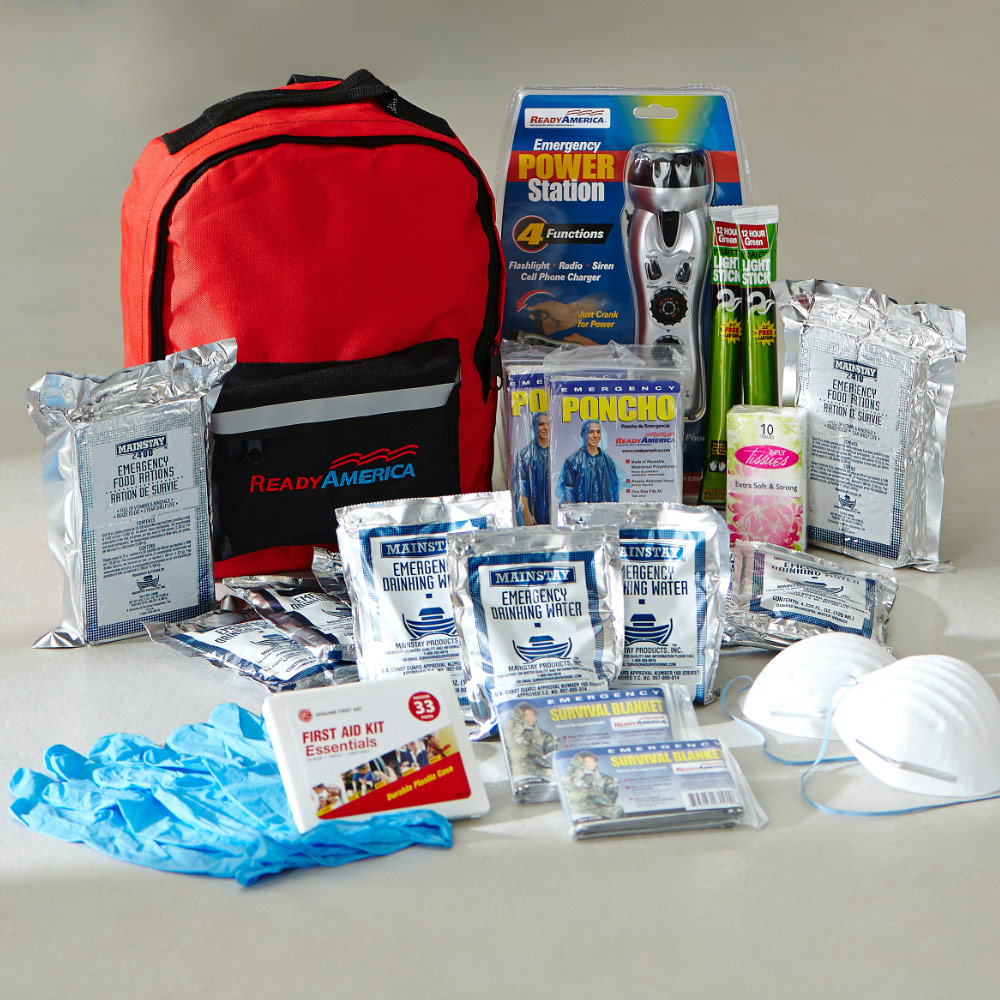 Keeping a fully stocked first aid kit in the workplace is good business sense. It's cost-effective, protects your employees and it reduces risks of lawsuits or OSHA citations. Most importantly, properly stocked first aid kits can mean the difference between a minor injury and a major incident for you and your personnel. This guide provides an ANSI first aid checklist and details how to develop a workplace first aid program.  
OSHA First Aid Kit Requirements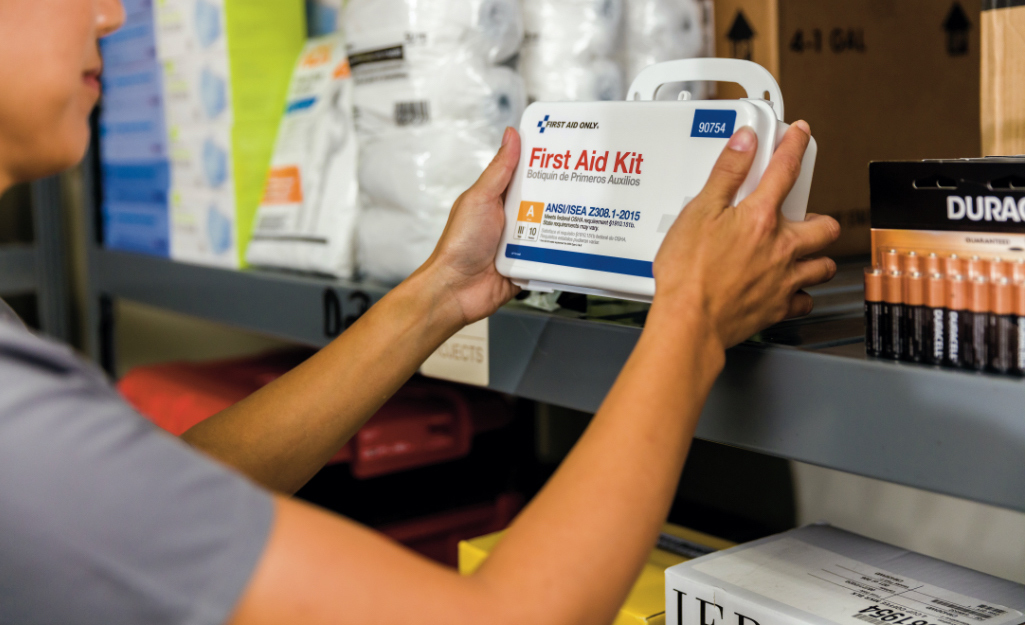 Follow OSHA first aid kit requirements to make sure your workplace is prepared in case of an accident. OSHA first aid requirements include kits that are readily accessible to personnel and fully stocked with supplies based on the hazards of the workplace. 
OSHA standards 29 CFR 1910.151 "Medical services and first aid" require that employers provide readily accessible first aid supplies in adequate quantities. If the workplace or job site is not within proximity of a clinic or hospital, at least one person must be trained to administer first aid. First aid training and supplies both should be tailored to the hazards of your specific workplace. 
Employers are responsible for providing personal protective equipment (PPE) for the safety and hygiene of team members administering first aid.
"Readily accessible" means employees should not have to travel up or down stairs, through multiple hallways or from building to building to reach a first aid kit.
If your personnel drive from job to job, they should have a first aid kit in the vehicle.
All industries are required to follow OSHA's general requirements for first aid kits. Some industries or tasks have specialized first aid standards in addition to the general requirements. These industries include logging, construction, diving, work in confined spaces and electric power generation. 
OSHA standards do not specify the required contents of a first aid kit. Instead, OSHA's non-mandatory 29 CFR 1910.151 Appendix A directs employers to ANSI Z308.1-2015, "Minimum Requirements for Workplace First-Aid Kits."
ANSI Z308.1 is not an officially adopted OSHA standard, but it provides a detailed starting point for stocking first aid kits.
Workplace First Aid Kit Checklist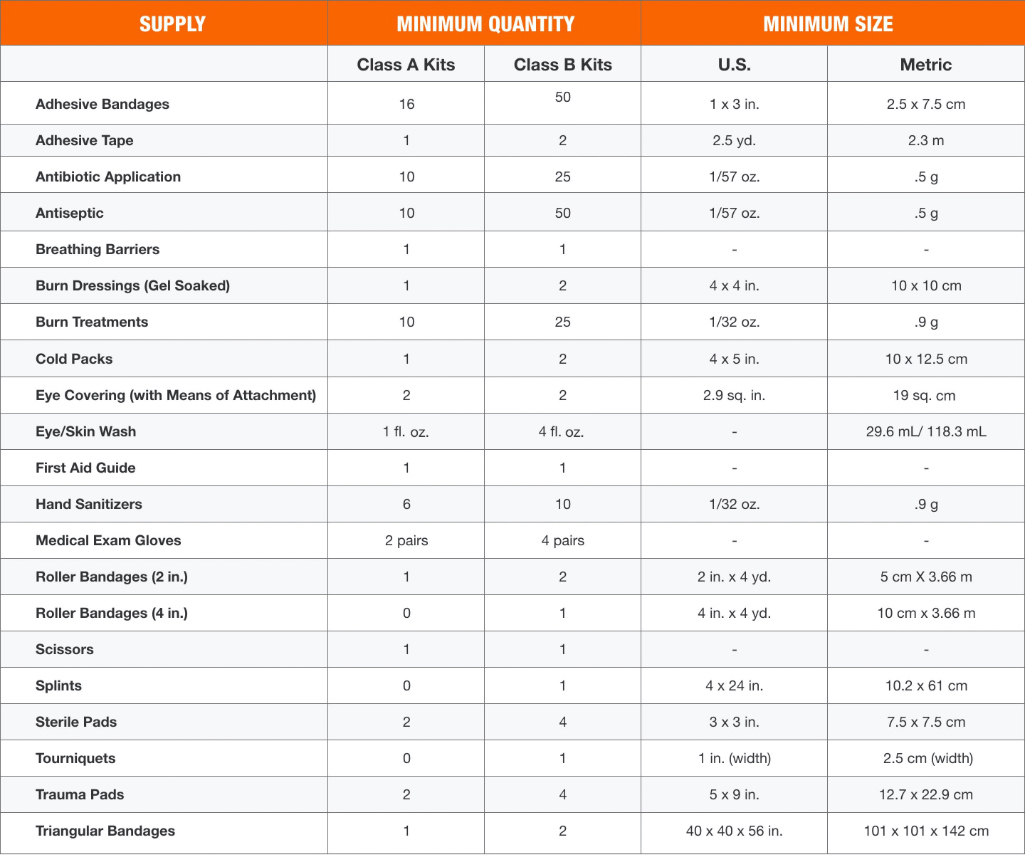 As shown in the table above, ANSI standards outline minimum requirements for first aid kits, including types of supplies, minimum quantities and required sizes. Unless you plan to restock your first aid kit often, it is recommended you keep more than the suggested minimums on hand. 
There are two kinds of first aid kits classified by ANSI: 
Class A kits are suitable for common workplace injuries, such as minor cuts, burns, abrasions and sprains.
Class B kits are recommended for high-risk workplaces, such as warehouses, factories or renovation sites.
Do not subtract items from the required minimums, although adding supplemental supplies is expected. Supply your kit based on the hazards of your specific workplace. 
ANSI-compliant kits organize supplies in color-coded boxes.
Blue for antiseptics
Yellow for bandages
Red for burn treatments 
Orange for PPE
Green for miscellaneous 
Vehicle and truck first aid kits are recommended for industries with service vehicles on the road. These industries include package and freight, sanitation, repair services, landscaping and more. 
To develop a first aid kit appropriate for your workplace, check your records for any workplace injuries or illnesses that have occurred in your business. You can also consult your local fire department, medical professional or OSHA area office. The professionals will help you identify hazards and your business's first aid needs. 
Developing Your Workplace First Aid Program
Use the OSHA 300 log, OSHA 301 forms or reports from your Workers Compensation insurance carrier to identify the first aid needs in your business. An organized first aid program can save your company money in the long run and save your employees from unnecessary injuries or hardship. 
To develop your own workplace first aid program: 
Identify hazards at your workplace or job site.
Obtain estimates of EMS response times for all locations where workers will be on duty.
Put first aid program policies and procedures in writing.
Communicate first aid policies with all personnel.
Designate one team member to be responsible for maintaining first aid supplies.
Inspect your first aid kits and restock monthly or as needed.
Inspect cabinets every time a workplace injury has occurred.
Review your first aid program periodically and make changes as needed.
OSHA does not certify first-aid training courses but does refer employers to training offered by the American Heart Association, the American Red Cross, the National Safety Council and other nationally recognized and private educational organizations. Repeat trainings as needed to ensure your employees' safety. 
More Tools. More Products. More Perks.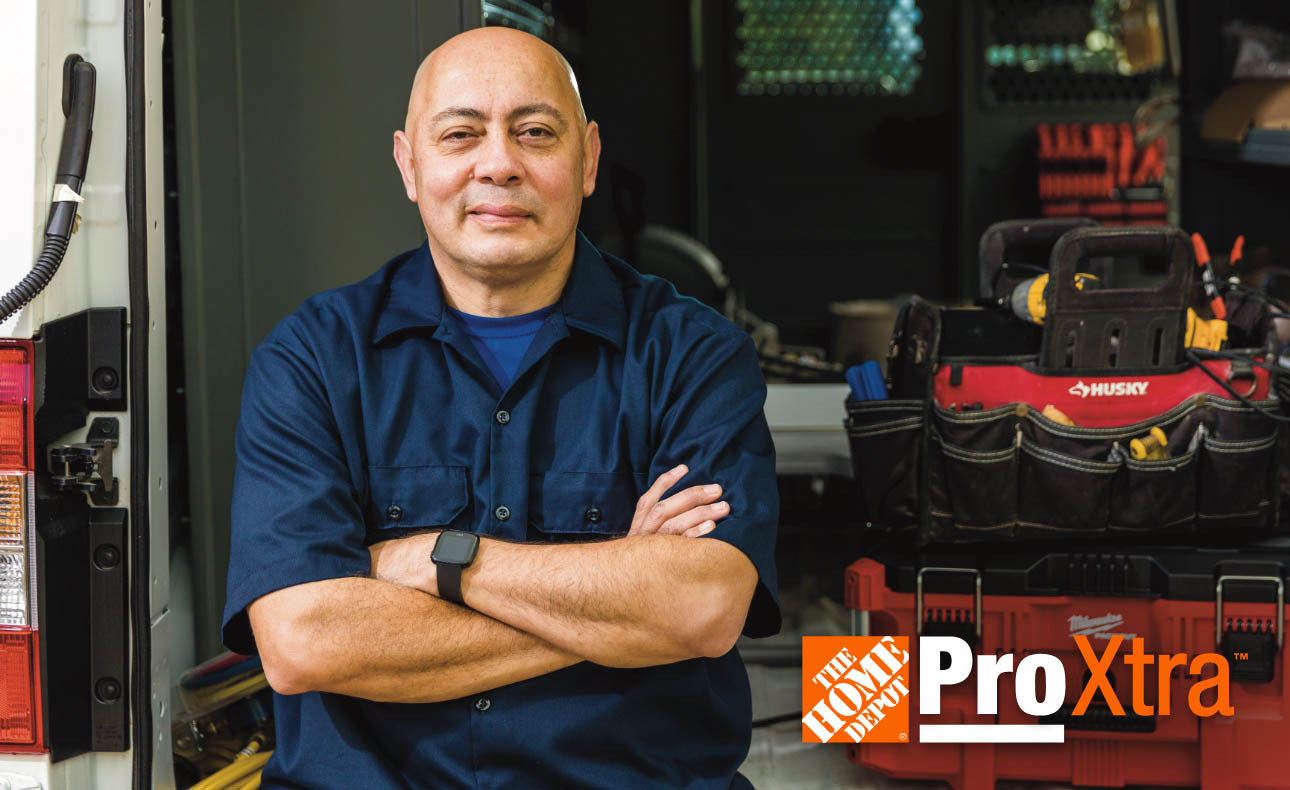 Be more competitive and boost your bottom line with Pro Xtra, The Home Depot's loyalty program built for Pros. Sign up today to access the enhanced Pro Online Experience, built with the online business tools and time-saving features Pros need. 
OSHA first aid kit requirements help to ensure the compliance of your company and the safety of your personnel. Part of your workplace first aid program is to fully stock your kit with supplies based on the company hazards. In addition, make sure at least one designated employee is trained in first aid. OSHA directs employers to the ANSI minimum requirements for workplace first aid kits.
With a free Pro Xtra account, your purchases are saved for up to six months so you can quickly Buy It Again in a few clicks if you need to restock a workplace first aid kit. 
Occupational Safety and Health Administration, "29 CFR 1910.151 – Medical services and first aid".
American National Standards Institute,  "Z308.1-2015­­ – Minimum requirements for workplace first-aid kits".
Explore More on homedepot.com