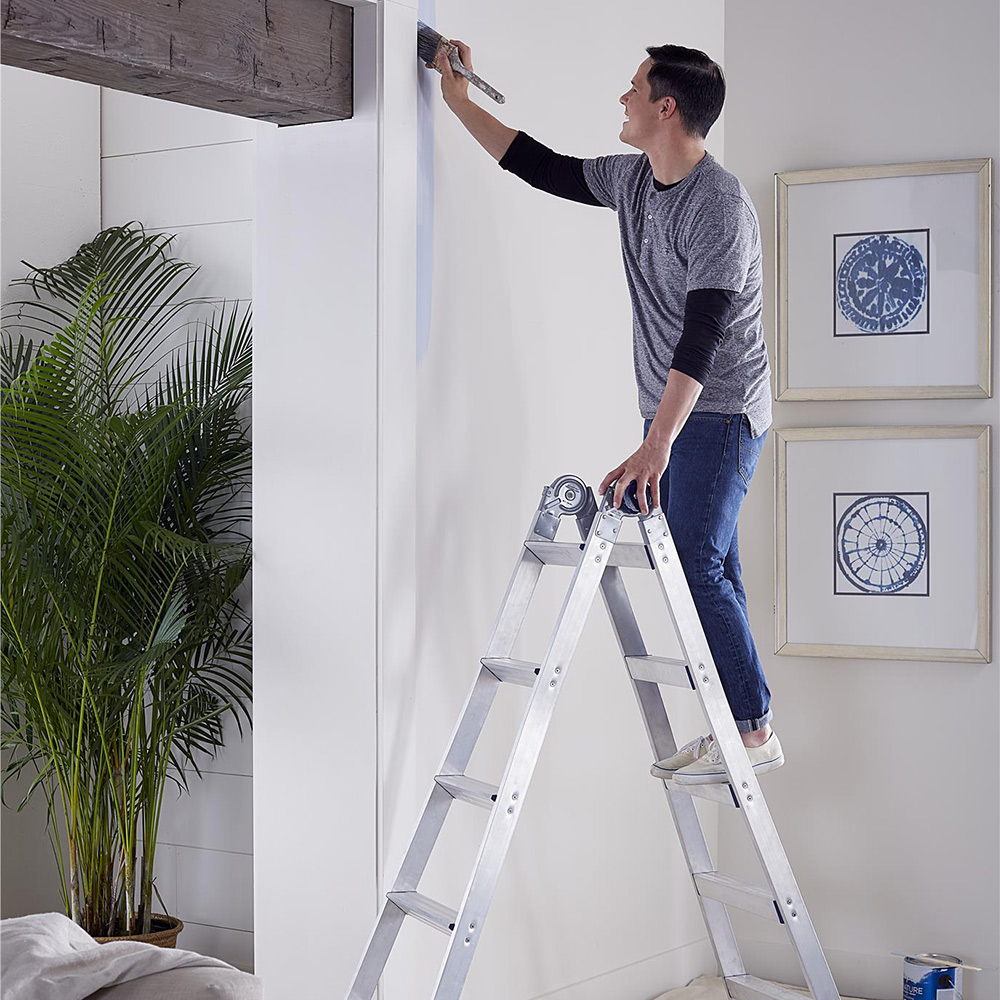 Whether you're making home repairs or regularly working on construction sites, a ladder is one of the most commonly used tools. Each step you take toward the top should be a safe one. Regular ladder users can be even more likely to cut corners when it comes to safety. Use these ladder safety tips to prevent injury and avoid dangerous accidents.
Choosing the Right Ladder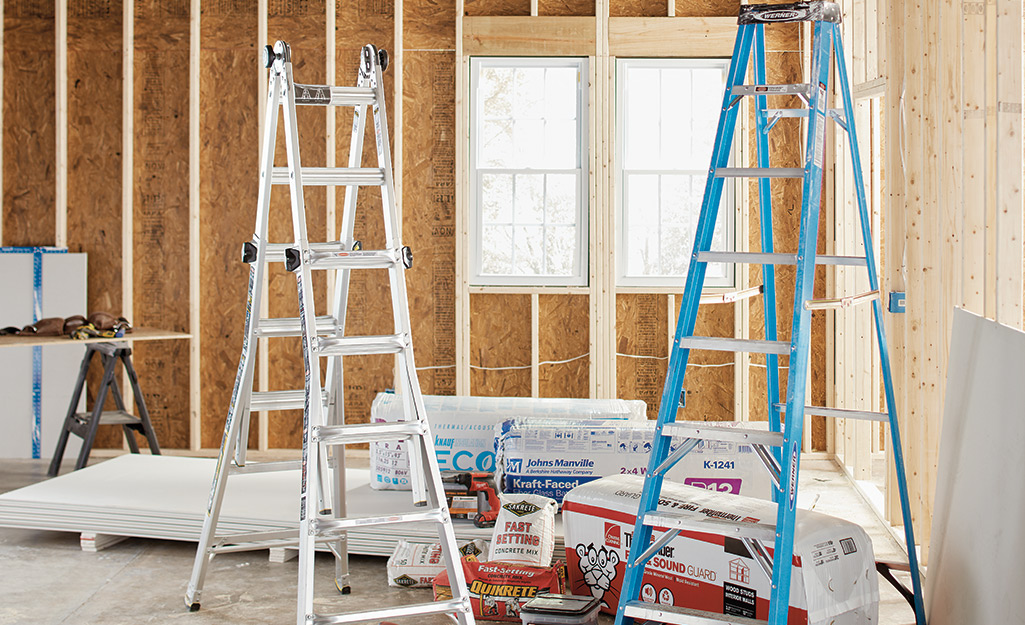 Ladder safety starts here. Not all ladders are created equal, and different styles are designed to keep you safe in different situations and conditions. Here are a few tips to help you choose the right ladder for any job:
SSelect the right ladder style: Extension ladders, platform ladders, work platforms and even step ladders all have a place at home and on job sites. Choosing the correct ladder will help you stay safe when climbing or standing to perform a specific task.
PPick the right materials: Aluminum ladders are lightweight and durable, but are not weather-resistant or non-conductive. Fiberglass ladders are weather-resistant and have non-conductive siderails which make them a safe choice around electrical components.
MFind the right height: Climbing to the top steps or standing too high on a ladder can put you at risk. Pick the ladder height that's correct for the job. Extension ladders should be 7 to 10-feet longer than your highest support point. Avoid standing above the fourth rung from the top on an extension ladder.
MConsider reach: A safe reach height is no more than 4 feet from the top of the ladder.
CCheck ladder duty ratings or maximum load capacity: These ratings and a corresponding chart will tell you how much weight each ladder is capable of supporting. Light duty ladders typically hold 200 lbs., medium duty and painter's and handyman ladders hold about 225 lbs. Heavy duty, heavy duty industrial ladders and special duty ladders can hold 250 to 375 lbs.
CChoose a ladder that meets OSHA or ANSI regulations: HSA-approved and ANSI-approved ladders help keep your employees safe.
Basic Ladder Safety Guidelines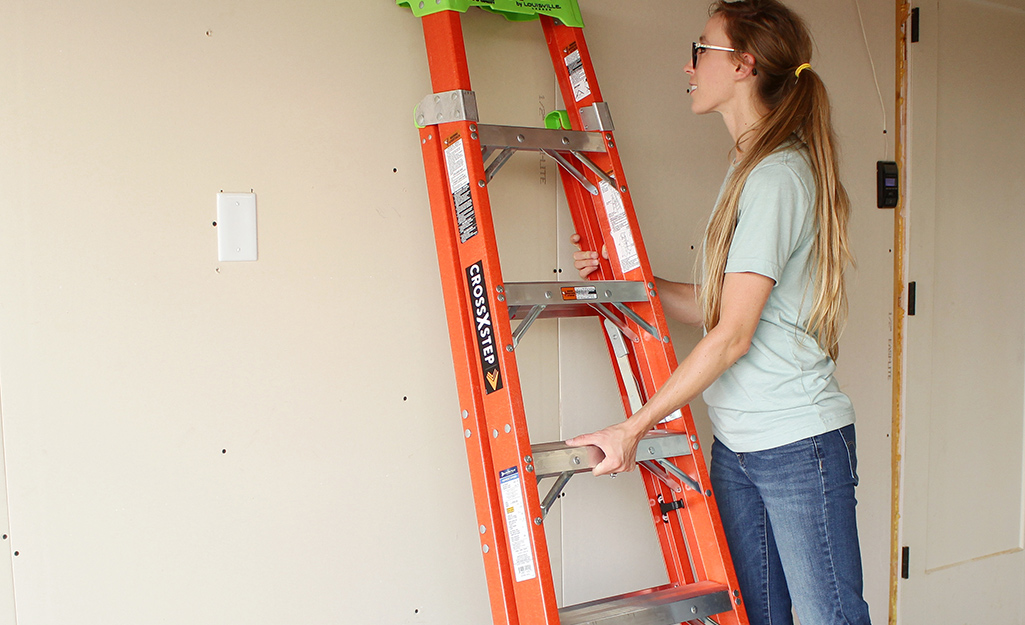 You've got the right ladder for the job so now it's time to get some work done. Use these ladder safety tips to protect yourself and your employees.
Ladder Inspections:
Inspect your ladder before using it. Don't use a ladder with structural damage.
Clean your ladder regularly. A clean ladder is much safer than a dirty ladder.
Check to make sure all moving parts work properly and are secured in place.
Never check a ladder by jumping up and down on it or using excess force to test for strength and integrity.
Climbing Safety Tips
Face the ladder and keep three points of contact when climbing. Two hands and one foot or one hand and two feet is considered safe.
Make sure your ladder's feet are firmly and securely on the ground.
Always face the ladder and use the rungs as grips. Avoid using the side rails to pull yourself up. Keep your body centered on the ladder.
Never climb with your back to the ladder.
Wear the right shoes. When climbing a ladder, you want to be wearing work boots or work shoes. Tennis shoes with appropriate tread are acceptable for light-duty jobs.
Avoid using your ladder outside in bad weather whenever possible.
Workplace Ladder Safety: 
Keep multiple ladders on hand. Having a few options can make it easier to choose the safest ladder for any activity.
Don't twist, turn or manipulate your body while on a ladder. You could lose your balance or tip the ladder over.
Don't attempt to cut anything on a ladder. Only use a properly equipped ladder or special saw horse.
Talk to employees about ladder safety regularly. All employees that use a ladder should learn basic ladder safety.
Post ladder safety rules in a conspicuous place if you work in manufacturing or an industrial or commercial environment.
Helpful Ladder Accessories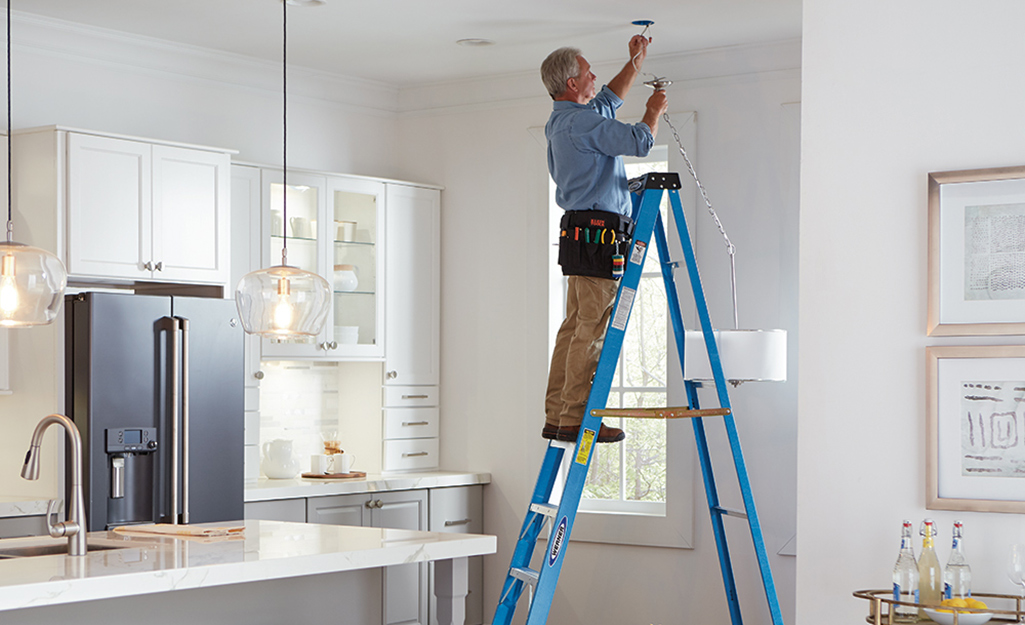 Checking to make sure your ladder is in tip-top shape before you climb a single rung is a must. There are some ladder accessories that can make your work easier while helping to keep you secure. 
LLadder levelers: hese level the ladder on uneven surfaces and make it possible to work in an area with an uphill or downhill slope.
LLadder stabilizers: Great for high up or hard-to-reach work, ladder stabilizers are often used by painters to tackle second story trim since they can straddle windows. They can also be helpful for tasks like siding repair and gutter cleaning and installation.
PProject trays: Got a paint bucket, painter's tape, an assortment of brushes or a handful of tools to take up with you? Keep them handy with a variety of purpose-specific or general project trays that connect right to your ladder.
Ladder Height vs. Reach Height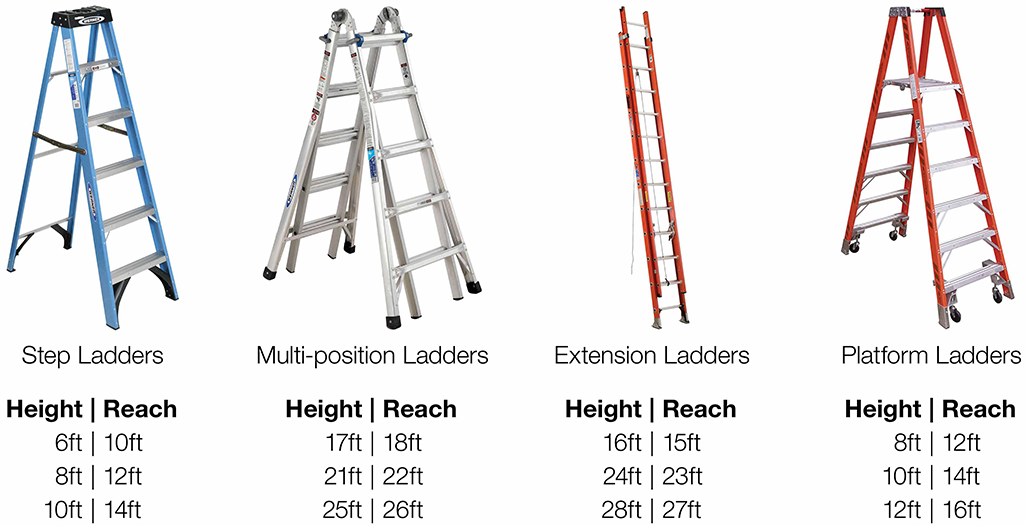 In addition to choosing the right ladder style for your project, it's also important to choose the right size. Many people choose a ladder that is too long or too short for the job at hand.
For extension ladders, use one that is at least 7 to 10-feet longer than the highest estimated contact point. This gives you enough room for set up and a safe reach, as needed. The maximum reach height should be 4 feet higher than the top of the ladder.
Refer to the chart above for the safe reach height across different ladder styles.
Following these ladder safety tips helps you tackle projects safely and effectively. Consider these guidelines for standard and extension ladder safety. Use the right type for the job, and take advantage of accessories that will make the task easier. The Home Depot delivers online orders when and where you need them.
Explore More on homedepot.com