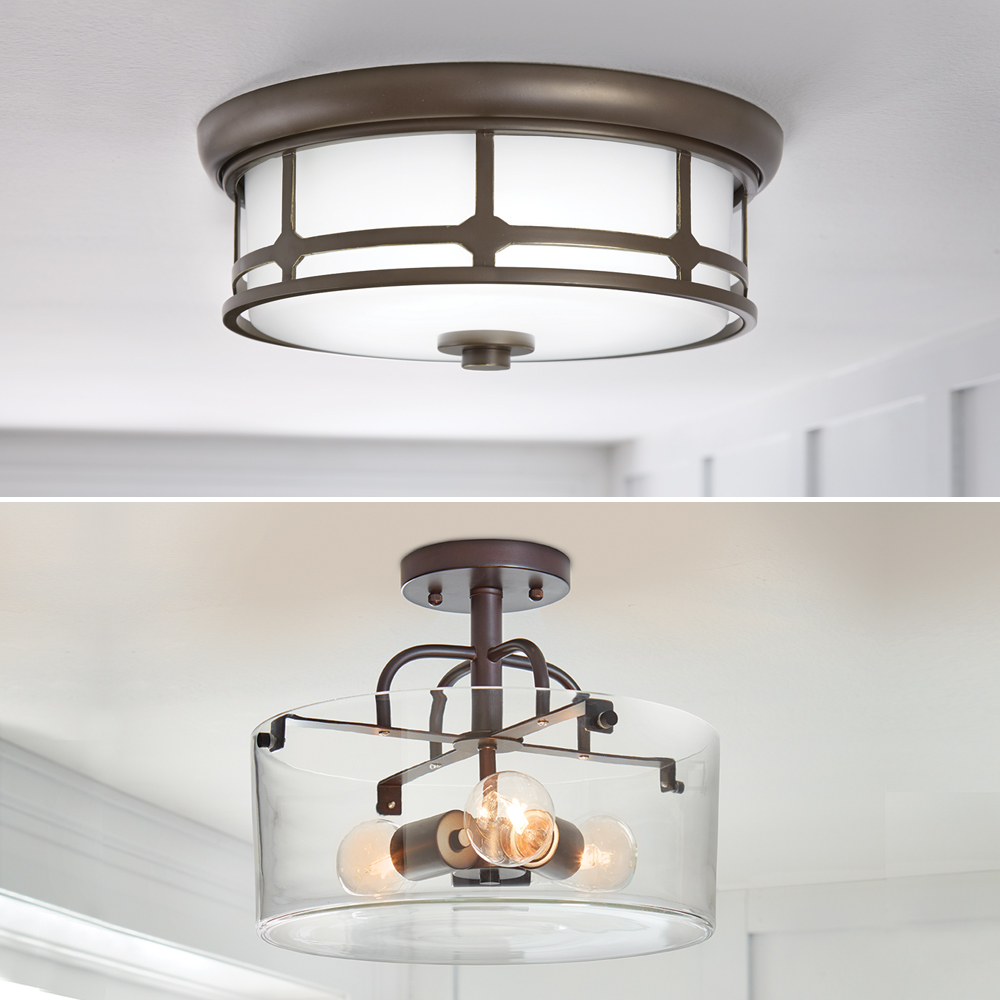 Overhead lights brighten your rooms and serve as the first layer of lighting, followed by task and ambient lighting. Ceiling lights can enhance the mood and interior design theme of a room, and since they're available in numerous styles, it's not hard to find one that works. The two major types of ceiling lights are semi-flush mount and flush-mount lighting. Read on for tips on how to choose the best lights for your living space.
The Difference Between Flush Mount and Semi-Flush Mount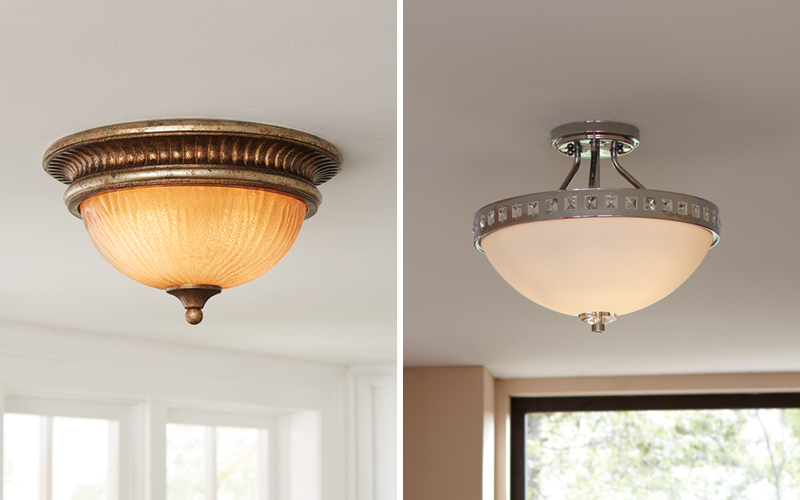 Both flush-mount and semi-flush mount lighting fixtures are ceiling lights, but they look different after installation:
A flush-mount light is installed directly onto the ceiling and has no visible center stem that lowers the sockets and holds the fixture below ceiling level. This makes it seem as though the bulbs are mounted right on the ceiling. Many flush-mount fixtures have simple, minimalist designs and tend to blend in with any existing decor.
A semi-flush mount light has a center stem that lowers the light bulbs roughly 4 to 8 inches below the ceiling. Semi-flush mount lights are often more decorative than flush-mount fixtures.
Tip: Lights that hang more than 8 inches from the ceiling are called pendant lights or chandeliers, depending on their design.
Where to Use Close-to-the-Ceiling Lighting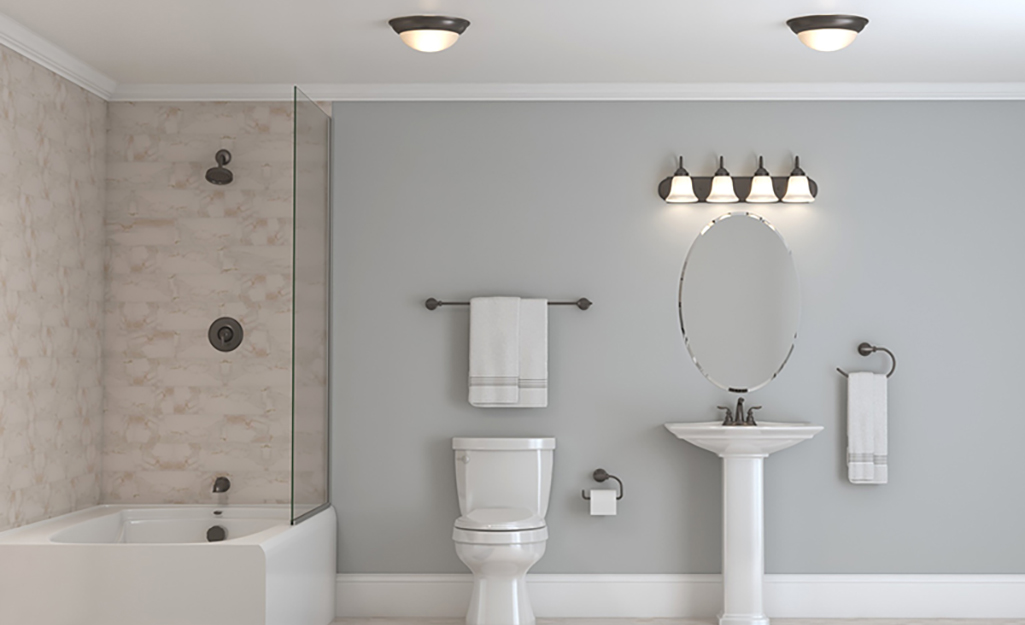 Before you start shopping for flush or semi-flush lights, determine whether ceiling lights are the best option for your room. A few factors make close-to-the-ceiling lights an ideal choice:
A low ceiling height: In spaces with ceiling heights of 8 feet or less, semi-flush mount and flush mount lights are the best—and often the only—choice for overhead lighting, due to the lack of overhead clearance.
A need for widespread illumination: Close-to-the-ceiling lights usually provide general, or ambient, illumination for an entire room. Hallways, entryways, bathrooms, bedrooms and closets are spaces where ambient lighting is important.
A taste for the unconventional: Installing a semi-flush light in places where you'd expect to find a chandelier, such as a foyer or dining room, can make your space stand out.
Tip: Leave wiring installation for ceiling lights up to the pros. If wiring is already in place, you can tackle the job yourself by following the installation instructions included with the fixture.
Where Not to Use Close-to-the-Ceiling Lighting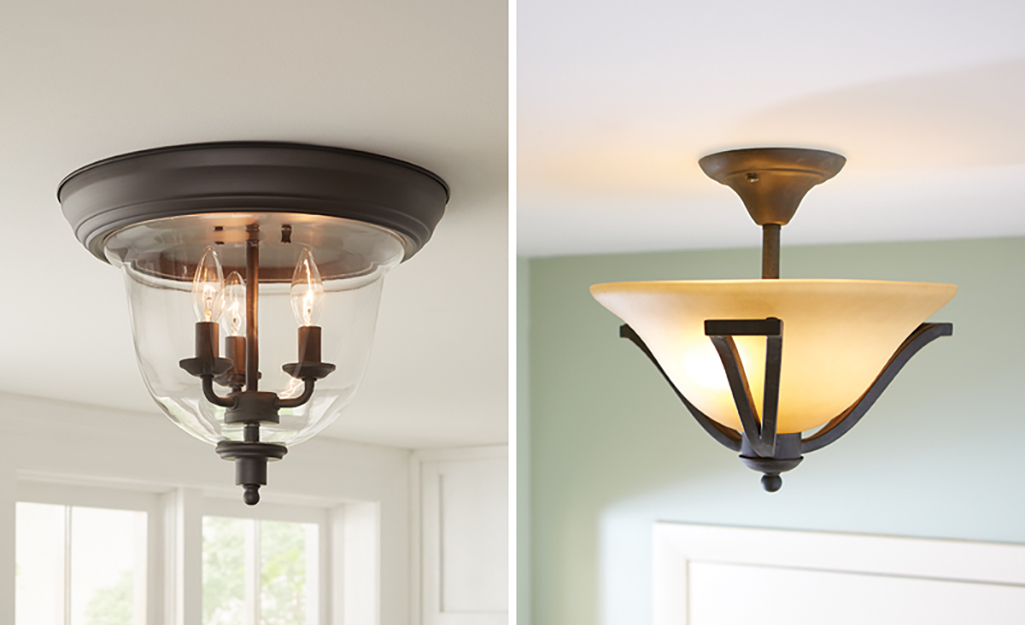 Consider fixtures other than semi-flush mount or flush mount if:
You could benefit from improved airflow in your room: Ceiling fans give you the benefit of overhead lighting and improve your air circulation, making them a better choice than semi-flush or flush-mount lights in some spaces.
You have high ceilings: If your ceiling height is 10 feet or more, a single semi-flush mount or flush-mount fixture may not provide enough ambient lighting. Installing more than one close-to-the-ceiling light or adding floor or table lamps provides additional illumination.
You need focused light for completing tasks: Track lighting and recessed fixtures focus more light on work surfaces, making them better suited for spaces like the kitchen, office and workroom.
Your room is large: As with rooms with high ceilings, rooms with a lot of square footage may require more than one flush or semi-flush mount light and will likely benefit from a layered lighting strategy.
Flush vs. Semi Flush: How to Decide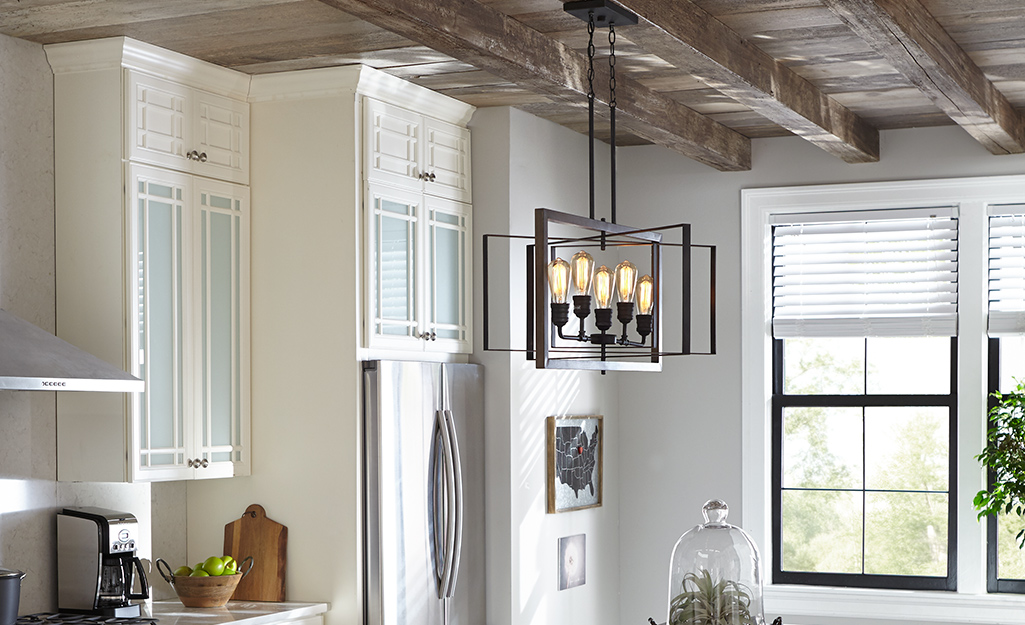 In most rooms, either a flush or semi-flush fixture will work, but in some cases, one type may be more ideal:
For low ceilings, flush-mount lighting gives you the most overhead clearance.
For hidden spaces like closets, simple flush-mount lighting is a cost-effective choice.
For spaces where you entertain, decorative semi-flush lighting enhances the ambience of the room.
For rooms where you need the most ambient illumination possible, semi-flush lights may work better, since light will reflect off the ceiling while also shining downward from the fixture.
Tip: Some flush mount lights come with semi-flush adapters, giving you the freedom to install them two ways. These fixtures provide a smart solution if you're unsure which type to buy.
Shapes to Suit Your Room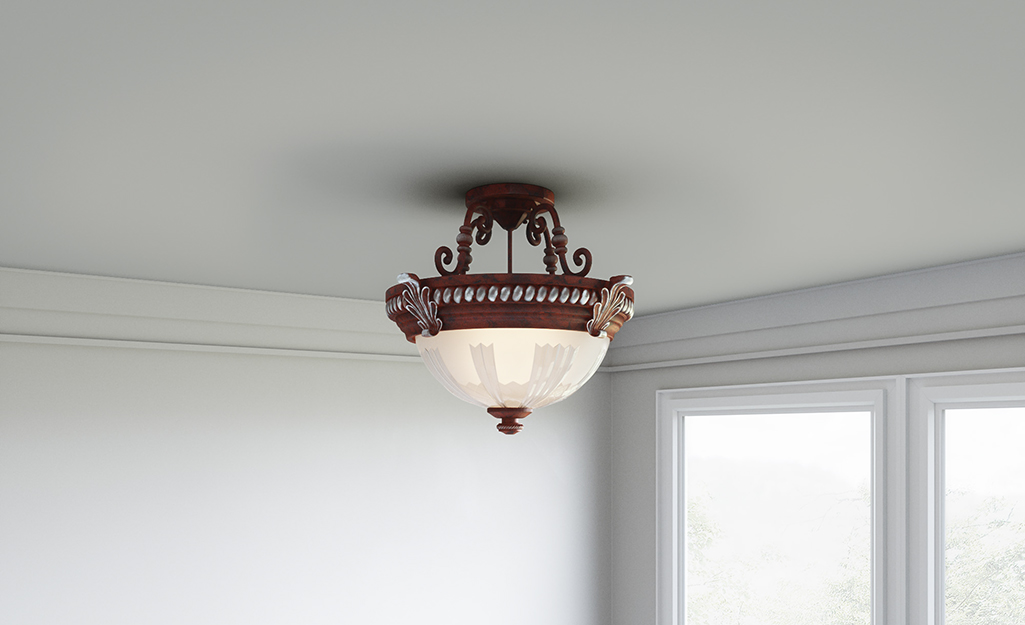 Flush mount and semi-flush mount come in a few basic shapes:
Drum lights have a cylindrical frame or shade with an opening in the center for light to shine through.
Square lights have a boxy frame or shade.
Circular or globe lights have a completely round shade or frame that covers the bulb.
Bell lights have a long, tapered frame or shade that curves along the bottom.
Empire lights have a dome shade that hides the bulbs from sight. In flush mount lights, the shade rests against the ceiling. In semi-flush lights, the shade is positioned on a frame.
Light Direction Matters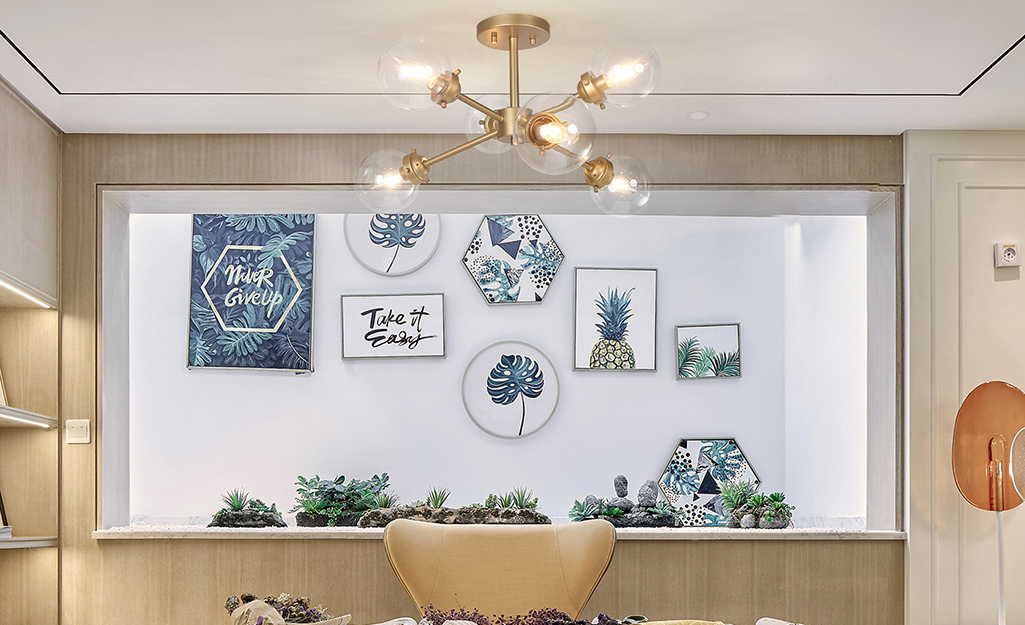 Designers may include more than one light bulb socket in a single flush mount or semi-flush fixture. Multi-bulb options provide more illumination than lights of similar size with just one bulb. Additionally, bulb placement affects the quality of lighting in your room. Fixtures that have bulbs facing in different directions may generate more ambient light coverage than one with bulbs facing the same direction.
Shades Enhance the Glow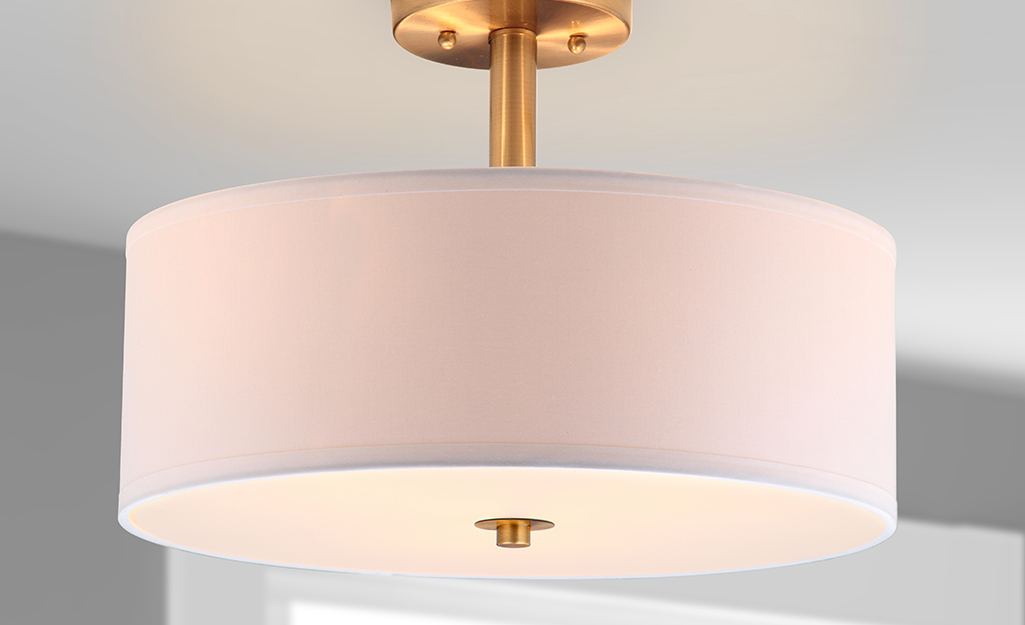 Shades don't just change the appearance of semi-flush and flush mount lights. They also affect their glow. Effects of shades vary based on the type and design of the shade:
Solid metal and wood shades focus lighting downward.
Slatted, perforated and punched metal or wood shades aim light toward the floor while allowing some illumination to shine through the sides.
Glass, crystal and clear acrylic shades give off a noticeable shine when you turn on the light and illuminate the space in all directions.
Fabric and frosted acrylic shades diffuse illumination, giving the light a softer, warmer quality.
Finishes to Match Your Decor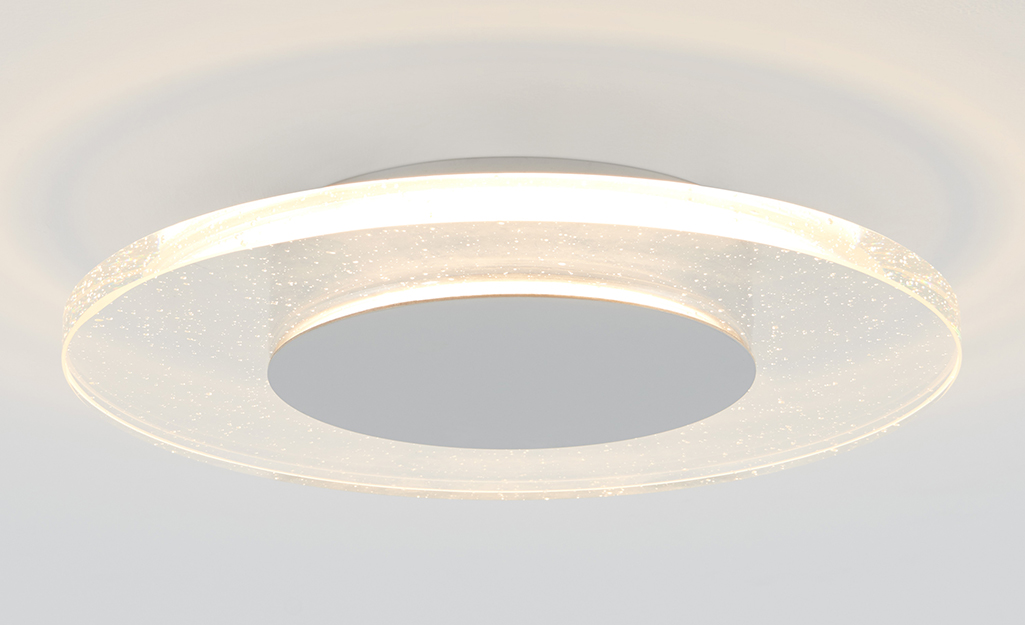 The finish color of a light fixture enhances your decor in a variety of ways:
Chrome is a shiny silver finish that looks great with most decor styles. Nickel is a warmer, duller silver finish that also works well in most rooms.
Bronze has a yellow-brown metallic quality that appears rich and warm. When distressed, it often looks aged, making it ideal for rustic decor styles.
Black is right at home in industrial, modern and contemporary spaces and may be matte or glossy.
Brass is a gold-tone metallic finish that's lacquered and polished for a look that works well with rustic, natural and antique aesthetics.
White has a clean, sleek appearance and is a versatile neutral finish that complements modern and contemporary styles.
Don't Forget About the Bulbs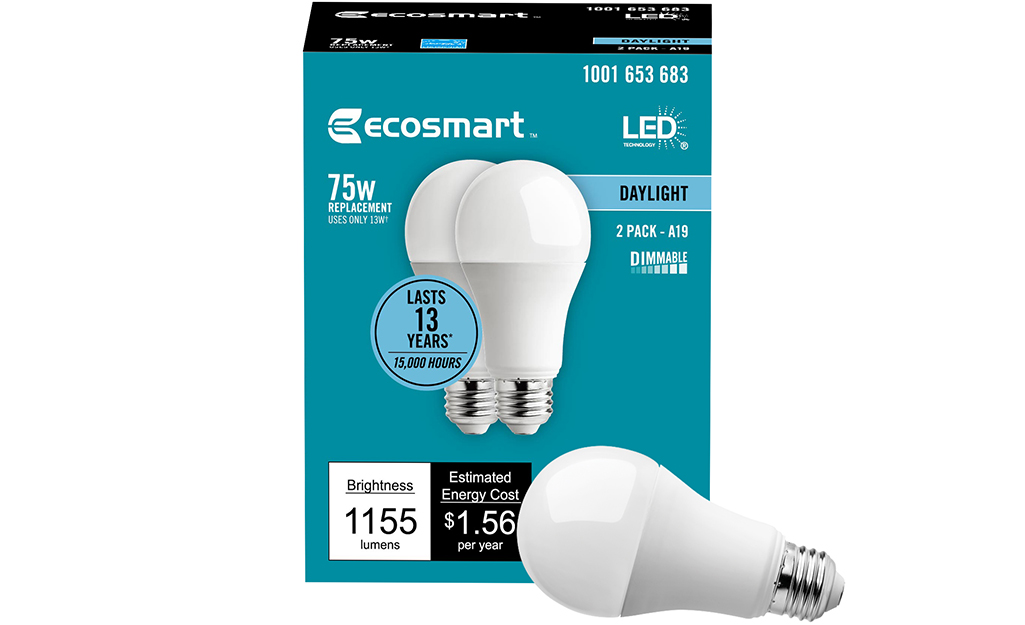 Some light fixtures come with the bulbs you need to use your new light right away. Others are sold separately, and you'll need to choose the right light bulbs for the fixture. Product descriptions provide important details about the type and number of bulbs required.
Often, bulb requirements include a maximum wattage rating. Wattage tells you how much energy a bulb needs to glow. Higher wattage bulbs need more power. To make your new flush or semi-flush mount light as bright as possible, choose bulbs with the maximum wattage recommended. A lower wattage bulb will give you dimmer lighting. Using a bulb with a wattage higher than what the requirements specify could damage your fixture.
The color temperature of the bulb matters, too. Color temperature is measured in Kelvins (K), and bulbs range from soft white (2,700K to 3,000K) to cool white (3,500K to 4,100K) to daylight (5,000K to 6,500K.) The higher the degrees in Kelvin, the whiter (and therefore brighter) the light will appear. But even though a daylight bulb seems to give off more light than a soft white bulb of the same wattage, the number of lumens, which measures the brightness, will be the same.
Save Energy with Built-In LEDs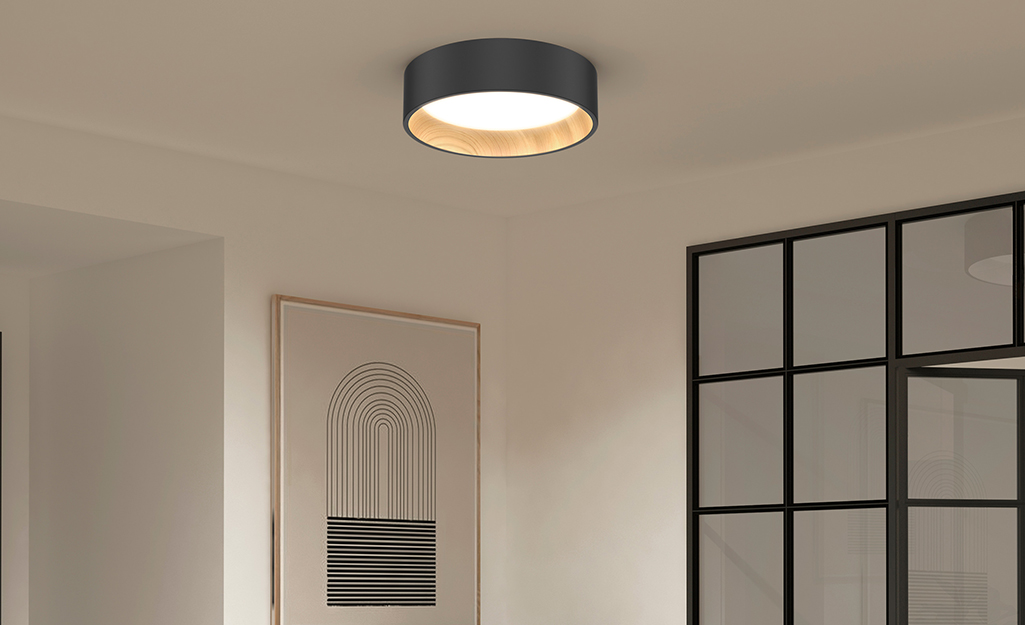 Light-emitting diodes, or LEDs, require less electricity to give off bright illumination. Some flush-mount and semi-flush mount lighting options offer the convenience of built-in LEDs. This type of integrated lighting fixture can shine for tens of thousands of hours, lowering your monthly energy bills. Also, built-in LEDs don't require bulb changes, making them easy to maintain.
Considering shape, style, materials, finishes and other features helps you choose just the right flush-mount or semi-flush mount lighting fixtures for your space. When you consider what tasks you need to accomplish in the room, shopping for lights becomes even easier. Begin your search for semi-flush mount and flush mount options for your home on the website or use The Home Depot Mobile App.
Explore More on homedepot.com