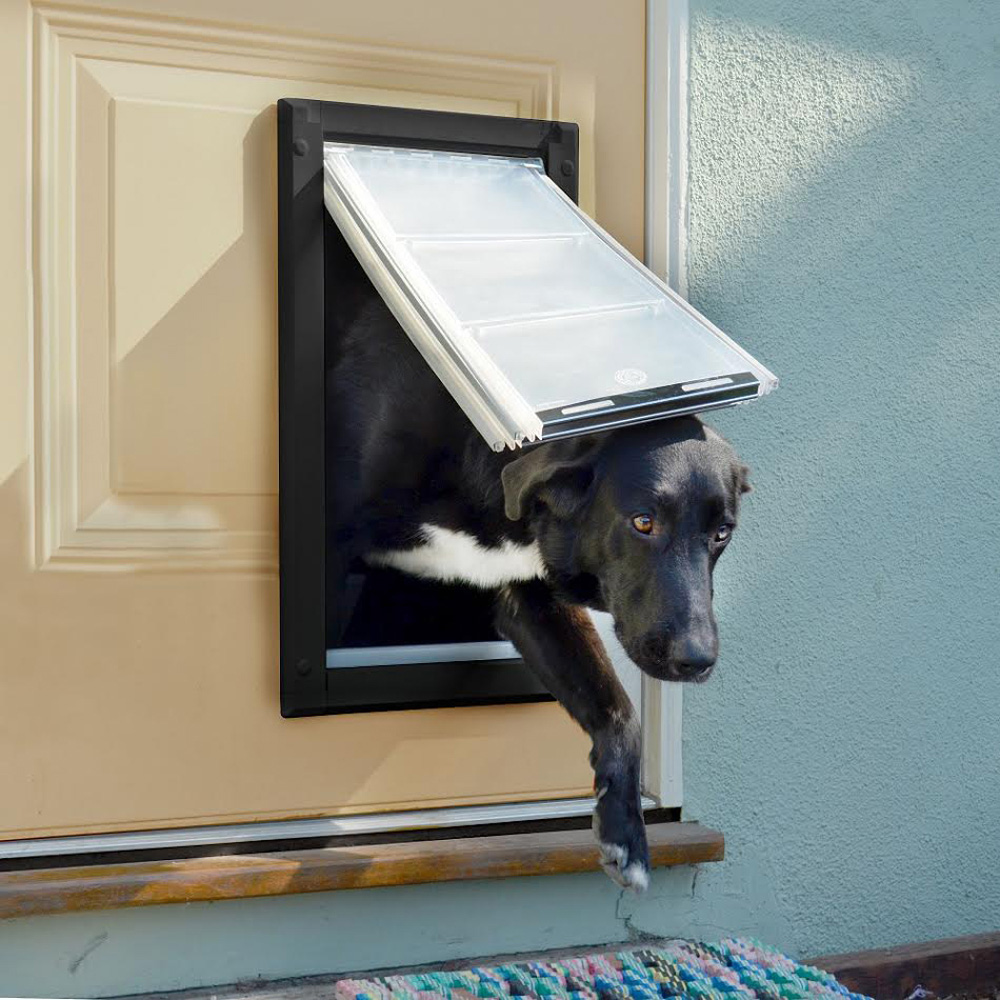 Dog doors make life easier for people and pets. Instead of having to let your dog in and out, you can relax. Many dog doors also come with convenient, lockable panels if you want Fido to stay in for the night or outside when you have company. 
This guide will review how to choose a dog door for your home.
How to Choose a Location for a Dog Door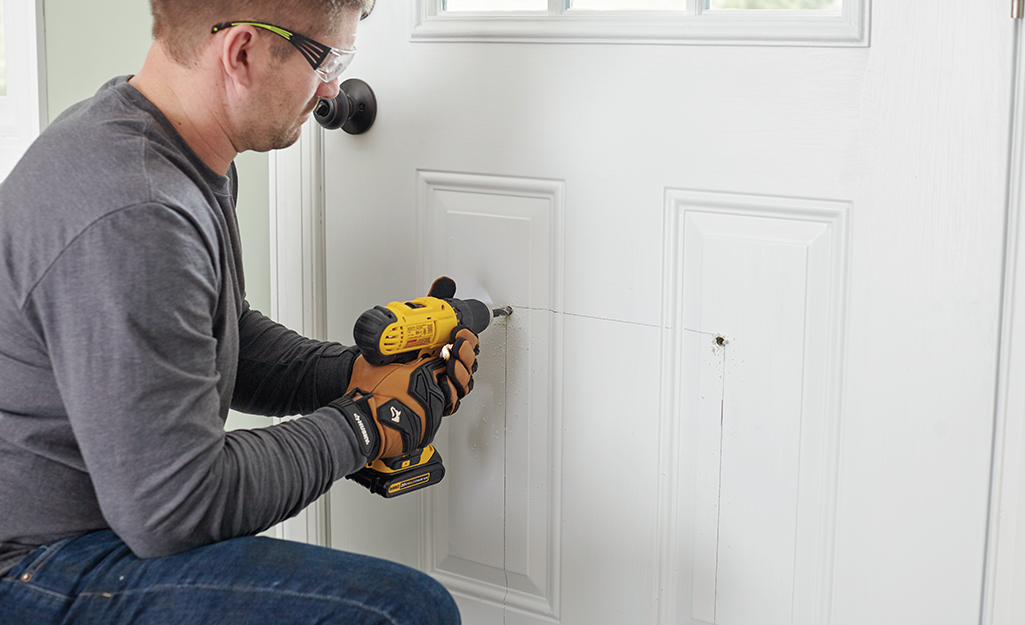 Before you buy, decide where to put the pet door. Some are designed to install in doors or walls, and some are available as inserts for sliding glass patio doors. Many door mount models can be used in interior or exterior doors.
Dog doors that fit in garage doors are also available, but they come with some safety concerns. Your dog could get caught in the dog door as the garage door was opening. There is also a chance of injury if a dog becomes less afraid of an automatic garage door and it closes on them.  
To figure out what size dog door you'll need, measure the wall or door where you'll install the dog door. Also, measure your dog's height from his shoulders to the floor. Don't measure from his head, since most dogs duck when they use a dog door. 

Make sure the location you've chosen has enough space for the dog door. It should be free of pipes, electrical lines and wall studs.
Best Dog Door Features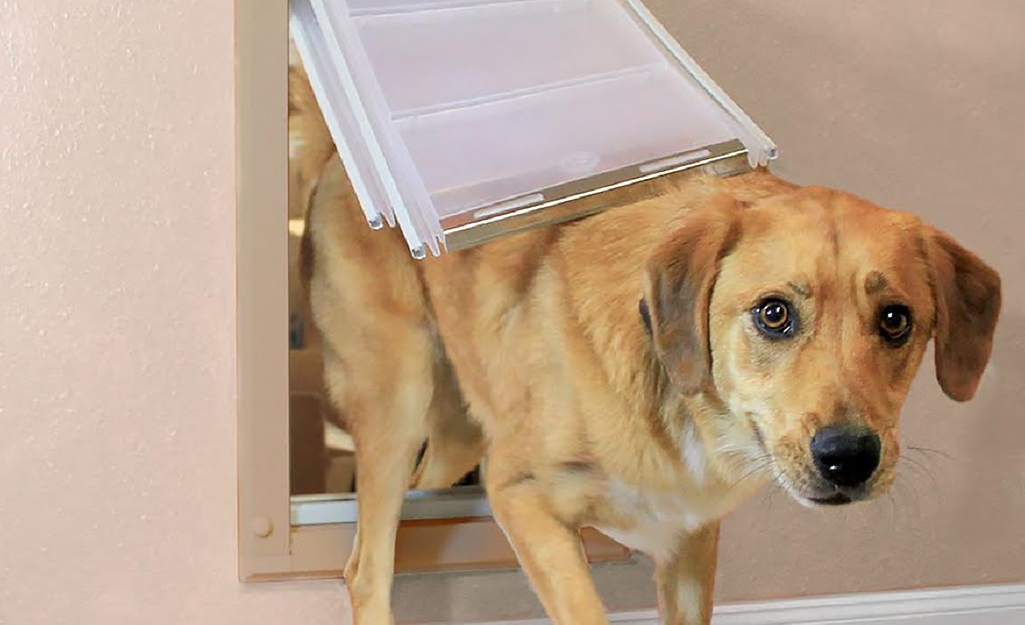 Consider several factors when you're looking for the best dog door for your home. The best dog door may be the one that fits your budget, your available space and your dog. Choose a dog door made to accommodate your dog's size and weight. Some are suitable for dogs up to 220 pounds. 
If the door is too small, your dog may not use it or get injured going in or out. Be sure your pet can lift his feet high enough to walk or jump through the opening. The distance from the bottom of the flap to the floor or ground is called the stepover. In general, the lower the stepover, the easier it will be for your dog to get in and out. 
If your dog hasn't used a dog door before or seems unsure about it, you can demonstrate how the door works. Use praise and treats for encouragement. Clear vinyl flaps are helpful for pets who shy away from using the door because they can't see what's on the other side. Keep in mind that a pooch with arthritis or some other physical condition may not be able to use a dog door.
Some models offer optional pet door accessories so you can replace flaps, frames or sliding tracks. Tunnel extenders, for wall mount dog doors, are available for thick walls. Protect the exterior of the pet door from the elements with an awning. They're available in various colors and finishes.
Energy Efficient Dog Doors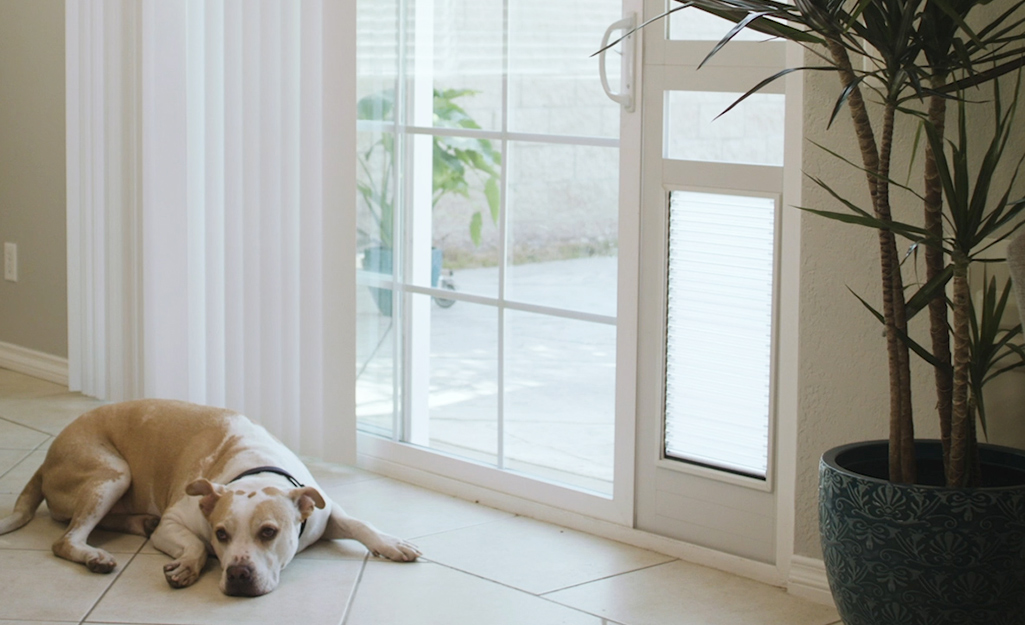 When you're shopping for the best dog door for your home, consider one that's energy efficient. Dog doors with lightweight vinyl flaps are often budget-friendly. Over time, however, the flaps can get warped or bent, allowing heated air in your home to escape in the winter and air conditioned air to leak out in the summer. If they don't close completely, the flaps may also let in insects.
Energy efficient dog doors often have two or more flaps, usually made with thicker materials. Many use a magnetic closure system and have weatherstripping around the frame. When these kinds of flaps close securely behind your dog, they help reduce the flow of air in and out of your home and prevent insect pests from entering. 
Some dog doors also have screened flaps you can use when you want more air circulation in your home. Look for a heavy screen that won't tear or bend easily. Some of the best dog doors with screen flaps have magnetic closures, which typically close more tightly than flaps that swing closed. 
Wall Mount Dog Doors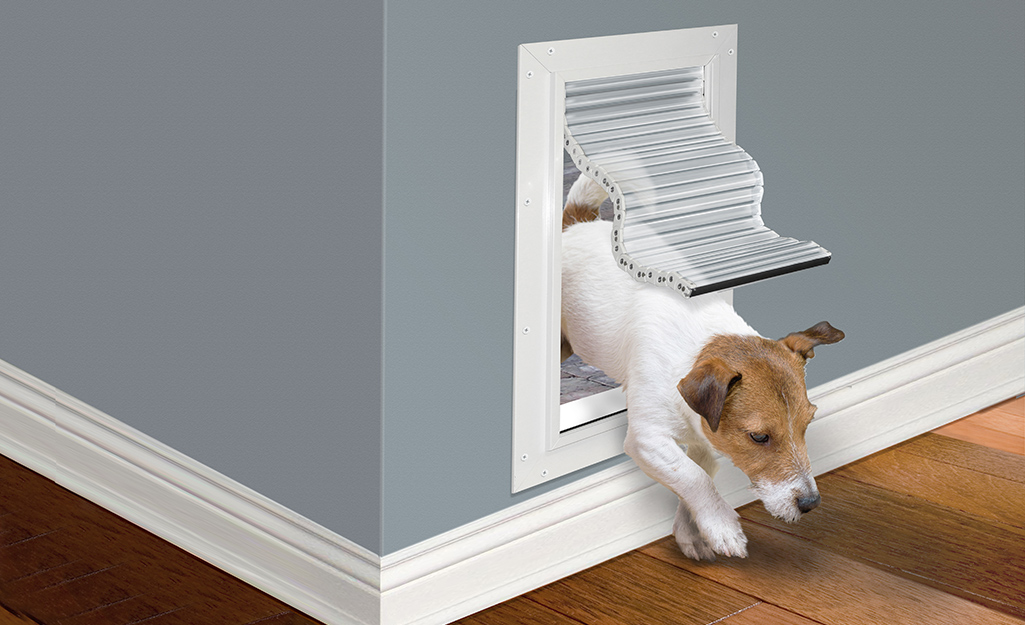 Wall mount dog doors are designed with a  "tunnel" that lets your dog go through an opening cut into your wall. Some walls, such as exterior stucco walls or dry-wall interior walls, can be patched later if you decide to remove the door. A wall mount model that lets you repair the wall may be the best dog door for your needs if you are renting or planning to move.
Look for a weatherproof or weather-resistant model with sealed seams. Most wall mount dog doors come with locking covers, but if you want even more security, look for an optional steel cover that's made to use on the exterior of the dog door.
Electronic Dog Doors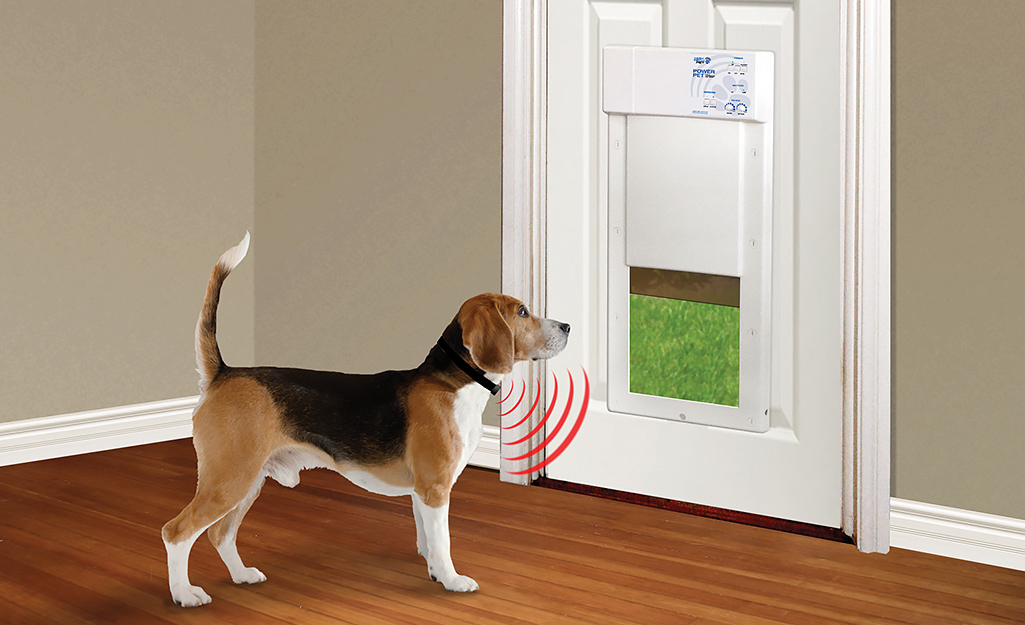 Electronic dog doors read a sensor or microchip on your dog's collar.  When he's within range, they allow him to go in or out. This feature prevents other animals, such as neighboring dogs or wild animals like raccoons from getting inside your home. However, doors that run on electricity won't work if the power goes out, so you may want to use a battery-operated model instead.
Dog Door Inserts for Sliding Glass Doors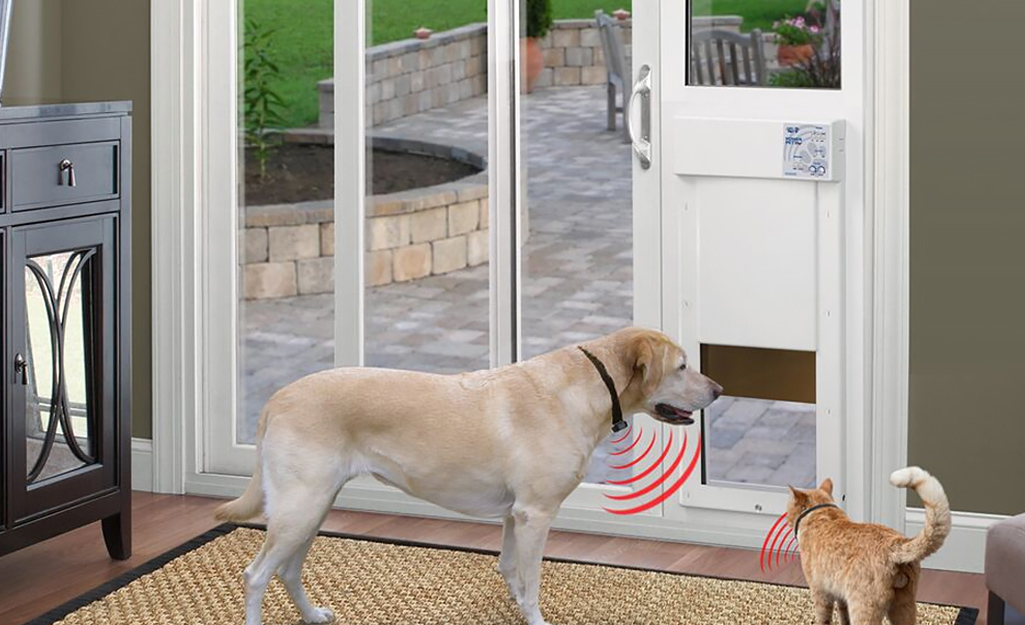 Most dog door inserts are designed to fit into the track of an existing sliding glass door and don't require cutting an opening. Most extend from the top to the bottom of a sliding glass door.
Some of the best dog doors for sliding glass doors look like sidelights.  While some have regular single or double door flaps and some form of magnetic closure, others open and close electronically. Models with weatherstripping, locks and removable panels are available. Note: installing this kind of dog door will make the opening more narrow for humans who use your sliding patio door. 
Different color finishes are available, and most dog door inserts have flexible, self-closing flaps,  weatherstripping and lock-out panels. 
Large Dog Doors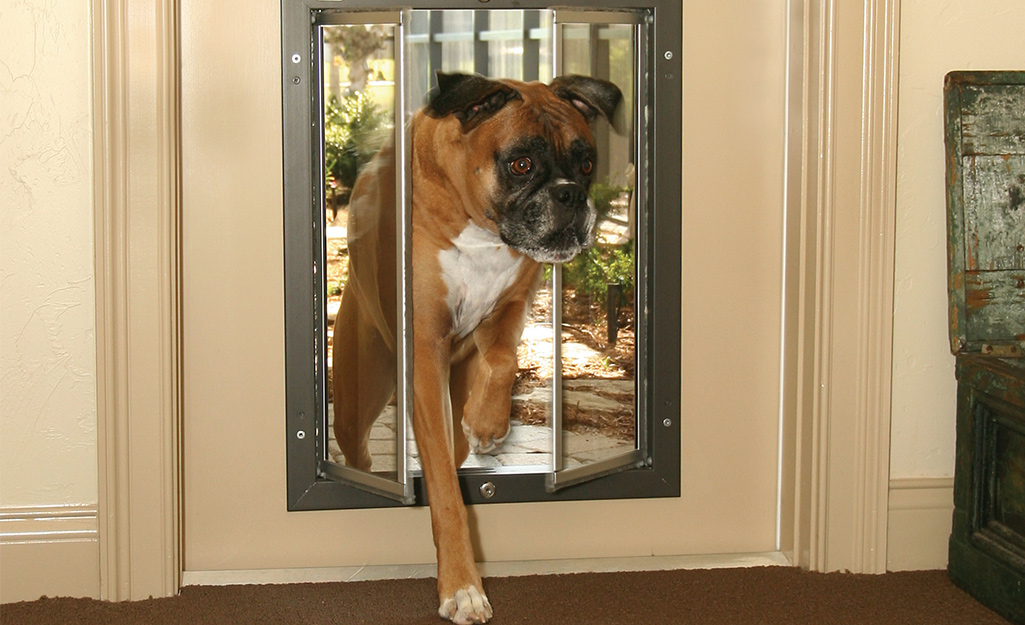 Be aware that dog doors for large dogs may be also big enough for humans to use. If you're concerned about security, choose a large dog door with a lock, latch or lockable panel, or use a door that opens only when a pet wearing a matching sensor or microchip approaches it.  
Window Mount Dog Doors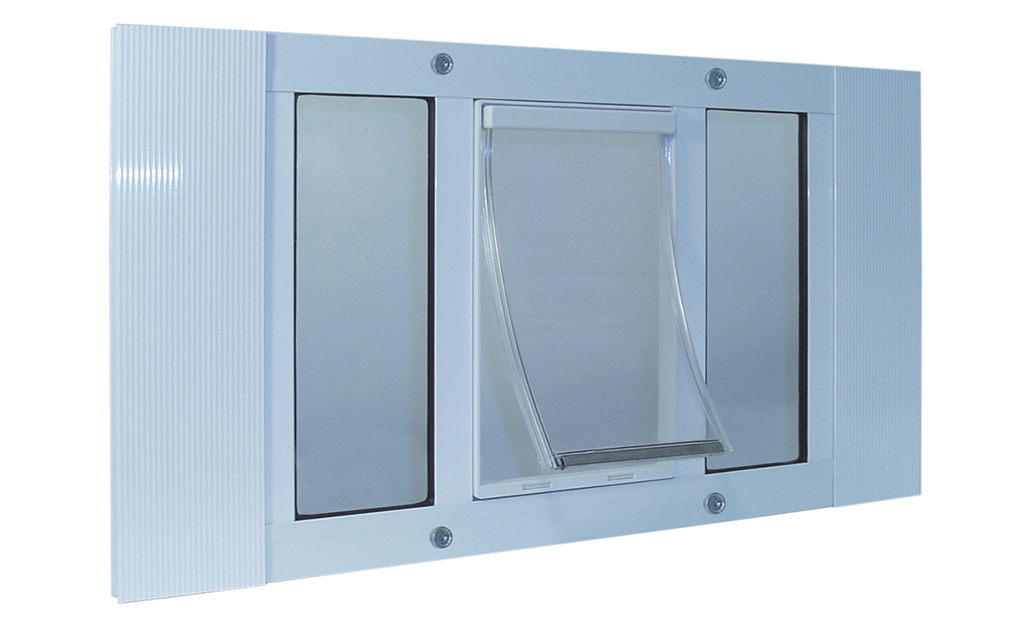 While window mount pet doors are more commonly used for cats, they can allow small dogs to go in and out if the window is close enough to the ground for your small dog to safely walk or jump through. Most have see-through, flexible flaps with magnetic closures and lock-out panels. Weigh and measure your dog before you shop to be sure the window mount door you choose will work for your pet. 
Dog doors make it more convenient to own a pet. Many dog doors come with security features designed to keep out other animals. Dog doors also come in a variety of types and color finishes.  
Ready to get a dog door? The Home Depot delivers online orders when and where you need them. For free design, purchase and installation help with windows and doors, call us anytime between 9 a.m. - 9 p.m. EST at 1-833-HDAPRON (432-7766). 
Explore More on homedepot.com