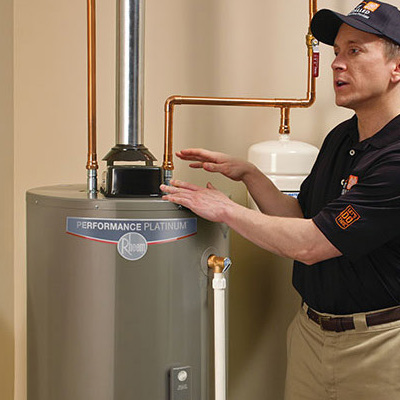 If your water heater is failing, you don't have time to wait around. A local, licensed and insured water heater installation professional can help you navigate the replacement process.

The Home Depot offers same-day consultations, delivery and installation, and can serve as a one-stop shop for your water heater needs.

Keep reading to learn what you should look for in a water heater service provider.
Trusted Professionals
While some homeowners prefer DIY water heater installations, we recommend calling a local professional who is licensed, insured and properly equipped to install both traditional tank and tankless water heaters.
Before scheduling a consultation, make sure to research the provider's experience level and reputation. Look for a state license or certificate number, and check their rating with the Better Business Bureau. Consumer reviews can also be a helpful resource.
We also recommend asking a few important questions:
Have all your employees undergone background checks?
What specialized training and certificates have your employees received?
Do you guarantee your work and uphold warranties?
If I have a problem with my installation, will you fix it in a prompt, professional manner?
Same-Day Installation
The sense of urgency that comes with having a broken water heater can't be understated. Look for a provider that offers same-day delivery and installation.
If you live within 30 miles of a Home Depot store and call us before noon, our professionals will bring a new water heater to your home and install it in just a few hours. We can also assist with any applicable repair services.
Our professionals will haul away your old unit and clean up any remaining water and debris. We also provide maintenance recommendations to help keep your water heater running efficiently year after year.
Flexible Financing and Money-Saving Options
Since a broken water heater can be a costly and unexpected expense, you may want to consider service providers that offer financing. Taking advantage of rebate programs is also a smart cost-savings measure.
Many state and federal rebates are also available for residential water heater purchases. These options will vary based on the city or municipality in which you live. A trusted service provider will be able to provide more information and direct you to the appropriate governing authority for filing a rebate application.
Often available for ENERGY STAR® products, these rebates allow homeowners to purchase higher-end units at lower prices. The Home Depot offers everyday savings on the best energy-efficient hot water heaters.
Our trusted service providers can explain various rebate programs as well as our credit options. Contact us today for your free consultation.
Skip the Guesswork by Choosing The Home Depot
To put it simply, you can skip the guesswork by choosing The Home Depot as your water heater service provider. Each technician who enters your home is highly trained, and has undergone a thorough background check. By wearing an official Home Depot badge, they are easily identifiable and can help with every part of the installation process. This includes recommending the best model for your home, obtaining any necessary permits and making sure the installation is up to code, and working with your budget to guarantee you are happy with your installation.
Explore More on homedepot.com