Useful for indoor and outdoor building, repair and woodworking projects, a nail gun can dramatically increase your speed and efficiency when taking on a DIY task. If you've never used a nail gun though, or you haven't operated one in years, you may be a little wary of picking one out and getting to work.
In fact, you might not even know which nail gun is the best choice for your needs. With options ranging from general cordless nail gun varieties to more specialized styles, it can be hard to know where to start.
Use this guide to learn more about nail guns and how to properly use one. Make sure you don't skip our nail gun safety section either, since serious accidents can occur if you're not careful.
Safety Tip: Always wear protective glasses or goggles when using power tools.
Anatomy of a Nail Gun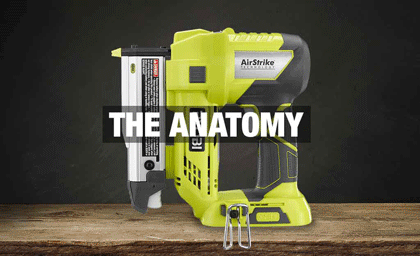 Before you can properly use a nailgun, it's important to understand the main components and how they work. Here's a quick primer on the anatomy of a nail gun to help you get familiar with your new tool:
Safety tip: The safety tip is designed to retract into the gun when you press down on the work surface. Before this, the safety tip ensures that no nails will be discharged, leading to a potential nail gun injury. 
Jam release latch: The jam release latch is in place to help you release nails in the event of a jam, which may occur as you work. Know where yours is and how to use it before you begin.  
Magazine: The magazine holds the nails that you'll be firing into your work surface with your nail gun. Note that different magazines can hold different types of nails, ranging from framing nails to finish nail sizes.  
Magazine release: The magazine release allows you to remove the empty magazine when you're out of nails. 
Trigger switch: The trigger switch is what you use to fire the nail gun and drive a nail into your work surface. The trigger mechanism is typically fairly obvious to new users, including those that have never held a nail gun before. 
How to Use A Nail Gun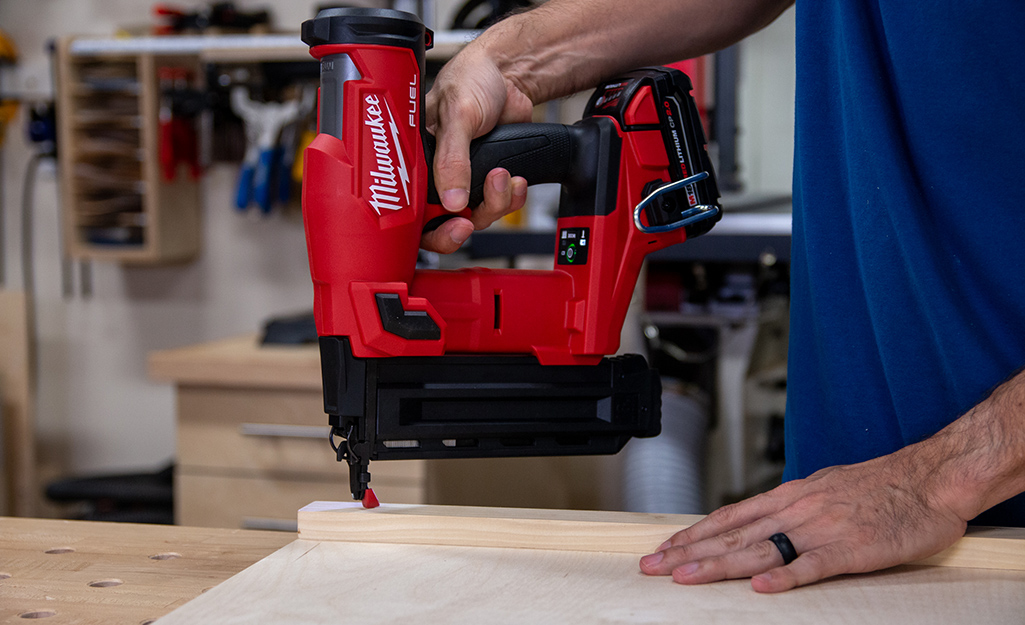 Using a nail gun is a simple and straight-forward process. However, a certain order is typically recommended for both safety and efficiency. Here's the basic process for using a nail gun: 
Remove the battery before you begin. This is a safety decision that ensures you won't have any accidents when you're loading and adjusting your nail gun before a project. 
Press the magazine release button and load nails into the chamber.  
Adjust the air pressure dial according to the density of the material surface. Very dense materials may require greater air pressure to fire a nail securely into place. 
Twist the depth of drive knob if finer adjustments are needed for the desired nail depth.  
Use a spare piece of scrap wood from your project to test the nail gun and check the depth. Make adjustments again as necessary.  
Align the nail gun at a 90-degree angle to your work surface. 
Locate the first area where you want to fire a nail and press down so the safety tip retracts. Squeeze the trigger to fire your first nail. 
Nail Gun Tips: Choosing the Right Model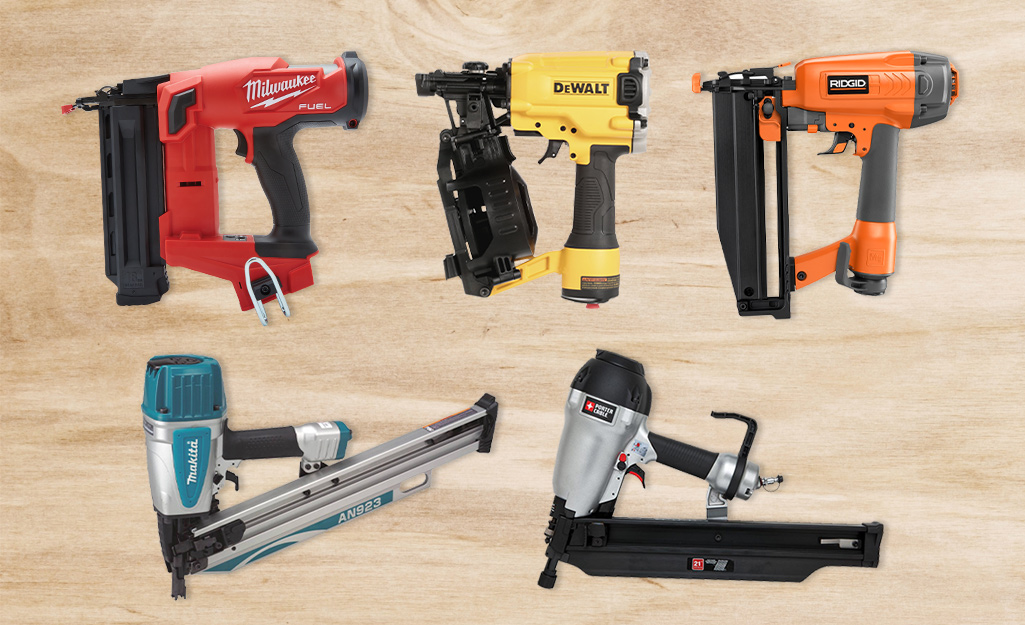 Choosing a nail gun can be confusing if you've never used one or had to buy your own. Walk down the aisles of our store or browse our site and you'll see products labeled as a framing nailer, roofing nailer and a range of more generic cordless nailer styles.
In most cases, finding the right type of nail gun depends on what you plan to do with it. Here are some of the most common types of nail guns and how they're typically used: 
Brad nail gun styles: A brad nailer is typically used for smaller pieces or in place of wood putty. For example, small trim areas on woodworking projects often utilize brad nails. Look for brad nail varieties when using a brad nail gun. 
Finish nail gun styles: Finish nailers are often used for installing outdoor fascia, securing heavy trim work and installing decorative accents on homes or woodworking projects. Most builders use a finish nail gun when securing a baseboard into place as well. You'll use finish nails with this type of nail gun. 
Crown staplers: Crown staplers are best for cabinet building, installing metal siding, installing trim and furniture making. Note that a crown stapler actually uses large staples instead of nails, but many people use these for a variety of building projects. 
Pneumatic nail gun designs: Pneumatic nail guns use compressed air to drive nails into your work surface. Pneumatic nailer styles with use an air compressor are generally only used by professionals for heavy duty products. If you're interested in one, make sure you know how to use it properly and that you take extra safety precautions. 
Roofing nailer: A roofing nail gun fires specialized roofing nails into asphalt shingles, helping secure them in place quickly. Many roofing nailers utilize a pneumatic coil or drive mechanism, so extra safety precautions are required. For basic repairs, hand-driving nails is often preferrable to a roofing nailer. 
Flooring nailer: Flooring nailers, as the name indicates, are designed to aid builders and contractors in installing flooring materials quickly and easily. Some models work as a combination flooring nailer and stapler, making them more versatile than a single-use tool. 
Framing nail gun styles: Framing nail guns are designed to quickly drive nails into large pieces of wood like 2x4s when framing a building or structure. These typically use a size akin to a common nail. 
Pin nailers: A pin nailer drives a type of pin that has no head, making it nearly invisible when secured in place. Pin nailers are specialty tools that are often used in place of wood putty for small to medium-sized woodworking projects. 
Cordless models: On today's market it's easy to find a cordless brad nailer, cordless framing nailer and a range of other commonly-used nail gun styles. Cordless models tend to provide you with more freedom of movement when you're working, but most styles utilize lithium-ion batteries that will need to be charged. Having a spare battery or two is typically recommended for all-day and heavy-duty projects. 
How to Select Nails for a Nail Gun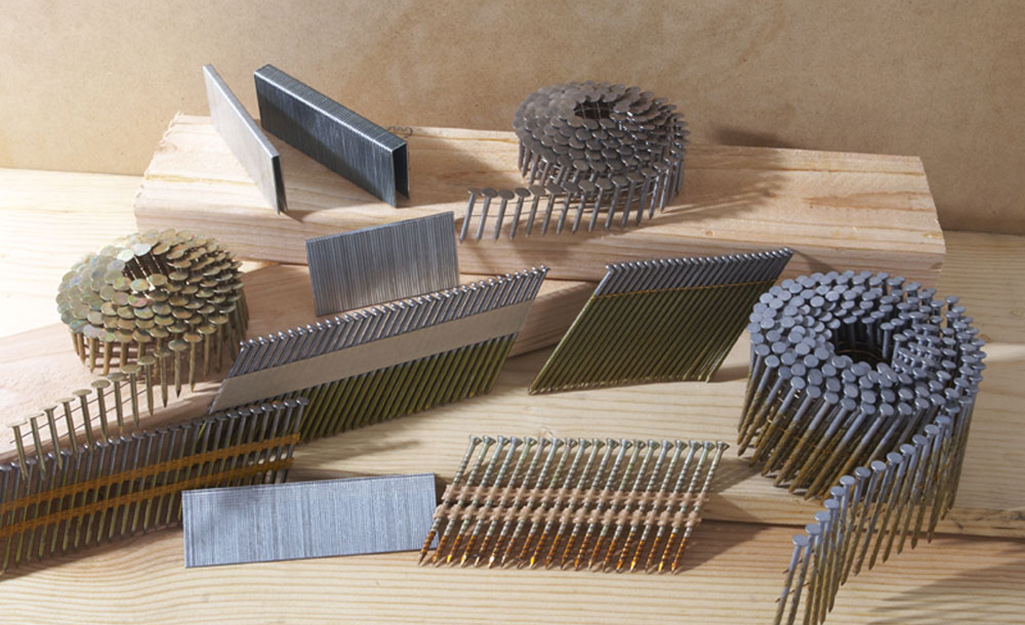 Choosing the right nails for your nail gun starts with knowing what type of nail gun you have. For example, if you have a finish nail gun, you'll be using finish nails. Framing styles typically use framing nails.
Not sure which nails you need for your nail gun or your specific project? Ask one of our knowledgeable pros to help you find the perfect nail size and variety for your DIY job.
You can also check out our guide on choosing the best nail guns for DIY projects. This guide will give you some handy information on picking the right types of nails and nail gauge. 
Safety Tips for Using a Nail Gun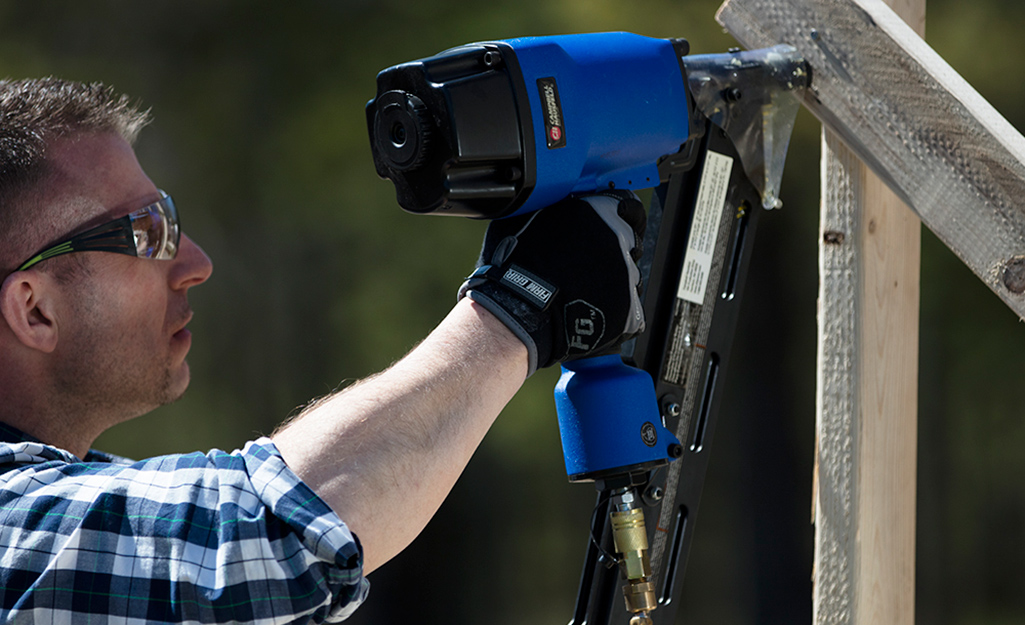 A nail gun can be a useful tool that helps you get any DIY project done quickly. However, powerful nail guns can also be dangerous if used incorrectly. Here are a few nail gun safety tips you should know: 
Read your manual before you begin. Your manual will let you know about any special features, as well as inform you on how to properly operate your new nail gun. 
Wear eye and ear protection. Work glasses and ear plugs or ear muffs are recommended when working with a nail gun. 
Make sure that you disconnect the power before loading new nails or clearing a jammed nail. Unintended nail discharge is a possibility if the nail gun still has a source of power. 
Use the sequential trigger mode instead of bump mode when possible. Sequential mode ensures that you will have to follow a series of steps to make the nail gun fire. In bump mode, you can hold down the trigger and touch the nail gun to your work surface to make a nail fire. While this is faster, it does increase the risk of a serious nail gun accident. 
Keep your work area free of bystanders. A nail gun can fire through the other side of a wall or piece of work material in some cases. Ensure that nobody is behind your work surface or in harm's way when using a nail gun. 
Finding the right nail gun for your project requires careful consideration. Once you find the right model for you, following proper safety procedures is paramount to ensure a safe and successful project.
Whether you need the right nail gun or nails, The Home Depot delivers online orders when and where you need them. We've also got the safety equipment you need to take on any project like a pro.
Explore More on homedepot.com