Moisture can cause nails and screws to rust when they're used outside. Choosing the right fasteners for your outdoor projects ensures long-term stability. Outdoor fasteners like polymer-coated screws or hot-dipped nails will resist corrosion. They are ideal for materials that retain moisture, like decking, fencing, siding and roofing. Read on for features and installation tips for the main types of outdoor nails and screws.
Aluminum Fasteners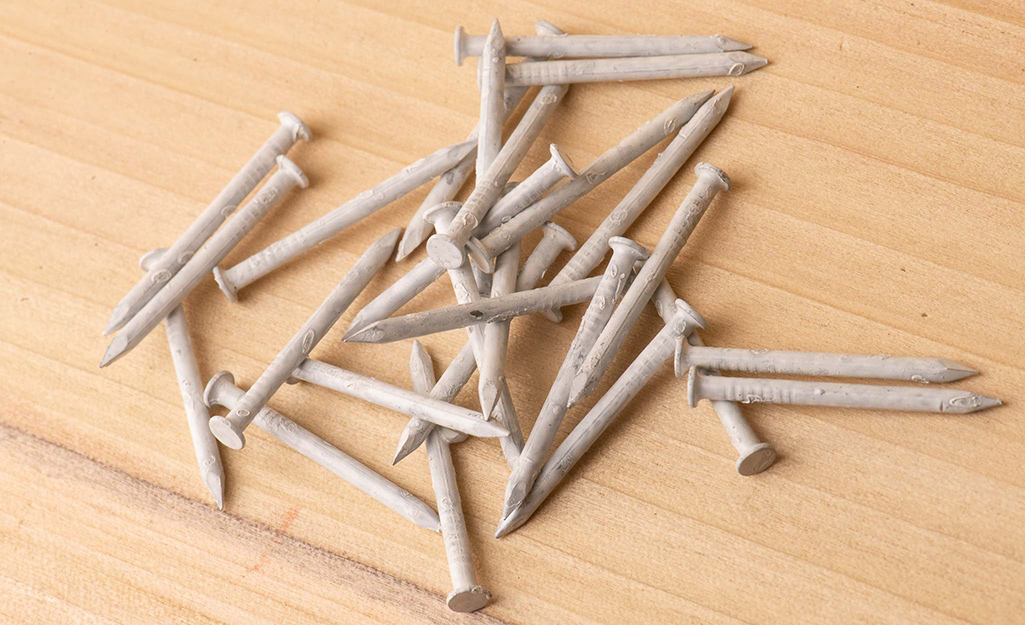 Aluminum screws and nails are resistant to rust and last a long time. Aluminum has a greater strength-to-weight ratio than any other type of fastener. This makes aluminum fasteners a top choice for light- to medium-load applications. They're often used for installing doors, windows and aluminum siding.
Stainless Steel Fasteners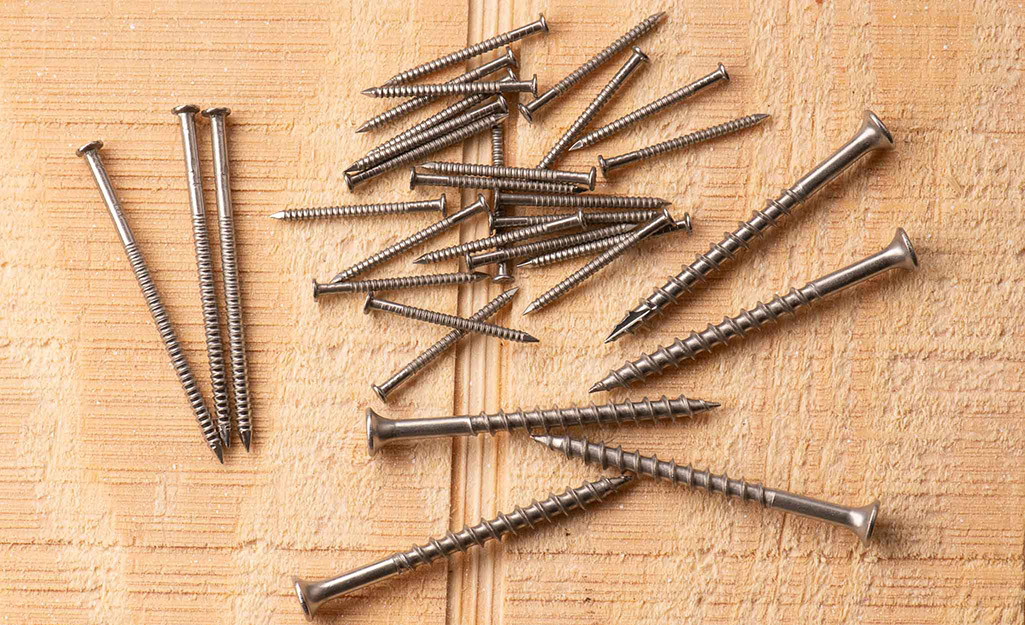 Stainless steel nails and screws have more long-term protection against corrosion, but less strength-to-weight ratio than aluminum fasteners. 
There are two types of stainless steel fasteners for outdoor use: stainless steel 304 and stainless steel 316.
Stainless steel 304 fasteners are made from a combination of nickel and chromium. 304 fasteners are highly rust-resistant. These nails and screws are a great option for drier climates.
Stainless steel 316 is the recommended fastener choice for humid climates. Known as "marine grade fasteners," they're made from nickel, chromium and a metal called molybdenum. Stainless steel 316 fasteners resist corroding and pitting from chlorides, which is why they're recommended for coastal areas.
Roofing Nails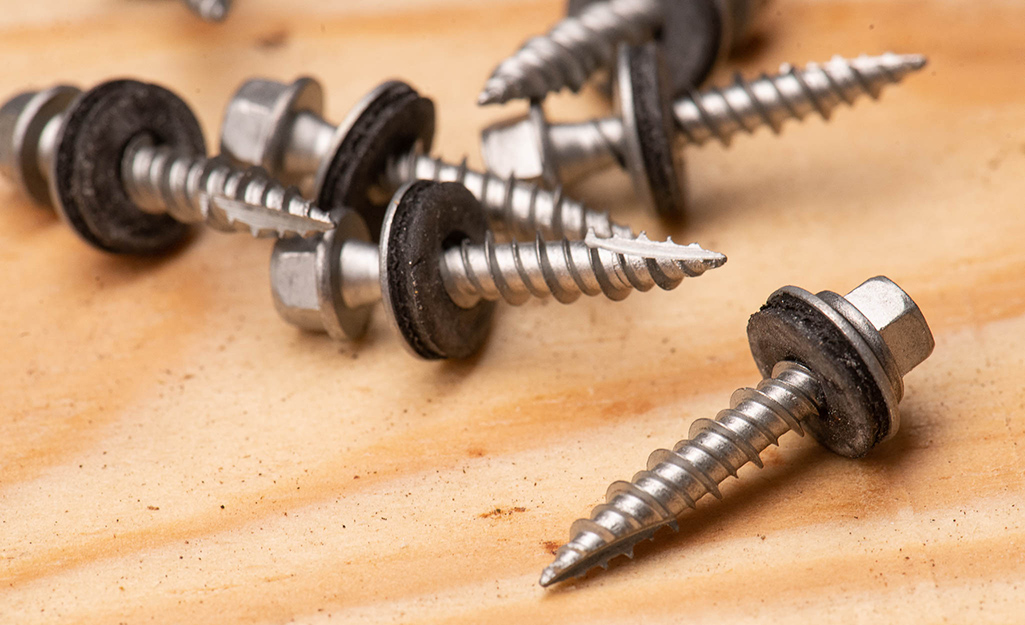 Roofing nails have a diamond-shaped point that keeps the wood from splitting when they punch through. They are electrogalvanized with a thin zinc layer that improves corrosion resistance. They're a budget-friendly option for a variety of outdoor projects and can be used with pneumatic nail guns. 

Roofing nails are fabricated from a variety of materials. Galvanized steel is commonly considered the best option. Other nail materials include aluminum, stainless steel and copper. Copper nails are a high-cost option, but because they last longer than galvanized steel, they are used on slate roofs, which typically last for over 100 years.

Roofing nails come in all sizes and three main types:
Ring shank nails have rings along the shank for extra grip and staying power.
Smooth shank nails are basic and budget friendly.
Square cap nails have square-shaped heads designed for fastening underlayment.
Deck Screws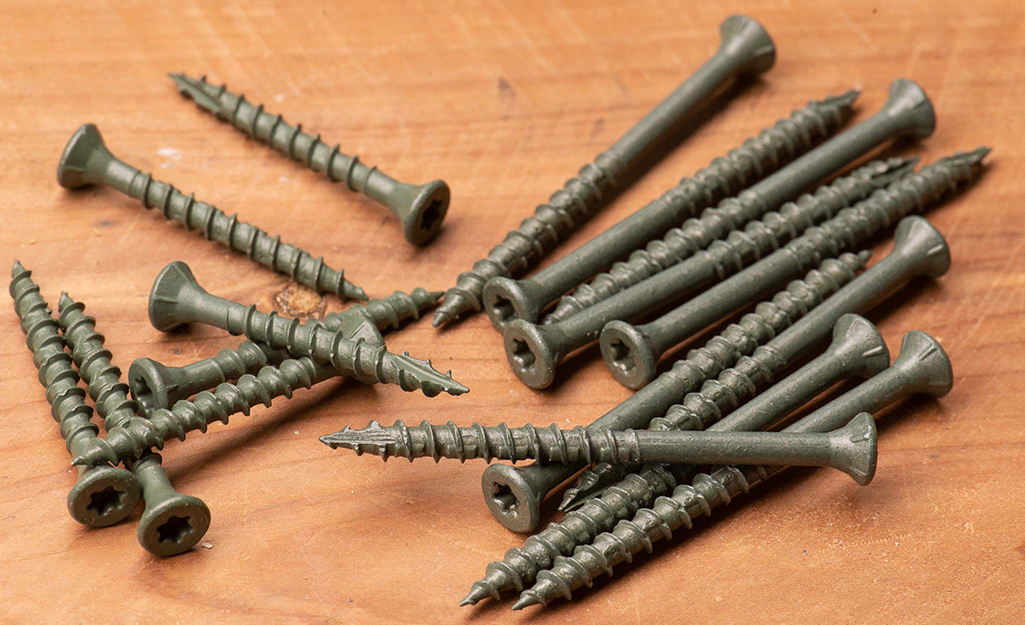 Deck screws are a type of wood screw used for outdoor projects because they're made from corrosion-resistant materials like stainless steel. They're used for wood-to-wood fastening and are comprised of a sharp point, a coarse thread and a partly unthreaded shank near the head. The specialized construction of deck screws allows wood pieces to be joined tightly together. They're budget-friendly and come in a variety of head shapes, lengths and diameters.
Ceramic Screws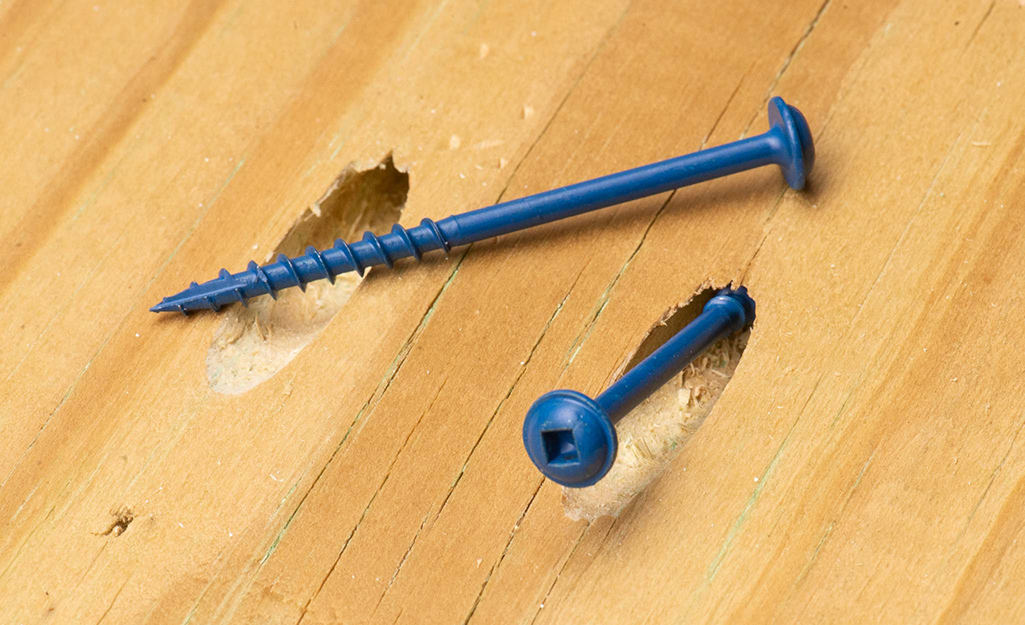 A thin epoxy or ceramic coating gives outdoor ceramic screws a greater resistance to rust than uncoated fasteners. They're budget friendly and a good option for outdoor projects that require a little more corrosion resistance. Ceramic screws come in a variety of designs for general exterior use.
Tip: Ceramic screws can be used with a jig to drill angled pocket holes and form strong joints.
Hot Galvanized Roofing Nails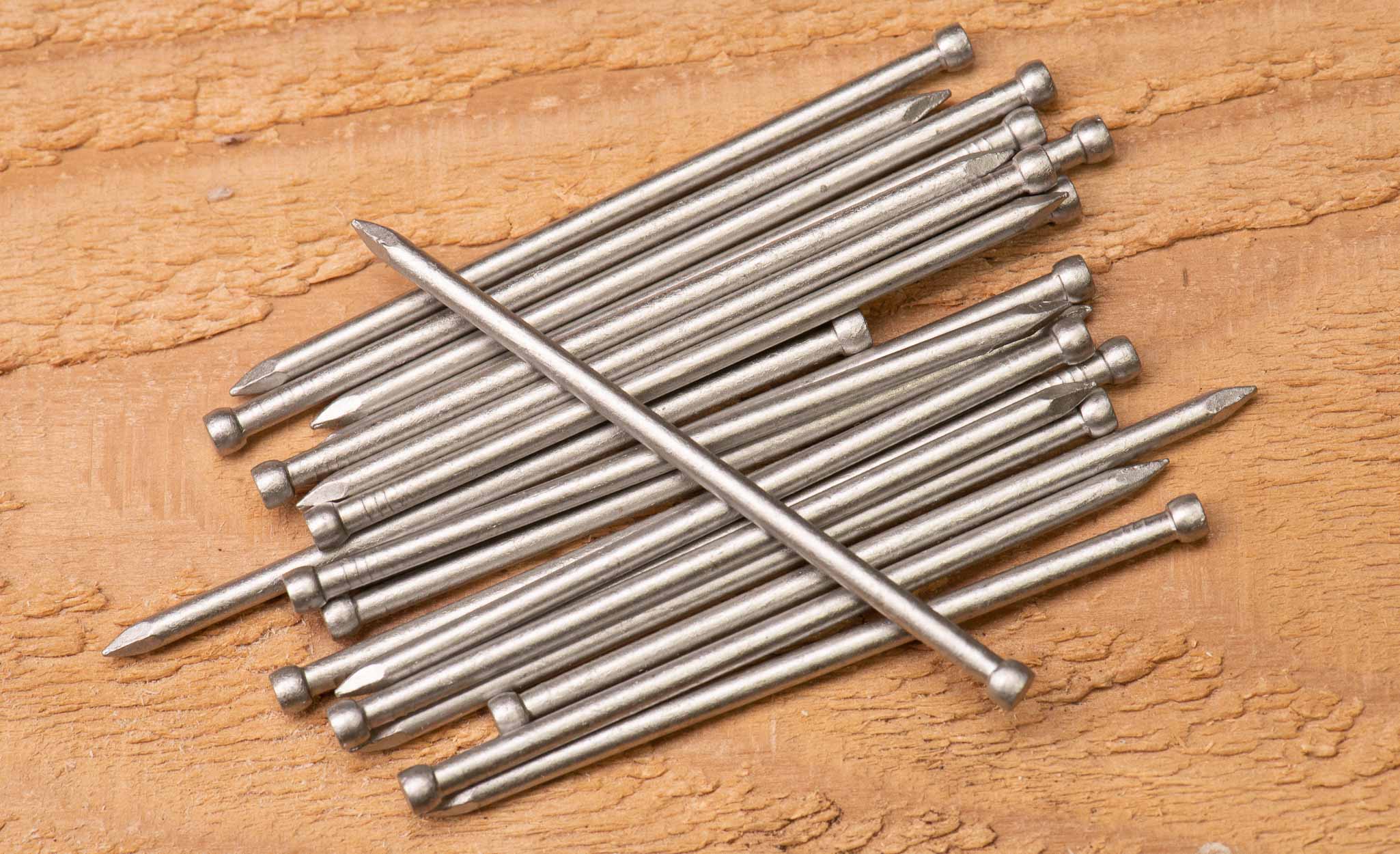 Hot galvanized roofing nails are made of steel coated in a protective layer of zinc. This provides a high level of defense against corrosion for outdoor projects with a long service life. 
Hot galvanized roofing nails are budget friendly and ideal for a wide range of outdoor projects. However, discard nails whose coating is thin or inconsistent.
Tip: Galvanized roofing nails are a good choice for securing the underside of a structure.
Hot Galvanized Tie Fasteners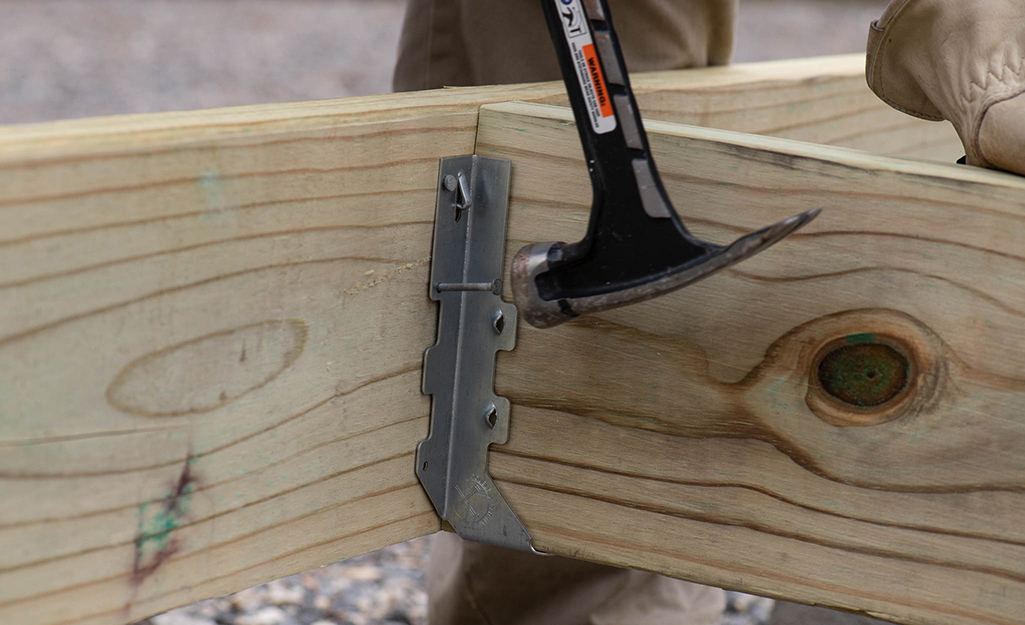 For a superior hold in decks or fencing, hot galvanized tie fasteners provide the highest level of strength and corrosion resistance.
These fasteners are typically bathed in molten zinc. This process provides long-lasting rust prevention. Tie fasteners require an upfront investment, but have excellent durability. They come in varying levels of thickness and fit most applications.
Outdoor Fastener Features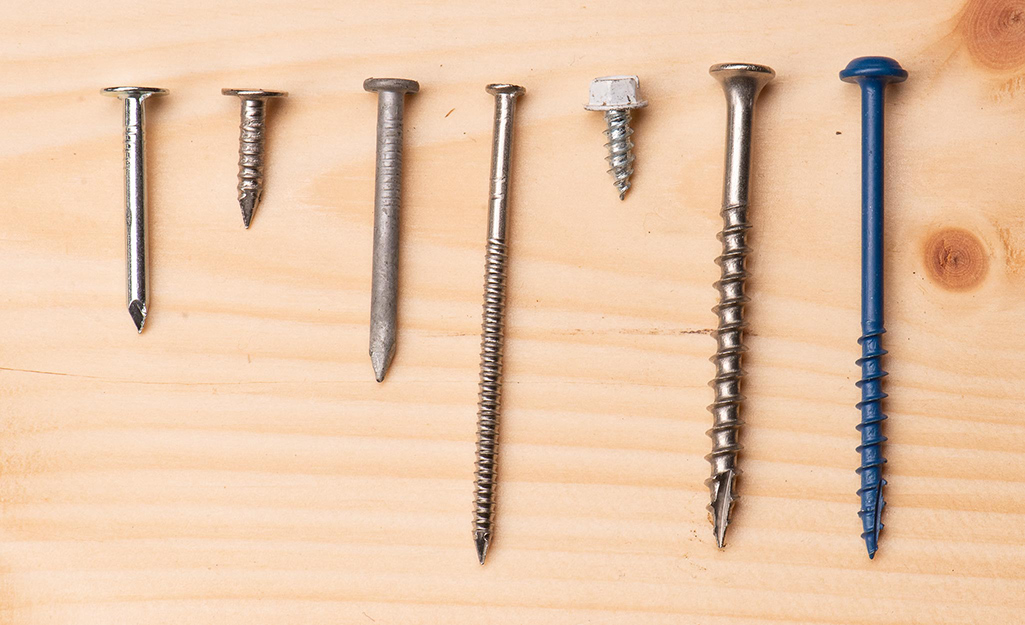 All types of outdoor nails and screws come in different head and shank constructions that make them suitable for various applications. These features include:
Larger nail heads for a bigger striking area
Smaller nail heads for finishing nails
Square and Phillips heads that are less likely to strip
Spiral, threaded and ring shanks for extra holding power
Tip: If you need to attach wire fencing to fence posts, consider using galvanized staples to make the project quicker, easier and longer lasting.
Outdoor Fastener Tips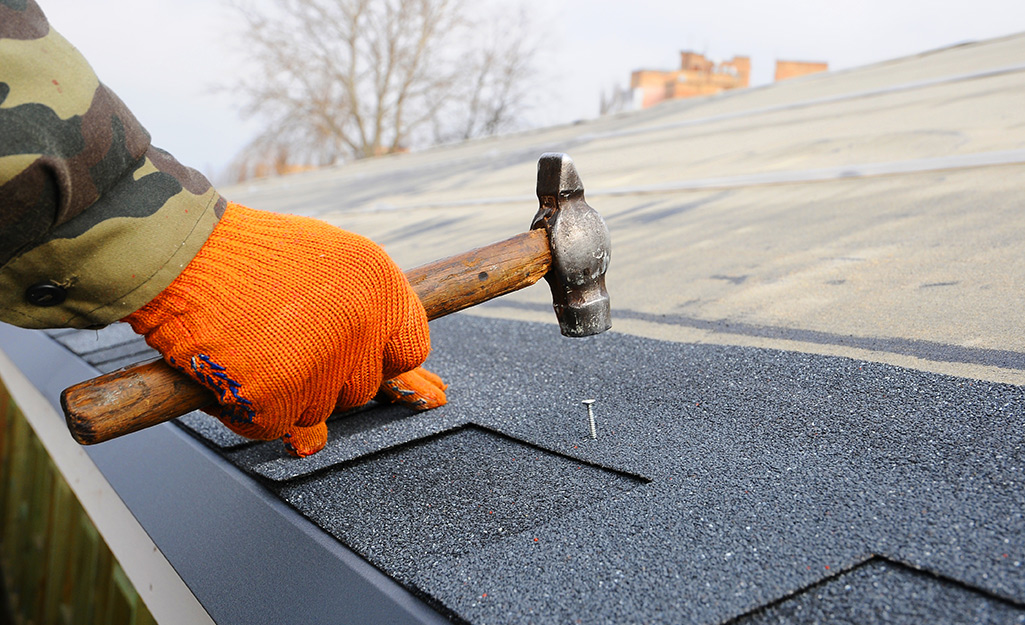 Keep these tips in mind for all your outdoor projects:
Choose non-magnetic fasteners for outdoor use. They offer a greater resistance to rust and corrosion. Magnetic nails and screws may have adverse reactions with other nearby metals.
Drill pilot holes before driving exterior nails or deck screws. This will prevent splitting, especially when driving close to the wood edge.
Remember that siding expands and contracts. When installing it, leave a little space between the fastener head and the siding to allow for movement.
Salt in sea air can speed up corrosion. Choose high-quality, corrosion-resistant fasteners if you live near the coast.
Blunt nails are harder to drive, but they're less likely to split wood. Blunt a nail by tapping the point with a hammer.
Choose stronger fasteners like hex bolts or nuts and washers for railing posts to ensure stability.
Nails and screws made to weather the elements improve the quality and durability of outdoor projects. Choosing the right fastener involves the ideal lifespan, the climate and the materials you're using. Ready to tackle that roof, deck or other outdoor project? The Home Depot delivers online orders when and where you need them.
Explore More on homedepot.com