Buying Guide
Kitchen Sinks Buying Guide
Finding the right kitchen sink will depend on your budget, your kitchen layout and your style. This guide explains the materials and configurations available so you can be confident you're selecting the sink that provides the perfect balance of form and function in your kitchen.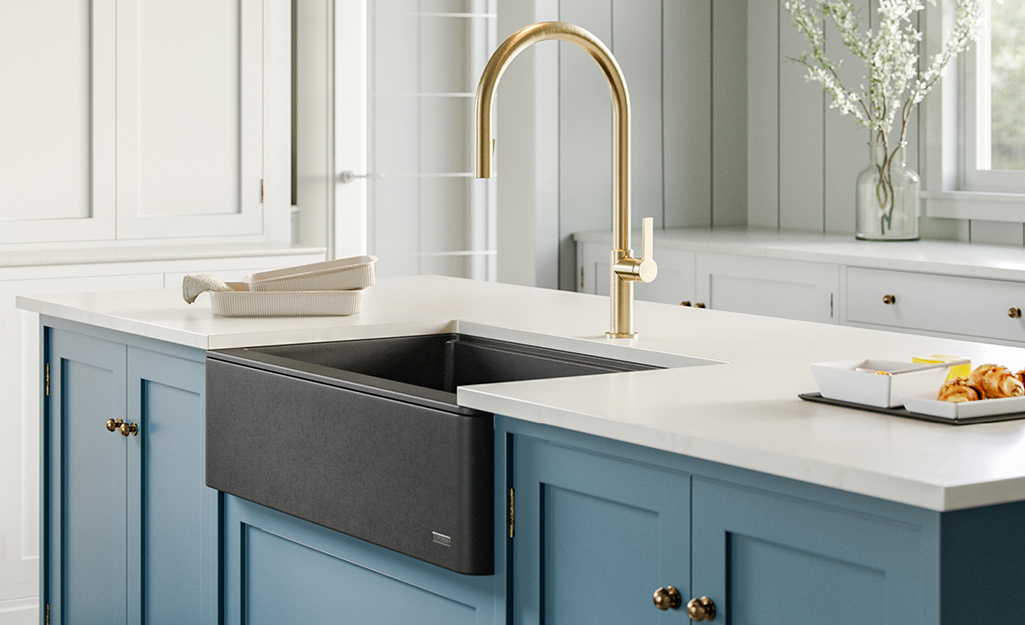 With so many options available, there is a sink for every style and budget. It's important to determine how often and for which purposes you will use the sink. Then, determine the size you need, the setup you need to acommodate the sink plumbing and accesories and then, which material is going to suit your needs in terms of maintenance, durability and affordability.
Kitchen Sinks Mounting Styles & Types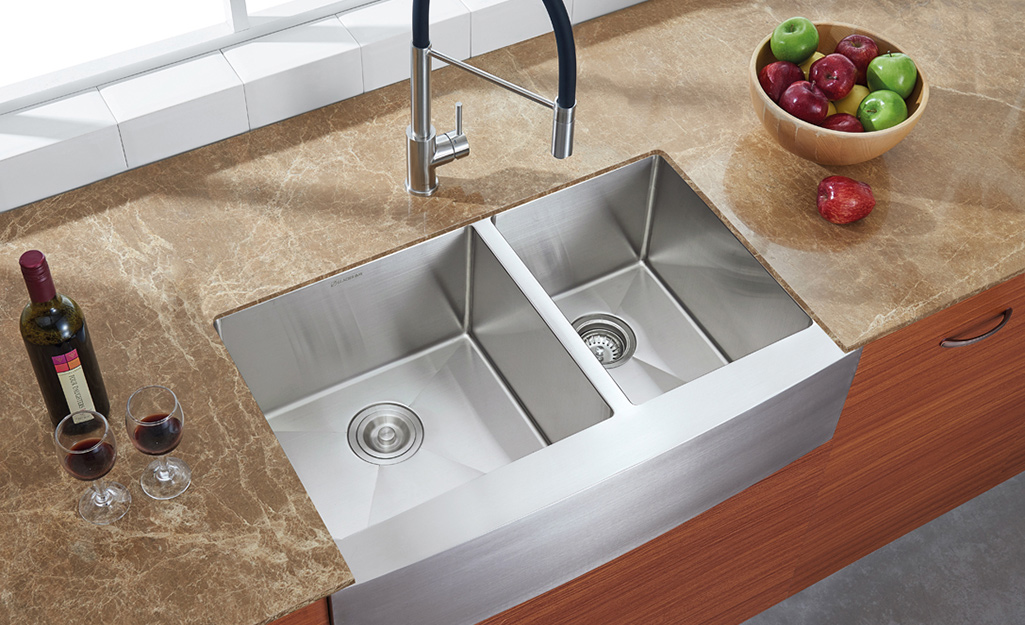 Kitchen sinks come in different mounting styles and sink types. How your countertop is constructed and the material your sink is made of play large roles in which type you choose and how your sink is installed.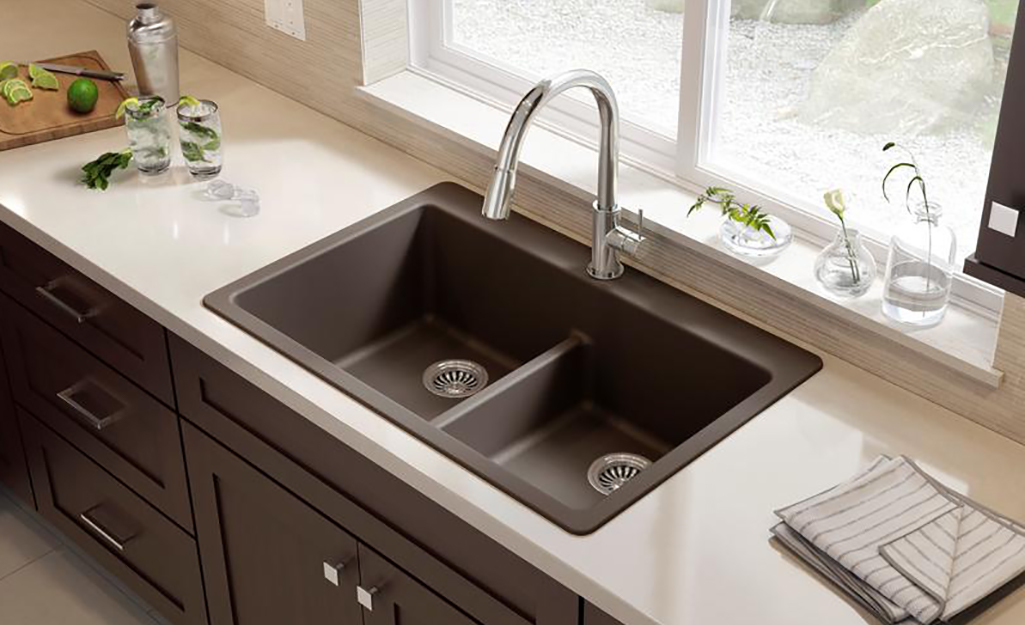 One of the most popular sink types, a drop-in sink, also called a topmount, literally drops into a pre-cut hole in the countertop with the edge of the sink resting on the counter for stability.
Fairly easy to install, a drop-in sink works with almost every style of countertop and can be replaced without disturbing the countertop or relocating plumbing.
Most drop-in sinks are self-rimming (held in place by their weight or fastened with clips and screws), though some are rimmed (more recessed into the countertop with the joint covered by a metal rim).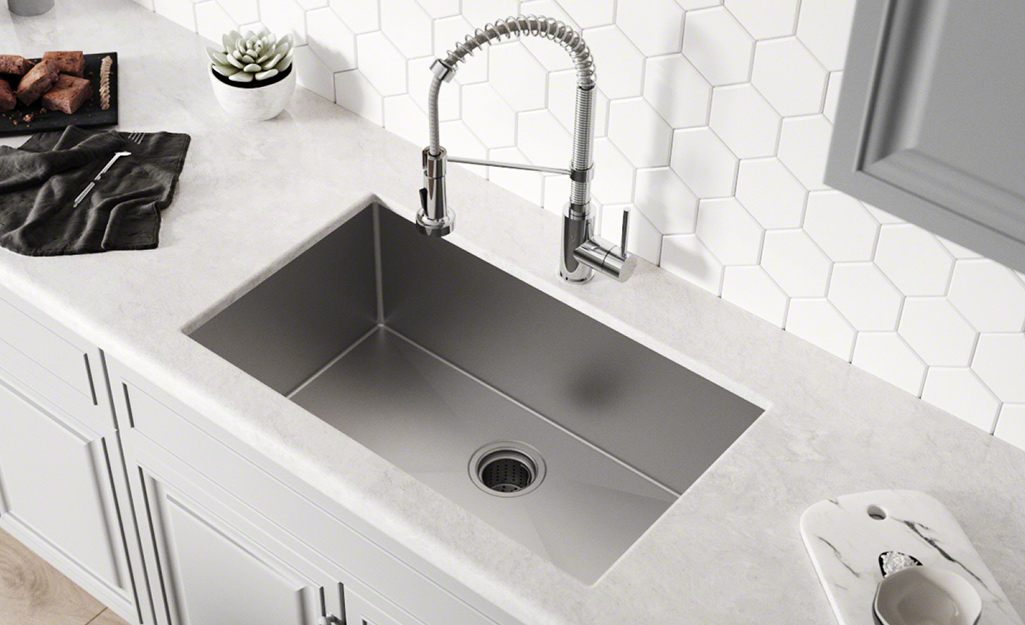 Undermount sinks are installed under the counter, making them ideal for use with solid surfaces and granite.
They do not have an edge that rests on the countertop, so cleanup is easier.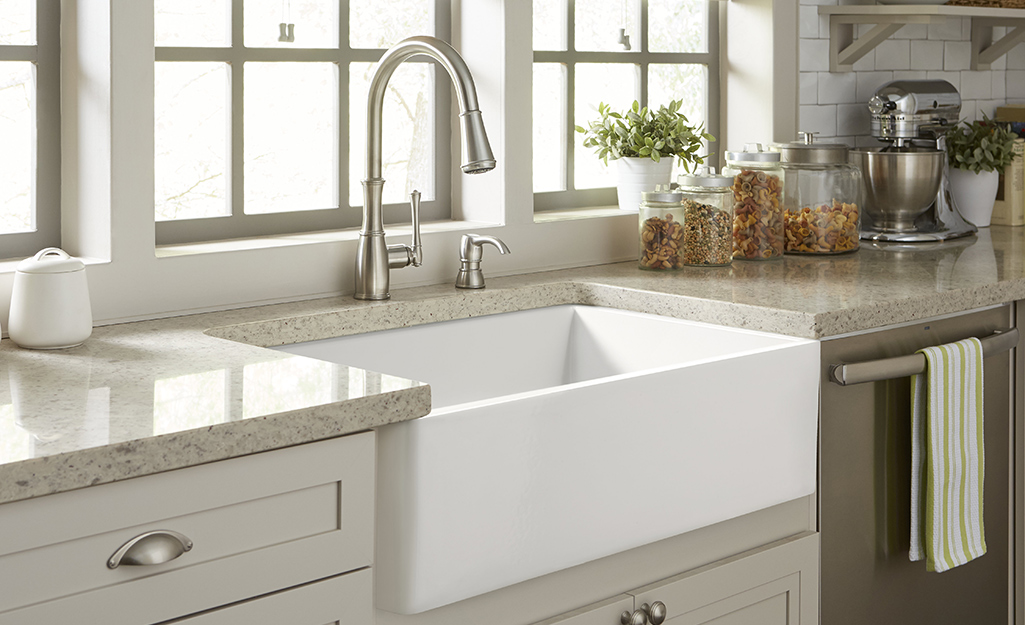 Apron sinks, also known as farmhouse sinks, feature a wide expanse and deep bowl with an exposed front, and are available in a wide range of materials.
This style allows for easier cleaning of larger items like pots and pans.
A certain type of base cabinet is typically required to support it; some styles can be retrofitted.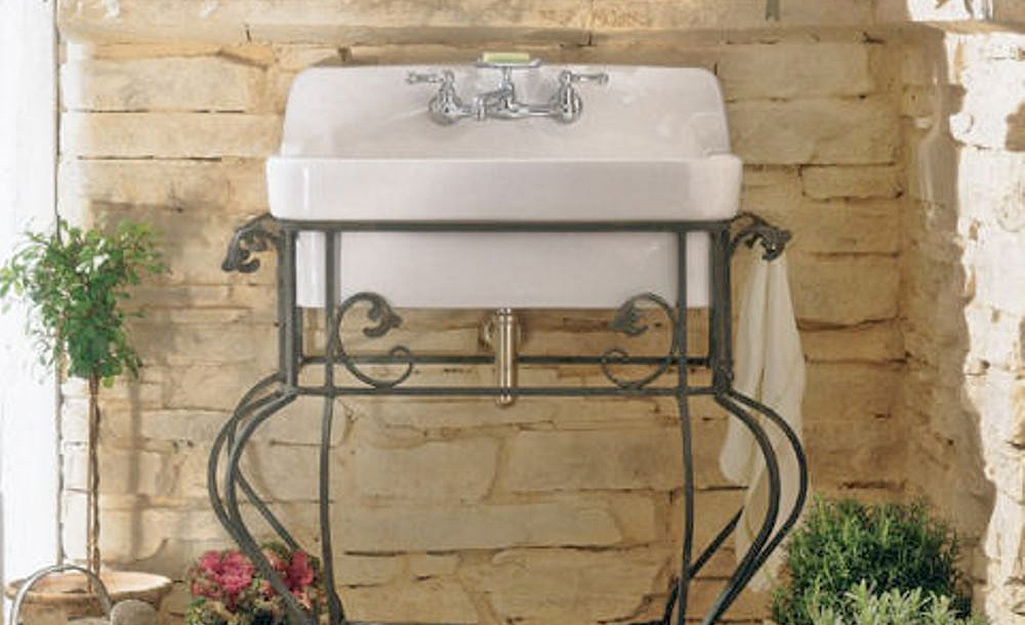 Wall-mounted sinks save floor space since they do not require a cabinet or base for support.
Typically, installation requires a reinforced wall to support the weight of the sink.
They are available in a variety of materials, including porcelain, stainless steel and cast iron.
They are used in businesses, but because they can be installed at wheelchair height, they are a good choice for improving accessibility in homes as well.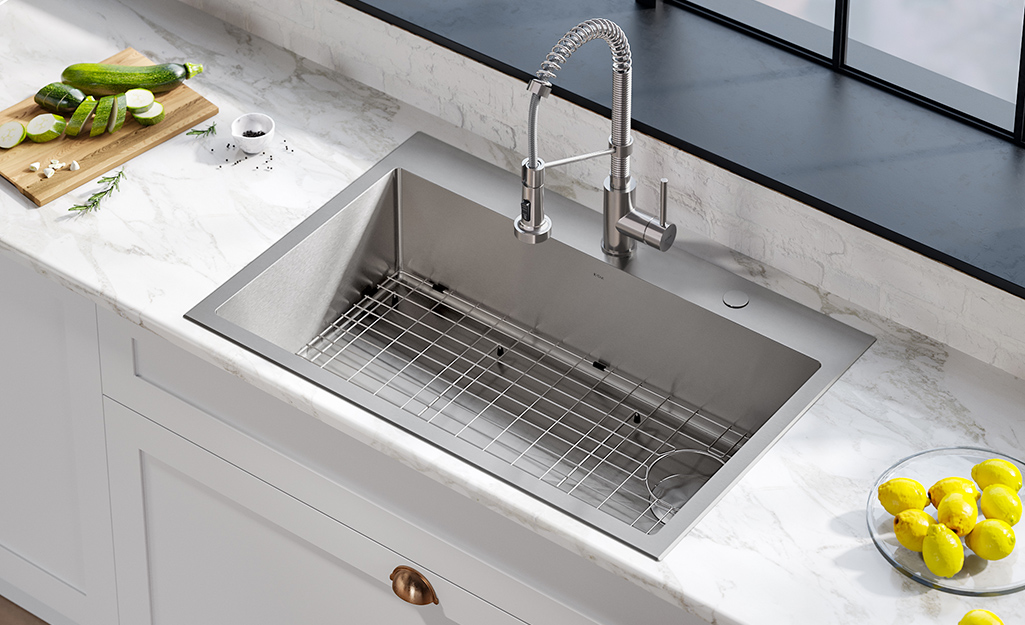 One of the most convenient options, all-in-one sinks are a complete kitchen sink unit including a single or double bowl sink as well as a faucet.
Some models will also feature a pull-down sprayer, soap pump, sink grid or strainer.
They will typically work with any countertop surface.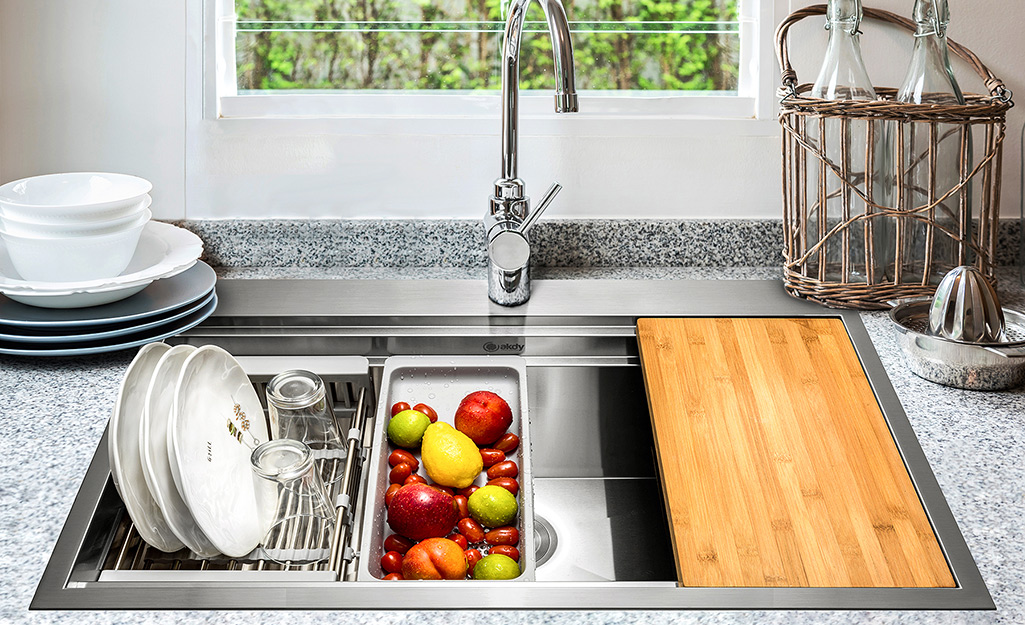 Ideal for busy kitchens, either home or restaurant, a workstation sink converts your kitchen sink into a work/prep space.
Many include custom accessories like cutting boards, drying trays and colanders.
Most workstation sinks have an integrated ledge to hold accessories.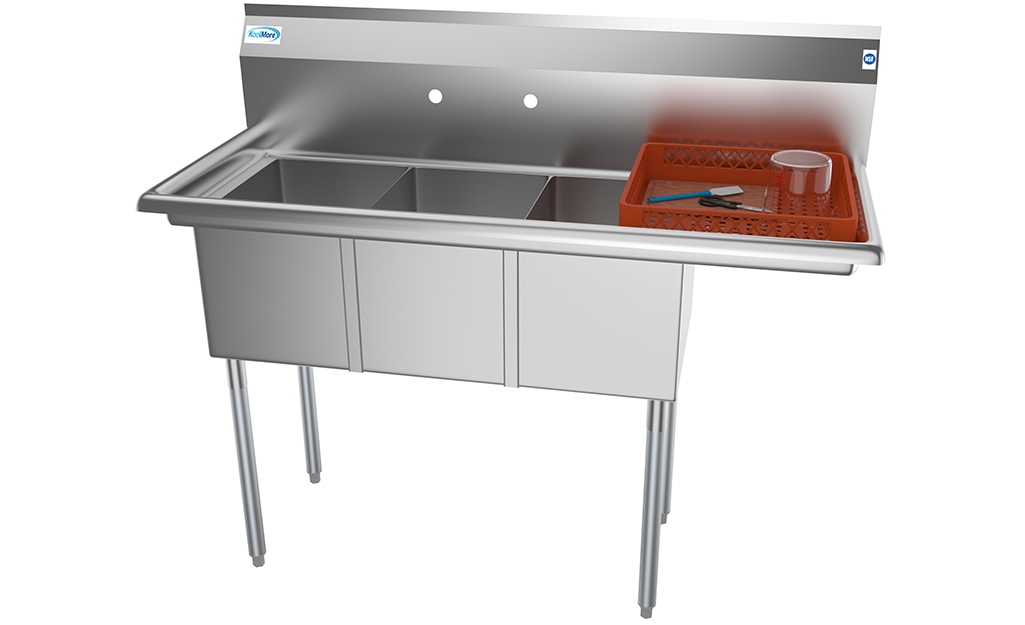 Commercial sinks are typically used in restaurants or hospitality environments.
They are extremely durable and are usually significantly longer and deeper than a standard residential kitchen sink.
The sink usually has a prep surface built in which can help expand your counter space and protect your counter surfaces by giving an alternate place to prep food.
They are normally made of stainless steel but are available in other materials in both under-mount and drop-in installation types.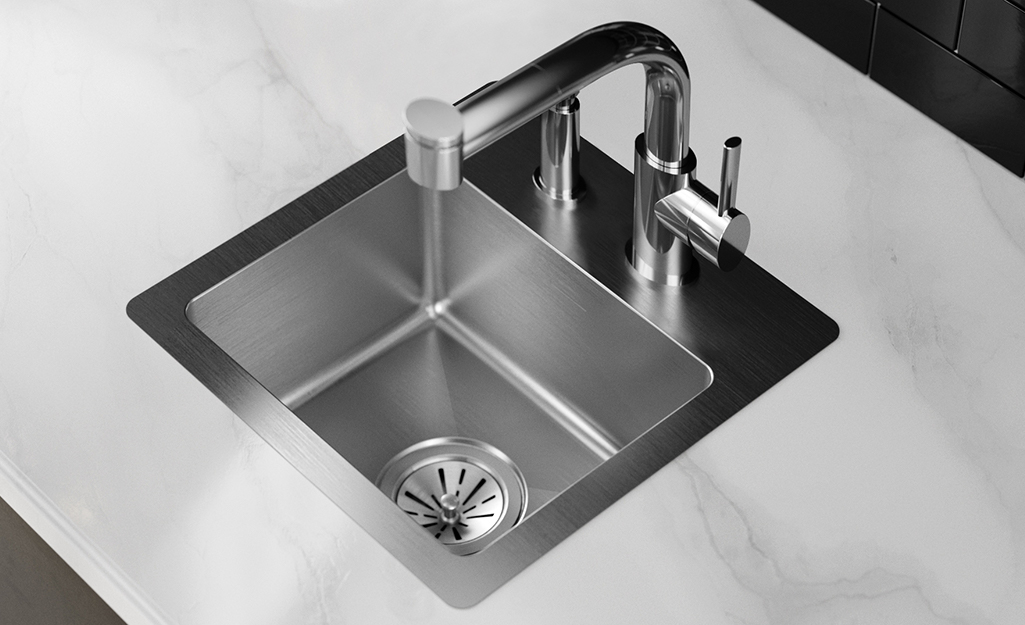 A bar sink has a much smaller footprint than a standard sink, allowing it to be installed in spaces where a secondary sink is useful, such as a kitchen island or home bar.
Usually made of stainless steel, they are easy to keep clean and sanitized.
Allows for prep of fresh ingredients in isolation from the main sink to help prevent cross-contamination.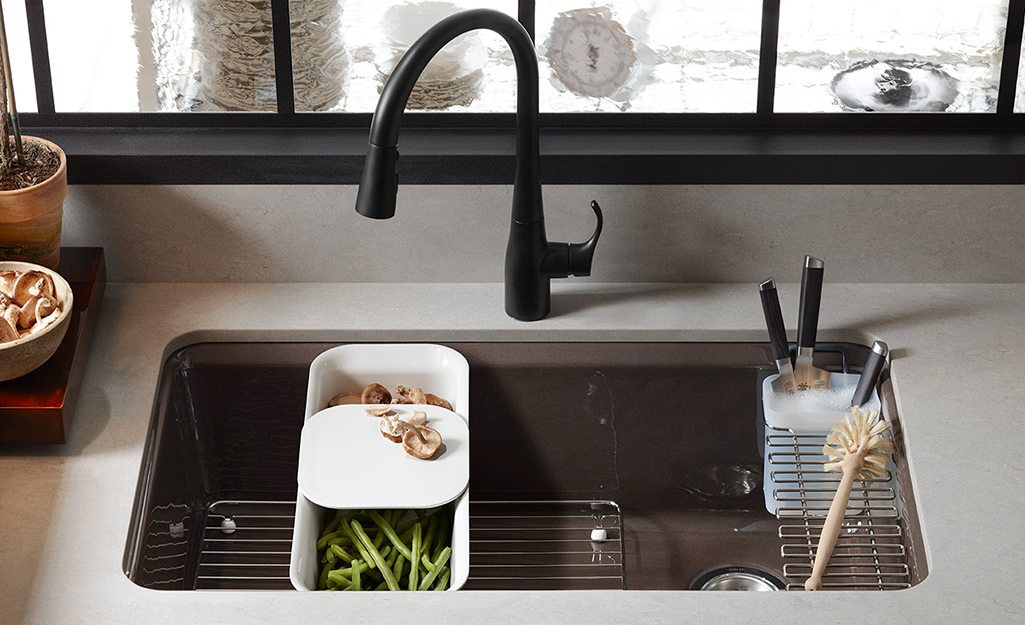 When shopping for a new kitchen sink, how it will be used will have an impact on the materials you will be able to choose from. If your family accumulates a lot of dishes, you'll need a deeper basin. If you maintain a busy lifestyle, you may not have time to take care of a special surface. In general, a kitchen sink should always be durable and able to withstand deep cleaning. However, it is also important to pick a sink made of a material that complements the rest of your kitchen style and fixtures.
The most popular kitchen sink material, stainless is available in a wide variety of styles, including drop-in, apron front and undermount.
It provides an excellent balance of cost, durability and ease of cleaning.
Higher quality stainless steel sinks are made of 18- to 16-gauge to prevent dents and scratches. Gauge is a measurement of the thickness of stainless steel. The lower the number, the thicker the material.
Look for vibration-damping foam insulation or pads on the underside of the bowls to deaden water drumming.
Brushed satin finishes tend to hide water spots and scratches.
Made of a mixture of 80 percent quartz and 20 percent resin to provide a sturdy, low-maintenance surface.
Scratch, stain and heat resistant; available in drop-in, apron front and undermount.
Available in a range of colors.
Withstands hot cookware.
A hard-fired clay material, it's mainly used in apron-style sinks.
Similar in appearance to cast iron; smooth, glazed, non-porous surface.
Extremely durable material; fireclay resists chips, scratches and acid damage.
Primarily sold in white, but multiple colors and textures are available.
This type of sink is made of cast iron and coated in porcelain enamel to provide a hard, durable surface with a smooth, glass-like finish that makes it easy to clean.
Cast iron is guaranteed not to chip, crack or burn.
Extremely heavy (upwards of 125 pounds); requires two people to install.
Highly durable metal that does not rust or tarnish; requires little maintenance.
Surface takes on an aged patina over time.
Each sink is individually handcrafted and unique.
Copper's anti-microbial properties kill bacteria and viruses.
Kitchen Sink Configuration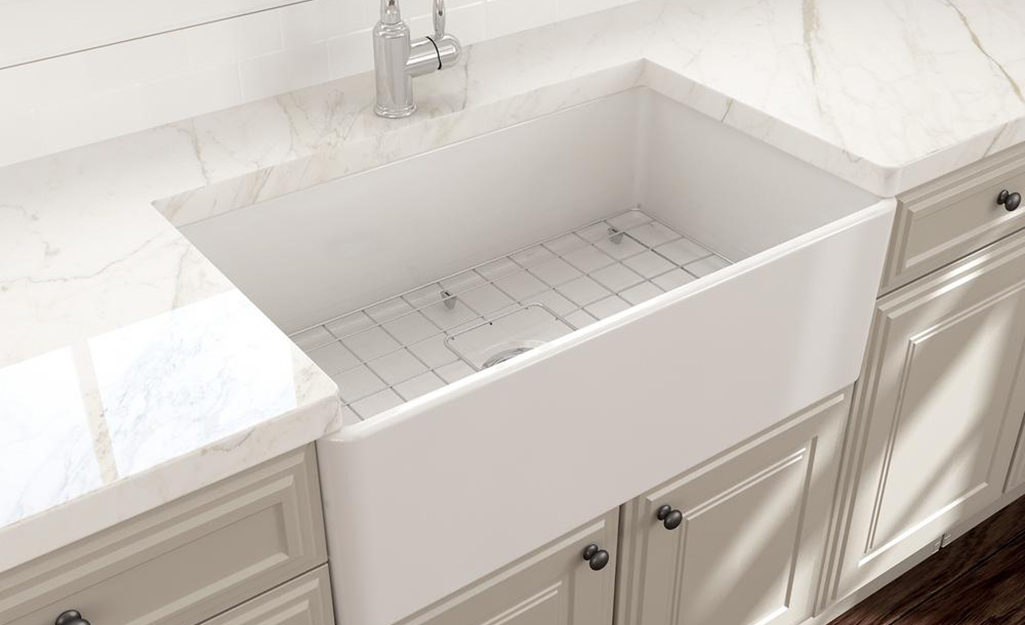 Before you buy, consider the orientation of the sink, the number of sink bowls and the depth and number of holes your sink requires for fixtures.
Orientation
Keep your dishwasher location in mind when shopping for a new sink. The ideal dishwasher location depends on whether you're right-handed or left-handed. The key is to be able to hold dirty dishes with one hand while rinsing with the other and then placing them easily in the dishwasher. For double sinks, having the garbage disposal installed on the same side as the dishwasher increases efficiency.

Tight Radius vs. Zero Radius
A sink with a standard radius has traditional rounded corners and interior edges. A tight radius sink has a much less rounded shape, while a zero radius sink has straight, 90-degree corners and edges. While a zero radius sink generally has a deeper basin, many prefer a tight radius sink, as it combines the modern look of a zero radius but is slightly easier to clean.
Size
The interior width of the sink's cabinet determines the maximum dimensions for your sink.
Most base cabinets come in standard widths; a 30-inch width or a 36-inch width are most common. The height of the cabinet can be customized, but 36 inches is average. A typical 33-by-22-inch sink will fill a 36-inch base cabinet.
If you're replacing a sink, make sure it fits the existing cutout. If the cabinet allows, you may be able to install a larger sink by expanding the cutout.
An apron or farmhouse-style sink may require a special cabinet size.
Number of Bowls
Deciding how many bowls you need is best determined by the size of your kitchen and what type of activities you'll most often perform in the sink.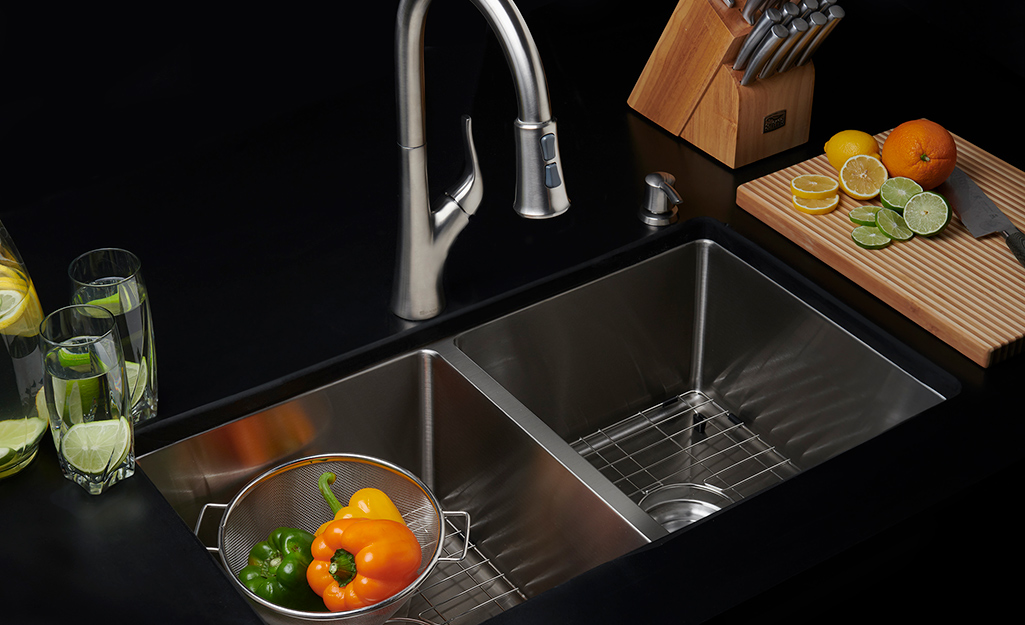 Single bowl sinks offer plenty of space for large-diameter dishes and oversized pots.
Can be as wide as 42 inches.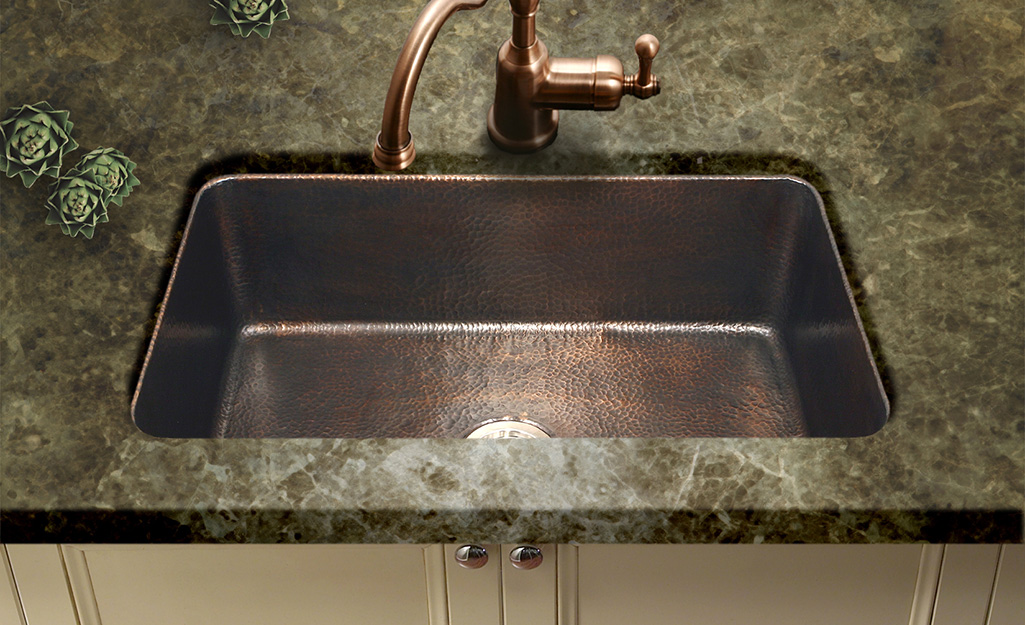 Double bowl sinks provide room for separate tasks such as washing and rinsing dishes, food preparation and cleanup.
Most configurations are 50/50, 60/40 or 70/30 in terms of bowl size.
Can be as wide as 48 inches.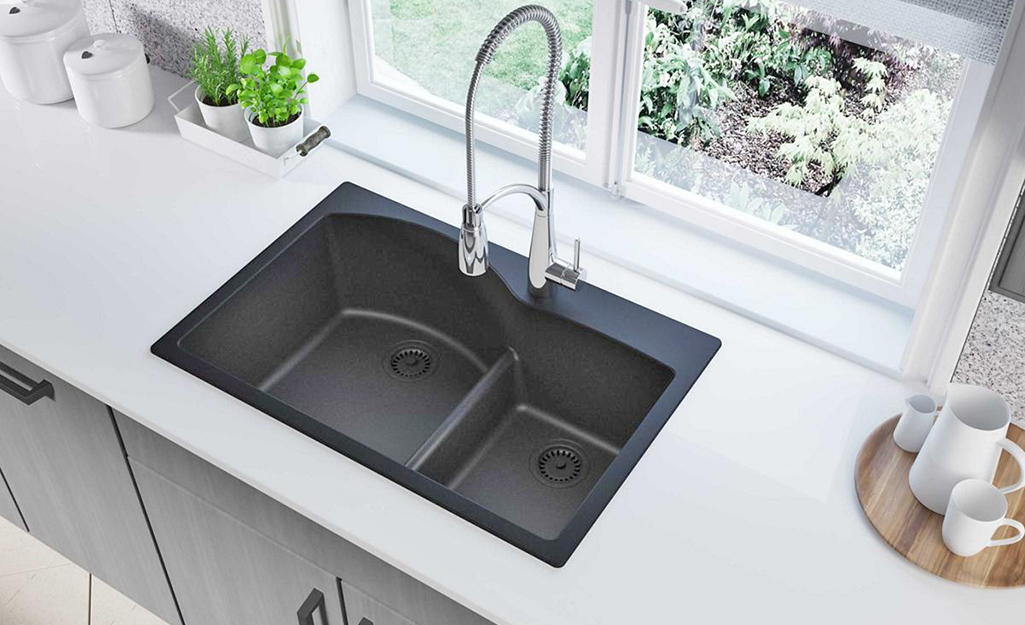 Triple bowl sinks feature a small third bowl for use as a prep sink.
The full unit can be as wide as 60 inches.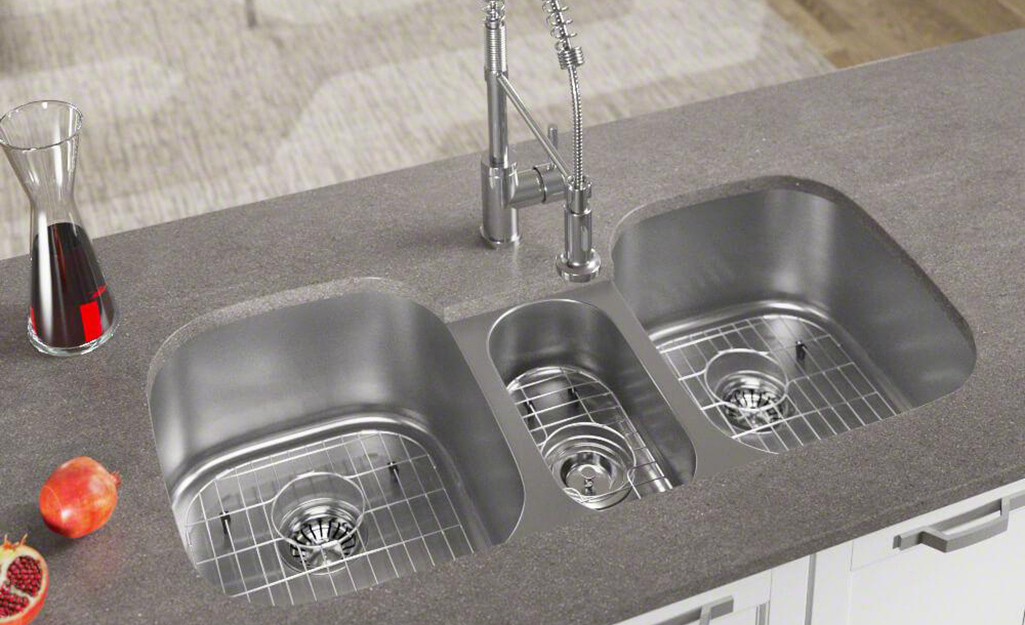 Sinks typically have between one and five holes, or tappings, on the deck behind the bowls for accessories like faucets, soap dispensers, spray hoses and hot filtered water.

The sink you choose should be able to accommodate the number and configuration of items you want.
The standard configuration for most sinks is four holes, but you can purchase a sink with five or six holes, depending on the manufacturer.
If the sink you want has more holes than are needed, both individual decorative covers and multi-hole deckplates are available to conceal them.
Choosing the right kitchen sink can be key to giving your kitchen a fresh look.
Need help identifying a kitchen sink? Find products fast with image search in The Home Depot Mobile App. Snap a picture of an item you like and we'll show you similar products.