Buying Guide
Specialty and Arched Window Treatments
Not every window is the traditional rectangle shape. If your home has a bit of personality and a window with a unique shape or placement, The Home Depot is here to help you find the perfect window covering.
If you have specific questions about your window shape, give us a call at 1-800-921-2119. Or read the guide below for specific tips about your unique window shape.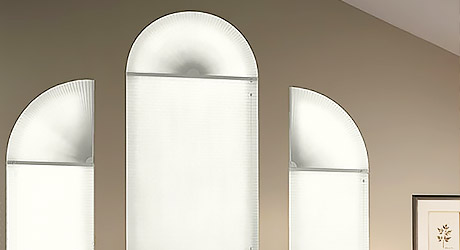 Arches are decorative windows usually found above another window or door. Most arch windows are perfect arches, meaning the height is exactly one half of the width. If your arch is not a perfect arch, call one of our design representatives for specific recommendations as well as measuring and install tips.
We recommend an inside mount to preserve the natural curve of your window arch. Outside mounting is also available, should you prefer.
Many different types of blinds can be outfitted to your arch windows. Custom wood or faux wood arches pair well with other windows which have shutters and horizontal wood and faux wood blinds. These arches can be tilted to your preference to allow light in.
The most popular window coverings for arches are pleated or cellular arch shades. These can be measured to fit your exact arch size and come in many different color options. Shade arches cannot be raised or lowered, however, you can choose whether you want your arch to be light-filtering or room darkening.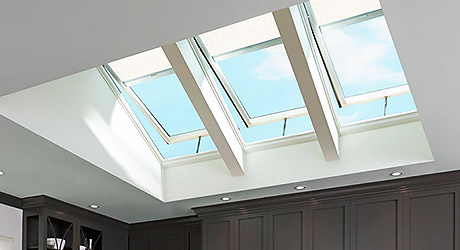 Skylights are a fantastic way to let extra light into your home. With that extra light, direct exposure to UV rays has the potential to harm your furniture, fade your carpeting or distort your wallpaper or paint colors. Filter out those UV rays by adding a skylight shade or blind.
The most popular window coverings for skylights are cellular shades because they offer great light control and help insulate your home to reduce heating and cooling bills. Depending on your window type, you can also choose pleated shades, or if you prefer tilt control, mini aluminum blinds.
Because they are generally out of reach, we recommend the use of remote control shades to raise and lower your skylight shades. For more information about motorized shades, click here. If reach is an issue but you do not want motorized shades, many skylight shades are also available with a manually operated extension pole.
To eliminate light leakage, inside mounted skylight shades come with side channels, usually in white. Outside mounted skylights are also available.
Other special shapes you might encounter include awnings, bay windows, corner windows, bow windows, window casements, single hung windows, double hung windows, side slider windows, picture windows and angled windows.
No matter what your window shape or location, The Home Depot can help you. Give us a call to get started on finding the perfect blind or shade for your uniquely shaped window.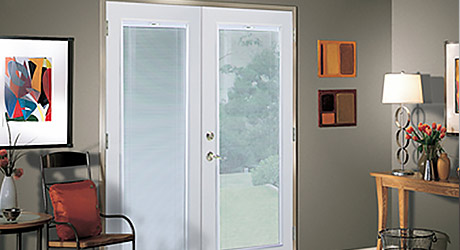 French Doors: To preserve the functionality of your French door, it is best to buy shallow blinds that can fit comfortably in the space between the door and its handle. Cellular shades with an outside mount are a great choice for this because the small stack size and lightweight texture can be customized to adjust perfectly to your space. Hold down brackets keep the shade in place when the door is in use. Other great pairings include wood, faux wood and aluminum mini blinds with a small slat size, or roller and Roman shades.
Sliding Patio Doors: Patio doors are usually located in high traffic areas. This means that it is especially important that their window coverings be durable and long-lasting. For this reason, vertical blinds are a great choice for sliding patio doors. Plus, vertical blinds offer complete light control at a great price and are easy to clean and maintain.
If your ultimate goal is light control but you want a softer touch, then you might consider Verticell shades, which offer the same great light and temperature features as cellular shades, but open vertically to keep your door operating smoothly.
If you are looking for a more unique design element for your room, consider sliding panels. These are available in a range of materials including fabric, wood, woven wood and more. Sliding panels open vertically, which makes them a natural pairing with sliding patio doors. Plus, they offer variable light control and enhance your home's privacy. Their wide coverage range makes them a great choice for particularly large patio door openings.
Front Doors: To enhance design style in your home, front doors are often paired with smaller decorative windows. Small windows like the front door sidelight window can be paired with blinds that accommodate very small head rail sizes. Some examples of possible window coverings include window films, honeycomb shades or mini blinds. For more specific details about your unique window size, give us a call and talk to a design consultant about how you can get great coverage that fits beautifully in your home.