Tailgating and fall were made for each other. Whether you're headed to the game or hostgating at your house, there's nothing like getting geared up to see your favorite team play. From setting up the grill to setting up the best seats in the house, this guide will give you a few tips to help you conquer game day tailgating like a pro.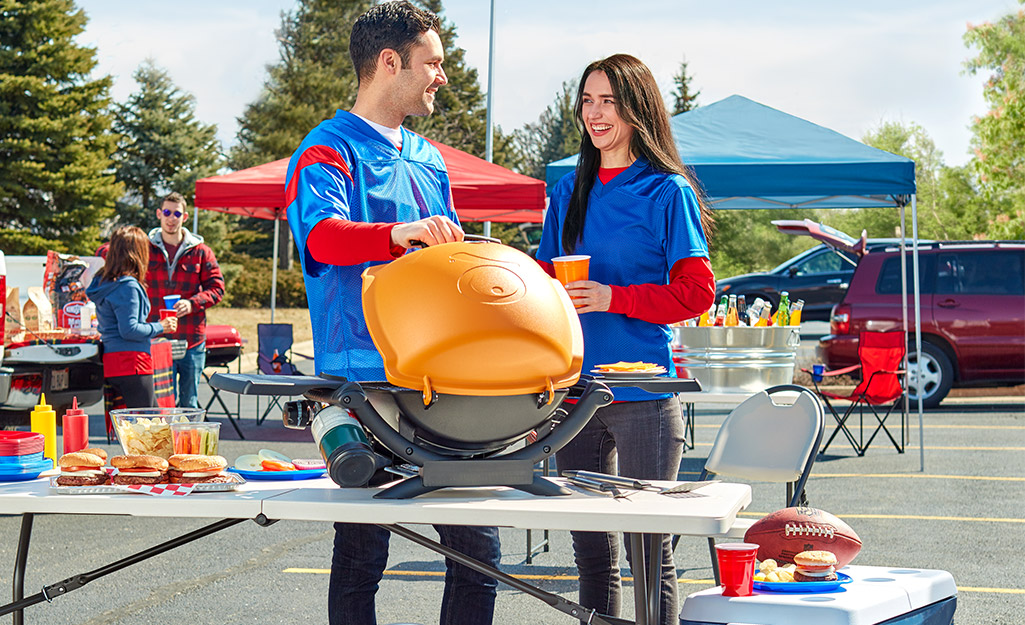 Two of the most important components of the tailgate, food and drink, kickoff the party and keep the festivities going until the event starts. Here are a few gameday essentials, whether you're hostgating in the comfort of your own home or taking the tailgate to the team's parking lot.
The latest portable grills look and feel small, but can pack more than 150 square inches of cooking space. These will fit easily into the trunk of your car or the bed of your truck.
Make sure to bring enough charcoal, as most small portable grills tend to use this kind of fuel.
A portable grill with side tables will give you more working room to prep and place food when it's done.
If you're planning to host a large group for the football game, save time and cook all your food at once on a larger grill. Create designated spots for each food item.
If you have enough room and time, incorporate a smoker into the mix for ribs, brisket and other meats.
Charcoal:
Have extra charcoal on hand for charcoal grills. Be sure to take the wind into consideration as charcoal will burn out faster on windy days.
Always keep a designated metal tin nearby to dispose of hot coals.
Wheeled coolers make toting beverages to and from your car a snap. At home, use a few coolers to separate beverages and label each so guests won't have to guess.
While ice chunks will do the trick, larger pieces of ice stay frozen longer and will keep your drinks colder, too.
Consider "upcycling" larger containers like empty 2-liter bottles; fill with water and freeze them for use as ice "bricks."
You may also want to consider buying a separate bag of ice that's for use in cups, rather than filling cups with the ice that's freely floating inside the cooler.
Instead of coolers, opt for Homer Buckets to keep beverages cool and on-hand. The handles will make it easy to carry drinks from the car to the tailgate.
Tip: A standard 45-quart cooler will fit easily in your trunk.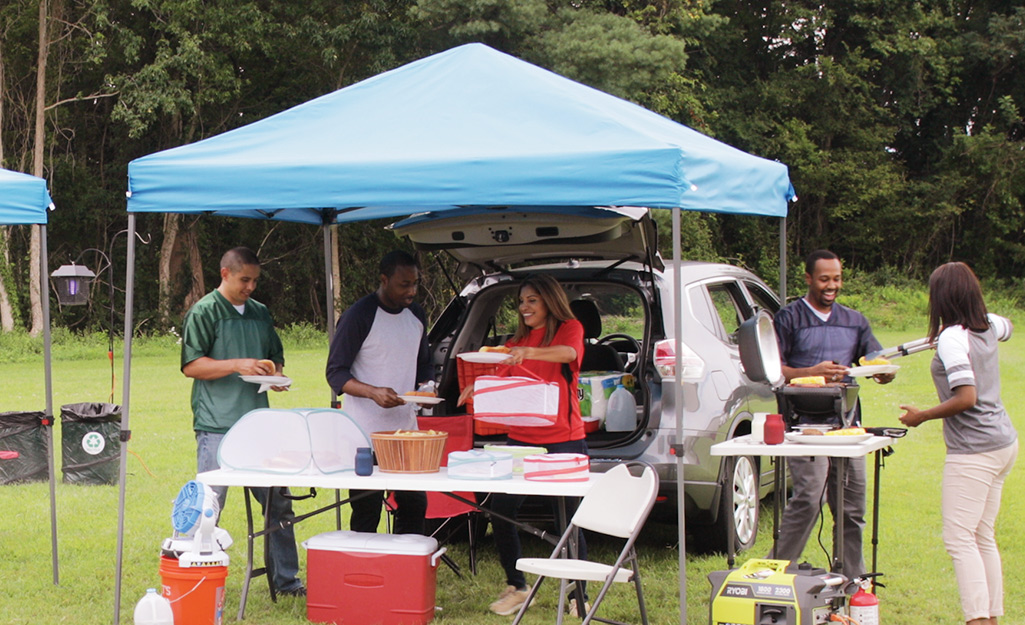 When you're traveling to see the team, plastic bins make it easy to organize items.
Consider using different sizes for different needs. For instance, pack a medium plastic bin with any prepared dishes you made as well as paper towels, plates, heavy-duty trash bags, etc.
In a smaller bin or toolbox, include hand sanitizer, cups, plastic utensils and napkins.
Bring along a utility bin or rope-handled tub as catch-all sites.
Use a tub or Homer bucket as an easy-access, extra cooler filled with ice and drinks, or for storing snacks like bags of potato chips. You could even fill it with a few extra blankets should the weather turn cool.
Line one with extra large trash bags to serve as a trash can or recycling bin.
Keep a designated plastic bin to store any dirty dishes. The lids will keep them bug-and-spill free until you get back home.
A pop-up canopy tent provides instant shade on hot, sunny days, and protection from a steady downpour if it rains.
A standard 10 x 10-foot canopy offers 100 square feet of space.
Look for canopies that have weather-resistant, UV-blocking covers and anchors to keep your temporary tailgating home in place.
Utility Cart:
A utility cart can bring versatility to your tailgating.
The wheels make it easy to move your outdoor cooking setup wherever you need it.
Use the top for chopping and cutting – perhaps lemons for lemonade, or veggies to put on the grill.
The cart's open storage will keep condiments at hand when you need them and out of the way when you don't.
Folding Chairs:
Folding chairs provide a place to relax after you've finished cooking, or simply want to take a break and cool down with an icy beverage.
For the easiest transport to and from your parking space, and to save room, pack folding chairs that come with their own bag.
Folding Table:
A longer folding table allows you to separate it into zones for easy access to plates, cups and utensils, side dishes and condiments, and cooked food.
With two tables, your options expand even more. Use one for food prep, and the other for eating.
Make place settings in advance by tying together plasticware and a napkin with a ribbon in your team's colors.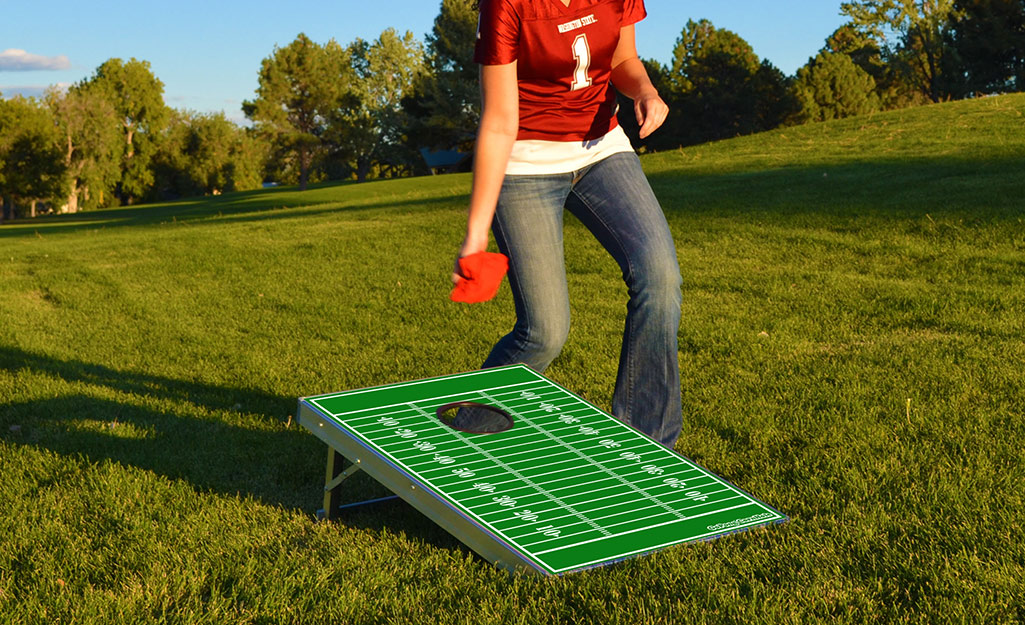 Whether the pre-game fun is happening in your backyard or at the stadium, it's important to bring plenty of entertainment.
Whether you want to go the DIY route, or show your team spirit with a pre-made cornhole toss with your team's logo, getting in a few friendly games can add another layer of fun when you are tailgating.
You can build your own cornhole toss game, or try your hand at making a ladder ball toss game or tailgating game table.
Consider bringing a bucket of sidewalk chalk for the kids, or a set of pails into which they can toss a small ball.
Stream and control your music from any Bluetooth-enabled wireless device and use wireless speakers to keep you and your guests entertained.
Make sure to keep your devices charged up and ready to go with an on-the-go charger, or extra batteries.
Smart home devices can also making streaming music or pre-game shows easier.
Team Gear:
From gnomes to garden flags, area rugs to banners, showing team spirit is a must.
Themed plates, napkins and signs will keep the energy high, make your tailgate easy to spot in a parking lot full of fans or give guests something to take with them from your house.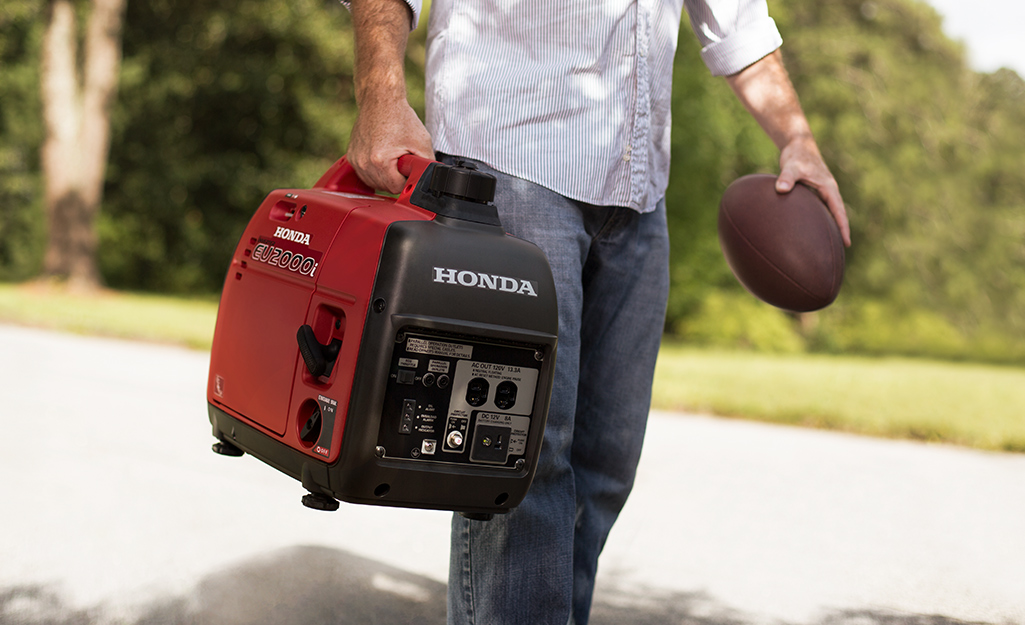 Fall weather can be windy or rainy, depending on your location. Always be prepared with these essentials.
For night games, LED flashlights and lanterns with handles or magnetic feet mount to just about anything and allow you to light up your tailgating site for hours after the sun has gone down.
Consider keeping a lantern near key areas such as the cooler so guests can see what beverage they're grabbing when it's dark.
On your own deck or patio, consider hanging string lights.
For safety, place one next to trash bins and metal containers where hot ashes have been dumped.
Keep a flashlight on hand in case parking isn't very well-lit during a night game, or if you need to get from the tailgate to the portable toilets.
A portable generator can supply power for electronics such as HDTVs, sound systems, portable fans, a mini fridge and more, making them ideal for any tailgate location.
The latest portable generators offer hours of power and quiet operation – a normal conversation can be heard over the generator's hum.
For double the power, look for parallel-run compatibility, which allows two generators to run together at the same time.
To make sure your tailgate isn't interrupted, calculate the power output you need and give yourself some wattage cushioning for running a few smaller items if need be.
Don't forget to pack a few heavy-duty extension cords to ensure that power reaches your electronic devices.
Consider a portable heater to keep you and your guests warm.
With a generator on hand, you can plug in your electric heater.
Other portable heaters run on propane, and depending on the size of your heater, require a can or tank of propane like you'd use with a grill.
Fans:
While cool temperatures are synonymous with fall, unseasonably hot weather has been known to interrupt many a tailgate. Keep portable fans and hand fans with you in case temperatures begin to climb.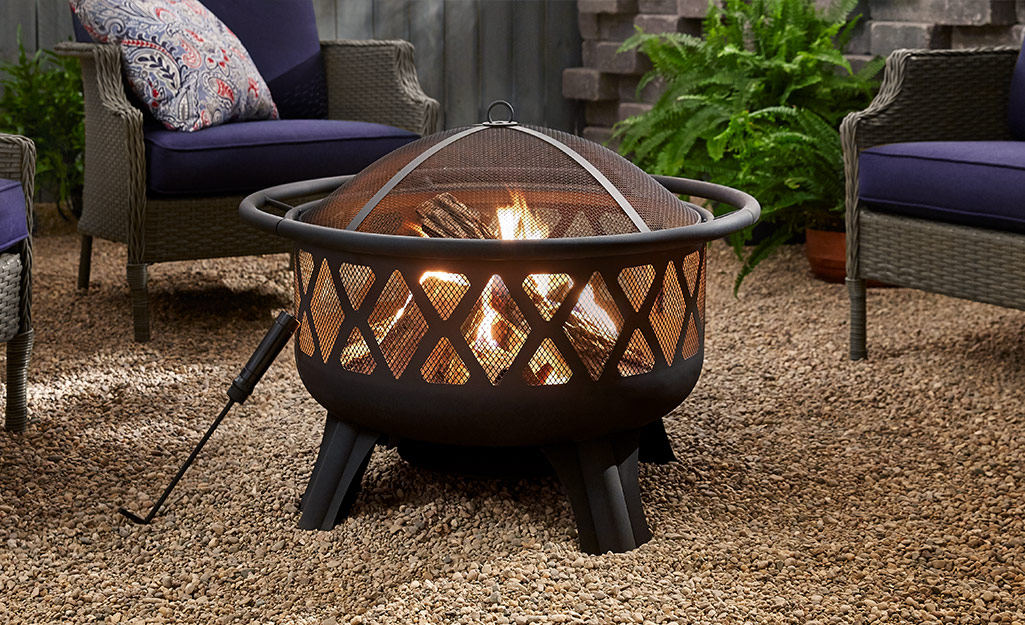 When the tailgate happens at your house, making sure there's plenty of seating is essential.
When temperatures are ideal for sitting outside, consider making your setup even more comfortable with a few pieces of outdoor furniture.
A simple sectional or well-padded patio chair are an instant upgrade to your tailgating setup.
A fire pit is perfect for gathering around with fellow fans on a cooler day or making s'mores during halftime of a nighttime game.
If you're tailgating at the football stadium, consider bringing a patio umbrella or two to expand your gathering outside of the tailgating canopy. They come in a variety of sizes, shapes and materials, with varying degrees of resistance to moisture and UV rays.